AP Exams Worth It If You Want to Go to MIT or Harvard
Last month I was at Admitted Student Open House at the University of Maryland, and the professor said that even if I took the AP Calc BC test and pass it, I should take the class again in the college.
Apparently, their studies show that students who retake certain college-level classes instead of skipping them have a better foundation compared to just taking the AP test. The bar for a lot of AP exams is so low that getting a doesn't really mean you're that good at the subject (ex. Getting ~65% on the calc ab exam would get you a 5).
However, AP exams do not come free of charge: each test comes with a steep $97 price tag — much higher if taken outside of the US or US territories and for the AP Capstone Programs.
So, is shelling out that much money worth it for an AP exam, which is not a requirement after completing an AP class?
AP exams are worth it for high school students who are looking to earn college credits or placement, especially at selective institutions of higher education. However, it's a must for test-takers to earn the minimum score, usually 3 or 4, in order to obtain college credits, as specified by the AP exam credit policy of the target school.
Still confused?
Keep on reading, and hopefully, I clear up the confusion about the topic.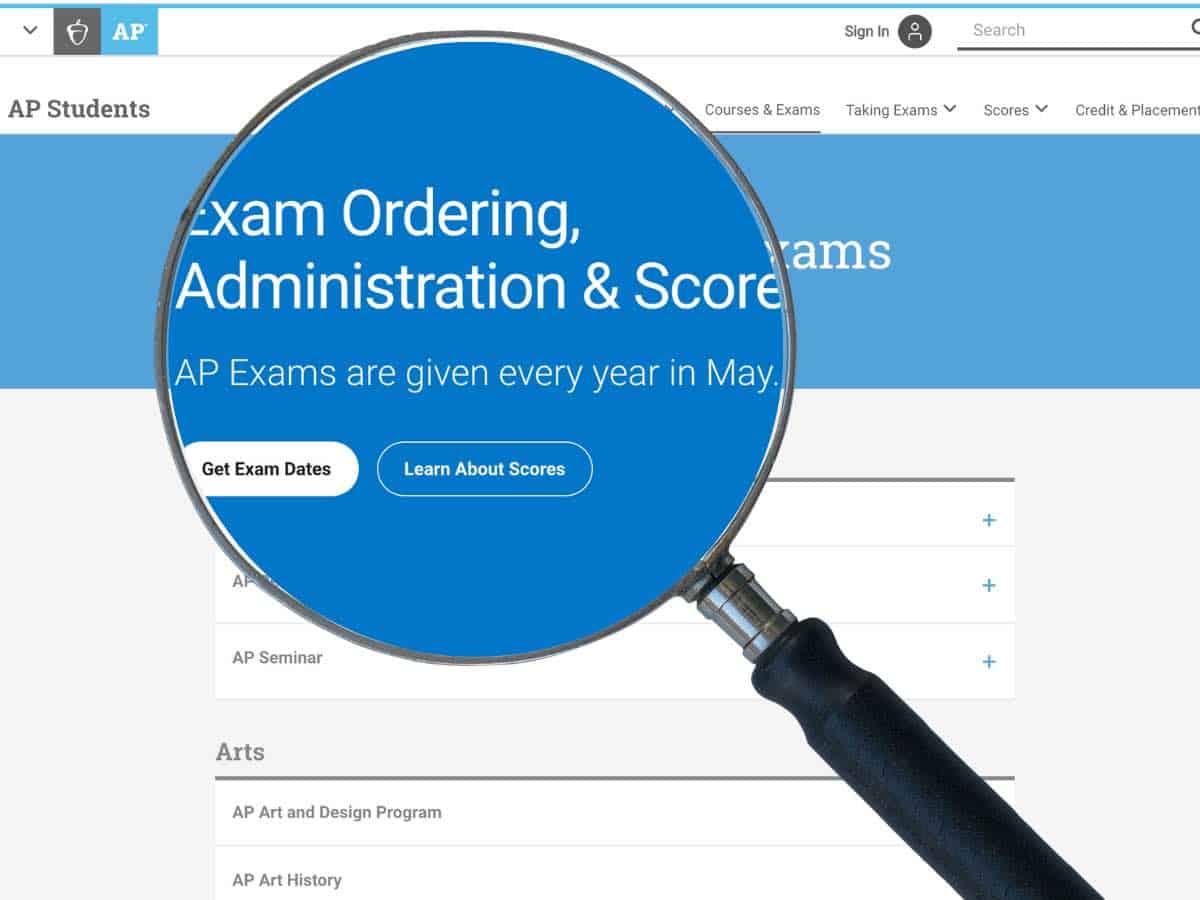 Can You Take an AP Class or an AP Exam Without the Other?
Students can take AP courses without taking AP exams afterward. Similarly, they can take AP exams without undergoing AP classes beforehand, although the College Board recommends completing an AP class prior to sitting for an AP exam. AP courses and AP exams play different roles in the college admissions process.
When AP classes are around, AP exams are not far behind.
But the good news is that those who do not have the budget to take AP exams — again, AP classes come free of charge — need not take them after completing AP courses and still enjoy the perks of taking them.
Although taking an AP exam is the next step after completing an AP class, it's not mandatory. Also, if you are concerned about costs, there are fee waivers if you meet a list of criteria that would make you eligible for reduced costs.
While there are high schoolers who just want to increase their admissions chances at competitive institutions, others simply want to earn credits for introductory-level college courses to expedite the completion of an undergraduate degree.
Prefer one advantage or the other?
Then it's completely up to you whether or not you will sit for an AP exam after finishing your AP course.
It's also up to you to decide whether or not you will take an AP class prior to taking an AP exam — even though it's true that AP classes and AP exams go hand in hand, one is not a requirement by the other.
For instance, I interviewed David on my podcast. He was accepted into UPenn, Duke, UChicago, Dartmouth College, MIT, Rice University, and other colleges.
But the most interesting is that he self-studied for most APs and took tests without taking classes.
Learn more about his story below:
Which AP Courses are Worth It in the Admissions Process?
As of this writing, there are a total of 38 AP courses available. Not all of them are worth taking — it makes more sense to take some of those that can help increase one's admissions chances to a selective college. Generally, AP classes that can increase high school curriculum rigor are better than other options.
According to the College Board itself, you should choose an AP course according to what subjects you are passionate about as well as what classes you do well in. Unfortunately, as far as college admissions go, it's not that simple.
There's no denying that taking AP classes can make one's high school transcript look good.
However, just because there are some AP courses included in yours doesn't mean right away that admissions officers at a selective college will want to welcome you to the campus.
Of course, they will choose hopefuls who have chosen the right AP courses, particularly those that practically scream better chances of reaping college success.
As a general rule of thumb, AP classes in core subjects are considered more worth it than the rest as they can help make a college-bound teen's high school transcript a complete standout.
Some of these AP courses include:
AP Calculus AB
AP Calculus BC
AP Physics 1: Algebra-Based
AP Physics 2: Algebra-Based
AP Physics C: Electricity and Magnetism
AP Physics C: Mechanics
AP Biology
AP Chemistry
AP English Language and Composition
AP English Literature and Composition
Meanwhile, AP classes that count more as electives such as AP Art History, AP Psychology and AP Human Geography may not be worth taking from an admission standpoint, especially for high schoolers who are on a crunch time or have poor time management skills.
Having said that, if you are genuinely interested in some subjects, you should go ahead and take an AP class, even if it doesn't increase your chances of getting admitted to a specific college.
Especially if you have a passion for art and are applying to an art school or are thinking of majoring in art at a university, taking the next step by taking an AP class for art does look impressive.
Additionally, a lot of colleges have some required classes that they want students to take regardless of major (often called core classes). Even if you are not interested in AP macroeconomics, for example, it could possibly qualify as credit to get you out of those core classes you don't want to take.
Again, this differs from university to university, and each university will have some sort of spreadsheet or webpage detailing which AP credits they accept in place of core classes vs those they only accept as general credit.
Which AP Exams are Worth It in the Admissions Process?
Getting a 5 or 4 (or, in some instances, even a 3) on an AP exam may earn the test-taker credit. However, different colleges and universities that accept AP tests have different AP credit policies. For instance, some may give credit for certain AP exam scores only, while others may only consider giving credit for certain AP exams.
AP courses allow you to improve the level of rigor of your high school curriculum, which can help in the admissions process at a selective institution of higher education where only a small fraction of applicants get in each time.
Meanwhile, AP exams make it possible for you to obtain college credits.
It doesn't mean, however, that you can sit for as many AP exams as you can, with or without completing AP courses beforehand, in order to earn as many credits as possible and be in and out of college in no time.
Especially if you fail to do your homework in selecting an AP exam to take, you might find yourself bragging about a high score that's absolutely worth nothing.
According to a report by CNBC, around 86% of the top postsecondary schools in the US do not give credit to AP exams, which should be a cause for alarm if your college list is filled with selective entries.
So, in other words, nearly 9 out of 10 of them won't award you any credit for a job well done acing an AP exam!
Some colleges and universities may not accept AP tests for credits alright, including top-tier ones like:
Amherst College
Brown University
California Institute of Technology
Dartmouth University
Williams College
However, there are those that allow accepted applicants to receive placement for getting specified AP exam scores, which means that you may be allowed to take higher-level courses if you meet the school's AP exam credit policy.
Let's take Brown University as an example: earning a minimum score on a particular AP test may allow you to receive well-deserved placement as determined by the faculty members in the respective department.
Of course, you should earn either a 5 or 4 in the Brown University-specified exam, with the exception of the AP Calculus exam, whose minimum score for placement purposes is a 3.
Because different colleges and universities treat AP exams differently, the importance of paying the AP Credit Policy Search page of the College Board's website cannot be stated enough!
By taking a look at the policy of the institution you are eyeing, you can choose the right AP exams to take, whether for credit or placement purposes.
Do AP classes raise your high school GPA?
AP courses are weighted.
So, in other words, they can increase your GPA. In most instances, AP classes add 1 point to your high school GPA.
For instance, if your initial GPA is 3.5, it would end up being 4.5 after completing an AP course. An honors course can also boost your GPA, usually adding 0.5 points to your high school GPA.
If you are a high schooler, you should already have received an unweighted GPA (usually out of 4.0 and not affected by AP and honors classes) and a weighted GPA (usually out of 5.0 and affected by AP and honors classes).
Can you retake an AP exam?
High school students can definitely retake an AP exam if they are unhappy with the score they got. But given that AP examinations are administered only once a year, they can only retake theirs in a subsequent year — there's no limit on the number of retakes.
Unless other scores are withheld, a test-taker's score report will include scores for all exams.
Read Next: What Happens if You Fail an AP Class or Exam

Disclaimer: The views and opinions expressed in this article are those of the authors and do not necessarily represent those of the College Reality Check.