Considering Changing Your Major? 14 Facts You Need to Know
The college major you declare is not etched in stone. At any given time, it's possible to switch to a different major — it doesn't matter if you have just submitted your Common App application to your top-choice school or have already begun to take some of the core courses of your degree program.
However, there are a few things to keep in mind before you decide to change majors.
While it's true that switching majors is common practice among undergraduate students, as you will learn in a few, doing it should not be taken lightly — there are repercussions to face and sacrifices to make, depending on when you commit to a new major as well as which major you switch to.
In this post, you will come across 14 facts about changing majors, many of which may help you decide as to whether or not you should push through with your plan to switch majors. Read on!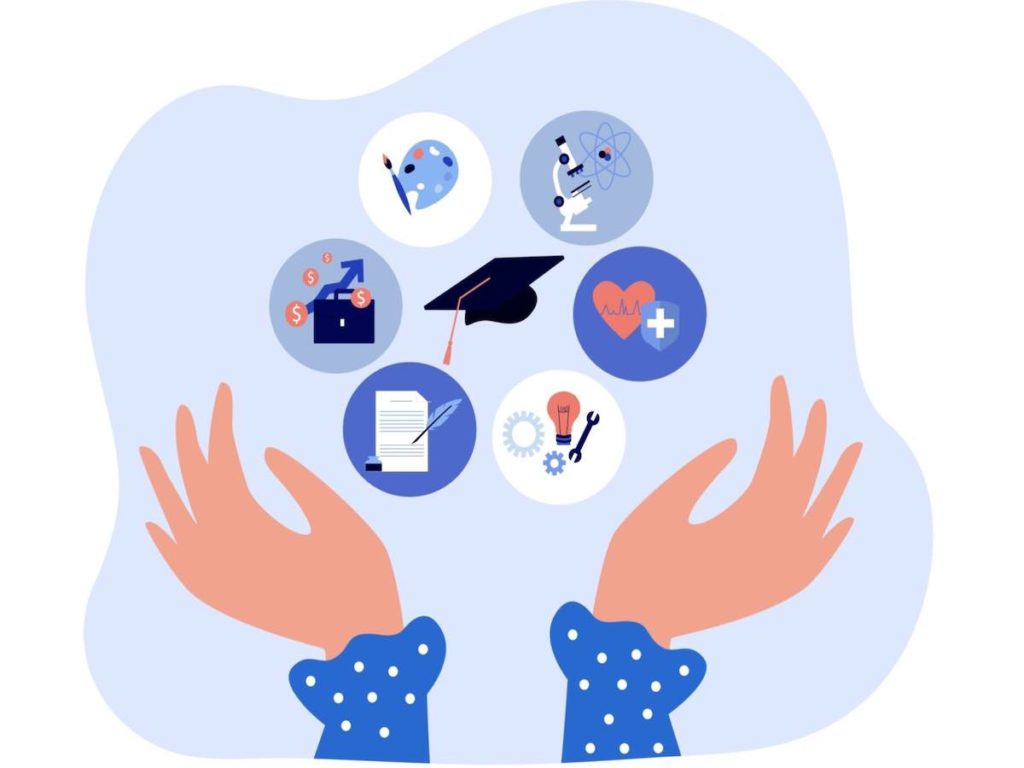 Almost 80% of students change their major
Don't feel too embarrassed to change majors if you are unhappy with your current one. That's because you are not alone — up to 80% of undergraduates switch majors at least once during their college stint.
As a matter of fact, some students even hop from major to major up to 6 times before graduation!
Just to give you an idea of how common it is for a college student like you to have a change of heart before obtaining your degree, here are the percentages of students who switched out of their chosen majors, based on data provided by the US Department of Education (USDE) itself:
| | |
| --- | --- |
| MAJOR | PERCENTAGE OF MAJORS WHO SWITCHED |
| Mathematics | 52% |
| Natural sciences | 40% |
| Education | 37% |
| Humanities | 36% |
| Engineering | 32% |
| General Studies | 32% |
| Social sciences | 31% |
| Business | 31% |
| Computer science | 28% |
| Healthcare-related field | 26% |
Mathematics students changed majors the most (52%)
Based on average GPA alone, mathematics is the second-hardest college major out there.
So much so that, as a matter of fact, approximately 52% of students who major in mathematics end up going for another major altogether within 3 years.
When both STEM and non-STEM majors are taken into account, it's still the rate of mathematics majors who switch majors that tend to end up the highest.
But then there are also resolute mathematics majors — some are so unstoppable that they are double majoring!
Mathematics majors who choose to double major usually opt for computer science the most, which is another challenging STEM major. Also top choices as second majors include chemistry and economics.
There are also some who double major in math with:
Biochemistry
Biology
Management
Music
Political science
Psychology
Majoring in mathematics is irresistible for many no matter how challenging it is.
After all, mathematics majors make a median annual salary of $97,540 — the best-paid 25% of mathematicians earn an average of $128,030 per year, while the top-paid 10% ones rake in an average of $163,640 per year.
A calling won't stop you from switching major
Some professions are considered a calling rather than just mere jobs. Some popular examples are educators and those in the healthcare industry who provide direct patient care such as doctors and nurses.
It is said that a calling is also something that you are born to do.
Based on the table above on the percentages of undergraduates who switched out of certain majors, however, it's clear that a calling isn't strong enough to keep students from changing majors in order to try to take a different career path — as much as 37% of would-be teachers and up to 26% of would-be healthcare providers switch majors.
There are many different reasons why some undergraduates are willing to abandon their calling and opt out of the majors that could take them there. Some of the most common ones include:
Struggling with the academic challenges of the discipline
Discovering a more ideal major
Acquiring a new interest or passion in life
Having had very little time to consider all options
51% of college-bound kids unsure of their majors
According to a 2019 survey conducted by Business Wire, many first-time, first-year college students (51%) are not certain as to which career path they should take. What's more, as much as two-thirds of all teenagers gearing up for their undergraduate studies are overwhelmed by the process of choosing majors.
This is even more so true for those in the Generation Z bracket — people born between 1997 and 2012.
In the said survey, the US-based source of financial disclosure and news interviewed a total of 1,000 American students enrolled in two- and four-year public and private institutions.
Because of all the confusion in the college major selection process, many of them end up working on degrees not right for them. This can cause them to eventually switch majors without realizing the ramifications such as losing earned credits, taking unnecessary courses, spending more on tuition costs and delaying graduation.
The survey adds that 1 in 3 students have no idea which majors align with their career goals and up to 18% of them believe that their schools are not that helpful in providing assistance in selecting the right majors.
Changing majors after 2nd-year impacts grades
Based on a study by Western Kentucky University, which is a public university in Bowling Green, Kentucky and has a ranking of #109 in Best Undergraduate Engineering Programs by US News, switching to a different major during the junior year of college correlates with modestly lower grades.
It adds that it appears to be because of difficulty in gaining traction after the switch.
But, as always, it's on a case-to-case basis — just because some undergraduate students who changed college majors had a hard time getting good grades doesn't mean you will suffer the same fate.
Planning on changing majors simply because you abhor your current one and just about any other major will do?
Thinking about going for a different major because you believe it's more suited for you?
Your reason for turning your back on a major in order to welcome a new one will determine just what sort of grades you will earn.
No matter when you change majors, how much you are willing to work hard will impact the outcome.
CS kids switch the least (28%) among STEM majors
It's common knowledge that STEM majors are some of the most challenging of college majors.
Because of this, it isn't surprising why some of those who major in them wind up switching majors — either to easier STEM majors such as information technology, management science or agricultural engineering or majors in other fields.
But among all STEM majors, those who switched majors the least are computer and information sciences majors. As a matter of fact, only about 28% of computer and information sciences majors walk out on their first choice only because they feel they already know a lot about computers.
Some of them are also double majoring. At the University of Wisconsin – Madison, for instance, almost 50% of undergraduates majoring in computer science are double or even triple majoring.
For those who do, the following are some of the most common majors that they pair with computer science:
Data Science
Electrical engineering
Humanities
Mathematics
Social sciences
Statistics
But, according to the public land-grant research university with a US News ranking of #42 in National Universities 2022, over 50 other majors are in their listing of computer science double and triple majors.
60% of students who switch majors are women
According to an article by the New York Times, almost 60% of all college goers these days are women.
It also adds, however, that female undergraduate students have a penchant for majors that take them to lower-paying sectors. Just take a look at the low percentages of women who major in some of the top paying disciplines:
| | |
| --- | --- |
| MAJOR | PERCENTAGE OF FEMALE MAJORS |
| Business | 31% |
| Chemical engineering | 28% |
| Computer science | 20% |
| Electrical engineering | 10% |
| Mechanical engineering | 8% |
Based on a Science Direct study, about 60% of all college students who change majors are women.
If you believe you are about to be a part of the statistics because you are planning on changing majors, you might want to consider one that can help narrow the gender pay gap, which amounts to 93 cents for every dollar a man gets.
Switching majors could affect financial aid
First things first: changing majors should not have any effect on your financial aid. By maintaining the required GPA and following all other basic eligibility criteria, there is no need to worry about losing your award.
But before you decide to scrap your current major, check just what sort of scholarship you have.
Is it the major-specific kind of program because of the major you are currently taking? Then you could lose it the moment that you switch majors no matter if it's from your college or an independent scholarship provider. Needless to say, you could wind up paying your tuition out of pocket until you have completed your new major.
Worst-case scenario: you could be asked to repay the scholarship money!
But just because your scholarship isn't major-specific doesn't mean you're out of the woods. Always keep in mind that many scholarship programs will stop awarding cash after four years of college.
If changing majors will result in you spending more time in college, then chances are that you will pay the rest of your tuition with your own money.
This is when the importance of working with your college's academic advisor beforehand comes in.
60-credit rule may impact ability to switch major
Generally speaking, it's never too late to change majors. But the longer you wait, the bigger the repercussions — switching to a different major during your last year of college can mean additional semesters and costs.
Before you decide to switch majors, take into account how many credits you have under your belt.
Here's a simple rule to bear in mind during the major switching process: if you have earned more than 60 credits already, it's not recommended that you push through with your desire to change majors. That's equivalent to two years of coursework, and pursuing a different major past 60 credits can come with tons of issues.
But since your passion and career goal are the ones on the line, you may still choose to switch majors even if you're past the 60-credit threshold — just be ready and willing to accept the ramifications.
Just a suggestion if you have already obtained more than 60 credits and are thinking about turning your back on your current major because you have found a more interesting one: instead of changing majors, consider simply adding a minor or two that have something to do with your newfound passion.
Community college students change their majors too
At two-year colleges, attendees are given the option to choose a major — but it's not a requirement for them to declare a major, unlike students at four-year institutions working on a bachelor's degree.
Besides being able to have a major, community college students can also change majors.
Data from the USDE, as a matter of fact, says that up to 28% of those who are enrolled in associate degree programs switch majors at least once before they earn their diplomas.
And among those who change majors at two-year colleges, around 19% switch majors just once. Meanwhile, about 10% of them switch majors two or more times.
However, as mentioned earlier, it's not really a requirement for community college attendees working on an associate degree to declare a major unless their chosen program is specific to an industry, such as electrician or nursing. But for the rest, it's a much better idea for them to focus on getting general education courses out of the way.
You can change your career after graduation
Many undergraduate students move from one major to the next in search of the one that can help them achieve their career goals much better after getting their hands on their diplomas.
But there are a few important things that the College of Agriculture and Life Sciences (CALS) at Cornell University would like degree-seeking students to know:
It's never too late for students to figure out the career direction they like
Many undergraduate students wind up in careers that have nothing to do with their majors
Lots of career decisions tend to take place right after graduation
Considering these matters, according to the Ivy League faculty, choosing a major is less important than many undergraduate students believe — enjoying their college education no matter the major one has declared to commit to is far more important. It adds that the things you do outside of your classes matter, too.
61% of graduates wish they could change major
We established earlier the fact that the vast majority of undergraduate students switch majors at least once before they graduate — up to 80% of them, to be exact.
Alas, the desire to take an entirely different major doesn't end after getting one's diploma.
Based on a survey conducted by Best Colleges through YouGov, which is a UK-based company that specializes in market research and opinion polling via online methods, around 61% of bachelor's degree holders say they would change majors if they could go back — and they include those who agree that college was a good investment of theirs.
Here are the reasons why those who participated in the survey would change majors if given the chance:
More job opportunities – 25%
Purse true passion – 26%
Better compensation or benefits – 15%
Learn more in-demand skills – 14%
Stressed or unhappy with current career – 10%
Others – 10%
Even if a particular college major appears to check all the boxes necessary to achieve one's career goal, it may still fail to help a degree holder land a satisfying and fulfilling career.
These majors are more regretted than the rest
There are many different things college-bound students or college-level students consider when choosing a major. One of the most important ones on everyone's list is market value.
After all, most people invest in a bachelor's degree to be able to get a job.
And speaking of getting a job, some of those who can confirm whether a major has a high or low employability rate are degree-holding job seekers themselves. And this is exactly why, in 2019, ZipRecruiter surveyed more than 5,000 individuals who were actively looking for jobs on the platform.
Here are the top most-regretted college majors according to the said survey:
| | | |
| --- | --- | --- |
| MAJOR | PERCENT REGRETTING IT | TOP REASON FOR REGRET |
| English and foreign languages | 42% | Limited job options |
| Biological and physical sciences | 35% | Undergraduate degrees necessary |
| Education | 31% | Low pay and satisfaction |
| Social sciences and law | 29% | Further education required |
| Communications | 27% | Too general |
Switching to a non-capped major is easier than switching to a capped major
Also sometimes referred to as selective majors, capped majors are college majors that limit enrollment. They are those that receive lots of applications but only admit a few students.
Incoming first-time, first-year students who select a capped major are also often asked by colleges and universities to also choose an alternate uncapped major — just in case they fail to gain admission to their preferred capped major, which is very much likely to happen given the selectiveness, they may get accepted to their uncapped choice.
Getting admitted to a capped major is just as hard for attendees who wish to shift majors. While possible, the process can be complicated. Besides the limited slots, there are also requirements to meet.
But at the University of California San Diego, it may not be possible for continuing students to shift to a capped major.

Disclaimer: The views and opinions expressed in this article are those of the authors and do not necessarily represent those of the College Reality Check.