How to Check If a College is Accredited
Because college isn't cheap, you want nothing but the most legit and valuable degree that you can get your hands on. Alas, not all learning institutions, traditional and online alike, can confer that.
And this is why you may be wondering how to ensure that the college you are planning to apply to is properly accredited.
To check whether or not a college is accredited, visit its website. Any accreditation is usually mentioned either on the homepage or the "About Us" page. One may also visit the accreditor's page to see if the college is in the institution's database. It's also a must to check if the accreditor is recognized.
Before you start building that college list, don't stop reading this post until you reach its end.
Just about everything you need to know about how to check if a college is accredited can be found below.
Especially if your goal is to get your hands on a degree that employers will honor and be impressed with, it's a must for you to spend the next few years of your academic life attending an accredited learning institution.
By the way, if you don't know how to choose an online college and need some recommendations, check this article.
But before anything else, let's answer this pressing question…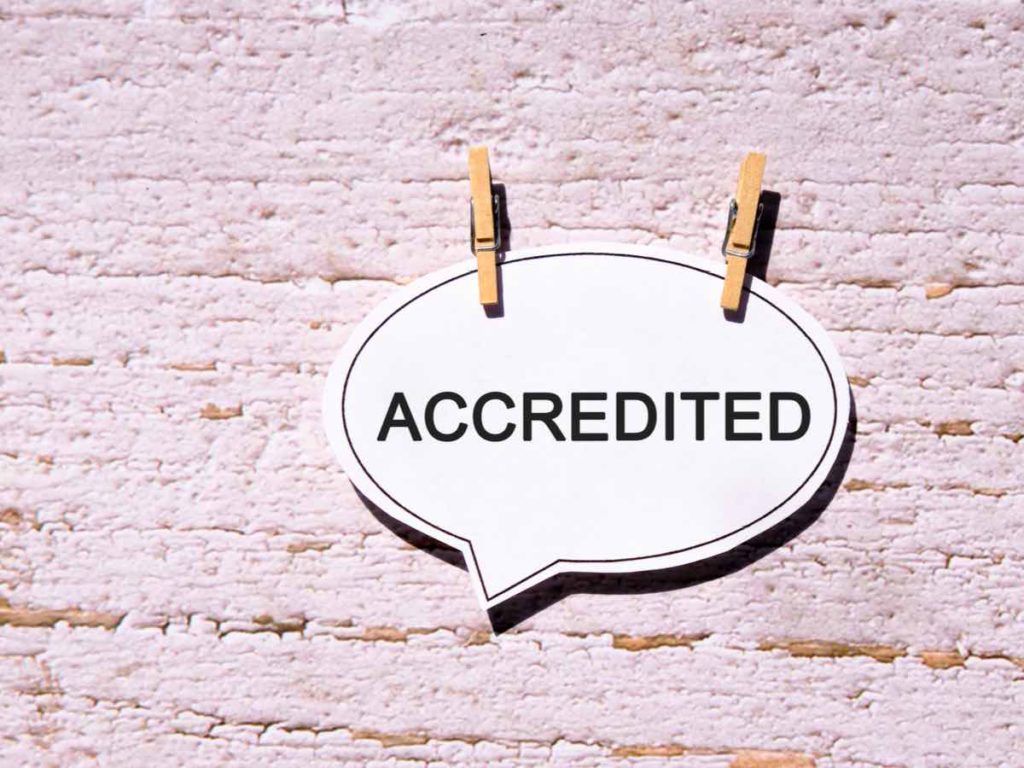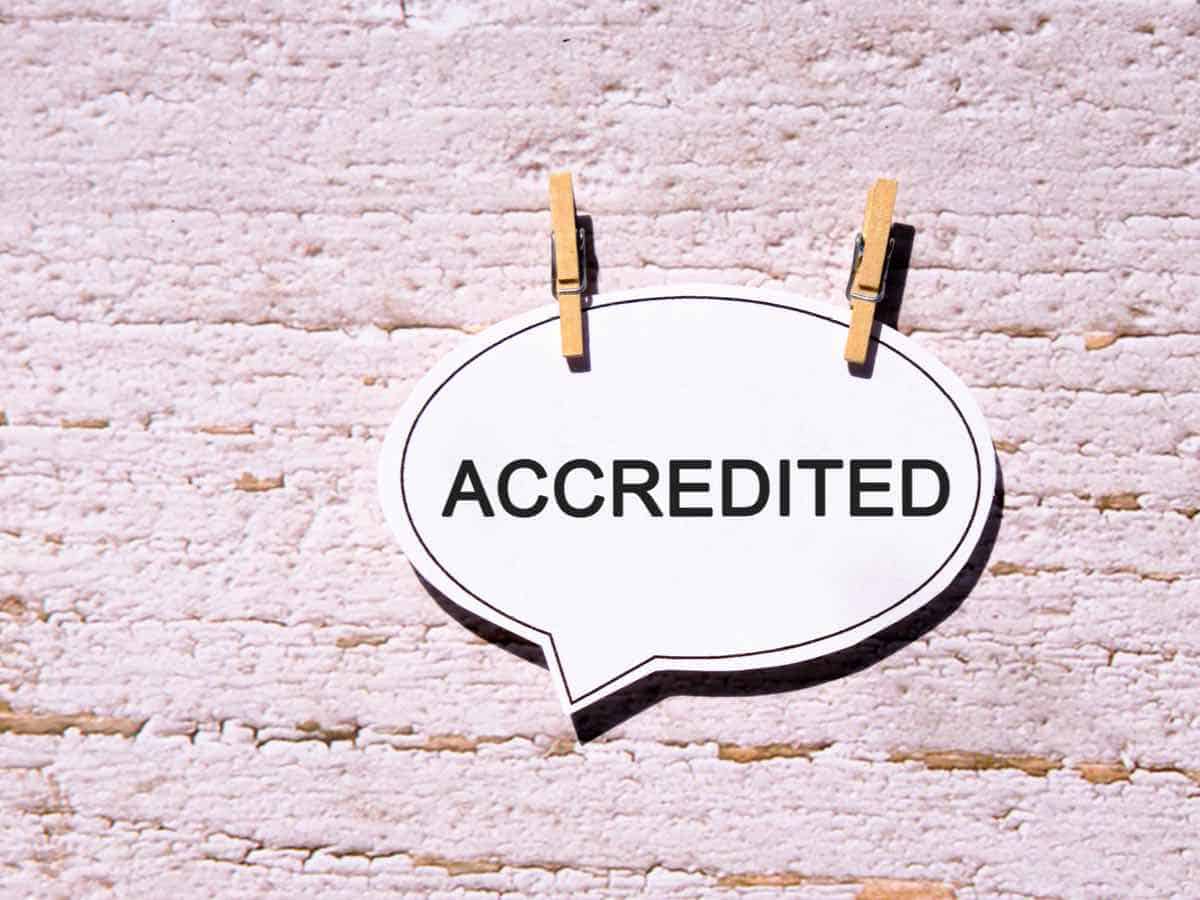 Is It Bad to Attend a Non-Accredited College?
There are many disadvantages that come with going to a college without accreditation. This is especially true for low-income students as they will not be eligible to get federal and state financial aid. Credits earned at a non-accredited school may not transfer and degrees may not be accepted by employers.
First things first: just because a college has no accreditation doesn't mean right away that it's a fake.
If truth be told, there are actual higher learning institutions out there that are legit but without any accreditation. Typically, these schools chose not to participate in any accreditation process for various reasons.
For instance, it's not unlikely for a college or university to feel that getting accredited is a breach of its religious or political views.
However, it's also important to keep in mind that some non-accredited institutions are completely bogus schools, many of which can be considered diploma or degree mills.
Different reasons exist why it's not a good idea to attend a college without any accreditation. Leading the list is the fact that only accredited institutions get federal or state funding.
So, in other words, students at a non-accredited school are not eligible to get financial aid from the government — bye, low-cost college!
Besides that, here are some other downsides to going to a school with no accreditation:
You may not be eligible to get private scholarships or loans.
The credits you earn may not be honored by another college should you decide to transfer.
Your degree may not be respected or appreciated by employers.
You may fail to meet eligibility requirements for professional certificates or licenses.
How Do You Check for Accreditation?
In many instances, visiting the website of a college is enough to determine whether or not it's accredited. One may also visit the website of the accrediting agency to see if the institution is included in its database. In the US, 85% of colleges are regionally accredited, while 15% are nationally accredited.
Choosing carefully which schools you will shortlist is a definite must. But before you decide that you are completely happy with your college list, make sure that each entry is fully accredited.
While it will make the college list-building process more taxing, the extra hard work will be worth it in the end.
The good news is that it's not that difficult to have an idea of whether or not the college or university of your dreams is accredited. Here are the simple steps to take in order for you to have the answer you require:
Visit the college's website
Colleges and universities will do just about anything and everything they can in order to attract some of the brightest students out there.
One of the things that many of them do is brag about being accredited. And to make sure that no one will miss that fact, they usually say so on the homepage of their respective websites.
Sometimes, you may have to open the "About Us" page to find out about a school's accreditation status.
While you're at it, check out when was the last time its accreditor renewed its accreditation — colleges have to ask their accreditors to conduct a review and renew their accreditation periodically.
Determine the type of accreditation
Accredited higher learning institutions in the US can either be regionally accredited or nationally accredited.
Between the two, regional accreditation is considered the more prestigious. That's because regional accreditors require the schools they review to meet higher standards in order for them to become accredited.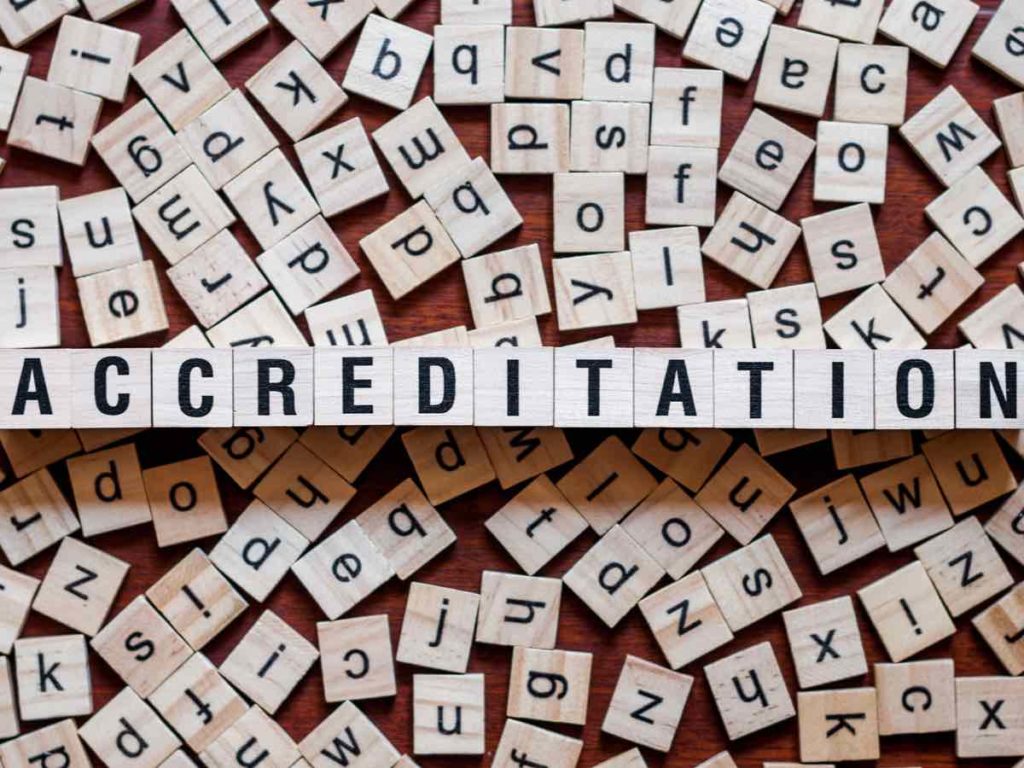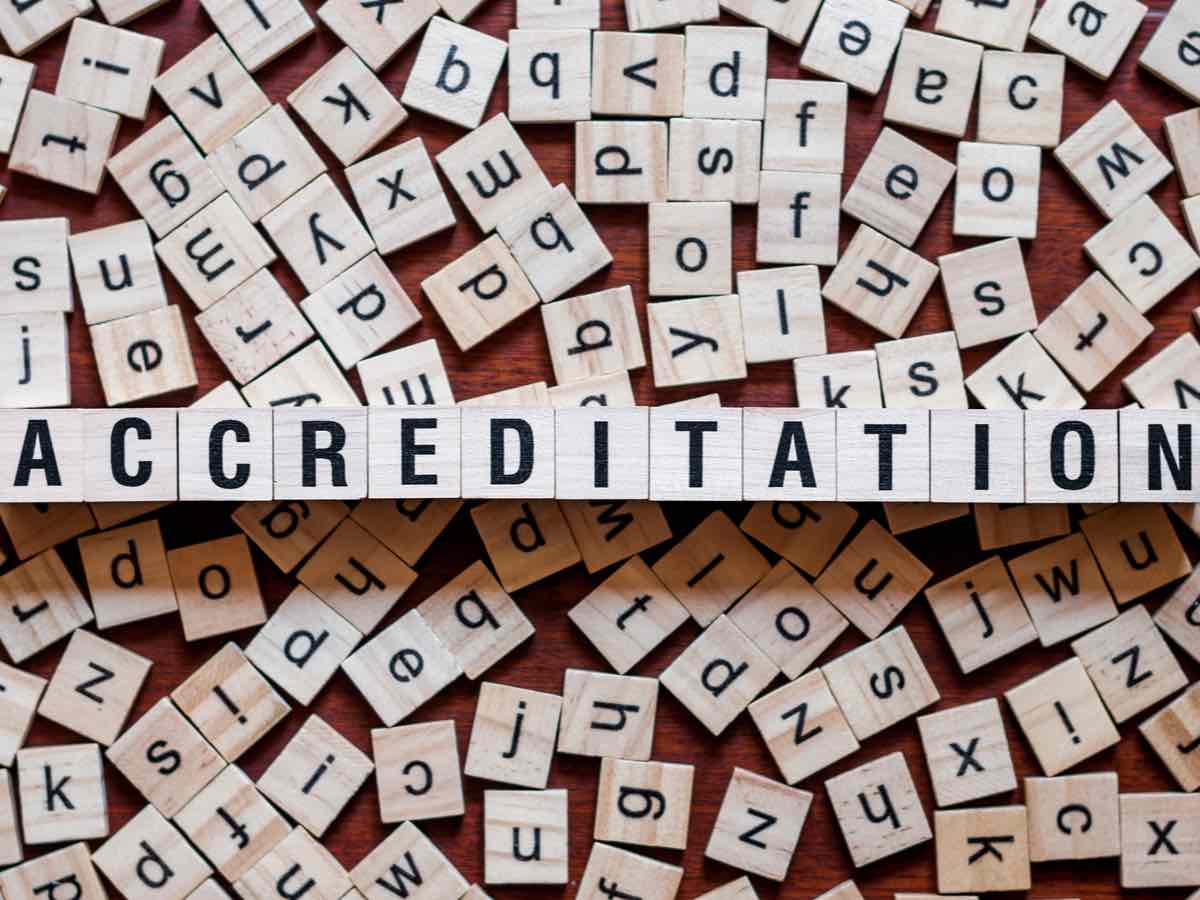 Due to this, credits earned transfer easily from one regionally accredited institution to the other and degrees obtained are better accepted by graduate schools and employers, too.
It doesn't mean, however, that you should steer clear of a school that's nationally accredited.
Some learning institutions are more suitable to get national accreditation instead of regional accreditation. They include trade schools, vocational schools and religious institutions. Many online schools also have national accreditation, except for those that serve as the online campuses of nationally accredited colleges and universities.
Visit the accreditor's site
Fake colleges can claim anything they want in order to prey on unsuspecting victims who want nothing but to earn a degree, and that includes brandishing on their homepages that they are fully accredited.
If you have suspicions or doubts, fret not — you can always access the website of the organization that the school claims to be the one responsible for its accreditation. But you may fail to find its website if the accrediting agency does not exist. In this case, you should steer clear of the institution at all costs.
But if the given accreditor does exist and thus has a website, head to the page that contains its institutions database — it has the name of all colleges and universities that the agency has accredited.
However, keep in mind that the entire accreditation process can take around 18 months to complete.
This means that a higher learning institution that has just been reviewed by an accrediting agency for the first time may not say on its website that it's accredited. Similarly, its name may not be included in the database of the accreditor. You may get in touch with the college if you have questions about accreditation-related matters.
By the way, while you're on the website of the accreditor, check that it is recognized by the US Department of Education (USDE) and/or the Council for Higher Education Accreditation (CHEA).
Look into programmatic accreditation
Other than institutional accreditation, which is what we have been talking about all the while, there is also such a thing as programmatic accreditation.
As the name suggests, this type of accreditation is given to an academic program instead of the institution offering it — a college can have both institutional accreditation and various programmatic accreditations.
What's really nice about a program with programmatic accreditation is that it has undergone a rigorous review process and has met the accreditor's standards.
Programs without programmatic accreditation are still legit, provided that they are from an accredited school.
To date, there are many different programmatic accrediting organizations that review academic programs offered by US colleges and universities. Some examples of CHEA-recognized include:
Accreditation Commission for Audiology Education
Accreditation Commission for Programs in Hospitality Administration
Accreditation Council for Pharmacy Education
American Council for Construction Education
American Culinary Federation Education Foundation, Inc.
Commission on Accreditation of Athletic Training Education
Council on Chiropractic Education
Masters in Psychology and Counseling Accreditation Council
National Accrediting Agency for Clinical Laboratory Sciences
Planning Accreditation Board
Psychological Clinical Science Accreditation System
Which Agencies Do Accreditation?
Agencies tasked with accrediting higher learning institutions in the US are accreditors recognized by both the USDE and CHEA. Some of them are regional accreditors, while others are national accreditors. To date, there are six regional accrediting bodies and numerous national accrediting organizations.
It's not enough that the college you are thinking about attending is accredited — it's also important that you check which accrediting agency is responsible for its accreditation.
Some diploma mills are accredited, too, except that their accreditors are totally fake and made up!
In order to make sure that the school you are about to include in your college list not only has accreditation but is also accredited by a legit agency, consider checking out its accreditor. Luckily, especially if you are looking to attend a regionally accredited institution, there's only a handful of regional accrediting agencies around:
Higher Learning Commission (HLC)
It was in 1895 when HLC was formed. However, it was called the North Central Association back then. The standards of quality by which the agency determines whether or not an institution merits accreditation include:
Mission
Ethical and responsible conduct
Quality, resources and support for teaching and learning
Evaluation and improvement of teaching and learning
Institutional effectiveness, resources and planning
HLC accredits colleges and universities located in the North Central region, which consists of Arizona, Arkansas, Colorado, Illinois, Indiana, Iowa, Kansas, Michigan, Minnesota, Missouri, Nebraska, New Mexico, North Dakota, Ohio, Oklahoma, South Dakota, West Virginia, Wisconsin and Wyoming.
Middle States Commission on Higher Education (MSCHE)
From its founding in 1919 until early 2013, MSCHE was a unit of the Middle States Association of Colleges and Schools (MSACS). These days, however, the accreditor is an independent body.
MSCHE provides accreditation as well as pre-accreditation of higher learning institutions in Delaware, the District of Columbia, Maryland, New Jersey, New York, Pennsylvania, Puerto Rico, and the US Virgin Islands. The agency also accredits schools in any other geographic area — it accredits those in the US and across the globe.
New England Commission of Higher Education (NECHE)
Currently, NECHE accredits more than 200 learning institutions across the globe. In the US, it accredits colleges and universities located in Connecticut, Maine, Massachusetts, New Hampshire, Rhode Island and Vermont.
NECHE traces its roots to the oldest regional accrediting organization in the US, the New England Association of Schools and Colleges (NEASC), which was formed in 1885. NECHE, back in 2018, became a separate and independent entity from NEASC. These days, NEASC focuses on accrediting PK to Grade 12 schools.
Northwest Commission on Colleges and Universities (NWCCU)
USDE has recognized NWCCU as a legit accrediting agency since 1952. In 2018 and 2019, respectively, the Redmond, Washington-based non-profit organization was re-recognized by USDE and CHEA.
Higher learning institutions accredited by NWCCU are those that are located in Alaska, Idaho, Montana, Nevada, Oregon, Utah, Washington and British Columbia. It also accredits schools in domestic and international geographic areas. There are more than 150 colleges and universities that are accredited by NWCCU as of this writing.
Southern Association of Colleges and Schools Commission on Colleges (SACSCOC)
As the name suggests, SACSCOC accredits colleges and universities in the Southern states. They include Alabama, Florida, Georgia, Kentucky, Louisiana, Mississippi, North Carolina, South Carolina, Tennessee, Texas and Virginia. The accrediting agency also accredits schools in Latin America and other international sites approved by the Board of Trustees.
SACSCOC has accredited more than 13,000 US public and private institutions ranging from preschool to college level.
WASC Senior College and University Commission (WSCUC)
It was only in 2012 when WSCUC came into being — it's the result of the three agencies under the umbrella of the Western Association of Schools and Colleges (WASC), which was formed in 1962, reincorporated as separate entities.
Public and private colleges and universities in California and Hawaii are those that WSCUC accredits. It also accredits higher learning institutions in international locations such as Guam, Samoa, Palau, Tokyo, Seoul, Lima, Marshall Islands and the Federated States of Micronesia.
Besides regional accreditors, there are also national accrediting agencies. Fret not if the learning institution you are planning on adding to your college list is nationally accredited — national accreditation is just as legit as regional accreditation, except that the latter is considered more prestigious.
There are so many more national accreditors in the land than regional ones. The following are the accrediting organizations both the USDE and CHEA recognize:
Accreditation Board for Engineering and Technology, Inc.
Accreditation Commission for Acupuncture and Oriental Medicine
Accrediting Association of Bible Colleges, Commission on Accreditation
Accrediting Bureau of Health Education Schools
Accrediting Commission of Career Schools and Colleges of Technology
Accrediting Commission on Education for Health Services Administration
Accrediting Council for Continuing Education and Training
Accrediting Council for Independent Colleges and Schools
Accrediting Council on Education in Journalism and Mass Communications
American Academy for Liberal Education
American Association for Marriage and Family Therapy, Commission on Accreditation for Marriage and Family Therapy Education
American Association of Nurse Anesthetists, Council on Accreditation of Nurse Anesthesia Educational Programs
American Bar Association, Council of the Section of Legal Education and Admissions to the Bar
American Board of Funeral Service Education, Committee on Accreditation
American College of Nurse-Midwives, Division of Accreditation
American Council on Pharmaceutical Education
American Dental Association, Commission on Dental Accreditation
The American Dietetic Association, Commission on Accreditation for Dietetics Education
American Occupational Therapy Association, Accreditation Council for Occupational Therapy Education
American Optometric Association, Council on Optometric Education
American Osteopathic Association, Bureau of Professional Education
American Physical Therapy Association, Commission on Accreditation in Physical Therapy Education
American Podiatric Medical Association, Council on Podiatric Medical Education
American Psychological Association, Committee on Accreditation
American Speech Language Hearing Association, Council on Academic Accreditation
American Veterinary Medical Association, Council on Education
Association for Clinical Pastoral Education, Inc., Accreditation Commission
Association of Advanced Rabbinical and Talmudic Schools, Accreditation Commission
Association of Theological Schools in the United States and Canada, Commission on Accrediting
Commission on Collegiate Nursing Education
Commission on Opticianry Accreditation
Council on Chiropractic Education, Commission on Accreditation
Council on Education for Public Health
Council on Naturopathic Medical Education
Council on Occupational Education
Distance Education and Training Council, Accrediting Commission
Joint Review Committee on Educational Programs in Nuclear Medicine Technology
Joint Review Committee on Education in Radiologic Technology
Liaison Committee on Medical Education
Montessori Accreditation Council for Teacher Education, Commission on Accreditation
National Accrediting Agency for Clinical Laboratory Sciences
National Accrediting Commission of Cosmetology Arts and Sciences
National Association of Nurse Practitioners in Women's Health, Council on Accreditation
National Association of Schools of Art and Design, Commission on Accreditation
National Association of Schools of Dance, Commission on Accreditation
National Association of Schools of Music, Commission on Accreditation, Commission on Non-Degree-Granting Accreditation, Commission on Community/Junior College Accreditation
National Association of Schools of Theatre, Commission on Accreditation
National Council for Accreditation of Teacher Education
National League for Nursing Accrediting Commission
New York State Board of Regents
Transnational Association of Christian Colleges and Schools, Accreditation Commission
Just Before You Apply to a College
When building a college list, it's of utmost importance that you take into account many different factors so that you will be able to come up with one that's balanced and realistic.
Some of the things that college-bound high schoolers or adult learners consider include the cost, location, programs offered and campus life.
Don't forget the sheer importance of also checking out whether or not the learning institution is accredited!
Especially if you want to invest your time and money toward the completion of a college degree that's legit and valuable, make sure that the school you are about to shortlist has accreditation.
Above, we talked about the different steps to take on how to check if a college is accredited. Make sure that you take your time when determining the accreditor and type of accreditation the college has before you apply to it in order to have complete peace of mind that all your hard work and dedication will pay off after a few years.

Disclaimer: The views and opinions expressed in this article are those of the authors and do not necessarily represent those of the College Reality Check.