So, you are planning to apply to New York University (NYU). You have read and heard, however, that the private research university in NYC is highly selective, with a 16.2% acceptance rate.
It's also one of the most expensive schools, according to CNBC, and it doesn't come as a surprise as it's located in one of the most expensive cities on the planet.
Numerous colleges and universities are similar to NYU in terms of popularity and prestige levels. Some on the top of the list are Carnegie Mellon, Columbia, Cornell, Stony Brook, Stanford, Vanderbilt, and Boston University. Harvey Mudd College, UCLA, and MIT are institutions comparable to NYU, too.
Fret not if you feel that your pocket cannot afford NYU's cost of attendance (COA) and your application isn't strong enough for the well-known school's admissions officers.
Below, we will check how some colleges and universities fare against NYU.
We will compare a total of 10 institutions with the urban school, thus letting you know what some of your best options are. By the end of this article, you will have a better idea of which NYU alternatives you should send applications to.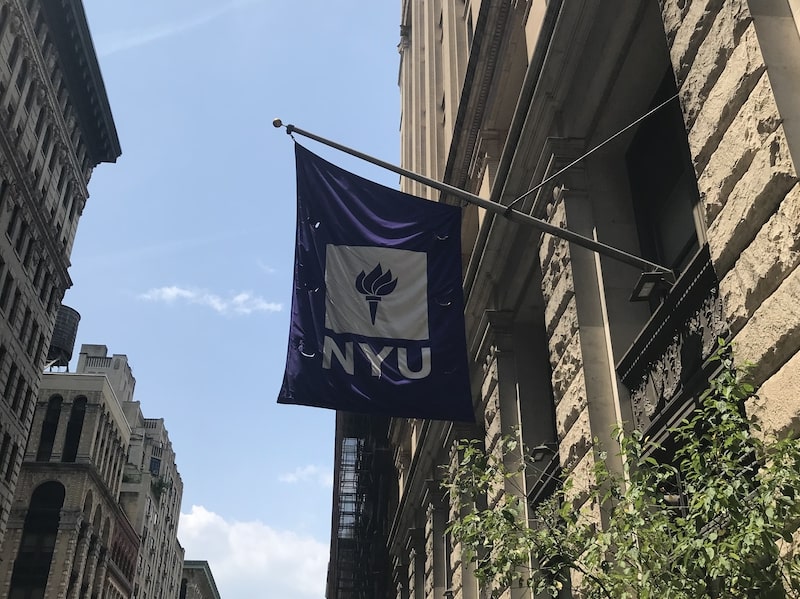 Cornell University
First things first: both NYU and Cornell are highly selective schools.
However, since NYU has a slightly higher acceptance rate than the Ithaca, New York-based Ivy League school (16.2% vs. 10.9%), your chances of receiving an acceptance letter from the institution are slightly better. The minimum GPA requirement (3.69 vs. 3.90) is lower, too.
But to gain admission into both schools, you will have to be an above-average high school student. It's also important to note that your GPA is just one part of your application that NYU and Cornell take into account.
Related Article: How to Get a Full Scholarship to NYU
Stony Brook University
While they are often compared to one another as they are in the same state, there are key differences between NYU and Stony Brook.
For instance, Stony Brook, which is located in the town of Brookhaven, is a public research university. It's also one of the 18 members of the State University of New York (SUNY) system.
Needless to say, the tuition at Stony Brook is so much cheaper than the tuition at NYU. For the academic year 2019 to 2020, the tuition at the school is $10,175 (in-state) and $27,845 (out-of-state).
However, NYU is better than Stony Brook in terms of graduation rate — 85.4% vs. 72.4%.
Related Article: Is Pace University a Good School?
Columbia University
Since Columbia is one of the eight Ivy League schools, gaining admission into it is so much harder than NYU. That's because the NYC-based elite school has an acceptance rate of 5.4% only.
Based on the academic year 2019 to 2020's tuition costs, attending NYU is a little cheaper than going to Columbia. The tuition at NYU is $53,308.
On the other hand, the tuition at Columbia is $61,788. Because both are private institutions, their students pay the same amount of tuition no matter if they reside in the state of New York or elsewhere.
NYU offers more majors than Columbia (94 vs. 70). However, it's more populous, too (51,123 vs. 31,455).
Boston University
In the National Universities ranking by the US News for 2021, NYU ranks higher than Boston University — #30 vs. #42. Despite this, attending NYU is easier on the pocket than going to Boston University.
Both NYU and Boston University have urban campuses, although the former has a 230-acre campus and the latter has a 169-acre campus.
Compared to NYU, Boston has a smaller population (32,551) and offers fewer majors, too (69). In terms of graduation rate, Boston has slightly more graduates per year than NYU — 86.5% vs. 85.4%.
With an acceptance rate of 18.9%, it's slightly easier to gain admission into Boston University.
University of California – Los Angeles
NYU and UCLA are located on the opposite coasts of the country.
However, that's not the only thing that sets the two universities apart. For instance, NYU is a private school, while UCLA is a public institution.
Although both of them have urban settings, the campus size of UCLA is almost double (419 acres). Acceptance rate-wise, it's harder to get into UCLA than NYU — 12.3% vs. 16.2%.
Both NYU and UCLA are considered Ivy Leagues, but not in the traditional sense such as the eight original ones. NYU is regarded as one of the New Ivies.
On the other hand, UCLA is regarded as a Public Ivy.
Stanford University
According to US News' 2021 National Universities ranking, NYU is #30 and Stanford is #6. Ranking-wise, there's no denying that the Stanford, California-based school is better than NYU.
Its campus is so much larger, too — 8,180 acres vs. 230 acres.
Stanford also has a more impressive student-to-faculty ratio than NYU — 5:1 vs. 9:1. As a general rule, the smaller the student-to-faculty ratio, the better.
That's because it allows the faculty members to pay attention to each of the students a lot better. The tuition at both schools are almost the same, but Stanford has a higher retention rate — 98% vs. 94%.
Carnegie Mellon University
Carnegie Mellon, with an acceptance rate of 15.4% only, is just a little more selective than NYU.
The private research university located in Pittsburgh, Pennsylvania, has a higher minimum GPA requirement, too (3.84 vs. 3.69). Both schools, however, are test-optional. This means that you may or may not submit your standardized test score.
The retention rate at Carnegie Mellon is higher — 97% vs. 94%. Having a higher retention rate can be used to gauge the satisfaction of a school's students, particularly first-year ones.
Graduation rate-wise, Carnegie Mellon's is slightly higher than that of NYU — 89.8% vs. 85.4%.
Vanderbilt University
When it comes to ranking, according to US News, Vanderbilt is the 14th best university in the US. On the other hand, NYU is only the 30th. Still, both institutions are some of the top schools in the nation.
Despite this, the tuition at Vanderbilt ($52,070) is slightly lower than the tuition at NYU ($53,308).
It's true that attending Vanderbilt is a little lighter on the budget than going to NYU. However, it's so much harder to gain admission into Vanderbilt. That's because it has an acceptance rate of only 9.1%. The school also looks for students with GPAs of not less than 3.83 — the minimum GPA at NYU is 3.69.
Related Post: Is Vanderbilt a Good School?
Harvey Mudd College
One of the most popular majors at NYU is liberal arts. On the other hand, Harvey Mudd, which is located in Claremont, California, is a liberal arts college. Besides its liberal arts degrees, it's also known for its STEM programs.
Both NYU and Harvey Mudd have high retention rates (94% vs. 97%). This means that their first-year students are happy with their experience, which is why they have decided to return. Per year, however, there are more graduates at Harvey Mudd than at NYU — it has a 93.3% graduation rate.
The tuition at Harvey Mudd ($58,660) is higher than the tuition at NYU. It also has a lower acceptance rate (13.7%).
Massachusetts Institute of Technology
It was mentioned a couple of times already that NYU is #30 in the US News' 2021 National Universities ranking. Well, MIT is included in the same ranking, too. However, the private land-grant research university found in Cambridge, Massachusetts is way higher on the said listing — it's #4.
MIT is also more selective than NYU, with an acceptance rate of 6.7% only.
The tuition at NYU and MIT are almost the same. And since both of them are private institutions, there are no such things as lower in-state tuition and higher out-of-state tuition. MIT has a smaller campus size (168 acres vs. 230 acres). But the good news is that it's not as populated as NYU — it only has 11,376 students.
Takeaway
Many alternatives to NYU exist. Each one of them has its own set of strengths and weaknesses compared to the popular private research university in NYC. Take your time when choosing which of them you should send applications to in order to avoid unnecessary expenditure, stress and frustration.
Related Article: Is NYU Worth the Money?

Disclaimer: The views and opinions expressed in this article are those of the authors and do not necessarily represent those of the College Reality Check.