What Makes Cornell Unique?
Most students dream of attending Cornell University. It doesn't come as a surprise because it's one of the most prestigious schools in the US and perhaps the entire planet, too. But you may be wondering what sets the Ithaca, New York-based institution apart from the rest of the Ivy Leagues and other elite schools.
Cornell University is unique in that it has the highest acceptance rate among the Ivy Leagues. It's a large school with parties almost nightly. As a matter of fact, it was named by Newsweek as the 13th best party school years ago. Cornell is known for its programs in the business and STEM fields.
Are you planning to send an application to Cornell University anytime soon? Read on.
Below, you will come across some of the most crucial things every student needs to learn about this well-known school. By the time you get to the end of this article, you will know if it's the right school for you to attend.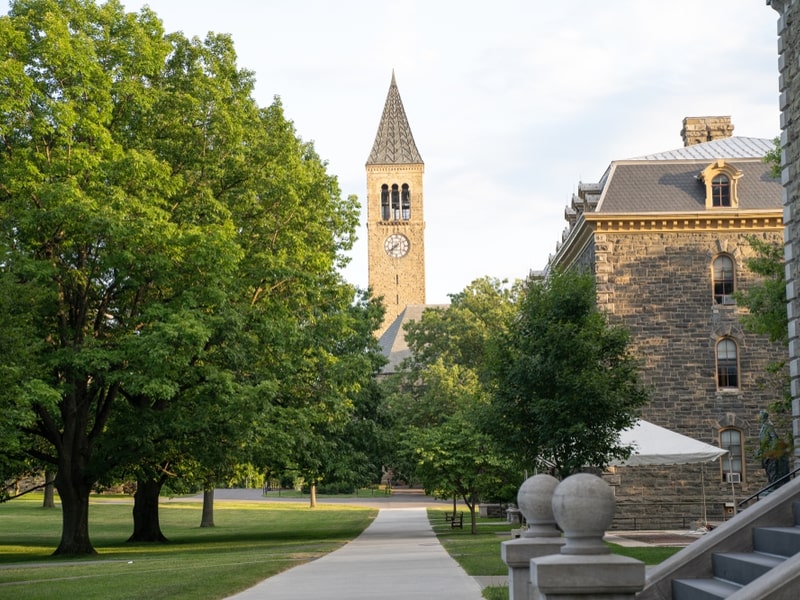 A Brief History of Cornell
It was in 1865 when Cornell University was established under the Morrill Act of 1862, a US Congress act that granted lands to states in order to finance the establishment of colleges and universities specializing in agriculture and the mechanical arts.
Cornell was privately endowed by Ezra Cornell, too, the founder of the Western Union Telegraph Company.
The school first opened its doors to 412 male students in 1868. After two years, Cornell University started admitting women — it became the very first institution in the US to accept female students.
Founded shortly after the American Civil War, it was intended for Cornell to be a coeducational and non-sectarian school that accepted students no matter their race or religion.
Because it's situated in a farming area, the school naturally acquired the study of agriculture. But it intended to teach and make contributions in all fields of knowledge, too.
In the 20th century, Cornell University expanded exponentially — by the end of the century, the faculty members amounted to 3,400 and the population grew to its current count.
Cornell's Weill Cornell Medical College was established in Qatar in 2001. It was the first American medical school outside the US. The Ivy League school also has partnerships with major institutions in China, Singapore and India.
Location: Ithaca, New York
Campus type: Rural
Size: 745 acres
Education system: Non-sectarian
School type: Private Ivy League land-grant research university
Reputation: Party school
Motto: I would found an institution where any person can find instruction in any study
Nickname: Big Red
Number of majors: Almost 80
Best majors: Business, management, engineering, biomedical sciences, computer sciences, agriculture
Selectivity: Highly selective
Average class size: Less than 30 students in 73% of classes
Student-to-faculty ratio: 9:1
Retention rate: 97%
Graduation rate: 93.9%
Color: Carnelian red and white
Athletic affiliation: NCAA Division I
Mascot: The Big Red Bear (unofficial)
Number of varsity teams: 36
Sports: Basketball, volleyball, baseball, tennis, softball, squash, lacrosse, golf, football, soccer, ice hockey, fencing, cross country, gymnastics, wrestling, polo, rowing, sailing, diving, swimming, track and field.
Cornell University Rankings
US News placed Cornell University in its 2021 Best National Universities ranking at number 18. Among the Ivy Leagues in the ranking, Cornell is the lowest. However, US News ranks it the fourth 2021 Best Colleges for Veterans. QS World University Rankings 2022 placed Cornel University at number 21.
Looking at college rankings is a step many students take to have an idea of whether or not they are about to send an application to a good college or university.
But even without checking out any college ranking, there is no denying that Cornell University is one of the best schools on the face of the planet.
It's for the obvious fact that it's one of the eight Ivy League schools. It may not be the highest-ranking Ivy League in certain rankings, but it definitely outranks many prestigious US colleges and universities.
To paint you a bigger picture, here's how Cornell ranks in various US News Rankings:
Best in Undergraduate Teaching – number 61 (tie with Columbia, Florida A&M, CUNY, etc.)
Best Value School – number 25
Most Innovative School – number 16 (tie with the University of Central Florida)
Top Performers on Social Mobility – number 251
Related Article: Easiest and Hardest Ivy League Colleges to Get Into
Cornell Accreditation
Since 1921, Cornell University has been accredited by the Middle States Commission on Higher Education (MSCHE). Its accreditation has been affirmed in 2016 by the accrediting body. MSCHE is one of the six regional higher education accrediting agencies in the US, accrediting almost 600 institutions.
Accreditation is an important thing students should check when applying to colleges and universities.
Going to an accredited school allows students to transfer credits to other accredited institutions without trouble and get their hands on financial aid, too. More importantly, they will find it easier to get hired because almost all employers prefer hiring people who graduated from accredited institutions.
It's not just any accreditation that Cornell University has — it has regional accreditation by MSCHE, which is accepted as more prestigious than national accreditation.
Acceptance Rate at Cornell
The acceptance rate at Cornell University is 10.9% only. This makes the school a highly selective institution. It isn't surprising since it's an Ivy League school. To gain admission into Cornell, applicants need to have high GPAs and a history of taking challenging college-level classes.
Generally speaking, the lower the acceptance rate, the lower the chances of getting an acceptance letter from the school. With an acceptance rate of just 10.9%, it's a definite must for your application to be a complete head-turner to be considered by the school's admissions officers.
It's no secret that the Ivy Leagues are some of the most competitive and selective colleges and universities on the planet. Let's check out their acceptance rates and see how selective Cornell University is compared to them:
| IVY LEAGUE SCHOOL | ACCEPTANCE RATE |
| --- | --- |
| Harvard University | 4.50% |
| Columbia University | 5.10% |
| Princeton University | 5.80% |
| Yale University | 5.90% |
| Brown University | 6.60% |
| University of Pennsylvania | 7.40% |
| Dartmouth College | 7.90% |
| Cornell University | 10.60% |
Some non-Ivy League schools, but are nonetheless prestigious, have lower acceptance rates than Cornell.
For instance, the University of Chicago has an acceptance rate of just 5.9%. Massachusetts Institute of Technology (MIT) has a 6.6% acceptance rate, while Duke University has a 7.4% acceptance rate only.
GPA You Need to Get Into Cornell
The average GPA of students admitted into Cornell University is 3.9. So, in other words, having a GPA of 3.9 or higher can increase an applicant's chances of gaining admission into the Ivy League. Students who tend to get admitted into Cornell have, on average, A's across their high school classes.
One of the reasons why Cornell is a highly selective school is that it accepts students with high GPAs only.
Needless to say, if your GPA is nowhere near 3.9, you should consider sending that application to another school instead and keep your $80 application fee from ending down the drain.
Cornell University does not deny anyone admission as a result of race, religion, national or ethnic origin, gender, sexual orientation, age, or disability.
However, the school opts for those with strong applications. Besides high GPAs, it's also looking for challenging AP or IB courses and impressive extracurriculars, personal essays, etc.
Here are some of the qualities Cornell's admissions officers look for:
Intellectual ability
Character
Involvement in high school and community
Passion to attend Cornell
Related Article: Best Non-Ivy League Schools Along The East Coast
Cornell and Early Decision
Cornell University offers early decision (ED). The deadline for submission is January 2, and the decision of the admissions officers is released in early April. Cornell offers only one round of ED. Applying ED may help increase an applicant's chances of getting accepted into Cornell University.
Earlier, we established the fact that it's not that easy to gain admission into Cornell as it's a selective school.
Students who have set their hearts on attending the Ivy League school should consider applying ED. That's because it will allow them to know ahead of everybody the school's decision, which can help shorten a long stressful waiting period. What's more, it may increase their chances of getting an acceptance letter from it.
For instance, the ED acceptance rate at Cornell University for the Class of 2024 is 24%, which is a little more than double the typical acceptance rate at the prestigious school.
| DECISION PLAN | APPLICATION DUE | NOTIFICATION DUE |
| --- | --- | --- |
| Regular decision | 2-Jan | Early April |
| Early decision | 1-Nov | Mid-December |
| Spring transfer admission | 15-Oct | November |
| Fall transfer admission | 15-Mar | May to June |
Related Article: Good Safety Schools For Ivy League Applicants
SAT or ACT Scores
As of now, Cornell University does not require applicants to submit SAT or ACT scores. Those who wish to submit their test scores, however, may do so. With a test-optional admissions policy, the admissions officers will consider test scores if submitted and not look for them if not submitted.
SAT and ACT scores are some of the most important parts of college applications.
Like many US colleges and universities, Cornell allows applicants to decide whether or not they will submit their test scores. No matter if you are unhappy with your test score or were unable to take the SAT or ACT, you can apply to Cornell University without including your test score in your application.
Despite being a test-optional school, for Class of 2023, 70.8% of enrolling students submitted their SAT scores. On the other hand, 40.7% of enrolling students submitted their ACT scores.
To give you an idea, students accepted into Cornell have SAT scores of 1400 to 1560 or ACT scores of 32 to 35.
How Much Does It Cost to Go to Cornell
The cost of going to Cornell University for one academic year amounts to $60,383 for in-state students. The cost of attending the Ivy League for a year goes up to $80,287 for out-of-state students. Since most students are receiving financial aid, going to Cornell is cheaper than it was in 1997.
Many students dream of going to Cornell University. However, the cost is keeping them from doing so.
Being an Ivy League school, it isn't shocking why Cornell isn't cheap. The good news is that, even though it's a private institution, tuition for New York residents is cheaper. In-state tuition amounts to $40,382. On the other hand, out-of-state tuition at Cornell University amounts to $60,286.
Let's compare the breakdown of the estimated cost of attending Cornell for in-state and out-of-state students:
| EXPENSES | IN-STATE | OUT-OF-STATE |
| --- | --- | --- |
| Tuition | $40,382 | $60,286 |
| Student activity fee | $309 | $309 |
| Health fee | $420 | $420 |
| Housing | $9,962 | $9,962 |
| Meals | $6,434 | $6,434 |
| Books and supplies | $1,000 | $1,000 |
| Miscellaneous expenses | $1,876 | $1,876 |
| TOTAL | $60,383 | $80,287 |
Cornell Cost of Attendance
As mentioned earlier, the majority of students enrolled at Cornell University are receiving financial aid. While the school awards need-based scholarships, there are no merit-based and athletic scholarships offered.
Here are some facts and figures about Cornell's commitment to access and affordability (Fall 2020):
Financial aid went to all students who demonstrate need
54% of students received need-based financial aid of any type
48% of students received Cornell grant aid
2,592 received Pell Grants
3,510 received Federal Work-Study
Related Article: Pros and Cons of Going to an Ivy League School
Cornell University Campus Safety
According to a Campus Safety and Security ranking, Cornell University is number 82 among the safest colleges and universities in the US. As a matter of fact, only five schools ranked among the safest in New York. They are SUNY Buffalo State, SUNY Stony Brook, University at Binghamton, University at Buffalo, and Cornell.
Especially if you will be an out-of-state student, it's a must to go to a safe school for your safety and for the peace of mind of family and friends you will leave behind.
If you plan to attend Cornell University, you will be happy to know that it's one of the safest campuses in New York.
However, it doesn't mean that there are no crimes reported. For instance, according to 2017 to 2019 data from the Campus Safety and Security (CSS) by the US Department of Education, there were 21 rape cases on campus in 2017. But the number of rape cases went down to 17 in 2018 and 15 to 2019.
Burglary cases on campus, unfortunately, went from 14 in 2017 to 30 in 2018 and 41 in 2019. To check out other reported major crimes on and off-campus, check out the details on CSS's website.
How Does Cornell Compare With Other Schools?
Compared to most non-Ivy League schools in the US, Cornell University is better in many aspects. When the Ivy Leagues are considered, Cornell has its pluses and minuses. For instance, it has the highest acceptance rate. Tuition-wise, the cost of going to it is neither the steepest nor the lowest.
Just because Cornell University is an Ivy League doesn't mean that you should place it on the top of your list without spending time comparing it with other schools, Ivy League or otherwise.
Let's see how the school fares against others to help you decide smarter before sending out applications:
Cornell vs. Harvard University. When it comes to acceptance rate, Cornell is better than Harvard. Compared to Harvard's 4.5% acceptance rate, the 10.6% acceptance rate of Cornell is so much higher. Needless to say, applicants have higher chances of gaining admission into Cornell.
Cornell vs. Columbia University. The cost of tuition at Columbia for one academic year is $61,788. On the other hand, the cost of tuition at Cornell for one academic year is $40,382 for in-state students. The tuition cost of out-of-state students, which amounts to $60,286, is still cheaper than Columbia's tuition.
Cornell vs. Princeton University. The campus of Princeton is smaller than the campus of Cornell — 600 acres vs. 745 acres. While the size difference is not that significant, the population difference is notable. There are only 5,422 students at Princeton. On the other hand, there are 15,043 students at Cornell.
Cornell vs. Yale University. It's easier to gain admission into Cornell than Yale because it has a higher acceptance rate — Yale has a 5.9% acceptance rate only. However, there are slightly more majors to choose from at Yale. The New Haven, Connecticut-based school has over 80 majors. Cornell has almost 80 majors.
Cornell vs. Brown University. Students who wish to complete programs in the STEM fields should choose Cornell over Brown. On the other hand, those who like to concentrate on liberal arts subjects should attend Brown instead of Cornell. The tuition at Brown, which amounts to $58,404 is higher than at Cornell (in-state).
Cornell vs. the University of Pennsylvania. There are more faculty members at UPenn than at Cornell — 2,129 vs. 1,821. It doesn't come as a surprise why UPenn has a much better student-to-faculty ratio than Cornell — 6:1 vs. 9:1. This means that UPenn students can enjoy more attention from their professors.
Cornell vs. Dartmouth College. Of all the Ivy Leagues, Cornell and Dartmouth have the highest acceptance rates: 10.6% and 7.9%, respectively. Both elite schools have a graduation rate of 97%. However, the graduation rate at Dartmouth (96.4%) is higher than the graduation rate at Cornell (93.9%).
Cornell vs. MIT. Although MIT is not an Ivy League school, it has a much lower acceptance rate than Cornell — 6.7% vs. 10.6%. Both Cornell and MIT are known for offering excellent degree programs in the STEM fields. However, when it comes to the number of majors offered, Cornell has more — nearly 80 vs. 40.
Cornell vs. Stanford. In the US News 2021 Best National Universities ranking, Stanford is number six. On the other hand, in the same ranking, Cornell is number 18 only. However, the acceptance rate at Stanford is only 4.3%, which makes it easier for students to get accepted into Cornell.
Takeaways
Cornell University has the highest acceptance rate among all the Ivy League schools. As a matter of fact, you have higher chances of gaining admission into it than some other prestigious schools that are non-Ivy Leagues.
Above, we talked about some of the things that set Cornell apart from other elite schools. Take your time when comparing the Ithaca, New York-based school with other institutions on your list. Carefully weigh the pros and cons of attending Cornell University before applying to it.

Disclaimer: The views and opinions expressed in this article are those of the authors and do not necessarily represent those of the College Reality Check.