Cost of Applying to a College: Full Breakdown
My senior is going to college next year, which is good. However, I must tell you that it took a lot of effort and money in the last couple of years to get to this point.
If you want your child to have the best foot forward in the college application process, prepare to spend a small fortune because it ain't cheap.
The cost of applying to a college doesn't end with the application fee, which averages $45. There are many hidden expenses, from having test prep courses to taking a campus tour. Doing the math, applying to a single college, as of this writing, can cost anywhere from over $1,300 to more than $5,300!
About to shortlist schools but worried that the application process alone will leave your college budget in shambles? Then keep reading until you reach the end of this post.
Practically everything you need to know about keeping your college application expenditures, with all kinds of hidden costs that many college-bound teens and their parents tend to overlook included, to a minimum can be found below. After checking out the entirety of this article, you will be able to budget your pre-college money better.
But before anything else, let's talk about money matters…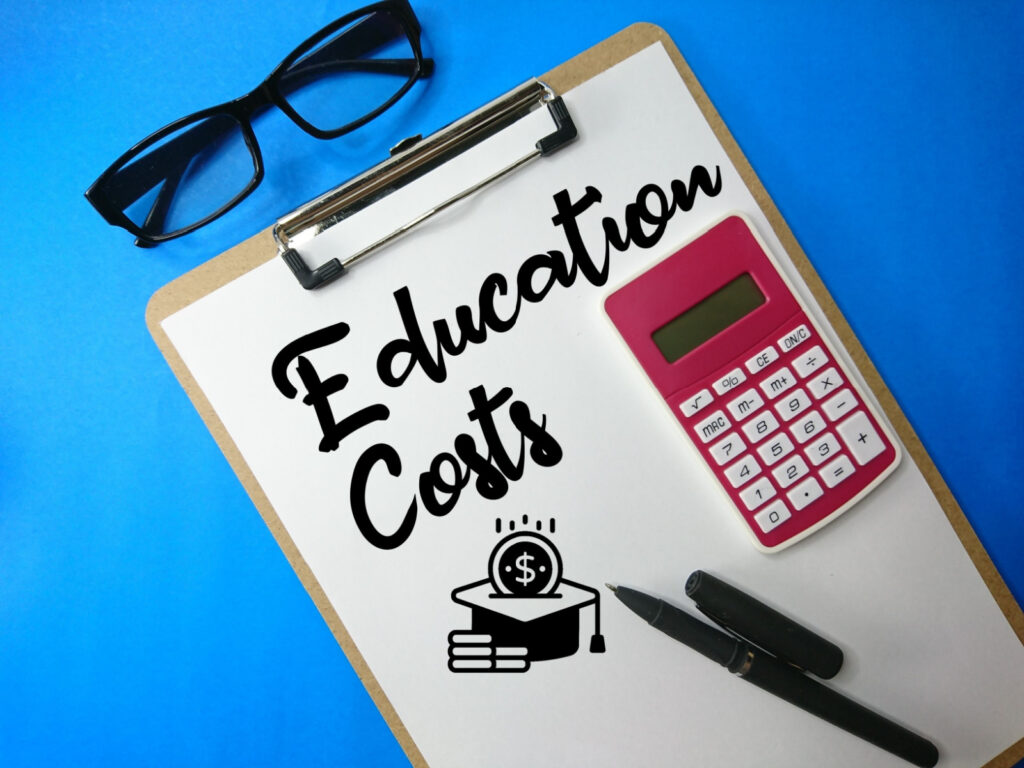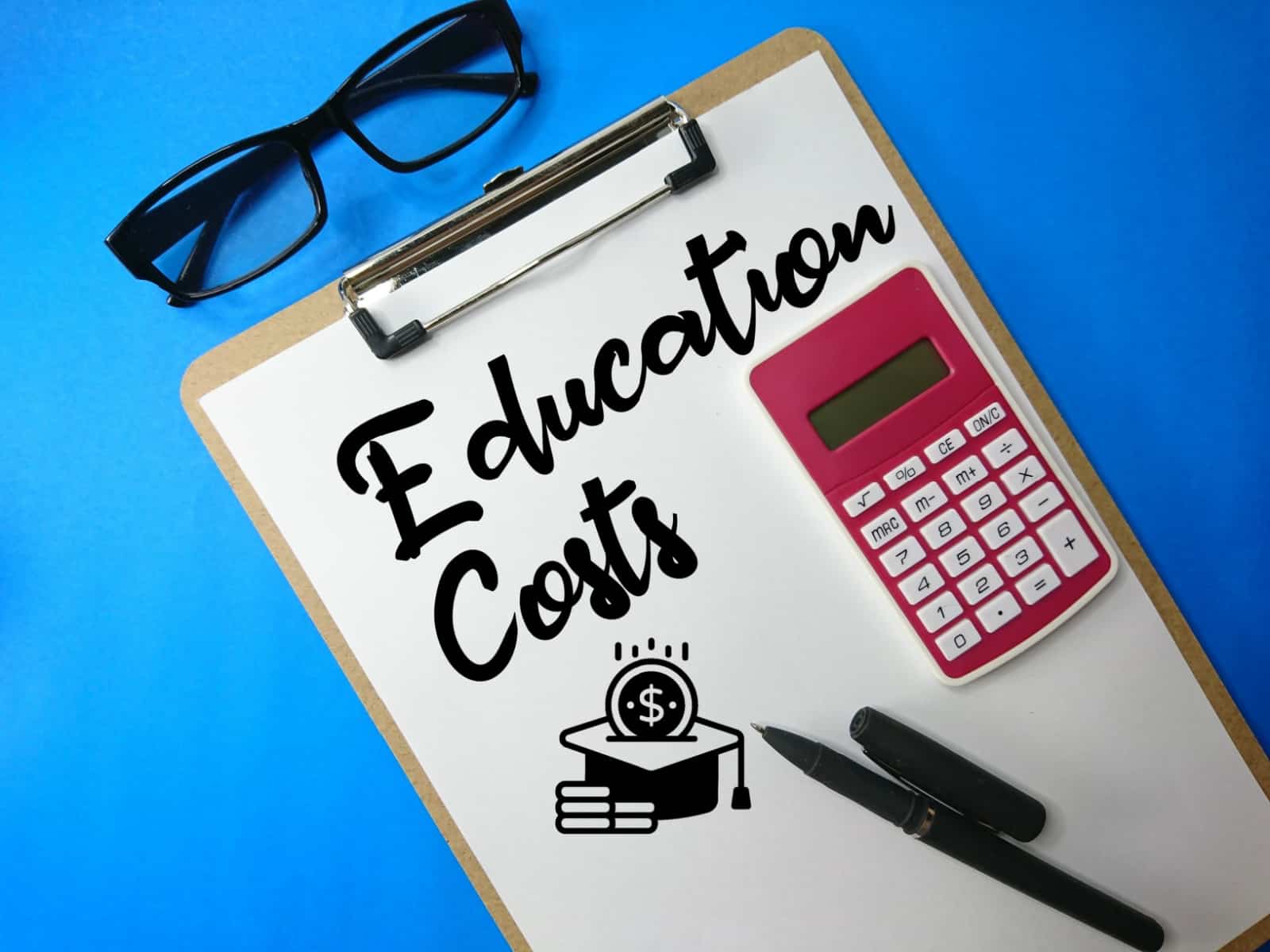 Various College Application-Related Costs
Refrain from assuming that it's only when the college application cycle comes that you will have to shell out money for your quest for higher education — it can start as early as your sophomore year of high school, depending on how much you want to go to college and which institution you want to gain admission to.
Spending money on college applications can very well continue until you decide to accept an offer to enroll in one school, after which taking care of direct college costs begins.
Here are some of the things that students and parents tend to spend money on prior to college:
Test prep course
Simply put, a test prep course is a class that helps high school students get ready for standardized tests such as the SAT and ACT in the hope of getting scores high enough for their dream colleges.
Tutoring, in most instances, can be done not only in person but also online, which is usually the cheaper option.
| | |
| --- | --- |
| Kaplan | $899 to $1,999 |
| Princeton Review | $299 to $1,599 |
Test Prep Course Fees
SAT
Gone are the days when college-bound students needed to ready their SAT scores when applying to colleges. While there are still test-required schools, some are now test-optional.
As a matter of fact, there are also institutions that are test-blind, such as the University of California (UC) system, where SAT scores are not required.
If you are applying to a test-required college or a test-optional one although the submission of test scores is encouraged, you will have to pay not only for the SAT application fee but, most likely, many others as well.
| | |
| --- | --- |
| Application fee | $60 |
| Additional score report | $12 |
| Rush reports | $31 |
| Archived scores | $31 |
| Change test center | $25 |
| Cancel registration | $25 |
| Late cancel registration | $35 |
SAT Fees
ACT
According to some high school students, they prefer the ACT over the SAT because the topics are directly related to the things they learn in the vast majority of their high school courses.
While neither the ACT nor SAT is the easier option, some students simply do much better on the ACT.
Just like when taking the SAT, the cost of sitting for the ACT isn't limited to the application fee — there are many other related expenses that you may have to take care of until you get accepted to the college of your liking.
| | |
| --- | --- |
| Application fee | $88 |
| Test option change | $25 |
| Additional score report | $18 |
| Change test center | $42 |
| Late registration | $36 |
| Test information release | $32 |
| Score verification | $110 |
ACT Fees
AP exam
Especially if a huge fraction of the entries on your college list consists of selective institutions, submitting high AP exam scores may help increase your admissions chances.
AP exam scores can also be used to your advantage when applying to test-flexible schools, which allows students to submit the test scores of their liking.
At some colleges and universities, high AP exam scores, usually 4 or 5, allows you to earn college credit, thus helping to reduce the amount of money and time you will have to allot for your undergraduate program.
| | |
| --- | --- |
| Exam | $97 |
| Capstone exam | $144 |
| Late order fee | $40 |
AP Fees
CSS Profile
It's no secret that one has to fill out the FAFSA when applying for federal aid.
At some colleges, it's not just filling out the FAFSA you need to do when applying for institutional aid or aid coming from the institutions themselves, but also completing the CSS profile, which is short for the college scholarship service profile.
Most college-bound teeners complete their CSS profile in their senior year of high school. Because different schools have different deadlines, it pays to check with the schools you wish to apply to.
| | |
| --- | --- |
| Initial application | $25 |
| Additional reports | $16 |
CSS Profile Fees
Campus tours
Paying the college of your dreams a visit allows you to figure out once and for all whether or not it's indeed the right fit for you.
It allows you to do everything from talking with the current students and meeting with the faculty members and staff to checking out the various facilities, such as the dorm and library.
There are instances when taking a campus tour can help boost your college admissions, but only if the institution you wish to attend considers demonstrated interest an important admissions factor.
In-person tour: $1,000 to $3,000 (registration fee, food, accommodation, travel expenses, etc.)
College application fees
Based on a survey by US News involving almost 900 ranked institutions in the country, the average college application fee amounts to $45. Among those schools, approximately 7% charge students around $78. And of the 7%, more than a third charge applicants more than the said amount.
The highest application fee, which amounts to $100, is asked by Arkansas Baptist College, a private historically black college located in Little Rock, Arkansas.
Here are the colleges and universities with the most expensive college application fees:
| | |
| --- | --- |
| Stanford University | $90 |
| Columbia University | $85 |
| Duke University | $85 |
| North Carolina State University | $85 |
| Syracuse University | $85 |
| University of Massachusetts – Amherst | $85 |
| University of North Carolina – Chapel Hill | $85 |
| University of Southern California | $85 |
| Woodbury University | $85 |
| Boston College | $80 |
| Boston University | $80 |
| Brandeis University | $80 |
| Cornell University | $80 |
| Dartmouth College | $80 |
| George Washington University | $80 |
| New York University | $80 |
| University of Connecticut | $80 |
| University of North Carolina – Wilmington | $80 |
| University of Washington | $80 |
| Villanova University | $80 |
| Yale University | $80 |
| American University | $75 |
| Barnard College | $75 |
| Bentley University | $75 |
| Brown University | $75 |
| California Institute of Technology | $75 |
| Carnegie Mellon University | $75 |
| Claremont McKenna College | $75 |
| East Carolina University | $75 |
| Eastern University | $75 |
| Emory University | $75 |
| Georgetown University | $75 |
| Georgia Institute of Technology | $75 |
| Harvard University | $75 |
| Kean University | $75 |
| Manhattan College | $75 |
| Massachusetts Institute of Technology | $75 |
| New Jersey Institute of Technology | $75 |
| Northeastern University | $75 |
| Northwestern University | $75 |
| Rice University | $75 |
| Texas A&M University | $75 |
| Texas State University | $75 |
| Texas Tech University | $75 |
| The College of New Jersey | $75 |
| Tufts University | $75 |
| University of Chicago | $75 |
| University of Delaware | $75 |
| University of Houston | $75 |
| University of Maryland – Baltimore County | $75 |
| University of Maryland – College Park | $75 |
| University of Michigan – Ann Arbor | $75 |
| University of North Carolina Asheville | $75 |
| University of North Carolina – Charlotte | $75 |
| University of North Texas | $75 |
| University of Notre Dame | $75 |
| University of Pennsylvania | $75 |
| University of Texas at Arlington | $75 |
| University of Texas at Austin | $75 |
| University of Virginia | $75 |
| Washington University in St. Louis | $75 |
| William & Mary | $75 |
College Application Fees
How to Minimize College Application-Related Costs
Some of the things that high schoolers need to do just before or while applying to colleges come with price tags.
But with careful planning, it's very much possible to cut costs without necessarily skipping some of the things that can help them increase their admissions chances or find the perfect-fit school.
In some instances, hopefuls may be eligible for fee waivers. And this is why the importance of knowing one's various options and careful planning cannot be stressed enough when it comes to applying to colleges on a budget.
Here are some tips and tricks on how you can save money on various college-application matters:
1. Self-prepare for the SAT or ACT
According to a report by the College Board, in 2016, almost 60% of those who were taking the SAT for the first time geared up for the standardized test using the official SAT practice tests.
On the other hand, 19% used commercial test preps. So, in other words, only a small percentage of test-takers paid in preparation for the SAT.
Since 2016, there have been a total of 10 official SAT practice tests available. As of this writing, only a single official ACT practice test exists, which comes in a couple of formats, including a printable one.
To save on standardized test preparation costs, consider getting a private tutor instead of attending a class. This is true whether you plan to sit for the SAT or ACT.
Getting tutored for your weak subjects only can also help bring down the cost further.
And although the general consensus is that you should take the SAT or ACT at least twice, preparing for your initial test very well to get impressively high scores can eliminate the need to take the test another time.
2. Minimize the number SAT/ACT attempts
Refrain from considering your initial SAT or ACT as a practice test. That's what the PSAT or PreACT is for, which is far cheaper. And that's what the free practice tests from the College Board and the ACT are for.
It's also a good idea to register early and register for the right test date — registering late and requesting a change in the test date and venue will require you to spend more.
And while you're at it, check if you are qualified for the fee waiver option provided by both SAT and ACT, which will let you take up to 2 tests for free.
Here are some eligibility requirements shared by the fee waiver program by the SAT and ACT:
Currently enrolled in junior or senior year of high school.
Enrolled in a federal, state or local program designed for students from low-income families, such as GEAR UP or Upward Bound.
Resides in a foster home, is a ward of the state or is homeless.
Family receives public assistance.
Family makes an annual income that falls within the income eligibility guidelines that the United States Department of Agriculture (USDA) Food and Nutrition Service has set.
3. Consider sending SAT or ACT scores for free
When applying to a test-required school, you have no other choice but to submit those SAT or ACT scores.
As mentioned earlier, the cost of sending SAT or ACT scores to a college costs $12 or $18, respectively.
But you will only have to shell out the said amount when asking for an additional score report — both the College Board and the ACT allow test-takers to send their scores to up to 4 institutions at no cost.
When registering for the SAT or ACT, remember to indicate the name of the 4 schools where you want your scores, once available, to be sent free of charge.
But there's a downside to this: the colleges or universities you specify will see your scores — including low ones that can do more harm than good to your application.
Eligibility for a fee waiver allows you to send SAT scores unlimitedly and up to 20 ACT scores.
4. Use waivers when completing CSS profile
In most instances, soon-to-be first-time, first-year undergraduate students who wish to apply for institutional aid should create their own CSS profile.
High schoolers only need to complete a single CSS profile, which they can then send to different colleges. However, each report costs an additional $16.
The initial application, which includes the first school, amounts to $25.
Fortunately, it's possible to complete the CSS profile and send reports to various colleges, too, free of charge. But you will have to qualify for the fee waiver.
Here are the eligibility requirements if you want to be able to enjoy a cost-free CSS profile creation:
Qualified for the SAT fee waiver.
The adjusted annual gross income of the family is up to $100,000.
The student, who is under 24 years of age, is either an orphan or a ward of the court.
Some students qualify automatically for the fee waiver based on their family income. If you don't qualify for it, check if the college of your liking offers a school-specific fee waiver option.
But keep in mind that you can send a free CSS report under the fee waiver to up to 8 institutions only.
5. Save on campus tours
Visiting a college in person is one of the steepest college application-related costs. Generally speaking, the further from home the institution you wish to tour, the more money you will have to shell out.
It's a good thing that there are numerous money-saving tips to try.
Starting with campuses close to you is a smart move.
This will give you an idea of what it's like to visit a college in person, thus allowing you to prepare for visiting distant schools so much better, which can help you budget your resources more effectively.
And just in case a nearby college turns out to be the perfect fit, you can skip touring others.
Tuesdays, Wednesdays, and Saturdays are the cheapest days to fly. Hotel booking, on the other hand, is best done if you are on a tight budget on Tuesdays and weekends.
Speaking of which, consider staying in an Airbnb as it's usually cheaper than a hotel — in New York, for instance, the average cost of a stay per night at an Airbnb and a hotel is $148 vs. $245.
And the savings can add up if more people book at an Airbnb, which allows bringing the entire family.
And this brings us to another tip on reducing college application costs: bringing the rest of the kids who are considering going to college to the campus tour so that they don't have to by the time that they are about to graduate high school.
Taking a virtual campus tour, which usually comes free of charge, is also an option.
6. Use college application waivers
Although it's possible to fill your college list with schools with the cheapest application fees in order to save money, it can keep you from having the opportunity to get accepted to the best school for you.
Fret not because you can always check if you will qualify for a college application fee waiver.
Needless to say, college application fee waivers are given to students who demonstrate financial need.
But there are times, too, when a school will be more than willing to give it to those who meet certain requirements, such as taking a campus tour or showing that you have awesome test scores.
If the goal is to reduce expenditures associated with college applications, don't be too shy to ask the college you are planning on shortlisting about how one can get an application fee waiver.
Read Next: How to Start Preparing for College in 9th Grade

Disclaimer: The views and opinions expressed in this article are those of the authors and do not necessarily represent those of the College Reality Check.