How to Know If a College is a Diploma Mill [10 Signs]
Earning a degree takes both money and time. Because of this, it can be very tempting to apply to an online school that makes getting your hands on a degree sound less difficult. But be careful — the institution you are about to apply to could be a diploma mill and not a college whose degrees are respected and deemed valuable.
In general, the first sign that a college is a diploma mill is if it has no recognized accreditation. Diploma mills often use pushy advertising and require only a credit card to be accepted. If a college conducts no classes, has no physical office, and gets a lot of complaints, it's almost certainly a diploma mill.
Can't wait to have a degree and land the job of your wildest dreams? Keep reading!
Below, you will come across some of the most important things you need to know about figuring out whether the institution you are about to get an online program from is an actual college or a diploma mill masquerading as a credible school.
See to it that you read until the very end of this article to know the 10 foolproof ways to spot a college mill.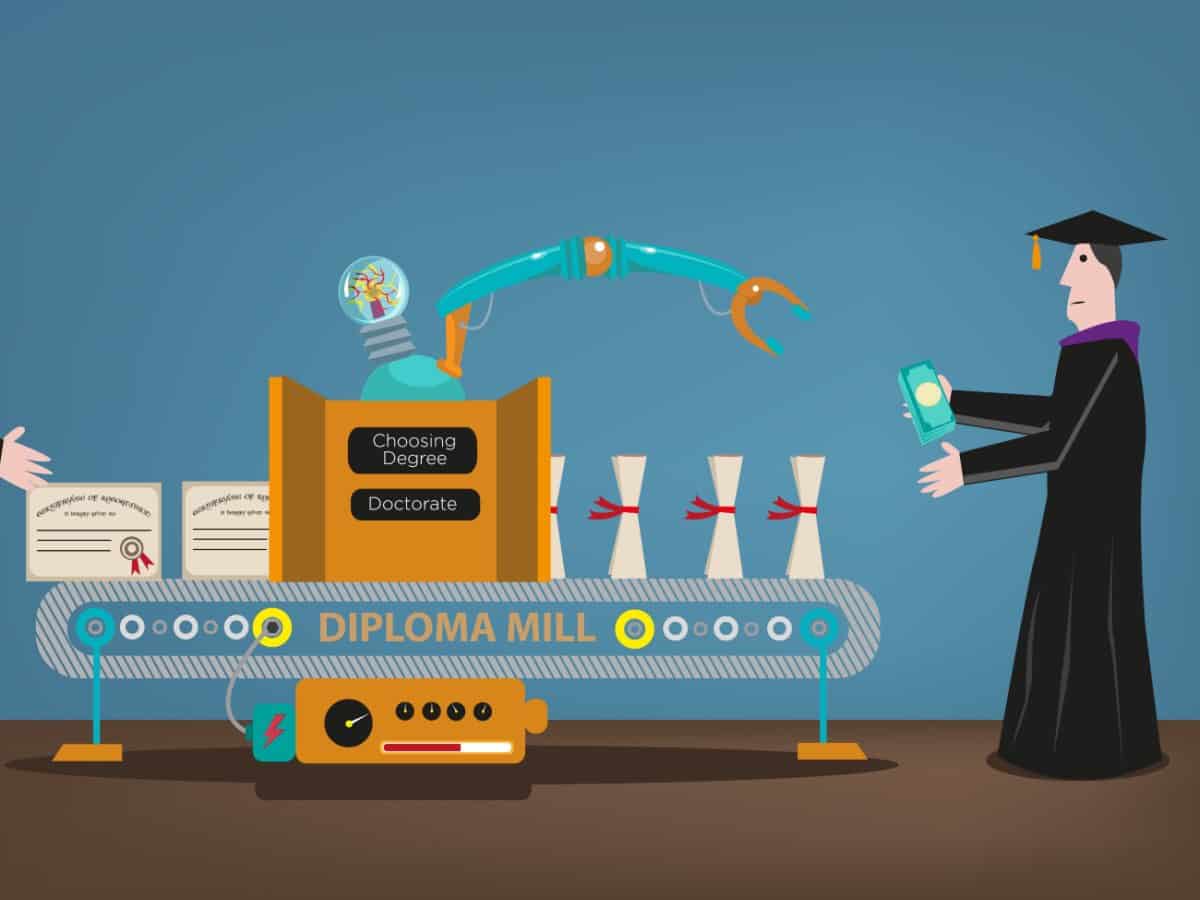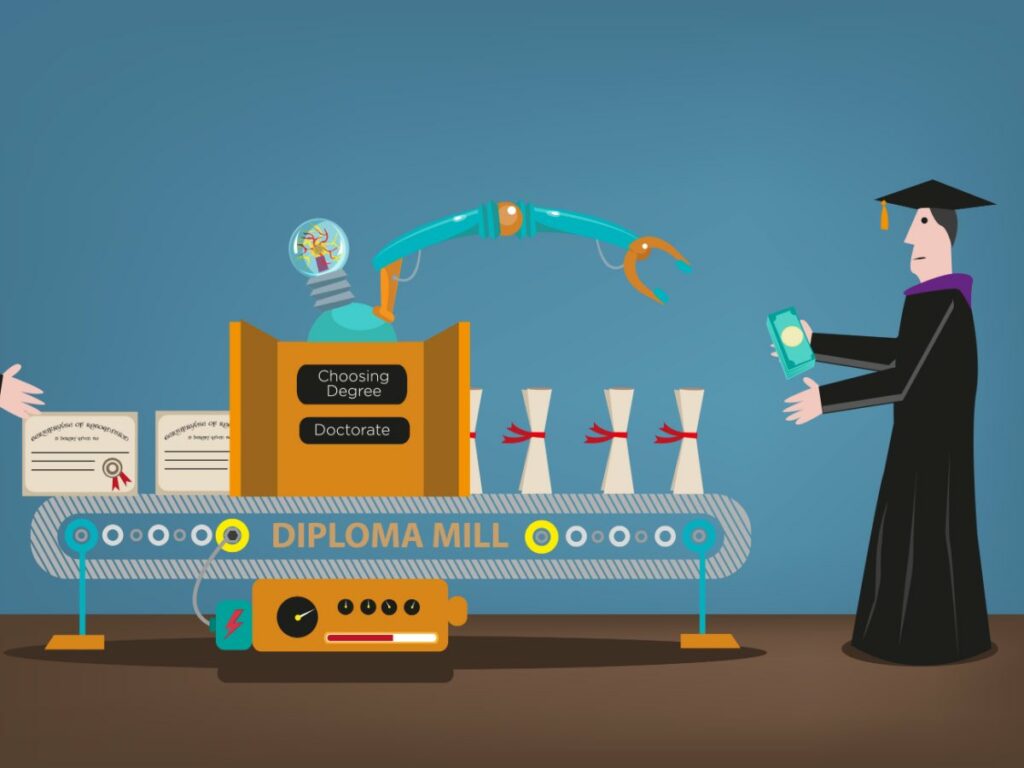 What is a Diploma Mill?
A diploma mill is an online portal that poses as a legitimate higher education institution. It grants large numbers of diplomas and degrees without any prior assessment and accompanying educational experience. Since it's not a recognized institution, the diplomas and degrees it offers are worthless.
Based on 2011 data, the estimated number of diploma mills operating in the US amounts to more than 1,000.
Telling apart an actual college and a diploma mill, in most instances, is easier said than done.
Diploma mills may be offering diplomas and degrees that do not mean anything alright. However, many of them are smart enough to take the necessary steps to make themselves and their offerings appear legit and vital to having a lucrative career.
Because of online education, getting a degree has never been more convenient. However, some people, including especially those hoping for better employment opportunities, end up with nothing due to diploma mills.
Why is a Diploma Mill Bad?
A diploma mill is bad because it does not grant diplomas and degrees that employers will take seriously. More importantly, it does not provide the education necessary for gaining the knowledge base and skill set crucial for attaining long-term financial gain and career stability and satisfaction.
Believe it or not, diploma mills have been around even before the internet came into being.
The earliest known reference to diploma mills was in 1876. John Eaton, the US Commissioner of Education back then, referred to them as a disgrace to American Education. More diploma mills appeared near the end of World War II, when the Servicemen's Readjustment Act of 1944, which offered educational opportunities to war veterans, was passed.
Nowadays, it's so easy to establish a diploma mill — even a web designer with minimal skills can create a website with the look and feel of a legitimate school's website. As a result, it's so much easier for many to fall victims, too.
Related Article: Here's What Happens If Your College Closes or Loses Accreditation
Why Should You Avoid a Diploma Mill?
A diploma mill should be avoided as it's a complete waste of time and money. The diplomas and degrees they grant, usually in just a matter of a few days, do not mean anything. Besides, getting a diploma or degree from a diploma mill provides its operator with the money vital to keep the business afloat.
Never be tempted to enroll at a diploma mill for the sake of a degree that you can get your hands on in no time.
While it can make earning a degree so much less stressful and time-consuming, a diploma mill won't make it possible for you to take the career path of your liking. That's because no employer will hire anyone with a fake degree.
As mentioned earlier, it can be easy for shady individuals to set up diploma mills, and it's all because of the internet. The same technology can be utilized by employers to quickly figure out whether the degrees applicants have are from accredited higher education institutions or diploma mills.
Spotting a Diploma Mill: 10 Signs
And now, we have come to the heart of this article — how to tell if the online school you are about to apply to is the real deal aspiring to add you to its roster of alumni or just a diploma mill wanting nothing but your money.
Many people fall victim to diploma mills because, more often than not, it can be difficult to spot them. Without a keen eye and enough time to do a little research, it can be very easy for one to mistake a diploma mill for an actual college.
The good news is that there are key differences between legit schools and diploma mills, though some can be hard to spot.
Here are 10 telltale signs that the website you have visited is a diploma mill:
Has No Accreditation
When on the hunt for colleges and universities to apply to, students are strongly advised to check whether or not a higher education institution is accredited before placing its name on their list.
Being accredited is like having a stamp of approval for meeting or surpassing basic educational standards.
So, in other words, an accredited school can give you quality education, culminating in the issuance of a degree. If it appears as though the school you are about to apply to isn't accredited, it's a good idea to look for another school.
Other than getting a quality education and degree, enrolling at an accredited school grants you eligibility for financial aid and enables you to transfer earned credits to another accredited institution should you decide to switch schools.
Many institutions, including especially online ones, without accreditation are most likely to be diploma mills.
Keep in mind that some colleges and universities have no accreditation but provide legitimate and meaningful degrees. However, you may have a problem with transferring credits if you enroll in a school that's not accredited.
Has Accreditation (But From a Questionable Agency)
Some diploma mills may proudly state that they are accredited. As a matter of fact, many of them may include on their websites which accrediting agencies gave them accreditation. But don't be fooled — the accreditation of a diploma mill is as fake as the accrediting agency from which it came from!
Most students know for a fact that there are two types of accreditation colleges and universities may have.
They are national accreditation and regional accreditation, which is considered the more prestigious of the two. But there are a few other accreditation types, too, such as faith-related and programmatic ones.
You can rest assured that diploma mills claiming to be accredited have accreditations that do not come from any of the more than 80 accrediting agencies recognized by the US Department of Education (USDE) or the Council for Higher Education Accreditation (CHEA).
Click here to check out the complete listing of accrediting bodies the USDE and CHEA recognizes.
Pushy Marketing Tactics
Unless you are a high school student with the highest IQ on the face of the planet or who has invented a cure for an incurable disease, it's very much unlikely that prestigious colleges and universities such as Harvard, Princeton, Yale or MIT will personally call and beg you to attend them.
Well, it's a different story when it comes to diploma mills — they tend to email or call everyone a lot.
The majority of companies offering fake diplomas and degrees are notorious for employing just about every single marketing strategy known to man, from pop-ups, spam emails to telemarketing calls. Many of them sound so convincing, too, which is exactly the reason why many fall prey to these money-sucking predators.
If someone from some online school keeps getting in touch with you, block the sender or hang up the phone each time and keep yourself from being one of the at least 500,000 Americans with fake degrees.
The Only Requirement: A Credit Card
Applying to colleges and universities (legit ones) can be stressful and nerve-racking.
One of the reasons for this is the fact that there are simply lots of eligibility requirements to meet and supporting documents to submit. Minimum GPA and test score, recommendation letters, admission essays, official transcripts — there are tons to accomplish!
On the other hand, there is only one thing the majority of diploma mills require: your credit card number.
Real higher education institutions ask applicants for all sorts of things to assess their college readiness. Diploma mills, in contrast, ask potential victims for their Visa or MasterCard to have an idea of their ability to pay.
Some diploma mills may also ask you to submit a couple of things other than your credit card number.
For instance, you may be asked to compose and submit a personal essay or provide a photocopy of your driver's license. However, you can rest assured that they won't even look at those. Your credit card details will suffice.
No Classes, Exams or Professors
Besides applying to colleges and universities, attending a higher education institution itself for the sake of earning a degree requires a lot of hard work, too. As a general rule of thumb, the more prestigious the school and degree, the more effort and dedication you will have to provide to graduate.
One of the things that make companies offering bogus degrees attractive to many is the fact that they make getting one's hands on a degree so easy and simple.
As a matter of fact, there are no classes to attend, exams to take, and professors to interact with.
Legitimate online schools require their students to either go online at scheduled times at the same time or sit before their computers whenever they can to do substantial course work. Many online students are surprised to learn that online degrees are just as challenging to complete as their traditional counterparts.
Needless to say, if the school you enrolled in tells you that your diploma will be sent to you without asking you to read any manuals, watch any presentations or take any online exams, chances are it's not a legitimate college.
Instant Diploma or Degree
Above, it was mentioned that online degrees require the same amount of effort as on-campus degrees to complete. It's true that they are more accessible, especially to working adults. However, they are not easier to earn.
On average, it takes online students months or years to get their hands on their degrees. It can take anywhere from 15 months to two years to complete an associate degree via the internet. On the other hand, it can take anywhere from three to four years to earn a bachelor's degree over the web.
There is no need to wait for months or years to get your degree from a diploma mill. Depending on the "school" you enrolled in, you can get yours in a 24-hour period, five days or within a month.
While it's very much possible to earn an online associate degree in less than two years or a bachelor's degree in less than four years, it's highly unlikely to complete one in just a few days or weeks.
If it will take the degree to get to your doorstep faster than a decision letter from an actual college or university, it's definitely from a bogus institution.
The Name Closely Resembles a Well-Known School
Diploma mills will do anything and everything necessary to keep their prospective victims from suspecting that they are mere diploma mills. And that includes giving themselves names that sound so legit.
Standford University, Harevard University, University of California Berkelly, Princestone University, Vanderbuilt University, Massachusetts Institution of Technology — do these names look familiar but not quite?
Many companies providing degrees no employers will respect often name themselves with names similar to the names of elite schools.
The goal is to make it appear as though they are associated with schools that are hard to get into. That's because most employers find applicants with degrees from highly selective institutions absolutely irresistible.
Similarly, many people dreaming of owning degrees find it enticing to gain admission into schools for which they are not qualified.
There's another tactic that many of them employ: add the word "international" to their names.
Has No Physical Office
It's perfectly normal for colleges and universities offering online degrees to have no physical campus.
This is especially true for those that do not have hybrid classes (a mixture of online and face-to-face classes) or provide traditional degrees. For instance, Purdue University Global, a regionally accredited online school, doesn't have a brick-and-mortar campus.
Still, an online institution should have a physical office where its administrators and personnel could meet.
Purdue University Global, for example again, doesn't have a physical campus alright. However, it has a headquarters, which is located in West Lafayette, Indiana.
On the other hand, diploma mills do not have offices. That's because it will enable them to vanish without a trace, thus keeping their hapless victims from being able to come after them and get their money back.
In the US, certain states serve as home to the majority of diploma mills operating in the nation. According to Verifile, a provider of background screening services, the top 10 states with the most number of companies offering degrees that are worth nothing include:
| STATE | NUMBER OF DIPLOMA MILLS |
| --- | --- |
| California | 134 |
| Hawaii | 94 |
| Washington | 87 |
| Florida | 57 |
| Texas | 53 |
| New York | 44 |
| Louisiana | 39 |
| Illinois | 29 |
| Nevada | 29 |
| Arizona | 28 |
Diploma Mills per State
Website Contains Stock Photos
Earlier, while we were talking about why a diploma mill is bad, it was stated that someone with basic web-designing skills can easily come up with a portal that can make a bogus online school appear legit and, in some instances, such as by having a name that sounds like that of a high-ranking college or university, prestigious.
To make their websites appear as reliable as possible, they add snapshots of their campuses, facilities and, most of the time, images of graduates holding diplomas or certificates or working for large companies.
However, the images they use are no more than stock photos that can be easily obtained in cyberspace.
Doing a reverse image search will reveal the fact that the photographs on their website are not really theirs. To perform this, go to Google Images and click the camera icon.
Paste the URL of the image or upload a copy of it saved on your hard drive. If the snapshot appears on various websites, the online school is a sham.
Multiple Complaints or Bad Reviews
Many people who have fallen victim to companies providing worthless degrees try to exact revenge. And one of the quickest ways for them to get even is by sharing their nightmarish experience on the internet.
It's because of this why it's a good idea to check out reviews before applying to a college or university, traditional or online.
Does the school promising you a phenomenal degree have a lot of negative feedback?
Then make sure that you do not provide the institution with any piece of information about you, especially your credit card details.
You may also visit the website of the Better Business Bureau (BBB) to check if there are complaints filed against the school constantly bugging you to enroll. As a general rule, if many people are infuriated with the school and unhappy with the degree it provided them, cross its name off your list.
Conclusion
More than two million students are taking online programs. If you like to jump on the bandwagon either because you are already a working adult or busy with taking care of your kids and stepping foot on a physical campus is not an option, make sure that the institution you are about to enroll in is legit and offers accredited degrees.
Because more and more students prefer to get their hands on degrees in front of their computers rather than in front of professors, diploma mills are everywhere.
If you're not careful, you may wind up with a degree from one of them, which has no worth and is thus not taken seriously by employers. The good news is that it's easy to tell apart a real college or university from a diploma mill. Always keep in mind the 10 signs of a diploma mill mentioned above when looking for an online school, and you're safe.
Read Next: Do Employers Accept Online Degrees?

Disclaimer: The views and opinions expressed in this article are those of the authors and do not necessarily represent those of the College Reality Check.