How to Email a College Track Coach
It was this time last year when my son strategically and consistently started emailing college coaches for track and field recruitment. And before sending that first email, he'd done hours of homework.
From gathering research on each prospective college, the coaches, and their runners' stats to assembling personal running achievements in the form of a track resume, highlight videos, and a recruiting profile or webpage, contacting college coaches is no small endeavor.
Crafting an email that will grab a track coach's attention and get you noticed requires a few essential components, including an intriguing subject line, a quick introduction, the perfect amount of information with impressive stats, and an action item that requires a response from the coach.
Before you start writing the actual email, knowing which college coaches to contact is key. Get online and look at the recruiting standards of your prospective teams. This will show you if your personal bests match up.
Track & Field Results Reporting System, TFRRS, is an excellent resource that provides all NCAA and NAIA collegiate track results. Don't waste a coach's time or your own if your distances, heights, or times aren't even close. Be realistic.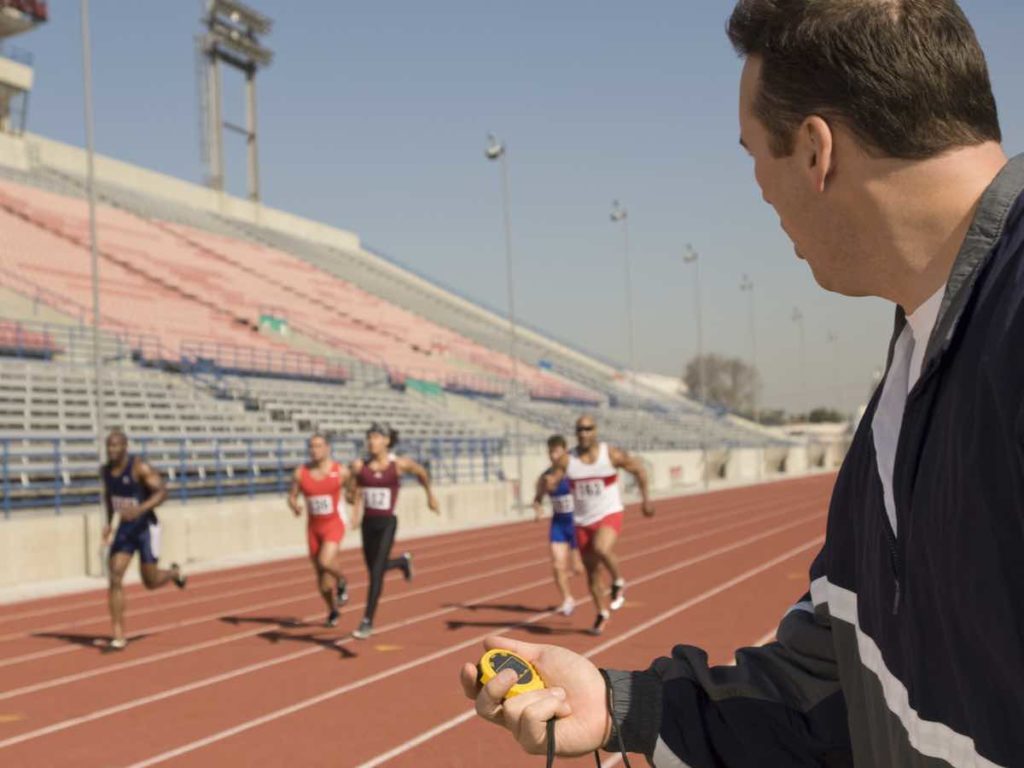 Once you've assembled a list of coaches you'd like to contact, make sure you've got everything set that you'll need to include in the email.
Most recruited athletes create a simple webpage where they can showcase highlight videos and an athletic resume. Or they use NCSA, a reputable company that simplifies the recruiting process for high school athletes by providing a platform for networking.
You'll want to have a link or two from your online profile handy to include in your introductory email.
How to Write a Subject Line that Gets Your Email Opened
No matter how perfectly written your email is, without a remarkable subject line, it won't get noticed, opened, and read.
So, what grabs a coach's attention most?
Ultimately, coaches care about what you can offer to enhance their program. So what personal record of yours is most admirable? Include that in the subject line after your year of graduation. Don't be afraid to include an academic accomplishment while you're at it.
Check out the following examples of catchy subject lines that attract coaches looking for high school athletes that will benefit their college team. Try to keep your subject line around 50 characters because coaches are in a hurry, often reading emails on their phones.
2021 800m 1:53 Phoenix Invitational, Video Attached
2022 Weight Throw 61'9" from Bozeman MT, ACT 33
2023 1600m 4:15.73 Hollywood High School, CA
2022 110mHH 14:67, Ranked #2 in CA, 4.27 GPA
2024 5K XC 15:07.43, 1st in CIF State D1 Championship
How Do You Start Your Email?
Right off the bat, you'll need to personalize the email, making good use of the research you've done on the college and its team. Lead in by saying how impressed you are with a specific detail of their track program, such as their facility, academic record, religious component, coaching style, emphasis on training, etc.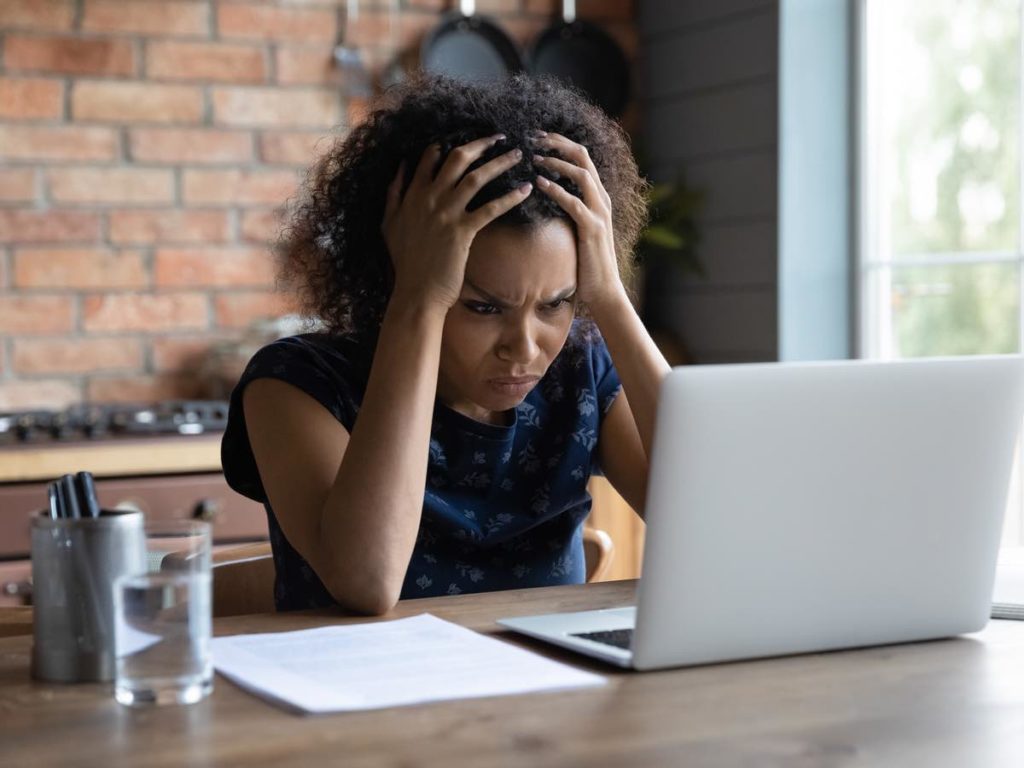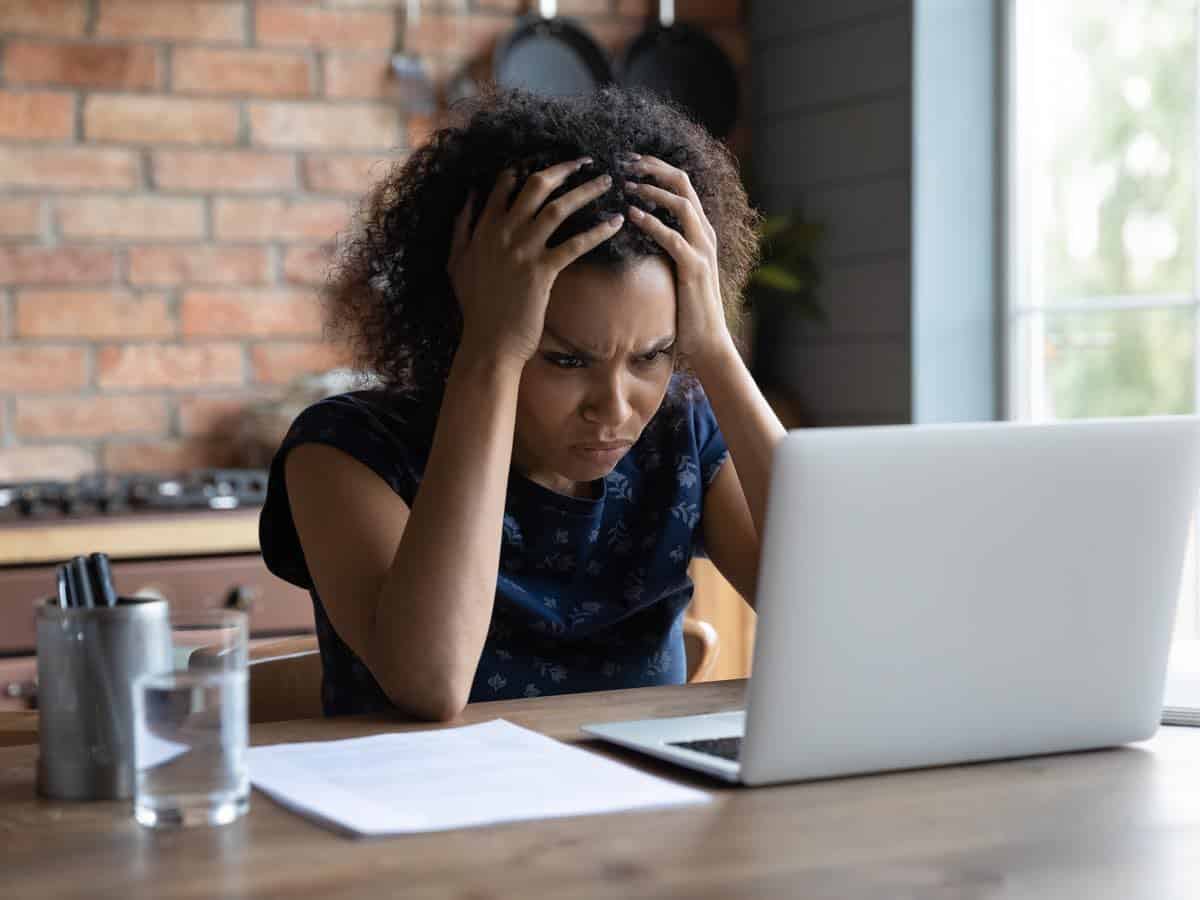 Making it clear that you've spent time looking into their team sends the message that you care. For example, "I've noticed you'll be graduating 7 seniors. I'd love to bridge that gap." Keep your personalized introduction short and sweet, around 2-3 sentences.
What to Include in Your Email to College Coach
The best piece of recruiting advice I received, in regards to emailing track coaches, is that coaches are busy people, especially in season. So cut to the chase and make your point quickly.
As mentioned above, the first paragraph is where you grab the coach's attention by praising his team about a recent stat, quality, or accomplishment. This is where you use your research to show them how much you care about their school and team.
Coaches can tell when you've taken the time to personalize the note rather than cutting and pasting mass emails. Coaches look for athletes who have a genuine interest in their program.
The second and most important section of the email is where you present your athletic and academic standouts and the ways in which you'd be an ideal addition to their team.
This is where you include the basics: name, location, graduation year, high school and/or club name.
Briefly touch upon your academics and athletic achievements. Drop a few stats that you think will spark the coach's interest and leave it at that for now. Invite them to view highlight videos and your attached running resume. Remember this is the introductory email, so you don't need to tell your whole story. Keep it simple.
Before writing and organizing the body of your letter, you've already done the preliminary work of designing clear and concise ways to present your skills and records by writing up a track resume and choosing the best clips of your races to send. This is the place in your email where you insert them.
Sample Running Resume
---
Any City, CA 94555
707.836.7842
HIGHLIGHTS
Academic Excellence – Sundance High School – GPA: 4.20 – Class of 2021
Leadership – Recognized by coaches and teammates – XC/TF Team Captain 2019 – Present
Athletics – Demonstrate work ethic, grit, and perseverance, steadily improving yearly while training/racing through injury, four major wildfires, and pandemic.
ACHIEVEMENTS
School Record 800m, 1600m, 3200m – 2021
Top 13 1600m fastest all-time PNW Empire – 2021
Top 25 800m fastest all-time PNW Empire – 2021
School Record 5k Cross Country – 2019
Top 10 Sophomore 800 Meter Times all time in the PNW Empire – 2019
Member of 2019 PNW League Champion 4×400 team – 2019
All-League and All-Empire Varsity Cross Country – 2017 – 2019
Varsity Cross Country MVP – 2018 & 2019
Varsity Cross Country King of the Hill Award for Work Ethic – 2018
Top 30 Finisher in WA State Cross Country Championships – 2018
Varsity Cross Country Sarah Sumpter Award for Biggest Heart – 2017
HIGH SCHOOL X COUNTRY/TRACK TIMES
| | | | | |
| --- | --- | --- | --- | --- |
| Year | NBL Course @ Summer Lake – 3.05 miles | NCS Hayward Course 3 miles | 800m | 1600m |
| Freshman | 16:52 | 16:36 | 2:11* INJ. | 4:53*INJ. |
| Sophomore | 16:14 | DNR | 1:59.19 | 4:27.45 |
| Junior | 15:40 | 15:57 | Season Canceled | |
| Senior | Races Canceled | | 1:55.14 | 4:15.63 |
Cleveland Social Distance Fiesta 4.24.2021 – 9:25.83 3200m
Monica Rotary Nike Invitational 4.10.2021 – 1:55.14 800m – 1st place
Sunrise Track Series #3 3.27.2021 – 4:15.63 1600m/ 4:17.20 Mile
OK Distance Festival 3.20.2021 – 1st meet in a year due to pandemic – 4:17.18 1600m
ACADEMIC ACHIEVEMENTS
Ranked 5th in class
AP Computer Science Test – 4
AP World History test – 4
AP Spanish Language test – 3
AP English Language – 3
Currently enrolled in AP English Literature and AP Government
Completion of Honors courses in Pre-Calculus and Sustainable Agriculture
Lost Coast Section Scholar-Athlete, 2016 – Present
Completed K-8 Spanish Immersion Program and State Biliteracy Certificate – 2017
WORK/VOLUNTEER EXPERIENCE
Smalltown Running Company, Retail Sales and Event Management – June 2020 – Present
Provide customer service, post social media promotions, and lead trail runs
CarePortal Contra Costa County, Global Orphan Project August 2020 – Present
Care for disabled seniors and foster families through service
Santa Rosa Fire Department, January 2020
Intern at Fire Department, escorting on calls, learning to maintain trucks and equipment
Decade Brazil Mission Trip, First Presbyterian Church Windsor – Every March 2016 – 2019
Traveled to Brazil for a week to constructed houses in impoverished communities
Translated communication between instruction teams and local families
Fundraised over $5000 yearly to pay for building materials and traveling expenses
Santa Rosa Shared Ministries – Santa Rosa – 2017-2019
Sorted, boxed, and transported fruit, vegetables, and clothing for those less-fortunate
REFERENCES
Frank Smith
Club Track Coach – Jetset Flyers
(707) 392-7629
Gail Katsim
Head Coach XCountry/Track – Sundance High School
(707) 695-5553
Julie Brown
Former XCountry/Track Head Coach – Sundance High School, Personal Trainer Spring 2020
(707) 338-3298
---
Finally, wrap up your email by letting the college coach know what's next. Here's a few suggestions:
Ask a question about upcoming camps they might be hosting.
Let them know when you might be visiting the college.
Invite them to a meet you'll be attending that's in their area.
Tell them you'll be following up with a phone call.
Once you've signed your name, list your graduation date, email, phone number, recruiting profile, and Twitter handle, making all your information accessible and easy to click.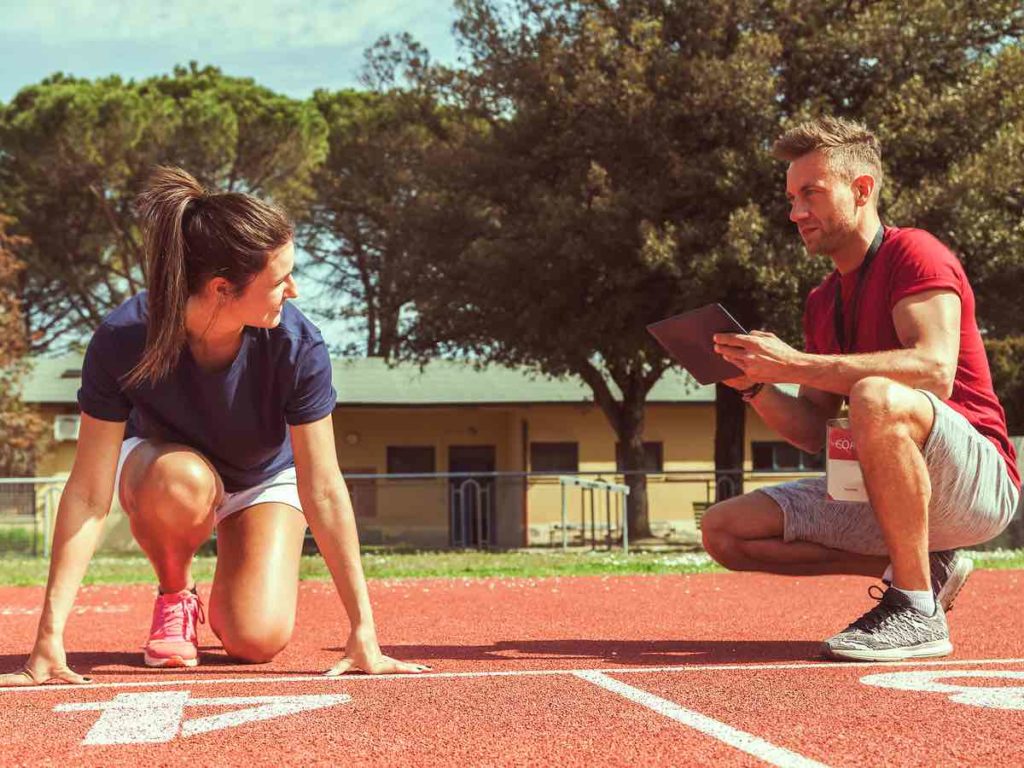 Template for Email to College Coach
---
Dear Coach [Insert last name],
[This is where you use your research on the college, coach, and/or track program, highlighting what impresses you most. Keep this section to 2-3 sentences.]
I've been following your track program ever since my sister started attending Westbrook College two years ago. I'm impressed by your freshman Garret Peterson's times in the 800m and 1600m. And I've enjoyed reading about his running experiences in South Africa.]
[Next, introduce yourself and include your year in high school, the high school you attend and its location, and your graduation year.]
My name is John Johnson. I'm a junior at Sundance High School in Santa Rosa, CA and will be graduating in the class of 2021.
[Now specify your track events and choose a couple personal bests to mention and any related accomplishments, including academics.]
I run the 800m and 1600m for my team at Sundance High, and last season, I broke the school records for both and placed first in the 800m at the Monica Rotary Nike Invitational with a time of 1:55.14. I've got a 4.2 GPA and plan to take the SATs next March.
[Insert a link to your athletic recruiting profile here. And let the coach know that you've attached your track resume.]
Check out my online profile here to review my race stats and some highlight videos. I've also attached my running resume. Feel free to contact my high school and/or club coaches, who are listed at the bottom of my resume, for more information.
[End your email by inviting the coach to watch you compete in an upcoming meet OR by letting the coach know you'll be in the area and like to meet with him OR by telling the coach that you'll be following up with a phone call at a day and time OR by asking them when their summer recruiting camps will be help.]
I'll be down visiting my sister with my mom and dad Nov. 11-13 and would love to meet you if you have any availability. I'll call you this Friday afternoon, Oct. 21 at 3pm, to discuss the possibility of a quick meeting when I'm down.
[Close and list pertinent information below your name. Include as many links as possible.]
I look forward to speaking with you Friday!
Thank you,
[Your Name]
[Graduation Year]
[Email]
[Phone]
[Online Profile or Webpage link]
[Twitter handle link]
---
When to Email College Coaches
When is one of the most popular questions when it comes to the topic of emailing college coaches.
When is the best time?
A better question may be, when should you not email coaches?
Remember that coaches are busy, so hold off on sending that email if they are in season if you can. It's okay to hit send on the email during these months, but they are packed with practices, meets, and invitationals, so be mindful of their schedule. Try to reach them before or after. And if it's after, be prepared to discuss their season with them.
How to Email a College Coach About Walking On
Competing for a walk-on position can be as difficult as being recruited. So, use the same steps as above when emailing a coach about the possibility of walking on.
Spend time customizing the first paragraph by highlighting a strength you admire in the team. If you know a current member of the college track team, let the coach know something special they've shared with you that you think would be a good match for you.
Next, introduce yourself and what you'd add to the team.
Close by suggesting a phone call at a specified time.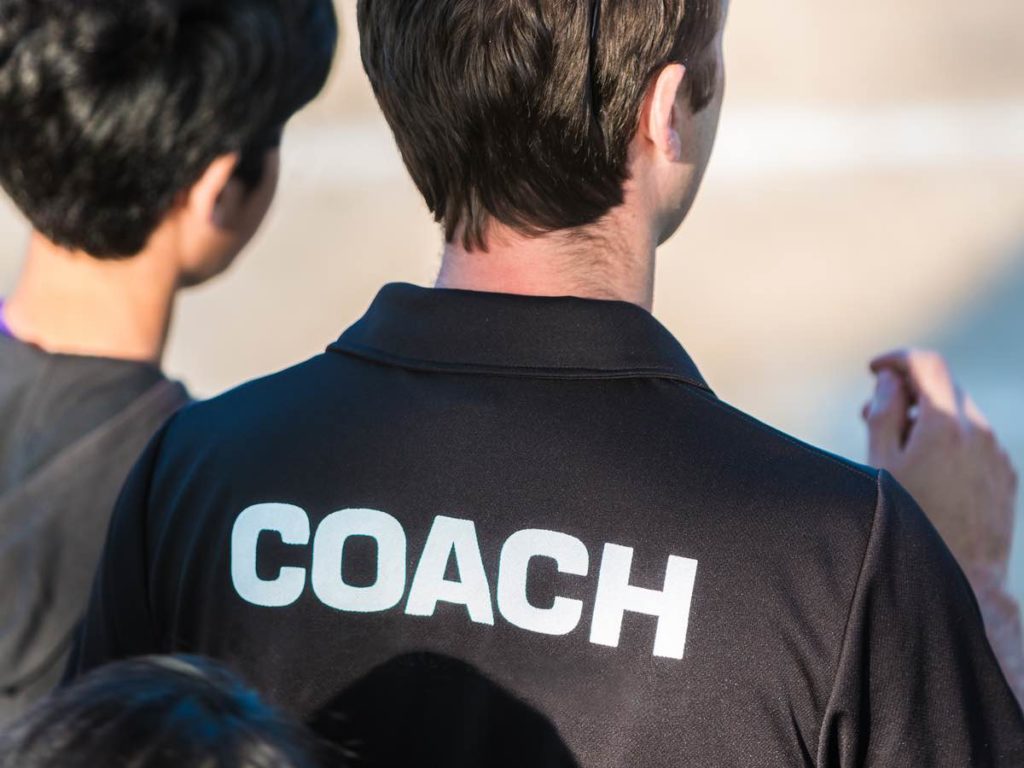 How to Email a College Coach About Scheduling a VIsit
If you're being recruited, it's a good idea to wait to bring up a visit until after you've sent your initial email and you've even had a phone call with the coach. Then send an email, listing possible dates.
If you've already got a college visit planned, let the coach know that you'll be visiting and ask if they'd be free to meet during the specific dates. Then add that you've uploaded some new highlight videos from a recent invitational. Be sure to specify your number and singlet color, so they can spot you easily.
In a nutshell, you've got to start by creating an email that you will be able to send to each of the coaches you'd like to contact. After that general email has been composed, all that's left is implementing a few small tweaks that tailor each to fit the unique school and coach you're reaching out to.
Personalization of each is essential.
If you email a coach and get no response, remember that coaches are busy and receive thousands of emails.
So, keep at it.
No response most likely means that they haven't had the time to respond. And most coaches appreciate a reminder.
Read Also: Can You Combine Athletic Scholarships and Financial Aid?

Disclaimer: The views and opinions expressed in this article are those of the authors and do not necessarily represent those of the College Reality Check.