Is It Required to Fill Out All 10 Activities on the Common App?
The activities section is one of the most confusing parts Common App college application.
There are a total of 10 blank spaces that can easily leave many college-bound teens to have blank look on their faces.
How to squeeze years of extracurricular activity into 150 characters, what to include, how many activities to fill out – these are the common questions that each applicant has when working on their college apps.
In this post, we will go over the number of activities, and here's the simple rule.
There's a provision for a maximum — not minimum — of 10 activities in the Common App's Activities section. College applicants need not fill out all 10 activities if they are or have not engaged in that many activities. Putting 5 activities is enough for colleges to be able to make admissions decisions.
Make no mistake: all parts of the Common App are important.
But some of them have more weight in the college admissions process than others, and the Activities section is one of those — extracurricular activities, on average, account for about 30% of your college application.
In this post, I will guide you through filling out the Activities section of the Common App.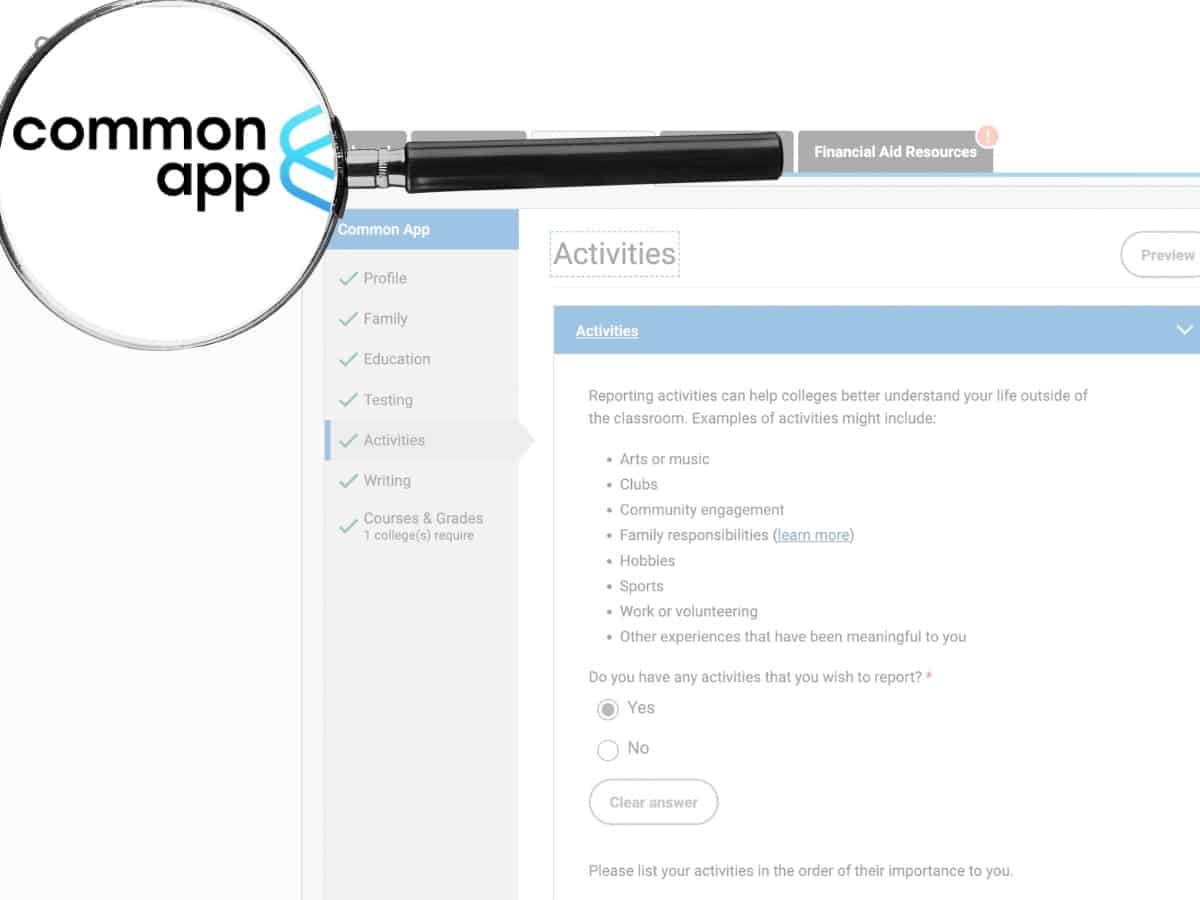 Which Activities To Include First in the Activities Section?
Activities that are most important to applicants and most impressive to admissions officers should be at the top of the Activities section. The list should be in descending order of importance. Needless to say, those that have allowed students to garner recognition and leadership skills need to be listed first.
No matter if you only have a couple, a handful or 10 extracurriculars to add to the Activities section of the Common App, you might have trouble deciding which should go at the top of the list.
Definitely, you should not enumerate your EAs randomly.
There is a right way to go about this matter, and it's none other than by listing your extracurricular activities according to their importance — the ones you love the most as well as speak volumes about your abilities and values should be listed first, while the ones with the less impact but are still worth noting because they mean something should be listed last.
It is said that college admissions officers read approximately 50 applications per day, spending around 15 minutes (or less) on each — that's equivalent to spending 12.5 hours per day evaluating applications!
And to help make their task easier, you should list your EAs in accordance with their level of impressiveness.
Not only will this be appreciated by those exhausted admissions officers but will also make them easily remember some of your best extracurriculars. By making a big impression, they might just review the rest of your application more favorably.
Generally speaking, it's also a good idea to lump together activities.
The goal is to develop a theme and allow colleges to know the things that you are interested in the most. For instance, you may list sports-related EAs one after the other or chunk together various STEM activities.
How To Choose the Activities to Put on the Common App?
When deciding which extracurricular activities to add to the Common App's Activities section, students must opt for those that highlight their talents, skills and interests as well as showcase any leadership roles they have taken on. In many instances, it's also important to consider what the student's top-choice college is looking for.
Answer the following questions to determine whether or not you should include an EA on the list:
1. Does the activity showcase your interests and skills?
There are a couple of reasons why college admissions officers check out your extracurriculars: to know you better beyond your GPA and test scores and to have an idea of whether or not you will add something nice to the campus culture.
It goes without saying that EAs that represent your interests and passions should make it to the Common App's Activities section.
The same is true for those that have allowed you to make the most out of your existing skills as well as those that have enabled you to develop new skills that help boost your qualifications and abilities.
What's important is that the Activities section includes nothing but EAs you really care about and have fully committed to and none of those that you participated in just because it's common knowledge that the Common App asks college applicants to enumerate a maximum of 10 extracurricular activities.
2. Does it demonstrate leadership?
There are EAs over which college admissions officers go gaga: the kinds that allow students to take on leadership roles.
Proof?
Many college supplemental essay prompts ask about a hopeful's leadership experience.
Leadership allows admissions officers to measure a couple of important matters.
First, it speaks volumes about the applicant's passion — any high schooler can say they love to write, but not all become editor-in-chief.
Second, it shows just how much time and effort a college-bound teener is willing to put into his or her extracurriculars.
Fret not if you have zero leadership experience and you feel that it's too late to have one. That's because there are many other things that can impress college admissions officers.
Doing hours of volunteer work, taking on internship or research opportunities, and joining contests and winning awards, too, are some wonderful examples.
3. Is extracurricular activity unique and impactful?
Some extracurriculars are simply more popular than the rest. It goes without saying that college admissions officers tend to come across them over and over again every admissions cycle.
Naturally, adding a distinctive EA to your Common App's Activity section can make your application a complete standout — it's like serving admissions officers a savory dessert after hours of having nothing but sweet desserts.
Of course, just because an EA is one of a kind doesn't mean right away that it can make your application different in a good way.
In order to impress admissions officers, the activity has to be unique but nonetheless meaningful and worthwhile as well as has made an impact on you and, preferably, others in the community, too.
4. Will it look appealing to the top-choice college?
When it comes to choosing which high school EAs you should participate in, it's important to take things such as your personality, hobbies, interests and passions into account.
And as far as listing down various extracurriculars in the Activities section of the Common App, it also pays to consider what your dream college is looking for in an applicant.
It's true that most postsecondary institutions put a strong emphasis on EAs that demonstrate leadership.
Some, however, also have a penchant for community involvement, commitment to making the world a better place or something else. The key is to know what a college is constantly on the lookout for.
At Caltech, for instance, admissions officers take note of any involvement in math or science extracurriculars given the fact that it's a science and engineering institute.
What to do When You Don't Have Extracurriculars
The Activities section of the Common App comes with 10 blank spots — too few for some college-bound teens, while too many for others. But the good news is that it's not a requirement to fill all available ones.
Got very few EAs?
No worries!
Try to add at least 5 activities.
Doing so will not put you at a disadvantage in the admissions process, especially if most or all of them are meaningful and showcase your skills and the things you are capable of.
And even if you have 10 or more extracurriculars, you can choose to enumerate only those that can really impress.
Can you get admitted to college without any extracurricular activities?
Getting into a college with an open admissions policy and where the only requirement is a high school diploma or an equivalent is possible even without any EAs on your college application. Meanwhile, your chances of getting in are low if applying to a selective college with a holistic admissions policy.
When is the best time to start participating in extracurriculars?
The best time to start partaking in EAs is as early as possible in high school. This allows students to explore various options as well as gives them plenty of time to show commitment to the ones they are passionate about. Being long-time members may also help them take on ever-important leadership roles.
Read Next: How to Apply to College?

Disclaimer: The views and opinions expressed in this article are those of the authors and do not necessarily represent those of the College Reality Check.