How Forbes' College Rankings Measure up to the Competition
There are so many different college ranking sites found in the vastness of cyberspace. However, some names tend to shine brighter than the rest.
One of those is Forbes, which is popular for dishing out annual listings of leaders, CEOs and the wealthiest people on the planet. Since 2008, it has also been coming up with college rankings.
Forbes is a reputable media and publishing company. The accuracy of its college rankings, however, is dependent on its sources of statistical data for many of its ranking factors. Forbes heavily relies on college and post-college success by including retention rate, alumni salary and leadership in its methodology.
Want to give US News a break and give Forbes a chance? Read on!
I will talk about what goes into the making of the annual America's Top Colleges by Forbes — the ranking factors it takes into account as well as the weighting and the sources of information for each one.
Also, I will discuss some of the potential weak points, which suggest you should use Forbes as a college list-building guide and not a template.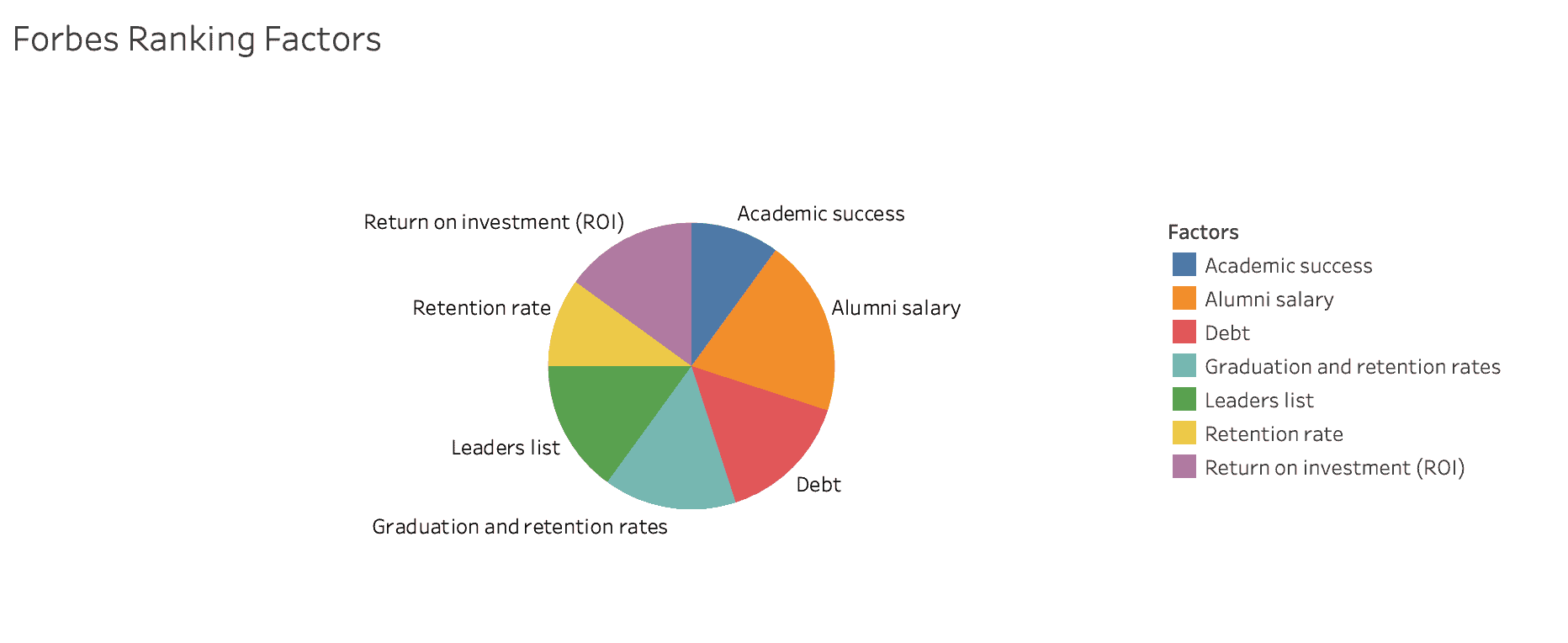 7 Factors in Forbes Colleges Rankings
Forbes uses 7 primary factors in ranking institutions of higher education and coming up with its annual America's Top Colleges. Among the different metrics used, salary has the most weight, taking up a fifth of a school's total score. Forbes depends on different sources of information when ranking colleges.
Colleges and universities tend to jump from spot to spot when checking out various college rankings as each ranking site has its own unique methodology, although it's not uncommon for some to share the same indicators.
The one Forbes use isn't that complex, given the fact that it only uses 7 key factors:
1. Alumni salary (20%)
The Association of Public and Land-Grant Universities (APLU) says that the annual median earnings of individuals with a bachelor's degree are about 84% higher than those whose highest educational attainment is high school.
Forbes knows this, which is why it considers alumni salary and gives it the most weight, too.
In order to determine which colleges and universities tend to produce the highest-paid graduates, Forbes relies on a couple of sources: PayScale and College Scorecard. The former is its source for earnings 6 years and 10 years after graduation, while the latter is its source of earnings 6 years and 10 years after initial enrolment.
2. Student Debt (15%)
When it comes to determining how much debt students graduated with as well as their 5-year loan repayment rates, Forbes once again turns its head toward the direction of College Scorecard.
Utilizing data from the online tool by the US Department of Education (USDE), Forbes evaluates institutions in terms of debt by multiplying the median federal loan debt per borrower by the percentage of students who take out federal loans and by looking at the 5-year repayment rate at each institution.
The percentage of graduates who pay not less than $1 toward their federal loan principal within 5 years of entering the repayment phase — simply put, this is what the 5-year repayment rate is.
Each of the said indicators has a weight of 7.5%, amounting to a grand total of 15%.
3. Graduation rate (15%)
Typically, a high graduation rate is suggestive of the overall effectiveness of an institution of higher education's program. It speaks volumes about the success of students throughout their college career and the commitment of the school itself to making sure that their attendees are supported and prepared for their professional careers.
Data shows that only around 41% of undergraduate students finish within 4 years.
For the rest who are unable to finish within the same time frame for reasons like being part-time students, transferring or stopping (due to financial concerns, health issues, etc.) to be accounted for, too, Forbes use:
A 6-year instead of a 4-year graduation rate model for all students (10%)
The graduation rate for Pell Grant recipients (5%)
4. American leaders list (15%)
Each year, Forbes churns out many different lists. Forbes 10 Under 30, Forbes 400, Richest Self-Made Women, Most Powerful Women — these are lists that the college ranker relies upon when evaluating an institution's ability to produce graduates that reap extraordinary leadership and entrepreneurial success.
Taken into account, too, are the alma maters of the following:
Presidential cabinet members
Supreme Court justices
Congressmen and congresswomen
Governors
MacArthur Fellowship winners
Nobel Prize winners
Breakthrough Prize winners
Presidential Medals Awards winners
Lasker Prize winners
Fields Prize winners
Guggenheim Fellowship winners
Pulitzer Prize winners
Academy Awards winners
Oscars winners
Tony Award winners
NAACP Awards winners
Major sports all-stars
5. Return on Investment or ROI (15%)
Earlier, I mentioned that Forbes depends on both PayScale and College Scorecard in determining alumni member median salaries as well as on the USDE in figuring out the amount of debt graduates have.
Forbes relies on Third Way when it's time to assess ROI.
Simply put, Third Way is tasked with developing a high-quality education agenda, which focuses on value and the creation of demand for new policy ideas in order to improve student outcomes. One of the things it does is provide a price-to-earnings premium for each college, which Forbes employs in ranking colleges and universities.
The said premium is computed by dividing the total net price of a college degree by the earnings boost that college graduates enjoy compared to the average salary of high school graduates in their state.
6. Retention rate (10%)
Other than graduation rate, Forbes also considers retention rate when ranking institutions.
The percentage of first-time, first-year undergraduate students who return to the same school the following academic year is what retention rate is all about. Forbes and numerous other college ranking sites that include retention rate in their methodologies use the factor to have an idea of how good schools are at getting their attendees invested.
Naturally, freshmen students who attend their respective institutions as sophomore students are happy with the academics, professors, facilities, campus culture and other aspects.
But instead of just a year, Forbes takes into account the retention rate of full-time students within a 3-year period.
7. Academic success (10%)
Last but not least, there's academic success as a metric used by Forbes each time it publishes college rankings. There are actually a couple of measures involved in this particular metric:
Number of recent graduates who won prestigious scholarship awards
Number of alumni members who earned graduate degrees
Awards included during the evaluation of the first measure are Fulbright, Truman, Goldwater and Rhodes scholarships. And when it comes to determining how many graduates went on to get their hands on graduate degrees over the last 3 years, Forbes obtains data from the National Center for Science and Engineering Statistics (NCSES).
Each of the measures, by the way, has a 5% weight.
Common Criticisms on Forbes College Rankings
One of the shortcomings of Forbes college ranking, according to critics, is that it does not categorize colleges and universities accordingly, which is essential for comparing apples to apples. It's also evident that Forbes equates success with making more money and being affluent, which isn't always the case.
Thanks to its methodology, the annual America's Top Colleges by Forbes has its share of the spotlight.
But while it has strengths, it also has weaknesses — and some of which are some of the most common criticisms on Forbes' ranking of US colleges and universities.
Unlike most other college rankers out there, Forbes does not separate institutions of higher education into categories they would otherwise fit into. For instance, it evaluates a massive research university together with a small liberal arts school. Without any distinctions among ranked colleges, making comparisons can be very challenging.
By now, it's apparent that the majority of pieces of statistical information Forbes takes into account come from an assortment of sources, and each one could have its own set of flaws and shortcomings.
Making a fortune every year is nothing short of nice. After all, enjoying a higher salary potential is one of the reasons why many people work on an undergraduate degree.
But it's important to note that having a high salary, which is a ranking factor used by Forbes in ranking colleges, does not necessarily translate to a high job satisfaction level.
It does, however, pave the way for financial stability and bolsters ROI.
Related Questions
Is US News more reliable than Forbes?
There is no denying that US News is more popular than Forbes in terms of college ranking. It's been around longer, too, which means it uses a methodology that has evolved and improved through the years. However, Forbes' college ranking is well-known, too, given that it's by a popular company.
Read More: US News vs. Forbes: Which College Rankings are More Accurate?
What institution was #1 in America's Top Colleges by Forbes in 2022?
Massachusetts Institute of Technology (MIT) spearheaded the list of America's Top Colleges in 2022. It was followed by Stanford University and the University of California, Berkeley. Harvard University, to the surprise of many, was only #15 in the said listing.

Disclaimer: The views and opinions expressed in this article are those of the authors and do not necessarily represent those of the College Reality Check.