Is Franklin University Legit?
Franklin University (Franklin) is a private institution whose main campus is located in Columbus, Ohio — it has more than 20 locations in the midwestern United States.
Founded in 1902 and was once associated with the YMCA, it offers both in-person and online degrees. However, the majority of its students are online learners.

Accredited by the Higher Learning Commission (HLC), Franklin University offers more than 30 majors, some of the most popular of which are accounting, business human resources, and nursing.
It's ranked #37 in Best Online Colleges in America by Niche.
Franklin has more than 56,000 alumni members, and nearly 900 of them work at JPMorgan Chase & Co.

Want to attend Franklin University online but fear it's just another diploma mill?
My favorite test when checking whether an online college is legit or not is checking it on LinkedIn.
Here's what I see when I search for the university via my LinkedIn account.
As you can see, there were over 56,000 university alumni, and 888 of them worked at JP Morgan: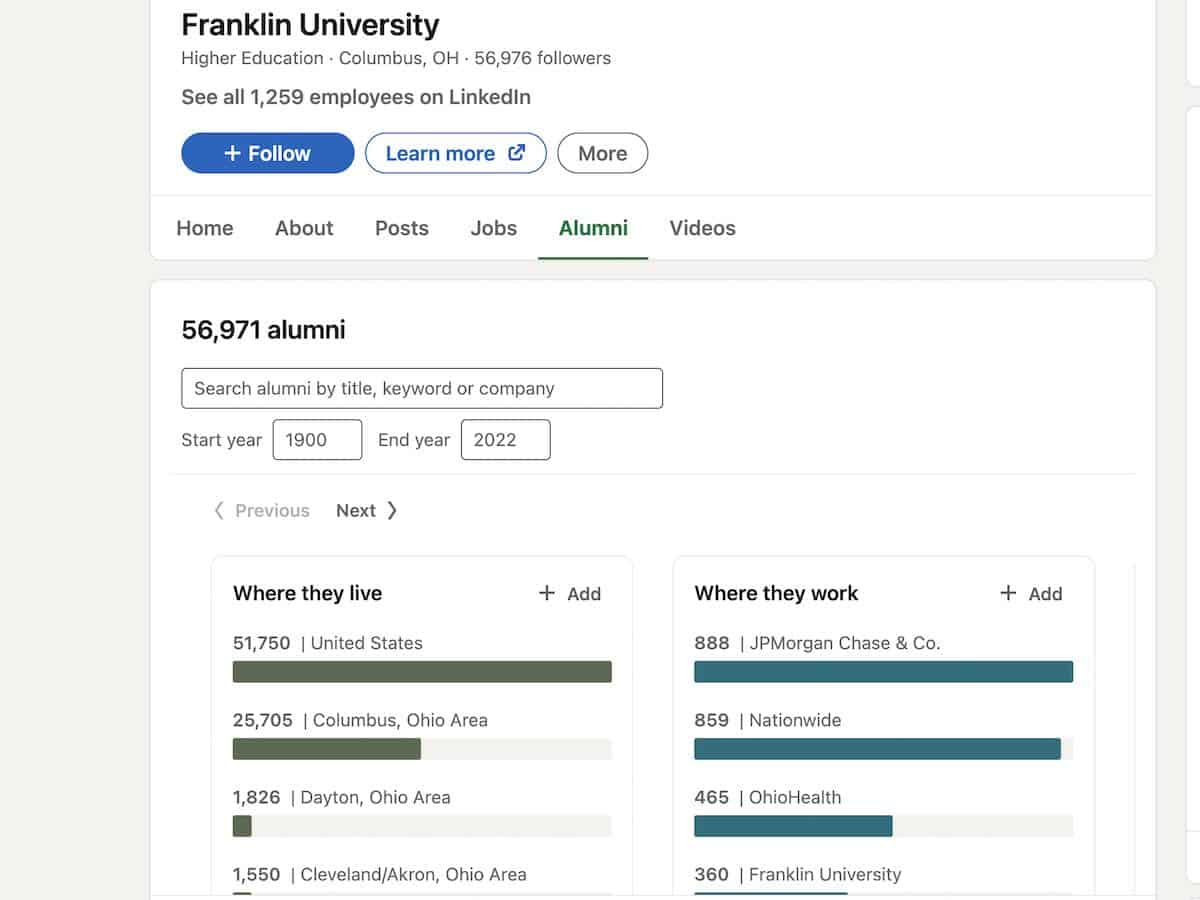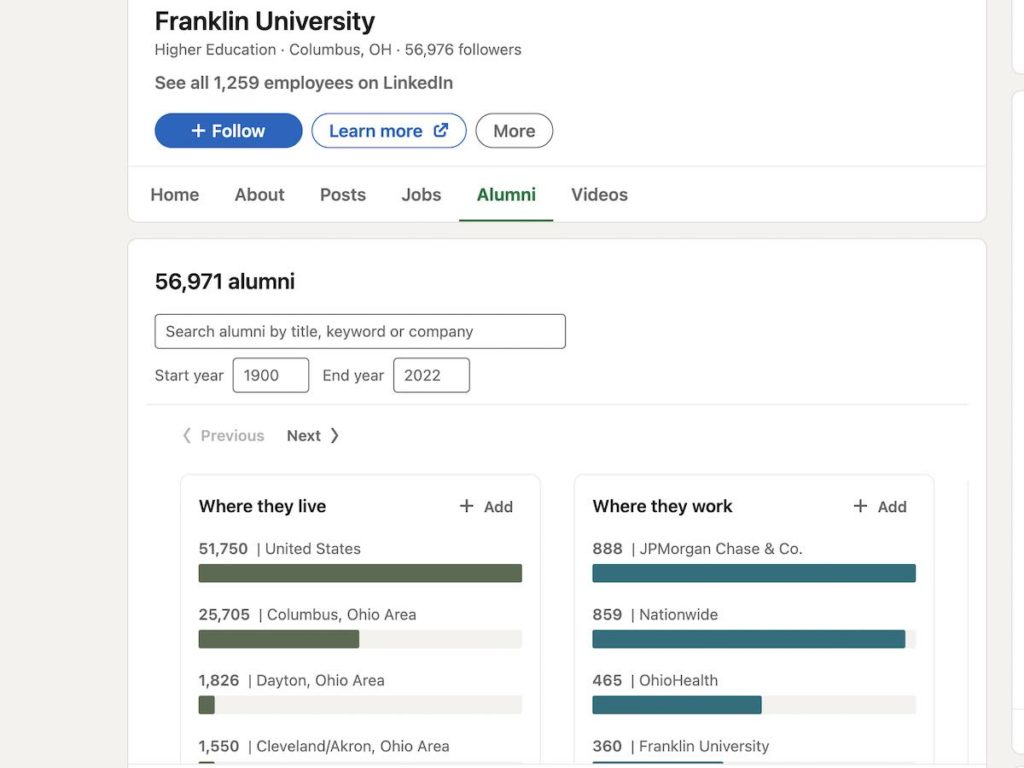 Here are some other quick facts about Franklin you might want to check out before we talk about it further:
Location: Columbus, Ohio
Founding date: 1902
Campus size: 207 acres
Campus type: Suburban
School type: Private non-profit university
Reputation: Non-party school
Selectivity level: Non-selective
Number of majors: 39
Popular majors: Accounting, business, healthcare management, human resources, nursing
Student body: 5,926
Student-to-faculty ratio: 13:1
Retention rate: 29%
Graduation rate: 42%
Franklin University Rankings
Niche ranks Franklin University #4 in Most Diverse Colleges in Ohio and #310 in Most Diverse Colleges in America.
The college ranking site also ranks the school #24 in Colleges with the Best Student Life in Ohio.
When it comes to academics, the nursing program of Franklin is ranked #536 in Nursing by US News.
It's true that not a lot of college rankings mention or include Franklin University.
However, it doesn't mean right away that it's a bad school.
Especially if you are a non-traditional student who is looking to earn a degree, it's a good idea to consider Franklin's online programs as well as their features rather than its college rankings.
Does it have the program you like?
Is it reasonably priced?
Are its online classes flexible?
By checking out the website of Franklin University as well as other reliable online sources, you will be able to determine whether or not it's the right school for you even without depending on college ranking sites.
Is Franklin University a Diploma Mill?
Being a diploma mill is something that Franklin University isn't.
For one, it has a physical campus and the school is considered one of the largest in Ohio enrollment-wise.
Besides, according to Franklin's graduates' career outcomes report for 2019 to 2020, up to 82.9% of its bachelor's graduates are employed.
Fearing that one might end up earning a worthless degree from a diploma mill is quite normal for someone who is planning on working on a degree program via the internet.
If you are thinking about enrolling in Franklin, being a diploma mill student should be the least of your fears.
That's because it's guaranteed that the Columbus, Ohio-based private non-profit university is a legitimate institution offering legitimate college degrees that many employers respect and accept.
Franklin University Accreditation
The accrediting body responsible for the accreditation of Franklin University is the Higher Learning Commission (HLC).
The agency accredits degree-granting schools in the central region. HLC is recognized by the US Department of Education (USDE) and the Council for Higher Education Accreditation (CHEA).
Franklin understands that students invest a lot in their college education, which is why it's just normal for them to want to make sure they are about to enroll in a high-quality program.
In order to have peace of mind, the school says that those who are planning on enrolling may send an email to the Office of Accreditation and Authorization for them to be able to obtain a copy of the school's accreditation or licensure.
It adds that one may contact its accreditor directly, which is HLC, for details.
And speaking of which, HLC is one of the six regional accrediting agencies in the US.
This means that Franklin University is regionally accredited. Just in case you end up transferring to another regionally accredited institution after attending Franklin for a while, your credits will transfer seamlessly.
Regional accreditation is considered more prestigious than national accreditation.
That's because it is granted to colleges and universities that are able to meet or even surpass higher educational standards.
Employers know this, which is why degrees earned from Franklin University, including online ones, are respected.
We will talk about some of the top employers of Franklin graduates in a few — so don't stop reading now!
Is Franklin University a Party School?
Franklin University is not a party school, which makes it ideal for students who prefer to complete a degree program with very little to no distractions.
It seems that sports and Greek life are not a big part of campus life at Franklin either, which can be a disadvantage for students who prefer an active social life.
Based on a Niche survey, more than 90% of undergraduate students at Franklin University assume that graduation day is the biggest celebration on campus since there are no parties in sight.
The same survey adds that nearly a third of all attendees do not care about varsity sports.
Especially if you are planning on attending Franklin for one of its online degree programs anyway, being a non-party school and having zero campus life should not be considered drawbacks.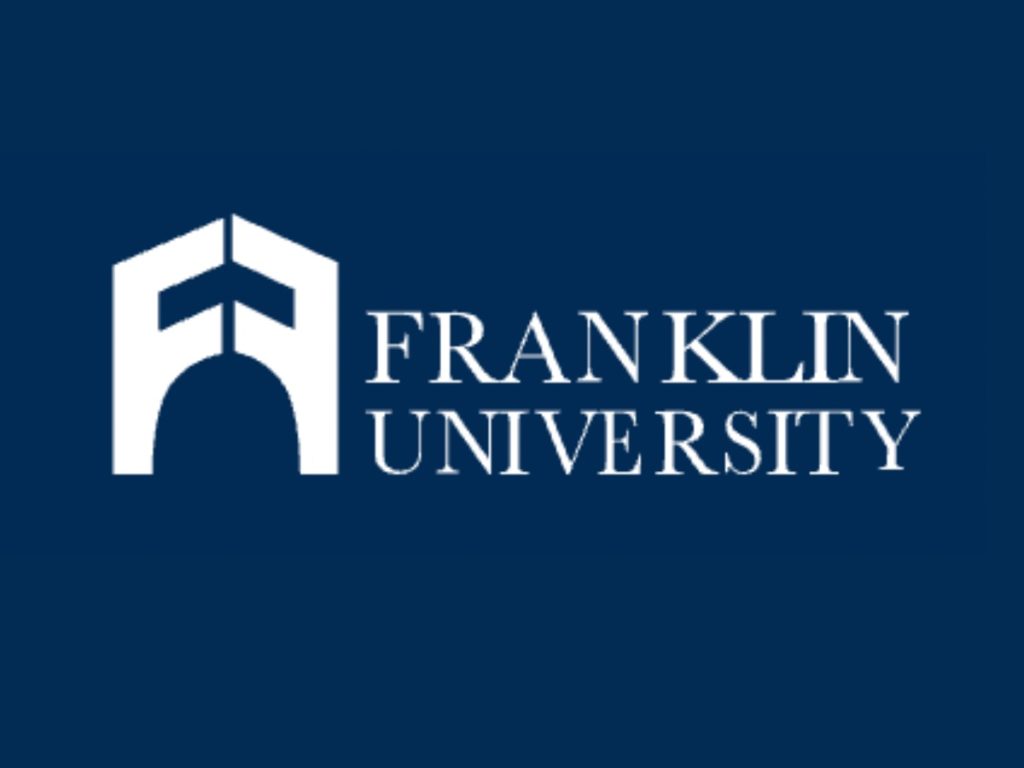 What are Online Classes Like at Franklin University?
Some classes at Franklin University are asynchronous, requiring online students to log on at the same time as scheduled.
But then there are also classes that are 100% self-paced. However, there are deadlines students have to beat as online classes at Franklin typically last for six to eight weeks only.
One of the nicest things about attending Franklin University online is that work is evenly distributed across the length of a course ahead of time, thus allowing those with busy professional and personal lives to budget their time well.
At Franklin, certain classes involve real-time virtual classes, although they happen at night.
Classes are instructor-led, too, which means that you will not be alone in the journey toward a bachelor's degree. They are a blend of live-stream sessions as well as pre-recorded ones that you can access at any time you like.
Online students are also given collaborative tasks from time to time, which means there is some sort of interaction among them.
Is Franklin University a Diverse School?
When it comes to racial or ethnic diversity, the general consensus is that Franklin University has medium diversity.
The majority of its students are Whites or Caucasians, which make up 53% of the studentry.
African Americans, meanwhile, make up 16% of the entire population at Franklin.
At Franklin, around 70% of undergraduate students are enrolled part-time, which means that only 30% are attending full-time.
This is something to expect from an institution that caters primarily to working adults.
More women attend the school than men — female students make up approximately 59% of all attendees.
There are many perks that come with going to a diverse school, some of which can help prepare you for a more global job market.
However, suppose you are an online student at an institution known for its diversity.
In that case, it's less likely that you will reap the various associated benefits, especially if the classes are 100% online and asynchronous.
Acceptance Rate at Franklin University
Because Franklin University has an open admissions policy, just about anyone who applies to the private non-profit school can get accepted.
The application process begins with filling out the application, which can be completed in around 20 minutes and free of charge. Processing of applications takes about 48 hours.
In order for their applications to be considered by Franklin's admissions officers, first-time, first-year students should present official documentation of graduation, a diploma or transcript, from an accredited high school.
Also accepted is an equivalent such as a GED certificate or passing a High School Equivalency (HSE) exam.
Planning on transferring to Franklin University?
You will be more than happy to learn that up to 94 previously earned college credits from a regionally accredited institution can be transferred.
Just make sure that you also provide your college transcript if you have successfully completed an associate or a bachelor's degree program.
GPA You Need to Get Into Franklin University
Like many institutions of higher education, physical or online alike, Franklin University does not have any published minimum GPA requirement freshman applicants must meet in order to gain admission.
On the other hand, Franklin's website clearly states that the GPAs of transferees will be calculated.
It's not uncommon for selective colleges and universities to require applicants to meet a minimum GPA requirement, which can be anywhere from 2.0 to 3.0 or very close to 4.0, depending on the selectivity level and admissions policy.
Since Franklin has an open admissions policy, it's safe to assume that it doesn't require a very high GPA.
As a matter of fact, its admissions officers do not say that there's a certain GPA to meet in order for applications to be considered — well, at least for high school graduates or those with no previous college.
As mentioned above, the GPAs of transferees are considered at Franklin, but that's pretty much what the school says about the matter.
Applying Early to Franklin University
Franklin University does not offer early decision or any other form of early admission plan.
Applicants need not worry about submitting their applications on time because the Columbus, Ohio-based institution has a rolling admission policy.
So, in other words, it accepts applications throughout the calendar year.
Earlier, we discussed the admissions process at Franklin, which is easier than most.
One more thing that simplifies going to it for working adults and other non-traditional students is the fact that the school accepts applications for admission on a rolling basis.
It doesn't mean, however, that you can apply today and expect to start tomorrow.
According to the admissions officers at Franklin University themselves, students should apply four to six weeks in advance before their preferred course start day — students may select from an assortment of dates per semester to commence their college education.
The goal is for the students to be able to complete all the steps necessary in order to begin their classes as desired, as well as to allow them to choose a schedule that's perfect for their preferences and professional or personal timetables.
How Much Does It Cost to Attend Franklin University?
The tuition at Franklin University costs $398 per credit hour for undergraduate students. Tuition for the bachelor's degree in nursing program is cheaper, costing $298 per credit hour.
Tuition for a semester at Franklin, consisting of 15 credits, can cost from $4,470 to $5,970.
One of the things that can make attending Franklin a smart move for students from low-income backgrounds is that the institution has a tuition guarantee, which not a lot of colleges and universities in the US offer.
Simply put, it locks in the tuition of attendees throughout the duration of their chosen degree programs.
With the exception of nursing students, every undergraduate student who goes to Franklin University pays $398 per credit hour.
Unlike at most other online schools, the rate remains the same whether you intend to take only a few or a lot of credits per semester.
However, the rate for international students is $526 per credit hour.
Franklin caters most especially to adult learners, including military members and veterans. Active service members attending the school pay only $250 per credit hour.
University And Financial Aid
At Franklin University, more than 50% of students receive financial aid.
As a matter of fact, the institution awards approximately $13 million in student aid per year.
Franklin also offers several different institutional aids as well as benefits to veterans and active service members working on a college degree.
Students attending Franklin are strongly advised to complete the FAFSA every year as soon as it becomes available on the 1st of October in order to be able to maximize their award.
Here are the priority deadlines for the filing of FAFSA at the school, which can change every year:
March 15 – summer
June 15 – fall
October 1 – spring
There's also an assortment of merit-based and community service scholarships available at Franklin University.
Some examples of those you may apply for include:
Choose Ohio First Scholarship
Smart Start Scholarship
The Franklin University Undergraduate Scholars Program
Undergraduate CBusStudentHack Scholarship
Each one has its own eligibility requirements, so make sure that you research which type of student a particular institutional scholarship is for before you apply to it in order to avoid wasting precious time.
As mentioned earlier, Franklin does offer benefits to veterans and active service members.
For instance, besides the usual VA benefits, the school accepts military training and experience as credits, too.
Active service duty members, as well as their spouses and family, meanwhile, are eligible for various tuition discounts.
How Much Money Do Graduates Make
Based on available data, Franklin University alumni make an average of $52,100 annually 10 years after attending the institution for the first time.
The said amount is more than 50% higher than what's considered the national median for all occupations, which is $34,300.
Many employers trust Franklin graduates.
The average starting salary of those with a bachelor's from Franklin is $43,100 per year. But, as expected, starting salaries can vary depending on the undergraduate degree earned.
Here are the estimated starting salaries of Franklin University alumni members according to major:
| | |
| --- | --- |
| MAJOR | STARTING ANNUAL SALARY |
| Homeland security | $66,400 |
| Law enforcement | $66,400 |
| Computer science | $56,900 |
| Computer and information sciences | $51,900 |
| Business administration | $44,700 |
| Business management | $44,700 |
| Human resources management and services | $44,400 |
| Finance | $43,300 |
| Financial management and services | $43,300 |
| Advertising | $39,900 |
| Applied communication | $39,900 |
| Public relations | $39,900 |
| Health and medical administrative services | $38,100 |
| Criminal justice and corrections | $36,400 |
| Design and applied arts | $35,900 |
| Psychology | $33,700 |
Starting salaries of Franklin University alumni
Earlier, we established the fact that Franklin University's name doesn't appear on a lot of college rankings, especially by some of the most popular college ranking sites.
But the good news is that many employers still choose to trust the school's graduates. Some of the top ones are:
Abercrombie & Fitch
American Electric Power
Anheuser Busch, Inc.
AT&T
Cardinal Health
Central Ohio Transit Authority (COTA)
Discover Card
FedEx
Gap Inc.
Honda Manufacturing
Huntington Bank
IBM Corporation
JPMorgan Chase & Co.
Junior Achievement
Nationwide
Ohio Public Employees Retirement System (OPERS)
State Auto Insurance Companies
The Wendy's Company
United Parcel Service
Verizon Wireless
Walmart
Xerox
Franklin University Reputation
Unlike diploma mills that confer online degrees, Franklin University is legit.
That's because it is a fully accredited school.
As a matter of fact, as of this writing, nearly 900 Franklin alumni members are working in one of the biggest and oldest financial institutions in the US, JPMorgan Chase & Co.
Franklin University caters to undergraduate and graduate students who like to earn on-campus degrees.
It's also ideal for non-traditional students who prefer to work on online degree programs because the private non-profit university offers flexible schedules as well as affordable and transparent fees.
Before you decide to include Franklin on your college list or send an application to it, make sure that it offers the degree program of your liking at an educational approach (traditional or online) and the cost that suits you very well.
Read Also: How to Enroll in an Online College

Disclaimer: The views and opinions expressed in this article are those of the authors and do not necessarily represent those of the College Reality Check.