How to Get Into Oxford From the US?
The University of Oxford is one of the highest-ranking institutions for higher education not only in the UK but around the globe, too.
For instance, it's number five in both Best Global Universities by US News and Global 2000 by the Center for World University Rankings (CWUR). It's no wonder why some US students apply to Oxford.
Applying via UCAS is the first step in getting into Oxford University from the US. Meeting GPA, SAT or ACT score, and AP exam requirements is a must. Depending on the course, admissions tests must be taken or written works must be submitted. The top applicants will be invited to an interview.
There is never a shortage of prestigious colleges and universities in the US.
Besides Ivy Leagues like Harvard and Columbia, there are also non-Ivy Leagues such as MIT, UCLA, Caltech, Stanford, and the University of Chicago.
According to Oxford itself, the US is home to the largest number of its graduates outside the UK, with more than 26,000 resident alumni members. Numerous famous Americans whose names will surely ring a bell have studied at this prestigious research university, too.
Some of them include:
President Bill Clinton
Susan Rice
Elena Kagan
Cory Booker
George Stephanopoulos
Rachel Maddow
Kris Kristofferson
Reid Hoffman
Harper Lee
Edwin Hubble
Planning to pack your bags and earn a degree from the University of Oxford? Keep reading.
Below, you will come across some of the most important application-related matters US students thinking about spending the next four years of their academic life at Oxford need to know.
You will have a better idea of whether or not you have a good chance of receiving an offer from the elite school by the time you reach the end of this article.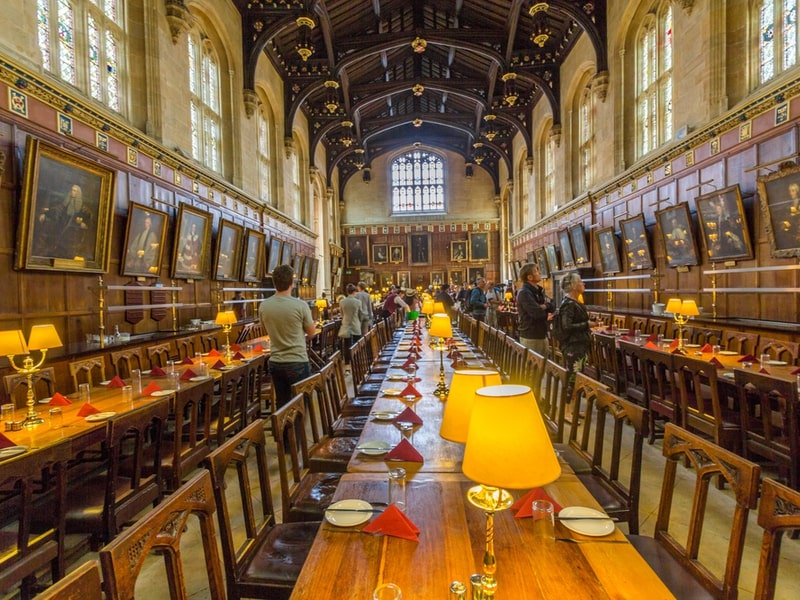 What is the Acceptance Rate at Oxford?
The University of Oxford is a highly selective institution, with an acceptance rate of approximately 17%. However, the acceptance rate for international students applying to the school is lower: around 9% only. Still, nearly half of the students attending Oxford University are from outside the UK.
A lot of students check out a school's acceptance rate to figure out whether or not they should apply to it. If they see a low number, the institution has no place on their list.
With a 17% acceptance rate, more than a fifth of all students applying to Oxford get rejected.
If you think that's low, better think again. The 17% acceptance rate applies to UK applicants only. The number drops to 9% for applicants from other parts of the planet, including the US. Despite this, a large fraction of Oxford's student body is not from the UK. As a matter of fact, up to 45% of Oxford's attendees are students from over 160 countries!
Oxford University is a diverse school.
After all, it's part of the institution to increase student numbers from underrepresented backgrounds, which have won the support of an independent higher education regulator in England, the Office for Students (OFS). And this is why, in 2018, over 18% of admits were blacks and minority ethnics.
Let's take a look at the largest groups of international students attending Oxford:
| COUNTRY | NUMBER OF STUDENTS |
| --- | --- |
| USA | 1,606 |
| China | 1,556 |
| Germany | 747 |
| Canada | 427 |
| Hong Kong | 366 |
| India | 335 |
| Singapore | 309 |
| Australia | 299 |
| Italy | 285 |
| France | 260 |
| Poland | 203 |
| Switzerland | 195 |
| Netherlands | 184 |
| Romania | 180 |
It's true that Oxford has an acceptance rate so low that a lot of college-bound kids from the UK and elsewhere on the planet alike avoid applying to it.
Related Article: How to Get Into St. Andrews from the U.S.
However, it's not the one with the lowest acceptance rate among UK-based schools. Just check out the following colleges and universities in the UK with lower acceptance rates than Oxford's:
| | |
| --- | --- |
| UNIVERSITY | ACCEPTANCE RATE |
| University College London | 7% |
| London School of Economics | 9% |
| University of Edinburgh | 10% |
| University of Nottingham | 11% |
| King's College London | 13% |
| University of Liverpool | 14% |
| Imperial College London | 14% |
| University of Warwick | 14% |
How Do Students Apply to Oxford?
US students who wish to apply to the University of Oxford should do so via the Universities and Colleges Admissions Service (UCAS). The online application is not only for US applicants but also for those from the UK and other countries. UCAS is used for applying to Oxford and other UK institutions.
Like the Common App and Coalition App, you can use UCAS to apply to the majority of UK colleges and universities. And like the two most popular online college application forms, it's a must to fill out UCAS correctly.
It all starts with registering. You can register through your high school by providing its buzzword. However, you can also register as an individual, which requires no buzzword.
In any case, UCAS will provide you with a username and ask you to create a password. It should be six to 12 characters long and have at least one capital letter and a number.
UCAS consists of seven main sections, some of which are exclusive to applicants residing in the UK:
Personal details
Additional information (for UK applicants only)
Student finance arrangements (for UK applicants only)
Course choices (up to five choices, and they don't have to be in the order of preference)
Educational history
Employment history
Personal statement and reference
Are you the only one in your class applying to the University of Oxford or any other institution of higher learning located in the UK?
Then you may feel stressed and anxious knowing that everybody else is busy completing their Common App or Coalition App while you are all alone completing your UCAS form.
Worry not because filling out UCAS is just like filling out most college application forms used by students applying to US colleges and universities. Since you don't live in the UK, there are some sections you may skip altogether.
The following are some of the things to keep in mind when filling out sections that concern you:
Personal details
Make sure that you provide an updated email address. This is of utmost importance not only for verifying your new UCAS account but also for receiving application-related updates.
You can give someone nominated access if you like the person to speak to UCAS on your behalf. The individual can be a parent, guardian, teacher or adviser.
Course choices
First things first: You can apply to either the University of Oxford or the University of Cambridge only. If you want to give the other school a try, you will have to wait another academic year.
You can choose up to five different courses. Worry not about the order of selecting courses as there's no preference order. What's more, Oxford won't see where else in the UK you have applied.
Oxford does not usually accept requests for deferral of offer to a later term or year. However, deferrals may be requested by international students with visa application-related issues.
Educational history
No matter if you already have the results or are still waiting for them, see to it that you enter all your qualifications. This is true whether or not you have completed the course or program.
Qualifications are listed on the UCAS form by name and country. International students who cannot find theirs may use the "Other" box, although they may be asked to send proof of the results.
Employment history
Up to five full-time and part-time paid jobs can be entered. Details to include are company names, addresses, job descriptions, and employment start and finish dates.
Voluntary or unpaid work need not be included on the list. Instead, when filling out UCAS, it should be discussed as part of an applicant's personal statement.
Personal statement and reference
Your personal statement gives you the opportunity to tell the admissions officers at the University of Oxford why you would make for an excellent addition to the school's student body.
The length of your personal statement should be between 1,000 characters to 4,000 characters. It may sound a lot alright. However, the truth is that it's just only about one side of an A4-size paper.
While you can choose up to five courses, you can only submit one personal statement. This is why you should get all of your choice of courses covered. So, in other words, make the most of it.
It's a good idea to compose your personal statement using your favorite word processor since UCAS does not have a spell or grammar checker. You can then copy and paste it into UCAS.
A reference is the recommendation letter US colleges and universities ask applicants to submit. Anyone who knows you academically or professionally can write a reference, such as a teacher, adviser or employer.
Every student who is applying to UK institutions needs to have a reference. In some instances, however, some may skip submitting one upon getting the permission of the school.
Related Article: How to Get Into Cambridge
You will not be able to read and agree to the declaration unless all sections have been marked complete. Before you submit your completed UCAS form, check your spelling and make the necessary edits.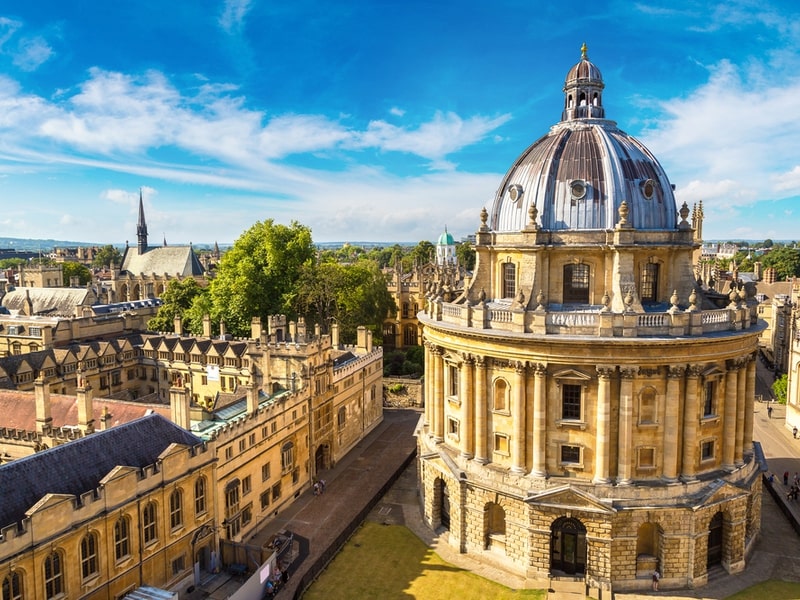 What GPA Do You Need to Get Into Oxford?
The minimum GPA requirement for US students applying to Oxford University is 3.7. A higher GPA is expected for applicants who like to enroll in more competitive courses. However, it doesn't mean that applicants with low GPAs will not get an offer. Likewise, a high GPA does not guarantee acceptance.
Your GPA is the number one factor considered by colleges and universities you apply to.
Because Oxford is one of the most selective schools in the UK and across the globe, too, it doesn't come as a surprise why the majority of applicants, UK residents, and international students alike, that gain admission into it have impressive GPAs.
A GPA of 3.7 is equivalent to upper-second class honors in the UK, where Oxford is.
To gain admission into the UK-based prestigious school, you need to have been at least an A- high school student. This means that you should have gotten mostly A's, which makes you an above-average high schooler.
Many colleges and universities in the US have a holistic admissions policy. This means that their admissions officers take a look at the application of a student as a whole when making a decision. So, in other words, it's not just the GPA that matters in the admissions process but many other things, too.
Unfortunately, the same cannot be said for the University of Oxford. According to the school itself, it selects students based on academic criteria alone, unlike US schools.
It's exactly for this reason why the admissions officers at Oxford, as well as those who conduct admissions interviews, consist of academics such as professors.
It's true that many of the institution's admits are well-rounded students, including those who play sports or run volunteer organizations.
However, Oxford University chooses applicants mainly on academic prowess.
Needless to say, your transcript can spell the difference between getting an acceptance letter and a rejection letter.
Related Article: Easiest and Hardest Ivy League Colleges to Get Into
Does Oxford Require SAT or ACT Scores?
The University of Oxford requires applicants from the US to submit either their SAT scores or ACT scores. Like most colleges and universities, Oxford doesn't prefer one standardized test over the other. The minimum SAT score required is 1480. On the other hand, the minimum ACT score required is 33.
A lot of US colleges and universities have a test-optional admissions policy, which means that applicants may decide between submitting their test scores and keeping them to themselves.
Some institutions have a test-blind admissions policy, which means that they do not include SAT or ACT scores at all in the admissions process.
Both test-optional and test-blind admissions policies are advantageous for students who are not particularly happy with their test scores. It's also beneficial for those who were not able to take the SAT or ACT.
Oxford University is looking for the most college-ready applicants, as evidenced by the fact that it admits to deciding based on academic performance.
Since the SAT and ACT are designed to determine the college readiness of test-takers, it goes without saying that you need to have an impressive test score if you want to attend Oxford.
True enough, the minimum SAT and ACT scores the institution accepts are 1480 and 33, respectively. The minimum SAT score Oxford prefers is higher than the preferences of the Ivy Leagues.
On the other hand, the minimum ACT score the school likes to see is higher or equal to some of the preferences of the Ivy Leagues.
Here's a table showing the range of SAT and ACT scores admitted into the eight Ivy League schools:
The University of Oxford does not require US applicants to submit the optional SAT essay section or ACT writing section. Needless to say, if you haven't taken it, there is no need to take it if you plan to apply to Oxford.
Unlike some US colleges and universities, Oxford does not superscore SAT or ACT scores.
So, in other words, it's a good idea to submit your highest standardized test score if you took the SAT or ACT more than once or if you are happier with the score of one test.
However, when completing UCAS and you took the SAT or ACT many times, you will be asked to provide all test scores as well as all the dates you took those standardized tests.
Does Oxford Give Credit for AP Exams
Oxford University requires applicants from the US to have either four or three Advanced Placement (AP) exam scores of five. It depends on the subjects required for the course students are applying to and their standardized test scores. AP exam scores lower than five will not be accepted by Oxford.
It's not uncommon for elite institutions in the US to have a penchant for students who have taken challenging AP courses and passed difficult AP exams.
That's because it demonstrates college readiness. However, applicants from high schools that do not offer college-level courses will not be disadvantaged in the admissions process.
Since Oxford is a top-notch school, it doesn't come as a shock why it also prefers college-ready students only.
The good news is that the UK school finds AP exams more than enough — it doesn't require applicants to complete AP courses, too, since it's possible to take AP exams without taking AP courses beforehand.
Refrain from assuming that it's easier to gain admission into the University of Oxford because of this admissions policy.
It's important to note that it accepts AP exams at grade five only.
Since the highest possible grade one can get in an AP exam is a five, it means that yours should have perfect scores.
When applying to Oxford University, you can submit four AP exams at grade five. Your AP exams should include any of the subjects required for the course you wish to apply to.
You can also submit only three AP exams at grade five. However, your SAT score should be at least 1480, or your ACT score should not be lower than 33.
Just Before You Apply to Oxford
The University of Oxford is a high-ranking institution not only in the UK but also across the globe. Since it's selective, not everyone who wishes to attend it gets the opportunity to receive an offer.
Above, we talked about some of the most important things you need to know about how to get into Oxford from the US. Meeting all the school's requirements, from completing the UCAS form to getting a perfect score of five in three or four AP exams, can increase your chances of earning a degree from this prestigious school.
Related Article: How to Get Into McGill as an American

Disclaimer: The views and opinions expressed in this article are those of the authors and do not necessarily represent those of the College Reality Check.