The college application process includes sending transcripts, writing essays, collecting recommendation letters, and taking standardized tests.
More students apply to more colleges in the last few decades. To increase admission chances, it is vital to know how to apply to a college or university and which steps to take in which order.
The following are the 11 steps to applying to college:
Know college application deadlines
Ask teachers for recommendation letters
Take SAT and ACT tests
Build a balanced college list
Narrow down college list
Register on the Common App or Coalition App
Write college admissions essay
Answer supplemental questions
Gather all required documents
Apply for financial aid
Submit application
1. Know College Application Deadlines
College application deadlines, which are the latest dates by which applications to postsecondary institutions should be completed by students, can vary from school to school and from admission plan to admission plan.
It is a must for high school students to determine the application deadlines for institutions on their college lists.
Otherwise, late applications will not be considered by admissions officers for review and college-bound teenagers who fail to beat the deadline may have to wait for the next admissions cycle or apply to schools with later deadlines or a rolling admissions policy.
Some college application deadlines are several months earlier than the rest. Read more here about getting into a college.
In most instances, early admission plans come with certain restrictions — for instance, some may prohibit students from applying to other colleges, while others may forbid accepted students from attending other institutions.
The following is a table demonstrating the different admission plans and important dates:
| Admission Plan | Common Deadline | Common Decision Notification |
| --- | --- | --- |
| Early decision 1 | 1-Nov | Mid-December |
| Early decision 2 | 1-Jan | Mid-February |
| Early decision 3 | 31-Jan | Late March |
| Early action 1 | 1-Nov | Early December |
| Early action 2 | 15-Nov | Mid- to late December |
| Priority deadline | 1-Nov | Early February |
| Restrictive early action | 1-Nov | Mid-December |
| Regular decision | 1-Jan | Mid-March |
| Rolling admission | Varies | 4 to 6 weeks after submission |
College Application Deadlines
Besides college application deadlines, it is also important for students who are preparing to work on an undergraduate degree to keep in mind other deadlines to beat such as:
FAFSA filing – June 30 (for priority consideration: April 1)
CSS Profile – January 1 to March 31 (can vary for different colleges)
SAT registration – around 1 month before the test date
ACT registration – around 5 weeks before the test date
AP exam registration – varies from one school year to the next
So, how long does a college application take?
It can take around 40 minutes to enter general data into the Common App or Coalition App. However, since there are various materials high school students need to get their hands on, all in all, it can take them more than 1 month, usually around 6 weeks, to complete the process.
The starting process of applying to one's top-choice college, however, can be as early as the freshman year.
Here is a typical college application process timeline: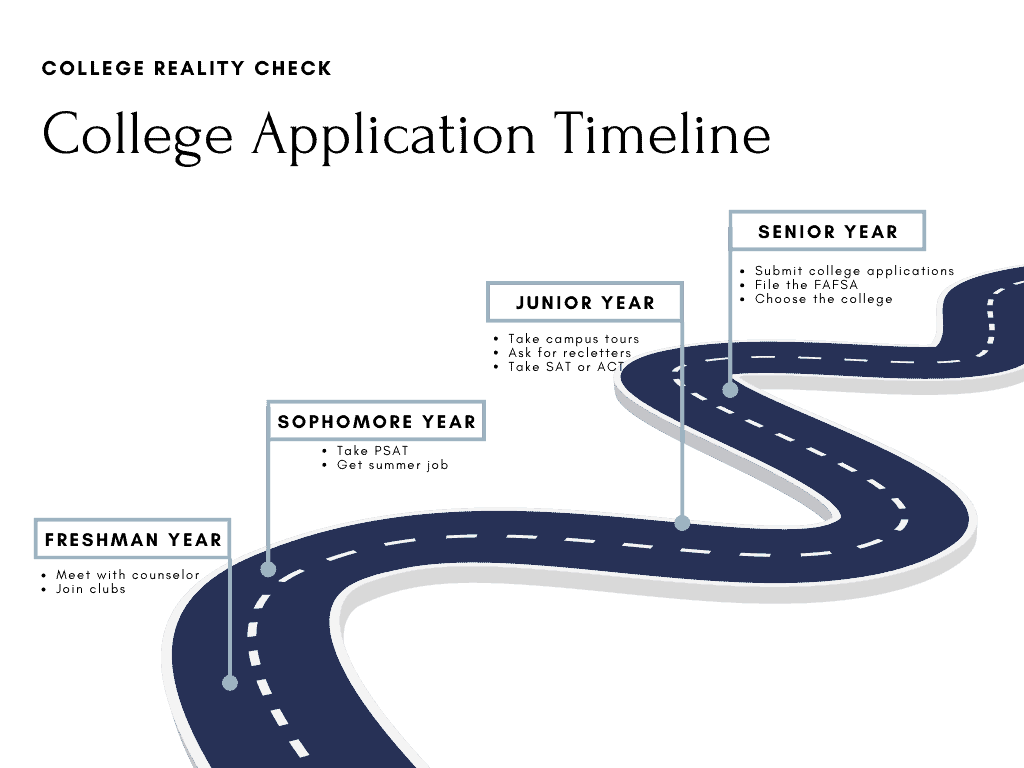 Freshman year
Meet with the counselor to determine which courses to take
Search for interesting clubs and organizations to join
Start talking with parents about financial aid
Sophomore year
Undergo practice PSAT
Take a summer job or a summer class
Junior year
Take more college-level classes for increased academic rigor
Sit for the PSAT for SAT preparation and qualification for the National Merit Scholarship Program
Research colleges and universities
Look into various financial aid options
Prepare for the SAT or ACT in the spring
Start taking campus tours of local colleges
Reach out to writers of recommendation letters
Take the SAT or ACT in the spring
Senior year
Continue taking campus tours
Finalize college list
Determine college application deadlines
Complete college essays
Take the SAT or ACT one more time (if necessary or preferred)
Obtain letters of recommendation
Submit college applications and required materials and/or documents
File the FAFSA
Follow up on receipt of applications and scholarship opportunities
Submit midyear reports
Check mail for college decision notifications
Compare different financial aid packages
Choose the college to attend
Inform other schools the student will not be attending
Sit for AP exams
Send final high school transcript to college
How to start applying for colleges can seem a simple task that can easily become a complicated matter once the entire picture, which involves anything from taking certain steps to increase the level of rigor of the high school curriculum to meeting application deadlines, is taken into account.
2. Ask Teachers for Recommendation Letters
A recommendation letter is a document written by an individual who is not related to the college applicant but knows him or her very well. In most instances, it is or has to be written by a school counselor or a teacher.
Most colleges and universities require applicants to submit a letter of recommendation or two (or sometimes even more, whether compulsorily or optionally) because it allows admissions officers to obtain additional insight into the high school student's character, strengths, potentials, academic abilities, and potential to reap success in college.
Around 80% of postsecondary institutions consider recommendations an important part of the admissions process, according to The Inside Higher Ed report.
The best time for a student to approach a teacher to write his or her recommendation letter is at least a month before the college application deadline.
It is also recommended for the high schooler to avoid waiting until the end of the semester when most teachers are extremely busy with scoring exams and computing grades.
Generally speaking, it is better to ask a teacher to write a student's letter of recommendation as soon as possible as it is not uncommon for some teachers to have a cap on how many recommendations they write.
That being said, some of them may, in fact, have a first-come, first-served policy as far as recommendation letter writing is concerned.
In most cases, junior-year teachers are the best teachers for graduating high school students to approach. Such is because they have known them very well for about an entire year as well as the students are still fresh in their minds.
Some admissions officers recommend asking a STEM teacher and a humanities teacher.
This also fulfills the admissions requirements of some colleges and universities where applicants should obtain recommendation letters from teachers who have taught them major high school courses in the last two years of their secondary education.
Recommendations from freshman and sophomore years may not be considered by some schools.
However, some admissions officers, as an article by Inside Higher Ed pointed out, letters of recommendation are unfair to high school students who have no access to counselors or teachers who can spend time writing recommendations.
For instance, while the ratio of students to counselors in 4 states (Hawaii, New Hampshire, Vermont, and Wyoming) is below 250 to 1, it is more than 500 to 1 in 13 states (including California, Illinois, Michigan, and Minnesota).
As a matter of fact, a vice president of enrollment management and student success at Tuskegee University said that most short and very vague letters of recommendation usually come from low-income and disadvantaged students as well as those from feeder secondary institutions that provide local students to the historically black land-grant university.
3. Take SAT and ACT Tests
The SAT and ACT are standardized tests whose scores many colleges and universities in the US commonly use in the admissions process for undergraduate applicants.
According to the College Board, around 1.7 million students in the high school class of 2022 took the SAT at least once.
On the other hand, based on data provided by the National Center for Education Statistics, only 1.295 million high school graduates in 2021 took the ACT.
Since they have standardized formatting, both the SAT and ACT allow college admissions officers to compare students coming from different high schools and determine their college readiness.
However, many postsecondary institutions have become test-optional as early as 1970.
It was in the 2000s when the test-optional movement gained traction. The University of California going test-optional is considered a milestone:
"The (proposal to stop using the SAT as a part of the admissions process) first occurred in 2001 when Richard Atkinson, president of the University of California, recommended that colleges stop using the SAT and switch to tests tied more closely to the high school curriculum" (Enrollment Matters, 2011).
As of this writing, more than 75% of colleges and universities do not require SAT or ACT scores.
Even if a student is applying to a test-optional institution of higher education, taking the SAT or ACT, in most instances, is still recommended — while some test-optional schools may not require applicants to submit test scores, taking any of them and submitting their scores as well is often recommended.
Submitted SAT or ACT scores may at times be taken into account in the college admissions process when admissions officers are deciding between two applicants who share the same academic profile.
So, in other words, standardized test scores, even if optional, may occasionally serve as a tie-breaker.
Although some colleges have a test-optional policy, certain programs they offer, particularly competitive ones, may still require college-bound high school students to submit their SAT or ACT scores.
Likewise, some scholarship programs require applicants to submit their standardized test scores to determine which of them are more eligible, especially among scholarships that are merit-based — SAT or ACT scores, in such a circumstance, are seen as indicators of a student's academic ability and likelihood to succeed in his or her college career.
When determining whether or not to take the SAT or ACT, students must consider the requirements of their top-choice schools or academic programs as well as whether or not it is required by the scholarship program they are interested in.
Generally, the best time for students gearing up for college to take the SAT or ACT is in the fall or spring of their junior year and another time in the fall of their senior year.
According to the College Board itself, most high schoolers get a higher SAT score the second time.
On the other hand, ACT organization suggests sitting for the standardized test no more than 2 to 3 times, for it is unlikely for test-takers to be able to substantially boost their scores beyond that.
At which time they should sit for their preferred standardized test will depend on their academic and personal commitments and how long they wish to prepare for it.
When choosing between the two, students must consider the fact that colleges do not prefer one over the other.
4. Build a Balanced College List
A balanced college list consists of institutions of higher education that a student would likely attend. It is a combination of reach, match and safety schools that fit the college-bound teen's academic, financial and social needs and preferences.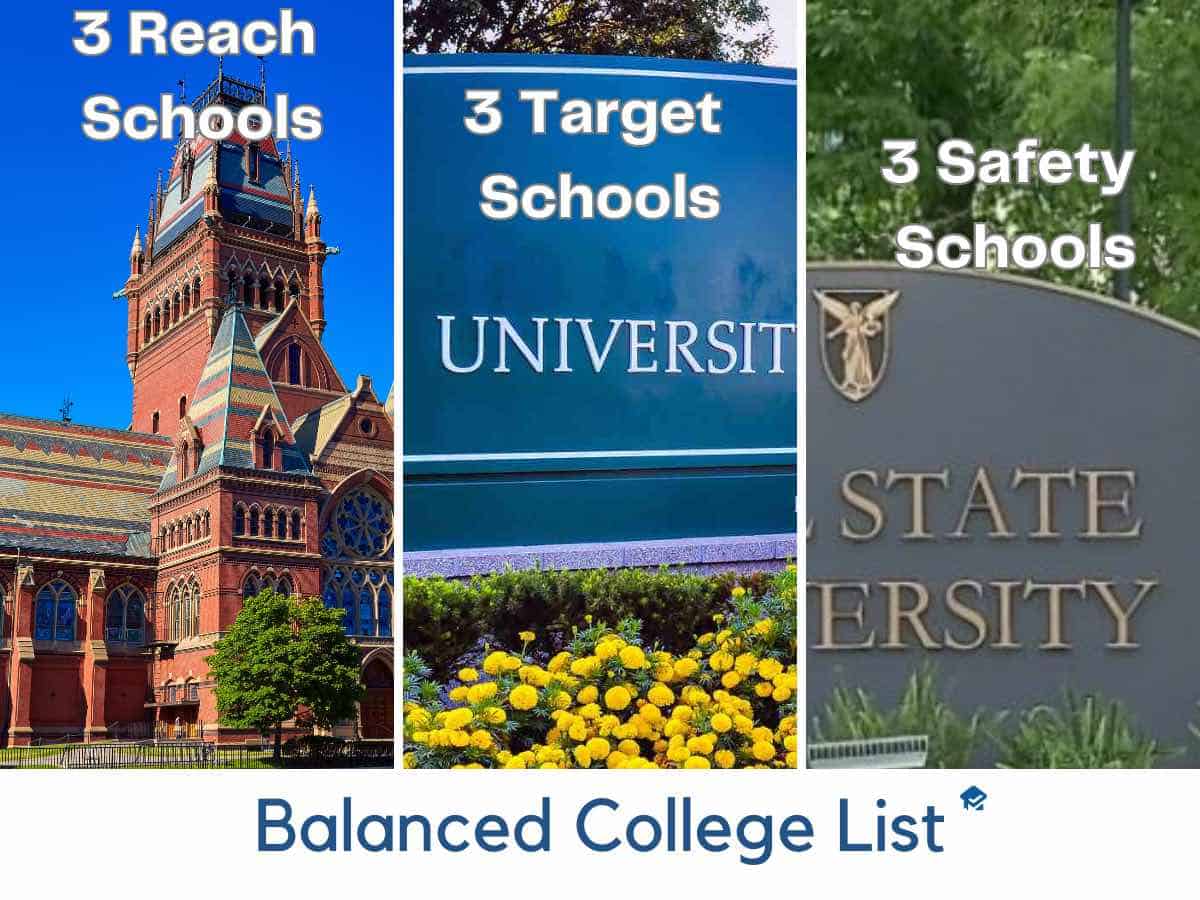 The following is the definition of each of the types of college one should shortlist:
Reach schools
Also sometimes referred to as dream schools, reach schools, simply put, are institutions with very low acceptance rates, typically accepting not more than 20% of undergraduate applicants per admissions cycle.
While the applicant's academic profile falls below the average academic profiles of admitted students, reach schools are ideal for an applicant who, should he or she get accepted, will be willing to take on the challenges posed academically by attendance to it.
However, one must keep in mind that the chances of receiving an acceptance letter from a reach school are very low.
A balanced college list should have 1 to 3 reach schools.
There is no need for a high school student preparing for a postsecondary education pursuit to add more than the suggested number of reach schools since it will only cause additional money and energy to go into applying to institutions from which a student is unlikely to get an offer to attend.
Match schools
A college or university whose admitted students have academic profiles that are similar to the academic profile of an applicant is aptly known as a match school. In some instances, it is also called a 50/50 school or a target school.
It is not uncommon for students applying to match schools to feel confident that they have high chances of getting in since their high school GPAs, test scores and other academic factors and, at times, non-academic factors, too, meet the minimum requirements for eligibility.
Colleges with acceptance rates of up to 80% but not 20% or lower are considered match schools.
In order to further increase a student's chances of getting into at least one of the shortlisted postsecondary institutions, it is recommended that 3 to 5 target schools are included in his or her college list.
Safety schools
As the name suggests, safety schools are institutions that make it safe for college-bound high school students to assume that they will receive an offer from them to enroll. However, it is important for applicants to keep in mind that, while admissions rates at safety schools are greater than 80%, getting in is not a guarantee.
Someone who is applying to a safety school can be considered an overqualified individual because his or her academic profile is better than the academic profiles of the most recently admitted first-time, first-year students.
There should be 2 to 3 safety schools added to a college list to make it balanced.
Adding more safety schools than needed can make the college list unnecessarily longer and cluttered since one's chances of getting into any of them are considerably higher than at match schools and, even more so, at reach schools.
While the acceptance rates for reach, match and safety schools are different, these institutions share one thing in common: students who apply to them are likely to attend should they get an offer to enroll.
Needless to say, students should be able to afford them and also willing to do the necessary steps to be able to work on their chosen degree programs successfully.
So, how many colleges should you apply to?
While there is no magic number, an article by Harvard Business Review said that applying to 5 to 8 colleges might be enough.
5. Narrow Down the College List
Narrowing down shortlisted schools allows high school students who are getting ready to pursue an undergraduate degree helps to make the college list not only more balanced but also more realistic.
While a student may have plenty of schools that he or she would fit in perfectly, attending all of them is not possible.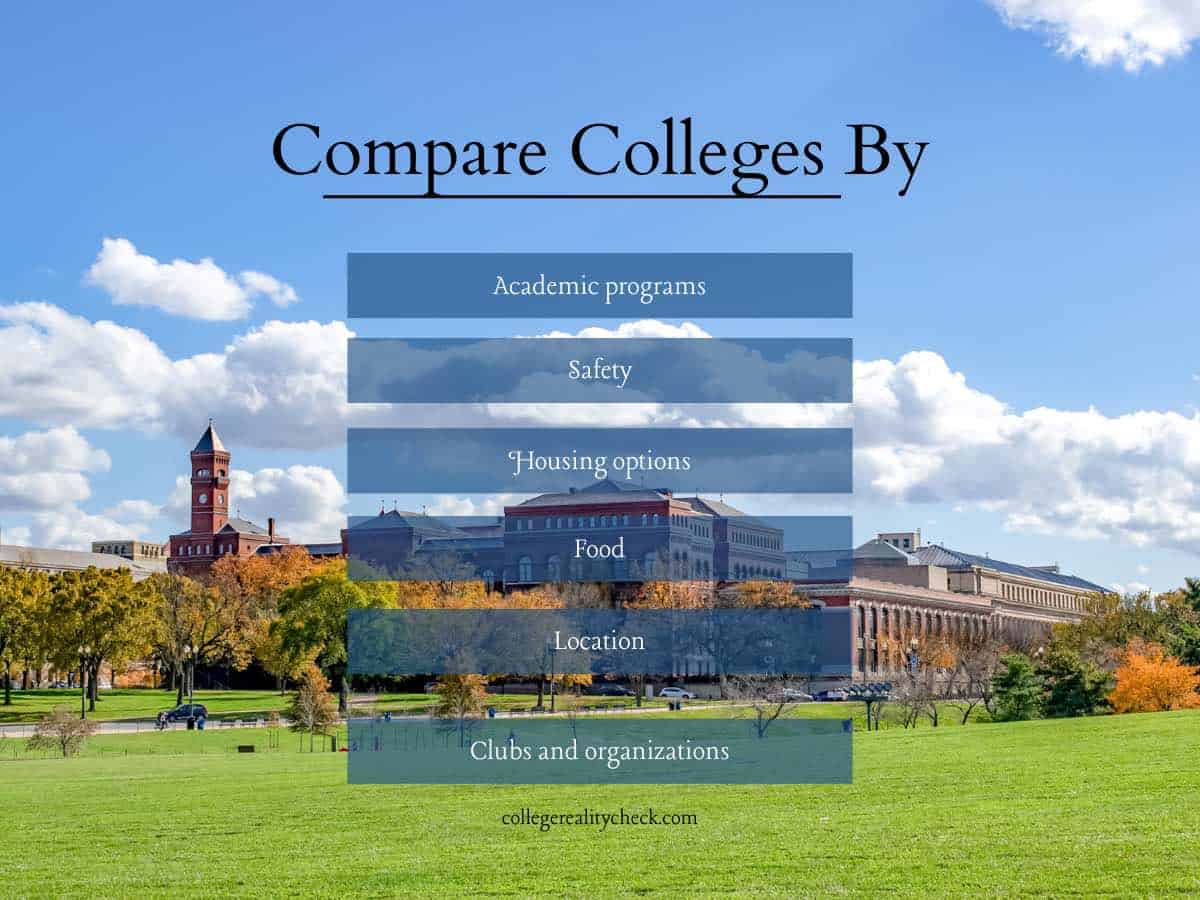 In order to save both time and money (it is time-consuming to fill out the Common App or Coalition App and gather various required materials and, unless one is eligible for an application fee waiver, applying to a college comes with a price tag), students should trim down their college list to a more manageable and sensible length.
The process of narrowing down one's college list starts with the student considering many different characteristics and features of schools and retaining only institutions that are able to meet his or her preferences and requirements.
Some of the most important considerations usually include:
Academic programs
Special programs (accelerated programs, co-op programs, study abroad programs, double majors, etc.)
Location
Campus culture
Campus diversity
Campus type and size
Clubs and organizations
Safety
Athletics
Class size
Student-to-faculty ratio
Cost
Financial aid packages
Housing options
Food
Religious affiliation
College rankings
In some instances, the best way for students to determine whether or not a college or university meets some criteria is by taking a campus tour.
Also sometimes referred to as a college tour, a campus tour is often carried out not only by high school teenagers who are considering attending the institution being visited but often with their parents, too.
Experts in higher education have long observed the importance of campus tours in the decision of students to matriculate.
As a matter of fact, such is the case for the vast majority of college-bound teens:
"In 2009, Cohen used Zinch.com, a college admissions portal, to survey a random sample of 1,100 high school seniors who had completed the college admissions process and made college choices. He found that visits to colleges were, by far, the most important factor in a student's decision about where to apply" (Cohen, 2009).
Meredith College says that the following are some of the reasons why a campus visit is vital to the college search:
It is the best way to assess the fit of a college
It allows students to meet with faculty members and even sit in their classes
It enables applicants to talk with current attendees
It makes it possible to ask college admission officers or counselors questions in person
Students who are on a tight budget or a time crunch may instead opt for a virtual campus tour.
An Inside Higher Ed report said that more and more students are grabbing the opportunity to replace in-person school visits with virtual ones.
Fordham University, for instance, saw 2,200 visitors take a virtual tour in 2022 versus 730 visitors for the months of March and April of the previous year, not to mention the more than 3,000 attendees at virtual events.
Other than taking a campus tour, in-person or virtual, high schoolers may also attend college fairs, which lets them learn more about their shortlisted schools as well as consult with people who have firsthand experience with attending them.
In the process of narrowing down one's college list, students must also take into account where they stand compared not only to other applicants but also to the most recent admits.
Doing this allows for the establishment of reach, match and safety schools, which is essential in determining how many of those should make it to the finalized college list.
6. Register on the Common App or Coalition App
While some colleges and universities in the US have their proprietary application portals, many share the college admission platforms the Common App and Coalition App.
Some higher education institutions accept both, while others accept only one. There are also those that use a particular platform for certain applicants only, such as freshmen or transfer applicants.
Gone are the times when students had to mail colleges to request for application forms — nowadays, those who wish to enroll in a postsecondary degree apply to colleges online, usually through the Common App or Coalition App.
As of this writing, more than 1,000 academic institutions are partners with the Common App.
Meanwhile, only over 150 degree-granting schools from 35 states and Washington, DC, use the Coalition App, which primarily caters to students coming from historically underrepresented groups.
Registering on the Common App and Coalition App comes free of charge, although it is important to bear in mind that many schools that accept them charge applicants a fee.
In addition, high schoolers preparing for their college careers need to register only once — they can use their Common App and Coalition App accounts to apply to numerous colleges.
Creating an account with either college application platform is easy and should only take students a few minutes.
Furthermore, students can choose to register on the Common App or Coalition App even if they are not planning on applying to any college or university for another few months or even for another few years.
In some instances, a high school student may have to create an account with both college application platforms.
Suppose that he or she is planning to apply to both University X and University Y. If University X accepts only the Common App and University Y accepts only the Coalition App, then the student should register on the Common App as well as the Coalition App.
7. Write College Admissions Essay
A college admissions essay is a written composition that an applicant submits along with his or her college application.
An important component of the college application process, especially where a holistic policy is imposed, it serves as an opportunity for the student to show admissions officers his or her personality, interests, experiences and writing abilities.
Not all postsecondary institutions require applicants to submit a college essay.
Some schools that do, on the other hand, sometimes require applicants to submit more than a single essay — commonly, it is for admissions officers to know an applicant just fine as well as to see how interested he or she is in attending.
Needless to say, a well-written college essay can help an application stand out from the rest, although a good essay is not usually enough for a student with a low GPA and test scores to get admitted.
Meanwhile, a poorly written essay may undermine an otherwise good application, although it is rare for a promising student to be denied on the grounds of a bad essay alone.
No matter the prompt or word count, applicants should give their college essay enough time and thought:
"So, yes, plan ahead, follow good writing practices, proofread, and use spell-check. Show your draft to friends, parents, teachers, and counselors, but make sure their editorial suggestions don't strip away your distinctive voice" (Beseda, 2014).
Other than the fact that a college admissions essay highlights the uniqueness of a student who is looking to earn an undergraduate degree, it should also be tailored to the school to which it will be submitted as a part of the admissions process.
Needless to say, writing a separate college essay for each school on one's college list is the way to go.
It is good practice, due to this, for college-bound teens to start writing college essays early on.
During the summer before their senior year of high school — generally speaking, this is the best time for students to start coming up with the best possible college essay.
Doing so allows them to have enough time and concentration to draft and, ultimately, polish their written submission.
One of the things that make writing a college essay challenging for applicants who do not have anything to say and those who simply have a lot to say is the word limit, which is 650 for both Common App and Coalition App essays.
However, most colleges and universities usually ask students to keep theirs between 400 to 600 words.
Generally speaking, staying under the specified word limit shows that the applicant knows how to follow instructions as well as how to write concisely and succinctly.
In contrast, though, coming up with too short a college essay may seem like the applicant is unable or unwilling to write a well-thought-out and fully-developed composition.
As an education supplement report put it:
"While students should never go over a word limit, they can be well under it if the essay is cogent and well written. In fact, most admissions officers prefer a shorter, tightly constructed essay over one that's longer but rambling" (Kelly, 2020).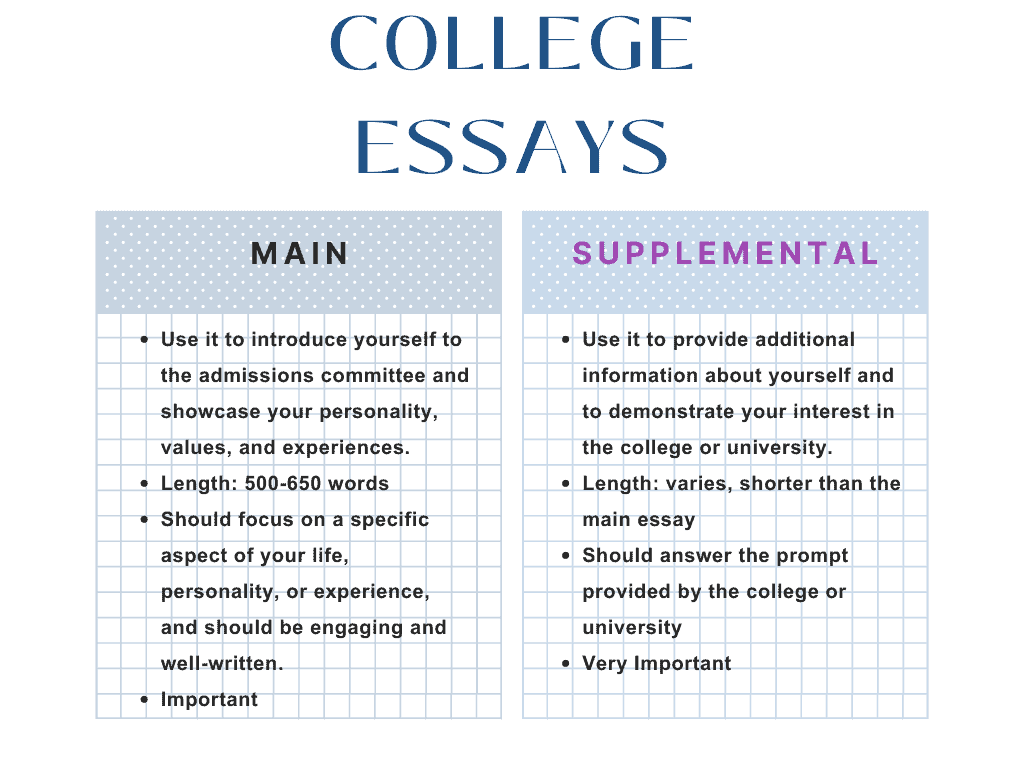 8. Answer Supplemental Questions
In addition to the main college essay, some postsecondary institutions require applicants to submit supplemental questions, which are also oftentimes referred to as short-answer questions, for they are only 150 to 250 words in length.
A student's response to supplemental questions can show how he or she would fit with a college or university.
While the Common App and Coalition App require students who are filling them out to compose a college essay that is no longer than 650 words, neither asks for supplemental questions mandatorily.
But college applicants be wary: some of the colleges they are applying to may have them as application requirements.
In the writing section of the application platform of their choosing or the preference of the institutions they are eyeing to attend, there is a table that lists the requirements of each school — some of them could include short-answer questions.
Applicants, needless to say, should answer them if required to keep their applications from being incomplete.
Unlike a main college application essay, fortunately, supplemental questions are to be answered using considerably fewer words, which means that they are not as time-consuming to write and thus allow students to have plenty of time for gathering other required materials and partaking with their educational and personal commitments.
Additionally, it is possible for students to reuse parts of their supplemental questions, particularly when answering non-institution-specific questions, such as their favorite food or hobbies.
As such, answers to supplemental questions should still follow a basic structure:
A topic sentence that tackles the question
Sentences that provide evidence to support the answer
A couple of introspection sentences
It is true that short-answer questions can be as short as 150 to 250 words only.
However, they have the potential to increase an applicant's admissions chances. Short-answer questions can be challenging to answer, too, and some college applicants are not taking them seriously.
9. Gather All Required Documents
A college application consists of multiple parts, and each school usually requires the submission of slightly different documents or materials. Completing all of them is essential for admissions officers to consider reviewing one's application.
Many parts of the application platform used in the college application process require students as well as their high school counselors and teachers to upload certain documents, some of which may be mailed to the admissions office in the traditional manner or via email or sometimes through paper and electronic document security services.
According to a report by US News, an incomplete application is one of the reasons why applicants get rejected.
So, in other words, the importance of submitting everything a college requires cannot be stated enough.
However, failure to submit requirements does not necessarily beckon the end of a prospective college career.
Receiving hundreds of incomplete applications per admissions cycle, it is commonplace for many college admissions offices to send prospective attendees emails pointing out missing requirements. However, unless the recipients ignore them completely, their chances of getting admitted are almost never compromised.
While it is true that different documents are required by different colleges and universities, as mentioned earlier, the vast majority of them ask applicants or their counselors or teachers or standardized test providers to submit the same things.
Documents submitted by the students
Filled out Common App or Coalition App
College and supplemental essay/s
Standardized test scores (if self-reporting is allowed)
Other materials (portfolio, audition piece, additional essays, etc. if required by the program)
Documents submitted by individuals other than the students
Official high school transcript (submitted by the school counselor)
Mid-year and final-year grade reports (submitted by the school counselor)
Secondary school report (submitted by the school counselor)
Counselor recommendation (submitted by the school counselor)
Teacher recommendation (submitted by the teacher)
Official standardized test score report (submitted by the College Board or the ACT)
Many of the documents college applicants have to be submitted by others.
Despite this, it is still the responsibility of college-bound students to make sure that they will get to the institutions to which they are applying on time.
This means that they should request for the necessary parts of their applications early on, remembering to do a follow-up that politely reminds school counselors and teachers about the deadline.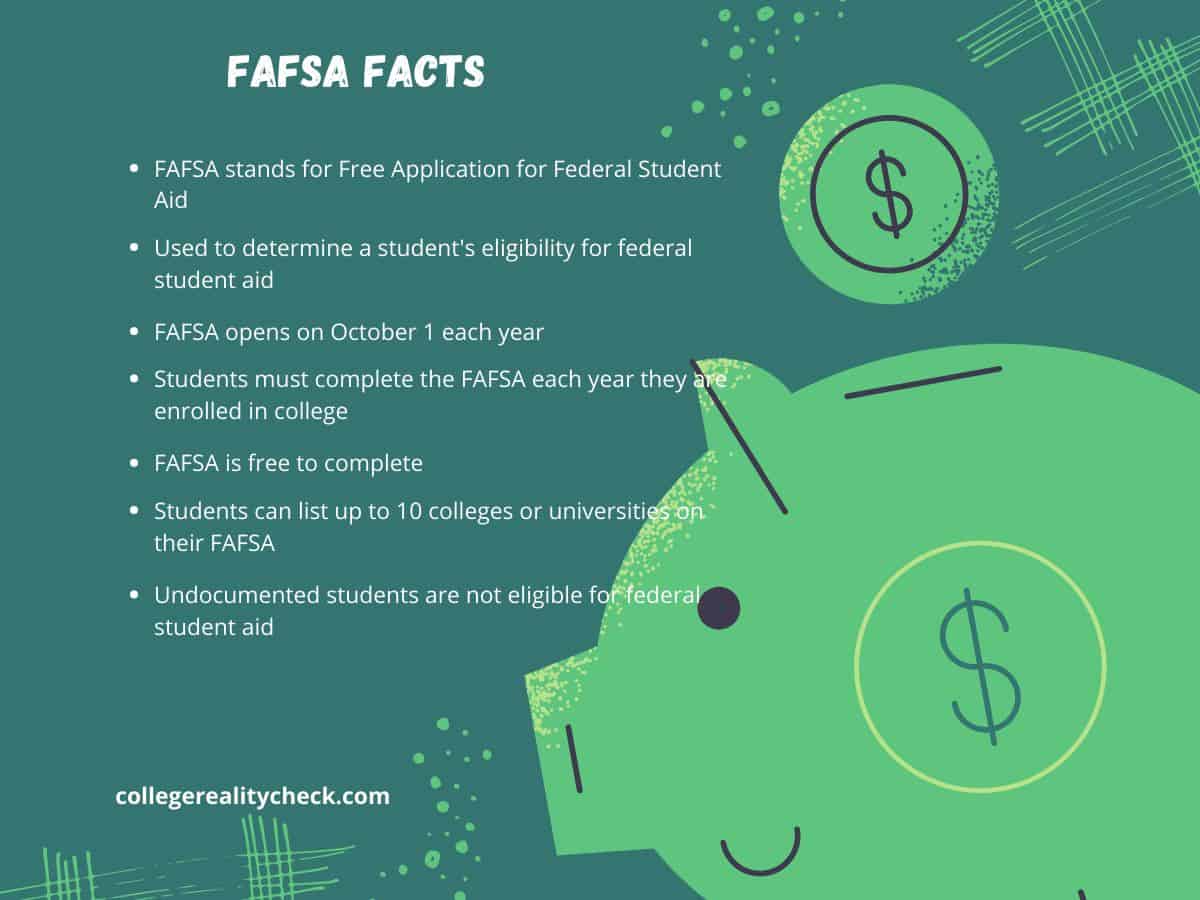 10. Apply for Financial Aid
Financial aid is assistance provided to college students to help them pay for their postsecondary education.
There are many different kinds of financial aid, from scholarships, grants, loans to work-study programs. Similarly, financial aid funds can come from various sources, ranging from the federal and state governments, academic institutions and private organizations.
Most types of financial aid require students who wish to apply for them to fill out the FAFSA form.
Short for the Free Application for Federal Student Aid, the FAFSA is the first step to having access to the largest source of federal financial aid. The FAFSA form becomes available every October 1 of the academic year.
Low-income students who demonstrate need and thus seek eligibility for federal aid are not the only ones who should complete and submit the FAFSA — students who wish to apply for need-based institutional financial aid, or aid provided by the college itself, should also file the FAFSA form as many institutions use FAFSA details in order to determine eligibility.
Some schools even require students who intend on seeking merit-based aid to hand in a completed FAFSA, too.
For application to non-federal aid, some colleges and universities require students to submit the College Scholarship Service (CSS) Profile, which is required by around 300 schools for application for institutional aid.
Other than federal and institutional financial aid, there are also outside scholarships. Also sometimes referred to as third-party scholarships or private scholarships, these scholarships require students to apply using their respective forms or registration methods.
Also, deadlines for application can vary from one outside scholarship provider to the next.
Meanwhile, as far as federal aid application is concerned, the FAFSA deadline is on June 30 — state and institution FAFSA deadlines can vary, which is why it is a must for students to check with the colleges they wish to apply to.
Financial aid affects not only the ability of a student to pay for college but also the urge to go to college.
In the admissions process, financial aid affects not only (the) students' enrollment decision, but it also influences their preparation for college application: if one cannot pay for college, he does not exert enough effort to get into a college, possibly resulting in low GPA or SAT scores

Heo, 2020
11. Submit Application
The last step in the college application process is the submission of the completed Common App or Coalition App. It goes without saying that the submission should be done on or before the stated deadline, which is determined by the admission plan and academic institution of the student's choosing.
Making sure that no space is left blank, no words are misspelled and no sentences are grammatically wrong is vital for the smoothest sailing application to one's top-choice institution possible.
It is, therefore, important for a student to ensure that he or she completes the application form correctly and completely.
College application checklist
1. Fill out the application form by providing the following:
Personal information
Colleges
Extracurricular activities
Personal essay
College-specific questions
Supplemental essay/s
Courses and grades
Honors
Recommenders
2. Review and submit – Students must check for incorrect information and typographical errors as well as confirm requests for transcripts, records and recommendations.
3. Pay application fees – After students confirm that their applications are ready to be submitted, they will be routed to a third-party payment vendor so that they may be able to pay the application fee.
I Want to Go to College: Where Do I Start?
The quest to pursue an undergraduate degree begins with determining which particular degree the high school student would like to earn — a bachelor's degree, an associate degree, a certificate, etc. — in accordance with his or her interests and, more importantly, long-term career and lifestyle goals.
Afterward, he or she may search for colleges that offer the desired program and learn about eligibility requirements.
When should you apply to colleges?
College application start times and deadlines can vary from one postsecondary institution to the next as well as from one admission plan to the other.
Usually, the right time to apply to college is established by how determined a high school student is to attend a particular college and how complete or strong his or her most recent credentials are.
Applying to colleges can commence as soon as the student has finalized his or her college list. It's also important to ensure that his or her most recent academic profile matches the chosen schools' admits and that applications are sent by the deadline.
Some schools, particularly those with a rolling admissions policy, even accept applications all year round.
How early can you apply to colleges?
Depending on the admission plans available, some colleges and universities accept applicants as early as August.
Early admission options allow high schoolers to apply earlier than everybody else to their top-choice institutions as well as hear back from those sooner than usual, thus allowing them to settle the entire college application process quicker.
The College Board says that there are approximately 450 colleges and universities in the US with early admission plans, which means that students can apply earlier than regular decision and get a college's admissions decision, too.
Early admission plans benefit both college-bound teeners and colleges themselves.
According to the report by the National Association for College Admission Counseling (NACAC), colleges with early decision policies had a higher acceptance rate for ED applicants (61%) compared to other applicants (49%).
While it can be owed to early applicants who are interested in attending, it can also be due to a comparatively stronger application pool.
On the other hand, ED schools enjoy an increased yield rate — the percentage of accepted students who enroll — as applicants who apply early have committed to attending even before they are given an offer to attend.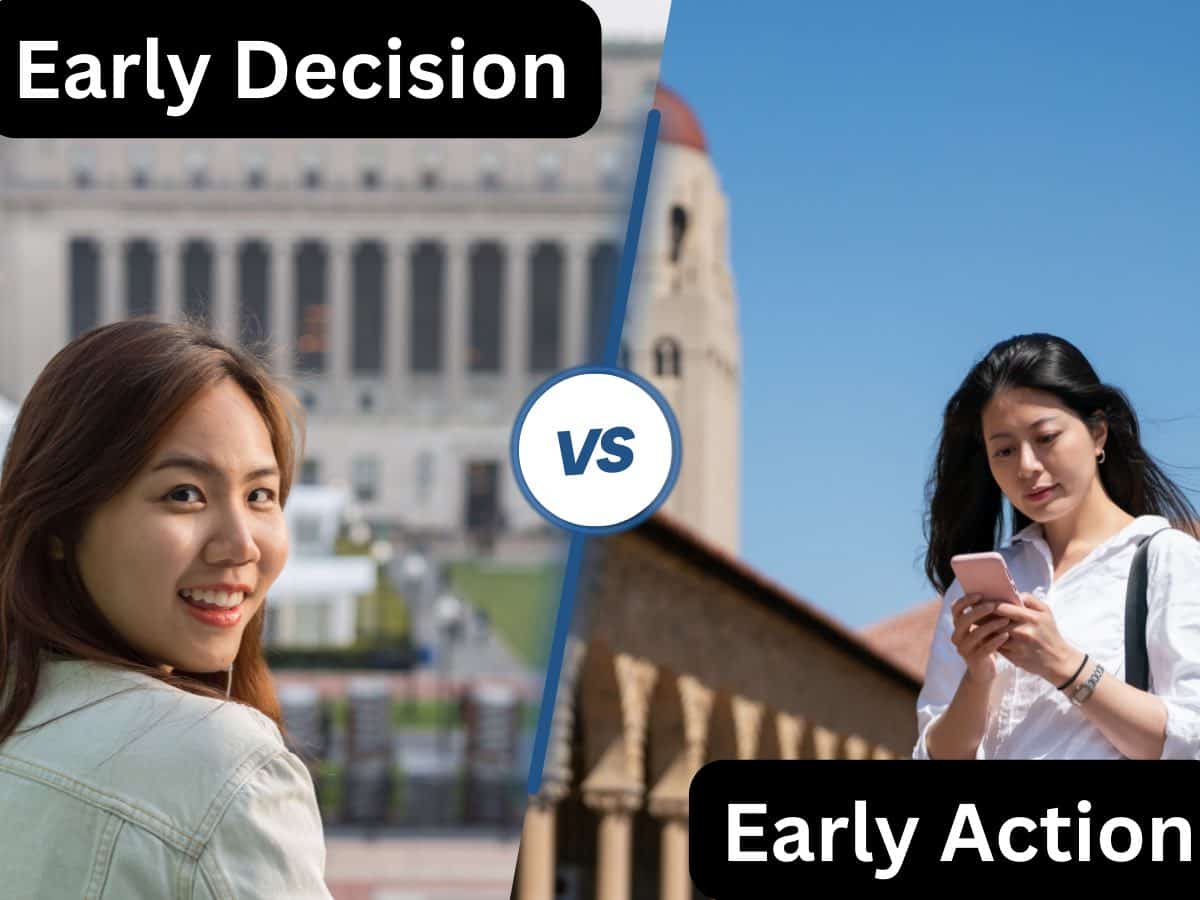 How many colleges can you apply in EA and ED?
Because early decision is binding, applicants can apply to only one Early Decision school. Meanwhile, students can apply to as many non-binding Early Action schools as they want. However, non-binding restrictive early action (REA) limits a student to apply to only one REA school.
ED is a binding admission plan, which means that students who are applying ED sign a statement agreeing to attend the college if accepted. As a result of this, college-bound teens can apply ED to a single institution at a time.
Experts call it the conflicting strategy, in which colleges compete for the most desirable students:
Peer institutions compete for top students by limiting students' choices and preventing applications to their rivals. "Colleges tend to use early decision programs such that students can apply to only one college in the early admissions process" (Avery and Levin, 2010).
ED applicants should make sure that they will be able to afford to attend no matter the financial aid package offered — they are obliged to attend whether or not the financial aid offer is generous.
Because of this financial aspect, some colleges and universities have switched from ED to EA.
Simply put, EA is similar to ED in that it is also an early admission plan.
However, EA is non-binding, which means that students who are accepted are not obligated to attend if they are unhappy with the financial aid offer. In addition, students can apply EA to various schools.
How late can you apply to college?
Most college applications end on March 15 — accepted students have until May 1 to make a decision. However, some postsecondary institutions have late application deadlines, some of which even accept applicants until late August. There are also colleges with rolling admissions, which means that students can apply practically anytime.
In some instances, failure to hand in one's application on or before the slated deadline does not necessarily mean that the student has no other choice but to wait for the next admissions cycle.
Some colleges have admission deadlines later than usual, while others accept applications all the time.
It is not an uncommon occurrence at some institutions to continue accepting applications past May 1, which is also known as National College Decision Day in the US, in order to fill unfilled seats in their freshman class.
Every year, NACAC comes up with an annual College Openings Update, a list of colleges and universities that still have openings for first-time, first-year students and/or transferees for the coming academic year.
As of this writing, for instance, the said list has a total of 341 institutions of higher education to which late college applicants may still submit their applications.
How to apply to colleges for free
Students from low-income backgrounds may take advantage of the Application Fee Waiver of NACAC, which they can use with the help of their high school counselors. They may also apply for an application fee waiver at the colleges to which they are applying, although not all institutions offer them. Some colleges have no application fee.
College expenditure, in most instances, begins not with matriculation but with application to a college.
In 2022, the average college application fee amounted to $45 — the most common amount was $50, while it was anywhere from $80 to $100 in some of the most expensive American institutions such as Duke University and Stanford University.
Fortunately for low-income students, many colleges waive the application fee of applicants who are eligible for it. Most of the time, all it takes is applying for the fee waiver in the Common App or Coalition App.
Students who received an SAT or ACT fee waiver usually automatically qualify for a college application fee waiver.
How to apply to college after a gap year
Applying to college after a gap year is like applying after high school, except that the experiences and insights gained by the person can be leveraged to his or her advantage. However, since the procurement of some high school documents may prove to be challenging, applying to college before taking a gap year is sometimes recommended.
High school students who are looking to take a gap year may still apply to college like their classmates.
Doing so allows college-bound teens planning on having an enriching experience prior to working on an undergraduate degree to find it easier to gather important application requirements such as high school reports and teacher recommendations.
Students may ask their top-choice colleges about their admissions counselors about their policies on gap years.
Once accepted, they may request for a deferral — more and more institutions of higher education are adopting a formal policy around deferrals since there is an increasing number of students requesting them, usually for taking a gap year specifically.
Since this approach can help save students from having to go through the exhausting process of applying to college, which can be even more grueling if carried out a year after high school, they can focus on their reason/s for taking a gap year.
As a result, students can maximize the opportunity for them to learn more about themselves as well as their priorities.
It does not mean, however, that applying to college before taking a gap year is the only way to go.
Carrying out the entire college application process is also possible toward the end of the gap year, although it may interfere with the experience as well as make the acquisition of some application requirements from one's high school harder.
When planning a gap year, high school teenagers should take into account not only the places they will travel to and the activities they will partake in but also the college application process, such as whether they will apply before proceeding with or after completing the gap year for a smoother transition from high school, the gap year to the undergraduate studies.
How long does it take to apply to college?
Omitting the different college admission requirements, it can take students less than an hour to fill in the basic information on the Common App or Coalition App.
On the other hand, writing college and supplemental essays can take a few weeks. It can also take several weeks for requested documents from one's high school to become available.
Most colleges and universities recommend that high schoolers apply before they hit senior year status.
Admissions officers at Western Colorado University, for instance, suggest beginning the entire college application process during the summer before the senior year of interested students.
As a matter of fact, the public institution says that students may apply while still in their junior year of high school if they want to be more proactive.
In most instances, it only takes around 20 minutes to complete filling out the Common App or Coalition App for one college. However, it doesn't mean that they should do so 20 minutes before applying to their top-choice school.
The time it takes to accomplish the application process can vary from one college to the next.
It all depends on each school's requirements — according to a premier college admissions counselor, students should consider giving themselves anywhere from 6 to 8 weeks to complete their applications, which includes providing the necessary information, composing the essays and gathering the required materials or documents.
How much does it cost to apply to college?
Using the Common App or Coalition App is cost-free. However, most colleges that use the said platforms charge their own application processing fee. For the Common App, for instance, the amount is usually from $30 to $70 for US applicants and more for international applicants.
Users of the Common App and Coalition App may apply for a fee waiver if needed.
The cost of pursuing a bachelor's degree begins with applying to a college.
Whether or not the applicant is accepted to the institution of his or her choosing and whether or not he or she decides to attend, the application fee will remain with the college — it is non-refundable, as stated in the application.
Slapping a fee on the application also helps colleges determine whether applicants are interested in earning an undergraduate degree or simply jumping on the bandwagon since most high schoolers are doing it (Abdul-Alim, 2022).
Because applying to colleges and universities more often than not comes with a price, narrowing down one's college list, as discussed earlier in this post, makes a lot of sense.
Failure to have a balanced college list with an acceptable number of entries can cause the college-bound student to spend more money on application fees than necessary.
Colleges with no application fee and no essay
Low-income students will be more than happy to learn that not all postsecondary institutions ask applicants to shell out money for the application processing fee — some colleges are free to apply to.
Similarly, not all colleges require applicants to submit lengthy essays that can take a lot of time and effort to compose, depending on a student's essay-writing skills.
Many things can make applying to colleges daunting to some students.
For instance, selective colleges may scare away applicants with low GPAs or schools with a holistic admissions policy may intimidate applicants who failed to participate in meaningful extracurriculars during their high school career.
Other than applying for an application fee waiver when filling out the Common App or Coalition App, which is subject to approval by the institution, depending on whether or not the student meets eligibility requirements, low-income students may also choose to apply to colleges and universities where application costs nothing.
While many of these institutions are serving poor degree-seeking students, thus demonstrating accessibility and inclusiveness, others do not charge application fees in an attempt to increase the number of attendees.
Unfortunately, though, many of them are low-tier colleges.
Still, there are colleges with zero application fees that can provide quality academic programs and meet many of the factors students are looking for in higher education institutions.
Some of the most highly-ranked ones by Niche are:
Wellesley College
Tulane University
Colby College
Grinnell College
Carleton College
Macalester College
Smith College
Kenyon College
Trinity University
Colorado College
Reed College
Michigan Technological University
Wheaton College – Illinois
Saint Louis University
Mount Holyoke College
Worcester Polytechnic Institute
St. Olaf College
Denison University
University of Dayton
Creighton University
It is also important for low-income high school students looking to get their hands on a college degree to note that US Military schools do not charge interested individuals application processing fees, too.
For instance, at the United States Military Academy (USMA) or more commonly known as West Point, the application fee is $0.
However, in exchange for free application is the selective admissions process as well as the student's commitment to serving the country — West Point graduates, for instance, are required to be of service for a total of 8 years.
Help with college applications
Other than authorities in high school campuses such as counselors and teachers as well as admissions officers at colleges, various books and websites also serve as resources for college-bound teenagers.
Books about college admissions
The following are a couple of books high school students may consider reading to obtain the guide they need in order to gain admission to their top-choice colleges, both of which are available on the internet:
Fiske Guide to Colleges – A former education editor of the New York Times, the author, Edward Fiske, aims to help students and parents navigate college admissions that get increasingly more complicated. Established back in 1982, Fiske Guide to Colleges is now on its 40th edition.
The Princeton Review's "The Best 388 Colleges" contains in-depth reviews of the nation's best universities. It is authored by Robert Franek, the editor-in-chief of The Princeton Review.
Other college admission resources
Numerous resources are available for junior or senior high school students who are gearing up for the college admissions season.
Some of them include online communities — Facebook, for instance, makes it possible for college-bound teens to meet attendees, especially like-minded ones, even before they step foot on campus.
YouTube channels such as Khan Academy's College Admissions as well as The Princeton Review have plenty of videos that provide answers to some of the most pressing questions college applicants have on their minds.
How to Get Into the Best College
Applying to colleges and universities is one thing. Getting into one's top-choice school is another.
Similar to the entire college application process, various steps have to be taken by high school students to get into the institutions of higher education of their dreams.
In some instances, it all starts as early as the freshman year of high school for students to meet some of the most important things many admissions officers at some of the most selective schools take into account such as the rigor of secondary school record, cumulative GPA, test scores and class rank as well as non-academic factors like extracurriculars and work experience.
References
Holland, M. (2014). Navigating the Road to College: Race and Class Variation in the College Application Process. 1.
DePaul University (2009). A Brief History of the Test-Optional Movement in Higher Education. Enrollment Matters. 1.
Cohen, S. (2009). What Colleges Don't Know About Admissions. The Chronicle of Higher Education. 5.
Beseda, M. (2014). Why Your Application Essay Matters. 19.
Kelly, F. (2014). Can You Really Write All of Your College Application Essays Over the Summer? 56.
Heo, E. (2022). Financial Aid in College Admissions: Need‑Based Versus Merit‑Based. 266.
Avery, C., Levin, J. (2010). Early Admissions at Selective Colleges. Amer. Econ., 2025-2156.
Abdul-Alim, J. (2022). College Application Fees: A Necessary Evil? 31.