About 4.9% of all undergraduate students are veterans, according to enrollment data provided by the National Postsecondary Student Aid Survey (NPSAS). Moreover, around 57% of all veteran college students are 30 years of age or older, compared to about 21% of all non-veteran college students.
In this post, some of the most important matters about applying to a postsecondary institution as a veteran will be discussed, in particular, the steps they need to take when applying to their top-choice schools.
A list of some of the most military-friendly colleges will be given as well.
Applying as a Veteran vs. Applying as a Freshman Student
Veterans who have never taken any coursework at a postsecondary institution as a high school apply to college as freshmen applicants. At some colleges, veterans with very few college credits are considered freshmen applicants, too. Meanwhile, veterans who have completed some college coursework after high school are considered transfer applicants.
In most instances, veterans apply to colleges through the Common App or Coalition App just like those who are fresh from high school or transferring from other institutions of higher education.
However, depending on their previous educational experience, veterans may apply as freshmen or transferees.
A few other things separate veteran applicants from other types of college applicants.
For instance, they are eligible to apply for US Department of Veterans Affairs (VA) Educational Benefits. It's also possible for veterans to earn credits toward an undergraduate degree based on military training, coursework and occupational specialties.
Due to this, veterans usually have to fill out other forms and submit additional papers when applying to colleges to take advantage of the various benefits and services available to them, depending on the institutions they apply to.
Steps College-Bound Veterans Should Take
Research military-friendly colleges and universities
Military-friendly colleges are degree-granting institutions that make the application process easier for veterans. They also accept numerous VA Educational Benefits for a more affordable cost of attendance.
Not all colleges give benefits to veterans. Most of those who do are accredited schools.
Later in this post, some of the most highly-ranked colleges and universities known for being military-friendly will be enumerated, most of which offer various financial benefits and services to former service members.
Determine whether to apply as a first-year student or a transfer student
As mentioned earlier, veterans can apply to college as either first-time, first-year applicants or transfer applicants.
Factors that determine the type of applicant a veteran is include his or her previous educational experience and the policy of the institution he or she is applying to.
Generally speaking, though, a veteran who didn't go to college must apply as a freshman student, while someone with some college experience must apply as a transfer student.
Fill out the Common App, Coalition App, or the school's own application portal
Some colleges accept both the Common App and the Coalition App. However, there are also institutions that accept only one as well as those that accept none — applications are done via their own system.
It's also important to note that the application form to fill out can vary among applicant types.
Veterans applying as freshmen students, in some instances, may opt for either the Common App or the Coalition App.
On the other hand, veterans applying as transferees may have to use the one reserved for transfer applicants. Needless to say, it's a must for veterans to determine which platform to use when applying to institutions they have added to their college list.
When it comes to application deadlines, it will depend on the chosen admission plan — veteran applicants, like other applicants, may choose to apply via an early admission program or during the regular decision round.
Apply for VA Educational Benefits
Simply put, the likes of the Post-9/11 GI Bill and Yellow Ribbon Program assist veterans in college in paying for their educational pursuits, at times covering the full cost of tuition and fees.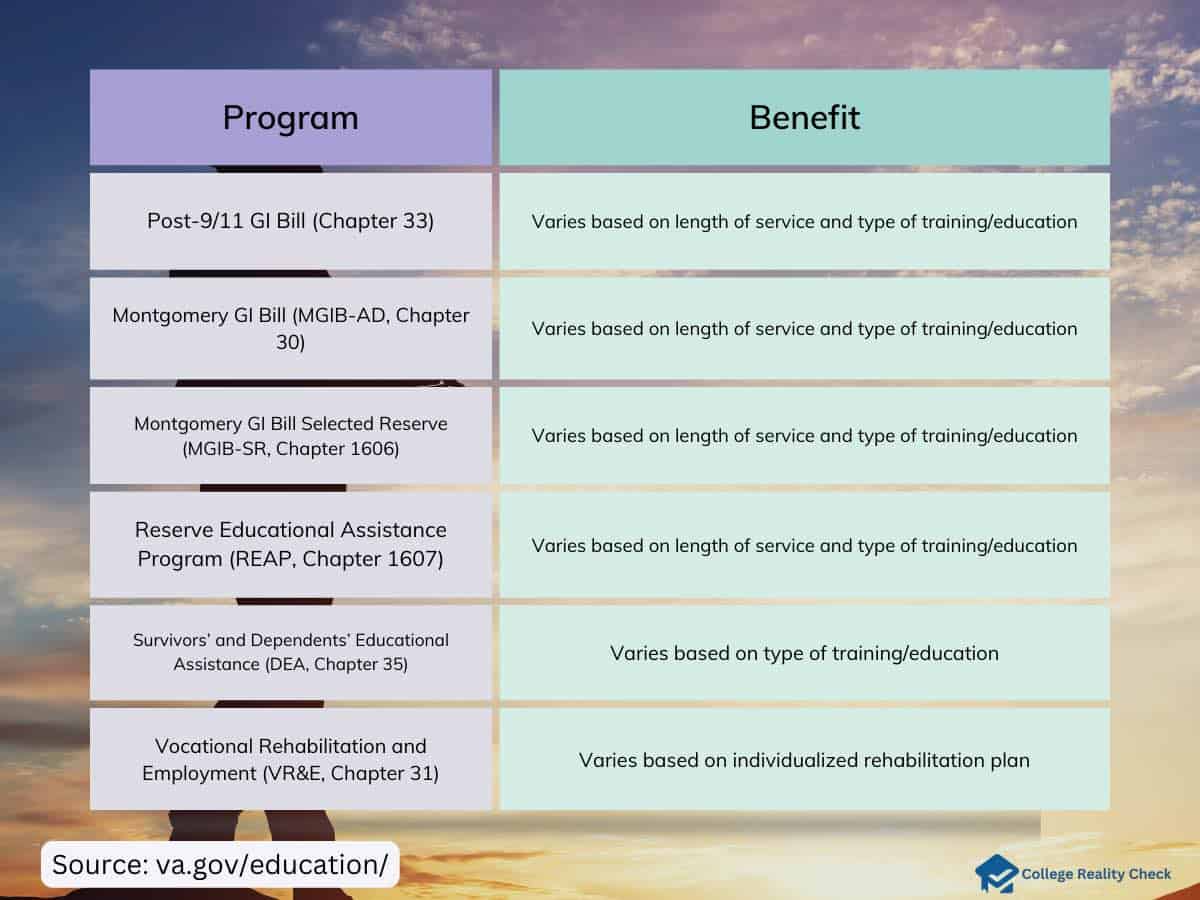 It usually takes non-veteran freshmen and transfer applicants to have their FAFSA processed between 3 to 5 days.
Meanwhile, it can take the VA an average of 30 days to process education benefits claims or even longer if the department needs more pieces of information from the applicant.
After the approval of the application, the veteran will receive a Certificate of Eligibility (COE), which is the award letter, in the mail.
Because it can take a while to process the application for VA Educational Benefits, it's a good idea for veterans planning on going to college to apply as early as they possibly can.
Complete the FAFSA form and other financial aid applications
Veterans can maximize their college funding by applying for both VA Educational Benefits and FAFSA.
In addition to their VA benefits, veteran students may also be eligible for federal, state and/or institutional loans and scholarships just like other college applicants, and it all starts by filing the FAFSA, which is simplified by the fact that veterans in college are considered independents — they do not need to report financial data of their parents.
However, it's important to keep in mind that, in some instances, the financial aid of veterans looking to enroll in an undergraduate degree program may be affected by their VA Educational Benefits.
Submit required application documents and materials
Documents military applicants need to submit can vary from school to school and their application type.
For instance, some institutions may require them to submit application essays, while others may not.
Likewise, some may ask them to submit letters of recommendation, from whom can range from school counselors to core subject teachers, depending on the instructions provided by a college.
Whether veterans have to submit high school transcripts or both high school and college transcripts will depend on if they are applying to the school as first-time, first-year students or as transfer students.
It's therefore a must for veterans to have a checklist of the requirements to ensure a complete college application.
Top Military-Friendly Colleges
Yale University
Making Yale, which is an Ivy League school, friendly to veterans who would like to work on a college degree is that it has generous need-based financial aid as well as honors Post-9/11 GI Bill and Yellow Ribbon benefits.
University of Chicago
According to UChicago itself, it's committed to supporting the educational pursuits of veterans through its substantial need-based financial aid program and participation in the Yellow Ribbon Program.
Dartmouth College
Cost of attendance is made affordable by Dartmouth to veterans as it participates in both GI Bill and Yellow Ribbon Program as well as guarantees meeting 100% of admitted veterans' demonstrated financial need.
Princeton University
Having partnerships with multiple programs that assist veterans who are pursuing higher education, it's no wonder that Princeton is considered a friendly school to anyone who would like to work on a college degree after serving.
Cornell University
Other than welcoming applications that are eligible for the Post-9/11 GI Bill and Yellow Ribbon Program, Cornell also offers online courses specifically designed for veterans by the Ivy League school's faculty experts.
Stanford University
Due to its participation in the Department of Defense Voluntary Education Partnership program, Stanford provides tuition assistance to eligible veterans from their respective military branches.
University of California, Los Angeles
UCLA itself vows commitment to facilitating the transition of veterans into college as well as offers various programs and services for veteran students, including assistance with benefits, aid, housing, counseling and others.
University of Michigan – Ann Arbor
Veterans as well as their families are considered vital components of UM's campus, says the oldest and largest university in Michigan, as evidenced by its Veterans and Military Services Program (VMS) which simplifies their admission.
University of Southern California
USC has stood by the side of the US military for years, which is why the private research university has a number of military and veterans initiatives designed to help veterans succeed in their postsecondary education pursuits.
University of Virginia
Founded by Thomas Jefferson, UVA has a Military Educational Benefits team serving as a liaison between veterans and the Department of Veterans Affairs as well as other agencies to facilitate their educational benefits.
University of Maryland Global Campus
Of course, I couldn't avoid mentioning my alma mater. During my graduate study, I had the honor of taking classes with current and retired military personnel. UMGC is very popular with the military because they offer scholarships and allow late submissions in case you are deployed.
Applying to College as a Veteran: Conclusion
Veterans may go back to college either as freshmen students or transferees, depending on their previous educational experience. The application process for veterans is pretty much the same for other applicants, except that they also have to apply for VA Educational Benefits and have access to veteran services, which can vary from college to college.
Do veteran applicants have higher chances of getting admitted?
Admissions chances for veterans are higher. Some colleges and universities are actively seeking veteran students. For instance, according to a report by the VA, 16% of transfer students are veterans. On the other hand, Harvard has doubled the number of veterans admitted since 2019.
Are veterans required to live on campus?
Depending on the housing policy of a college, a veteran student entering as a freshman may be required to reside on campus if it's a requirement for all first-time, first-year students, although married freshmen, veterans or otherwise, are commonly exempt from having to live in an on-campus residence.