Attending the right college is crucial for a positive academic performance and a favorable overall postsecondary education experience. But with so many institutions to choose from, it's not uncommon for many college-bound high schoolers to have trouble with building a college list, which can complicate the preparation phase for their higher education careers.
By knowing the right factors to take into account, however, they can shortlist the right schools and end up accepting an offer coming from colleges that they would gladly attend.
Below are the various important factors on how to pick a college:
Research college location
Consider school size
Explore available majors
Know the cost of attendance
Research academic quality
Look into student body diversity
Check out housing
Explore campus atmosphere
Review extracurricular activities' availability
Find out about career resources
Find out about the support system
Check accreditation
Assess your chance of getting in
Check the college rankings
Ask for help
How to Choose a College That Is Best For You
Choosing a college can be a knotty and exhausting undertaking, what with the many different factors that need to be taken into account, which can vary from one college-seeking teen to the next, depending on their needs and preferences.
In this part of the post, we will talk about the 15 most important factors you should consider.
1. Research College Location
Because college location can have an effect on a student's academic performance, social life and even expenditures and career path, it's of utmost importance to take it into account when creating a college list.
Wondering what colleges can you get into?
Ensure that you'd be willing actually to get into any of them.
The location of a school can impact your grades and your overall college success in that the environment can either work for or work against the type of learner you are as well as your study habits.
For instance, if you're the kind of student who needs complete peace and quiet to concentrate on your homework, attending a college situated in the heart of a metropolis that never sleeps may work to your utmost disadvantage.
An institution's location, of course, determines its campus setting.
Different campus settings come with different sets of advantages and disadvantages.
It goes without saying, too, that each type can be more suitable for a particular kind of degree-seeking student, and attending a college with the right campus setting can influence one's educational achievements and even impact his or her career choices.
There are 3 types of college campuses to choose from — rural, suburban and urban — and the following are some of the most important things you need to remember about each of them: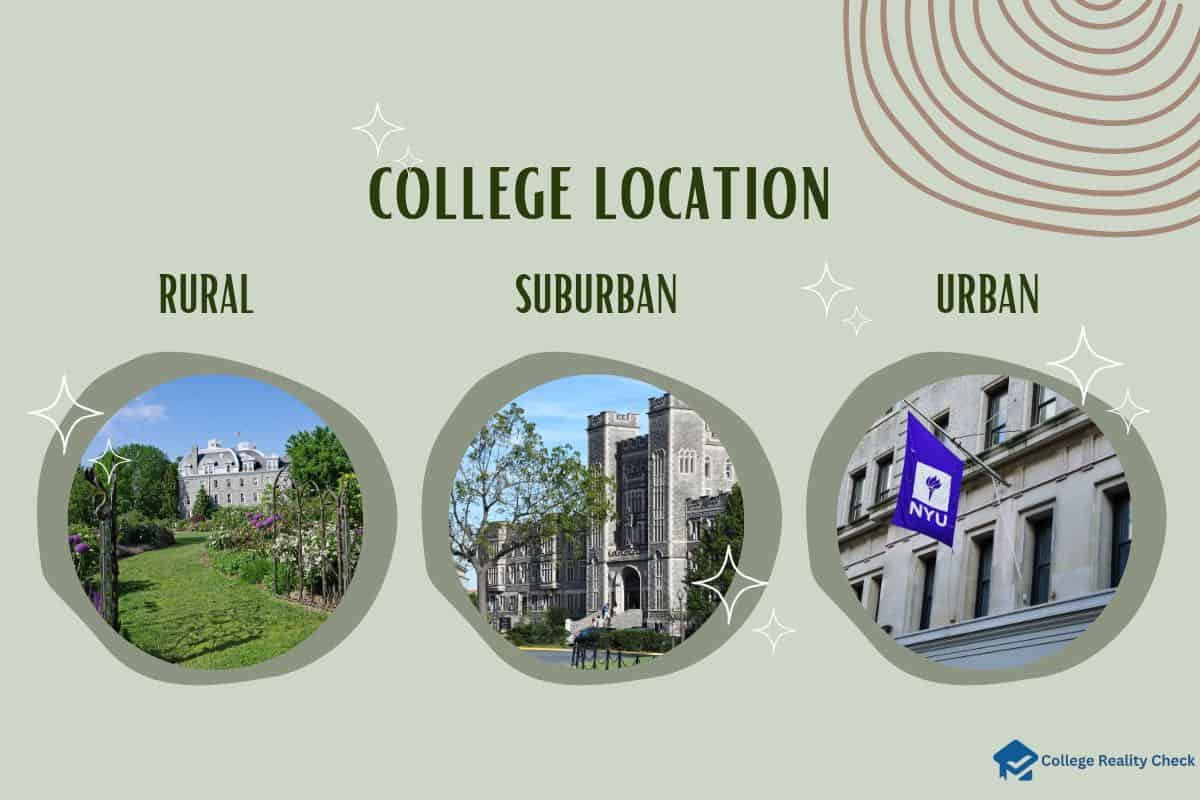 Rural campus – Located in the country, a rural campus can often be found near small towns or farms. The majority of students live on campus, enhancing the school's sense of community. Usually, there are plenty of learning opportunities outside the school grounds, and students are commonly given access to on-campus transportation options.
Suburban campus – Whether found in a small city or residential area adjacent to a big city, a suburban campus is a cross between rural and urban campuses in that it exudes a tight-knit small community vibe while at the same time allowing students plenty of opportunities for internship and fun and other activities in the neighboring city.
Urban campus – As the name suggests, an urban campus is located in a city, often a large one. Students can enjoy an assortment of entertainment options and leisurely activities. There are also lots of internship opportunities and, more importantly, employment possibilities due to the availability of diverse jobs within and around the urban setting.
2. Consider School Size
The size of a college in terms of enrollment and land area can have a considerable impact on a degree-seeking student's academic experience and performance as well as his or her social life and activities.
Large, mid-size, small — there's a college size fit for everyone.
It's important for high schoolers who are gearing up for higher education to compare colleges according to how big or small their campuses are and how densely or sparsely populated their school grounds are.
That's because each and every campus configuration comes with its own set of pros and cons.
Below is a list of some of the perks associated with attending a big college, although it's a must for every college-seeking high schooler to bear in mind that they may not be true of all massive institutions:
Wider assortment of programs and majors
Various scholarship options
Greater number of faculty and staff
Larger class sizes
More social events
Plentiful extracurricular activities, clubs and organizations
Numerous facilities and resources
Several housing options
Extensive alumni network
Although there are many benefits that come with being a student at a large school, there are also some downsides worth considering.
For instance, it can be harder for a student to stand out due to the sheer number of competitions. A highly populated college may also be overwhelming for introverts, although it can vary from one student to the next.
This link will take you to an article talking about whether or not college is harder for introverts.
Meanwhile, the following are some of the positive things about going to a small institution, but, as expected, keep in mind that they may not apply to all colleges with small campuses and enrollments:
Personalized programs and majors
Less competition for scholarship programs
Small class sizes
One-on-one interaction with professors
Better evaluation of one's work
More intimate community
Safer campus
But there are also a handful of disadvantages associated with being a small-college student.
For one, it may not provide the best environment for students who are interested in research due to limited research facilities and resources. Of course, there are limited major choices, social life selections and housing options.
Ultimately, you will have to take into account your academic goals and personal preferences in terms of learning and social engagement and when deciding if you will be happier in a large campus or a small one.
3. Explore Available Majors
Looking into majors being offered by a particular institution is a critical step to take in college selection as it allows an applicant to determine whether or not the school has the right program for his or her intended field of study.
The absence of one's preferred major may leave a degree-seeking student ending up settling with something that he or she is not entirely happy with when it's time to declare one, usually by the end of the sophomore year of college, which may not only ruin a perfectly mapped career path but may also get in the way of academic success.
Majoring in a field that a student likes helps with getting high grades and completing the program.
Based on research published by the European Online Journal of Natural and Social Sciences, happiness is related to academic achievement.
Those with high levels of happiness tend to perform better academically and be more proactive with the progression of their pursuit of higher education.
Around 50% to 80% of college-bound teens apply to colleges already knowing which majors can help them attain the college experience they want and land the job they like after earning their bachelor's degrees.
If you are a part of the population of major-decided students, approximately half of the work is done.
Because you have already made up your mind, all that's left to do is determine which postsecondary institutions are known for the discipline of your choosing. Looking for rankings such as "best colleges for architecture in the US" or "top colleges with a music major" can make the process of building a college list faster and easier.
What to Major in When You Have No Idea
On the flip side, some high schoolers who are preparing for their college careers have no idea as to what to major in. But while it's a must for students to have a major to earn an undergraduate degree, it's not mandatory for applicants to indicate their chosen major on the Common App or Coalition App.
Being an undecided applicant will not affect your chances of getting accepted to college.
However, as expected, there are exceptions to the rule — some institutions or programs accept students by major.
At Carnegie Mellon University, for instance, information systems majors must declare the said area of discipline if they wish to get admitted. On the other hand, students who would like to transfer to UCLA must apply to the major.
Since it's sometimes important for high school teens to have a major in mind, they may seek the help of their counselors, academic advisors or mentors to know what the best options are for them.
They may consult, too, their parents or supervisors if employed. There are also various college major-selection resources on the web, such as:
4. Know the Cost of Attendance
The cost of attendance (COA) is the amount of money it will cost a degree-seeking student to go to school for a year. Many colleges and universities provide a breakdown of the COA for the academic year on their websites.
No piece of advice on how to find a college that fits you is complete without it, including that you should determine beforehand whether or not a college's COA will fit your family's budget.
This is an important consideration given that a report by the National Association of Student Financial Aid Administrators (NASFAA) reveals that low-income students cannot afford up to 95% of colleges.
Among the various expenses of working on an undergraduate degree, tuition and fees are the biggest.
As a matter of fact, tuition and fees, on average, make up 53.5% of the total college costs. They are usually followed by room and board, which can significantly inflate the COA of out-of-state students or students attending schools where on-campus living is mandatory.
To help college-searching high schoolers who consider the COA as a prime decisive factor, institutions of higher education have a cost estimator tool on their respective websites.
Federal law requires schools that participate in the federal financial aid system to offer a net price calculator.
As the name suggests, a net price calculator is a tool that allows students and their families to estimate the net price of going to a particular college.
The operative words are "estimate" and "net price" — the resulting figure is the probable COA minus any scholarships and grants for which the prospective or current attendee may be eligible.
Thanks to financial aid, higher education becomes accessible to those who can't afford it. The average percentage of freshmen students at various college types that receive financial aid are as follows:
Public institutions – 85%
Private non-profit institutions – 90%
Private for-profit institutions – 87%
For many low-income students, college sticker prices, especially at elite private universities, can be intimidating.
However, degree-seeking students rarely pay the sticker price — after factoring in financial aid, the sticker price usually drops substantially.
So much so that, after using the cost estimator tool of your top-choice private institution notorious for being costly, you may find that it may be cheaper to attend than a state school after financial aid.
5. Research Academic Quality
Attending an institution that offers good academics is key to college and career success.
If academic quality is currently not on your list of criteria for building a college list, you should add it without delay to jump on the bandwagon.
According to a survey conducted on 23,000 9th graders posted by the National Center for Education Statistics (NCES), academic quality or reputation is the most important factor (74%) when choosing a college.
Going to a college whose programs are substandard could result in subpar education, a less-impressive degree and limited job opportunities. So, in other words, it could waste a student's time and money.
College-seeking high schoolers may do a handful of things to determine whether or not the postsecondary institutions they are thinking about applying to offer good academics.
However, there are 4 important steps that they should remember to take in the process, and they are:
Check for accreditation – A college that's accredited by an agency recognized by the US Department of Education and/or the Council for Higher Education Accreditation (CHEA) has met certain standards of educational quality, which the accreditor itself has set. Later, we will talk more about checking for accreditation — so read on!
See what college ranking sites say – You should never pick a college to attend based on what a particular college ranker says. But you should not ignore what ranking it gives your top-choice school, either, as it can reveal much about its overall reputation. Just like college accreditation, we will also talk about considering college ranking shortly.
Research teaching staff reputation – No matter how top-notch a college's academic program is, it means nothing if the professors are bad at what they do or are not supposed to be doing what they do. Besides, according to a study, students who are taught by good teachers are more likely to have higher attendance and grades, too.
Look into post-graduation outcomes – Simply put, post-graduation outcomes provide insight into how attending a certain institution of higher education can help students after earning their degrees. High employment rates, employment in directly or closely related fields and annual earnings can all speak volumes about a college's programs.
High school teens who are in the process of shortlisting colleges may also pay forum sites a visit and see what current or former students have to say about their experience with a particular institution.
However, since deception is the rule and not the exception when it comes to online honesty, college reviews at forum sites should be taken with a grain of salt.
6. Look Into Student Body Diversity
Student body diversity refers to the college campus being shared by degree-seeking individuals who are different from each other in terms of many different aspects, including but not limited to race, ethnicity, culture, socioeconomic status, religion, political views, sexual orientation or preference, opinions and experiences.
For some students, working on a degree where there are others just like them is important. For others, it's the opportunity to mingle with and learn from people who aren't like them that counts on top of good academics.
There are a number of perks that come with attending a diverse college, and below are the top 3:
Improved academic performance – According to studies, college students on a racially diverse campus can become better thinkers and scholars by improving both their intellectual and cultural engagement as well as obtaining all kinds of academic skills, ranging from communication to problem-solving, thus boosting their college success.
Promotes self-reflection and inclusivity – Exposure to different people from various backgrounds and with distinct life experiences allows one to have a better picture of his or her character, values, actions and dreams. An understanding of different cultures and beliefs encourages students to become more empathetic, accepting and tolerant.
Preparation for the workforce – Because a diverse campus fosters good communication skills, teamwork and mutual respect, students in a learning environment of such kind can obtain many of the skills they need to become successful at work after graduation, which is key to professional progression as well as career satisfaction.
No matter your reason for wanting to attend a college with a diverse student body, be it because you want to feel you belong or you want to expand your horizons and understanding of the world, there are certain steps that you may take to determine just how diverse the institution you are planning on shortlisting.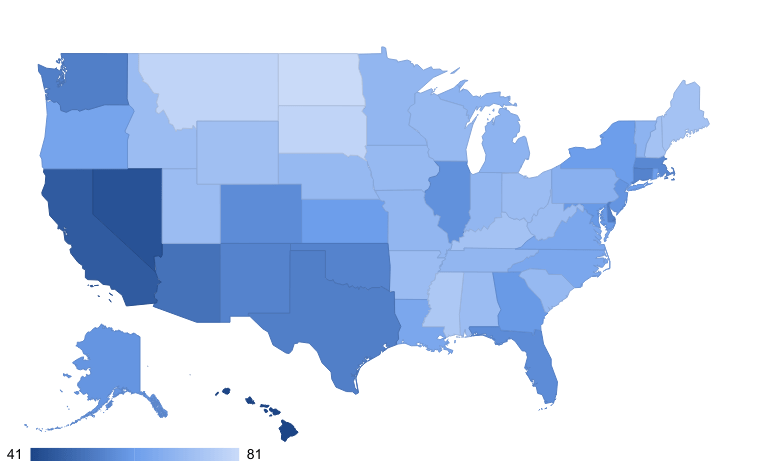 You can, for one, access the college's Common Data Set (CDS) and scroll down to section B2, which is all about enrollment by racial or ethnic category — see if you are happy with the variety of the types of students admitted.
Getting in touch with the institution itself is another way to learn about the school's campus diversity.
However, nothing can give you a more definitive and satisfying answer than paying the college a visit and seeing with your own eyes the student body. It will also give you the opportunity to interview the students themselves about the matter.
The following are some colleges and universities with the most diverse student body:
Amherst College
Andrews University
Boston University
Columbia University
Georgia Gwinnett College
Harvey Mudd College
Johns Hopkins University
Lynn University
Massachusetts Institute of Technology
New York Institute of Technology
New York University
Pacific Union College
Pomona College
Rutgers University
Salem University
Stanford University
Swarthmore College
University of Maryland
University of Massachusetts
University of San Francisco
Yale University
7. Check Out Housing
College housing refers to the accommodation provided by degree-granting institutions to their students.
Because it's on on-campus housing or housing options owned and/or run by schools where undergraduates will have to spend most of their time outside the classroom, they can have a considerable impact on the overall college experience and may even affect their academic performance and, of course, even post-graduation success.
It's a must for college-bound teens to consider housing options during the college selection process.
This is especially true for out-of-state ones as well as those who are eyeing institutions where freshmen students must reside on campus.
Some of the things to take into account when looking into college housing are the following:
Cost
Type
Amenities
Safety
Meal plans
In most instances, it's by taking a college campus tour and inspecting the residence hall that will allow you to have an idea of whether or not you will be able to live comfortably there for the next 4 years of your life.
Below are some colleges and universities revered for their beautiful dorms:
California University of Pennsylvania
Colorado Christian University
Florida Gulf State University
Grand Canyon University
High Point University
Indiana Wesleyan University
Johnson University
Liberty University
Regent University
Saginaw Valley State University
Santa Clara University
Sonoma State University
Stevenson University
Texas Christian University
Union University
Washington University in St. Louis
Yale University
As mentioned earlier, available meal plans are important considerations when looking into college housing.
Here are the top 10 institutions that shine as far as food goes, based on the Best Campus Food ranking by The Princeton Review, which includes a total of 25 ranked colleges:
University of Massachusetts – Amherst
Bowdoin College
Washington University in St. Louis
Cornell University
Pitzer College
Vanderbilt University
Skidmore College
Kansas State University
University of Richmond
University of Dayton
8. Explore the Campus Atmosphere
For many students, the environment in which they are learning is just as important as what they are learning.
Some campuses may be sprawling and cold where everyone is constantly gawked at their laptops and books. Alternately, there are campuses that are small and warm and cozy where the students know one another.
In choosing a dream college, make sure that each day spent on its campus wouldn't feel like a nightmare — before you agree to accept its offer to enroll by putting down a deposit, check that it has a vibe that makes you feel comfortable and at home instead of leaving you thinking about finding another institution to transfer to after a while.
More importantly, it should have a quality that encourages you to stay motivated and keep working hard.
Attending a college with the right campus atmosphere, needless to say, can have an impact on your overall college experience as well as your general academic performance.
So much so that, according to a report by Harvard Graduate School of Education, happiness is positively related to a student's GPA, which is a significant finding as the GPA provides a broader picture of the performance of the student given the fact that it encompasses not only classroom learning but also the display of skills and social dynamism.
Unfortunately, determining an institution's overall atmosphere is not as easy as looking at its acceptance rate, COA or on-campus housing options and immediately knowing if it's a best-fit school.
The process can be a complex one, requiring the consideration of various factors such as the following:
Location
Setting
Appearance
Population
Diversity
Facilities
Resources
Services
Extracurriculars
Housing
Weather
Safety
Although you can have a general sense of your top-choice college campus' feel by looking at photos and videos of it as well as paying attention to what current and former attendees are saying about it.
However, of course, no amount of researching on the web can beat the firsthand experience that a campus tour can bring.
Paying a prospective college a visit allows you to see with your own eyes just how beautiful its campus is, which can bring you joy as well as pride and belonging as an attendee.
Not too many high schoolers consider the appeal of a school when deciding between shortlisting or ditching it.
However, the beauty of a campus can have a positive impact on the overall college experience, which is why a senior associate dean of admission, for instance, says that it's not a coincidence that some of the best liberal arts institutions in the US are those that can be found in beautiful and inspiring locations.
Although a book should not be judged by its cover, let's take a look at some of the most beautiful campuses:
Baylor University
California Baptist University
Flagler College
Florida International University
Florida State University
Grand Canyon University
Harvard University
Indiana University – Bloomington
James Madison University
Kenyon College
Liberty University
Pepperdine University
Regent University
Rice University
Rollins College
San Diego State University
Stanford University
Swarthmore College
Texas Christian University
University of Alabama
University of California, Los Angeles
University of Colorado Boulder
University of Mississippi
Virginia Tech
Washington University in St. Louis
Which campus atmosphere is right for a student, ultimately, is purely a subjective matter and a personal choice. If you can see yourself happily spending 4 years on a particular campus, then it could be a match.
9. Review Extracurricular Activities Availability
Partaking in extracurricular activities is important in the college application process.
Extracurriculars that teens have engaged in throughout their high school careers give admissions officers insight into the skills they have and what they can add to the campus.
Participation in activities outside the classroom, however, doesn't end in secondary school.
Many things contribute to the entire college experience, and some of them are extracurriculars, which can benefit students not only as they complete their academic programs but also as they navigate the career paths of their choosing.
The following are the top 10 perks associated with EA participation in college:
Learn new educational and social skills
Pursue interests or explore new ones
Understand oneself better
Apply things learned in the classroom
Reduce stress and burnout
Lessen homesickness
Make new friends
Involvement in the campus community
Build a network
Enhance professional resume
On their respective websites, most colleges and universities provide a list of the various clubs and organizations, usually on the resource page for students and prospective attendees.
Doing a simple Google search by keying in something like "College X clubs" is sometimes more than enough.
Here are some institutions that are known to have the most number of registered clubs and organizations:
Arizona State University
Cornell University
Florida State University
Indiana University – Bloomington
Iowa State University
Michigan State University
New York University
Ohio State University
Pennsylvania State University
Purdue University
Rutgers University
Stanford University
Texas A&M University
University of California, Los Angeles
University of Florida
University of Illinois – Urbana-Champaign
University of Michigan – Ann Arbor
University of Texas at Austin
Virginia Polytechnic Institute and State University
Other than on-campus extracurriculars, it's also usually a good idea for high schoolers preparing for their college lives to also consider the availability of off-campus pursuits when building a college list.
What sort of projects or services can I volunteer for in the immediate community around the campus?
Are there local recreational and leisurely activities I can participate in? Are there community-based arts programs such as a chorus, theater or dance? What kinds of apprenticeships or part-time or even full-time jobs are available for enrolled students?
College admissions officers find it important to check EAs applicants have chosen to participate in.
Believe it or not, employers also care about extracurriculars job hunters picked during their college careers. As a matter of fact, a QS Top Universities report mentions a couple of reasons why employers do so:
To see how you are different from the rest – It's not just your degree that can help you land your dream job but a few other things, too, including your character. Your chosen extracurricular activities allow employers to have an idea of your interests and passions, which can help you stand out from the rest of the applicants.
To determine what soft skills you can bring to the table – Interpersonal skills, problem-solving, accountability, decisiveness, leadership, teamwork — these are just a few of the things college EAs allow you to develop, most of which, if not all, are highly valued by employers and can come in handy in the workplace.
10. Find Out About Career Resources
It's not just the degree you will need to be able to navigate the career path of your choosing that a college can provide — most institutions of higher education also offer assistance in career exploration and opportunities available for graduates.
Rather than giving the perfect jobs, college career resources help alumni members find them.
Because the pursuit of one's dream profession does not end with being conferred an undergraduate degree, it's not uncommon for the college you are thinking of adding to your list to have a dedicated center where there are career advisors trained to offer counseling to assist undergraduates in the transition from being students to being a part of the workforce.
The said advisers are usually professional counselors but can also be student staff, mentors and, in some instances, alumni armed with the knowledge and skills to point career-bound people in the right direction.
A good college career resources would offer an array of services such as the following:
Resume building
Interview preparation
Career fairs
Career matching
Industry exploration
Upskilling opportunities
Job shadowing assignments
Networking opportunities
Not all career resources available at colleges and universities are the same — some are simply more effective and productive, thus allowing graduates who seek their assistance to start their professional careers.
High schoolers who are choosing the right college to attend should check how good an institution's career resources are by taking note of the various services provided, accessibility of consultations, staff members who offer advisory and the rate of graduates getting employed as well as how many of them land jobs related to their chosen majors.
It's also recommended to check how long alumni can take advantage of the services, given that the average person will change careers anywhere from 5 to 7 times throughout their working lives.
For instance, the Career & Professional Development (CPD) of Gonzaga University, which is a private Jesuit university located in Washington, vows to provide its alumni members career support and advancement services such as individualized career treks, career coaching, mentoring and networking events for life.
Some college career resources, meanwhile, also offer loan and debt counseling to help plan the financial outlook of graduates, helping especially with paying off their student debt with minimal impact on their resources.
11. Find Out About Support System
According to an NCES report, almost 1 in 5 undergraduate students have learning disabilities. Meanwhile, another report by the same federal entity says that only 37% of those with learning disabilities let the colleges they're attending know.
Since having learning disabilities cannot stop some individuals with them from dreaming of earning a college diploma, it's important for postsecondary institutions to make that dream accessible to them by providing the necessary support and resources to accommodate their needs, such as in the form of specialized programs and services.
Needless to say, it's a must for students who learn differently from most others to consider applying to schools that make it possible for them to thrive academically and also pave the way toward successful and satisfying careers.
Let's quickly differentiate learning disabilities and learning difficulties or problems.
Learning disabilities affect learning, which causes a gap between the true potential and actual achievements of individuals who have them.
They are lifelong issues that can neither be cured nor fixed. Generally, those with learning disabilities are of average or even above-average intelligence as well as look perfectly normal and healthy.
They may, however, be unable to have the skill level expected from people of the same age, although, with the right intervention and support such as educationally, they can achieve success.
Some common examples of learning disabilities include the following:
Attention-deficit/hyperactivity disorder (ADHD)
Dyslexia
Dysgraphia
Dyscalculia
Language processing disorder (LPD)
Nonverbal learning disorder (NVLD)
Visual processing disorder (VPD)
On the other hand, learning difficulties or problems are conditions that pose an obstacle to certain types of learning, which are caused by genetic and/or neurobiological issues that affect learning-related brain functions.
Here are some large and small institutions with programs for students with certain types of learning disabilities:
Adelphi University
American University
Beacon College
DePaul University
King's College
Marshall University
Middlebury College
Mitchell College
Northeastern University
Roosevelt University
University of Arizona
University of California, Irvine
University of Connecticut
University of Iowa
University of North Carolina at Chapel Hill
University of the Ozarks
Ursuline College
West Virginia Wesleyan College
12. Check Accreditation
College accreditation is a form of assurance that institutions of higher education meet acceptable quality levels.
Determining whether or not a college you are planning on adding to your list is accredited is easier than it seems.
In most instances, the school's website will inform visitors that it's accredited as well as mention the name of the agency responsible for its accreditation and when it will have to renew its accreditation, which is usually every 5 to 10 years.
At times, you may have to dig a little deeper such as by getting in touch with the college or checking if the school is on the list of accredited institutions by the accrediting agency.
There are 5 primary benefits of attending an accredited college or university, and they are as follows:
Financial aid – Only accredited colleges can offer federal and state financial aid
Credit transfer – Accredited schools award credits earned from other accredited institutions
Graduate studies – Graduate schools do not accept applicants who graduated from non-accredited colleges
Certifications and licenses – Non-accredited school graduates may not be eligible for professional designations
Employment opportunities – Employers recognize degrees that are from accredited schools
While checking accreditation, consider finding out if the college you are eyeing is regionally accredited or nationally accredited because it can have an impact on your college and career experience.
Regional accreditation is older and considered more prestigious, which makes the transfer of credits easier from one regionally accredited institution to the other. Meanwhile, national accreditation is as legit as accreditation like regional accreditation, although it's mostly given to trade, vocational and online schools.
Other than regional accreditation and national accreditation, there are a couple of other educational accreditation types you should also look into: institutional accreditation and programmatic accreditation.
Although they are equally important to add to the list of what to look for in a college, they have different purposes. An institutional accreditation gives a general evaluation of the overall quality of an educational institution. A programmatic accreditation, on the other hand, concentrates on a specific academic program a college or university offers.
Institutional and programmatic accrediting agencies recognized by the US Department of Education greatly outnumber regional and national accrediting ones, and this link will take you to a listing of them.
Here's an in-depth post about how to check if a college is accredited that you might find really helpful.
13. Assess Your Chance to Get In
There is no point in applying to a particular college or university if the likelihood of you receiving an acceptance letter from it is very little to zero — it would be a complete waste of your money, energy and time!
Because of this, it's a must that you know how to select a college wisely.
The importance of building a balanced college list, which we will talk about in a few, cannot be stated enough. With a list that contains the right ratio of reach, match and safety schools, it's very much likely that at least one of the institutions you shortlisted will give you an offer to enroll. Of course, you should still remember that there are no guarantees in life.
Evaluating your chances of getting into a college is the college admissions counterpart of the proverb "look before you leap" — you should not apply without considering beforehand whether or not you will get accepted.
Since the GPA is what the vast majority of postsecondary institutions in the US regard as the single most important factor in the admissions process, you can use yours to guesstimate the outcome.
It's also recommended to take your SAT or ACT scores into account even if you are intending on applying to a test-blind college since they can speak volumes about your college readiness — you might end up breaking your heart if you apply to where the usual admits have standardized test scores with which yours pale in comparison.
There are 2 things you can to do assess your probability of getting accepted to your top-choice college:
Check the academic profiles of recent admits – Access the most recent CDS of the school you would like to apply to. Compare your test scores (section C9) and your GPA (section C11) with those of recent admits — the closer your SAT or ACT scores and GPA to the lower range, the lesser your chances of getting in.
Observe what the college looks for – While still on the college's CDS, head to the table in section C7, which indicates the various academic and non-academic factors admissions officers consider. Generally speaking, the more boxes you tick, particularly those with the most weight in the review process, the more appealing your application.
It's perfectly fine to dream about attending a prestigious institution. However, to avoid unnecessary stress and anxiety, make sure that you apply to more colleges that are likely to accept you.
14. Check the College Rankings
College ranking sites, as the name implies, are websites that rank degree-granting institutions based on an assortment of criteria and data points such as acceptance rates, COA, class size, housing options, social scene and post-graduation outcomes.
Different college rankers use different measures and methodologies.
As a result, while they can provide information useful for high school students who are on the hunt for colleges to shortlist, college ranking sites can vary greatly in terms of their preferences and reliability. That is why college-bound teenagers should opt for websites that are transparent and objective as well as whose benchmarks and standards align with theirs.
Used correctly, college ranking sites can help high school students in their quest to come up with a balanced college list that they can be happy and confident with, and the following are 4 of the top perks of checking them out:
Discover schools – Teens may come across prospective best-fit schools they're not familiar with
Narrow down college list – Comparing and trimming down numerous prospective schools is facilitated
Obtain insight – Rankings can make getting to know colleges less time-consuming
Determine admission chances – Students can have an idea as to what types of applicants are accepted
It's of utmost importance for any high schooler who is about to transition to higher education to remember that college rankings should not be the sole factor in selecting a college for him or her to attend.
Rather than simply spectating how different sites rank academic institutions, students may take advantage of all the pieces of information that college rankers provide and use them to rank prospective schools themselves — by scoring colleges based on their own methodology, they can come up with a personalized ranking that perfectly suits their needs.
College list-building teens, however, are not the only ones who look at college rankings.
According to a report by Time on the college ranking process, some graduate schools check out rankings to evaluate the schools from which applicants earned their bachelor's degrees, while some hiring managers go over them to learn more about the institutions from which job seekers obtained their credentials.
But admissions officers and employers know very well that college rankings are not always accurate.
It's because of this exactly why they look at resumes and conduct interviews, although they do put some bearing on the brand or reputation of the colleges and universities applicants attended.
15. Ask for Help
When it comes to preparing for college, it's not just the institution to attend that high schoolers have to decide on. Usually, they also have to make up their minds as to which majors and career paths are right for them.
But the ordeal doesn't end there: throughout high school, they have to prepare for college admissions, too.
Since there are simply lots of things to know and steps to take, teens who are dreaming of becoming undergraduate degree holders one day should never feel too embarrassed to seek help when it comes to gearing up for their future college careers as well as the process of applying to college itself to avoid unnecessary mistakes and stress.
It's a good thing for high schoolers that there are many different people they can rely on to get all the information they could use to be academically, socially and mentally ready for college, and they are the following:
Parents – Because over 60% of young adults (19 to 23 years old) receive some financial help from their parents, it's just right that you include your mom or dad in the process of picking colleges, although the final decision should be yours. A parent can also guide you in choosing a career field and the necessary college major.
Relatives – Got some relatives whose jobs or businesses you find interesting? It's a great idea to chat with them to learn more about their careers as well as the steps that they have taken, especially in terms of their educational choices and training and development investments to get to where they are now.
Employer – Your employer, just in case you have a job, would appreciate it if you consulted him or her about which major is the best to take if your goal is to remain in the same field or industry after graduating from college — no other source of information is more reliable than someone who is thriving in your prospective job position.
High school counselor – Someone who could be there all the way from your first year of high school to the moment you are applying to colleges is your high school counselor. He or she could tell you which classes you should take and extracurriculars you should participate in to increase your chances of getting into your top-choice college.
Teachers – Because your teachers, particularly those in your core or college prep courses, know your strengths and weaknesses, it doesn't come as a surprise that they are some of those who could provide much-needed insight into the things you will have to do to have the kind of college career and professional success of your choosing.
Admissions officers – There are a couple of reasons why reaching out to the admissions officers at your dream colleges is a great idea. First, it will allow you to know exactly everything necessary to apply without a hitch. Second, it will enable you to demonstrate your interest, which many colleges and universities consider in admissions.
Alumni members – Finally, you may also try reaching out to a college's alumni to ask about their experience with the institution as well as how the degrees they earned have changed their lives. Of course, you should consider consulting those whose careers are exactly what you would like to have someday after graduating from college.
How to Build a College List
A college list needs to be balanced, which can never be achieved by adding random schools to it.
The right way to go about it is by including only institutions of higher education that you would likely attend because they tick all the boxes, ranging from the cost, location, majors, campus life to housing options. This way, regardless of which school sends you an acceptance letter, you will be happy to attend it.
No college list can be considered balanced without it bearing the names of institutions that fall under the 3 different classifications of postsecondary schools as far as college application goes: reach, match and safety schools.
Below are some of the most important things to remember about these different types of schools:
Reach schools – To put it in a nutshell, reach schools are some of the hardest schools to get into. They have high academic requirements but low acceptance rates — they admit only around 20% of all applicants. Prestigious institutions like the Ivy Leagues, needless to say, are examples of reach schools.
Match schools – Because match schools typically admit applicants whose GPA and test scores as well as various other academic and non-academic factors are similar to yours, you have a 50/50 chance of getting in. So, in other words, these are institutions in which you feel confident of acceptance as well as attendance.
Safety schools – Your likelihood of getting into safety schools, as what they're called suggests, is very high — usually 80% or higher. That's because your application exceeds the profiles of students these colleges tend to admit. Still, it's important to note that receiving an acceptance letter from them isn't guaranteed.
It's not enough that your college list has a variety of reach, match and safety schools. For it to be balanced, it should also have the right number of these types of schools.
Since the chances of getting into reach schools are low, it's pointless to apply to a lot of them — 1 to 3 is enough. The same is true with safety schools since any of them would likely accept you. On the other hand, consider adding 3 to 5 match schools to your college list to increase your odds of getting accepted to at least any of the colleges you really like.
Which College is Right for You: Quizzes and Chance Calculators
There is a simple, albeit more of a rough estimation only, way to find one's college match, and that's by taking some quizzes and using certain calculators easily available online. They help greatly simplify the process of college selection, although it's important to note that they are not meant to replace the traditional way of building a list.
Some of the most popular college ranking sites offer quizzes that college-bound high schoolers may take to have an idea of which institutions would make for the best-fit schools for them.
For instance, Niche has a college quiz that churns out a personalized list of schools for test-takers to consider after providing the college ranker some important details such as the state where they want to work on a degree and their GPAs as well as establishing just how important they find certain college aspects, ranging from athletics, safety to campus food.
Forbes, meanwhile, has a college matchmaker that requires college-searching teens to tell the site things such as their ideal college location, how important they find reputation and their preferred class size.
On the other hand, US News has a college personality quiz that requires test-takers to assess their personality first.
There's a stark difference between a college that suits you and a college that is likely to accept you. This is when the benefit of using a chance calculator comes in. Also sometimes referred to as a college admissions calculator, it's a tool that allows students to have an idea of their likelihood of getting in based on the historical admissions data of a school.
Both Niche and US News have chance calculators (click here and here). However, you will have to sign up, which comes free of charge, to be able to use them.
The way both calculators work is simple: they compare your GPA and test scores with those of recent admits.
So, in other words, any of them is pretty much useless to high schoolers who didn't or have yet to take the SAT or ACT. And because many colleges and universities have a holistic admissions policy, the vast majority of chance calculators may not provide those who use them accurate results given that various non-academic factors are not factored in.
How to Pick Between Two Colleges
Receiving acceptance letters from 2 similar degree-granting institutions, for most college-bound teens, can be as challenging as deciding which schools to include on their college list at the start of the application process.
It's like returning to the start and going through all over again the things to consider when choosing a college.
However, the difference is that the high schooler is guaranteed that there is a college that he or she can go to as opposed to wondering as to how many — if any at all — of the shortlisted schools will send an offer to enroll. This time around, it's all about determining which of the 2 accepting colleges the lucky teener will have to choose.
Such a task is easier said than done given that similar schools can best serve the admitted student's academic needs and social and financial criteria as well as give him or her the college experience of preference.
Because of this, the choice will have to boil down to specific details that can be easy to overlook.
For instance, between 2 colleges with similar COAs and financial aid offers, the one farther from home can put a student at a financial disadvantage as flying over vacations and holidays can inflate the overall cost of college. Or the campus of one feels more like home than the other, which can have a minute but nonetheless important impact on one's grades and social life.
By nitpicking, hopefully, confused teens might realize that 2 similar colleges may not be so similar after all, thus enabling them to have an idea of which offer they will accept and which offer they will decline.
After receiving all decision notifications, students typically have anywhere from several weeks to a month to decide which accepting schools they will matriculate at, depending on the admission plan or program they opted for. At times, deciding which of the 2 similar colleges to choose all boils down to which of them is giving off a slightly better feel.
Do Colleges Look at Your Search History?
The short answer to whether or not colleges look at a student's search history is yes and no. Postsecondary institutions cannot look at the activity of applicants for online searches conducted using their own devices. On the other hand, they can do so if applicants logged online using their Wi-Fi or any hardware or software that colleges have.
When handing out acceptance letters, colleges want to make sure that the recipients will grab the offer to enroll, which is good for the yield rate — the percentage of students who choose to enroll after having been accepted.
A high yield rate is favorable for an institution's ranking and, more importantly, reputation.
Based on a report by The Washington Post, various records confirm that colleges are collecting data on applicants to determine whether or not they would make for the top candidates for admission through various methods, ranging from scanning test scores and zip codes to examining household incomes to ethnic backgrounds.
Looking into web browsing histories is also a step taken — the same report adds that more than 40% of public and private colleges in the US use third-party consulting companies to collect and analyze data on applicants by tracking their online activity.
So, in other words, it's possible for the college to which you just applied to have an idea of some of the things you accessed on the web, whether journal articles or porn sites.
Determining the applicant's level of interest is often the goal for colleges doing investigations.
In many instances, institutions of higher education, particularly those that consider demonstrated interest in the admissions process, use special software tools that give them insight into which pages on their websites applicants have visited or whether or not they have read emails sent to them or whether or not they have clicked on the embedded links.