The junior year of high school is only two years away from college. Yet, what students do during the 11th grade is too important for their future career potential.
This is a time when college planning enters a critical phase.
By focusing on grades, standardized testing, college search, and extracurricular activities, high school juniors increase their chances of being admitted to their dream schools.
Below is a table of the timeline of the college preparation for 11th graders: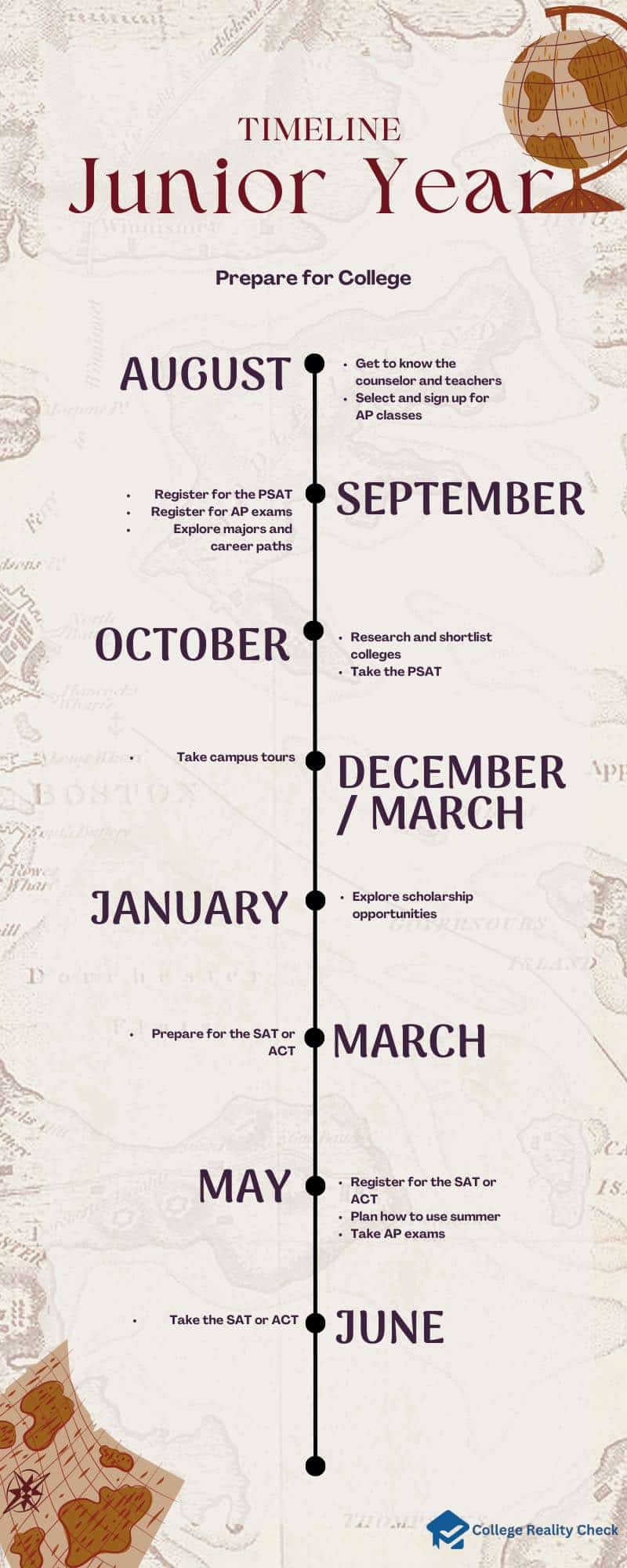 1. Keep Grades Up
Needless to say, Ivy League schools and other highly competitive colleges mostly admit straight-A students.
Having non-perfect high school grades, however, won't necessarily keep applicants from getting into their top-choice schools — most admissions officers look for an upward progression in the grades of aspirants over their secondary education careers, which is why the 11th grade is the sweet spot for making up for some freshman and sophomore year slip-ups.
Although it's true that grades in the core classes are some of the most important, in the end, it's the cumulative GPA of a college applicant that will matter in the quest for an acceptance letter.
2. Maintain Involvement in Extracurriculars
Engagement in meaningful extracurricular activities (EAs) is important not only for making a high schooler a well-rounded student but also for making his or her college application a standout.
It's recommended that teens get involved in EAs as early as they possibly can in their high school lives.
However, they should not be discouraged from trying something new in their junior year of high school just in case they are not that completely happy and satisfied with the ones they have already given a shot from the get-go.
Some extracurriculars are simply more impressive than others, and they include the following:
Community service
Creative pursuits
Internships
Leadership positions
Part-time job
STEM
Sports
Volunteer work
Although high school students get busier and busier as they get closer and closer to graduation, such as during their junior and senior years, remaining involved in EAs purposefully can help with more successful college applications.
3. Attend College Fairs
College fairs are events where admissions officers from various colleges and universities head to high schools and other social venues to meet with high schoolers and their parents as well as answer their questions, too.
Fall is considered the college fair season.
As such, teens have plenty of opportunities during the 1st semester of their junior year to attend college fairs held on their high school campuses and local convention centers and community spaces to explore different postsecondary institutions and learn more about those that they would be interested in applying to the following year.
11th graders with top-choice schools already may also partake in fairs to increase their admissions chances as attendance is a form of demonstrating interest, which many colleges consider in the admissions process.
4. Get to Know the Counselor and Teachers
An important step 11th grade teens should take at the start of their junior high school careers is introducing themselves to their high school counselors and teachers, particularly in core subjects, and getting to know them as well.
There are many reasons why they should meet with them, and some of them include:
They can be a source of information as teens choose majors and career paths
They may help in exploring interests vital to the college selection process
They make for excellent recommenders of best-fit colleges and universities
Another reason why it's a good idea for high schoolers to get to know their counselors and teachers is that most postsecondary institutions require recommendation letters to be written by them — by letting them know about their hopes and dreams as well as interests and passions, 11th graders can get the best possible recommendations the following year.
5. Select and Sign Up for AP Classes
Here's another reason why 11th graders should introduce themselves to high school counselors and teachers: to inquire about and register for AP classes to increase the rigor level of their secondary school curriculum — many colleges and universities, selective ones, particularly, have a penchant for applicants who challenge themselves.
"The AP Coordinator may be a full- or part-time administrator, counselor or staff member of your school or a faculty member who does not teach an AP course" (The College Board, 2016).
While choosing which AP classes to take is best done before the start of the junior year, it's never too late.
To make one's college application stronger, high schoolers should consider registering for AP classes that are not only interesting to them but also have something to do with the college major of their choosing.
6. Register for the PSAT
It's in October of every year when the PSAT is administered to 10th and 11th graders in the US.
Most high schools that administer the PSAT, which helps familiarize high schoolers with the SAT, require interested students to register in September, either in person or online, depending on the school's policy.
Students who have to take the PSAT elsewhere are recommended to get in touch with the high school 4 months in advance to inquire.
The PSAT is also referred to as the National Merit Scholarship Qualifying Test (NMSQT), which serves as a qualifying exam for students who wish to be eligible for the National Merit Scholarship Program.
To qualify, high schoolers should meet the eligibility requirements below:
Enrolled as high school students — traditionally or homeschooled
Plan to go to college full-time immediately after high school
Take the PSAT/NMSQT during the junior year of high school
Score in the top 1% to top 3% of all test-takers
7. Register for AP Exams
11th grade students who wish to sit for AP exams, whether or not for AP classes they are or will be taking, may start registering in September even though they have to wait for May, which is the culmination of all AP classes, to take them.
While AP classes are free of charge, AP exams aren't.
For each AP exam, a high schooler will have to shell out $94. The registration fee per AP exam is higher for international students who will have to take it outside of the US ($127), while those who register late will have to pay an additional fee ($40).
On the other hand, test-takers with financial needs will have to pay less — $53 per AP exam ($83 for international students).
8. Explore Majors and Career Paths
Teens may start exploring various career options at the start of their junior year of high school with the help of many individuals, including a counselor, academic teacher, mentor, athletic coach and parent.
Although they may start doing so earlier, it's during the 11th grade when students would have likely engaged enough in extracurriculars that they are really passionate about to have a much better idea of which academic major they should declare in college (and which college will serve them the best) as well as how they would like to spend their professional years.
It's important to note, however, that mapping out one's career path is a continuous process.
"Career preparation should start in high school, but it shouldn't end with graduation: Most occupations require some type of training or education after high school" (Torpey, 2015).
9. Research and Shortlist Colleges
With the winter break fast approaching when there's an opportunity to take campus visits, it's time for a high school student to start looking into institutions of higher education that he or she would like to include on the college list.
After following the previous step discussed, an 11th grade student must already have a clear idea of which major he or she should choose to make the intended career plan happen — determining which colleges or universities have the program that can best meet the teen's intended academic experience and professional objective is an important step.
It can be tempting to shortlist as many schools as possible as there are many good ones out there.
However, it's generally a good idea to keep the college list short and, more importantly, balanced, which means that it has to include the right mix of reach, safety and match schools.
10. Take the PSAT
After registering for the PSAT a month before its administration, which is October of every year, it's time for 11th grade students to sit for the examination itself to enjoy the following:
Get a sense of what it's like to take the SAT
Qualify for the National Merit Scholarship Program
The PSAT is 2 hours and 45 minutes long, with a total of 2 breaks.
According to the College Board itself, most high schoolers take the PSAT only once — in 11th grade. However, they can sit for it up to 3 times throughout their secondary education careers, although they can do so only once per year. It's worth noting that students should take it in their junior year if they would like to be eligible for the National Merit Scholarship Program.
11. Visit Colleges
There are a couple of breaks in the lives of 11th graders where they can pay the campuses of their top-choice colleges a visit without compromising their homework and other obligations, and they are as follows:
Winter break in December
Spring break in March
A very important step to take to find the best-fit school is doing a campus tour.
Checking out a college's website, brochure or catalog can only give a high schooler so much information — visiting its campus, on the other hand, makes it possible for him or her to get an actual feel for the institution.
While it cannot replace an in-person visit, a virtual tour can also help in narrowing down the college list.
12. Explore Scholarship Opportunities
When creating a college list, 11th graders should remember to consider the cost of attendance.
Because tuition costs at all degree-granting institutions in the US increase at a 5-year average annual rate of 2.89%, according to a 2022 report by the Education Data Initiative, it's important for students to start looking into college scholarship opportunities as early as a year before graduating from high school.
Some of them, including competitive ones, are available for junior high school students.
Besides private and institutional scholarships, 11th grade teens should also check out departmental and programmatic scholarships, such as for music, theater and sports, so that they can leverage their strengths to their advantage and keep steep college costs from getting in the way of their dreams of becoming bachelor's degree holders someday.
13. Prepare for the SAT or ACT
The general consensus is that high school students should start studying for the SAT or ACT at least 3 months before sitting for the standardized test — starting to prepare in March gives 11th graders enough time to obtain all the knowledge and skills they will need to pass the SAT or ACT in the summer before their senior year of high school.
Studying for more than 3 months, usually up to 6 months, may be better for some test-takers.
While it's possible to gear up for the SAT or ACT in just a month prior to the test date, high schoolers will have to work extra to get good scores, usually studying for as much as 20 hours per week.
To have an idea of how much work 12 grade teens should put into preparing for the SAT or ACT, they should look at the middle score ranges of the most recent entering class at test-required or test-optional colleges they would like to apply to — the higher the figures they see, the harder they need to prepare for the standardized test to increase their admissions chances.
14. Register for the SAT or ACT
It's recommended for high school teens to register for the SAT or ACT about a month before their preferred test date. Otherwise, there may no longer be any available spots in the testing centers near them.
Registration for the SAT costs $60, while registration for the ACT amounts to $66 — $91 with writing.
Neither one of the standardized tests is harder than the other. Similarly, the vast majority of colleges that accept both do not prefer one over the other in the admissions process as well as in awarding merit-based scholarships.
However, some test-takers may feel more comfortable taking the SAT, while others may feel more at ease taking the ACT — the SAT may be longer and have fewer questions than the ACT, but ACT questions are usually shorter and thus quicker to solve. This is when the importance of taking the SAT and ACT practice tests comes in.
15. Plan to Use Summer Wisely
A summer break is typically spent by students relaxing and recharging while away from the books as well as hanging out and having fun with friends. However, since the summer before the 12th grade is just only 1 more summer away from college, it's also important for junior high school students to consider their higher education plans.
While having a blast, therefore, it's also a good idea for them to partake in activities that can help boost their college applications, such as getting involved in the community, having a summer job and taking summer classes.
It's true that a summer break is just 2 to 3 months long, but a lot can be accomplished in the said time period.
16. Take AP Exams
AP exams are administered in May of each year.
Because of this, high school students may take some in their junior year and a few more in their senior year, which is great for those who would like to earn maximum transferable credits by scoring 3 or higher on each AP exam.
The College Board says that the average high schooler takes a total of 3 AP exams over his or her secondary education career, although there are definitely students who take more.
As a matter of fact, according to a US News report, those who took at least 5 AP exams tend to have higher GPAs as freshmen college students than those who took less or didn't take any.
17. Take the SAT or ACT
Sitting for the SAT or ACT in the summer after the senior year of high school allows a soon-to-be 12th grader to focus on nothing but getting high scores, which can spell the difference between an acceptance letter and a rejection letter.
It's generally recommended to take the SAT 2 times and the ACT 2 to 3 times.
Most test-takers — up to 63% for the SAT and up to 57% for the ACT — get higher scores in a subsequent exam as a result of lower test anxiety and coming up with a much better strategy. The average score improvement for high school students who retake standardized tests is around 40 points for the SAT and almost 3 points for the ACT.
In some instances, taking the SAT or ACT even if applying to test-optional colleges may prove to be beneficial as some competitive programs and scholarships require the submission of test scores.
Read Next: How to Prepare for College in 12th Grade
High School Junior Year Checklist for Parents
Supporting their teenagers is a crucial role played by parents — the 11th grade is an extremely busy time in their high school careers, particularly for those who would like to head to college after their secondary education. With so many things to accomplish before applying to colleges, high school teens could use all the assistance and motivation they can get.
Below is a checklist of what parents should do to help their youngsters gear up for college:
Assist kids in finding their interests and passions in life
Explore career options and the academic major necessary for attaining each
Facilitate the examination of colleges and their programs, campus culture, location and others
Check out financial aid options as well as the net cost of each shortlisted college
Schedule campus visits and accompany their kids during tours
Investigate various summer activities for both relaxation and fun as well as college admissions
Provide reminders on important high school- and college application-related deadlines
Can You Apply for College in 11th Grade?
It's possible for 11th grade students to apply to college. While it comes with advantages, including graduating earlier and starting a career sooner, it also comes with some disadvantages. For one, a junior high schooler would be missing an entire year that could be used to strengthen his or her application through extracurricular activities and better grades and standardized test scores.
Do Sports Look Good on College Applications?
Sports are considered extracurricular activities. Because participation in them demonstrates hard work, commitment and discipline as well as leadership, team playing and communication if playing team sports, high schoolers can increase the likelihood of them getting accepted to their top-choice colleges, especially where EAs have a lot of weight in the admissions process.
Do Colleges Like to See Improvement?
Admissions officers consider the overall high school experience of applicants. Marked improvements from year to year are generally seen as indicators of intellectual maturity and the discovery of oneself as a person. Needless to say, an applicant with a less-than-favorable early high school experience may still impress colleges with his or her performance improvement.
References
The College Board (2016). The Basics: About AP and AP Coordinators. AP Coordinator Tutorial, 5.
Torpey, E. (2015, January). Career Planning for High Schoolers. US Bureau of Labor Statistics: Career Outlook. https://www.bls.gov/careeroutlook/2015/article/career-planning-for-high-schoolers.htm.