There are 15 telltale signs that a high school student is primed for college as well as 8 signs that suggest that he or she might want to consider other options — both will be enumerated below.
College readiness is the level of preparedness of students to face the various challenges posed by higher education, ranging from academic demands, financial requirements to social aspects, which can considerably impact the ability to succeed in a learning environment that's bigger and more demanding than a high school setting.
A short yes/no quiz can also be found in this post for those who would like to know whether they're ready or not.
How to Know If You Are Ready for College
Academic readiness
Being prepared to meet the educational demands of higher education is referred to as academic readiness.
It means that the student not only has strong foundational knowledge in core subjects, including science, math, social studies and language arts, and, in some instances, specific areas, too, but is also armed with numerous skills necessary to succeed academically, such as problem-solving, critical thinking, time management, research and self-discipline.
Because college is an entirely different environment from high school, an academically ready student must be able to adapt successfully to a new learning experience as well as welcoming of new perspectives and ideas.
Emotional readiness
The psychological state of having the willingness to take on new challenges with full understanding of one's strengths and weaknesses is what's referred to as emotional readiness.
Being emotionally prepared is vital to college success and satisfaction.
College-level students who are not ready emotionally usually have lower GPAs and are more likely to report their postsecondary experience as either poor or terrible.
Also, around 50% of them tend to experience stress most or all the time and feel that they are not in control of managing everyday stress that college life brings.
Financial readiness
Simply put, financial readiness is the ability of a college-bound student to manage his or her finances during the pursuit of an undergraduate degree, including budgeting and saving as well as exploring financial aid options and ways to meet college expenses, expected and unexpected alike, such as by getting a part-time job.
By being prepared financially, a student can deal with the steep cost of college and keep debt to a minimum.
Most of the time, financial readiness for college involves the availability of a college savings account that the student and/or his or her parents have been feeding for a while now.
Social readiness
The ability to handle as well as adapt to different social situations in a college setting, from making new friends to establishing relationships with faculty members, is what social readiness is about.
Being prepared socially for college also entails having a sense of independence and responsibility.
Likewise, it involves the student having the ability to balance academic with social responsibilities quite well, thus allowing him or her to achieve success both inside the classroom as well as outside the classroom and even outside the campus itself.
Especially when enrolling in a heavily populated and diverse college, having the right social skills is critical.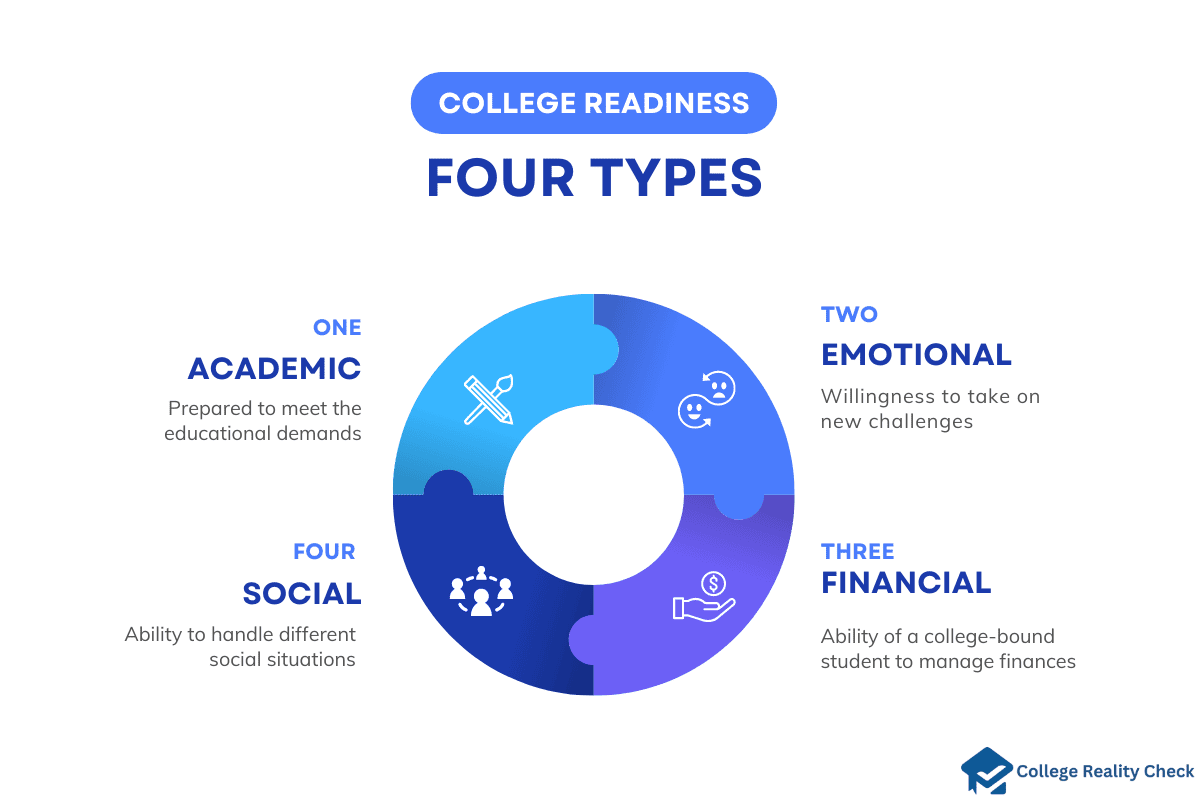 15 Signs You Are Ready for College
You know what career to have
Sending applications to colleges is very much likely the smartest step to take before you graduate from high school if you have an idea of a future career, especially if it's part of the nearly 60% of all jobs in the US that require a college degree.
It doesn't mean, however, that being clueless means you're not set for college.
Undecided students make up as much as 20% to 50% of all college admits, which is fine because a college campus is a place where you can explore different possibilities and options as well as learn what you want to do in life.
You can't wait to make more money
College graduates, on average, make $1.2 million more over their lifetime than those without a college degree, according to the Association of Public and Land-Grant Universities (APLU).
There is no shortage of evidence that college graduates have higher earning potentials.
While it's possible to make a lot of money without a college degree, those who have one generally have higher incomes as well as lower employment rates, which allows them to rake in more money throughout their working adult lives.
You want to challenge yourself
Compared to high school, college is more difficult.
It's not uncommon for students who are working on an undergraduate degree to have to work harder and stay more focused than back in their secondary education careers to get good grades and complete their respective programs.
Most college students have to deal with more than just homework and exams — they also have to surmount emotional, social and financial hurdles. And the more difficult the major, the more challenging college gets.
You want to take on more responsibilities
College puts a lot of responsibilities on degree-seeking students, ranging anywhere from attending classes regularly, being prepared for exams, purchasing required materials to knowing all deadlines.
They are also accountable for many other things outside the classroom and, in many instances, the campus.
Doing the laundry, cleaning the dorm, going to part-time work, taking care of one's mental and physical health and well-being, behaving responsibly and respectfully — there are many responsibilities a college student has.
You have time to spare
Earning a bachelor's degree takes anywhere from 4 to 6 years for most people.
It can take a shorter time to complete a bachelor's degree program for those who enroll in accelerated programs or work on more credits than average per semester. Working adults, on the other hand, may take more than usual to graduate.
Either way, college will require you to invest some of your time, which is great if you have lots of it — spending it on a college campus is a productive and rewarding way to make use of your available time.
You survived a rigorous high school curriculum
Some of the most competitive colleges and universities, particularly selective ones, have a penchant for applicants who dare challenge themselves by increasing the rigor level of their high school experience.
Taking college-level classes such as AP and IB classes as well as sitting for standardized tests such as AP, IB and CLEP exams are ways for high school teens to show admissions officers that they are ready for and can survive college.
You are most likely ready for college if you took high school classes and exams many of your peers avoided.
You want to explore your passion
There are numerous ways for students to discover career-centered outlets for the things they are passionate about in college, such as by choosing certain majors and attending specific classes as well as taking on related internship programs.
Likewise, they may do so by partaking in particular clubs or organizations or even grabbing employment opportunities.
College is a place where individuals can explore their passions and obtain knowledge and skills that can help them pursue their interests more meaningfully and, more importantly, productively.
You long for some independence
Around 43% of all American students move away from their loved ones to attend college. That's equivalent to 4 out of 10 students, which is the highest even since 2005.
While pursuing a bachelor's degree, students are tasked with owning their time and what they want to do with it. Of course, making the right choices is important if they want to attain college success and, ultimately, achieve their career goals.
Attending college may be the right step for you to take if you feel it's high time for you to learn about independence.
You want to learn some practical skills
It's not just what the books reveal and what professors say that college students can learn.
Because a college campus is filled with people from different backgrounds and all kinds of challenges, too, it's no wonder that students get to learn an assortment of real-life skills, most of which can come in handy in their professional careers.
Global thinking, critical thinking, problem-solving, networking, communication, leadership, time management, organization — these are just some of the practical skills students can learn that are vital for success in college and beyond.
You received college acceptance letters
Getting an acceptance letter from a college, especially a top-choice one that's selective, is a foolproof indicator that you are ready for college and the rate of you succeeding, too, is very high.
No other people on the planet are good at finding college-ready students than admissions officers.
However, not getting any acceptance letter doesn't mean right away that college isn't for you — it could be that you applied to the wrong schools or you failed to make your application appealing due to extraneous matters.
You have an idea of how to pay tuition
College costs are a top reason why higher education is inaccessible to many.
Needless to say, you are prepared for college if you have a solid plan on how to pay for the cost of attendance, especially the kind that's been established early on during your high school career.
Whether you have set your eyes on applying for various scholarship programs or grabbing paid internship programs or even having a part-time job, being financially ready is a sign of college preparedness.
You want to make new friends
Because it's not unlikely for a college campus to attract people from different parts of the nation and different corners of the globe, your chances of meeting like-minded individuals are higher than in high school.
One of the best ways to meet people who share the same interests as yours is by joining clubs and organizations that have something to do with your hobbies and passions.
Of course, there are also plenty of friends to win outside of the campus, whether located in-state or out-of-state.
You enjoy networking
Not too many students know the difference between socializing and networking, which is why they tend to use them interchangeably when referring to meeting new people.
Socializing, simply put, is meant for pleasure.
On the other hand, networking is intended for developing contacts for exchange of information and professional purposes — a college campus is a place teeming with future CEOs, managers and supervisors!
You felt at home on a college campus during a tour
At many colleges, demonstrated interest is a non-academic factor considered in the admissions process.
Taking a campus tour is a way for aspirants to show their willingness to matriculate if accepted. However, other than increasing their chances of getting in, it also allows high schoolers to find the best-fit schools.
Falling in love with the campus as well as the student life during your visit to your top-choice college may be an indicator that you are ready to leave your high school behind and make a bigger and more bustling one your new home.
You want to progress in your career
Some specialized jobs in certain industries warrant the procurement of additional certifications or, in some instances, another degree for promotion purposes and advancement of one's career.
It's never too late to go back to school to get a degree for someone who wants to further his or her professional life.
Especially for those who are aspiring to take on managerial roles in the workplace, earning a degree for the first time or another one or even a more advanced one is the key to turning the dream into a reality.
Are You Ready for College Quiz
Going to college is a big step. In many instances, a person can have a sense of what it's really like to be a college student only after he or she has matriculated, moved out of home and spent most of his or her waking hours on a college campus.
The following is a quiz that can help you determine whether or not you are ready for college.
By answering simple questions with either a "yes" or "no" or something in between, you can have a much better idea of whether or not applying to colleges and universities should be one of your priorities in your senior year of high school or something else.
Here goes:
1. Do you have certain interests that you would like to pursue?
Yes
I think so
No
2. Do you have an idea of what you would like to do in the next 10 years?
Yes
Somewhat
No
3. Do you wake yourself up in the morning instead of having a parent do it?
Yes
From time to time
No
4. Can you make do with less than 7 hours of sleep?
Yes
Sometimes
No
5. Can you do your own laundry?
Yes
If I have the time and energy
No
6. Can you make your own snacks or meals?
Yes
On occasions
No
7. Are you good at managing or budgeting money?
Yes
Only if it's mine
No
8. Do you have an idea of which college is the best fit for you?
Yes
I believe so
No
9. Are you aware of the fact that you can appeal financial aid offer?
Yes
I heard about it
No
10. Are you willing to work if necessary to make ends meet?
Yes
I'll decide when I get there
No
11. Have you identified who will write your recommendation letter?
Yes
I still have to look for one
No
12. Are you happy with your study skills?
Yes
Kind of
No
13. Can you spend 10 to 13 hours per week studying?
Yes
We'll see
No
14. Did you take AP classes and survived them?
Yes
Of course, but barely
No
15. Did you genuinely love at least one of your extracurriculars?
Yes
I think so
No
16. Can you cope with homesickness and stress quite well?
Yes
I guess
No
17. Do you know when and when not to submit to peer pressure?
Yes
Sometimes
No
Mostly A's
You display many of the traits college students share, including those obtained and honed on and off the high school campus, which is why you may be primed to take on the challenges of pursuing an undergraduate degree. While you have some of the tools you will need to survive college, you will acquire more as a college student, so stay open to possibilities.
Mostly B's
Consider yourself a work in progress: there are a few things you may need to work on before deciding to head to college right after graduating from high school. Perhaps you might want to consider alternatives to a traditional postsecondary education if you need more time to make up your mind, many of which can also pave the way for a brighter future if you commit to them.
Mostly C's
Devoid of some of the most important traits and skills students require to succeed in college, chances are that a postsecondary experience may not be the best option for you. Luckily, for some people, having an undergraduate degree is not the key to success, although you will have to make up for the lack of a college diploma with other skills and life experience to prosper.
8 Signs You Are Not Ready for College
You have no plans for the future
While it's not uncommon for some students to step foot on a college campus undecided, it's usually a much better idea to determine beforehand what you really want to do professionally.
Still, you may explore your various options in college as you get those gen ed classes out of the way.
You are struggling big time in high school
It's no secret that college is more challenging than high school, which is why you may have a difficult time succeeding in college if you have a hard time getting good grades in high school.
Other than academics, struggling socially and mentally in high school is a red flag.
You don't know how to pay for tuition
As mentioned earlier, the cost of attendance is the leading barrier to higher education for many.
Without any strategy on how you will pay for college, you might find yourself dropping out as soon as it's time to pay for tuition or purchase some school supplies and you don't have the right amount in your pocket or savings.
You haven't researched colleges
Building a balanced college list is important not only for increasing your chances of getting accepted to at least a single institution but also making it more likely that you will attend the school that accepts you.
Not spending enough time researching colleges is an indicator that you are not taking going to college seriously.
You are poor with time management and organization
Earlier, we mentioned that one of the signs that a student is ready for college is if he or she craves independence.
To succeed, you will have to possess and employ a number of skills, and using your time wisely and staying organized are some of the most important not only as a college student but also as an independent person.
You cannot commit to anything
Given that it can take a while as well as it can take lots of hard work and determination to earn an undergraduate degree, going to college is an endeavor that requires commitment.
It's probably a much better idea to do something else if you believe you cannot commit to college as of the time being.
You cannot stand being away from family and friends
Homesickness is real among those who are attending postsecondary institutions — anywhere from 19% to 70% of all first-year college students are homesick, says a journal published by the National Center for Biotechnology Information (NCBI).
Attending a nearby in-state college is an option if you are someone who has separation anxiety.
You would much rather get a job
High school graduates who are not in college are 2 times more likely to be in the labor force as high school graduates who are in college, says the US Bureau of Labor Statistics (BLS).
Feeling like working is a much better use of your time than going to college may mean that you are not ready for college.
What is College Readiness and Why is It Important?
In a nutshell, college readiness is having an understanding of what is expected in a college program as well as the knowledge and skills it's designed to convey and develop, too. Additionally, it entails preparedness for the unique college experience by understanding the structure, culture and norms of the postsecondary environment.
Because college is a different world from high school, students should be ready to employ a different set of learning strategies and coping mechanisms from those that were acquired and honed in secondary education to succeed.
College readiness, in other words, is essential for students to achieve their higher education pursuits.
What to do if you are not ready for college
Individuals who feel that they are not ready to head to college after high school have a number of options to use their time meaningfully and productively, thus allowing them to achieve something as they wait for the time they are prepared to take on the various challenges college brings.
Many will also allow them to learn things just like in a traditional classroom.
Some of the most popular alternatives to working on a 4-year degree are as follows:
Taking a gap year
Entering the workforce
Pursuing an internship or apprenticeship
Starting a business
Attending a community college
Enrolling in a trade or vocational school
Registering for Massive Open Online Courses (MOOCs)
The goal is to find what seems to be fitting intellectually, emotionally, financially and socially to determine which alternative is best for someone who believes that it's not yet time to attend college.