So, your high school is one of the more than 22,600 schools in the US with an Advanced Placement (AP) program. You may be wondering what those AP classes and AP exams are that it offers.
AP exams allow you to enjoy credit at many colleges and universities in the country. Similarly, they may also allow you to get placement in advanced college classes. However, you should get a score of 3 or higher such as a 4 or a 5 if you like to take these examinations, especially if you wish to apply to a selective school like an Ivy League.
Read on if you're planning on attending some AP classes and taking certain AP exams.
Is AP Important for College Admissions?
While AP exams are not considered college admissions tests, they may help increase admissions chances in some situations.
For instance, AP exam scores of 4 or 5 may help set the applicant apart from other competitive hopefuls. AP courses, on the other hand, are the ones with a direct impact on admissions chances where academic rigor is taken into account.
Do You Have to Take AP?
Some high schools require students to take both AP courses and AP exams, such as in the case of various ones in Texas. As a matter of fact, some of them offer incentives to test-takers who get a score of 3 or higher.
Otherwise, it's completely up to high school teens to decide whether or not they will take AP classes and/or sit for AP tests.
Of course, it's a good idea for college-bound students who wish to get into selective schools to take AP courses and those who intend to earn college credit to undergo AP exams.
Can Colleges See How Many Times You Took AP?
Colleges and universities can see how many times an applicant took an AP exam based on the number of AP scores they receive — an AP score report sent to the designated academic institution or scholarship program includes all scores from all AP exams a student took in the past.
However, a test-taker has the option to withhold or cancel any of his or her scores.
What is on AP?
AP exams are standardized tests for measuring the proficiency of test-takers of specific AP courses. There are a total of 38 AP exams from across various disciplines. The AP website suggests that high school students select AP exams to take based on the college-level subjects that they excel in and are passionate about.
How Many Sections are on AP?
Like the SAT, the vast majority of AP exams are made up of 2 different sections. Each section is made up of different question types — multiple-choice for the first one and free-response for the other.
While the first section has more questions that test-takers have to answer, in most instances, the second section has more weight in the raw or composite score.
There are some AP exams whose main sections are divided into subsections. For instance, the AP French Language and Culture test has section 1A, section 1B, section 2A and section 2B.
How Many Questions is AP?
The number of questions AP exams have can vary greatly from test to test. For instance, many of the exams in the AP World Languages and Cultures category have 30 multiple-choice questions in the first section.
On the other hand, some tests such as AP Art History and AP Environmental Science have as many as 80 multiple-choice questions in the first section.
It's important to bear in mind that other than the multiple-choice questions in the first section, there are also free-response questions in the second section — we will talk about them shortly.
What Kind of Math is on AP?
A total of 4 AP math exams are available, all of which are designed to evaluate the readiness of test-takers for college-level mathematics. In the past, there were only 3 AP exams in mathematics.
However, in 2023, the College Board debuted the AP Precalculus test, whose very first exam session is set for 2024.
The following are the different AP math exams:
Is There Science on AP?
There are a total of 7 hard science AP exams. Given that they are in the STEM field, it goes without saying that the sciences are some of the hardest AP tests.
For instance, only 39.2% of all test-takers get a score of 3 in AP Physics 1. Meanwhile, only 13.60% of them get a score of 4, while only 4.30% of them get a score of 5.
Below is a list of all AP examinations in the sciences:
Is There Writing on AP?
A writing section can be found on a couple of AP exams: the AP English Language and Composition and the AP English Literature and Composition exams.
As a matter of fact, each of them requires test-takers to write a total of 3 essays in their free-response sections. Students taking AP exams with writing sections are given 40 minutes to write each essay.
It's important for high schoolers to note that the essays they write can have a significant impact on their scores. For the AP English Literature and Composition exam, for instance, the writing section accounts for up to 55% of their overall grade.
How Does AP Work?
AP exams are paper and pencil standardized tests —some AP tests have digital versions, which we will discuss shortly — that allow high schoolers to earn either college credit or placement.
Each of the 38 AP exams has a different number of questions and testing times.
On the other hand, AP courses increase the rigor level of one's high school record.
What Does AP Measure?
The knowledge and skill levels of students in certain college-level AP courses are what AP exams are designed to measure. The AP scores they get are then used by admissions officers for credit and placement purposes. AP courses on which all AP exams are based, in contrast, are designed to measure the readiness of students for college coursework.
Is AP Multiple Choice?
Some of the questions in AP exams are multiple-choice questions, and they are the kinds of questions asked in the first section — the second section, meanwhile, are free-response questions that usually require test-takers to give essay answers.
The number of multiple-choice questions can range from as few as 30 to 40 plus to as many as 75 to 80.
Every multiple-choice question in an AP exam comes with either 4 or 5 answer options.
In most instances, too, the first section consisting of multiple-choice questions makes up a smaller percentage of the student's raw score than the second section consisting of free-response questions.
Is AP a Standardized Test?
AP exams are considered standardized tests because all test-takers need to answer the same set of questions per exam — no matter in which year of high school they take AP exams, students have to answer the very same questions.
In addition, the College Board grades all AP exams in the same manner using a 5-point scale system.
While both AP and the SAT are standardized tests, AP exams are not college entrance exams like the SAT.
When Do You Take AP Tests?
Most high school students take AP exams in their junior and senior years.
Because there is no age limit for taking AP exams, some freshman and sophomore high schoolers also sit for AP exams — all they have to do is find a test center, usually a high school, that's willing to administer the tests to them. Students can retake AP exams as they like.
AP exams are given once a year only, starting from the first week of May and until over a few weeks.
How to Guess on AP
The right way to guess on an AP exam is to eliminate as many wrong answers a test-taker can identify confidently. The more incorrect answers they can cross out of the options, the higher the chances of getting the correct answer. For instance, eliminating 3 wrong answers out of the 5 options gives the student a 50/50 chance of getting it right.
How Long is AP?
Generally speaking, AP exams are anywhere from 1 to 2 hours long. Many of them, however, are almost or over 3 hours long.
The amount of time a test-taker is given to complete a particular AP test depends on the number of questions, content and difficulty level. AP exams are divided into 2 sections, separated by a 10-minute break.
In most instances, the first section of an AP exam consists of multiple-choice questions, while the second section, in many instances, consists of free-response questions.
Let's take a look at the length of some AP tests:
How Does AP Scoring Work?
For most AP exams, the raw score is the weighted combination of the 2 sections — the multiple-choice section and the free-response section. Incorrectly answered questions do not lower the raw score since there is no penalty for wrong answers. Afterward, the raw score is converted into a 5-point scale and reported that way.
Every AP exam has a different raw score cutoff for the 5-point scale conversion. But to give you a much better idea of how it works, take a look at the following table:
| | |
| --- | --- |
| Raw Score | Scaled Score |
| 150 to 104 | 5 |
| 103 to 92 | 4 |
| 91 to 76 | 3 |
| 75 to 50 | 2 |
| 49 to 0 | 1 |
AP Exam Scores
What is a Good AP Score?
A good AP score, generally speaking, is a 3. However, a score of 4 or 5 is the score that will most likely allow a test-taker to get AP credit, especially at selective colleges and universities that accept AP courses and exams.
For a student to have a better idea of whether or not he or she scored well, the obtained score may be compared with the average.
The College Board says that, in 2022, the mean score for AP exams was 2.92, which means that more than 60% of all AP exams taken in that year earned a score of 3 or higher.
Facts About AP
No matter the subject matter or length, all AP exams cost $93 each. High schools administering AP exams could also charge test-takers extra to cover administration costs. On the other hand, AP courses are free of charge.
Below are some other facts you might want to know about the AP program.
History of AP
It was in the 1950s when the AP program came into being. It was instituted as a result of policymakers fearing that American high schools were not preparing their students enough for college.
Also, through the investigation conducted by the Fund for the Advancement of Education (FAE), which was created by the Ford Foundation, it was realized that freshmen college students were merely repeating entry-level courses that they had already learned in their secondary education careers.
Due to this, the concept of advanced placement was born.
Curricula consisting of introductory college-level courses, eventually, were implemented in high schools. Similarly, in 1954, the very first set of AP exams was administered at 27 academic institutions.
Who Created AP?
The AP program was created by the College Board, the same creator of the SAT and CLEP exams. It's also the same non-profit organization that develops and administers AP exams.
The questions on AP exams are written by AP teachers and college faculty members that teach college courses that correspond to their respective AP courses.
What is the College Board?
Formerly known as the College Entrance Examination Board (CEEB), the College Board is a non-profit that was founded by 12 academic institutions, including Bryn Mawr, Columbia, Cornell, NYU, Princeton, Rutgers, UPenn and Vassar to expand higher education access.
These days, more than 6,000 institutions and organizations compose the College Board.
How Many People Take AP?
According to data provided by the College Board, almost 1.2 million high school students in the US took AP exams in 2022. All in all, the total number of AP exams taken by the said test-takers amounted to 4 million.
It added that, in the same year, about 34.6% of all public high school students in the US took at least 1 AP exam.
Meanwhile, in 2022, 18,174 students across the world took IB exams. This means that AP exams are more popular than IB exams, although it doesn't necessarily make it better than the international program.
What is AP Designed to Predict?
AP exams are designed to evaluate a high school student's mastery of the content and skills of a particular AP course. In addition, they give test-takers the opportunity to earn either college credit or college placement, depending on their AP exam scores as well as AP credit policy of the postsecondary institutions they are applying to or attending.
Other than American colleges and universities, various degree-granting schools from more than 60 countries accept AP.
Does AP Have an Essay?
In the second section of most AP exams, test-takers have to answer free-response questions in essays.
So, in other words, technically speaking, it's very much likely for high school students sitting for an AP exam to have to write essays. Some AP exams have different essay prompts that test-takers need to take care of, particularly those with composition elements.
Does AP Provide Calculators?
Test centers administering AP exams do not provide calculators. It goes without saying that AP test-takers need to bring their own for math exams as well as some science ones, such as AP Biology and AP Chemistry.
It's possible for students to take AP exams without a calculator, though they will have to sign a Calculator Release Statement on the test day.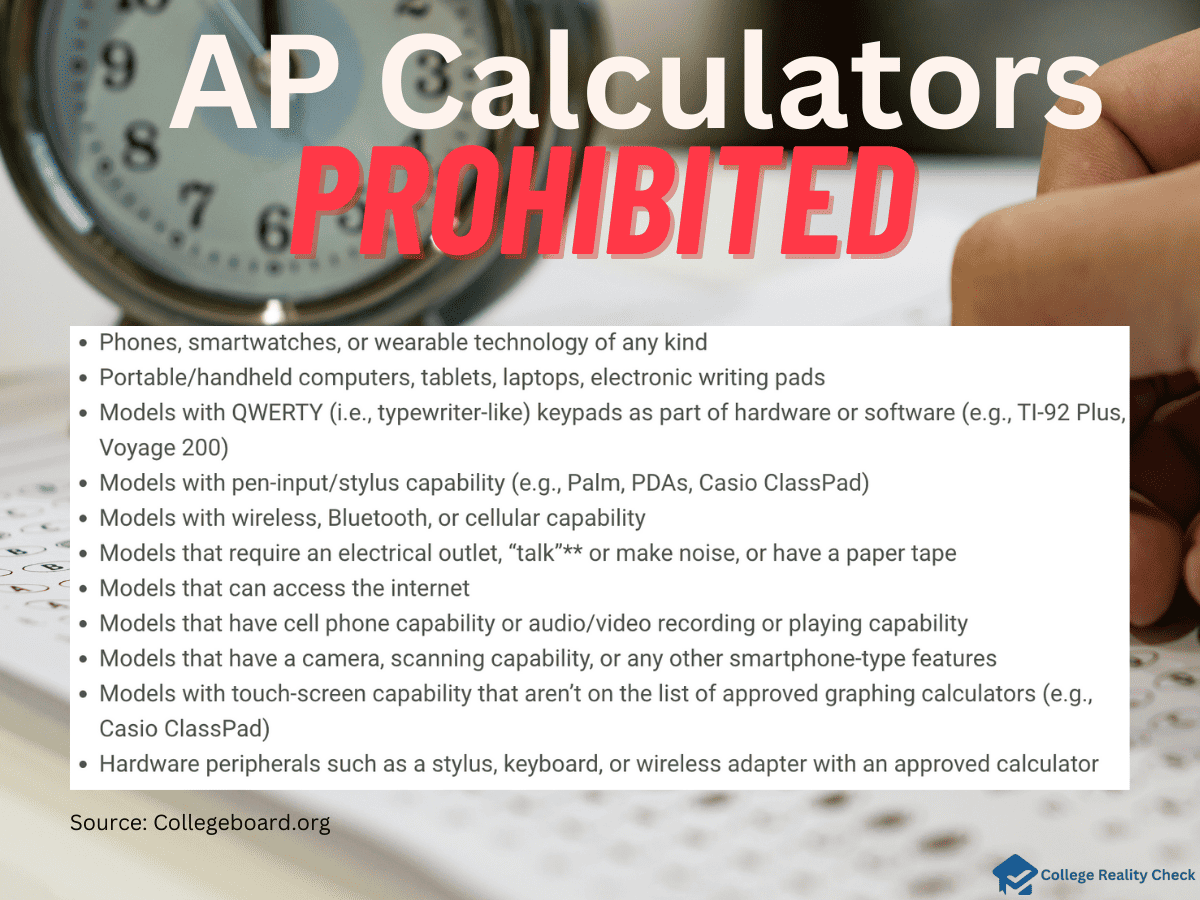 Here's a list of calculators allowed by the College Board for certain AP tests.
Changes in AP Exams
In 2021, AP exams saw numerous changes.
Some of the major modifications to the said standardized test were additional testing dates, mixed testing dates and testing administration, and extra make-up testing dates.
Although the vast majority of AP exams back then were administered in the traditional paper and pencil format, some AP tests were digitally administered, too.
However, test-takers were not able to choose their preferred testing format — whether they would have to take AP exams in-person or digitally depended on which tests they were taking and their districts.
In 2023, 7 AP exams were available digitally, and they are as follows:
When Does AP Go Digital?
As of this writing, it's not known whether or not AP exams will go digital entirely. However, some AP exams are administered digitally, although they are completely optional. But it's vital to note that the digital versions of certain AP exams have the same content and length as their traditional counterparts.
How to Study for AP
While it's not a requirement to attend the AP course corresponding to a particular AP exam, the College Board recommends high schoolers complete the AP courses beforehand to help increase their AP exam scores, thus allowing them to receive college credit and/or placement at postsecondary institutions that accept AP.
Regardless, getting into AP prep mode 1 to 3 months before the AP examination is a good idea.
It's also important for students to take practice AP tests to familiarize themselves with the AP test format and questions as well as determine their weak areas so that they can devote more time to studying them.
AP Practice Tests
In this part of the post, we'll take a look at 5 AP English Literature sample questions and 5 AP Precalculus sample questions to give you an idea of what sort of questions you will encounter when taking an AP exam.
AP English Literature
Now to the ascent of that steep savage hill
Satan had journeyed on, pensive and slow;
But further way found none; so thick entwined,
As one continued brake, the undergrowth
Of shrubs and tangling bushes had perplexed (line 5)
All path of man or beast that passed that way.
One gate there only was, and that looked east
On the other side. Which when the Arch-Felon saw,
Due entrance he disdained, and, in contempt,
At one slight bound high overleaped all bound (line 10)
Of hill or highest wall, and sheer within
Lights on his feet. As when a prowling wolf,
Whom hunger drives to seek new haunt for prey,
Watching where shepherds pen their flocks at eve,
In hurdled cotes amid the field secure, (line 15)
Leaps o'er the fence with ease into the fold;
Or as a thief, bent to unhoard the cash
Of some rich burgher, whose substantial doors,
Cross-barred and bolted fast, fear no assault,
In at the window climbs, or o'er the tiles; (line 20)
So climb this first grand Thief into God's fold:
So since into his Church lewd hirelings climb.
1. Satan's action is best described as:
2. In line 5, "perplexed" is best interpreted to mean:
3. In which of the lines does an epic smile begin?
4. Which of the lines contains a play on words?
5. In line 15, "hurdled cotes" refers to:
Answer key:
AP Precalculus
1. The function f is given by f(x) = + 2sin(4x) + cos(2x). Using the period of f, which of the following is the number of complete cycles of the graph of f in the xy-plane on the interval 0 ≤ x ≤ 1000?
2. In a certain simulation, the population of a bacteria colony can be modeled using a geometric sequence, where the first day of the simulation is day 1. The population on day 4 was 4,000 bacteria, and the population on day 8 was 49,000 bacteria. What was the population of the colony on day 6 based on the simulation?
3. The polynomial function p is given by p(x) = (x + 3) (x2 – 2x – 15). Which of the following describes the zeros of p?
4. Fully expand the expression: (x + 4)2
5. Let f be a rational function that is graphed in the xy-plane. Consider x = 1 and x = 7. The polynomial in the numerator of f has a zero at x = 1 and does not have a zero at x = 7. The polynomial in the denominator of f has zeros at both x = 1 and x = 7. The multiplicities of the zeros at x = 1 in the numerator and in the denominator are equal. Which of the following statements is true?
Answer key:
The sample questions above are from the following sites:
https://secure-media.collegeboard.org/
https://www.varsitytutors.com/
Should I Take AP or IB?
AP exams and IB exams have many things in common. Of course, both of them allow students to earn college credit, and their corresponding classes help increase academic rigor, which can prove to be beneficial for high schoolers who are eyeing admission to some of the most selective colleges and universities.
However, there are also differences between them, which must be taken into account.
IB exams, for one, assess test-takers' knowledge and skills in 6 different subject areas, whereas there are 39 areas to choose from with AP exams. Also, students cannot take IB exams without successfully completing IB courses. When it comes to the cost, AP exams are cheaper — $93 each vs. $125 each.
Colleges that accept both AP exam scores and IB exam scores do not prefer one over the other. So, in the end, high schoolers should choose between these tests according to their needs and preferences.
Read Next: What is IB?