What is Hampton University Known For?
Hampton University (HU or Hampton) is a private historically black college and university (HBCU) that's located in Hampton, Virginia.
It was established in 1868 to provide education to freed slaves.
HU is ranked #219 in National Universities and #6 in Historically Black Colleges and Universities by US News.

Undergraduate students at Hampton University, which amount to 3,313, can choose from more than 50 majors, the most popular of which are business, communications, journalism, and psychology.
It has an acceptance rate of 80% and admits have an average GPA of 3.3.
HU graduates have an average starting salary of $52,600 per year.

Feel that you need to know Hampton University more to decide if you should add it to your college list?

Don't stop reading now — below, I will talk about some of the most important matters you need to know about this highly-ranked HBCU to help you make a more informed decision come college application cycle.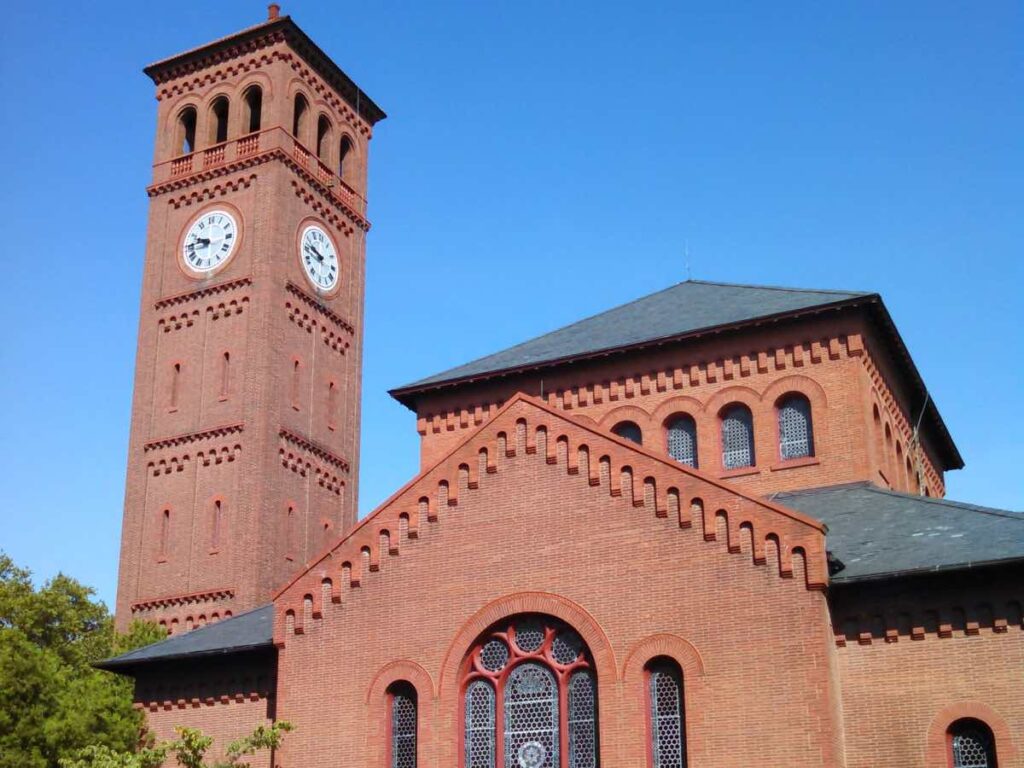 Facts About Hampton University
It was in 1868 when Hampton University was founded by Samuel Chapman Armstrong. He was the son of an important missionary family that migrated to Hawaii in the early 1800s.
When the Civil War erupted, Armstrong was enrolled at Massachusetts-based Williams College.
He volunteered for the Union Army during that time. Quickly, he rose in rank.
It's for this reason why he was given command of an African-American military unit.
Armstrong was already Brevet General when the Civil War came to an end. Afterward, he worked with the Freedmen's Bureau.
While employed at the said agency, Armstrong realized that the recently freed slaves were in dire need of education and vocational skills.
This is how he founded Hampton Normal and Agricultural Institute with the help of the American Missionary Society and numerous philanthropists.
From the late 1900s to the 1920s, many programs and facilities were introduced.
In 1930, Hampton Normal and Agricultural Institute became Hampton Institute.
However, the Great Depression caused the school to experience a drop in enrollment, budget cuts and dismissal of staff members.
It's because of this that Hampton Institute closed up shop in 1940.
But when World War II came, its campus reopened and served as a training facility. The school purchased many of the buildings erected during that time — they are still in use these days.
It was only in 1984 when the institution's name was changed to Hampton University as a response to the rapid growth and development in the quality of academic offerings, faculty members and students.
Here are some quick facts about Hampton you need to know about…
Location: Hampton, Virginia
Campus type: Urban
Size: 314 acres
Population: 3,516
Education system: Research
School type: Private, historically black university
Reputation: Non-party school
Motto: The Standard of Excellence, An Education for Life
Number of majors: 52
Best majors: Business Administration, Business Management, Liberal Studies, Psychology, Biological Sciences
Selectivity: Selective
Average class size: Less than 30 students in 70.1% of classes
Student-to-faculty ratio: 13:1
Retention rate: 74%
Graduation rate: 54.1%
Colors: Columbia Royal blue and white
Athletic affiliation: NCAA Division I FCS
Mascot: Pirates
Sports: Basketball, volleyball, softball, football, tennis, lacrosse, golf, sailing, track and field
Varsity teams: 19
What is the Acceptance Rate at Hampton University?
The acceptance rate at Hampton University is 36%, which means that it is a selective school. Applicants should be above-average students in their high school class and have high SAT or ACT scores.
It's also a must for the various components of their application to be strong to get accepted.
Sending an application to colleges and universities consumes time and energy.
What's more, it doesn't come free of charge. The average cost of the application fee amounts to 50$.
Especially if you don't want to waste your resources, it's a good idea to check out a school's acceptance rate before sending your application to it.
Since the acceptance rate at Hampton is only 36%, consider sending your application to another HBCU if you know for a fact that your application is not that strong.
The good news is that while Hampton University is a selective school, other HBCUs have lower acceptance rates.
For comparison purposes, let's take a look at the acceptance rates of five of the most selective HBCUs:
| SCHOOL | ACCEPTANCE RATE |
| --- | --- |
| Albany State University | 19.50% |
| Lincoln University | 25.40% |
| Rust College | 32.80% |
| University of Arkansas – Pine Bluff | 32.80% |
| Dillard University | 33.40% |
What GPA Do You Need to Get Into Hampton University?
Applicants need to have a GPA of at least 3.30 to gain admission into Hampton University. This means that the HBCU is looking for above-average high school students.
Having more A's than B's and taking challenging AP or IB classes can increase one's chances of receiving an acceptance letter.
Earlier, it was mentioned that Hampton is a selective school.
One of the primary reasons why only a small fraction of applicants get accepted is that it's looking for students with rather high GPAs.
But just because your GPA is lower than 3.30 doesn't mean that you should send your application to another college or university.
According to Hampton University itself, it has a holistic admissions process. This means that the school's admissions officers consider many other things when deciding, not just the GPA of an applicant.
So, in other words, you may still gain admission into Hampton if the rest of your application is strong, but your GPA is not that high.
Similarly, you may still get rejected if your GPA is higher than 3.30, but your overall application is weak.
Getting into Hampton
Hampton University does not offer early decision (ED). Applicants only have two decision plans to choose from: early action (EA) and regular decision (RD).
Unlike ED, EA does not increase the chances of applicants getting accepted. However, it allows them to learn about the decision earlier.
Many students, especially those who already know which colleges or universities they wish to go to, apply ED. Some schools offer two rounds of ED, which have different deadlines and notification dates.
Just like ED, EA also enables you to learn earlier than others the decision of Hampton University.
However, unlike ED, EA is not binding.
This means that you do not have to commit to the school until the reply date of May 1. There is no need to worry about getting penalized should you decide to go to another school after Hampton accepts you.
To make sure that you won't miss any application deadline at Hampton University, check out this table:
| | | |
| --- | --- | --- |
| DECISION PLAN | APPLICATION DUE | NOTIFICATION DUE |
| EA | 1-Nov | January |
| RD | 1-Mar | Rolling admission |
* Always check the college website for the latest dates
Besides deadlines for both decision plans, it's also important to be familiar with the things to submit to Hampton.
Knowing what they are can help fend off unnecessary stress due to and delay with the application process.
Here are the things you should submit to the school's admissions office:
Application
Application fee ($50)
Official high school transcript
Letter of recommendation (from the high school guidance counselor or a teacher)
Admission essay
Test scores
Is Hampton University Test-Optional?
Hampton University is partly a test-optional school. Applicants with a GPA of 3.30 or higher or who rank in the top 10% of their class have the option to decide whether or not to submit their test scores.
Besides the GPA, another number that the admissions officers of most schools consider is an applicant's test score.
If your GPA meets Hampton's minimum requirements, you may or may not submit your SAT or ACT score. This can work to your advantage if you are not proud of your test score.
But if your SAT or ACT score is high, it's a good idea to submit it anyway to show the admissions officers that you are exactly what they are looking for.
Half the applicants accepted into Hampton University have SAT scores between 1030 and 1160 or ACT scores between 20 and 25. However, one-fourth of applicants accepted into the HBCU have higher SAT and ACT scores.
Are you applying for a merit-based scholarship? Then you should submit your test scores together with your application.
How Much Does It Cost to Go to Hampton University?
The cost of going to Hampton University for one academic year amounts to $42,648. The tuition for both in-state and out-of-state students amounts to $26,198.
The room and board, which all first-year students have to pay for because they are required to live on-campus, amounts to $12,986.
Currently, there are 101 HBCUs in the country.
In the ranking by Great Value Colleges entitled 50 Most Affordable Historically Black Colleges and Universities, Hampton is nowhere to be found.
It goes without saying that it's not cheap to go to Hampton University.
The good news is that Hampton University offers scholarships, all of them merit-based. Awards per academic year range from $5,000 to $25,000.
To qualify, applicants must have SAT scores of 1200 to 1290 or ACT scores of 27 to 28.
Awardees should attain a cumulative 3.30 grade point average by the end of the spring semester each academic year.
Before we proceed to the next topic, let's take a look at the breakdown of the COA for Hampton:
| FEES | COST |
| --- | --- |
| Tuition | $26,198 |
| Comprehensive Fee | $2,964 |
| Room and board | $12,986 |
| Technology Fee | $250 |
| Cable/Phone Fee | $250 |
| TOTAL | $42,648 |
Hampton Cost of Attendance
Hampton University Notable Alumni
Let's check out some of the most notable alumni of Hampton, many of which you may be familiar with:
Booker T. Washington. An educator and advisor to many US presidents, Booker T. Washington is considered one of the most notable alumni of Hampton University. He graduated from the institution in 1875 at the age of 16. The school dedicated a Booker T. Washington memorial on campus in 1984.
Alberta Williams King. An important role player in the Ebenezer Baptist Church's affairs, Alberta Williams King was the mother of Martin Luther King Jr., who was known for using non-violent resistance in order to deal with injustice. In 1924, she graduated from Hampton University with a teaching certificate.
Mary Jackson. A black aerospace engineer at the National Advisory Committee for Aeronautics (NACA) and later the National Aeronautics and Space Administration (NASA), Mary Jackson's life was told in the movie, Hidden Figures. She earned her bachelor's degree in Physical Science and Mathematics from Hampton in 1942.
Mychal Denzel Smith. A TV commentator and author, Mychal Denzel Smith wrote the New York Times bestselling book, Invisible Man, Got the Whole World Watching: A Young Black Man's Education. He went to Hampton, where he was also the editor-in-chief of The Script, the school's newspaper.
Douglas Palmer. On July 1, 1990, Douglas Palmer took office as mayor of Trenton, New Jersey. He was the first-ever African-American mayor of the said capital city of The Garden State. In 1973, he completed his bachelor's degree in Business Management from Hampton University.
Sylvia Trent-Adams. The surgeon general of the US in 2017, Sylvia Trent-Adams was named to the board of directors for American Mobile Nurses (AMN) healthcare in 2020. She earned her bachelor's degree in Nursing from Hampton, and went on to earn her master of science and doctorate degrees in Nursing from other schools.
Charles Phillips. An African-American business exec in the tech industry, Charles Phillips is the CEO of Infor, which is the world's largest privately-owned software and the world's third-largest provider of enterprise applications and services. He earned his master's in Business Administration from Hampton in 1986.
St. Clair Drake. Together with Horace R. Clayton, St. Clair Drake wrote Black Metropolis: A Study of Negro Life in a Northern City, which was a significant study of race and urban life. He graduated from Hampton University, where he played for the soccer team, with a bachelor's degree in Biology in 1931.
Devin Green. From 2001 to 2005, Devin Green was attending Hampton, where he played for college basketball. He was signed by the LA Lakers when he was undrafted out of Hampton University. He also played for various NBA teams such as the Miami Heat and the Minnesota Timberwolves.
Wanda Sykes. A writer, actress and comedian, Wanda Sykes was named by Entertainment Weekly in 2004 as one of the 25 funniest people in the US. A Primetime Emmy Award winner in 1999 for her work as a writer on The Chris Rock Show, she earned her bachelor's degree in Marketing from Hampton.
How Does Hampton University Compare With Other Schools?
Hampton University has a higher selectivity level than most HBCUs, making it more prestigious.
However, it has a higher COA than other HBCUs, causing students from low-income backgrounds to steer clear of it.
Hampton's retention and graduation rates are pretty much the same as those of most HBCUs.
The following is a quick comparison of Hampton University with some of the most popular HBCUs:
Hampton vs. Florida A&M University
Hampton has a significantly higher COA than FAMU. The COA for FAMU for one academic year amounts to $23,392 only. Since FAMU is a public institution, its tuition is cheaper for in-state students. Both Hampton and FAMU offer a total of 52 majors.
Hampton vs. Morehouse College
Gaining admission into Hampton is harder than Morehouse because it has a lower acceptance rate — 36% vs. 99.8%. However, Hampton has a campus size that's almost five times larger than the campus of Morehouse, although the latter has a smaller population (2,253).
Hampton vs. Tuskegee University
The retention rates of Hampton and Tuskegee are almost the same — 74% vs. 71%. A school's retention rate can be used to gauge the satisfaction of its first-year students. However, the graduation rate of Hampton is a little over 10% higher than that of Tuskegee.
Hampton vs. Xavier University of Louisiana
Because XULA has a higher acceptance rate (60%) than Hampton, it's so much easier to gain admission into the school located in New Orleans. However, XULA offers only 30 majors. Hampton, on the other hand, offers a total of 52 majors.
Hampton vs. Howard University
It's true that Hampton and Howard have practically the same acceptance rates. However, Howard's early acceptance rate is higher — 50.6% vs. 43.7%. For the academic year 2020 to 2021, Howard has higher room and board charges than Hampton — $19,794 vs. $12,986.
Hampton vs. Spelman College
Hampton is more selective than Spelman, which has an acceptance rate of 43.4%. However, Spelman tends to rank higher than Hampton in many college rankings. For instance, in US News' Best HBCUs, Spelman is number one, while Hampton is number five.
Is Hampton a Good School
Hampton University is known for its 314-acre campus, a large portion of which is a US National Historic Landmark District.
It's also known for being selective, with an acceptance rate of 36%. Some of Hampton's top majors include Liberal Studies, Psychology, and Business Administration and Management.
Hampton University has a low acceptance rate, which means that you should have a strong application before sending it to the HBCU.
Luckily, it has a holistic admissions process.
So, in other words, it's not just your GPA and SAT or ACT score that the school's admissions officers will take a look at, but other components of your application, too.
Read Next: Best HBCU Colleges By Major

Disclaimer: The views and opinions expressed in this article are those of the authors and do not necessarily represent those of the College Reality Check.