Is Harvard Better Than Cambridge University?
Your persistence in high school can pay off in the form of a college application that can impress some of the most elite universities not only in the US but also elsewhere on the planet. And speaking of which, two of the institutions that you can select and still come up with a realistic college list are Harvard University and the University of Cambridge.
In both the QS World University Rankings 2023 and US News Best Global Universities Rankings 2023, these equally prestigious schools found in different continents are in the top 10.
Where should a top-performing high schooler like you who wants the best undergraduate education apply?
Harvard is ideal for computer science and business- and medicine-related majors. Most of its graduates end up in the finance and healthcare industries. Meanwhile, many Cambridge graduates wind up in academia, research and public service. Many apply to it for its social sciences and engineering courses.
Read on if you are bent on putting Harvard and Cambridge at the top of your college list but still unsure as to which one to pick should both of them get impressed with your application and give you an offer to enroll.
In this post, I will talk about the key similarities and differences between these outstanding institutions that so many domestic and international students dream of attending. While it may seem like they're both great choices for you, after you are done checking this out you will realize that one is so much better for you than the other.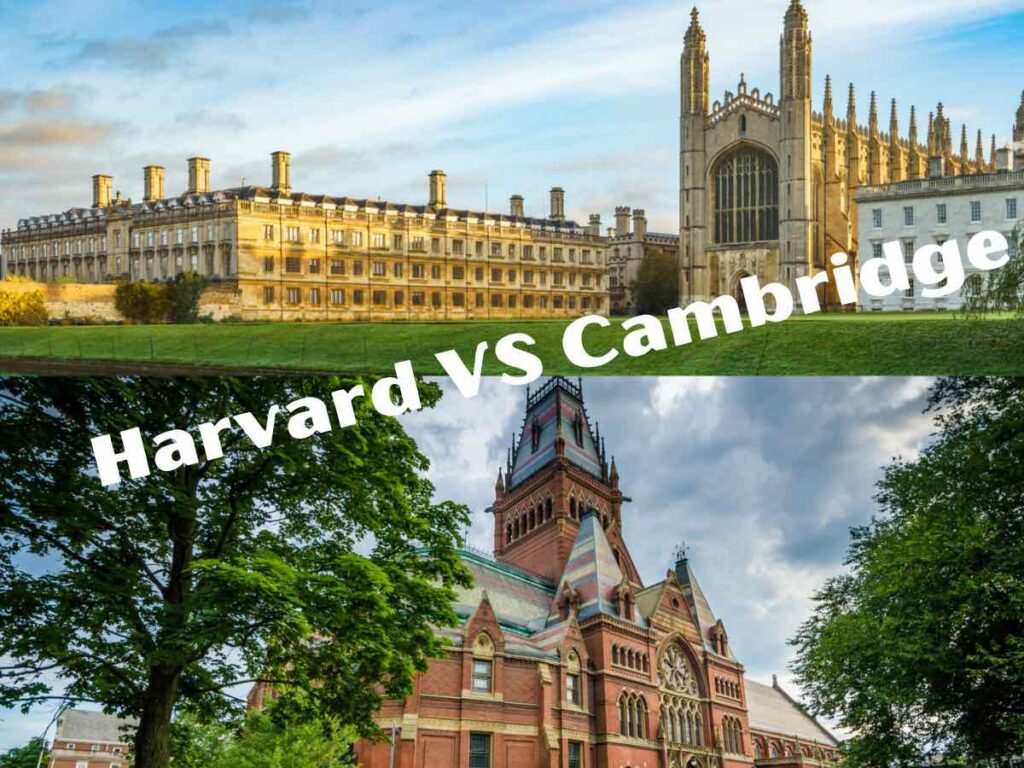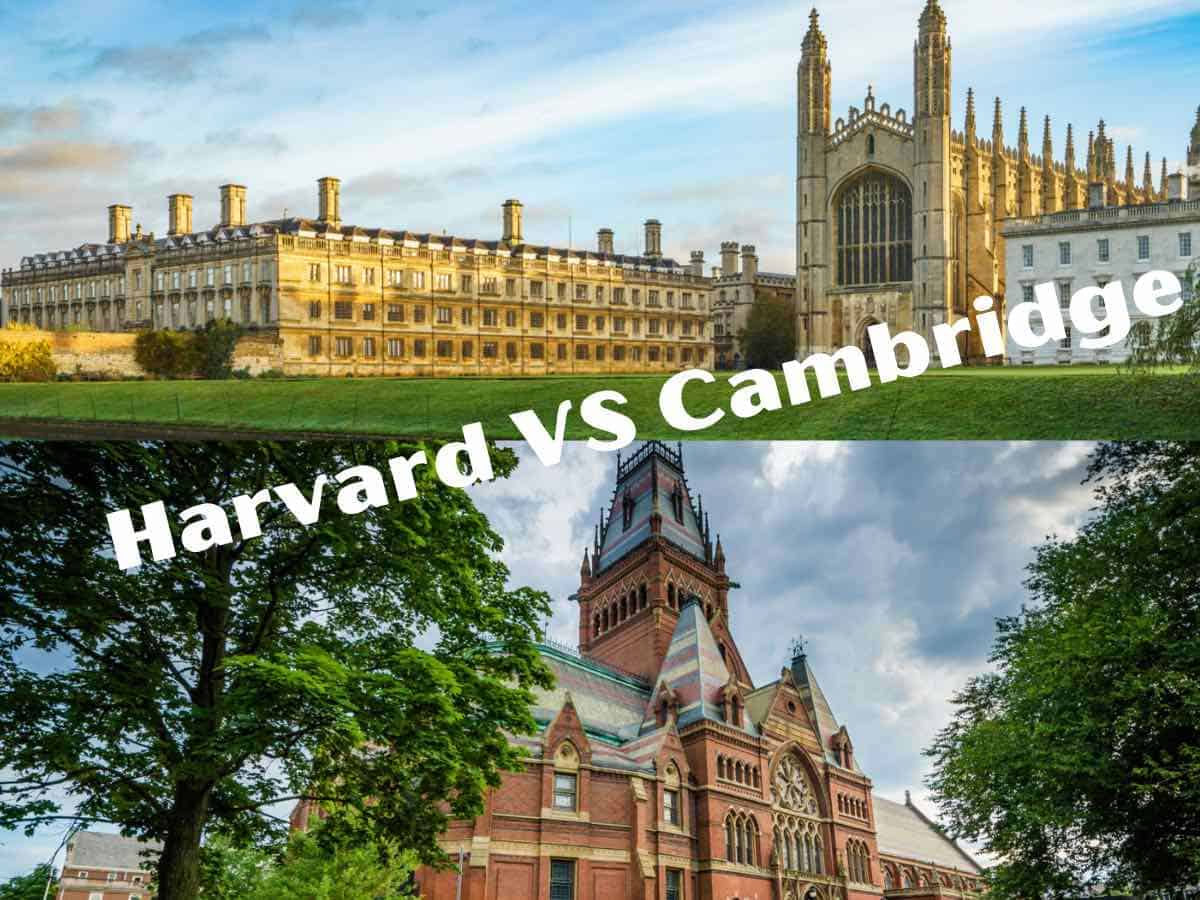 Harvard University vs University of Cambridge
Getting to know both Harvard University and the University of Cambridge more is the first step to take if you like these schools equally but, of course, you can only attend one of them.
The goal is to determine which one is the better fit for you.
Harvard University
It's no secret that Harvard University is one of the 8 Ivy Leagues in the US. Not only is it just any Ivy League — Harvard is the oldest institution of higher education among all Ivy Leagues (it was founded back in 1636) and the most selective among all Ivy Leagues (its acceptance rate, as of this writing, is 4% only.)
Located in Cambridge, Massachusetts, its campus is 5,076 acres big and has an urban setting, which makes it ideal for students who tend to thrive so much better in the hustle and bustle that city living offers.
The following are some of the 2023 US News rankings of Harvard:
#1 in Best Global Universities
#3 in National Universities
#18 in Best Undergraduate Teaching
Based on 2021 data, Harvard is home to 7,153 undergraduate students. Despite being a massive university, most classes at the prestigious institution consist of less than 20 students. And for every 7 students, according to the student-to-faculty ratio indicated on the school's latest common data set, there is 1 faculty member available.
Harvard is not a party school. But it doesn't mean that its students do not party at all. As a matter of fact, Niche gives the Ivy League's party scene an A- grade, which is not that bad.
The school attracts certain types of students, in particular those who are looking to major in the following:
Biology
Computer information and sciences
Engineering
Foreign languages
History
Mathematics
Physical sciences
Psychology
Social sciences
There are Harvard University graduates working in just about any sector. However, as mentioned earlier, many of its alumni members can be found in finance and numerous other closely related fields. The Ivy League is known to produce some of the country's top doctors, scientists and CEOs. Many of its graduates are politicians, especially law graduates.
And speaking of which, here are some Harvard alumni members who are/were politicians:
Al Gore
Barack Obama
Franklin D. Roosevelt
George W. Bush
Henry Kissinger
John F. Kennedy
John Hancock
John Roberts
Ted Cruz
Theodore Roosevelt
Tim Kaine
The University of Cambridge
If you think that Harvard University is really old because it was founded in 1636, which makes it the oldest institution of higher education in the US, think again! The University of Cambridge is so much older than the Ivy League school — it was established in 1209, which is more than 4 centuries before Harvard came into being.
This makes the institution, which is located in Cambridge, England, the second-oldest university in the English-speaking world (the first-oldest is the University of Oxford).
Cambridge has a 710-acre campus consisting of 31 autonomous colleges.
As of this writing, the world-renowned public school has a grand total of 20,385 students. Of those, 7,925 are international students, which makes up nearly 40% of its student body. About 20% of the population of where the elite institution is located is made up of the school's attendees.
Here are some of Cambridge's courses that tend to attract the most domestic and international students:
Arts and humanities
Biology
Business
Chemistry
Economics
Law
Mathematics
Physics
Psychology
Like Harvard, the University of Cambridge is a highly selective school. While the published acceptance rate, which is 21.6%, isn't a single-digit figure like the acceptance rate for Harvard, only the most competitive applicants get in. The acceptance rate for international students is slightly lower: 21.4%.
Many of those who earn a degree from Cambridge often end up in public service. It's also not uncommon for a lot of them to go on to enter the world of academia and research.
And speaking of which, here are some scientists who attended the elite university:
Charles Darwin
Ernest Rutherford
Henry Cavendish
Isaac Newton
James Chadwick
James Clerk Maxwell
Niels Bohr
Rosalind Franklin
Stephen Hawking
Cambridge, the location of the university, is both a town and a university city. It's not that large a location, but there are a number of clubs accessible to the students.
While it's not a party school as everyone in the US knows it, the University of Cambridge still made it in the 25 Hardest Partying Unis in the UK Revealed ranking by Unifresher.co.uk, which provides college students across the UK with news, tips and advice. In the said ranking, Cambridge was #25.
The following are some of the 2023 US News rankings of Cambridge:
#2 in Best Global Universities in the UK
#2 in Best Global Universities in Europe
#8 in Best Global Universities
Harvard and Cambridge Admission Requirements
Just because you believe that your high school performance is competitive enough for both Harvard University and the University of Cambridge doesn't mean that you should no longer research admission requirements and application procedures as thoroughly as the rest of your classmates.
Failure to take the necessary steps could mean failure to get an acceptance letter from your dream school.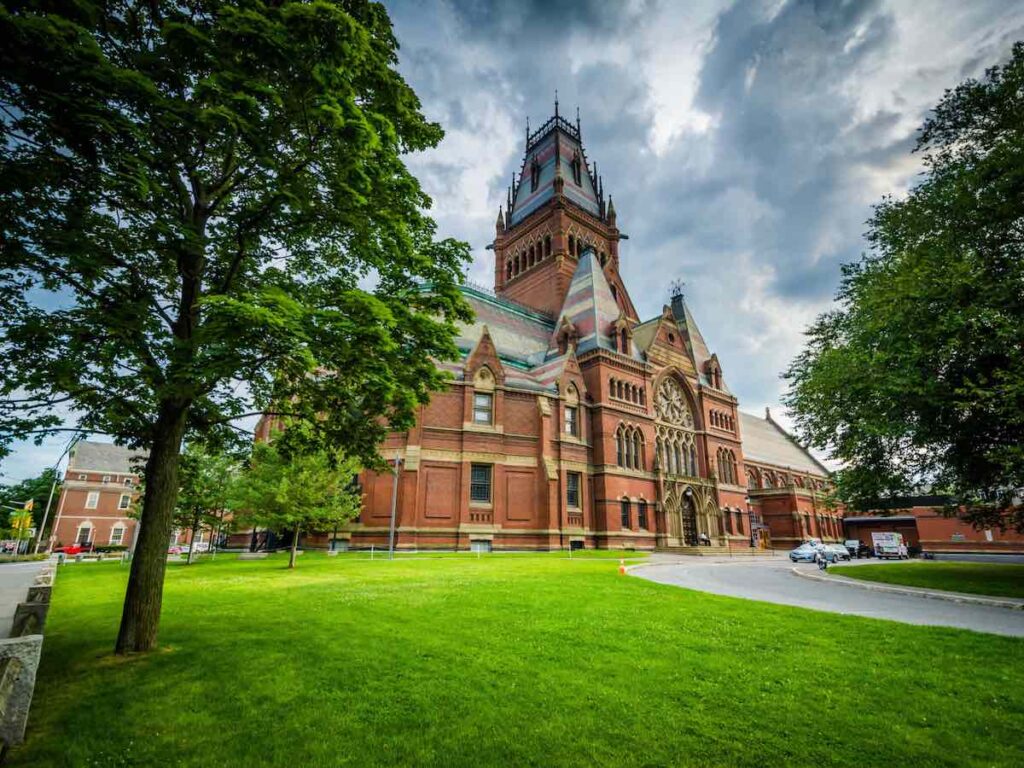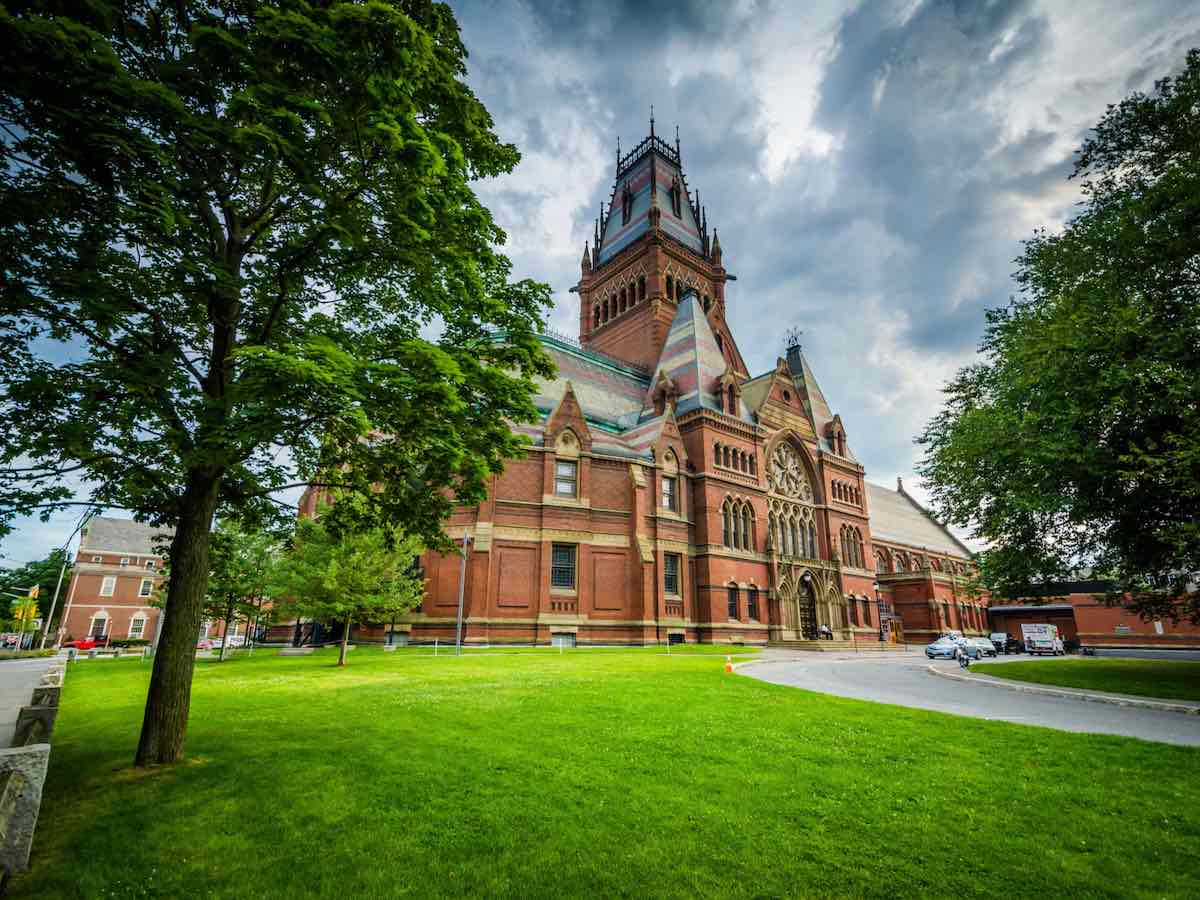 Harvard application
It's true that Harvard University doesn't have any published minimum high school GPA college-bound students need to meet in order to apply to the Ivy League school. But it's no secret that having a GPA of as close to 4.0 as possible is the key to getting admitted to the selective institution.
Check out this table from Harvard's most recent common data set to have a much better idea:
| GPA RANGE | PERCENT OF ENROLLED FRESHMAN STUDENTS |
| --- | --- |
| 4 | 72.91% |
| 3.75 to 3.99 | 20.82% |
| 3.50 to 3.74 | 4.18% |
| 3.25 to 3.49 | 1.30% |
| 3.00 to 3.24 | 0.43% |
| 2.50 to 2.99 | 0.29% |
| 2.0 to 2.49 | 0.07% |
Harvard Freshman GPA
Even though class rank is not considered a factor in the admissions process at Harvard, it's important to keep in mind that nearly 99% of first-time, first-year students admitted into the prestigious school during the academic year 2021 to 2022 were in the top quarter of their high school graduating class.
To apply to Harvard, you can use either the Common App or Coalition App.
Because of its selectivity level, it isn't surprising that Harvard requires applicants to submit more application materials than most other schools so that the admissions officers can get to know hopefuls more than their GPAs and scores.
You will have to submit only a single supplemental as a Harvard applicant. However, you may also choose to include 2 more optional supplemental. When it comes to applying to colleges and universities, especially those with low acceptance rates, anything that's optional is best submitted, too, in order to increase your admissions chances.
Another application requirement that's optional is a third recommendation letter. According to Harvard, the 2 mandatory letters of recommendation should come from teachers in different subjects.
Harvard's admissions officers recommend that applicants complete the following high school coursework:
4 years of English with a strong writing component
4 years of mathematics
4 years of science, including biology, chemistry, physics and an advanced course
4 years of the same foreign language
3 years of history, including European and US history
SAT or ACT scores are optional, too. Being a test-optional school, it's completely up to you to decide if you will submit your standardized test scores. Choosing not to submit yours will not disadvantage you in the admissions process.
Unlike many private colleges and universities in the US, Harvard does not have early decision. It doesn't mean, however, that those who pick the Ivy League as their top-choice school will have to wait for the rest to apply regular decision. That's because Harvard has what's referred to as restrictive early action (REA).
One of the nicest things about REA is that it's non-binding. This means that you are not obligated to enroll if accepted, which is a good thing because you have the opportunity to make a decision based on the financial aid offer.
However, REA prohibits you from applying ED to other institutions.
The deadline for applying REA to Harvard University is November 1. Students can expect to get admissions decision notification by mid-December. On the other hand, the deadline for applying RD to Harvard is January 1. It's by the end of March when aspirants can get to know whether they are accepted or rejected.
Cambridge application
As a student from the US, applying to Cambridge University starts with creating an account with UCAS. Short for the Universities and Colleges Admissions Service, UCAS is an admissions service shared by institutions of higher education in the UK. Domestic and international students alike apply to Cambridge through the UCAS form.
The deadlines for the submission of UCAS for international students are as follows:
September 20 (for early deadline applicants and those applying for an interview)
October 15
Given that Cambridge is one of the most prestigious schools not only in the UK but also all over the globe, it isn't surprising that having a high GPA is a must for those who hope to attend it.
Having a minimum high school GPA of 3.7 can help increase your chances of getting an acceptance letter.
But just like the vast majority of colleges and universities in the US, Cambridge has a holistic admissions process. So, in other words, it's not enough that you have a high GPA — you should also need to have a strong overall application. This is especially true since the acceptance rate for international students is slightly lower than for domestic students.
The following are some of the things that Cambridge's admissions officers review:
Academic record
School reference
Personal essay
Recommendation letters
Interview
Unlike at Harvard University where the submission of standardized test scores is optional, international students applying to Cambridge have to submit their SAT or ACT scores.
In addition, it's also a must for them to meet the minimum SAT or ACT score requirement, depending on one's preferred course. Generally speaking, as a Cambridge applicant, you should have a minimum composite SAT score of 1460 or 1500. If you took the ACT instead, you should have a minimum composite score of 32 or 33.
Took the SAT or ACT more than once? Then you must submit all your scores from all test dates.
The prestigious institution requires international students to submit a minimum of 5 AP test scores, each one having a grade of 5. Their AP test scores should be from subjects related to the Cambridge course they are applying for.
In order to have a much better idea, Cambridge recommends consulting the course list on its website.
Read Also: How to Get Into Cambridge: A Guide for US Students
College Costs and Scholarships
When building a college list, one of the most important considerations is the cost. This is especially true if you are planning on adding some schools outside the US as international students are generally charged higher.
The cost of attending Harvard University as an undergraduate student for a year is $76,963. Tuition alone amounts to $52,659. Meanwhile, attending the University of Cambridge as an international student for a year can range anywhere from as low as £65,857 to as high as £93,933 (approximately $78,014 to $111,273).
Based on the most recent available data from Harvard, the breakdown of the estimated cost of attendance for undergraduate students is as follows:
| EXPENSES | COST |
| --- | --- |
| Tuition | $52,659 |
| Health Services | $1,304 |
| Room Rate | $12,056 |
| Student Services | $3,298 |
| Student Activities Fee | $200 |
| Room and board | $7,446 |
| TOTAL | $76,963 |
Harvard COA
Believe it or not, attending Harvard is cheaper for over 90% of families in the US than going to a public institution of higher education. That's because students whose families generate less than $75,000 per year pay zero tuition and fees. The Ivy League adds that up to 55% of undergraduate students at Harvard receive some form of aid.
Let's now take a look at the breakdown of the estimated cost of attending Cambridge for a year using the lowest possible rates available for international students:
| EXPENSES | COST |
| --- | --- |
| Tuition | £28,950 |
| Fees | £24,507 |
| Room and board | £12,400 |
| TOTAL | £65,857 |
Cambridge COA
That's equivalent to approximately $78,014, which means that attending it as an international student is more expensive by over $10,000 than attending Harvard University as a domestic student.
But the good news is that there are ways to lower the sticker price of going to Cambridge.
Earlier, we talked about the need for international students to submit at least 5 AP exam scores with a grade of 5 each. The prominent UK institution may accept AP exams as college credits, too, rather than just important admissions requirements, albeit at the discretion of the program chair or academic dean.
It's true that financial support is available for international students working on their respective undergraduate degrees at Cambridge. However, the school itself admits that they are limited.
One of the few options is the Cambridge Commonwealth, European and International Trust, which offers part-cost awards to overseas students, including affiliated students — students who take a BA degree in just 2 years. Also available for international students needing financial assistance are college awards and country-specific scholarships.
Just Before You Choose Between Harvard and Cambridge
When top-notch schools across the globe are the subject matter, you can rest assured that both Harvard University and the University of Cambridge will pop out of someone's mouth. After all, both of them are in the top 10 of the QS World University Rankings 2023 and US News Best Global Universities Rankings 2023.
And if your application is good enough for any of them, congratulations! It only means that you are a high-performing high schooler who is very much likely to go places.
So, should you attend Harvard as a domestic student or Cambridge as an international student? When making a choice, take into account the career path you would like to take someday as well as the overall college experience of your preference, which can have a considerable impact on your future.
How much you will have to spend throughout your college career is also an important consideration.
Since both Harvard and Cambridge are prestigious schools popular among international students from various parts of the planet, attending any one of them can help prepare you for a global career.
Read Next: Is Harvard Better Than Oxford?

Disclaimer: The views and opinions expressed in this article are those of the authors and do not necessarily represent those of the College Reality Check.