Is Harvard Better Than Oxford? It Depends…
Congrats on having a college application that's strong enough for some of the best higher education institutions not only in the US but also across the globe!
Although it's true that it can make getting an acceptance letter easier, being able to get admitted into practically any school of your liking can also make applying to some of the top colleges and universities somewhat challenging.
Case in point: choosing between two of the most elite institutions globally — Harvard University and the University of Oxford.
Harvard is good for those who like to be in the business and finance sectors or become lawyers, doctors and politicians. Meanwhile, Oxford is ideal for those who like to enter politics, law, intelligence and the sciences. Both Harvard and Oxford are consistently ranked among the top 5 on the planet.
There are many other things that make Harvard better for some students and Oxford better for others. In the end, the choice is all about factors such as personal preferences, career goals and budget.
If you are torn between two of the top schools many can only dream of attending, continue reading.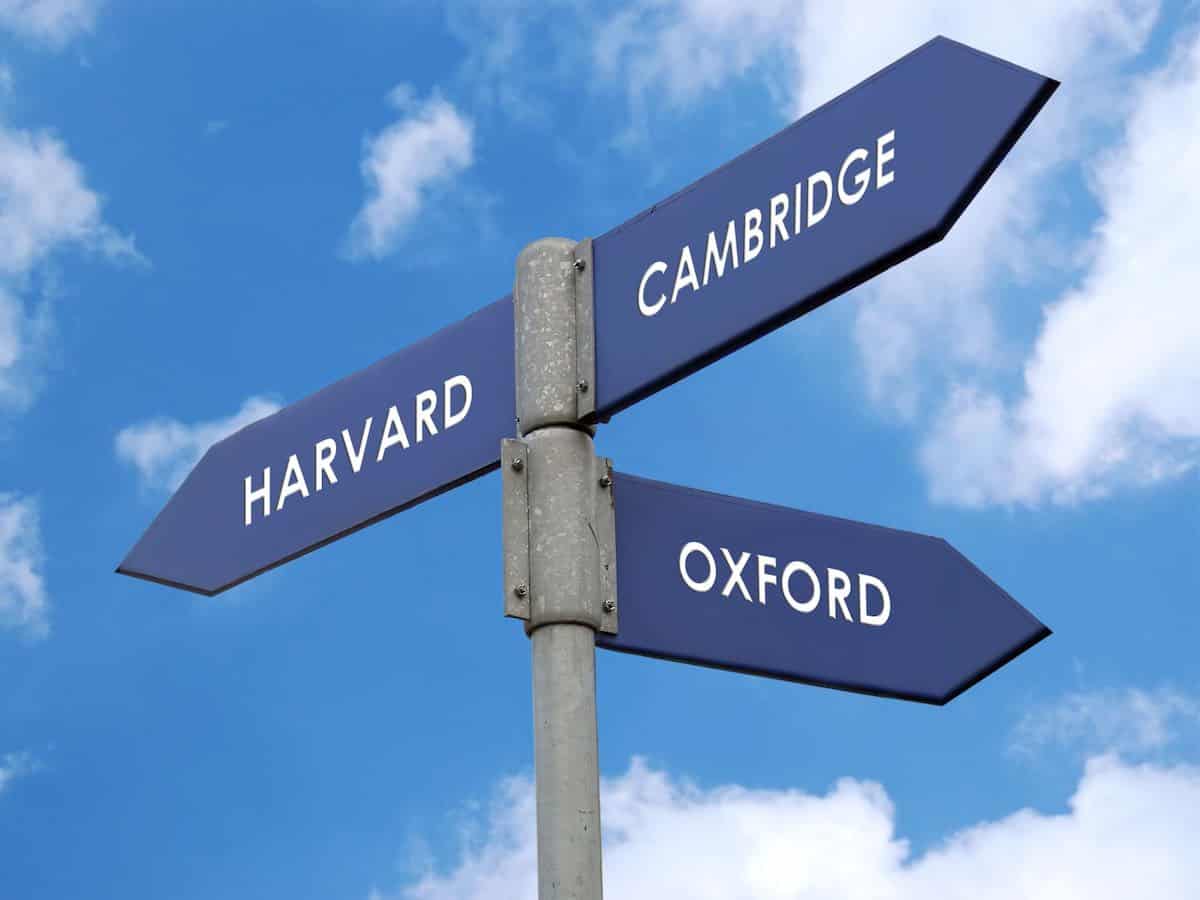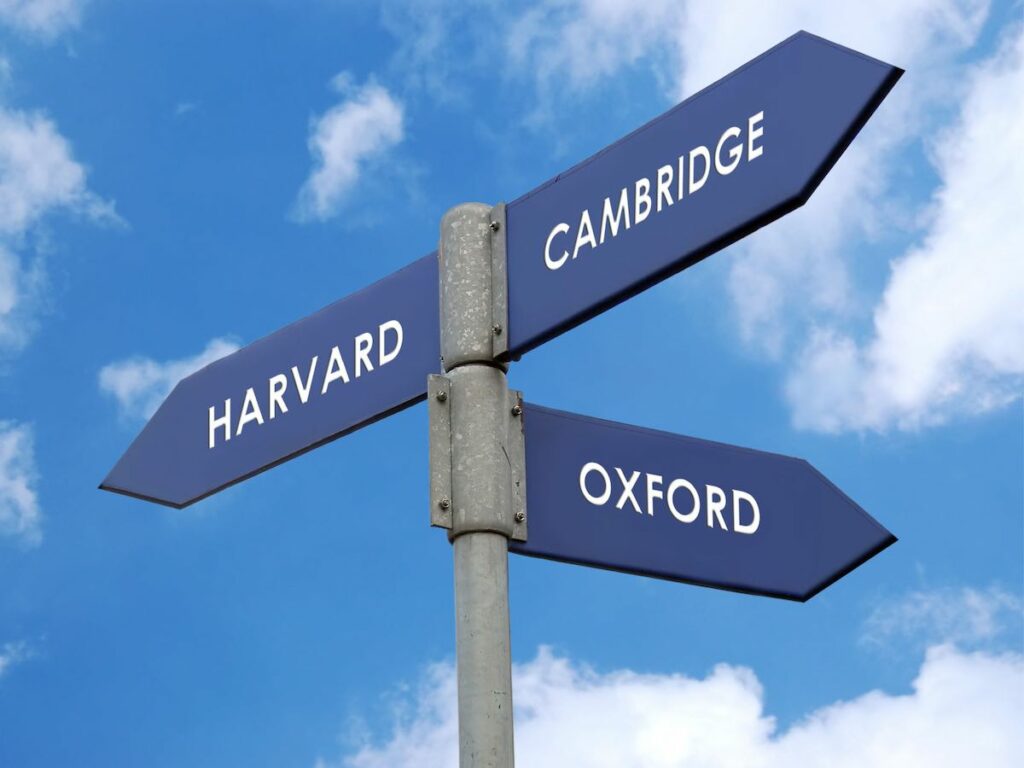 Below, I will talk about some of the most important things to consider about Harvard University and the University of Oxford so that you can make a smarter choice. Even though both are undeniably some of the finest options available to a degree-seeking student, one is definitely much better for you than the other.
Brief Intro
Even though your academic profile can easily impress admissions officers at both Harvard University and the University of Oxford, it's a good idea to get to know both institutions more so that you can get an idea of what you will be getting yourself into no matter which of the two elite schools you end up choosing.
One of the primary reasons why you should carefully pick a college is to make sure that it's the right fit.
Although it's true you can always transfer colleges should you find yourself unhappy with your initial choice, it's not really the most time- and cost-efficient option.
Harvard University
Founded in 1636, Harvard is the oldest university in the US. Not only is it the oldest Ivy League school but it's also the most selective Ivy League school — the acceptance rate for its class of 2026 is only 3.19%.
Its campus, which is located in Cambridge, Massachusetts, measures 5,076 acres and has an urban setting. As of this writing, it's home to 7,153 undergraduate students. US News ranks Harvard University #3 in National Universities, #1 in Best Value Schools and #1 in Best Global Universities in 2022.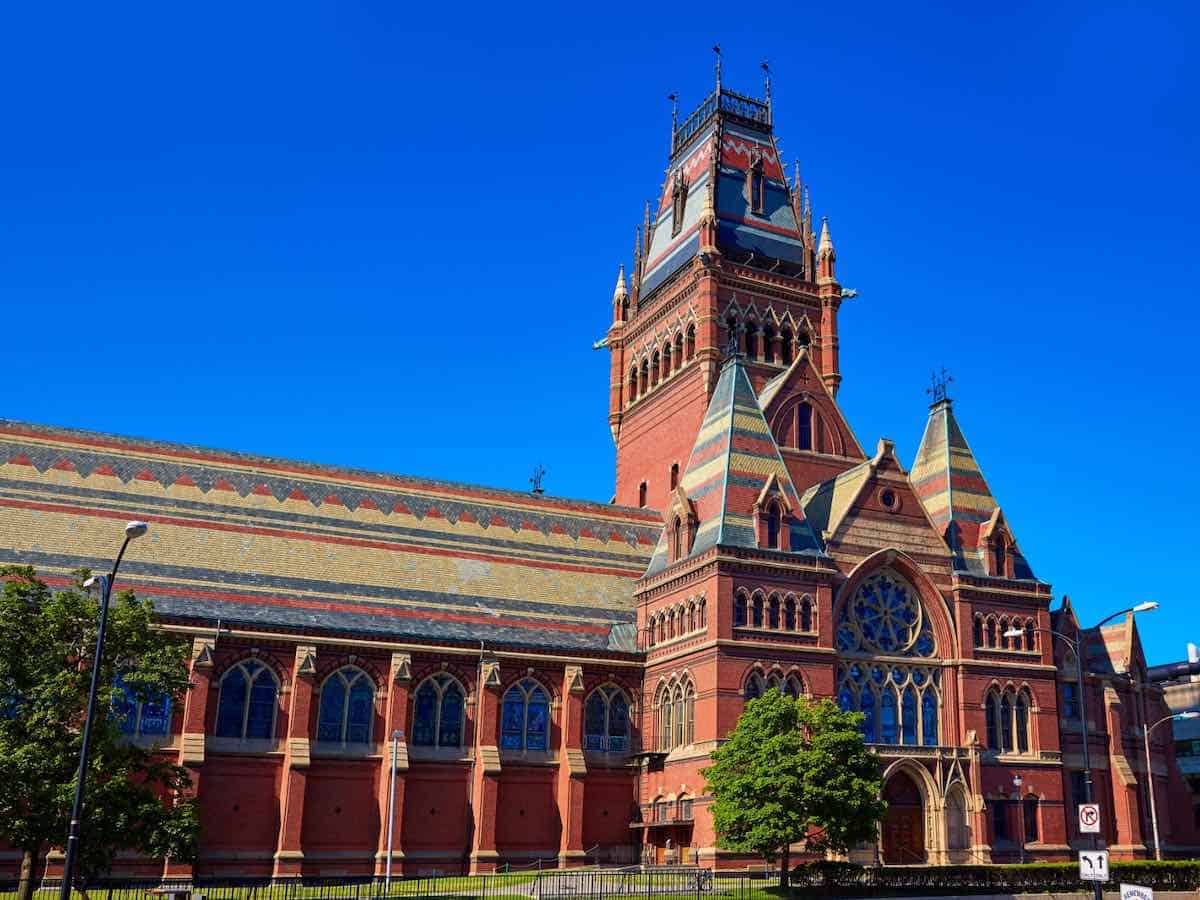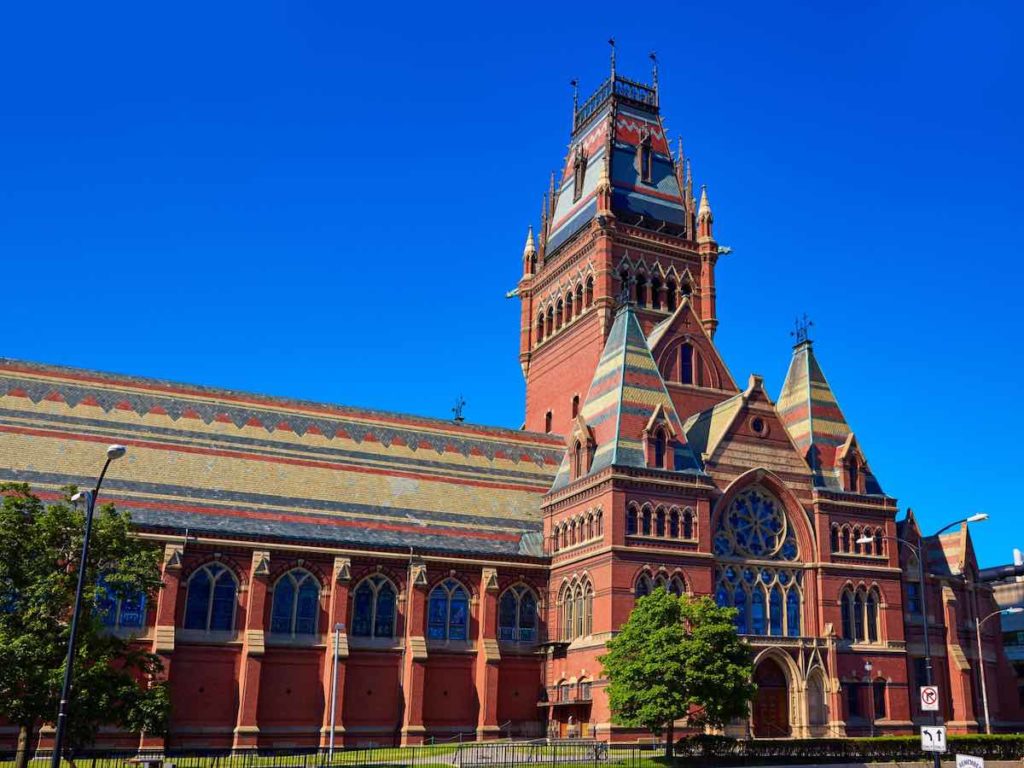 On the other hand, it's #2 in the Times Higher Education (THE) World University Rankings in 2022.
Most of the classes at Harvard consist of fewer than 20 students. The student-to-faculty ratio, meanwhile, is 7:1. While it's not a party school, students say that parties at Harvard are not that bad.
The following are some of the most popular majors at Harvard University:
Biology
Computer information and sciences
Engineering
Foreign languages
History
Mathematics
Physical sciences
Psychology
Social sciences
As mentioned earlier, many Harvard graduates wind up in business and finance. Many also end up in the healthcare sector, usually as doctors. Many also go on to become lawyers, with some usually ending up in the political arena. Computer science graduates are some of the highest paid, with initial annual salaries of $128,900.
Let's take a look at some of the most popular alumni members of Harvard:
John F. Kennedy
George W. Bush
Barack Obama
Al Gore
Ted Cruz
Neil deGrasse Tyson
Conan O'Brien
Natalie Portman
Read Also: What to Do in Middle School to Get Into Harvard or Yale
There are also many rich and powerful individuals who went to Harvard but didn't graduate from it. And spearheading the list are Mark Zuckerberg and Bill Gates.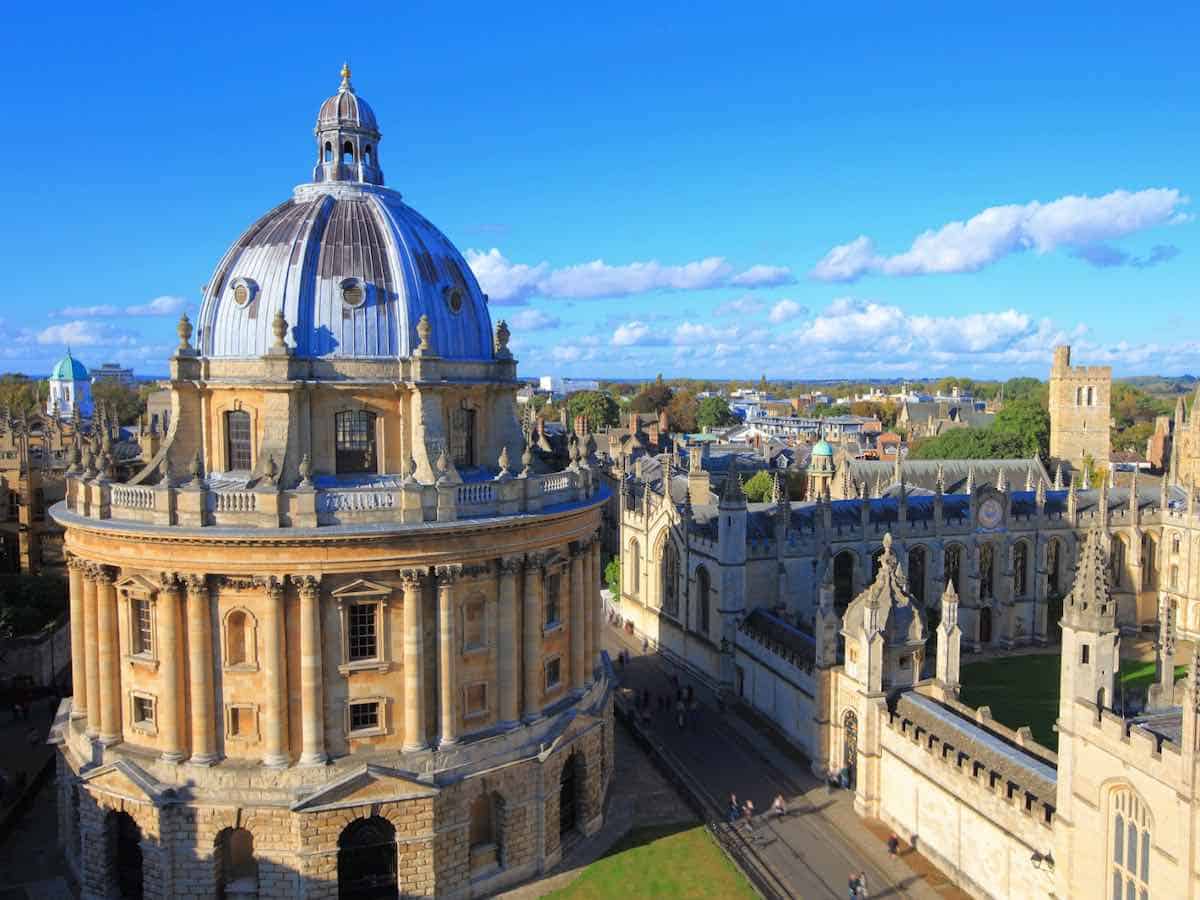 The University of Oxford
Harvard University may be the oldest institution of higher education in the US alright. But the University of Oxford is even older — it's so old that the UK-based school itself says that there is no clear foundation date. Historians, however, add that there's evidence of teaching as early as back in 1096.
Because of this, Oxford is considered the oldest university in the English-speaking world!
It's in Oxford, England where the academic institution is located. While it's a private school because it's self-governing, it also receives funding from the government, which makes it a public school somehow.
Unlike most US colleges and universities, the University of Oxford doesn't have a main campus. Rather, it consists of over 30 colleges scattered throughout the city center and a little beyond it — each freshman student becomes a part of a particular college and then the entire school. The size of all colleges combined is said to measure 1,327 acres.
While it's not a party school, Oxford is situated where students can enjoy a bustling nightlife.
US News ranks the elite institution #5 in Best Global Universities in 2022. Similarly, it's also #1 in Best Global Universities in Europe and #1 in Best Global Universities in the United Kingdom by the well-known college ranker, too. Meanwhile, the University of Oxford is #1 in the THE World University Rankings in 2022.
Some of the best courses to study at Oxford include:
Anthropology
Archaeology
Biomedical sciences
Computer information and sciences
History
Legal studies
Linguistics
Natural sciences
It's not uncommon for Oxford graduates to go on to become educators and scientists. Many of them wind up in law and politics, with some graduates from outside the UK becoming prime ministers and presidents of their respective countries. Some graduates end up in the banking, finance, advertising and public relations sectors.

See which of the following names of popular Oxford graduates ring a bell:
Bill Clinton
Harold Macmillan
Margaret Thatcher
Benazir Bhutto
Indira Gandhi
CS Lewis
JRR Tolkien
Hugh Grant
Michael Palin
Nigella Lawson
Oxford vs. Harvard Admission Requirements
Before you decide to apply to either Harvard University or the University of Oxford, make sure that you will be able to meet the minimum admission requirements. Otherwise, you will be wasting not only your time but also money — applying to these prestigious institutions doesn't come free of charge.
Let's kick things off by discussing what you will have to provide or meet when applying to one that's located right here in your home country, Harvard.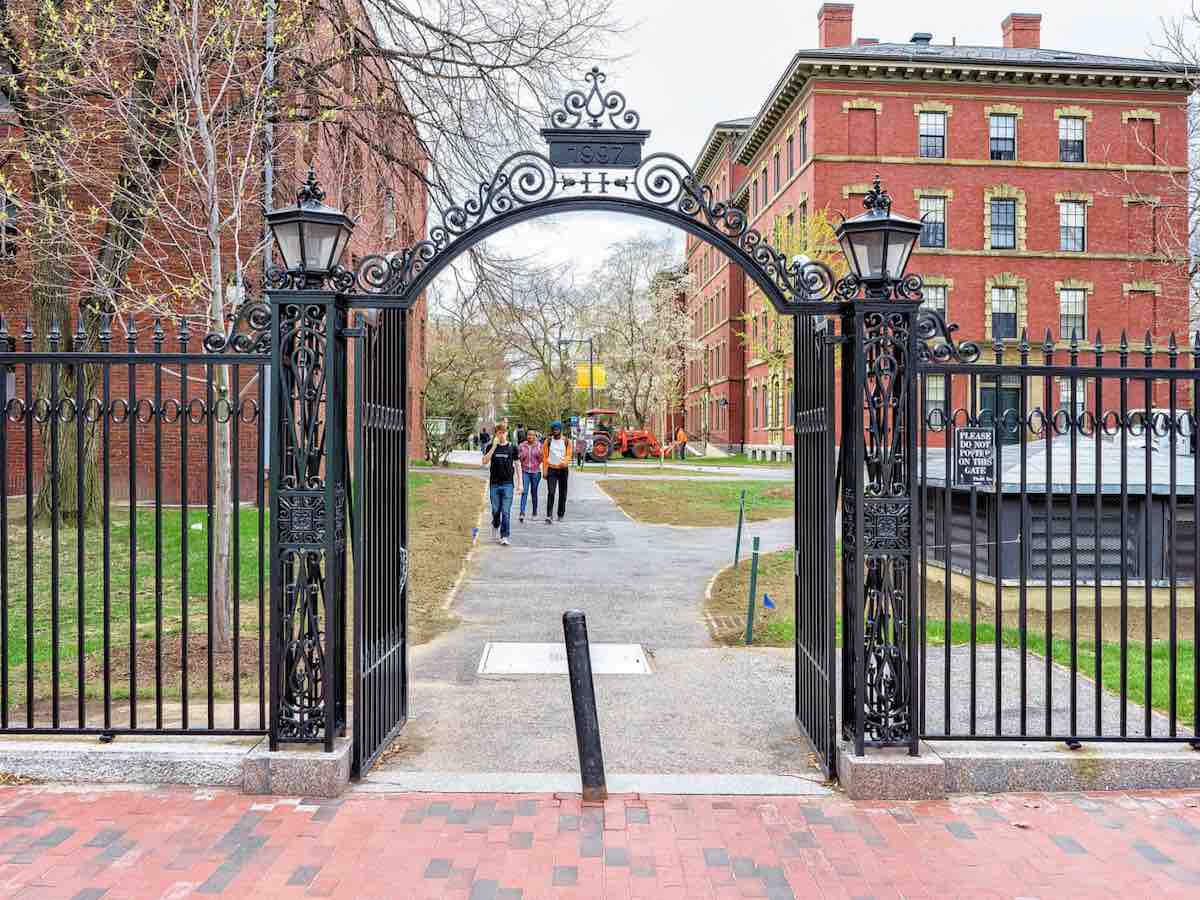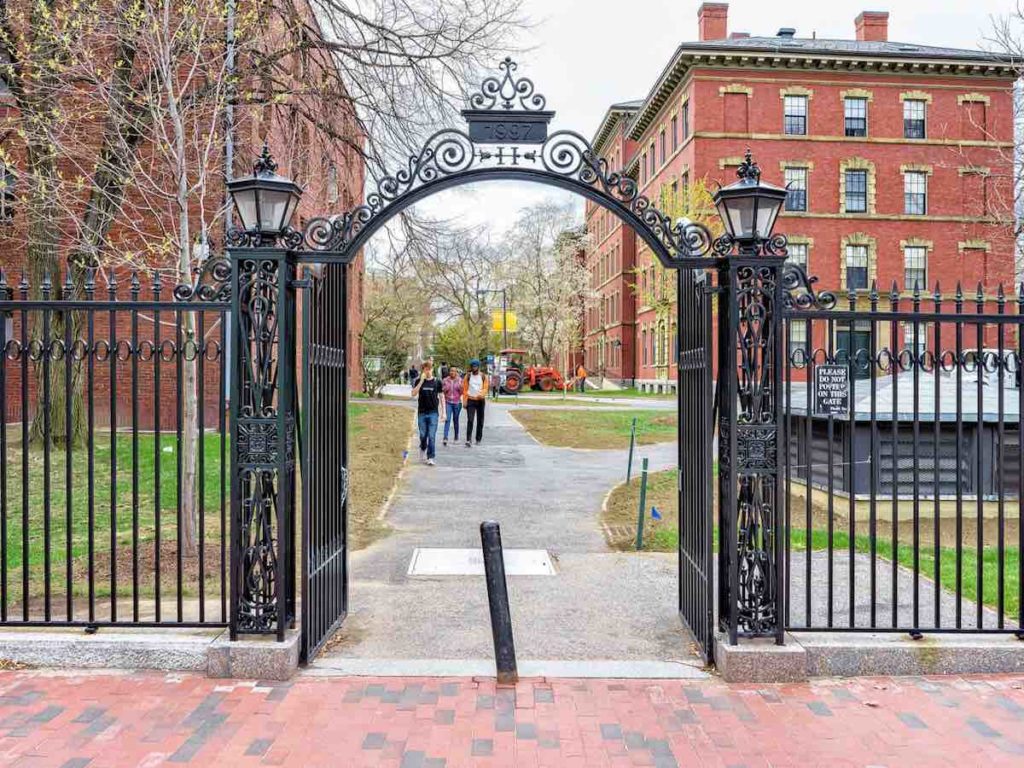 Harvard University Requirements
Application Forms
The Ivy League located in Cambridge, Massachusetts accepts both the Common App and Coalition App. According to the school itself, admissions officers treat both equally. However, it adds that you have to submit your Common App before your high school releases supporting materials such as secondary school reports and teacher reports.
After submitting a completely filled-out Common App or Coalition App, Harvard will send you an email containing a PIN that will grant you access to your Applicant Portal.
Supplementals
As of this writing, Harvard University requires hopefuls to submit 3 supplemental essays.
Technically, you will only have to submit a single supplemental — the other two are optional. In college admissions, it's no secret that anything that's optional should be submitted anyway as it may help boost one's chances of getting an acceptance letter. So, in other words, if you have time, consider submitting all 3 supplementals.
School reports and transcript
Harvard's admissions officers would like to be able to review your performance in the first half and the end of your senior year of high school. That is why both the midyear and final school year reports are important things to submit when applying to the elite university, which is something that your high school counselor will take care of.
Other than both school reports, Harvard would also like to get its hands on your final transcript.
Recommendations
Students applying to Harvard University should submit 2 letters of recommendation. If they want, they can submit up to three different recommendations.
The school strongly recommends that at least one letter comes from an academic source, like a teacher.
Test scores
For classes 2027 to 2030, students may apply to Harvard University with or without standardized test scores. It goes without saying that the Ivy League school has a test-optional policy.
In case you want to submit yours, you may or may not submit the writing component.
Like many colleges and universities in the US, there is no minimum SAT or ACT score you must meet in order to get admitted. But based on the most recent admits, the middle 50% had a composite SAT score range of 1460 to 1580. On the other hand, those who submitted their ACT scores had a composite score range of 33 to 35.
GPA
Even though Harvard itself admits that academic accomplishment is an important admissions factor, it doesn't have any minimum GPA requirement.
Knowing how selective Harvard University is, being at or near the very top of your class is a must if you want to get accepted into it.
So, even if the elite institution says applicants are not required to meet a certain GPA, it's an unspoken rule that having a GPA that's as close to 4.0 as possible is the key to a positive admissions decision.
But to give you an idea of what sort of GPA gets an offer to enroll, check out this table:
| | |
| --- | --- |
| GPA RANGE | PERCENT OF ENROLLED FRESHMAN STUDENTS |
| 4 | 72.91% |
| 3.75 to 3.99 | 20.82% |
| 3.50 to 3.74 | 4.18% |
| 3.25 to 3.49 | 1.30% |
| 3.00 to 3.24 | 0.43% |
| 2.50 to 2.99 | 0.29% |
| 2.0 to 2.49 | 0.07% |
Harvard freshmen GPA range
While class rank is an academic factor that Harvard does not consider, it's interesting to know that, based on the most recent available data, up to 93.1% of all admits were in the top tenth of their high school graduating class.
Read Also: How to Get Into Harvard With Low GPA
The University of Oxford Requirements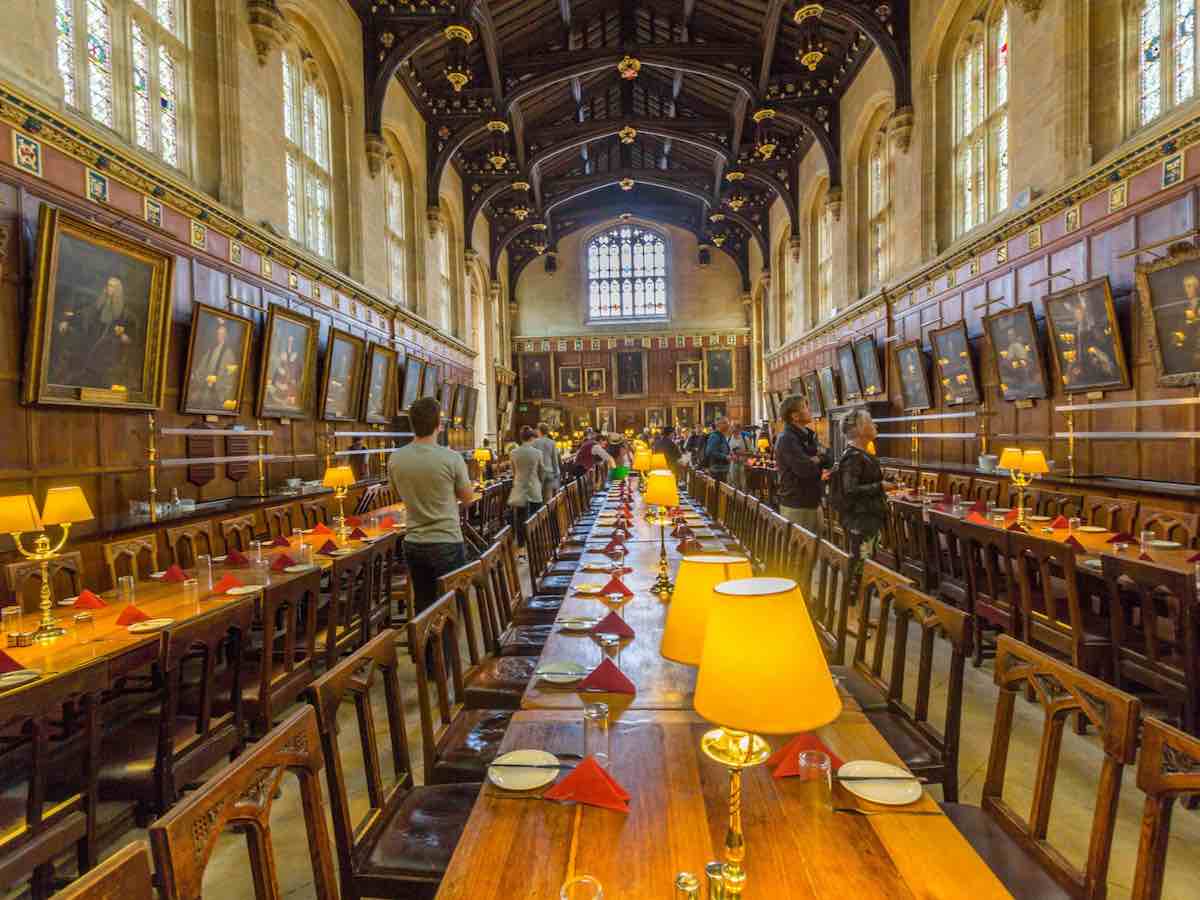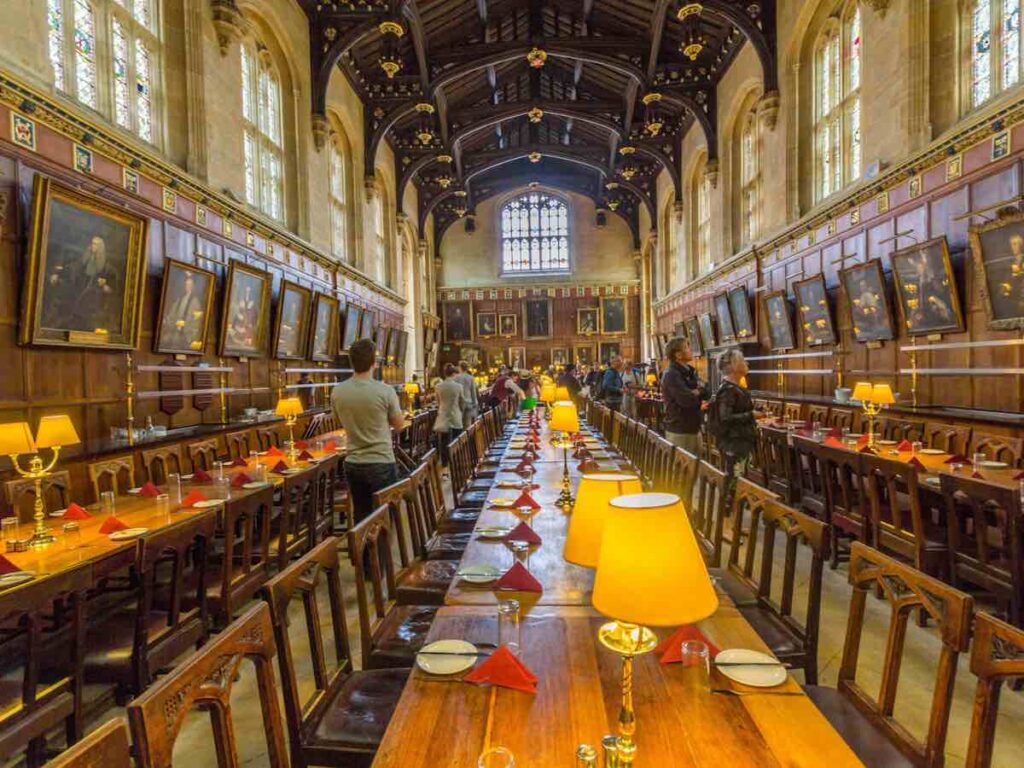 Now that you have a much better idea of the various admissions requirements at Harvard University, you can make a more intelligent guess as to whether or not your chances of getting accepted into it are high. But you may also be considering attending the University of Oxford after graduating from high school.
Read Also: Top Incredible Statistics about Oxford University
Let's take a look now at the admissions requirements at one of the UK's top institutions.
Application Forms
In the UK, more than 380 institutions of higher education use the Universities and Colleges Admissions Service (UCAS). The University of Oxford is one of those schools that use it. Local and international students alike who are interested in attending the elite university must apply by filling out the UCAS.
The cost of applying to Oxford is £75, which is around $80. But those who are from low-income families, including US applicants, are eligible for a waiver.
Supplementals
When filling out the UCAS, you will be asked to write a supplemental essay.
And since one UCAS application is good for applying to various UK colleges and universities, avoid talking about why you want to study at the University of Oxford. Instead, you should consider discussing in your supplemental some of the reasons why you are considering earning a degree in the UK instead of the US.
Remember to stick to the word limit when composing your UCAS supplemental essay — do not exceed 47 lines or 4,000 characters, which is roughly equivalent to 500 words.
School reports and transcript
Under the Education section of the UCAS, you should self-report all the details of your qualifications, including your high school grades. So, in other words, there is no need to provide school reports and other similar documents, which are common requirements when applying to US colleges and universities, including Harvard.
It's only when you are given an offer to enroll in the University of Oxford that you will have to produce your high school transcripts, certificates and other requirements.
However, the one who will be writing your letter of recommendation should give a prediction of your grades.
Recommendations
When applying to the University of Oxford or any other institution of higher education in the UK via the UCAS, it's important for students to submit at least 2 letters of recommendation. They can be from academic or professional sources. In either case, recommendations should highlight an applicant's eligibility for Oxford or its program.
And, as mentioned earlier, a teacher writing a recommendation letter should predict the applicant's grades, including those from tests that he or she has yet to take.
Test scores
Interested in enrolling in an A-level course that requires certain grades? Then it's a must that you meet the minimum SAT or ACT score requirement in order for your application to Oxford to be considered:
| | | |
| --- | --- | --- |
| A-LEVEL GRADE | MINIMUM SAT | MINIMUM ACT |
| A*A*A | 1480 | 33 |
| A*AA | 1470 | 32 |
| AAA | 1460 | 31 |
University of Oxford freshmen SAT/ACT scores
When submitting your SAT or ACT scores, there's no need to include the optional writing section.
GPA
Earlier, we mentioned that the majority of the most recent admits to Harvard University had a 4.0 average high school GPA. If you want to increase your chances of getting accepted into the University of Oxford, yours should be a 3.7 at least. Oxford is a highly competitive school, and only the best applicants tend to get in.
According to the elite UK institution itself, meeting the minimum GPA requirement will not guarantee an offer to enroll — your application will be reviewed based on the materials you submit and in relation to other applications.
Harvard vs Oxford Cost of Attendance
It's not enough that your academic profile meets the minimum requirements at Harvard University or the University of Oxford. Being able to afford to attend either one of them is a must, too.
Because they are two of the top higher education institutions all over the planet, you can rest assured that going to them will be more expensive than going to most other colleges and universities. And this is why a critical part of your preparation when adding these two elite schools to your college list is looking into the cost of earning a degree from them.
And now, let's discuss the cost of being a Harvard or Oxford student.
Price
Don't just consider the sticker price — consider everything else, too.
The cost of living, for instance, should also be factored in, particularly if you will have to move away from home. Personal expenses have to be taken into account as well.
For the academic year 2022 to 2023, tuition at Harvard University amounts to $52,659. On the other hand, the tuition at the University of Oxford based on the rate for the same academic year is anywhere between £28,950 and £44,240 — that's around $32,400 to $49,600.
Based on tuition alone, it's cheaper to be a student at Oxford than at Harvard.
Scholarships
On average, Harvard University says that up to 55% of its undergraduates receive some form of aid. As a matter of fact, students from families that make less than $75,000 pay nothing in tuition and fees. Due to this, it is said that attending the Ivy League costs less than going to a public institution for more than 90% of American families.
Harvard adds that it offers the same aid no matter the nationality or citizenship.
Read Also: Getting a Full-Ride Scholarship to Harvard, Princeton, or Yale
The University of Oxford also offers a number of scholarship opportunities not only to UK students but also to international ones who are applying for academic programs under the Core Scholarship.
Every year, the number of scholarships awarded varies, but it aims to provide support of over £1 million.
Also available for international students from low-income families are external scholarships. For Oxford attendees hailing from North America, for instance, various scholarships available to them include the Air Force Institute of Technology, Fulbright Awards and Marshall Scholarships.
Cost of living
But then it's also important to consider the cost of living where these prominent schools are located. Is residing in Oxford, England more expensive than residing in Boston, Massachusetts or is it the other way around?
According to various sources, fortunately, it's cheaper to be a resident of Oxford, which means that it's very much possible for an international student at Oxford from a low-income background to stay within budget.
Just to give you an idea of cost comparision you would need around £4,190 (about $4,701) to have the same standard of life in Massachusetts with $7,300.
Harvard vs. Oxford: Conclusion
So, is Harvard University better than the University of Oxford? Well, it depends on what sort of college experience you want and the career path you would like to take after graduation.
Despite being more than 3,200 miles away from one another, both institutions of higher education are prestigious — if your college application is good enough to gain you admission into either one of them, then chances are you are one of the brightest high schoolers on the planet.
The choice, ultimately, is purely a matter of personal taste and needs.

Disclaimer: The views and opinions expressed in this article are those of the authors and do not necessarily represent those of the College Reality Check.