How Much Debt is Too Much for College?
Student loans are a type of financial aid package.
Unlike scholarships and grants, individuals who take them out need to repay them after graduation.
More importantly, they have to repay them with interest!

The US Department of Education says that your student loan repayment per month must be between 8% and 10% of your projected monthly salary.
While working on your undergraduate degree, refrain from borrowing more money from the government than necessary to avoid spending many years paying off your student loan debt.

Read on if you want to keep your educational debt to a minimum after graduating from college.
In this post, I will answer many of the most pressing questions on student loans college-bound teens have in mind but are too shy to ask.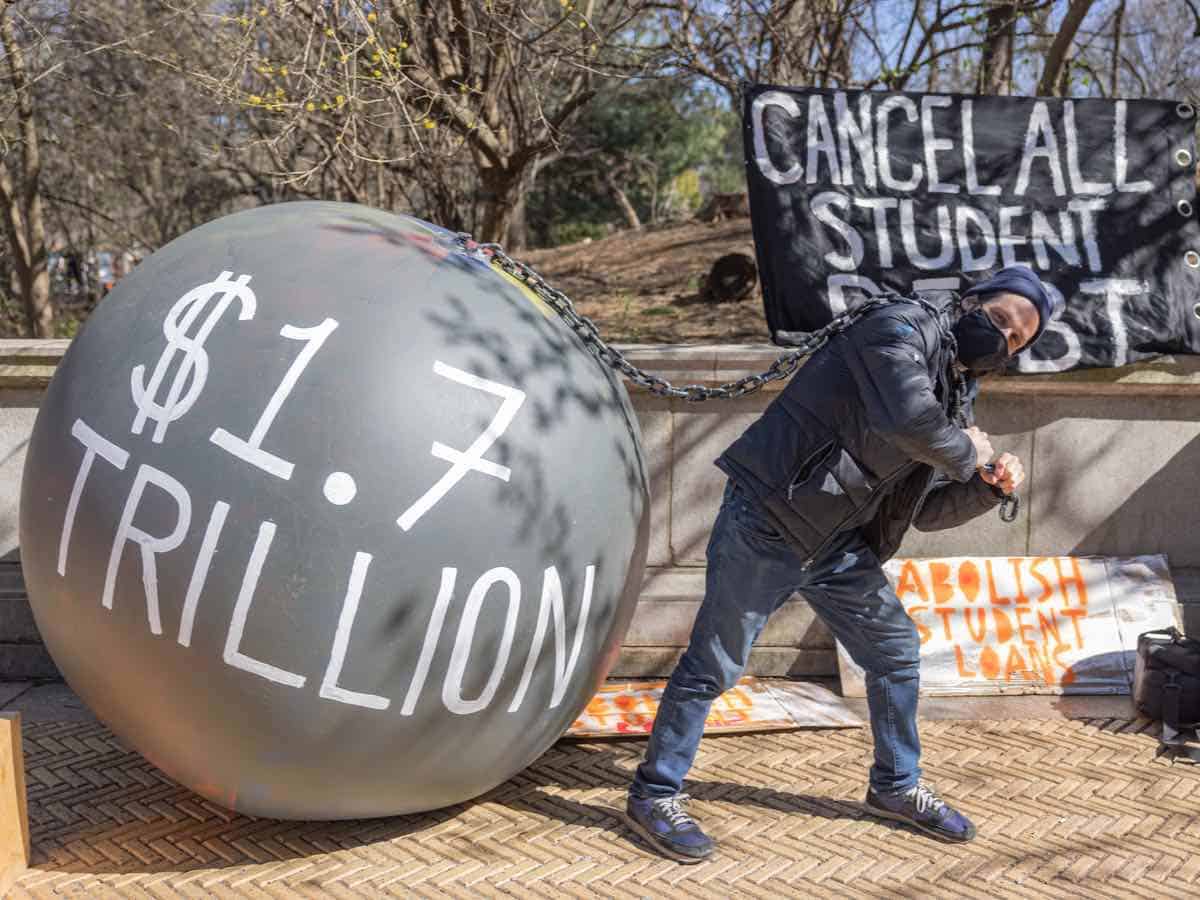 Can You Graduate From College Without Any Student Debt?
According to data from the Association of Public and Land-Grant Universities (APLU), around 42% of undergraduate students at four-year public colleges and universities graduate with no debt.
More than one-third of students who apply for a student loan graduate with below-average student debt.
Just because college costs increased by 169% from 1980 to 2019, based on research by Georgetown University, doesn't mean that it's certain those who attend college will need to apply for a student loan.
Here's a fact: not all those who complete their bachelor's degrees have college debt to pay off.
It's what APLU, which is the oldest higher education organization in North America, by the way, says on its website.
About 42% of those who go to public schools have zero educational debt to take care of after earning their degrees.
APLU adds that the majority of bachelor's degree recipients from four-year public colleges and universities have student debt of less than $30,000.
That's slightly below what's considered the national average — according to 2022 data from Investopedia, the average amount of student loan debt per borrower is $38,792.
Let's take a look at the percentage of public school students by amount of debt after graduation:
| | |
| --- | --- |
| STUDENT DEBT | PERCENTAGE OF GRADUATES |
| $0 | 42% |
| $1 to $9,999 | 11% |
| $10,000 to 19,999 | 12% |
| $20,000 to $29,999 | 13% |
| $30,000 to $39,999 | 9% |
| $40,000 or more | 13% |
Above, we mentioned that undergraduate students who graduate from four-year public colleges and universities have student debt of no more than $30,000.
Well, knowing the exact figure will give you a much clearer picture: APLU says that it's $25,921 — or $6,480 for each academic year at a public school.
It doesn't mean, however, that going to a private school will leave you paying off educational debt after graduation.
According to data from the Council of Independent Colleges (CIC), around 30% of those who graduate from four-year private colleges and universities have zero student debt.
CIC, which is an association of more than 700 non-profit independent colleges and universities and other higher education affiliates, aims to refute the misconception, via the said data, that students have to take out an unrealistic amount of student loan just to be able to attend private schools because they are so expensive.
Let's take a look at the percentage of private school students by amount of debt after graduation:
| | |
| --- | --- |
| STUDENT DEBT | PERCENTAGE OF GRADUATES |
| $0 | 30% |
| $1 to $9,999 | 10% |
| $10,000 to $19,999 | 12% |
| $20,000 to $29,999 | 18% |
| $30,000 to $39,999 | 12% |
| $40,000 or more | 18% |
So, should you attend a four-year public college or university simply because you don't want to spend many years of your life as a working adult paying off student debt and that your chances of graduating with zero debt are higher at a public institution than a private one?
Not necessarily.
When building a college list with the cost as the number one decisive factor taken into account, it's important to keep in mind that many private schools offer more financial aid packages, usually of higher values, too, than public counterparts in order to attract students from all income backgrounds.
This means that, after doing the math, you may find that, while it's true that tuition at four-year private colleges and universities are generally higher, their competitive financial aid packages may be able to eliminate the need to take out a hefty amount of student loan, thus keeping an attendee from graduating buried in educational debt.
It's because of this why the net price, and not just the sticker price, should be considered.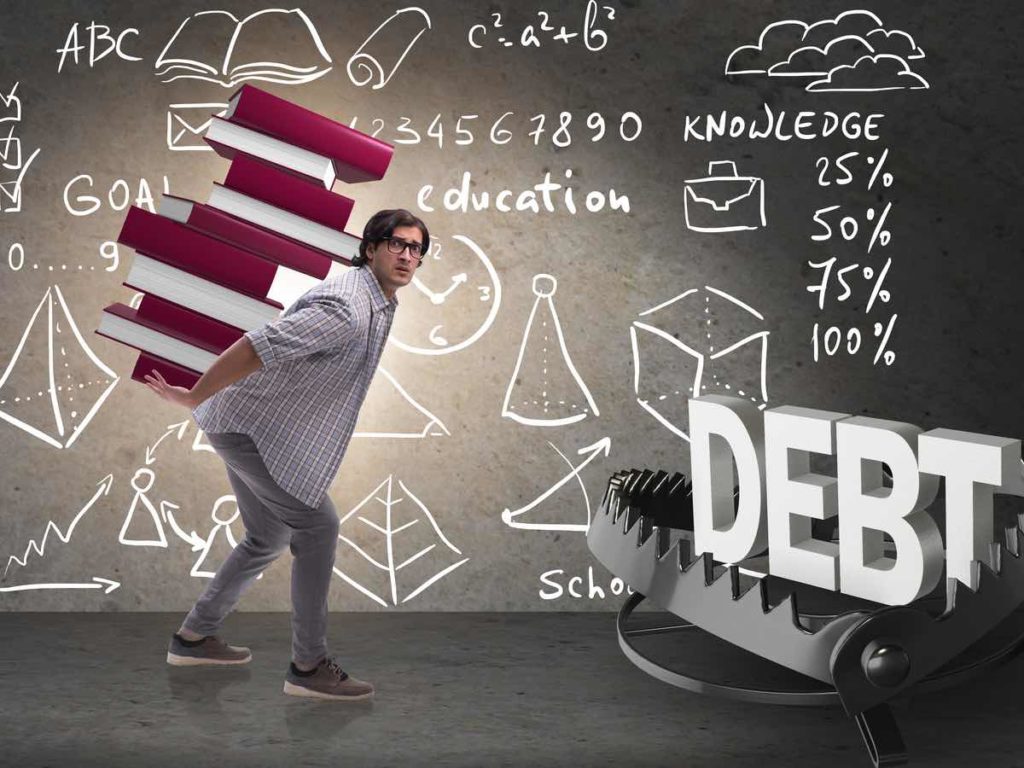 How Long Does It Take to Pay Off Student Debt?
The general consensus among various studies is that the amount of time that it takes college graduates to pay off their educational debt is around 20 years.
The repayment period can be shorter or longer, depending on factors such as the amount of money borrowed and the salary of employed borrowers.
After completing one's academic program, it's time to find a good-paying job.
And for new degree holders with debt, which make up about 65% of all college graduates in the country, says Education Data Initiative by Educationdata.org, it's also time to start paying off their student debt.
Four years ago, Cengage released the Student Opportunity Index for the very first time.
Simply put, its objective is to give near and recent college graduates a comprehensive assessment of opportunities available for them.
According to it, on average, graduating or recently graduated college students think that they will be able to pay off all their student debt within six years.
The survey conducted by Cengage, by the way, involved a total of 2,500 participants, all of whom also reported that they have around $22,919 in college debt upon graduation.
However, in reality, it takes about 20 years on average for borrowers to pay off their educational debt.
As mentioned earlier, the average amount of student loan debt per borrower is $38,792.
Based on data from the Federal Student Aid (FSA), which is the largest provider of student financial aid in the US, that amount of student debt will take about 20 years to be fully paid off.
One Wisconsin Now Institute, a liberal issue advocacy organization based in Madison, Wisconsin, conducted a study.
Involving 61,000 college students and graduates as respondents, the study found out that the average length of repayment for all those reporting student loan debt is 21.1 years.
Below is a table showing the average repayment terms for various types of educational attainment:
| | |
| --- | --- |
| EDUCATIONAL ATTAINMENT | REPAYMENT PERIOD |
| Some college | 17.2 years |
| Associate degree | 18.3 years |
| Bachelor's degree | 19.7 years |
| Graduate degree | 23.0 years |
Meanwhile, FSA says that it can take anywhere from 10 to 30 years for college graduates to be able to fully pay off their student loans, depending on the total loan debt.
Here's a table demonstrating the maximum repayment period for each total loan debt range:
| | |
| --- | --- |
| TOTAL LOAN DEBT | REPAYMENT PERIOD |
| $7,500 or lower | 10 years |
| $7,500 to $10,000 | 12 years |
| $10,000 to $20,000 | 15 years |
| $20,000 to $40,000 | 20 years |
| $40,000 to $60,000 | 25 years |
| $60,000 or more | 30 years |
And because federal student loans come with an assortment of repayment plans, each one having its own eligibility requirements and rules, it goes without saying that repayment periods can vary tremendously.
Just check out this table that shows the typical repayment period for each repayment plan:
| | |
| --- | --- |
| REPAYMENT PLAN | REPAYMENT PERIOD |
| Standard | 10 years |
| Graduated | 10 years |
| Extended | 20 years |
| Income-Based Repayment (IBR) | 20 or 25 years |
| Income-Contingent Repayment (ICR) | 25 years |
| Pay as You Earn (PAYE) | 20 years |
| Revised Pay as You Earn (REPAYE) | 20 to 25 years |
| Income-Sensitive Repayment (ISR) | 15 years |
Meanwhile, the majority of private student loan companies offer payment terms ranging anywhere from five to 15 years. But then there are also those that offer 20- or 25-year terms.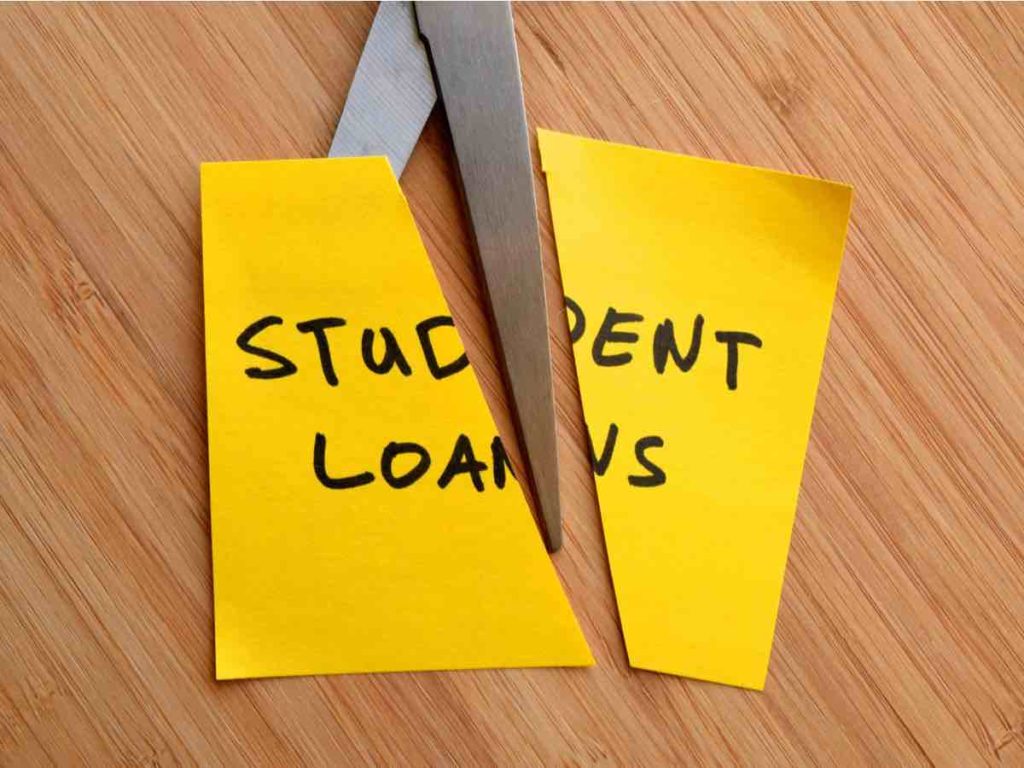 How Do You Avoid Too Much Student Debt
Keeping too much student debt at bay can be done by making some smart steps.
For many college-bound students, earning college credits in high school is a good idea. Choosing affordable institutions, applying early for financial aid, and having a part-time job while in college are some other ways.
Earlier, we established the fact that it's possible to earn a bachelor's degree without debt — the 42% of public school graduates and the 30% of private school graduates are all living proof.
But there is no need to despair if, after doing the math, it seems like taking out a student loan is certain.
That's because there are many different things that you may do in order to prevent the scenario where you will have to devote at least 15% of your monthly salary to pay off your educational debt for the next 20 years or so of your professional life.
Take the necessary steps, and you could be golden!
Below, you will come across a variety of tips and tricks on saving yourself from borrowing too much money for college. See which of the following can help you stay on budget:
Earn college credits
Attending a high school that offers AP- or IB-level courses?
Then grab the wonderful opportunity for you to earn college credits even before actually attending your top-choice college or university.
As a matter of fact, taking eight AP courses, each one having at least three credits, throughout high school can easily let you shave a year off college.
But if you want to leverage college-level courses for the sake of dodging being neck-deep in student debt, there is one thing to remember. And it's none other than earning high AP or IB grades.
Pick a school wisely
Don't just look at the sticker price when deciding whether or not you can afford the school you are about to add to the college list — also consider the net price, which is the sticker price (or cost of attendance or COA) minus all the scholarships and grants for which you are eligible.
If the amount is still too much for someone from your particular income background, ditch the school.
Here's a really smart tip: attend a community college first to earn as many credits as you possibly can. Community college tuition is usually several thousand dollars cheaper than that of both public and private four-year institutions.
The average COA at a public community college a year is $4,864 (in-state) and $8,622 (out-of-state).
And, despite the cheap cost, almost one-third of all community college students in the country receive aid.
Related Article: Best Schools For C Students
Apply for financial aid early
If the goal is to keep college debt to a minimum with the help of maximum financial aid, make sure that you head to the website of Federal Student Aid (FSA) on the first day of October.
That's when the FAFSA form becomes available — fill it out with your parents.
Only a limited amount of aid from the government is available, which is why many of them are usually awarded on a first-come, first-served basis.
Nothing can be worse for a student who is trying to dodge having ridiculous amounts of college debt more than running out of aid to win.
It's true that some colleges and universities also use the information on the FAFSA form when determining whether applicants are eligible for institutional aid.
However, it's a good idea to also get in touch with the financial aid office of a school to inquire if filling out the CSS Profile is a requirement, too.
Go for federal loans
In many instances, the interest rates for undergraduate federal loans are lower than for private loans — as of this writing, they range anywhere from 3.73% to 6.28%.
The average private student loan interest rates, meanwhile, can be between 2.94% and 12.99% (fixed interest) and 0.94% and 11.98% (variable interest).
Needless to say, it's a case-to-case basis for private student loans interest rate-wise. For federal loans, on the other hand, the rates are the same for every borrower.
What's really nice about federal loans is that they come with features that can help you avoid graduating from college with excessive amounts of student debt to pay off, such as:
A $31,000 borrower limit for dependents
Federal loan forgiveness
Income-driven repayment plans
Choose a major with a good ROI
While it's not really going to help you keep your student debt to a minimum, going for a major known for having a good return of investment (ROI) can make paying off your borrowed money less harsh on the pocket.
Related Article: Is the Google IT Support Professional Certificate Worth It?
Most of the time, college students are expected or required to declare a major by the end of their sophomore year. This gives them plenty of time to explore their options as well as get some general education courses out of the way.
Two years is also more than enough to research which majors can recoup the money spent on a degree the best.
The following table shows some majors with the best ROIs:
| | | |
| --- | --- | --- |
| MAJOR | MEDIAN WAGE EARLY CAREER | MEDIAN WAGE MID-CAREER |
| Chemical Engineering | $68,000 | $103,000 |
| Computer Engineering | $65,000 | $106,000 |
| Electrical Engineering | $65,000 | $100,000 |
| Aerospace Engineering | $64,000 | $100,000 |
| Industrial Engineering | $64,000 | $87,000 |
| Mechanical Engineering | $63,000 | $98,000 |
| Computer Science | $62,000 | $95,000 |
| General Engineering | $60,000 | $88,000 |
| Civil Engineering | $60,000 | $90,000 |
| Business Analytics | $57,000 | $88,000 |
| Construction Services | $56,000 | $85,000 |
| Economics | $55,000 | $90,000 |
| Finance | $52,000 | $85,000 |
| Information Systems and Management | $50,000 | $75,000 |
| Mathematics | $50,000 | $80,000 |
| Nursing | $50,000 | $70,000 |
| Accounting | $50,000 | $72,000 |
| Engineering Technologies | $50,000 | $80,000 |
| Physics | $48,500 | $94,000 |
| Physical Sciences | $46,000 | $75,000 |
| Architecture | $45,000 | $75,000 |
| Business | $45,000 | $70,000 |
| International Affairs | $45,000 | $75,000 |
| Medical Technician | $42,600 | $64,000 |
Consider expected salary
Very early on in the article, we mentioned that it is suggested to take out student loan money no more than 80% or the total amount of your expected first-year salary.
This is when the importance of checking out the estimated salaries of college graduates comes in.
Planning on becoming a dental hygienist one day?
Since the median annual salary of dental hygienists is $74,070, following the advice mentioned above, you should limit the amount of money you will borrow to $59,256 — or no more than the amount of the paycheck you are expecting to get a year.
On the other hand, the US Department of Education recommends an amount whose monthly payments are equivalent to just 8% to 10% of the expected monthly salary.
So, as a dental hygienist earning $6,172.50 a month, you should keep your monthly student loan payments at $493.80 to $617.25.
Work on or off campus
The Federal Work-Study Program, as the name suggests, is a form of financial aid by the FSA that helps college students with financial need earn money in order to be able to meet educational costs while providing them with experience related to their academic majors or career interests.
Simply put, the program consists of part-time jobs available for both full-time and part-time college students.
More than 3,400 institutions in the US participate in the Federal Work-Study Program. The first step to taking advantage of this opportunity to lower college costs is by checking with the school's financial aid office.
Besides having a part-time job through the Federal Work-Study Program, you may also consider springing into action yourself and look for either an on-campus or off-campus job. It's a good idea to go for one that won't interfere with your studies and, if possible, has something to do with what you are pursuing in college.
How Much Is Too Much to Pay for College
The US Department of Education suggests an amount where one's monthly student loan payment is 8% to 10% of the estimated monthly salary.
However, how much student debt is too much will depend on who is being asked. Some recommend not taking out more money than 80% or 100% of the estimated first-year salary.
For many students, especially those from low-income backgrounds, taking out student loans can make earning a college degree possible.
But making the mistake of borrowing more student loan money than you should can leave you desperately trying to dig your way out of student debt after graduation.

Disclaimer: The views and opinions expressed in this article are those of the authors and do not necessarily represent those of the College Reality Check.