How to To Beat Odds and Transfer to Brown
Like other Ivy League schools, Brown University receives a lot of applications per year but can admit only a few applicants. So, in other words, it's one of those institutions of higher education with extremely low acceptance rates.
But its acceptance rate for transfer applicants is lower than for freshmen applicants.
However, if it's your dream to one day become a holder of a bachelor's degree from Brown but you are currently attending another school, I will provide everything you need to increase your chances of successful application.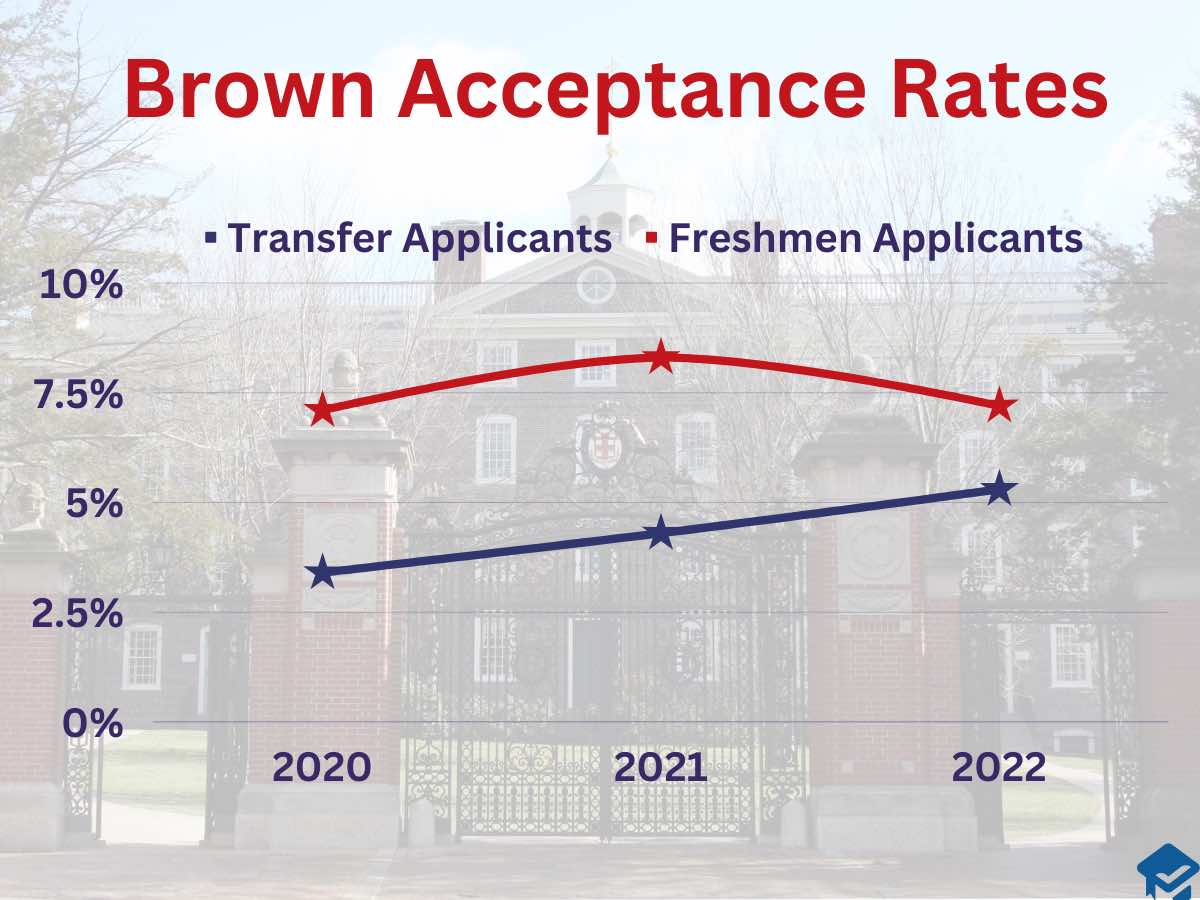 Brown Acceptance Rates: Freshman vs. Transfer
The acceptance rate for first-time, first-year students to Brown University is 7.2%. The acceptance rate for transfer students, on the other hand, is only 5.3%. Out of the 2,828 transfer applicants last year, a total of 149 were accepted. However, only 102 of those enrolled, resulting in a yield rate of 68.5%.
Given that Brown is an Ivy League school, it isn't surprising that getting into it can be extremely hard.
True enough, in 2022, only a little more than 7% of all freshmen applicants got in. But getting an offer to enroll at the elite school is harder for those with previous college experience: in the same year, it accepted only a little more than 5% of them.
Let's take a look at the acceptance rates for transfer and freshmen applicants at Brown from 2020 to 2022:
| Year | Transfer Applicants | Freshmen Applicants |
| --- | --- | --- |
| 2020 | 3.40% | 7.10% |
| 2021 | 4.30% | 8.30% |
| 2022 | 5.30% | 7.20% |
Brown transfer vs. first-year acceptance rates
Is It Possible to Transfer to Brown From a Community College?
Brown University accepts transfer students from community colleges. As a matter of fact, according to The Brown Daily Herald, the school's associate provost for enrollment said that it's an opportunity for Brown to admit transfer students from community colleges.
According to Brown itself, in the last 4 years, transfer students from a total of 137 different colleges and universities not only in the US but also elsewhere on the planet were accepted.
Here are some community colleges from which Brown recently received applications, the Ivy League itself says:
Anne Arundel Community College
Barton Community College
Berkeley City College
Bristol Community College
Bunker Hill Community College
City College of San Francisco
College of Marin
Community College of Baltimore County
Community College of Rhode Island
Community College of the Air Force
Cosumnes River College
Frederick Community College
Grossmont College
Hutchinson Community College
Irvine Valley College
Long Beach City College
Los Angeles City College
Massasoit Community College
Navarro College
Northern Virginia Community College
Palomar College
Pasadena City College
Pierce College
Pikes Peak Community College
Who Has the Best Chances to Get Transferred to Brown?
Due to the fact that Brown's acceptance rate for transfer applicants is slightly lower than for first-time, first-year applicants, it's important for any college student aspiring to attend the Ivy League to have an impressive application.
Based on various sources, the average GPA of freshmen students admitted to Brown is 3.94.
On the other hand, based on data provided by the prominent school itself, the average GPA of admitted transfer students is 3.93.
With up to 98.7% of all admitted first-time, first-year students graduating in the top 10% of their high school, it's plain to see that Brown wants nothing less than top-performing students.
The top-tier institution itself says that many of its most famous alumni members attended Brown after taking courses at other colleges or universities.
So, in other words, they were transferees. The Ivy League associates it with the fact that it has an open curriculum that's suitable for undergraduates who demonstrate unusual initiative and independence.
It adds that many students who are unhappy with their college experience do not consider transferring.
Those who do, in most instances, are individuals who are unwilling to settle and willing to do the extra work to take the path less traveled to get to a better place, which are qualities that prepare them well for switching to and succeeding at Brown.
Things You Need to Know About Brown Transfer Credit Policy
Before anything else, let's get a very important matter clear: at Brown, a bachelor's degree consists of at least 30 course credits, which is equivalent to 120 credit hours at most other institutions of higher education.
The maximum allowable number of transfer credits at the Ivy League is 15.
So, in other words, provided that eligibility requirements are fulfilled, it's possible for a student transferring to Brown to earn up to 15 transfer course credits — he or she is halfway toward a bachelor's degree.
It's essential to point out that transferees must complete the remaining 15 credits and 4 full-time semesters at the highly-ranked private research university.
Brown University awards credits for courses taken at regionally-accredited institutions. Needless to say, if you completed your courses at a nationally-accredited school, it's unlikely that you will earn credits for them.
As a general rule of thumb, most liberal arts courses are transferable to Brown.
However, it will also transfer credits for courses from other schools that are similar to the courses it offers. But for that to happen, courses must be completed with a grade of C or better.
For as long as a grade of PASS is equivalent to a minimum grade of C at the other institution that uses a PASS/FAIL grading system, then the Ivy League will give credit to the completed course.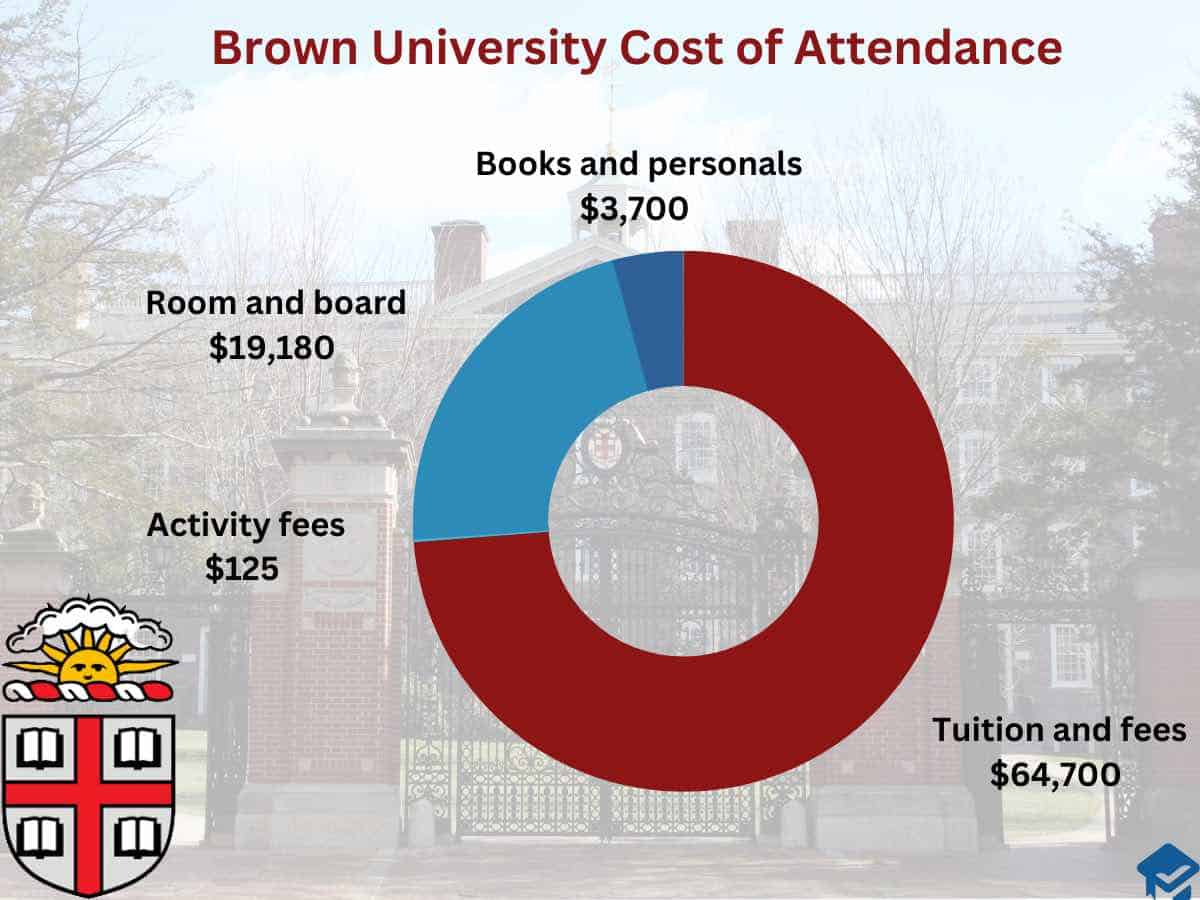 Brown University Costs (Application Cost, Tuition, etc.)
The cost of applying to Brown University as a transferee is $75, which is the same application fee for first-time, first-year applicants.
The cost of attending Brown as an undergraduate amounts to $87,648. Only transferees who apply for financial aid in their original transfer application are eligible to apply for aid at any later point.
Shelling out $75 together with the submission of the Common App is the first step to applying to Brown as a transfer student — or you may apply for a fee waiver if you're from a low-income background.
In some instances, Brown automatically waives the application fee, such as if the student is enrolled in a TRIO program.
Transferees who get accepted and choose to enroll must make a non-refundable $1,500 deposit within 10 days of admission, which will be credited to his or her first tuition payment.
And speaking of which, tuition at the Providence, Rhode Island-based school amounts to $65,656. Student fees, which include academic record fees for first-time students, cost $2,574.
Whether admitted as a sophomore or junior, transferees have to take care of room and board, which cost $16,598, because all undergraduate students, with the exception of some, have to live on campus for the first 6 semesters.
Below is a breakdown of the estimated cost of attending Brown using the academic year 2023 to 2024 rate:
| | |
| --- | --- |
| Expenses | Cost |
| Tuition | $65,656 |
| Fees | $2,574 |
| Room and board | $16,598 |
| Personal | $2,820 |
| TOTAL | $87,648 |
In most instances, scholarships at other colleges do not follow students who transfer to Brown.
Fortunately, the Ivy League guarantees to meet the full demonstrated need of all admits, including transfers. Institutional aid eligibility is based solely on financial need — Brown, like many competitive schools, does not offer aid according to athletic ability, academic achievement or any other form of merit.
Up to 42% of its students receive need-based financial aid.
When it comes to financial aid application, there's an important matter to note: transfer students who may need aid at some point during their attendance at Brown should submit the FAFSA and CSS profile when they first apply.
Otherwise, they will not be eligible to apply for financial aid at a later time during their postsecondary career at Brown.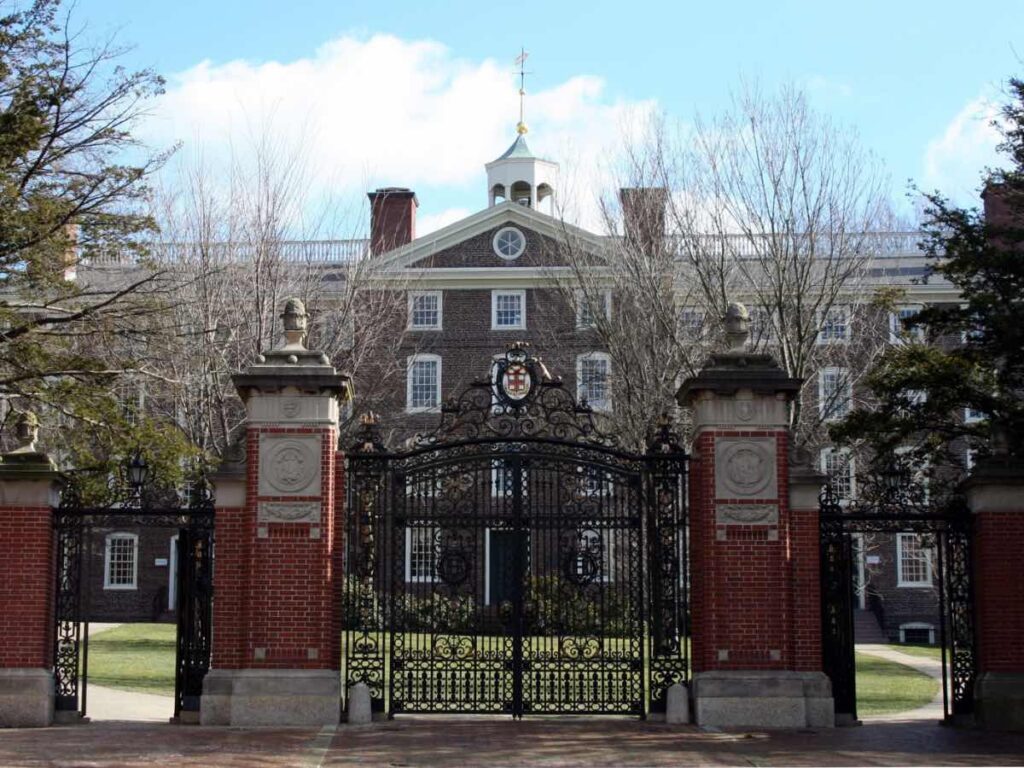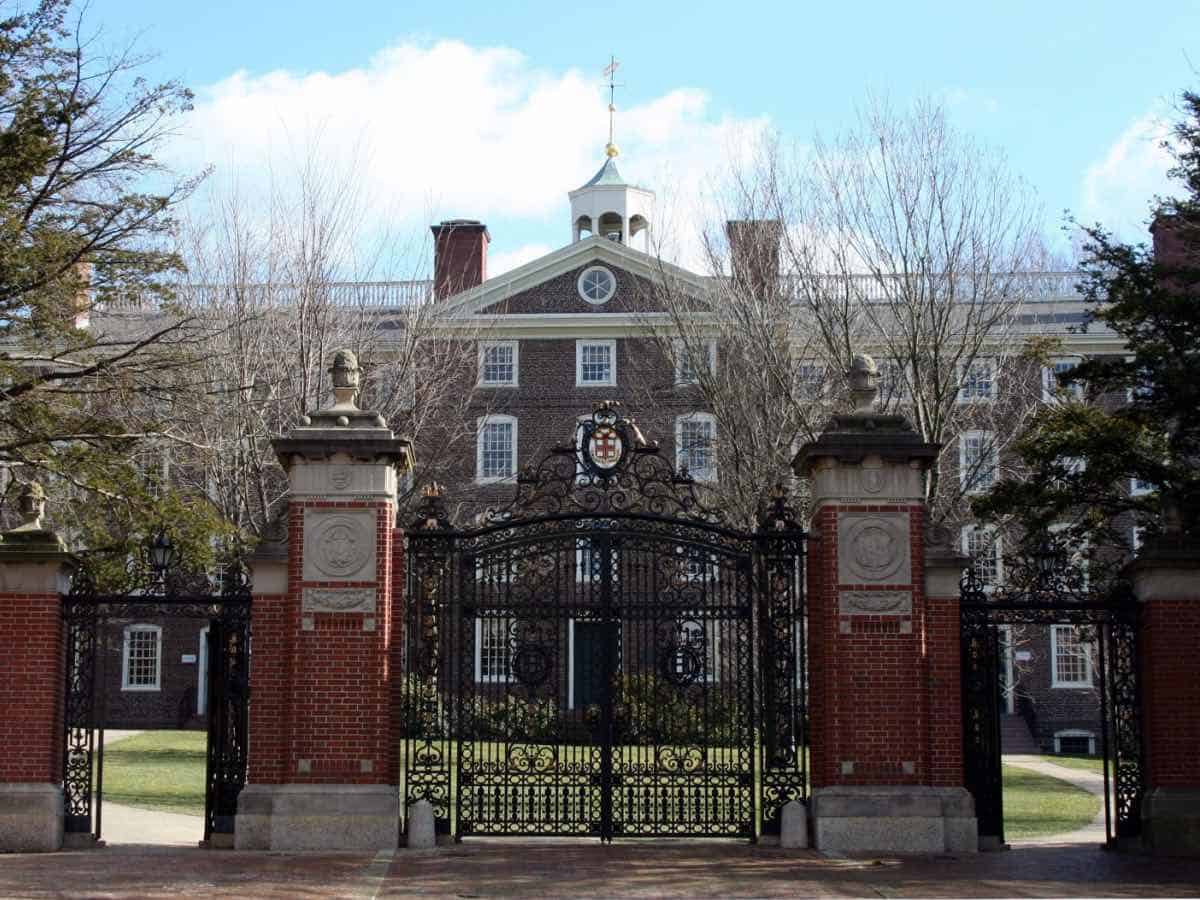 How to Transfer to Brown in 9 Steps
There are 2 hard deadlines transfer applicants to Brown University must beat: March 1 for spring applicants and October 1 for fall applicants.
Materials or documents to submit on or before the deadline include a completed Common App, transcripts, college report, midterm report, instructor evaluations and optional standardized test scores.
At many institutions of higher education, transfer applicants can only apply once a year. It goes without saying that they can get admitted to a single semester only, usually during the fall.
Of course, it's not enough that you are aware of dates transfer applicants to Brown must remember — it's also vital that you know the things you need to submit on or before the slated deadline.
Here's a transfer applicant's checklist to make sure that your application will be complete:
1. Meet the eligibility requirements
To be eligible for transfer admission to Brown, you must have completed at least one full year of college coursework at an accredited institution, have a strong academic record, and demonstrate that you would be a good fit for Brown's community.
2. Complete the application
Brown University is one of the postsecondary institutions in the land that do not accept the Coalition App.
It goes without saying that all applicants to Brown, freshmen and transfers alike, have to fill out and submit the Common App.
Transfer applicants, like first-time, first-year applicants, have to answer Common App essay questions specific to the highly-ranked school. Needless to say, there's no need for students who wish to transfer to Brown to submit additional essays.
Here's the full list of application requirements:
Common App application
A $75 application fee (waivers are available)
High school transcript
Official transcripts from all colleges or universities you have attended
ACT or SAT scores (optional)
Two letters of recommendation
A personal statement
A writing supplement
3. Submit high school and college transcripts
Because transfer applicants have postsecondary experience, it's important that they submit both high school and college transcripts when applying to Brown — the Common App allows them to do so.
Those who are offered admission and actually going to enroll must submit official copies of their transcripts, which can be done by requesting the high school and college they attended to send theirs to Brown.
As stated in the timeline for transfer application above, the deadline for the submission of transcripts is June 15 for spring application and January 5 for fall application.
4. Complete the college report
Just about any official at your college who has access to your records may provide your college report.
He or she can go about it in a couple of ways.
First, by completing the college report through the Common App.
Second, by printing the college report form available at the Common App's website and scanning and emailing it to Brown University.
5. Submit a midyear report
Simply put, the midyear report allows Brown to have an idea of a transfer applicant's academic progress, usually represented by grades in the first semester or first trimester.
It's in the Brown Applicant Portal, which becomes available after submitting the Common App, where the student who intends to transfer to the Ivy League can find the midterm report form.
To complete the said form, the transfer applicant should make a list of current courses and ask each of his or her professors to provide a progress grade.
According to Brown itself, it will waive the midyear report if the applicant is not in college for the time being.
6. Submit 2 letters of recommendation
Transfer applicants should submit 2 evaluations from faculty members who have taught them in college. Brown, however, says that it will also accept evaluations from teaching assistants (TAs) who have been their instructors.
Can only request an evaluation from a single instructor or TA?
Fret not — you can replace 1 instructor evaluation with something from your senior year high school teacher. Whether from college instructors or otherwise, evaluations should be sent to Brown through the Common App or via fax or email.
Those that are sent through fax or email must indicate the transfer applicant's name, date of birth and institution currently being attended.
Evaluations sent through email should be attached as PDFs.
7. Submit standardized test scores (SAT/ACT)
As of this writing, Brown University has a test-optional admissions policy — transfer applicants may or may not submit their composite SAT or ACT scores. Self-reporting of test scores is allowed by the elite school.
8. Submit optional supplements
Besides those that were already mentioned, Brown also allows transfer applicants to submit optional materials, the kinds that will enable admissions officers to know them better beyond their grades and test scores.
For instance, those who are accomplished in music may submit a music supplement, which can come in the form of video or audio. Links to YouTube videos of one's musical talent or any other skill or ability may be sent to Brown, too.
Transfer applicants may choose to submit a video introduction talking about their interests, experiences, influences, etc.
9. Submit the application before the deadline
Brown changes all that as transfer students can choose between entering in the fall or in the spring.
Keep your application to Brown as a transferee as hassle-free as possible by keeping this timeline in mind:
Spring application
March 1 – Transfer and financial aid application deadline
Early March – Notification for missing materials
April 1 – Midterm report deadline
Mid-May – Release of transfer admissions decisions
Late May – Deadline for reply for admitted transfer students
June 15 – Final transcript deadline for enrolling transferees
Fall application
October 1 – Transfer and financial aid application deadline
Early October – Notification for missing materials
November 1 – Midterm report deadline
Early December – Release of transfer admissions decisions
Late December – Deadline for reply for admitted transfer students
January 5 – Final transcript deadline for enrolling transferees
Brown University Transfer FAQs
Before we bring this post about transferring to Brown University to an end, let's answer a handful of pressing questions:
Does Brown University interview transfer applicants?
At Brown, interviews are not a part of the admissions process for transfer applicants. They may, however, choose to submit an optional video introduction.
A 2-minute video, which gives the applicants the opportunity to tell Brown more about themselves, may be submitted through the Brown Applicant Portal, which becomes accessible after a successful Common App submission.
What is the lowest GPA ever accepted to Brown University?
Brown does not say the lowest GPA it ever accepted.
However, it strongly advises applicants, whether first-time, first-year students or transfer students, with GPAs lower than 3.0 to submit additional materials or documents that do demonstrate their academic potential, especially because the Ivy League has a holistic admissions policy that considers many things other than the GPA.
How do you track submissions to Brown University during the admissions process?
In order to check whether or not materials have been received and processed by Brown, transfer applicants should check their Brown Applicant Portal where the most up-to-date information can be found.
The school, however, is unable to provide updates on submissions that are not formally required. It discourages calling or emailing the admissions office about the matter.
Recap: How to Apply As a Transfer Student to Brown
Transfer applicants can submit their completed Common App to Brown University by either March 1 or October 1, depending on whether they want to enter the Ivy League in the spring semester or fall semester.
Documents or materials to submit include Common App Brown-specific essays, high school and college transcripts, college report, midyear report, instructor evaluations and optional SAT or ACT scores. The elite institution also allows students applying as transferees to submit supplemental, including a 2-minute video introduction.
In order to increase your chances of getting in as a transferee, you should be able to add something to Brown's undergraduate community. Of course, it's also a must to demonstrate your likelihood of attaining academic success, such as by having a 3.93 GPA, which is the average GPA of the most recent transfer admits, or higher.
Other Colleges Worth Transferring:

Disclaimer: The views and opinions expressed in this article are those of the authors and do not necessarily represent those of the College Reality Check.