How to Transfer to Columbia University in 8 Steps
It's common knowledge that Columbia University, being an Ivy League school and one of the most highly-ranked, too, in the US and all over the planet, is one of the most selective institutions of higher education.
Because of this, getting admitted to it can be a real challenge.
Interested in transferring to Columbia to pursue a bachelor's degree after attending a community college or a 4-year institution but daunted by its selectivity level?
Before you decide to leave the prestigious school out of your college list, read on — below, I will talk about some of the most important things college students need to know when transferring to Columbia.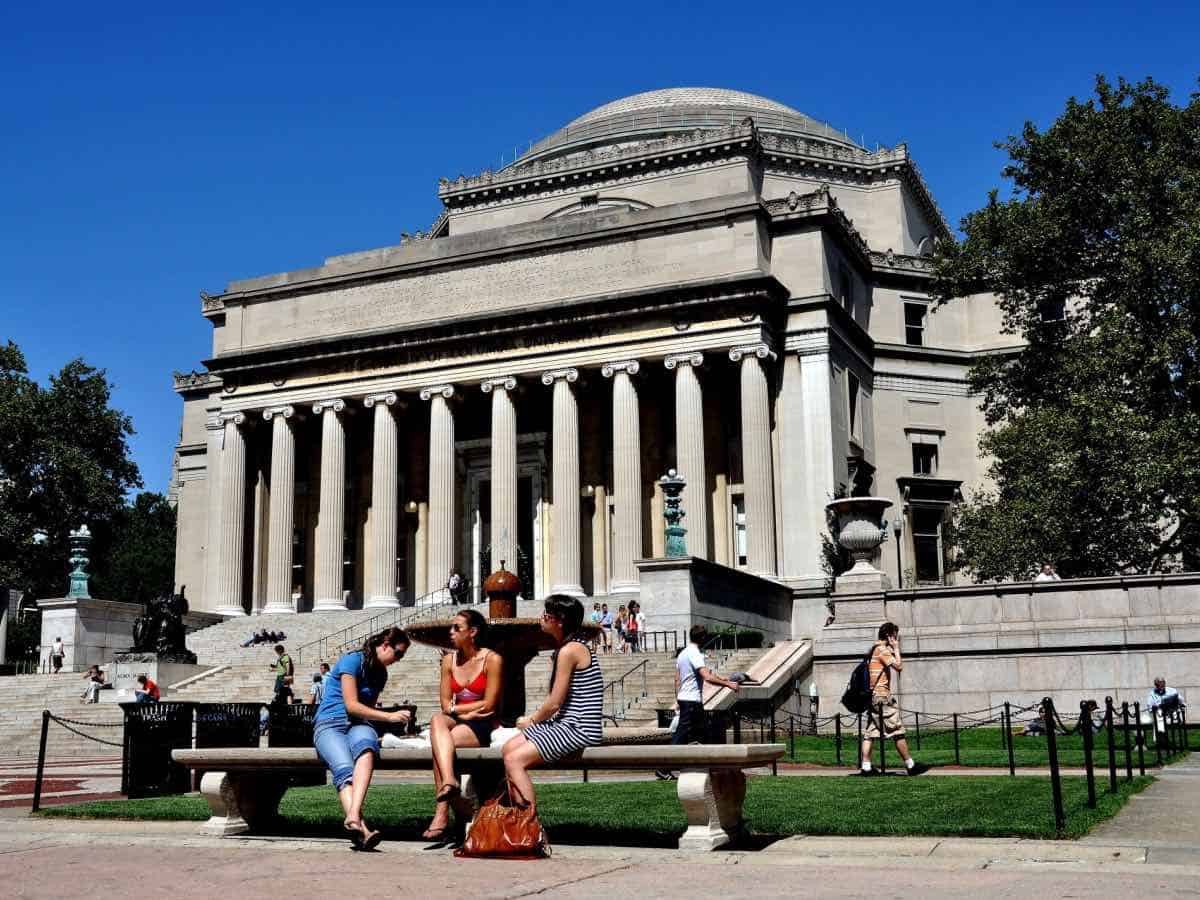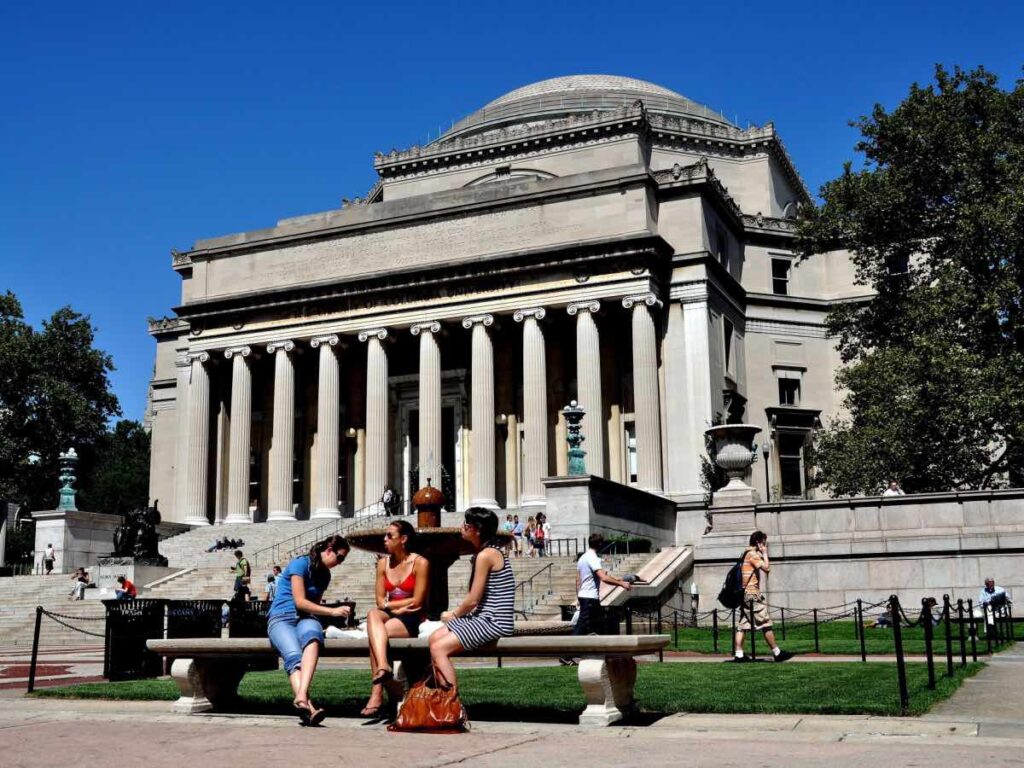 Columbia Acceptance Rates: Freshman vs. Transfer
The acceptance rate for first-time, first-year applicants at Columbia University is 6%. The Ivy League is known for having a higher acceptance rate for transfer applicants, depending on the program.
In 2022, for instance, Columbia's Fu Foundation School of Engineering and Applied Science accepted around 14.7% of transfer applicants.
Commonly, prestigious and selective institutions that accept fewer freshmen applicants accept even fewer transfer applicants, thus giving those with previous postsecondary education experience a much harder time getting admitted.
It's a good thing that it's a completely different thing at Columbia.
While the Ivy League school itself says that it typically accepts fewer than 10% of transfer applicants per admissions cycle, it tends to be friendlier to them than those who are fresh from completing high school or have no previous college experience.
Still, the number of transfer students the elite school accepts can vary from one program or one school to the other.
For instance, as mentioned earlier, about 14.7% of transfer students were accepted to its engineering program in 2022.
It's important to point out that Columbia encourages engineering transfer candidates to have a minimum GPA of 3.5 in their mathematics and science courses at their current colleges.
On the other hand, around 57.9% of transfer applicants were admitted to the School of General Studies, which is Columbia's liberal arts college as well as one of its 3 undergraduate schools.
However, it's critical to note that some programs or schools at Columbia are simply more selective than the rest.
To give you an idea of just how selective the prominent New York City-based institution is overall, in 2019, it received a total of 2,761 transfer applicants.
However, only 168 students were accepted to its various programs, therefore giving transfer students at Columbia an acceptance rate of 6.08%, which is about the same acceptance rate for first-time, first-year applicants.
Let's take a look at the percentage of admitted transfer students to Columbia according to gender, based on figures provided by the institution for its fall admissions:
Male transferees: 8.6%
Female transferees: 6.2%
Is It Possible to Transfer to Columbia From a Community College?
Columbia University itself says that part of its effort is to welcome more than 100 transfer students from a range of 2- and 4-year institutions of higher education each year.
That's because the Ivy League values the unique perspective they bring. As a matter of fact, Columbia's Teachers College has the Community College Research Center (CCRC).
Freshmen applicants need not be from elite high schools just to get admitted to Columbia. Similarly, transfer applicants need not have attended a college or university as prestigious as Columbia to get an acceptance letter from it.
The school makes it clear that it accepts students transferring from 2-year schools such as community colleges.
Community colleges have a special place in Columbia's heart. So much so that it has the CCRC, which is considered a leader in the field of community college research reform for more than 25 years.
Housed at the Ivy League's Teachers College, it was launched in 1996 to help improve the over 1,000 community colleges in the US by means of research.
Through its findings, a challenge faced by CCRC is the fact that although up to 80% of students entering community colleges say they want to earn a bachelor's degree someday, only 29% of them actually transfer to 4-year institutions.
In addition, less than 40% of those who enroll at community colleges earn a degree within 6 years.
And to help solve this problem, both Columbia College and Columbia Engineering accept 100 plus transfer students every admissions cycle, including those from community colleges.
Who Has the Best Chances of Getting Admitted to Columbia?
There is no minimum GPA requirement first-time, first-year applicants and transfer applicants must meet when applying to Columbia University.
But given the school's selectivity level, students who have recently been enrolled in a postsecondary institution are expected to have a GPA of not less than 3.5 overall as well as in some courses, depending on the program.
But it's important to note that admissions officers at Columbia consider things other than the GPA.
Standardized test scores, for instance, are taken into account, too, if submitted. The same is true for academic recommendations and answers to Columbia-specific questions. As a matter of fact, one's high school performance counts as well.
Of course, as expected, it's the GPA that has the most weight in the admissions process for transfer applicants. Just like what was mentioned above, students who are interested in transferring to Columbia must have a minimum overall GPA of 3.5. But the requirement grade-wise can vary from school to school or program to program.
Interested in applying to the Ivy League's School of General Studies? Then you must have an average GPA of not less than 3.7 to 3.8 at your current institution. Planning on pursuing an undergraduate engineering degree at Columbia? Then see to it that you have a minimum GPA of 3.5 in your science and mathematics courses.
Most transfer students who end up successfully accepted to Columbia's engineering programs have completed:
2 semesters of calculus
2 semesters of physics
1 semester of chemistry
Here are some tips for a strong Columbia transfer application:
Highlight your academic accomplishments. Columbia is looking for students who have excelled in their academic studies. If you have a strong GPA, have taken challenging courses, and have received awards or honors, be sure to mention them in your application.
Demonstrate your interest in Columbia. Columbia is a highly selective school, and they want to make sure that you are a good fit for its academic program. Be sure to research Columbia website beyond the homepage.
Write a well-written application. Your application should be well-written and free of grammatical and semantical errors. Be sure to proofread your application or ask someone you trust to do it.
Take advantage of your college's transfer resources. Did you know that your college may have resources available to help you with the transfer process, such as transfer counselors or transfer fairs. Make sure to use anything that can help you to succeed.
Network with current Columbia students and alumni. While this cannot influence the admission decision, networking in general can help you learn more about Columbia University and get advice from people who have been in your shoes.
Be prepared to explain why you are transferring. Columbia, like any other selective college, is likely to ask you why you are transferring from your current college or university. Be prepared to explain your reasons concisely.
Just for reference, here's a 7-minute video of Kelly, a transfer student to Columbia, talking about some of the things she wished she knew before transferring to the elite institution.
Columbia Transfer Credit Policy
Provided that completed courses are analogous to those available at Columbia University, transfer students can earn transfer credits.
However, the Ivy League awards a maximum of 64 points (or 68 points in its engineering program) of transfer credits. Also, the student must have earned or be registered for 24 points of credits at his or her current school.
While it can be challenging to gain admission to Columbia as freshmen and transfer applicants, successful transferees may find it surprisingly easy to transfer earned college credits to the prominent school.
As a matter of fact, over 75% of entering transferees transfer credits to the institution.
But before you figure out how many transfer credits you should earn in case Columbia admits you as a transfer student, it's a must beforehand to make sure that you have earned or currently working credits worth 1 year of full-time study.
That's equivalent to at least 12 credits per semester or at least 24 credits per year.
Otherwise, Columbia will not award you transfer credits or let alone admit you as a transfer student.
But, as mentioned above, the elite school can award no more than 64 transfer credits, or 68 transfer credits if attending Columbia's Fu Foundation School of Engineering and Applied Science, including points earned via AP and/or IB examinations.
And speaking of which, the most number of credits you can earn from standardized tests will be limited to 16 points.
It doesn't mean however, that you will earn credits for courses you have completed before transferring to Columbia — if the courses are not comparable to those that the school offers, you will not receive transfer credits for them.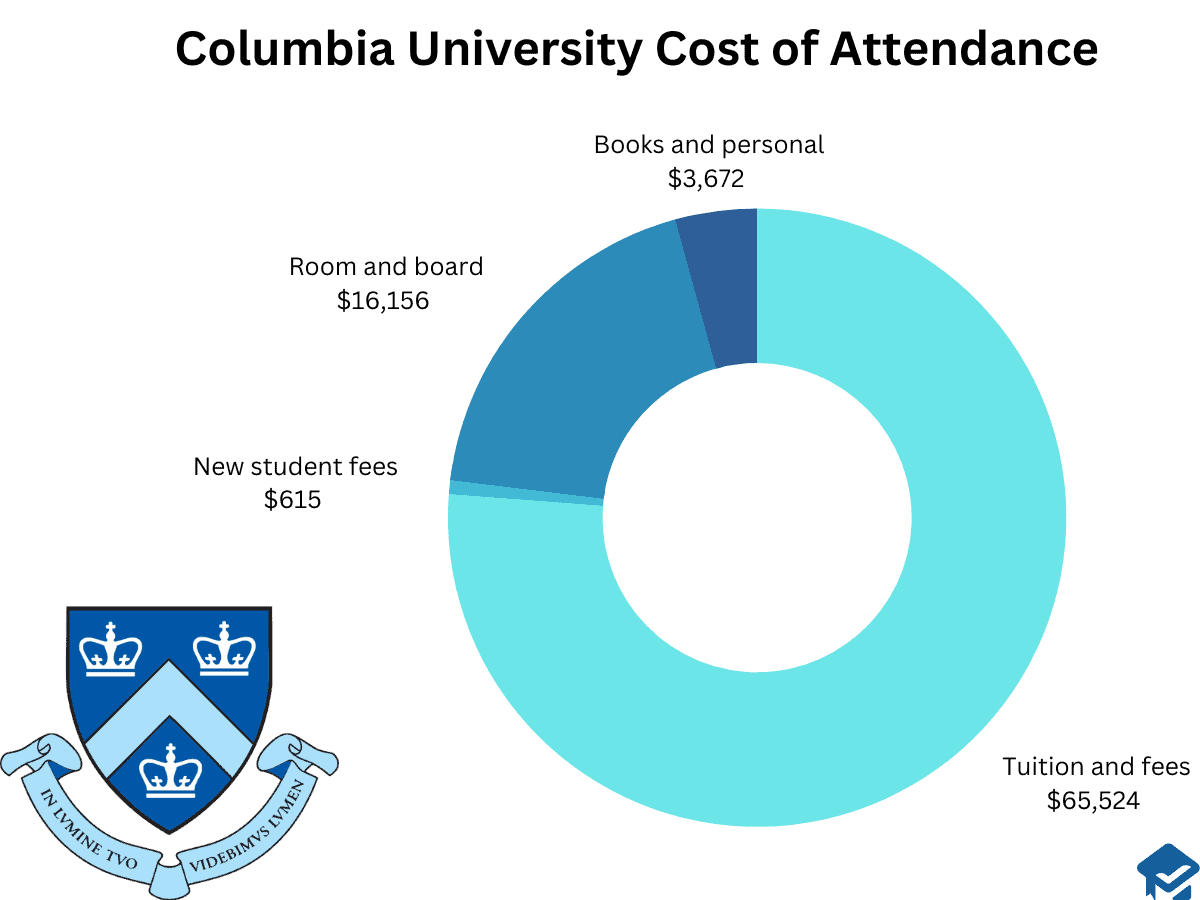 Columbia Transfer Application and Other Costs
At Columbia University, the application fee for transfer applicants is the same amount for freshmen applicants: $85.
The estimated cost of attending the Ivy League is $85,967. The school itself says that it covers 100% of the demonstrated financial need of transfer students.
Transferring to Columbia starts with filling out the Coalition App and paying the application fee. While the $85 application fee is non-refundable, students who demonstrate financial difficulty may apply for a fee waiver.
Currently, tuition and fees at Columbia amount to $65,524 per year.
That brings the estimated cost of attendance at the Ivy League to $85,967.
But since transfer students are not required to live on campus like freshmen students, with the exception of those who are commuting from the homes of their parents or guardians, they can choose to live off campus to lower the amount of money they shell out for going to Columbia per year.
But transferees who wish to live on campus are guaranteed housing for a certain number of consecutive terms. In most instances, transfer students together with exchange students are assigned to doubles.
Here's a breakdown of the estimated cost of attending Columbia as a transfer student:
| | |
| --- | --- |
| Expenses | Cost |
| Tuition and fees | $65,524 |
| New student fees | $615 |
| Room and board | $16,156 |
| Books and personal | $3,672 |
| TOTAL | $85,967 |
Got a scholarship from your current school?
Make sure that you speak with the provider to determine whether or not it will transfer with you when you move your pursuit of a bachelor's degree at Columbia.
In any case, the prestigious institution vows to fully support its transfer community financial-wise — all transfer applicants (provided that they are citizens or permanent residents) are evaluated for aid eligibility whether or not they demonstrate financial need.
However, all institutional scholarships available are need-based.
Around 48% of Columbia's students receive financial aid, each one getting an average of $67,818 per year.
How to Transfer to Columbia University in 8 Steps
The application deadline for transfer applicants at Columbia is March 1. It's also the deadline for financial aid applications and the submission of various other requirements, too.
Requirements include transcripts, academic recommendations, school reports, optional standardized test scores and responses to Columbia-specific questions.
At Columbia, first-time, first-year applicants can apply for either the fall semester or spring semester — that's 2 chances of applying per year. And each time, they can choose to apply priority early action, early action or regular decision.
Transfer students, on the other hand, can only apply once, and that's for the fall semester only.
If you have the Ivy League at the top of your college list, the most important date to remember as a transfer applicant is March 1.
You should submit not only your completed Coalition App (transfer applicants use the Coalition App to apply to Columbia, while freshmen applicants use the Common App) but also supporting documents and financial aid application.
Meanwhile, it's by June 1 when admissions decisions are released online. Should you get admitted to the high-ranking school as a transfer student, you have to put down an enrollment deposit by mid-June.
On the other hand, you should submit your final transcript from all schools attended to Columbia by late June.
The following are the things that transfer applicants have to submit on or before the deadline:
1. Meet the transfer eligibility requirements
Columbia University requires transfer students to have earned at least 24 credits (the equivalent of one year of full-time study) at another institution. You must also have a high school diploma or equivalent.
2. Submit an online application via Coalition App
Just like what's mentioned above, it's only the Coalition App that transfer applicants may use in applying to Columbia.
See to it that you complete each and every section to ensure a hassle-free application as a transfer student.
The Ivy League school recommends including details about activities from both high school and college in the Activities and Experience section. It adds to mention all clubs, organizations, internships, jobs, volunteer works and others.
3. Answer Columbia-specific questions
Admissions officers at Columbia need to understand the interests, intellectual curiosity, love of learning and sense of self of transfer applicants. And that is why they are asked to respond to questions specific to the institution.
Some examples include:
List the titles of the books, essays, poetry, short stories or plays you read outside of academic courses that you enjoyed most during high school.
List some resources and outlets that you enjoy, including but not limited to websites, publications, journals, podcasts, social media accounts, lectures, museums, movies, music or other content with which you regularly engage.
Why are you interested in attending Columbia University?
Please tell us what from your current and past experiences (either academic or personal) attracts you specifically to the areas of study that you noted in the application.
Word count can range anywhere from 35 words or fewer to 200 words or fewer, depending on the question.
4. Submit high school and college transcripts
Because of your previous higher education experience, it's not just your high school transcript you should submit to Columbia when transferring to it but also your high school transcript.
While a hard copy can be mailed to the Ivy League, the school prefers electronic copies for faster processing.
5. Provide transfer report and curriculum report
A couple of reports must be submitted by transfer applicants to Columbia:
The transfer report, which should be completed by a dean, adviser, registrar or any other school official who can provide information about the transfer applicant's standing at his or her current institution.
The Coalition App curriculum report, which provides information about courses the transfer applicant is currently enrolled in. While midterm grades are often not available by March 1, which is the application deadline for transfer students, Columbia says that it will accept the report until April 15 but strongly recommends submitting them ASAP.
6. Submit 2 academic recommendations
Transfer applicants are required by Columbia's admissions officers to submit 2 letters of recommendation coming from their college professors. If they want, they can submit a third optional recommendation from the dean or an academic adviser.
None of the academic recommendations can come from:
High school teachers
Research supervisors
Employers
Family members
7. Submit standardized test scores
Before anything else, it's important to keep in mind that Columbia has a test-optional admissions policy that applies to both first-time, first-year applicants and transfer applicants.
It's also a must to note that students who wish to transfer to the Ivy League school will not be disadvantaged in the admissions process should they choose not to submit theirs.
Prefer to submit those SAT or ACT scores of yours because you feel that they are a true reflection of your academic achievement? Then there are a couple of things to know:
Test scores may be self-reported
The optional writing section is not considered
8. Wait for a decision
As always, waiting is the hardest part of any application. Check our advice on how to cope with stress while waiting for a decision.
FAQs
Before we wrap things up, let's answer some of the most pressing questions about transferring to Columbia University:
Are transfer applicants interviewed by Columbia University?
According to Columbia University itself, an interview is not a part of its admissions policy for transfer students.
Because of this, the institution encourages transfer applicants to use their applications as a platform to discuss or explain important matters that can increase their chances of getting admitted, including their reasons for wanting to transfer to Columbia.
Should transfer applicants submit supplemental materials?
Transfer applicants to Columbia University are not required to submit supplementary materials. But they may choose to submit them anyway in order to help the school's admissions officers understand their application better.
Some common examples are art portfolios, academic research works and extracurricular pursuits with descriptions of involvement.
Does Columbia University prefer SAT scores over ACT scores or vice versa?
While the submission of standardized test scores is optional, transfer applicants may choose to submit theirs to boost their applications. The Ivy League school does not view one more favorably than the other.
Students who took the SAT and ACT at the same time may choose to submit both their scores — Columbia will simply look at the highest scores.
Update: As of Spring 2023, Columbia University is the first Ivy League school that went test-optional permanently.
Are transfer applicants whose parents attended Columbia more preferred?
Columbia University admits to being pleased to receive applications from legacy students, or students who are the children of alumni members.
Transfer students who are competitive and compare favorably with other talented applicants may be at a slight advantage in the admissions process if their parents attended and/or graduated from the institution.
Recap: How to Apply As a Transfer Student to Columbia
Transferring to Columbia University starts with filling out the Coalition App — the Common App is for first-time, first-year applicants — and paying the $85 application fee on or before March 1, which is the deadline for transfer applications.
It's also important for transfer applicants to submit by the said deadline various requirements, including high school and college transcripts, school reports, a couple of academic recommendations, responses to Columbia-specific questions and optional SAT or ACT scores, which can be self-reported by the applicants.
Having an overall GPA of 3.5 at least can help increase a transfer student's admissions chances.
But because Columbia has a holistic admissions policy for both freshman applicants and transfer applicants, students with previous college experience must also be able to impress with their qualities, talents and extracurriculars — anything that can give the Ivy League's admission officers a general idea of why they wish to transfer to Columbia.
Other Colleges Worth Transferring:

Disclaimer: The views and opinions expressed in this article are those of the authors and do not necessarily represent those of the College Reality Check.