How to Transfer to Stanford (Deadlines and Application Requirements)
Because it's a highly selective institution, many college-bound teens make the mistake of thinking that Stanford University is an Ivy League. While it's not a part of the group consisting of Harvard, Columbia, UPenn and the rest, the private research university located in Stanford, California is considered a Hidden Ivy.
Getting into it as a freshman student is hard. But getting into it as a transfer student is harder!
But before you cross Stanford out of your college list, continue reading. Below, I will talk about some very important things every student who wishes to transfer to the prestigious school needs to know in order to get an offer to enroll.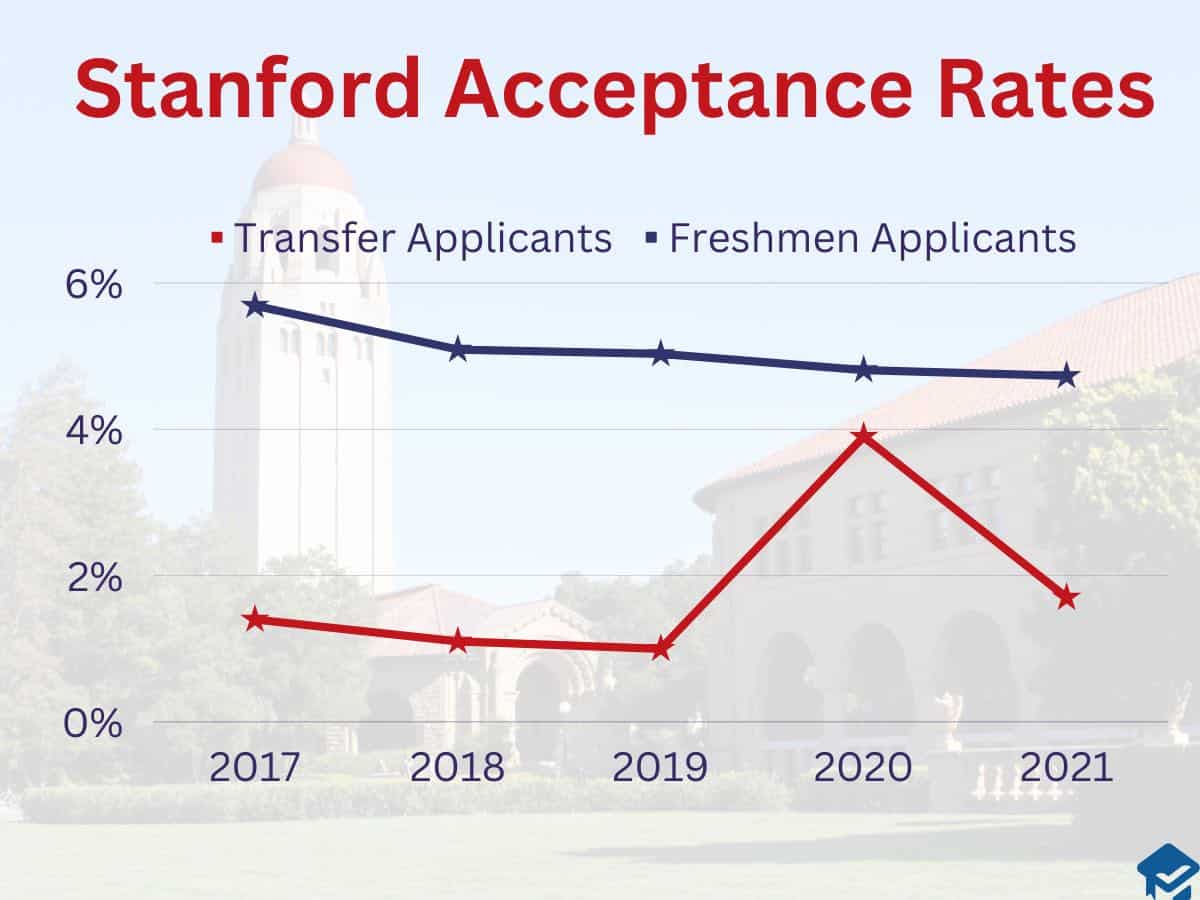 Stanford Acceptance Rates: Freshman vs. Transfer
Many college-bound teens dream of earning a degree from Stanford. But in most instances, the highly-ranked institution winds up as a dream school on their college list knowing how difficult it is to get into it.
Transfer applicants need to fret more than freshmen applicants because even fewer of them receive an acceptance letter.
Stanford's acceptance rate for transfer applicants in 2021 was only 1.7%.
On the other hand, in 2019, the elite school admitted only 27 individuals among a total of 2,352, thus giving it an acceptance rate of 1.1% for transfer applicants.
But in 2020, it accepted more transfer applicants than usual — out of the 2,216 hopefuls, a total of 86 got accepted.
Among those who got admitted in 2020, 57% were men and 43% were women. However, among successful transfer applicants, only 67 individuals (78%) actually grabbed the offer to attend the top-tier school.
Consistently, though, admissions cycle after admissions cycle, Stanford accepts fewer transferees than freshmen.
Let's compare the acceptance rates for transfer applicants and first-time, first-year applicants to Stanford over the past few years in order to have a much better idea of how much harder it is to get to the Ivy-like school as a transferee:
| Year | Transfer Applicants | Freshmen Applicants |
| --- | --- | --- |
| 2017 | 1.40% | 5.69% |
| 2018 | 1.10% | 5.09% |
| 2019 | 1.00% | 5.03% |
| 2020 | 3.90% | 4.81% |
| 2021 | 1.70% | 4.73% |
Is It Possible to Transfer to Stanford From a Community College?
Based on the eligibility requirements for transferees at Stanford University, students who have completed courses for college credit in an associate or bachelor's degree program after high school may apply for transfer admission.
Needless to say, students who attended 2-year and 4-year degree-granting institutions are eligible to apply to transfer to Stanford.
A requirement for transfer applicants to the Hidden Ivy is pretty straightforward: to be eligible, you must have completed your college coursework at an accredited degree-granting institution.
So, in other words, you can get in even if you graduated from a community college.
Meanwhile, students who completed vocational, technical, performance or professional programs are not eligible to apply to Stanford as transfer students.
On the other hand, those who are dual-enrolled in high school and college must apply as freshmen, while those who already have a bachelor's degree should consider applying to Stanford's graduate school.
Whether you're from a community college or a 4-year institution, it's a must for you to have a high school diploma or the state equivalent of a high school diploma or even a GED credential.
Here's a Stanford undergraduate majoring in computer science answering some transferring to Stanford University questions from a student's perspective — she transferred to Stanford from Cañada College, which is a community college located in Redwood City, California with an open admissions policy and a population of 5,231 students, 11% of whom are enrolled full-time.
And this is the 22-minute video of a student who transferred to Stanford from the College of San Mateo sharing some tips on how she got accepted to the prestigious institution.
Who Has the Best Chances to Get Admitted to Stanford?
Shining in the classroom can increase your chances of getting an acceptance letter from the Hidden Ivy.
While Stanford doesn't have any published minimum GPA requirement transfer applicants must meet, you have better chances of getting in with a GPA of 3.9 or even higher.
As a matter of fact, among all first-time, first-year admits in the academic year 2022 to 2023, around 71% had a GPA of 4.0.
On the other hand, about 23% had a GPA of anywhere between 3.75 and 3.99. Up to 94% of first-time, first-year students at Stanford, meanwhile, graduated in the top 10% of their high school.
Considering all the given figures, there's no denying that Stanford admits no less than high-performing students.
Here are some other things taken into account by the institution's admissions officers:
Extracurriculars
The reason why your extracurricular activities are considered is to determine your potential contributions to the Stanford community.
What the elite school looks for in particular is the impact you had in your family, your job, a club, your school or a larger community as well as the impact the experience had on you.
Intellectual vitality
Stanford is on the lookout for students who demonstrate commitment, dedication and genuine interest in expanding their intellectual horizons, reflecting what they write about themselves in their essays and what individuals write in their recommendations.
It has a penchant for those who seek out opportunities and widen their perspective.
Context
Because each applicant is different, the highly-ranked institution pays extra attention to unique circumstances.
Its admissions officers put into context achievements by considering an applicant's background, education and work and family responsibilities. They also check how a student has taken advantage of what's available to him or her.
Stanford Transfer Credit Policy
At Stanford University, admitted transfer students may transfer with them a maximum of 90 units, which is equivalent to about 2 years of full-time college or university work. While it's true that they may apply as transfer students with more than 2 years' worth of previous coursework, they must complete at least 2 more years of coursework at Stanford.
Before anything else, let's get one thing clear: at Stanford, a bachelor's degree consists of 180 units.
It's exactly because of this why entering the top-tier institution with an associate degree (equivalent to Stanford 90 units) under your belt could mean that you are halfway toward a bachelor's degree.
But, of course, all credits earned must transfer.
Unlike some institutions of higher education in the US, Stanford does not have any articulation agreement with any public school or community college that makes for a seamless transfer of earned credits.
However, it has set some conditions to meet for transfer applicants to earn credits completed at an American or international school:
Courses must be completed from a fully accredited and recognized institution
Courses completed must be similar to courses offered at Stanford
Courses completed must have grades of C- or higher
Courses do not duplicate, overlap or regress previous coursework
Before we proceed to the next topic about transferring to Stanford, it's important to keep in mind that all transfer credits, once approved, can count toward one's overall major or graduation requirement.
However, grades will not factor into the student's Stanford GPA nor will they appear on the transcript.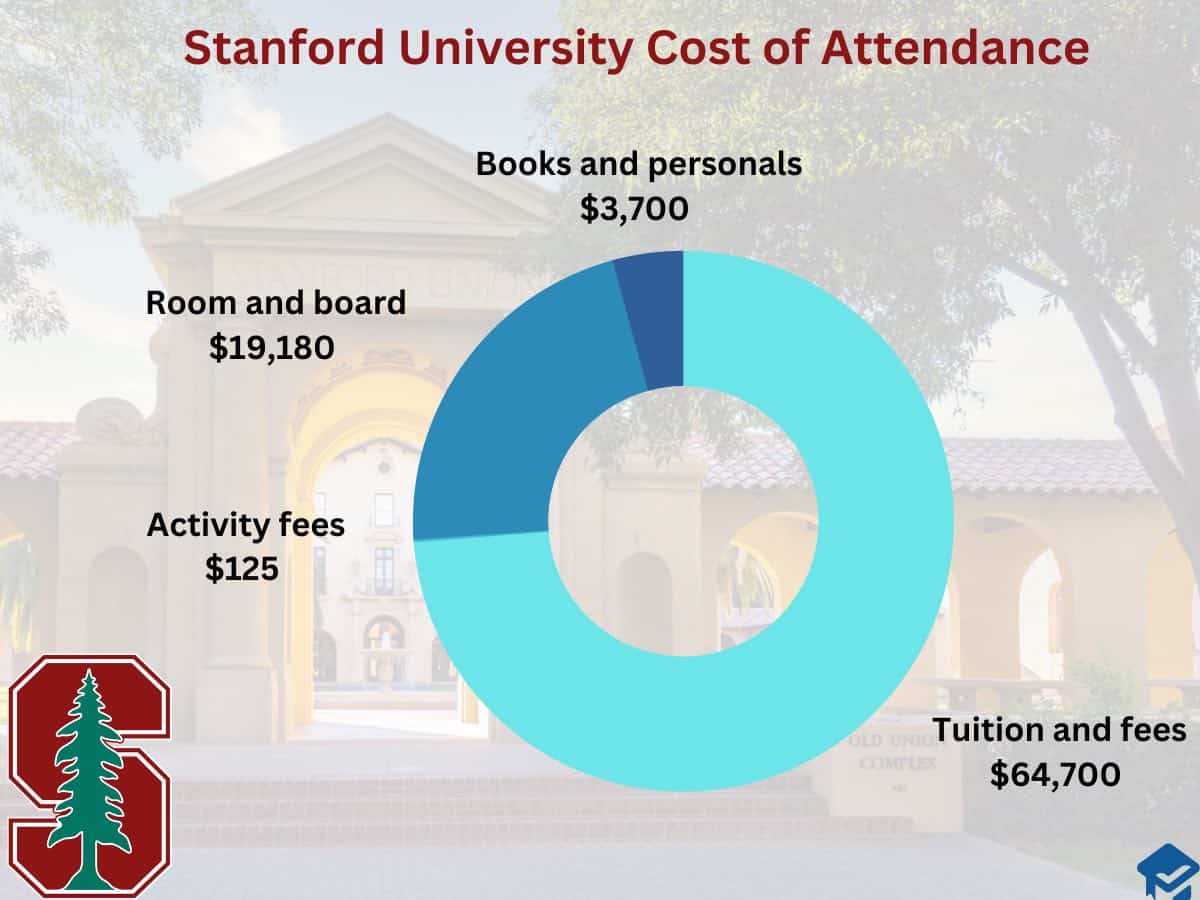 Transferring to Stanford: Costs, Scholarships, etc.
At Stanford University, the application fee for transfer applicants is $90, which is the same amount for freshmen applicants. The cost of attendance for undergraduates, meanwhile, amounts to $87,833. Approximately 49% of Stanford's students, including transferees, receive need-based financial aid.
Besides the selectivity level, the cost is another thing that makes applying to Stanford daunting to many.
Transfer applicants pay a non-refundable $90 fee for their applications to be processed by the Hidden Ivy. Those who demonstrate financial need may apply for a fee waiver — we will talk more about this matter in a few, so don't stop reading now!
Tuition at Stanford amounts to $61,731.
On the other hand, room and board cost $19,922. Because transfer students are required to live on campus during their initial year at the prominent school, just like freshmen students, they have to take into account the cost of room and board when budgeting.
According to the institution's Residential and Dining Enterprises, admitted transferees are guaranteed 3 complete or partial years of campus housing, which will facilitate meeting new friends and participating in campus community activities.
Let's take a look at the breakdown of the estimated cost of attending Stanford for a year:
| | |
| --- | --- |
| Cost | Expenses |
| Tuition | $61,731 |
| Fees | $2,205 |
| Room and board | $19,922 |
| Books and supplies | $825 |
| Personal Expenses | $3,150 |
| TOTAL | $87,833 |
As with the case for most transfer students, it's not all the time that their scholarships transfer with them.
Fortunately for transferees from low-income families, Stanford University meets 100% of its students' demonstrated need. As a matter of fact, last year, around 84% of its graduates had no student debt.
But just like the vast majority of prestigious postsecondary institutions in the land, all institutional aids at Stanford are need-based.
As stated earlier, around 49% of the elite school's undergraduates, including transfer students, receive need-based financial aid. The average aid package each awardee receives amounts to $66,562.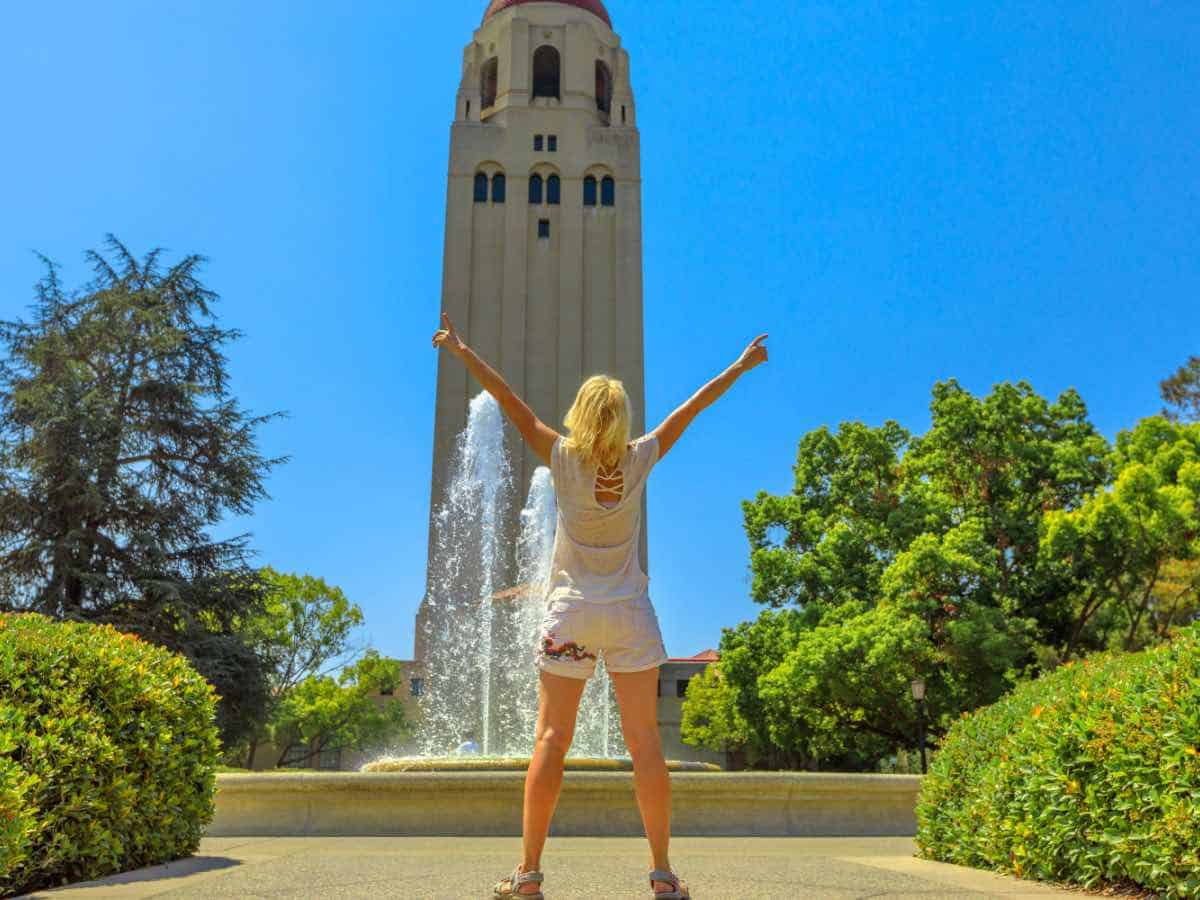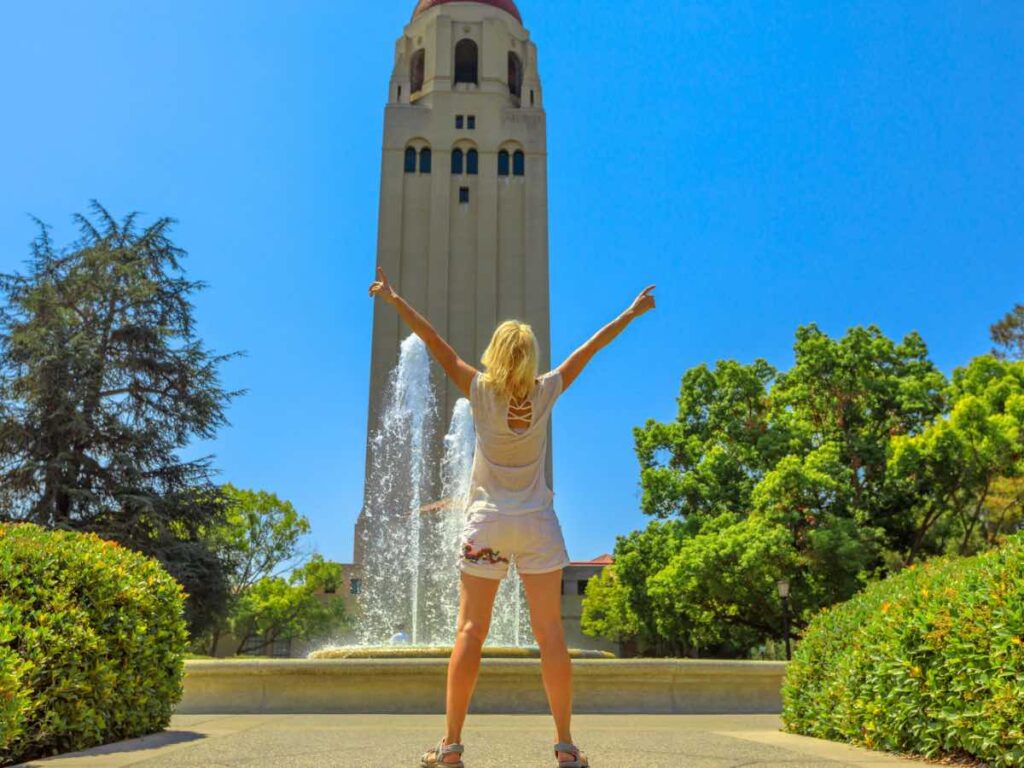 How to Transfer to Stanford (Deadlines and Application Requirements)
March 15 is the hard deadline for transfer applicants to Stanford University. It's also important for many of the application requirements to be submitted on or before the slated date. Some of the documents or materials transfer applicants must hand in include transcripts, college report, recommendation letters and a total of 4 Stanford essays.
To make sure you don't miss any important transfer application dates, check out this timeline:
March 15 – Transfer application deadline
March 20 – Materials for art portfolio
April – Notification for missing documents
Mid-May – Release of transfer admissions decisions
June 1 – Deadline for reply for admitted transfer students
Knowing important dates is just half the battle — of course, it's a must that you know which application components you should hand in on or before the slated deadline for a hassle-free application as a transfer student.
So, without further ado, let's briefly talk about them one by one:
1. Meet the eligibility requirements
To be eligible for transfer admission to Stanford, you must have completed at least one full year of college coursework at an accredited institution, have a strong academic record, and demonstrate that you would be a good fit for Stanford's community.
2. Complete the Common App application
Like many institutions of higher education, Stanford University accepts both the Common App and Coalition App.
Transfer applicants, however, may apply to the Hidden Ivy using the Common App only. Besides for applying to Stanford, the Common App may also be used by applicants to request a fee waiver, particularly those who feel that their financial situation meets the fee waiver guidelines, which can be found on the Common App itself.
3. Submit High school and college transcripts
Asking the high school you attended to submit your official high school transcript (together with your graduation date) to Stanford's admissions office is an important step to take when applying to the highly-ranked institution.
Having trouble with requesting it? Stanford says you may instead submit a copy of your high school diploma. You may also choose to provide any other document that indicates you have graduated from your high school.
As a matter of fact, it's also possible to submit a copy of your leaving exams if you can't get your hands on your official high school transcript.
Since you have something that freshmen applicants don't, which is a prior college experience, you should also request your official transcript from your current college — or transcripts from all postsecondary institutions attended.
4. Complete the college report
Transfer students applying to Stanford University should ask an official at the school they are currently attending to fill out the college report form, which is available for download on the Common App's website.
It's important for admissions officers at Stanford to get their hands on your college report to make sure that you have a good academic and disciplinary standing at the college from which you are transferring.
Just about any school official with access to your records can complete the college report form, including a dean, registrar or academic adviser.
Unlike some colleges and universities, Stanford does not require transfer applicants to submit a midterm grade report.
5. Provide 2 letters of recommendation
You should also submit a total of 2 recommendation letters, at least 1 of which must come from a college professor. But Stanford says that it's fine for it to come from a teaching assistant in some situations.
Have been out of college for a while and actively working and can't seem to get in touch with an old professor?
No worries because 1 recommendation letter may be replaced with a work reference. Similarly, veteran applicants may substitute it with a commanding officer's reference instead.
Transfer applicants are given by Stanford the opportunity to submit an optional letter of recommendation if they feel that there's another person who knows them very well and can provide much-valued insight about themselves. It's important for the recommender to indicate his or her full legal name and date of birth at the top of the letter.
6. Submit 4 Stanford essays
All in all, a total of 4 essays must be submitted by students who are applying to Stanford University as transferees.
The personal statement, which is found in the Stanford questions section of the Common App, is one of those. And the prompt goes: "Please provide a statement that addresses your reasons for transferring and the objectives you hope to achieve." With a max count of 650 words, hopefuls have plenty of room to impress admissions officers.
Besides the Common App essay, you must also use 100 to 250 words to answer each of the following prompts:
The Stanford community is deeply curious and driven to learn in and out of the classroom. Reflect on an idea or experience that makes you genuinely excited about learning.
Virtually all of Stanford's undergraduates live on campus. Write a note to your future roommate that reveals something about you or that will help your roommate — and us — get to know you better. OR Stanford's community is an essential part of the undergraduate experience. We come from all walks of life, share our own traditions, take care of one another, and think of ourselves as family. How do you define family and what contributions have you made to yours?
Tell us about something that is meaningful to you and why.
7. Submit standardized test scores (SAT/ACT)
As of this writing, Stanford University has a test-optional admissions policy for both first-time, first-year applicants and transfer applicants. As such, students applying as transferees may or may not submit their SAT or ACT scores.
Those who choose to submit theirs need not provide the writing or essay section.
It's also possible for transfer applicants to self-report their SAT or ACT scores. But if they get an offer to enroll, they must submit their official scores. Just make sure that you self-report your test scores carefully and honestly — if they do not match with those in the official report, Stanford reserves the right to revoke your admission.
8. Submit your application by the deadline
The deadline for transfer applications to Stanford is November 1.
9. Wait for a decision
Stanford will notify you of its decision in January.
Stanford Transfer FAQs
And now, let's answer some questions someone who is planning on transferring to Stanford may have on his or her mind:
Can previously denied transfer applicants reapply to Stanford University?
Applicants can apply to Stanford as undergraduate students for a maximum of 3 times only. This is true whether for admission as first-time, first-time students or transfer students or a combination of both.
Needless to say, transfer applicants who have applied a total of 3 times already may no longer apply to the prestigious institution.
Does Stanford University accept international transfer students?
Other than transfer students from other institutions of higher education in the US, 2-year and 4-year degree-granting schools alike, Stanford also accepts eligible transferees from international colleges and universities.
However, it's of utmost importance for transfer applicants to have completed coursework from officially recognized international institutions.
Does Stanford University superscore standardized test scores?
Stanford itself makes it clear that it considers the highest composite scores across all SAT or ACT sittings. It goes without saying that transfer applicants who choose to submit their test scores while the institution has a test-optional admissions policy may provide their SAT or ACT scores from various testing dates if they took the standardized test more than once.
Recap: How to Apply As a Transfer Student to Stanford
Every year, transfer students can apply to Stanford University only once, which has a March 15 deadline. They should also submit by the said date various requirements, including supplemental essays, recommendation letters, school report, high school and college transcripts and self-reported SAT or ACT scores (optional).
Given that Stanford is one of the most selective higher education institutions in the country, it goes without saying that getting in is challenging for first-time, first-year students and even more so for transferees.
Its acceptance rate for transfer applicants is just 1.7% as opposed to 4% for freshmen applicants.
While having impressive academic achievement can help increase a transfer student's chances of getting an offer to enroll, having a strong overall application is a must since Stanford has a holistic admissions policy — your unique qualities and experience must demonstrate the many wonderful contributions you can potentially have to the Stanford community.
Other Colleges Worth Transferring:

Disclaimer: The views and opinions expressed in this article are those of the authors and do not necessarily represent those of the College Reality Check.