How To Increase Your Chances Of Transferring To Yale
Around 4 out of 5 students who start their undergraduate journey at a community college say they plan on eventually transferring to earn a bachelor's degree.
If you are one of them, it can be tempting to turn your associate degree from a 2-year degree-granting institution to a bachelor's degree from Yale University.
Getting into the Ivy League, sadly, can be tough.
On the fence as to whether or not you should apply as a transfer student to Yale?
Checking out the entirety of this post will give you an idea of how to go about the transfer application process to the prestigious school so that you can decide so much better if you should give it a go.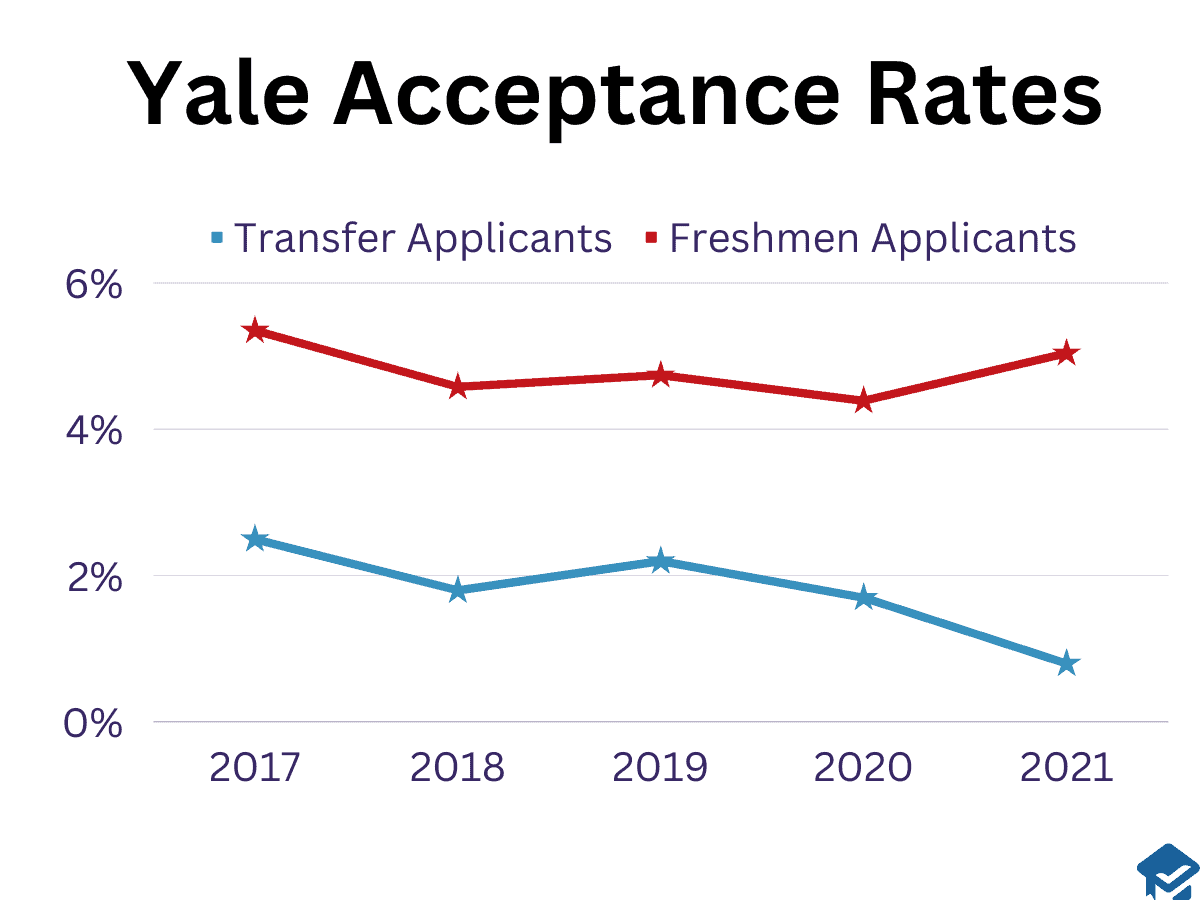 Yale Acceptance Rates: Freshman vs. Transfer
At Yale University, the acceptance rate for first-time, first-year applicants is 5%. On the other hand, the acceptance rate for transfer applicants is considerably lower: 0.8%.
The figure is based on the fall 2021 admissions cycle where there were a total of 1,991 transfer applicants to Yale but only 15 individuals received an offer to enroll.
Commonly, the acceptance rate for transferees is lower than the acceptance rate for incoming freshmen students. This is especially true at some of the most competitive and selective institutions of higher education in the US.
The same applies to Yale, where less than 1% of transfer applicants get admitted per year.
However, it's important to bear in mind that the number of transfer students who successfully get into the Ivy League can vary from year to year.
It depends on factors such as how competitive the transfer applicant pool is and the number of slots available for students with previous college experience, including those with an associate degree.
But consistently, the acceptance rate for transfer applicants is lower than the acceptance rate for first-time, first-year applicants at Yale. Just take a look at the following table of acceptance rates from 2017 to 2020:
| Year | Transfer Applicants | Freshmen Applicants |
| --- | --- | --- |
| 2017 | 2.50% | 5.35% |
| 2018 | 1.80% | 4.58% |
| 2019 | 2.20% | 4.74% |
| 2020 | 1.70% | 4.39% |
| 2021 | 0.80% | 5.04% |
Transfer vs. First-Year Yale Acceptance Rates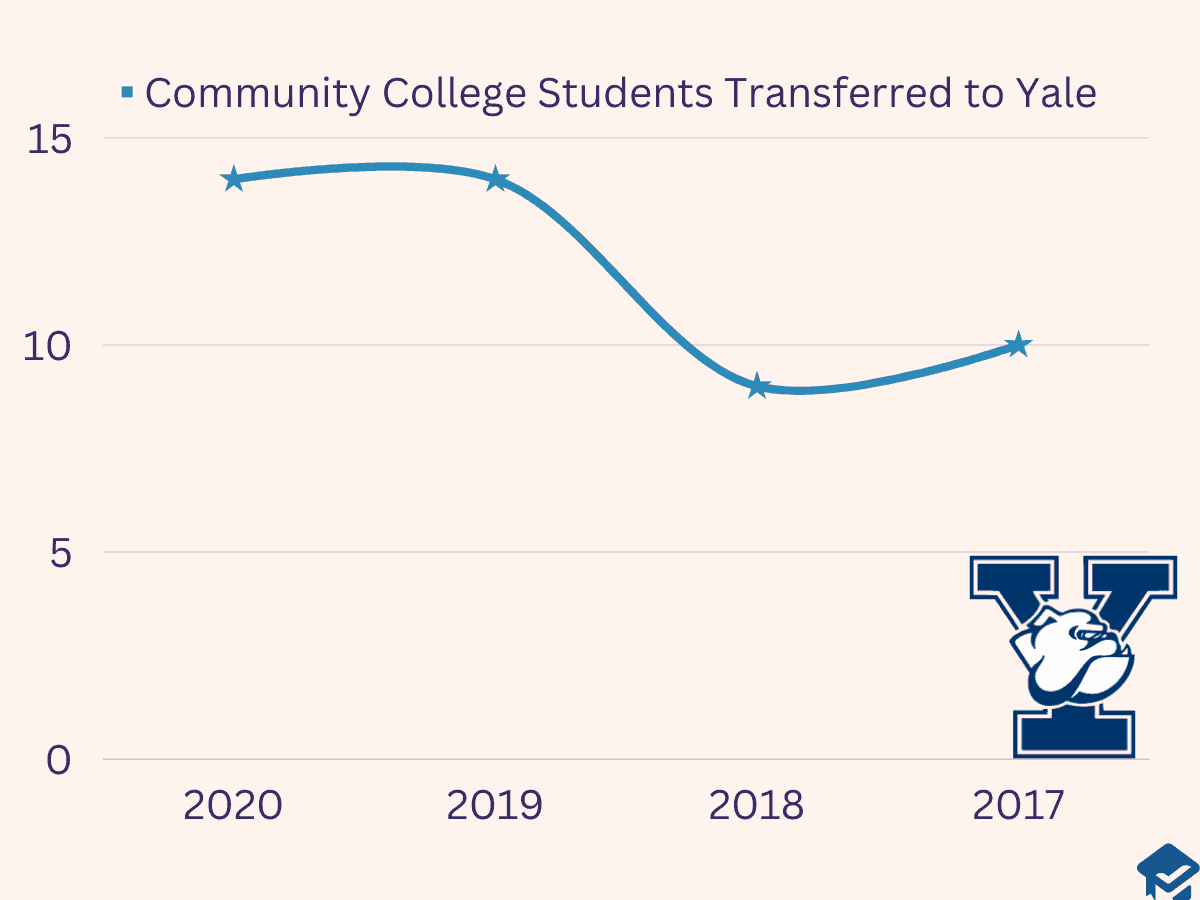 Is It Possible to Transfer to Yale From a Community College?
Yale University itself says that it accepts transfer applicants from both 2-year and 4-year degree-granting institutions, including community colleges. But because the Ivy League admits only a very small number of transfer students per admissions cycle, just around 9 to 14 students from community colleges get into it every academic year.
Refrain from assuming that Yale only welcomes transferees from higher education institutions with Ivy-like statuses — it accepts applicants with some completed courses or an associate degree from a range of schools.
As a matter of fact, many community college graduates have successfully gained admission to the elite university.
But given that Yale is a highly selective school, it doesn't come as a surprise that it accepts only very few community college grads, especially given that the acceptance rate for transfer applicants is lower than the acceptance rate for first-time, first-year ones.
Every year, more or less 10 students from community colleges attend Yale.
Check out this table demonstrating the number of Yale students from community colleges per year:
| | |
| --- | --- |
| Year | Number of Community College Students |
| 2020 | 14 |
| 2019 | 14 |
| 2018 | 9 |
| 2017 | 10 |
Here's the success story of Nune Garipian, a Pasadena City College student who, after taking STEM and liberal arts courses and pursuing on-campus leadership roles, transferred to Yale to major in political science.
And here's a nearly 15-minute video of Gabriel Conte Cortez Martins, who, at the time the video was posted, was a junior student at Yale studying biochemistry and molecular biophysics after attending Miami Dade College, a large public institution located in Miami, Florida with 19,950 undergraduate students, a rolling admissions policy and an acceptance rate of 100%.
How to Stand Out in Your Yale Application
With an acceptance rate of less than 1%, having a standout application is of utmost importance for transfer applicants.
Other than having above-average academic achievements in high school and college, partaking in leadership roles and other extracurriculars and contributing in a field related to the degree being pursued is a plus.
Up to 97% of all first-time, first-year students admitted to Yale graduated in the top 10% of their high school class. Their composite SAT and ACT scores, meanwhile, range from 1480 to 1560 and 33 to 35, respectively.
Considering these figures, there's no denying that only the most competitive applicants tend to get into Yale.
The same applies not only to freshmen applicants but to transfer applicants, too. What the Ivy League is looking for are students who will make the most out of Yale as well as their talents and skills.
It considers how transfer applicants have engaged in the opportunities and resources available to them during high school and college, too.
Who Has the Best Chances to Get Admitted to Yale?
Transfer applicants with the best chances to receive an offer to enroll at Yale University are those with at least 1 year of prior postsecondary experience before entering the Ivy League.
While there's no minimum GPA requirement for transferees, estimates say that applicants must have a GPA of 3.9 or higher to get admitted.
Because the acceptance rate for transferees is lower than that for freshmen applicants, it's a must for any college student who wishes to transfer to Yale to have an impressive application.
Keep in mind that not all with previous college experience are eligible to apply as transfer students.
If you have more than 2 years' worth of transferable undergraduate coursework, which is equivalent to over 18 Yale credits (we will talk about this matter shortly — so keep reading!), you will not be offered admission by the top-tier institution.
You can, however, receive an offer to enroll if you have fewer than 8 transferable credits, but as a first-time, first-year attendee.
Already have a bachelor's degree?
You are not eligible to apply as a transfer student, although your postsecondary experience makes you eligible to apply to one of Yale's graduate and professional schools.
Was once a college student but stopped for at least 5 years?
Starting from scratch isn't always necessary — Yale has what it calls the Eli Whitney Students Program (EWSP).
Simply put, it's made specifically for non-traditional students with exceptional backgrounds and aspirations who wish to get their hands on a Yale undergraduate degree. It gives students the opportunity to attend the Ivy League full-time or part-time.
Yale Transfer Credit Policy
Transfer students who get admitted to Yale University may be eligible to transfer up to 18 course credits earned at another institution. But they must also complete a minimum of 18 course credits at Yale. Since a bachelor's degree at Yale is equivalent to 36 credits, it's possible for some transferees to work on only 50% of those to graduate.
Before anything else, we need to establish the fact that a bachelor's degree offered by the Ivy League consists of only 36 credits instead of the usual 120 credits at other colleges and universities.
It's because Yale measures credit by course credit (normally 1 credit per course) and not by credit hours.
Since it's possible for the institution to accept up to 18 course credits already earned elsewhere, transfer students can be halfway toward a bachelor's degree — they only need to work on 18 more course credits at Yale to complete the required number of credits, which can work to the full advantage of those with an associate degree from a community college.
Of course, as expected, there are certain conditions to meet in order for a transfer student's earned credits to transfer with him or her to Yale, and some of them include:
Coursework must be completed at a fully-accredited postsecondary institution
Grades in at least 75% of all courses from another school must be either an A or a B
The remainder of the courses must not have any grades lower than a C
Results of AP and IB exams do not qualify as credits
Credits earned from online courses may be eligible for transfer under limited conditions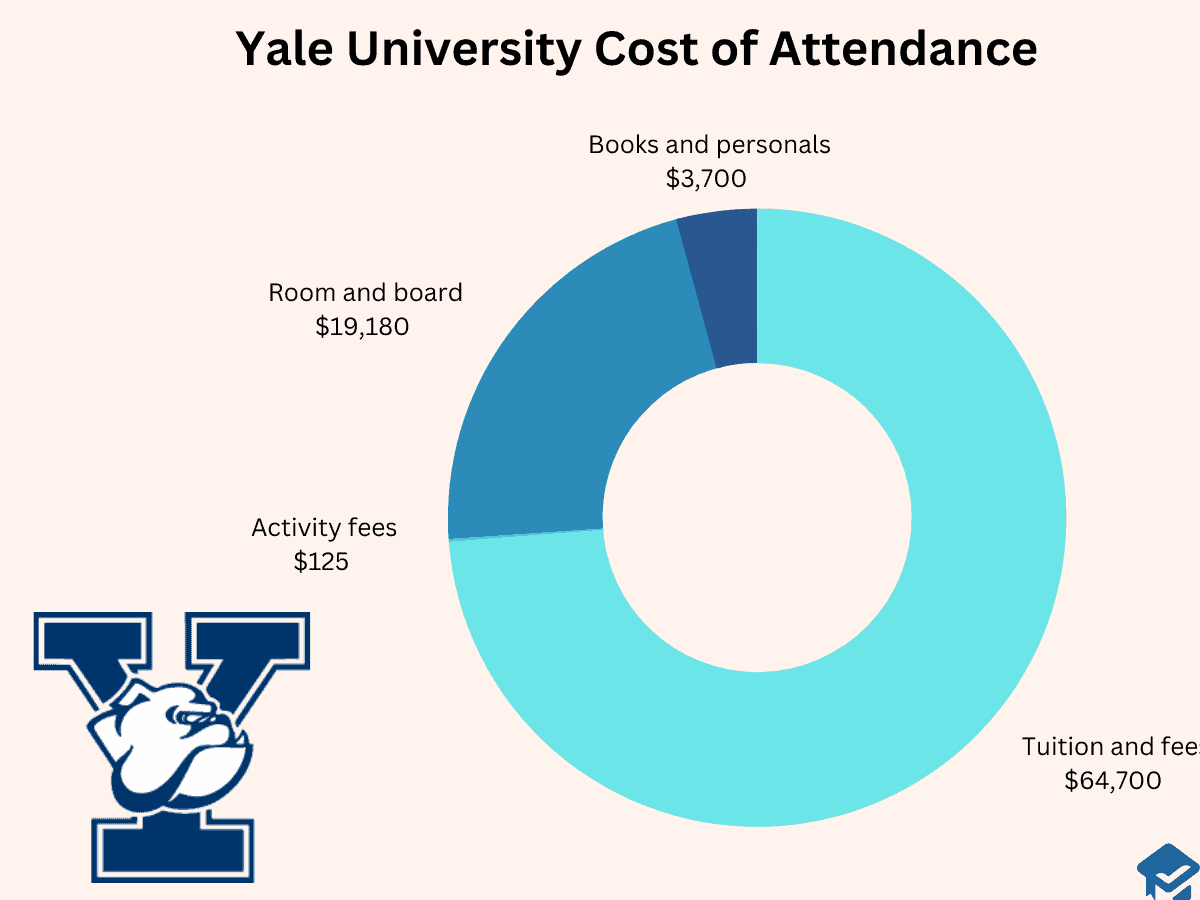 Costs Related to Yale Transfer and Tuition
Transfer applicants to Yale University must pay the $80 application fee, which is the same amount for first-time, first-year applicants. The estimated cost of attendance at Yale is $87,705. Yale offers need-based aid for transfer students — they may qualify for merit-based aid from outside of the institution.
Yale will waive the application fee if the amount would constitute a significant financial burden for the transfer applicant's family.
Qualifying for a fee waiver also means falling within the following family size and income levels:
| | |
| --- | --- |
| Household Size | Annual Income |
| Any | Less than $65,000 |
| 3 or more | Less than $70,000 |
| 4 or more | Less than $75,000 |
| 5 or more | Less than $80,000 |
| 6 or more | Less than $85,000 |
Tuition and fees at Yale for undergraduate students amount to $64,700. Whether or not transferees will have to pay for room and board, which cost $19,180, depends on factors such as if they prefer to live on campus or their standing upon admission to the Ivy League as transferees.
At Yale, both first-year and second-year students are required to reside on campus.
Transfer students, upon admission to the elite school, can either be of sophomore or junior standing. Needless to say, those who get admitted as second-year undergraduate students will have to live on campus and thus have to pay for room and board.
The only time successful transferees can choose to live elsewhere is if they are at least 21 years old or married.
Here's a breakdown of the estimated cost of attending Yale as an undergraduate student who transfers from another institution, according to the academic year 2023 to 2024 rate:
| | |
| --- | --- |
| COST | EXPENSES |
| Tuition and fees | $64,700 |
| Activity fees | $125 |
| Room and board | $19,180 |
| Books and personals | $3,700 |
| TOTAL | $87,705 |
Yale Cost of Attendance
Wondering if your scholarship at your current school will transfer to Yale?
Unfortunately, the majority of financial aid programs will not automatically transfer from one institution of higher education to the other.
It's a good thing that the prominent New Haven, Connecticut-based school offers institutional aid to transfer students.
But it's a must to keep in mind that all scholarships Yale offers are need-based.
Around 53% of all undergraduates at Yale receive financial aid based on demonstrated need, each one getting an average of $67,437 per year.
On the other hand, families under certain income limits can go to Yale and other Ivy League schools for free.
How to Transfer to Yale (Deadlines and Requirements)
The application deadline for transfer applications at Yale University is March 1. Needless to say, transfer applicants can apply to the prestigious institution only once a year and can enter it as a transferee only for the fall semester.
Unlike most other institutions, including equally selective ones, Yale does not require transfer applicants to submit supplemental essays.
To make sure you don't miss any important dates, check out this transfer timeline:
November 18 – Common App becomes available
March 1 – Transfer application deadline
Late March – Deadline for financial aid documents and SAT or ACT scores (currently optional)
April 20 – Deadline for midterm report
Mid-May – Release of transfer admissions decisions
Late May – Deadline for reply for admitted transfer students
Besides these dates, it's also a must that you know each and every document to submit with your transfer application to Yale to avoid problems that could jeopardize your admissions chances as a transferee.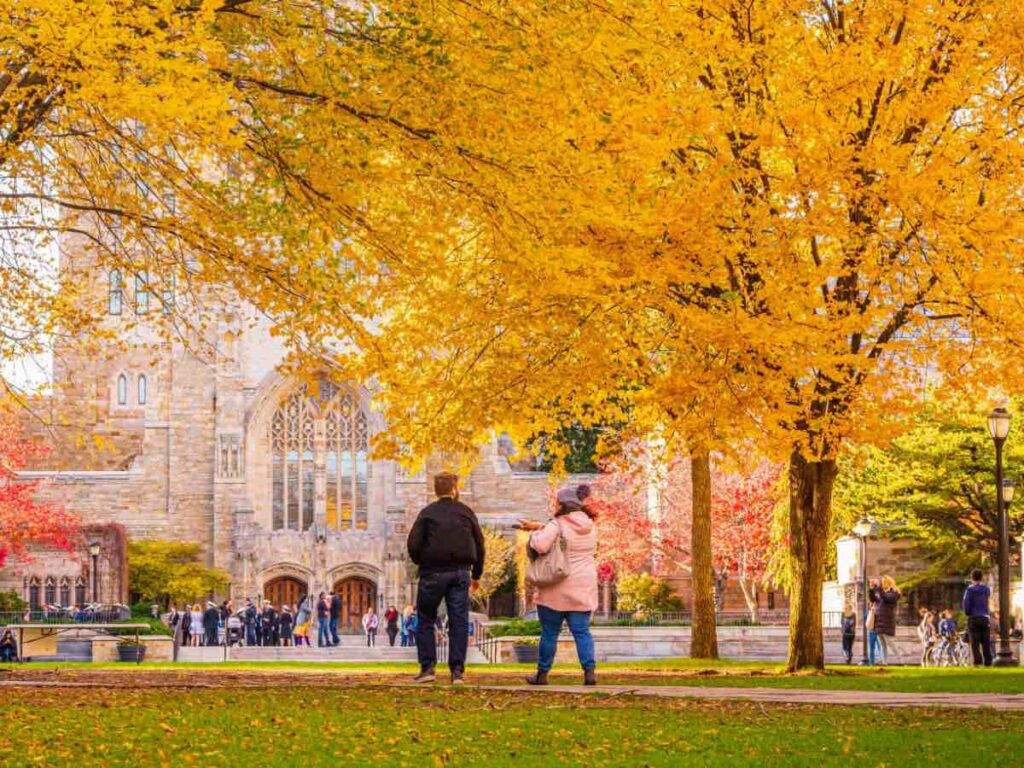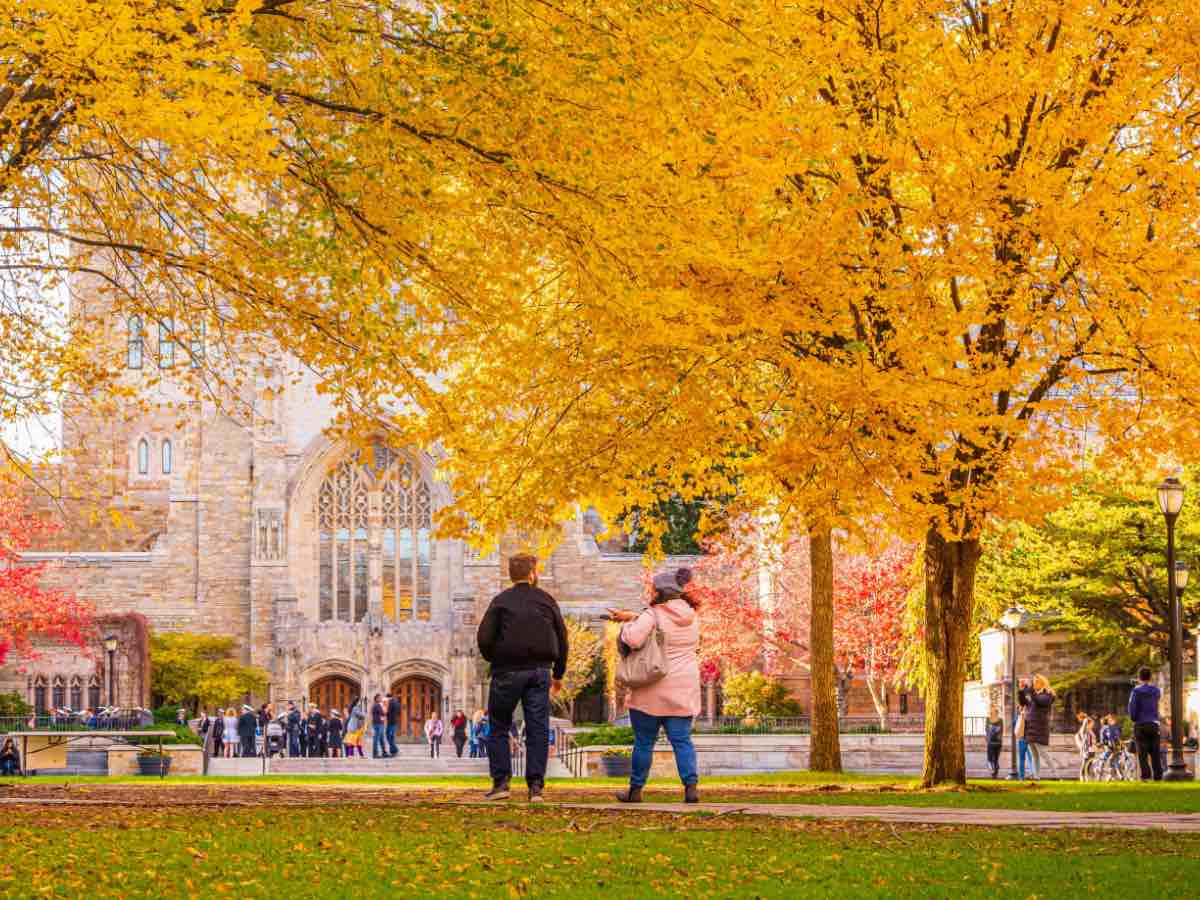 The following are the requirements for transferring to Yale:
1. Meet eligibility requirements
I already discussed the number of credits you should have (and not exceed) above.
2. Submit Common App for transfer
The journey to taking your pursuit of a bachelor's degree to Yale begins with the completion of the Common App — the Coalition App is only for freshmen applicants to the Ivy League, although the Common App may also be used by them.
Transfer applicants may not submit more than one application per admission cycle.
3. Submit two letters of recommendation
Like first-time, first-year applicants, transfer applicants are required by Yale to submit 2 academic evaluations, which should come from instructors who have taught students in a credit-bearing course on a college campus.
Transfer applicants may also choose to submit an optional supplemental evaluation. Simply put, it's an evaluation from an individual other than a professor, such as a research supervisor or academic advisor.
The optional supplemental evaluation, however, will not fulfill the academic evaluation requirement and should be emailed to Yale and not submitted via the Common App.
4. Submit a college report
There are a couple of important things transfer applicants to Yale must remember about submitting a college report.
First, the Common App college report form should be downloaded.
Second, the said form should be completed and submitted by a dean, registrar, adviser or any other college official who has access to the student's full academic and disciplinary record, which allows Yale's admissions officers to determine whether or not the applicant is in good standing at his or her current school.
5. Submit a mid-term report
Students applying to Yale who are currently enrolled in coursework at another institution are required to submit a transfer midterm report with in-progress grades for the semester upon application to the Ivy League.
The necessary transfer midterm report form can be downloaded from the Common App's website.
6. Submit High school and postsecondary transcripts
Unlike freshmen applicants, transfer students have academic experience beyond high school. And that is why Yale requires them to provide not only their high school transcript but also their college transcript.
The high school transcript required for submission is official, which should include the graduation date.
On the other hand, the college transcript should come straight from the college or university the transfer applicant to Yale is currently attending. The said transfer application requirement can be sent by means of the Common App or Parchment or mailed to the undergraduate admissions office of the Ivy League school.
7. Submit your SAT or ACT scores
As of this writing, Yale has a test-optional admissions policy for both first-time, first-year applicants and transfer applicants. This means that students who wish to transfer to the elite school may or may not submit their SAT or ACT scores.
The Ivy League does not favor one standardized test over the other.
Transfer applicants who choose to not report theirs will not be disadvantaged in the admissions process. Those who choose to include their test scores in their applications, meanwhile, may or may not include the essay or writing section of the SAT or ACT.
Before I put this section of this post to an end, let me talk about supplementary materials…
Yale gives transfer applicants the opportunity to submit audio recordings, musical scores, art samples, writing samples, research papers, dance and film.
However, it makes clear, too, that students should think carefully prior to submitting any of them. It's because those that fail to demonstrate a high level of talent can work against one's admissions chances as a transferee.
And the Ivy League also stresses that its admissions officers and faculty members cannot evaluate all supplementary materials because of the large number of transfer applications received.
It's due to this why Yale recommends transfer applicants to focus their time and energy on the primary requirements.
8. Submit a personal statement
The personal statement is your opportunity to tell Yale why you are interested in transferring to their university and what you hope to achieve.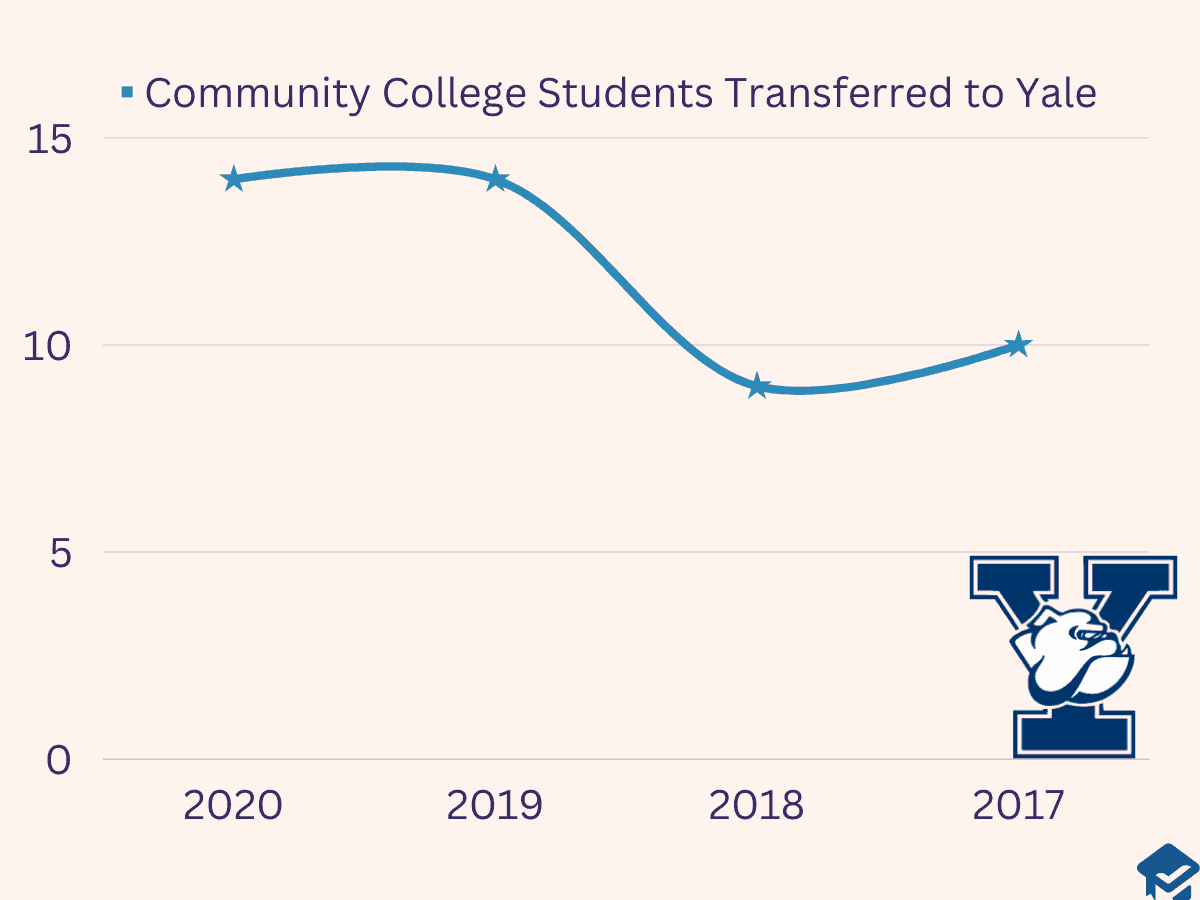 Yale Transfer FAQs
And now, let's answer some burning questions some Yale University transfer applicants may feel too shy to ask:
Can the denied transfer applicants reapply to Yale University?
Transfer applicants denied admission by Yale may reapply the following admissions cycle. However, they have to submit a new application as well as pay a new application fee.
But it's important to note that applications from individuals who have submitted a total of 3 applications to Yale, including a freshman application, will not be considered anymore.
May a transfer applicant request Yale University for an interview?
Yale does not require transfer applicants to undergo an interview. However, they may choose to participate in an online interview through StandOut, which allows them to record and submit the interview for inclusion in their applications.
Interviews, whether online or in-person, are conducted by local alumni members and rarely by the Ivy League's admissions officers.
Is it possible for transfer students to attend Yale University part-time?
Transferees are not allowed to attend Yale as part-time students. So, in other words, transfer undergraduates must take a minimum of 12 credits per semester, which is equivalent to 4 classes with 3 credits each.
However, transferees admitted through Yale's Eli Whitney Students Program have the option to attend the Ivy League as full-time or part-time students.
How do students know if courses taken will transfer to Yale University?
In order to determine course transferability, the dean's office at Yale evaluates transcripts submitted by transfer applicants. Courses that are similar to those offered at the elite school are very much likely to transfer.
Before successful transfer applicants are required to respond to Yale's offer to enroll, they will receive an estimate of transferable credits.
Recap: How to Apply As a Transfer Student to Yale
Filling out the Common App for transfer is the first step to take if you wish to continue your undergraduate journey from a community college or a 4-year institution to Yale University.
It's then followed by the submission of other required materials, ranging from academic evaluations, college reports, high school and college transcripts and optional SAT or ACT scores on or before the deadline — March 1 for the application and most supporting documents and late March and April for some of the requirements.
With an acceptance rate of 0.8% for transferees, transfer applicants must have a standout application.
To be eligible for transfer to Yale, they must have at least 1 year of college and no more than 2 years of college. And to increase admissions chances, transfer applicants need to have a high overall GPA as well as demonstrate skills and interest in the field associated with the degree program they wish to enroll in at the Ivy League institution.
Other Colleges Worth Transferring:

Disclaimer: The views and opinions expressed in this article are those of the authors and do not necessarily represent those of the College Reality Check.