Is Early Decision Worth It? All Pros and Cons
More than 400 colleges and universities have an Early Decision plan. If the institution on the top of your list offers one, you may feel tempted to take advantage of it.
Early Decision is worth it for students who are confident with their application and college of choice. It's also great for those who want to improve admissions chances to most selective colleges. However, ED is not worth it for students who want to compare financial packages from multiple schools.
Since it comes with perks, Early Decision, if available, is often grabbed by a lot of students.
But just because the institution for higher education you plan to apply to accepts Early Decision applications doesn't mean that you should send in your application earlier than your classmates.
What is an Early Decision?
Early Decision is a binding agreement between you and your dream school. Once accepted, you need to enroll there and withdraw all other college applications. Make sure you're head over heels in love with that college before making such a commitment.
With Early Decision, you apply earlier than the regular admission deadline, and in return, you find out if you're accepted earlier, too, usually around January or February.
It's like a sneak preview into your future!
Does Early Decision Increase Chances of Admission?
Applying in Early Decision round might give you a slight advantage in the admissions process because colleges are keen to accept students who are committed to attending. Early Decision acceptance rates vary depending on the school, but it's generally higher than regular decision rates.
Just look at the differences in RD and ED acceptance rates for Ivy League universities. As you can see, applying early to uber selective colleges increases your chances of getting admitted.
| | | |
| --- | --- | --- |
| University | Regular Decision Acceptance Rate | Early Decision/Action Acceptance Rate |
| Brown | 8% | 18.2% |
| Columbia | 4.6% | 15.9% |
| Cornell | 10.8% | 25.6% |
| Dartmouth | 8.5% | 27.8% |
| Harvard | 3.4% | 14.5% |
| Penn | 6.8% | 22% |
| Princeton | 4.3% | 15.4% |
| Yale | 5% | 17.1% |
Ivy League Acceptance Rates [1]
Can You Break an Early Decision Contract?
Breaking an Early Decision contract is not something to be taken lightly. Doing so can have consequences, such as jeopardizing your chances with other colleges. However, if you're facing significant financial hardships, you might have a case for backing out.
If there is a significant difference in the financial aid provided acceptance letter and Net Price calculator estimate, then it's best to call the college admissions office and discuss the discrepancies.
In some cases, the college can let you break the ED contract when they charge more than they indicated in the Net Price calculator.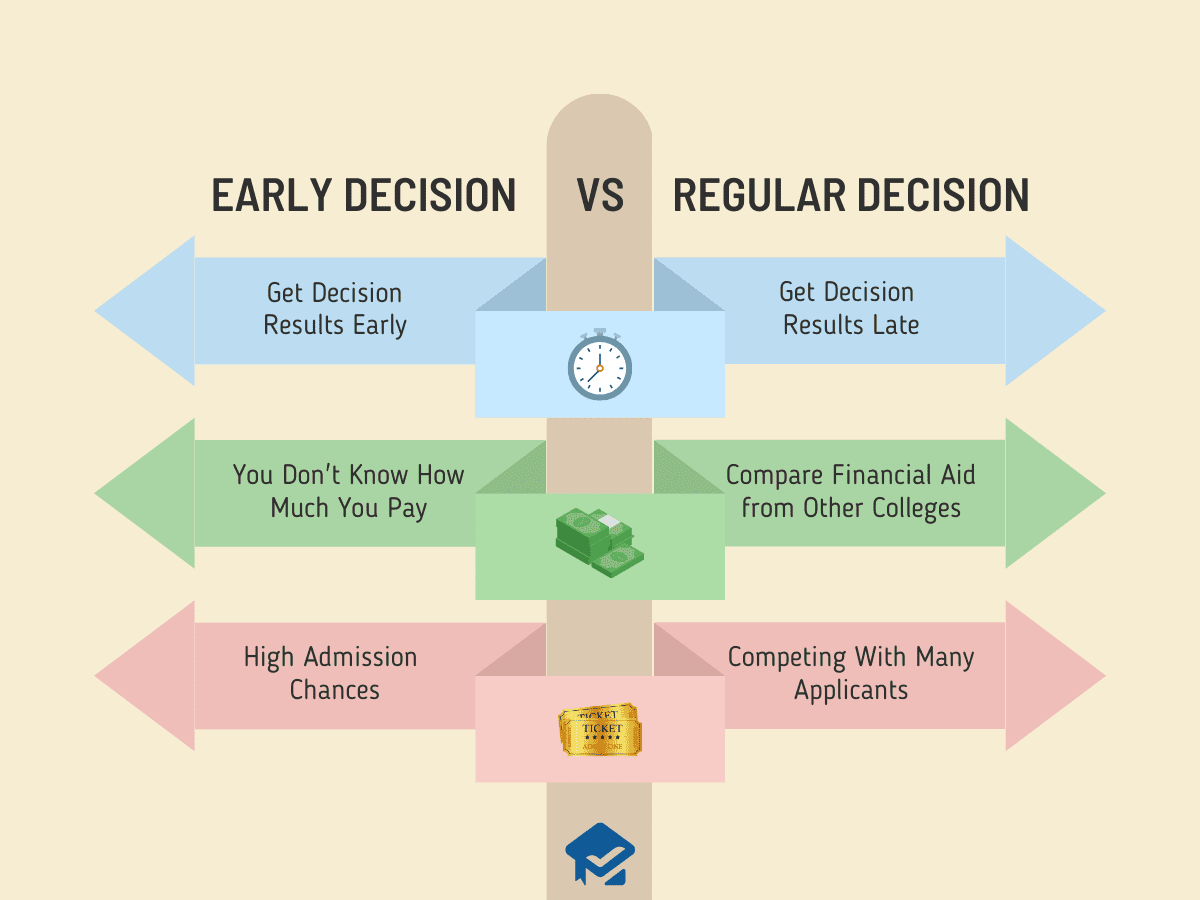 5 Reasons Why Early Decision is Worth It
Applying Early Decision encourages students to get over and done with college applications, thus putting unnecessary stress to an end. It is also shown to help increase one's chances of impressing college admissions officers. If not accepted, students who apply for Early Decision will get deferred.
Despite requiring students to beat an early deadline, many still apply Early Decision. That's because it comes with an assortment of perks.
Breathing a Sigh of Relief Sooner
College application is a stressful season for college-bound high school kids.
Figuring out which institutions to apply to, deciding how to write winning admissions essays, approaching counselors and teachers to compose letters of recommendation — these and more make applying to colleges an arduous task.
Then there are also things such as steep sticker prices and job marketability after graduation to worry about.
It's because of this why the sooner you can get college applications done and over with, the quicker you can get through a very nerve-racking part of high school. This is when the benefit of applying Early Decision comes in.
After submitting your application in early or mid-November, the levels of stress hormones in your bloodstream can start lowering.
On the other hand, your classmates will have to suffer from increased anxiety until early January, the deadline for Regular Decision applications at US colleges and universities.
Since you can have reduced stress levels, you can focus more on the rest of high school — high school does not end with the submission of applications to institutions for higher education!
In the case of applying Early Decision, you still have one semester of high school to deal with.
Having the Drive to Impress
Everyone can choose to apply Early Decision. However, not everyone should!
The decision plan is, first and foremost, intended for students who are absolutely sure that a college or university is their first choice.
This means that they know that the school is the best match for them academically, socially, geographically, and financially — although there is something you need to know about the financial aspect, so keep reading.
Because they are 100% certain that it's the institution for them, they will do everything in their power to impress its admissions officers by researching the school and making their overall application strong.
And since the Early Decision application deadline is early, they need to act fast.
It's not uncommon for some people to perform better under pressure. If you are one of them, the need to beat the deadline can help you make your application a complete head-turner.
On the other hand, your admissions essays and also supplemental essays, if required, might not be as phenomenal if you are not feeling some amount of pressure.
Receiving an Answer Earlier Than Everybody Else
Earlier, we mentioned that you could start experiencing lowered stress levels after submitting your Early Decision application. However, it doesn't mean that you can or should completely relax.
That's because applying is just half the battle — there's also the admissions decisions to brave!
It's a good thing that one of the perks of applying Early Decision is that you will hear from the college or university you will apply to sooner than everybody else.
The majority of Early Decision notifications tend to come out within a month or less from the time the application is submitted.
Due to this, you can plan the next four years of your academic life without delay. For instance, you can either begin to withdraw your applications from other colleges and universities (if accepted) or start sending applications through Regular Decision to other institutions (if not accepted).
However, before applying to other colleges, there is something about not being accepted via Early Decision that you need to know about. We will discuss this very important matter in a few, so keep reading.
Enjoying Increased Chances of Admission
Many colleges and universities in the US admit that their acceptance rates for Early Decision applicants are higher than Regular Decision applicants.
So, in other words, your chances of getting an acceptance letter from your top-choice school are higher if you apply via Early Decision.
For instance, for the 2020 to 2021 admission cycle, Brown University accepted 38% of Early Decision applicants. On the other hand, it accepted only 17% of Regular Decision applicants.
There are many probable reasons why Early Decision acceptance rates tend to be higher:
Smaller applicant pool. Not everyone applies Early Decision. It's for the fact that they have to complete and submit their application earlier, and some may not yet have an idea of which colleges and universities they want to attend. Due to the small pool of applicants, it can be easy for your application to be noticed.
Stronger application. Students who apply Early Decision know which college they want. They are certain, too, that they are the perfect fit for it. This is why they tend to have striking applications. Besides, if you want to gain admission into your dream school, you will do anything and everything to impress the admissions officers.
Demonstrated interest. Some colleges and universities have a penchant for applicants who show high levels of demonstrated interest. Nothing can show your interest in an institution more than applying to it through Early Decision. Schools love admitting students who are very much likely to go to them.
Increased yield rate. Because Early Decision is binding, accepted students have no choice but to attend the schools that have accepted them via this decision plan. This allows colleges and universities to look better due to a high yield rate — the percent of students offered admission who choose to enroll.
Getting Deferred to Regular Decision
Just because you did not get accepted into the school of your choice through Early Decision doesn't mean you should opt for the offer of another college or university.
It's not the end of the world because you will get a deferral.
Simply put, being deferred to the regular decision pool gives you a second chance at getting an acceptance letter.
When the Regular Admission period arrives, your application will be assessed all over again by the school's admissions officers — as if they never evaluated it during the Early Decision round.
And once you get deferred, you can forget about the binding aspect of applying Early Decision.
So, in other words, you can choose to attend another college or university even if the school that deferred you to the Regular Decision round accepts you. Getting penalized should be the least of your worries if you decide to decline its offer.
5 Reasons Why Early Decision isn't Worth It
Early Decision requires students to complete and submit their applications ahead of everyone else. This decision plan is binding, which means that one has to enroll in the school if accepted. On the other hand, it prevents applicants from comparing financial aid packages from other schools.
Although Early Decision comes with benefits, it's not the perfect decision plan. That's because there are also a few downsides that come with taking advantage of it.
Preparing Earlier Than Everybody Else
When applying Early Decision, it's not enough that you know exactly from which college or university you wish to earn a degree. It's also a must that you have superb time-management skills.
As the name suggests, Early Decision requires you to apply so much earlier than everybody else.
The deadline for Regular Decision is usually in January. The exact date tends to vary from one institution to the next. Some schools' Regular Decision deadline is on January 1.
On the other hand, the Regular Decision deadline at other schools is on January 15. Some schools can set another date as their Regular Decision deadline.
Just check out this table:
| COLLEGE/UNIVERSITY | REGULAR DECISION DEADLINE |
| --- | --- |
| Tufts University | 1-Jan |
| Cornell University | 2-Jan |
| California Institute of Technology | 3-Jan |
| Duke University | 4-Jan |
| Bowdoin College | 5-Jan |
| Wellesley College | 8-Jan |
| Georgetown University | 10-Jan |
| American University | 15-Jan |
In contrast, typically, the Early Decision deadline is in December. Some school's Early Decision deadline is on November 1, while the Early Decision deadline at other schools is November 15.
Needless to say, you have to complete and submit your application several weeks ahead of your classmates.
Rushing is not a good idea because it may do you more harm than good. For instance, a poorly written admissions essay as a result of hasting might keep you from getting an offer from the college or university of your liking.
Keep in mind that Early Decision I and Early Decision II have different deadlines.
Committing to the School
There is something about Early Decision that every high schooler planning to apply through it needs to know. And it's none other than the fact that it's a binding decision plan.
Simply put, you are required to go to the school if it accepts you. It's for this reason why there's an agreement that you, your parents and counsellor will have to read and sign beforehand.
Because you will have to attend the school, you will need to withdraw your application from other institutions.
Worry not if you got accepted to a particular college or university but, for some reason, you decided to attend a different school. You will not be asked to pay the tuition or go to jail if you break any Early Decision agreement.
But there are consequences if you fail to honor an Early Decision agreement.
For instance, it's not unlikely for the school you turned your back on to call the institution you are about to enroll in, which may cause a rescindment of your offer. More importantly, all the schools you applied to could blacklist you.
However, if you have a good reason to back out of an Early Decision agreement, the college or university will let you go without any penalty.
Some common examples include a parent getting a severe health problem, incurring serious physical injuries due to an accident, or financial aid that doesn't meet your budgetary needs.
By the way, Early Decision is not binding for all four years of your college.
Having no Opportunity to Explore Cheaper Options
Speaking of budget, another downside to applying Early Decision is that you will have very little to no time comparing costs and choosing which schools whose sticker prices won't wreak havoc on your family's savings.
This is especially true when it comes to financial aid.
The college or university that has accepted you through Early Decision may not offer you the best financial aid package on the planet. It knows you are bound to grab its offer anyway, which is why it assumes that you will enroll even if you are not completely happy with the award.
But, as mentioned earlier, you can ask to be released from the Early Decision agreement if finances get in the way.
When high school students shortlist institutions for higher education, one of the factors they take into account is the cost of attendance (COA).
If the price tag is still beyond their available budget after financial aid, it's very much likely for the college or university to make it onto their respective listings of schools to apply to.
That's something that you can kiss goodbye when applying Early Decision to your top-choice school. Well, you can do the math beforehand, although you will have to do it in a rush because there's an early deadline to beat.
Competing Against Highly Qualified Applicants
Earlier, we established the fact that Early Decision is ideal for high schoolers who are absolutely sure that the colleges or universities they are applying to are their first choice.
What's more, they are confident that they have what it takes to receive an offer from their preferred schools, as evidenced by their awesome applications.
When applying Early Decision, needless to say, you will be competing with a lot of phenomenal candidates!
It's true that you may enjoy increased chances of gaining admission into an Early Decision institution. However, if your application isn't as strong as the applications of the rest, yours may not stand out.
This means that it's very much likely for you to be deferred to the Regular Decision round, which is both a good and bad thing.
So, when applying to a school through Early Decision, you should be 100% sure that you want to attend it and also see to it that you are exactly what the institution is looking for.
Disregarding Second Semester Grades
Because Early Decision has such an early deadline, the admissions officers at the school you apply to won't be able to check out your grades for the second semester of your senior year in high school. This can be a positive or negative thing, depending on which type of student you are.
For instance, if some of your best-ever grades would show up in the last-ever semester of your high school years, then you wouldn't be able to wow the college or university you would like to go to with them.
Refrain from assuming that you can go easy and neglect your duties and responsibilities as a high schooler just because the school you applied Early Decision to has given you a thumbs up.
Sooner or later, the institution will ask your high school to provide your second-semester grades, and what they will see can have an impact on your academic fate.
If your grades drop, the college or university can, in fact, rescind your offer!
According to a study, up to 78% of senior high school students in the US suffer from senioritis — something that afflicts senior high school students, which is characterized by a drop in motivation or performance.
Colleges and universities do not like applicants suffering from senioritis, which is why they won't think twice about taking back admissions offers.
Conclusion: Pros and Cons of Early Decision
Sending in your application to your preferred school allows you to enjoy increased chances of receiving an acceptance letter from it. While it will require you to complete your application earlier than everybody else, it will also let you learn about the school's admissions decision faster, thus eliminating some of the stress that comes with college applications.
However, see to it that you are willing to turn your back on other institutions if you get accepted. That's because Early Decision is binding — although, with a good reason, the school will let you go.
Before applying via Early Decision, make sure that you have read the pros and cons associated with it. If the benefits outweigh the downsides, there is no denying that it's the best decision plan for you. Otherwise, it's a much better idea to apply Regular Decisions together with your classmates.
Related Article: What To Do in Senior Year of High School

Disclaimer: The views and opinions expressed in this article are those of the authors and do not necessarily represent those of the College Reality Check.