Is Math a Good Degree? Myths vs. Facts
Based on a scholarly article by Black Collegian (1), math majors are sought after by leading companies due to their sharp analytical, quantitative, and problem-solving skills. If you want the best possible career as most people do, does this mean that a math degree is right for you?
A math degree is good in that it fosters skills that employers find valuable in the workplace. Math, in addition, is one of the most employable majors. In fact, the US Bureau of Labor Statistics (BLS) says that math jobs are projected to grow 27% in a span of 10 years, which is much faster than average.
Still torn between math and some other discipline of study?
Make sure you don't stop checking out this post until you reach the very end — we will discuss just about everything you need to know about math before you finally decide to opt for a math program being offered by the college or university that has just sent you an acceptance letter.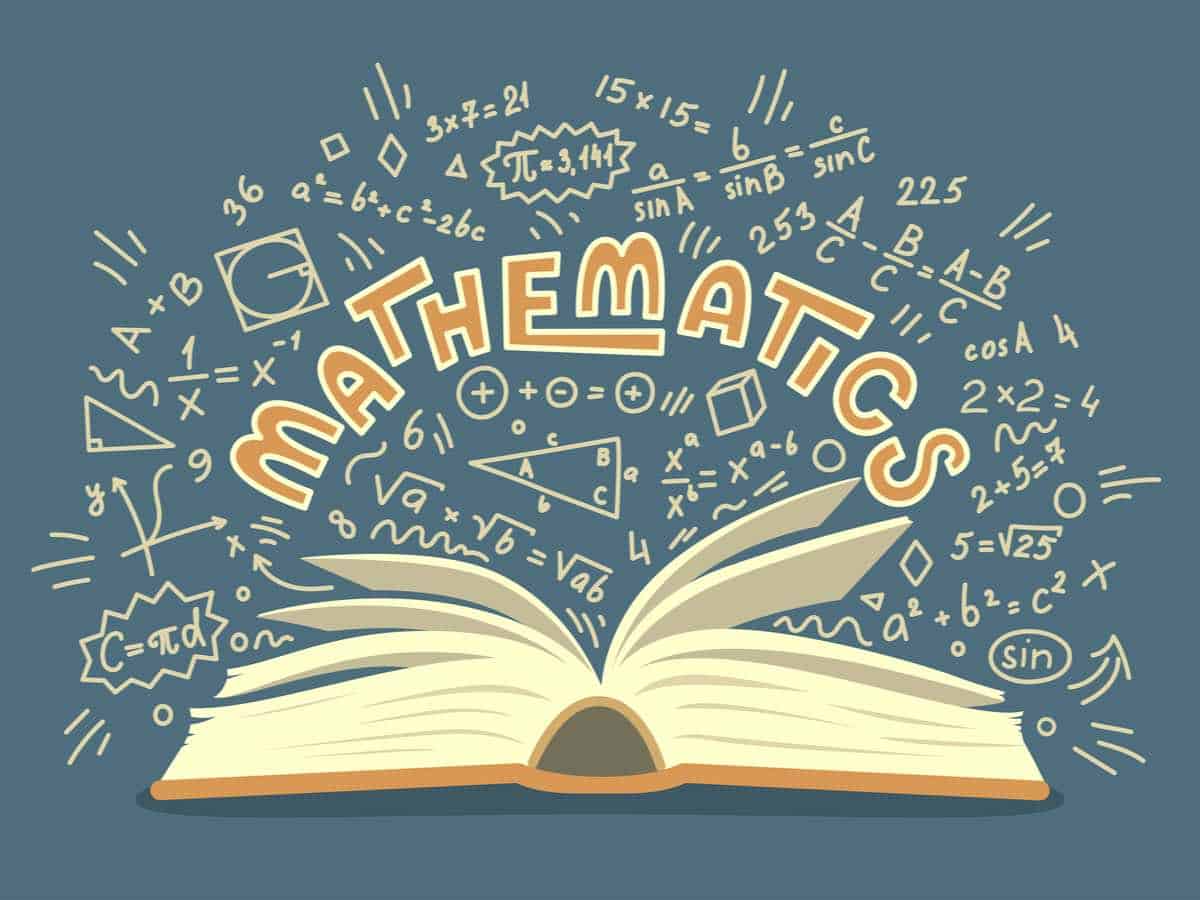 5 Myths About a Degree and Career in Math
Some people are scared of numbers. But then there are also those who are terrified not of numbers per se but the many misconceptions about math. Besides math itself, a number of myths about earning a bachelor's in math and having a math-related career also tend to intimidate some degree-seeking students.
According to a University of Nebraska – Lincoln report, about 50% of the US population has math anxiety.
If you are a part of it and considering majoring in math for a brighter career in the future, it's a good idea to separate the facts from the myths so that you can work on a math degree with very little to no apprehension.
The good news is that many of the negative things people say about math are far from being the truth.
Let's debunk the following top math myths so that you can keep math on your list of majors to consider until the time an undergraduate student like you is required to declare a major:
Men are better in math than women
If you are a female, chances are that this myth might leave you thinking that you are less likely to succeed in college as a math major. But there is no truth to this — it's just that more men won't admit that they can't do math.
According to research by the University of Missouri-Columbia(2), this dangerous myth is a cause of poor self-image development in women pursuing Math, which leads to their underachievement.
Mathematicians can solve problems in their heads
It's true that most mathematicians can answer problems quickly and without using a calculator — but only if they have tried solving them before. As a math major, don't be too shy to rely on a calculator or even your fingers!
There is no creativity involved in math
Contrary to popular belief, one has to have creativity in order to be able to think outside the box and define as well as solve mathematical problems — your creativity is what separates you from machines or robots.
Majoring in math requires a very good memory
Having a solid understanding of mathematical rules and formulas is more important than simply memorizing them by heart, which is why you are less likely to succeed as a mathematician if memorizing is the only thing you are good at.
Math is not a fun and exciting discipline of study
There is something that mathematics and puzzles have in common: solving things. If you find doing puzzles a delightful leisure pursuit, then declaring math as your major can make college less stressful and exhausting.
How To Know If a Math Degree is Right for You
Majoring in math is right for degree-seeking students who possess the traits of some of the most successful mathematicians. They include loving numbers, being inquisitive, paying attention to details and solving problems. Because of the challenges of a math degree, willingness to seriously study is a must, too.
Just because your grades in your high school math classes are stellar doesn't necessarily mean right away that you should opt for a math degree in college.
After all, it's not just a major that you should take into account but also your future career.
On the fence as to whether or not it's a math degree you should pursue? Check out the following questions and answer each one of them with either a "yes" or "no":
Do you find math subjects enjoyable?
Are you naturally curious and inquisitive?
Do you pay close attention to detail?
Do you like solving complex problems?
Are you patient and persevering?
Is following a set of procedures and routines okay for you?
Are you willing to study for long periods of time?
Are you considering attending graduate school?
If you answered mostly "yes" to the questions above, chances are that you will succeed as a math major — it serves as proof of the fact that you have the skills and mindset of someone who is likely to earn a bachelor's in math with flying colors. But if you answered mostly "no", you might want to consider majoring in something else.
Is Math Hard in College?
If truth be told, math is one of the more challenging degrees out there. That's because it is made up of complex ideas and concepts and has a theoretical and abstract structure. A degree in math, due to this, is best earned by students who have a love for or curiosity and interest in mathematics, to begin with.
Having a fondness for numbers, needless to say, is a must if you would like to major in math.
Unfortunately, that's not enough — it's also important that you are a hardworking, dedicated, passionate, committed and disciplined individual if you want to successfully earn a math degree.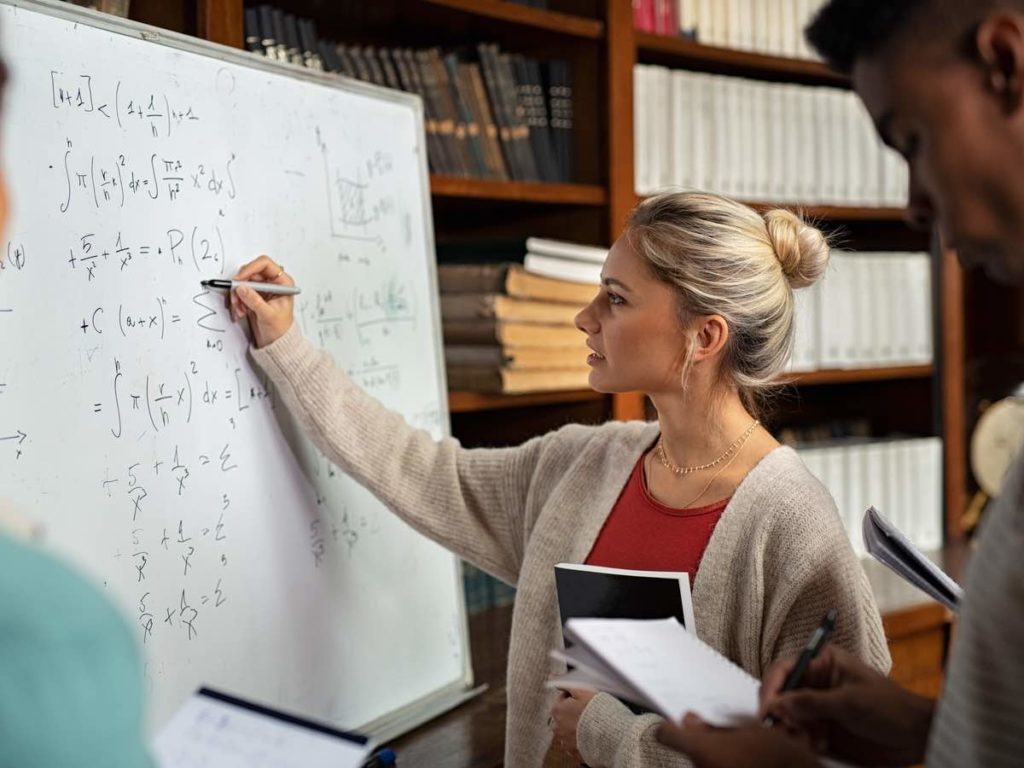 The majority of math degrees take three or four years to complete with full-time study, which means three hours of study per three-credit semester — one hour is spent inside the classroom and the remaining two hours are spent outside of it. For students who find math difficult but still want to major in it, spending more time studying may be crucial.
Still, it depends on the math major declared, and some common examples include:
Calculus
Differential equations
Linear algebra
Numerical analysis
Optimization theory
Physics
Statistics
Systems design
Undergraduate students cannot graduate without declaring a major. On the other hand, it's very much possible for them to earn a bachelor's without any minors. However, for a more well-balanced college experience as well as a more impressive resume, consider having a minor or two. Some of those that complement a math major are:
Accounting
Biology
Business
Computer science
Economics
Education
Engineering
Finance
Philosophy
What Can You Do With a Math Degree?
A math degree allows the holders to get not only math-related jobs but also those that attempt to solve real-world problems. So, in other words, it can pave the way for various career paths. Since math is considered a universal language, math majors are in demand across all kinds of industries across the globe.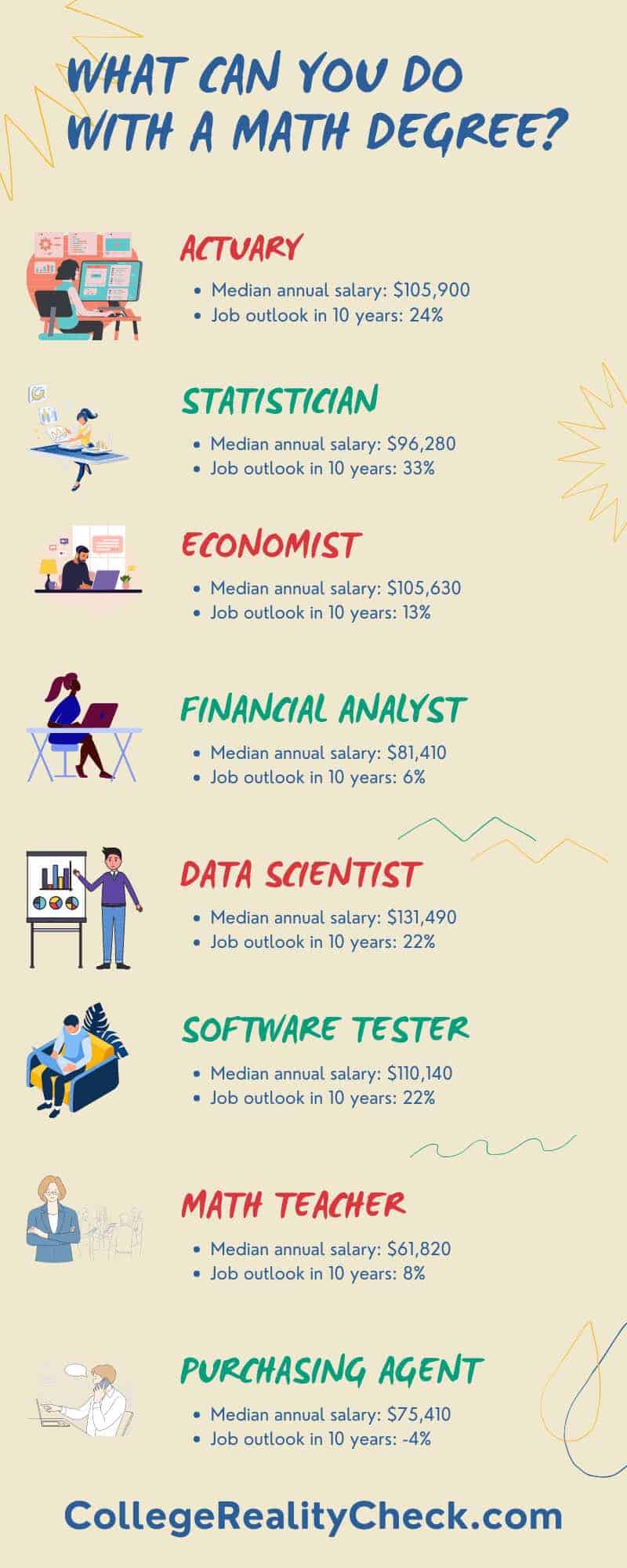 Refrain from assuming that majoring in math will leave you moving from one job to the next doing nothing but adding, subtracting, multiplying and dividing numbers.
There are many industries and professions that graduates with a math degree can enter. Some common examples are:
Research
Education
Computer technology
Banking and finance
Insurance
It goes without saying that there are many jobs a bachelor's in math holders can hold — with a math degree and a splendid performance in college, running out of career opportunities to grab should be the least of your concerns!
Here are some jobs you may apply for armed with a degree in math:
Actuary
Median annual salary: $105,900
Job outlook in 10 years: 24%
As an actuary, you have to utilize math, statistics and financial theory in order to analyze economic risks and uncertainties. Most actuaries are employed by insurance companies, some of whom work in offices, while others travel.
Statistician
Median annual salary: $96,280
Job outlook in 10 years: 33%
Data analysis and problem-solving — that's how the work of statisticians can be best summed up. With a projected growth rate that's so much faster than average, employment opportunities for statisticians come aplenty.
Economist
Median annual salary: $105,630
Job outlook in 10 years: 13%
Collecting and analyzing data and trends in order to be able to identify economic issues are some of the primary roles of economists. In most instances, economists work with statisticians and other economists.
Market research analyst
Median annual salary: $63,920
Job outlook in 10 years: 22%
Because of their critical and analytical thinking skills, math majors make for some of the finest market research analysts, who are tasked with studying market conditions and assessing the potentiality to sell.
Financial analyst
Median annual salary: $81,410
Job outlook in 10 years: 6%
Working as a financial analyst, you are responsible for guiding companies, businesses and even individuals in decisions about expenditure in order to rake in profit. The vast majority of financial analysts work in offices.
Data scientist
Median annual salary: $131,490
Job outlook in 10 years: 22%
What data scientists do is gather, process and analyze data in order to be able to answer complex questions. Most math majors can make for great data scientists for their critical thinking and problem-solving skills.
Software tester
Median annual salary: $110,140
Job outlook in 10 years: 22%
As the name suggests, your primary role as a software tester is to identify problems or bugs with applications or programs and report them to the developer. Most software testers work for software publishers or in manufacturing.
Management consultant
Median annual salary: $93,000
Job outlook in 10 years: 14%
A management consultant, simply put, is someone who analyzes a company or organization's current operation and recommends ways to improve efficiency. In many instances, management consultants travel a lot.
Purchasing agent
Median annual salary: $75,410
Job outlook in 10 years: -4%
Those who work as purchasing agents are tasked with procuring products and services. While it's true that employment is on a decline, about 45,800 job openings for purchasing agents are available each year.
Math teacher
Median annual salary: $61,820
Job outlook in 10 years: 8%
Working as a math teacher, your duties and responsibilities are obvious: design and teach academic lessons, thus arming high schoolers with the mathematical knowledge and skills necessary to attend college and the job market.
It was mentioned earlier that attending graduate school after obtaining a bachelor's in math can make you eligible to apply for and land more jobs with higher pay.
Although it's true that a master's in math can take at least two years to complete, the return on investment (ROI) can make all the extra work and cost worth it.
Here are some of the top jobs that a master's in math can help you land:
Accountant
Aerospace engineer
Algorithm engineer
College mathematics professor
Computer scientist
Cryptographer
Geographic information system (GIS) analyst
Quantitative analyst
Software developer
Famous People Majored in Math
If you search for images of mathematicians online, chances are that you will be flooded with photos of old men that look unapproachable, alone and miserable. However, math majors don't look like any of those — there is no need to worry that you will someday look like you don't have a life.
Believe it or not, the individuals listed below have a bachelor's in math — see which names ring a bell and surprise you that they look nothing like how you picture a mathematician would appear:
Reed Hastings
The co-founder and, as of this writing, CEO of Netflix has a bachelor's in math from Bowdoin College. After a couple of years with the Peace Corps, he attended Stanford University and earned a master's in computer science.
Sergey Brin
He co-founded Google together with Larry Page and is now the president of Alphabet Inc. It was at the University of Maryland – College Park where he graduated with a bachelor's studying computer science and math.
Teri Hatcher
An actress best known for portraying Lois Lane in the TV series Lois & Clark: The New Adventures of Superman, she majored in math at De Anza College, a public community college in Cupertino, California.
Danica McKellar
She may be best known for playing Winnie Cooper in the hit TV series The Wonder Years, but not a lot of people are aware of the fact that she has a degree in math from UCLA and penned a total of six books related to mathematics.
Jonny Buckland
You would think that he has a degree in music being the lead guitarist of the rock band Coldplay, but what he has is a bachelor's in mathematics and astronomy, which he earned at University College London in the UK.
Top Schools for a Math Degree
In the US, some of the top colleges and universities for a math degree are highly ranked private and public institutions. Some of them include MIT, UCLA, Princeton, Brown and the University of Chicago. Many schools outside the country also offer excellent degree programs in math, including Oxford and Cambridge.
Most college-bound high school students shortlist higher learning institutions according to image, ranking and popularity. Based on a survey, only 14% of the respondents pick a college according to their desired programs.
Want nothing but the best math degree? Then apply to one offering a math program that's superb! By choosing the right institution with the right math program, you can considerably increase your chances of succeeding in college as well as landing the job of your dreams after graduation.
According to US News, which is a popular and trusted college ranking site, the following are some of the best colleges and universities in the land for a degree in math, listed in descending order:
Massachusetts Institute of Technology
Stanford University
Princeton University
University of California – Berkeley
Harvard University
Columbia University
University of California – Los Angeles
New York University
Texas A&M University – College Station
University of Chicago
University of Texas – Austin
University of Washington
University of Wisconsin – Madison
University of Michigan – Ann Arbor
University of Minnesota – Twin Cities
Purdue University – West Lafayette
Duke University
Brown University
Georgia Institute of Technology
Pennsylvania State University – University Park
University of Pennsylvania
University of North Carolina – Chapel Hill
Rutgers University
University of Illinois – Urbana-Champaign
Carnegie Mellon University
North Carolina State University – Raleigh
Michigan State University
University of South Florida
Yale University
Cornell University
Planning on getting your hands on a math degree outside the US? According to US News, here are some of the best schools across the globe ideal for math major international students:
Sorbonne Universite (Paris, France)
University of Cambridge (Cambridge, England)
Universite de Paris (Paris, France)
University of Oxford (Oxford, England)
ETH Zurich (Zurich, Switzerland)
Universite Paris Saclay (Paris, France)
Imperial College London (London, England)
Fudan University (Shanghai, China)
Peking University (Beijing, China)
University of Electronic Science and Technology of China (Sichuan, China)
University of Warwick (Coventry, England)
University of Bonn (Bonn, Germany)
University of Toronto (Toronto, Canada)
King Saud University (Riyadh, Saudi Arabia)
Shanghai Jiao Tong University (Shanghai, China)
Southeast University (Nanjing, China)
Sapienza University of Rome (Rome, Italy)
National University of Singapore (Queenstown, Singapore)
Just Before You Enroll in a Math Program
Earning a math degree is right for you if you love numbers and you possess the skills of mathematicians or career persons who flourish in various math-related fields — attention to detail, problem-solving, patience and determination. Of course, majoring in math is suited for you if you don't mind studying for long periods of time.
Above, we discussed a variety of things about getting a degree in math. Keep the things you have read in mind when deciding which major to declare in order for you to be able to take the career path of your liking.
Read Next: Is Business Administration a Good Degree?
References
Bruce, C. E. (1991). Career choices for math majors. Black Collegian, 21(3), 94.
University of Missouri-Columbia. (2012, January 18). 'Women worse at math than men' explanation scientifically incorrect, experts say. ScienceDaily. Retrieved May 12, 2022 from www.sciencedaily.com/releases/2012/01/120118123141.htm

Disclaimer: The views and opinions expressed in this article are those of the authors and do not necessarily represent those of the College Reality Check.