Is Notre Dame a Good School?
This summer we visited Notre Dame University for an information session and campus tour. Here are my impressions from the visit.
Is Notre Dame a Good School? Notre Dame is overall a good school with rigorous academics. They gives you tons of opportunities to explore the world and find who you really are. However, if you are not Catholic, you will not be able to immerse yourself completely in the Notre Dame University culture.
South Bend, IN
We didn't stay overnight at South Bend, but there wasn't much to do in the time we were there besides museums. But although the area isn't the most exciting, it gives off that air of cleanliness, safety, and a somewhat rich community.
We ate along N Eddy St. which offers many places to eat, but we just stuck with Chipotle, pretty basic, but we were on a time crunch. The weather was definitely in our favor because it was warm and the sun was shining, but there was wind so you didn't feel as if you were melting in a pool of your sweat.
We took a 10-15 minute walk to the building where the tour would be held, and this walk only confirmed my opinion of South Bend's clean, safe, and richer community. There was not a piece of grass out of place.
The pavement was very smooth and leveled so I wasn't tripping over random cracks or shifts in the ground. N Eddy St. is about 100 feet from the start of Notre Dame's campus, so almost immediately, we saw Notre Dame buildings and flags on the perfectly mowed and trimmed lawns.
As you walk across campus, you will notice that there is the blue light system along the outskirts, but none in the center of campus which suggests that the campus itself is very safe because they do not feel the need to add these security measures.
We finally arrived at our information session building: Notre Dame's Golden Dome. Atop of the Dome stands Virgin Mary, well she is more glued up there, but we will say she just stands there for now.
"Notre Dame" means "our lady" in French, so I liked the connection between the universities name and their important Christian figure that stands on top of their most famous building.
Many of the buildings we saw in Notre Dame as we walked along were quite modern, but the Golden Dome hadn't seemed to change in style since it was built; I am not complaining. I loved the wood doors, walls, and staircases and the tiled floor and the crown molding along the walls and ceilings.
The actual dome from the inside had some sort of Biblical drawing which I could not exactly define, but it did give a hint to what I would be learning of Notre Dame's catholic community.
Every student registered received a sling bag (mine broke half-way along the walking tour), a large 3D drawing of the campus, a big booklet with all of Notre Dame's statistics and dates called "This Is Your Journey", and a smaller booklet with information about financial aid at Notre Dame.
And there is more! A small brochure that talks about the history of Columbus's travels and how that shaped America and specifically Notre Dame's catholicism, a lined Journal with the majors and clubs of all levels offered at Notre Dame, and finally, two small booklets with even more Notre Dame statistics.
One thing I will say about all of these information tools that Notre Dame offered us is that they were all statistics relative to the year that we toured Notre Dame: 2019.
Some universities we visited gave us booklets and brochures that dated back to 2015, which may not be entirely accurate to the year you visit. This could be because they renewed the data the year we visited, or that they review it annually.
I guess you have to go to the university and figure that out because I am not entirely sure.
Information Session
The number of people in our session was about 50 which is small compared to UChicago which had over 100 people, and I believe this is because it was during a weekday.
It was a very nice room with carpet and crown molding along the walls and reminded me of Duke, not because of the overall architecture, but the fact that the info session room looked the same.
Overall View of Notre Dame
We dove straight into how important helping your community is at Notre Dame. We watched a video that included a bit from the Mendoza College of Business. If you are a finance major, not only do the professors discuss how to save and invest money with you, they also say to give any leftover money to your community or a charity.
Fun Fact: Professor Karl Ackermann is a favorite of Mendoza because he gets to know his students very well and is known for asking how they are doing or going out for coffee. On the students first major assessment, Professor Ackermann dresses as an ape and chases a banana.
One of the professors featured in the video said, "If the students merely accumulate the money and then use it for material things, I will have failed."
Another topic discussed was something that I thought was very unique and one of the coolest things about Notre Dame: Their 5-year architecture program. It belongs in the School of Architecture and is the only major offered, but it is a once in a lifetime experience.
Your junior year, you will live that entire year in Rome next to the Pantheon. Read that again. You will be able to live next to the Pantheon. In Rome. For a year. Not only do you live in Rome, but your history lessons are not taught in an ordinary classroom.
You walk around Rome with your professor(s) and classmates pointing out different buildings and discussing their history. The professors believe that certain things can't be taught to their fullest through a powerpoint presentation.
The last main area covered in the video was research. Students were beginning research as early as the fall of their freshman year.
A specific example was an upperclassman who had dreamt of studying physics and working for CERN (European organization that operates the largest Particle Physics laboratory in the world) based in Switzerland. He came to Notre Dame, and now, he is working/researching for CERN even as a student who hasn't graduated yet.
Dorm Life in Notre Dame
Another area of Notre Dame which their Catholic faith is very prominent is the dorms. Rectors are in charge of each dorm; those rectors can be a priest or a nun depending on whether you live in a girls or guys dorms.
Living in the dorms along with the students are 2 assistant rectors, 2 graduate students, and an RA in each hallway which is always a Notre Dame senior.
Each dorm has a chapel and holds masses two times a week (130 total masses in year overall), but you are not required by any means to go.
Another part of a students life that ties in with Notre Dame's faith is that all students need to take 2 semesters of theology which has many different types of classes you can take, a semester in philosophy, and the 4th course in philosophy or theology.
As a student, you are assigned a residence hall randomly: 16 male residence halls and 14 female residence halls (all dorms are single-gender). Along with being randomly assigned a residence hall, you are randomly assigned a first-year roommate.
If two people are from different hometowns, then they will be put together (this random assignment applies to siblings, you won't be put together). Unlike most universities, they have no survey you can fill out before settling in Notre Dame.
But beyond your first year, you choose who you want to be roommates with. All dorms have their own mascot, colors, t-shirts, one signature event they throw throughout the entire year, and you sit together at pep rallies (Notre Dame loves football).
Within these dorms, intramural sports are played. You just need to gather your friends and make it as competitive as you want it to be. Your final "championship" is played in the Notre Dame stadium which you will have a grand audience total of 80 out of 60,000 potential watchers.
There is also no greek system in Notre Dame which may freak you out, but our tour guide said there is more than enough to do on campus, so not having greek life is not affecting her experience as a college student. Lastly, you need to live on campus until your junior year and about 40% of seniors choose to stay.
When do you declare your major in Notre Dame?
Like many other universities, you declare your major at the end of sophomore year in which you will officially belong in one of the following colleges:
The School of Arts & Letters, Mendoza College of Business, College of Science, College of Engineering, School of Architecture, or the newest school, the Keough School of Global Affairs which offers a masters degree and a supplementary major.
You will submit which college you want to belong to in your application to Notre Dame (this will not affect if you are admitted or not), but you do not have to stick to this college and whatever your intended major was.
Notre Dame has something called the "First Year of Studies" in which all students take relatively the same courses to at least figure out which college you want to be part of (by the end of your first year, you will belong in a college).
What research opportunities are offered at Notre Dame?
One of my favorite stories that we were told was about a former Notre Dame student is the story of Mary Atwood (Sorry Mary, I hope that's how you spell your last name). Mary Atwood took classes about the language called Quechua spoken by the Inkan people (approximately 1 million people speak it today in Peru).
She traveled to Peru to do research and heard stories at marketplaces that she had never heard of before in any of her classes and conducted interviews to collect these stories.
From these accounts that have been passed for generations by the tongue, but never written, she wrote children's books in both Quechua & English.
In addition, Mary drew some of the stories for her thesis which I think ties her in-class learning to the real world very nicely.
In the College of Sciences, students research less known or less popular diseases that not many people have or are a problem in underdeveloped parts of a country.
For example, Niemann-Pick Type C also referred to as childhood Alzheimers currently has a therapeutic drug in the trial process for this disease. 3 of 4 grandchildren of Ara Parseghian, who is a national championship-winning football coach of ND, were diagnosed with this disease.
Engineering students in the College of Engineering construct footbridges ever summer for communities in need. Recently, students decided to build a footbridge across a river in Nicaragua.
This is because the people of Nicaragua had to walk through a river for resources, but sometimes the river conditions were unbearable, and these people could not have access to their basic needs.
So as a result, engineering students raised funds at Notre Dame, fabricated a plan for the bridge, and returned to build it.
What do I need on my Notre Dame application?
I think my eardrums are going to burst because of the number of times a "holistic application process" has been mentioned in a college information session. If you are fortunate to have never heard this term before, it means that a college looks at your application as a whole and doesn't simply reject it when you may not have the ideal GPA or one bad grade.
There are three parts of your Notre dame application … you wish. The first thing Notre Dame requires is your high school transcript. These are your grades up until the first semester of your senior year.
They look at the courses offered at your school and evaluate whether or not you academically challenged yourself or not. If you do get admitted into Notre Dame and decide to go, they will require the rest of your high school transcript from your last semester of senior year.
Just because you got in, that doesn't mean the admissions officers can't overturn that offer, so you'd better work hard even though the application process is over.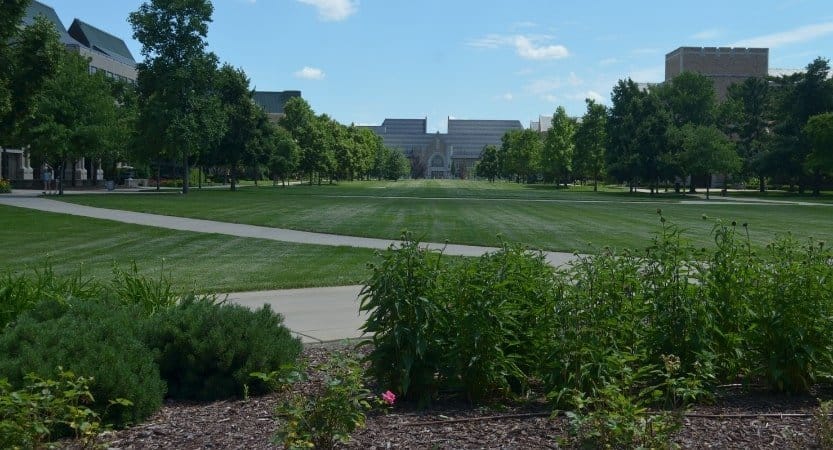 The second part of your transcript is your class ranking. Are you in the top 10% of your class? Top 5%? Top 1%? If there is no definite class ranking, then Notre Dame will contact your guidance counselor to see where you relatively are.
Notre Dame is now allowing you to self-report standardized test scores. I think this is because they don't want you to stress over getting the official scores, but I don't get it because if you are admitted, then you need to submit the official transcript. They also do superscore on both the SAT and ACT.
Notre Dame would also like your extracurriculars. Ugh, they demand so much. What have you done in school that is non-academic? What have you done outside of school for fun? What are your hobbies?
I can't say for certain because I am not an admissions officer at Notre Dame, but I would recommend that you have done something that benefits the community.
Our information session guide stressed the community part of Notre Dame, so I believe if you do something for your community, then they would like to know about that and may think of you as the right fit for their school.
Another part of your application (we're almost there) is your letters of recommendation from a teacher and a guidance counselor (you can submit letters if you wish as well).
If you are still a freshman or sophomore, then it would be ideal to butter up one of your teachers, preferably a teacher who teaches a class you are good at.
Your letters can reveal something about you from the perspective of a person who has known you in the classroom setting and can reveal how you would adjust to Notre Dame's rigorous academics.
They also should highlight your strengths, so Notre Dame knows how you will benefit them. How are you going to change their school? What do you have to offer? Are you a leader? Are you ambitious? Are you innovative? Who are you?
Congratulations! We have made it to the last thing that is required for your application. Notre Dame, whether you submit a coalition or common app, you will need to write 2 different short answer prompts and a writing sample which is longer.
I know I said the writing samples are the last part, but I want to touch on a few important things:
AP credits allow you to take a minor maybe or more classes in-depth, strong AP scores help application
You can not apply to early decision anywhere else if you apply early to ND
Mendoza is different, you need a separate application to change intended major because they have a limited amount of space
You can say that you are Catholic in your application, but it is not necessary
Financial Aid
Notre Dame meets 100% of your demonstrated need, but this also includes loans in the aid package. Yes, they do have grants which you do not have to pay back and work-study which you can do, but you still have a loan to pay back.
There are also 60 merit scholarships offered for $25,000 (per year so you earn $100,000 in total). If you apply to Notre Dame, you are automatically eligible to receive one of those scholarships.
These scholarships do affect your financial aid by taking the place of loans which serves to your benefit since you do not have to pay it back.
Walking Tour of Notre Dame
After our information session guide had essentially dumped all this information on us that I have presented to you, the student tour guides came in. They each had to tell a short story of something catastrophic that had happened to them but turned out fine in the end.
I distinctly remember two stories. The first was a girl who had a tree fall on top of her house which caused the alarm to go off, but the weird thing is, she was sleeping when that happened and didn't even wake up.
The second was about a girl who had injured herself and was restricted to a wheelchair. During the winter, the wheels and gears of her wheelchair had frozen, so she was stuck in the middle of the cold for about an hour.
Now, remember, this is Northern Indiana we are talking about here. The lowest it has ever gotten is -36 degrees and easily drops to the negatives during every winter. Luckily, she called her sister and was picked up, but I am sure she had a cold after that.
We could choose our tour guide and I chose the girl who stayed asleep when a tree fell on top of her house. This walking tour was the shortest I have ever been on, but it was awesome nonetheless because of the beautiful campus and nice weather.
As we walked towards the LaFortune Student Center, somebody in the group asked about the different activities that students can get involved in.
Our tour guide Kathy said that free performances are available to students throughout the year. They are acted and sung by students, so you may see your friends perform for free!
We entered LaFortune and I was surprised by the amount of food they had there. They have a Subway, a convenience store, a Taco Bell, a Starbucks, a Smashburger, and a Pizza Hut. You can use your flex points at these stores. What are flex points?
Good question: Flex Points are $500 that is put on your card every semester and are part of your meal plan. You can use these flex points at any restaurant on campus, and you can use them for meals in the dining halls.
LaFortune is very big, and there are places you can study which a lot of students choose to do, but Kathy said it always smells like Subway there. There is also a FedEx room, a computer lab, and a Credit Union in there.
We walked out of LaFortune and further discussed the meal plans at Notre Dame. The typical meal plan is 14 swipes per week which I thought would not be enough, but Kathy never heard of anyone going hungry.
You can always adjust your meal plan to whether you want more flex points and fewer meal plans or more meal plans and fewer flex points. But she also said that she is struggling during the summer when school is not in session because the hours are weird at the dining halls, so she has been relying heavily on flex points.
We passed by/walked through North Quad which is one of the main residence quads which means there are a bunch of residence halls surrounding the quad.
North Quad is very big and grassy, so according to our tour guide, people like to play sports here on a nice day, but it looked as vacant as a farm field in Kansas to me.
We entered Hesburgh Library which had its two floors completely renovated and looking super modern with white practically everywhere you look. Though the higher up you go, the library is more traditional with wooden tables and bookshelves.
Here, you can rent out a room for up to 2 hours at a time for studying, but if no one has reserved the room after you, you can continue to use it.
We saw one of the rooms while heading out and it looked very convenient because it has a ginormous whiteboard and table of course.
There are also a lot of computers to use. Kathy says she stays up until 3 to 4 am studying. I am not sure if that is because of the amount of homework, or that she chooses to complete it later, much later the next day.
She feels safe going back to her dorm in the pitch black, so I think this may calm your nerves about the blue lights only being on the outskirts of campus.
We walked out of the Hesburgh Library and saw Touchdown Jesus. Touchdown Jesus is about 150 feet tall and is making this notion with his hands: \ _/. He looks down at the reflection pool which is a whopping 4 inches. So deep that fish could drown in it.
Kathy has fallen into the pool which she recommends you don't do. Right before the big game, the footballers will throw a party, get super drunk, dress up and at 7 am, and run around in the pool.
There are other parties too based on different sports teams you're involved in such as sports, alumni, clubs, etc…
As we walked to more of the research & class buildings, Kathy told us she is from Texas, and the flights are relatively cheap. Notre Dame offers "Airports Supersavers", which costs $35 and runs about every 2 hours.
There are other modes of transportation such as a taxi, but those very expensive. A train costs $14, but you need to Uber there anyway. You can have a car after your freshman year, but that option would cost you the most and it is only a 20-minute walk from one side of campus to the other.
We walked by Galvan which is for scientific research and has a lot of actual labs that come to mind when you think of research & science. Then we moved onto the Notre Dame football stadium that we, unfortunately, were not allowed to go into, but I'm sure you can find pictures on google. T
here are 6 home games in the fall. Football is the only sport you need to pay for. It costs $200, but the tour guide said it is well worth it and a good bonding experience, but if you decide that you don't want to go, you can sell tickets for $50 apiece (still a profit though).
Then, we went into the second student center, Duncan, which is the newer student center. It includes a gym and fitness classes that are included in your tuition. Kathy said she had done a radio show in Duncan with her friend which was super weird, but fun as well.
Now the 5th floor has some pretty fun stuff up there. It is a career center to do video calls or mock interviews which is what everybody wants to be doing on a Saturday. But seriously, the tour guide said it was useful when she had a video call interview.
She was able to practice and said she felt much more prepared than if she had done it all by herself. Duncan also had a lot of places to eat, but these were more cafe style restaurants unlike what you found in LaFortune.
We walked out from there and she began pointing at many buildings which seemed to house every "main major". There was an engineering, law, arts, and science building and probably some more that I am missing.
The building styles seemed to fit with whatever the major was. For example, the engineering and science building looked very modern and sleek while the Law building had beautiful, more gothic-like architecture.
Our tour guide is a neuroscience major and we passed by the science building and she said that most lectures happen in there and those buildings are more used for bigger classes that can go up to 200.
She took a discussion-based theology course which she ended up liking because she was in a small group of 8 and found the topic more interesting than she initially thought

Our last stop before we headed back to the Dome was South Quad; the quad where our tour guide lives in. In my opinion and hers, it is the prettier quad. It does have a big lawn like North Quad, but the architecture around it is older, and they have cute little trees everywhere.
Kathy was given the residence hall which was ranked the worst in everything, but that is because her building is about 90 years old and was no air conditioning or an elevator, unlike some dorms.
She said it isn't too bad as long as you open a window, and about half the dorms don't have air conditioning anyways, so she has grown to love her dorm.
Amazon and other Ups packages come straight to your door, but Usps goes to the mailroom in every residence hall. You have to pay for the laundry, but it only costs $2 per load which can be a little or a lot based on how much you wash your clothes.
If your dorm is assigned a professor as a rector, then there are assigned Priest's that come to your dorm and hold masses. I asked if faith plays a big role in her life, and she said she is not very religious and doesn't go to mass weekly, but she said it is present because of how many opportunities there are to practice your faith.
As we walked back to the Dome, she quickly shared with us abroad opportunities at Notre Dame. Most of the study abroad takes place in someone's Junior year, but you can go as a sophomore too.
She went to London which she loved. She picked London because London and Australia are good for science and PreMed majors. The workload is not too heavy, so you do have time to explore.
The advisors you have always make sure you don't fall behind if you are doing sciences or are on the PreMed track.
One downside is that food is not included for London (I am not sure about other abroad opportunities), but scholarships are available at Notre Dame for this funding.
The tour ended with Kathy telling us why she chooses Notre Dame. She said she loved that it wasn't a competitive, but a collaborative school. She felt like it was home and she loved the community of Notre Dame.
She has made some of her best friends here and her opportunities here have been something she will never forget.
We decided to visit "The Basilica of the Sacred Heart" since it was next to the Golden Dome where our tour had ended. It was the second most beautiful church I had ever seen.
It wasn't enormous, but it had tall stained glass paneling everywhere and painted ceilings illustrating many Biblical scenes. Many arches tied in with some of the gothic architecture of the rest of the school.
We couldn't… well, we could visit the Grotto, but we all we would have seen is a bunch of construction.
We were on our way back to our car when we were greeted by the most courageous squirrel I have ever meet. The squirrel was about 10 feet in front of us and I assumed that it would move as we continued to walk towards him/her. But no.
He/She walked towards us and we came about 2 feet away from it and it just casually walked away to my left into a bush.
When we were almost at our parking spot, I spotted a very weird sight: A man in underwear lying down on a concrete ledge/block. He was wearing headphones with his hands underneath his head and casually laying practically naked in public.
That ends our Notre Dame tour! I recommend officially touring there if you are interested, but I hope this gave you a good, relative idea of life at Notre Dame. If you aren't bored yet or haven't left, I applaud for making it this far.
Read Also: Carnegie Melon University

Disclaimer: The views and opinions expressed in this article are those of the authors and do not necessarily represent those of the College Reality Check.