Is Rutgers University a Good School?
The eighth oldest institution for higher education in the US is Rutgers University (RU). Due to this, the school, which is also sometimes referred to as Rutgers, The State University of New Jersey, has a centuries-old academic tradition. And you might be wondering if RU is a good school for today's college students.
Rutgers University is a good school for those who want to earn an undergraduate degree from a highly ranked university while enjoying a great social life as it's known for being a party school and having a great Greek life. Since it's also a large campus, RU is great for those who want diversity.
Here's an interesting fact: Rutgers University is one of the Colonial Colleges, which consists of nine academic institutions chartered in the Thirteen Colonies before the US became a sovereign nation. Seven of the Colonial Colleges are Ivy League schools — the other two non-Ivy Leagues are RU and William & Mary.
But just before we proceed…
Rutgers University consists of three regional campuses. For this article, we will put the spotlight on Rutgers University – New Brunswick, which is the largest of the three campuses and is made up of five smaller campuses. Besides, it's also the site of the original Rutgers College. Throughout the article, we will refer to it simply as "Rutgers University" or "RU".
Check out these quick stats about Rutgers University before we start talking about some of the most important things you need to know about the public institution, especially admissions-related matters:
Location: New Brunswick, New Jersey
Founding date: 1766
Motto: Sol Iustitiae et Occidentem Illustra (Sun of righteousness, shine upon the West also)
Campus size: 2,685 acres
Campus type: City
School type: Liberal public research university
Reputation: Party school
Selectivity level: Somewhat selective
Number of majors: Over 120
Popular majors: Accounting, Biology, Communication, Engineering, Finance, Psychology, Social Sciences
Student body: 50,411 (as per Common Data Set 2020 to 2021)
Students per class: 10 to 19 in most classes
Student-to-faculty ratio: 16:1
Retention rate: 93%
Graduation rate: 81%
Athletic affiliation: NCAA Division I
Color: Scarlet
Mascot: Scarlet Knight
Number of varsity teams: 27
Sports: Baseball, basketball, cross country, field hockey, football, golf, gymnastics, lacrosse, rowing, soccer, softball, swimming and diving, track and field, volleyball, wrestling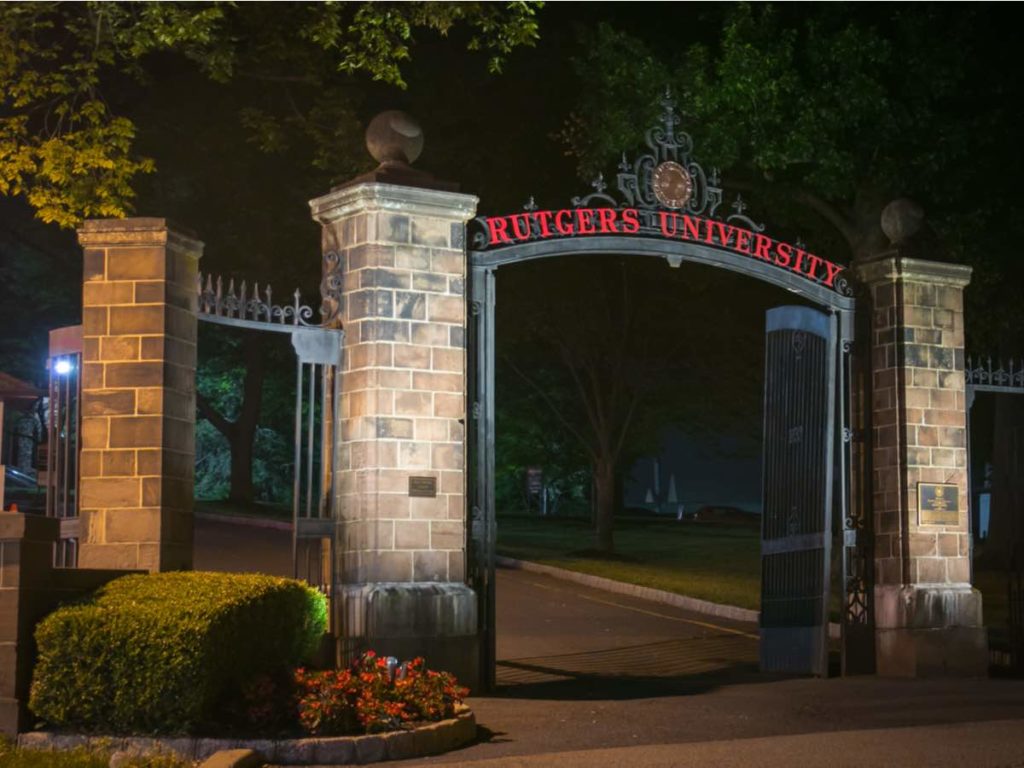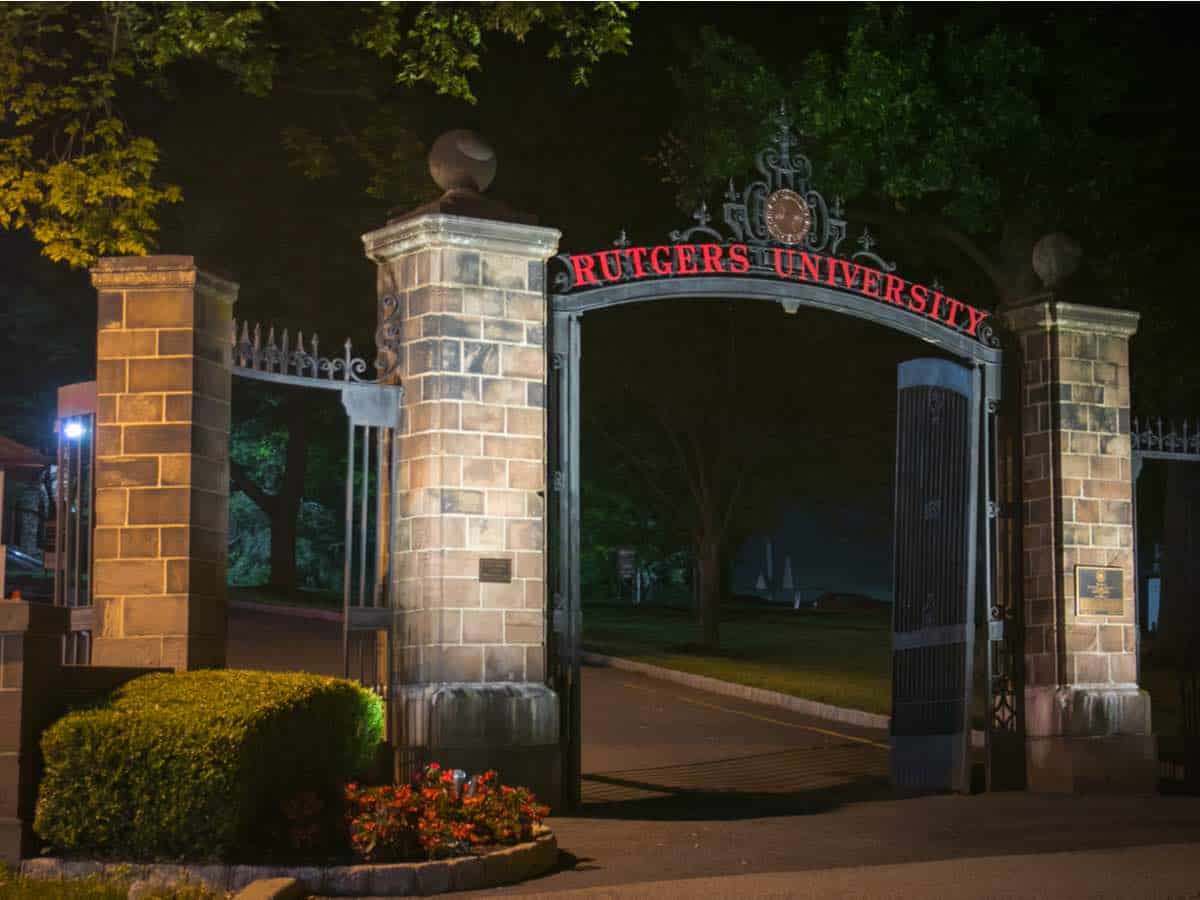 Rutgers University Rankings
US News ranks Rutgers University #23 in Top Public Schools and #63 in National Universities. On the other hand, Niche ranks the public school #18 in Most Diverse Colleges in America and #1 in Most Diverse Colleges in New Jersey. RU is #262 in QS World University Rankings by TopUniversities.com.
Rutgers University is a highly ranked institution not only in New Jersey but in the US, too.
It's due to this why, according to the most recent data as of this writing, RU receives more than 71,000 freshmen applicants per year. Meanwhile, the school receives over 10,000 transferee applicants per year.
College rankings alone should not be a factor in building a college list. However, they can lend a hand when you find yourself torn between two or more similar schools. And this is why it's a great idea to check out the following other rankings of Rutgers University by various college rankers before picking it over another option of yours:
#1 in Top Public Universities in America (Niche)
#2 in Best Public Colleges in New Jersey (College Simply)
#22 in Best Public Colleges in the US (College Simply)
#33 in Best Colleges for Veterans (US News)
#38 in Best Big Colleges in America (Niche)
#85 in the Northeast (Niche)
#102 in Public Colleges (Forbes)
#140 in Most Liberal Colleges in America (Niche)
#141 in Research Universities (Forbes)
#157 in Best Value Schools (US News)
What is Rutgers University Known For?
Rutgers University is known as the largest public university in New Jersey. It's also one of the 66 member universities of the prestigious Association of American Universities (AAU), like all the Ivy League schools. RU is known, too, for being a party school with a large and diverse student body.
Prefer working hard for a college degree without compromising your social life?
You will be more than glad to know that Rutgers University is one of the best party schools in the land. As a matter of fact, it's #1 in Top Party Schools in New Jersey and #29 in Top Party Schools in America by Niche.
Because of this, RU itself has included a Party Smart Guide page on its website. It serves as the attendees' some sort of toolkit, equipping them with facts and information so that they could act responsibly when having some fun and excitement that may involve the use of alcohol.
Other than being a party school, Rutgers University is also known for its Greek life, athletics and diversity.
RU is Niche's #1 in Most Diverse Colleges in New Jersey for a reason. It goes without saying that if you want to become a well-rounded college student through exposure to different people from different cultural backgrounds and with different viewpoints and belief systems, RU would make for an excellent addition to your college list.
Acceptance Rate at Rutgers University
More than half of all freshmen applicants end up getting admitted into Rutgers University. With an acceptance rate of 61%, the public school is somewhat selective. Many colleges and universities in New Jersey have 100% acceptance rates, making RU one of those with the lowest acceptance rates.
A lot of graduating high school students would love to earn a degree from Rutgers University. Unfortunately, many of them would probably end up hoping for an acceptance letter from a different school.
Compared to some of the nation's most prestigious schools, RU's acceptance rate is high.
But compared to many of The Garden State's institutions for higher education, its acceptance rate is relatively low. Just check out some of the most selective schools in New Jersey:
| | | |
| --- | --- | --- |
| NAME | LOCATION | ACCEPTANCE RATE |
| Princeton University | Princeton | 6% |
| Stevens Institute of Technology | Hoboken | 40% |
| The College of New Jersey | Ewing | 49% |
| Bais Medrash Toras Chesed | Lakewood | 59% |
| Rutgers University – New Brunswick | New Brunswick | 61% |
| Yeshivas Be'er Yitzchok | Elizabeth | 65% |
| Ramapo College of New Jersey | Mahwah | 66% |
| Kean University | Union | 69% |
| Bloomfield College | Bloomfield | 71% |
| Drew University | Madison | 71% |
| Georgian Court University | Lakewood | 71% |
| Rider University | Lawrenceville | 71% |
| Rutgers University – Newark | Newark | 71% |
| New Jersey Institute of Technology | Newark | 71% |
| Rowan University | Glassboro | 74% |
| Seton Hall University | South Orange | 74% |
| College of Saint Elizabeth | Morristown | 74% |
| Centenary College | Hackettstown | 75% |
| William Paterson University of New Jersey | Wayne | 75% |
Does Rutgers University Offer Early Decision?
Rutgers University does not offer Early Decision. However, applicants who have picked RU as their top-choice school may apply Early Action, whose deadline is on November 1. Unlike Early Decision, Early Action is non-binding, which means that accepted students may choose to attend a different school.
Some college-bound high schoolers apply early to colleges and universities in order to increase their chances of getting an acceptance letter. That's because it's a form of demonstrated interest.
At RU, however, demonstrated interest is not one of the various admissions factors.
This means that those who apply early and end up getting accepted are admitted because of their competitive applications, not due to exhibiting their interest to attend the public school. Needless to say, you should apply Early Action to Rutgers University because it's your top-choice school, not to increase your admissions chances.
Planning to put RU at the top of your college list? Then make sure that you don't forget these important dates:
| | | |
| --- | --- | --- |
| ADMISSION PLAN | DEADLINE | DECISION NOTIFICATION |
| Early Action | 1-Nov | 31-Jan |
| Regular Decision | 1-Dec | 28-Feb |
GPA and SAT/ACT You Need to Get Into Rutgers University
Like many institutions, Rutgers University does not have any published minimum GPA requirement for applicants. However, according to the school's undergraduate admissions profile (as per academic year 2021 to 2022), the middle 50% of all accepted freshmen students had GPAs ranging from 3.6 to 4.3.
The GPA range of applicants admitted into Rutgers University tends to vary by school.
For instance, the middle 50% of students admitted into the School of Arts and Sciences had GPAs of 3.7 to 4.1. The middle 50% of students admitted into the Ernest Mario School of Pharmacy, meanwhile, had GPAs of 4.0 to 4.3.
Using the figures above as examples, the middle 50% means that, for the School of Arts and Sciences admits, 25% had GPAs lower than 3.7. Meanwhile, 25% had GPAs higher than 4.1. The same goes for the Ernest Mario School of Pharmacy admits — 25% had GPAs lower than 4.0 and 25% had GPAs higher than 4.3.
And now, let's take a look at the SAT and ACT middle 50% of accepted freshmen students by department:
| | | |
| --- | --- | --- |
| SCHOOL | SAT COMPOSITE | ACT COMPOSITE |
| School of Arts and Sciences | 1290 to 1490 | 29 to 34 |
| Rutgers Business School | 1350 to 1500 | 30 to 34 |
| School of Engineering | 1340 to 1510 | 31 to 35 |
| School of Environmental and Biological Sciences | 1270 to 1470 | 29 to 34 |
| School of Nursing | 1280 to 1450 | 29 to 32 |
| Ernest Mario School of Pharmacy | 1370 to 1510 | 31 to 35 |
| Mason Gross School of the Arts | 1230 to 1410 | 28 to 32 |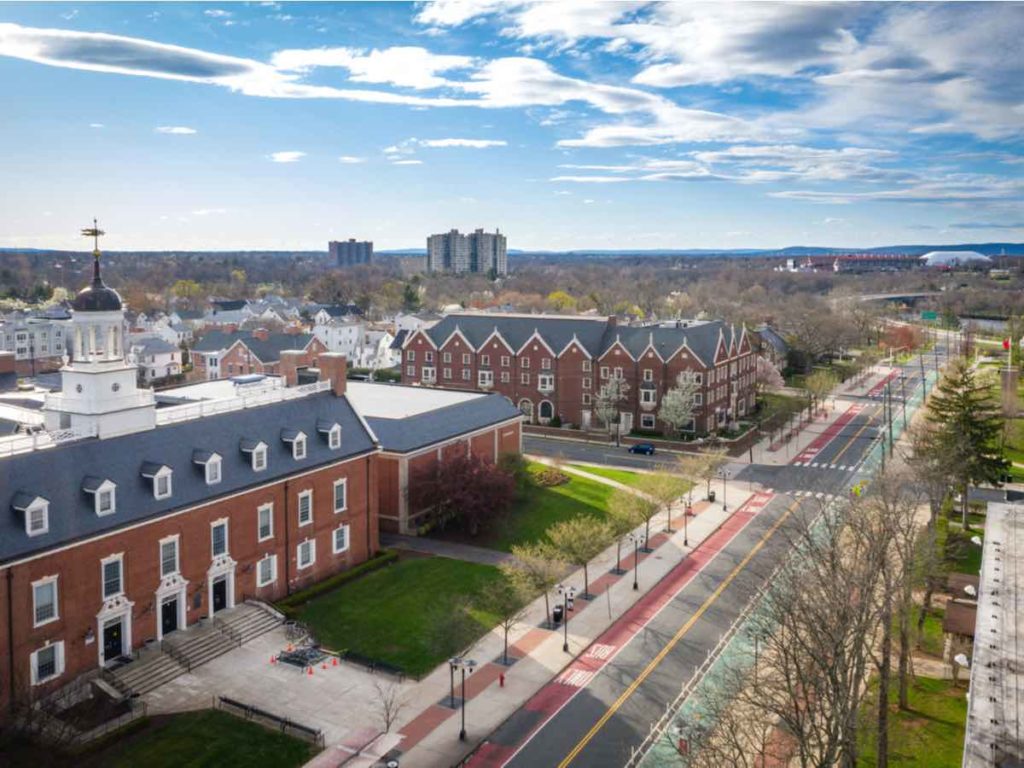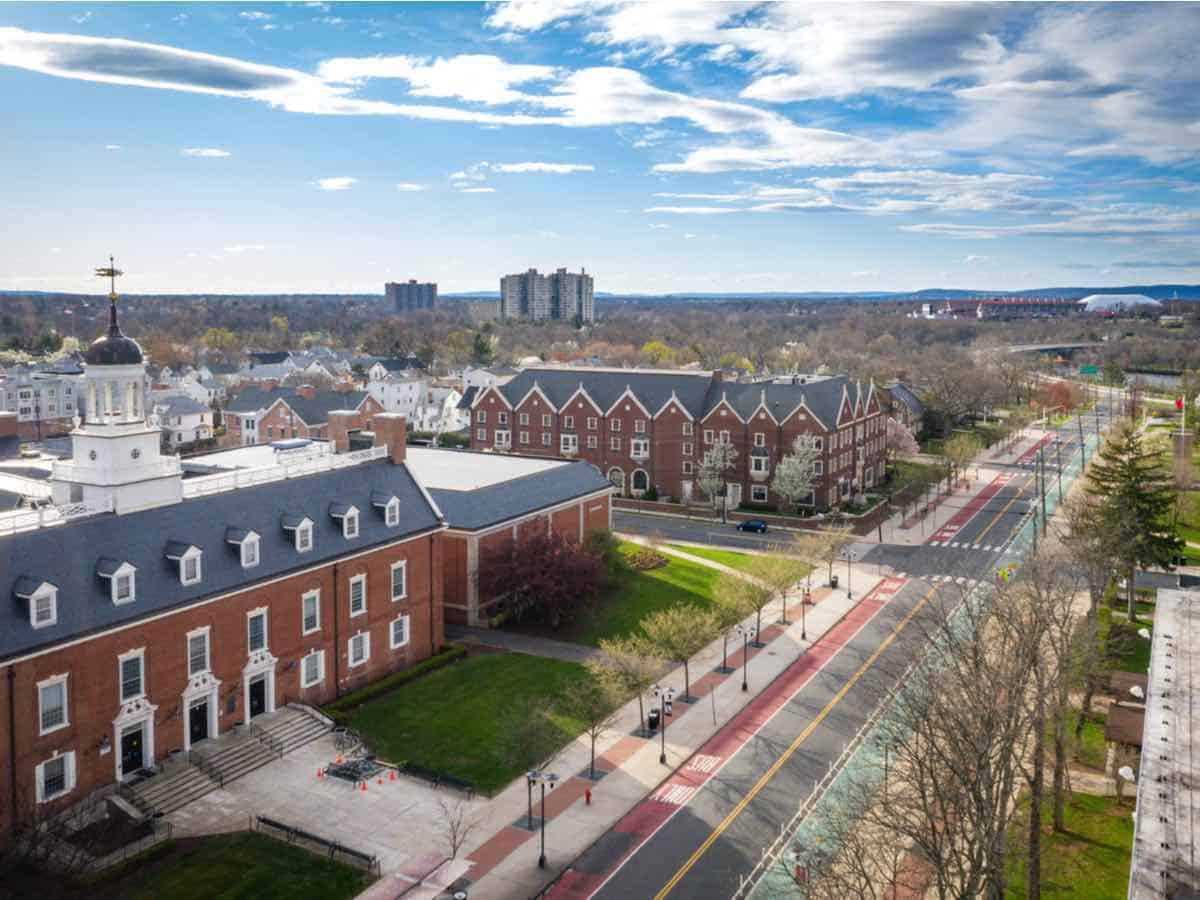 Application Requirements at Rutgers University
Applying to Rutgers University begins with either filling out the Coalition App or creating a CommunityID via the Rutgers Application Portal. Paying the non-refundable application fee, self-reporting academic records and providing standardized test score are the other steps to take to apply to RU.
Compared to some competitive colleges and universities, the application process at RU is easier.
That's because the public institution does not require applicants to carry out all sorts of steps and get their hands on all kinds of supporting documents. Especially if Rutgers University is your top-choice school, you might find it trouble-free to beat the Early Action deadline.
Here are the simple steps to applying to RU:
Fill out the Coalition App. Needless to say, the school does not accept the Common App. You may also apply by creating your CommunityID by providing an email and coming up with an 8-character password.
Pay the application fee. Applying to RU costs $70. You may also submit a fee waiver instead if you qualify for it, such as being a National School Lunch Program or US Military participant.
Submit the SRAR. Short for Self-Reported Academic Record, the SRAR allows you to self-report various academic information. Some examples include courses, grades and GPA.
Provide test score. At RU, 80% of admits submitted their SAT score and 18% of admits submitted their ACT scores. If you took the SAT or ACT more than once, submit all scores as RU superscores test scores.
Want to have an idea of how to increase your admissions chances? Below, you will come across the different academic and non-academic factors RU's admissions officers consider and the relative importance of each one:
ACADEMIC FACTORS
Academic rigor – very important
GPA – very important
Standardized test score – very important
Class rank – considered
Application essay – considered
Rutgers University does not require applicants to submit recommendation letters, unlike most colleges and universities, some of which even require the submission of multiple recommendations from different people.
NON-ACADEMIC FACTORS
Extracurricular activities – important
Interview – considered
Talent or ability – considered
Personal qualities – considered
First-generation – considered
Geographical residence – considered
State residency – considered
Race or ethnicity – considered
Volunteer work – considered
Work experience – considered
When applying to RU, there is no need to worry that factors such as alumni member relations, religious affiliation and demonstrated interest might impact your admissions chances. That's because the school's admissions officers do not care about these things at all.
How Much Does It Cost to Attend Rutgers University
In-state tuition at Rutgers University costs $12,772. Meanwhile, tuition for non-New Jersey residents is a little more than two times higher than for New Jersey residents: $29,833. The estimated cost of attending RU for one year is $36,267 for in-state students and $53,851 for out-of-state students.
Based on recent data, the average in-state tuition at US public schools amounts to $9,580. On the other hand, the average out-of-state tuition costs $27,437.
Related Article: 425 Colleges Charging In-State Tuition for Out-of-State Applicants
This means that tuition costs at Rutgers University for New Jersey residents and non-New Jersey residents are higher than what's considered the national average. It's due to this exactly why the public school is #21 in Most Expensive Colleges in New Jersey by In-State Total Cost by CollegeCalc.
It's a good thing that RU helps make earning a college degree more affordable for both students and their respective parents by offering need-based financial aid, merit-based scholarships, student employment, information about loans, and tuition payment plans.
According to the school itself, a total of $126 million in aid was awarded to 73% of its undergraduate students.
Cost of attendance the most important factor in the college selection process for you? Then check out the following breakdown of the estimated cost of attending Rutgers University for one year for both in-state and out-of-state students, based on the academic year 2021 to 2022:
| | | |
| --- | --- | --- |
| EXPENSES | IN-STATE COSTS | OUT-OF-STATE COSTS |
| Tuition | $12,772 | $29,833 |
| Fees | $3,238 | $3,249 |
| Room and board | $14,308 | $14,380 |
| Books | $1,350 | $1,350 |
| Transportation | $919 | $1,431 |
| Loan Fees | $106 | $106 |
| Miscellaneous | $3,574 | $3,574 |
| TOTAL | $36,267 | $53,851 |
How Much Do Rutgers University Graduates Make?
Ten years after initial enrollment at Rutgers University, employed alumni members generate around $66,200 of income per year. That amount is up to 93% higher than what's regarded as the national median annual salary. How much money RU graduates make a year depends on their major and many other factors.
Obtaining a degree from a highly ranked public university is a great way to kick-start one's career.
A diploma from Rutgers University is just one of the various things that can impact your annual salary. One of them is work experience. Generally speaking, the longer you have been a part of the workforce, the more money you make.
True enough, the average annual salary of $46,300 of RU graduates six years after attending the school for the first time climbs up to $52,800 seven years and $54,700 after eight years of enrolling for the first time. And, as mentioned earlier, they make about $66,200 annually ten years after becoming freshmen at Rutgers University.
The major you declare and complete as an RU student can also have an effect on your yearly salary. To give you a better idea, here are the estimated initial annual earnings of the school's graduates by major:
| | |
| --- | --- |
| MAJOR | YEARLY EARNINGS |
| Electrical Engineering | $72,100 |
| Communications Engineering | $72,100 |
| Registered Nursing | $70,300 |
| Nursing Administration | $70,300 |
| Management Information Systems and Services | $63,400 |
| Research and Allied Professions | $62,100 |
| Civil Engineering | $61,400 |
| Mechanical Engineering | $61,000 |
| Finance | $59,400 |
| Accounting | $57,100 |
| Mathematics | $55,300 |
| Information Science | $54,800 |
| Chemical Engineering | $53,600 |
| Business Administration | $51,300 |
| Economics | $47,000 |
| Human Resources Management and Services | $44,600 |
| Marketing | $43,200 |
| Chemistry | $41,100 |
| Public Health | $37,800 |
| Communication and Media Studies | $36,800 |
| Biochemistry | $35,200 |
| Sociology | $32,300 |
| Music | $31,300 |
| History | $29,300 |
| Journalism | $29,200 |
| Psychology | $27,900 |
| Philosophy | $25,900 |
Just Before You Apply to Rutgers University
Rutgers University is a good school and one of the oldest institutions for higher education in the country.
It's also one of the largest in the state of New Jersey. Although it's been around since the mid-1700s, RU has adapted trouble-free to the modern-day world, as evidenced by its over 120 majors, exhilarating parties, and robust Greek and athletic life.
Feel free to use everything you have learned about the public institution through this article in deciding whether or not RU should occupy the top spot on your college list.
Read Next: Is Rutgers University Hard to Get Into?

Disclaimer: The views and opinions expressed in this article are those of the authors and do not necessarily represent those of the College Reality Check.