Is UMGC a Good School? Complete Guide
For a long time, I've been suspicious of online schools thinking that they do not provide adequate knowledge. I held a similar prejudice against the University of Maryland Global Campus, also known as the University of Maryland University College.
Until I researched one person on LinkedIn. She was a CTO in a large corporation, and she held two degrees from UMUC: Bachelor's and a Master's in Business Administration.
When I found out this fact, I shared it with my friend, who had ties to the military. And he also confirmed that UMUC is a popular choice for former military people, and their degree is highly regarded among local employers. The school is well known to offer higher education to working adults. Here's a snapshot of her LinkedIn account: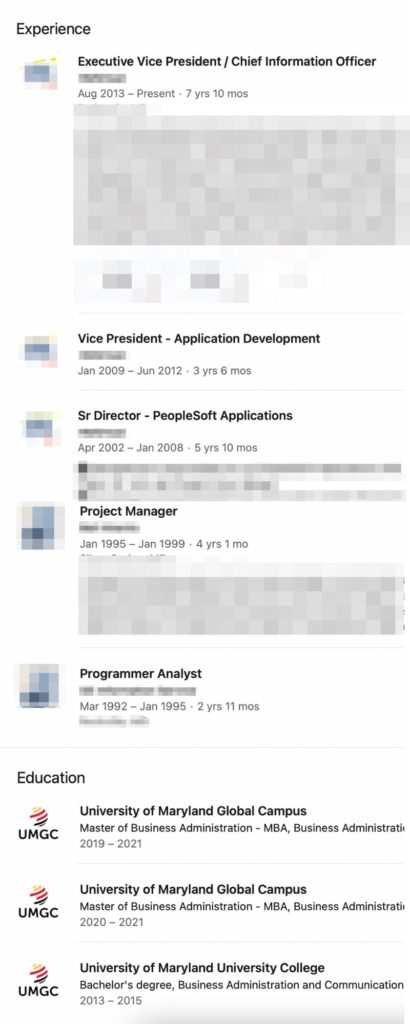 So, is UMGC a good school?
Having regional accreditation means that UMGC is a good school that is able to meet certain standards. Offering over 30 undergraduate programs and over 50 graduate programs, UMGC has many locations in the US and overseas for in-person classes. Most of its classes, however, are online.
Continue reading if you are planning on sending applications to various schools, and UMGC is on the top of your list. Below you will find some of the most important matters that you need to know about this online school.
Formerly Known as UMUC
When it was founded back in 1947, UMGC was known as the University of Maryland University College (UMUC).
Somewhere in the middle of 2019, however, its name was changed to the current one. Such took effect when Maryland Governor Lawrence Joseph Hogan Jr. signed the legislation to change its name to UMGC.
According to the school, being referred to as UMUC is not right anymore. Such is because it is no longer accepting students from Maryland, Virginia, and Washington, DC only, like it used to.
Being called the University of Maryland Global Campus is more suitable as it also accepts people from various parts of the US. As a matter of fact, according to the school's website, it is now teaching students from more than 20 countries and regions on the face of the planet.
When news about the school changing its name broke, many were intrigued. This is especially true upon knowing that UMGC was planning to spend $500 million on its marketing needs for the next six years.
In the school's defense, spending $83 million a year on digital marketing is not that big a deal. In fact, some online schools are shelling out more than the said amount for promoting themselves.
For instance, Southern New Hampshire University (SNHU) spent a whopping $132 million back in 2017 for marketing itself online.
UMGC once made it clear that the $500 million it was going to spend on marketing was not additional funding from the state. It confessed that some of the money was from unspent state funding that it was able to save.
Some of it was from its revenues. The school said that, as a matter of fact, they are getting very little state support.
Related Article: Is the University of Phoenix Legit?
Regionally Accredited
Before a student decides to go to an online school, there is one important step that he or she should take. It's none other than checking if the school is accredited or not. In fact, this is a must whether the school is online or traditional.
Accreditation serves as a sign that school is able to meet as well as maintain certain standards set by experts in the educational field. This helps assure the students that the programs they are about to get are legit.
Because of this, they will be able to use their college degree to apply for jobs after graduating.
The good news is that UMGC is an accredited online school. What's even more impressive is the fact that it is regionally accredited. Regional accreditation, compared to national accreditation, is better.
When a school is regionally accredited, it means that the credits a student will earn from it can be transferred to another accredited school.
So, in other words, a student who has obtained credits from UMGC will be able to go to a different school, online or traditional, without starting college all over again.
By the way, the Middle States Commission on Higher Education is what gave UMGC its regional accreditation. It is just one of the six regional accrediting bodies in the US.
The school's accreditation did not come from an agency that is made up, such as something that gives diploma mills on the internet their fake accreditation.
Related Article: Is Capella University Respected by Employers?
Far From Being a Diploma Mill
Some people are wary of attending online schools. That's because of their belief that these schools offer fake programs and diplomas. While it's true that there are many shady online schools these days, not all of them are the same.
Diploma mills are those that give online schools a bad name. Also sometimes referred to as degree mills, they give college diplomas in exchange for money.
Usually, their asking price is not cheap. More importantly, degree mills do not offer classes. Once the students give their credit card numbers, they can get their diplomas right away.
What makes diploma mills sound like they are the real deal is that they claim to be accredited. However, the accrediting bodies that gave them accreditation are all made up!
In the US, there are only a handful of regional and national accrediting bodies. The one that gave UMGC accreditation, as earlier mentioned, is one of the few regional accrediting bodies in the country.
It only means that the school is offering legitimate programs and diplomas. As such, it should not be mistaken for a diploma mill.
Someone who is thinking about going to UMGC need not worry about his or her future, in particular when it's time to apply for a job.
Employers of today are aware that not all online schools are diploma mills. One very good example of a legitimate online school because it is regionally accredited is UMGC.
If an applicant is not hired because of having a degree from an online school, he or she should not feel upset. Maybe the applicant does not deserve to work for such a close-minded employer.
A Non-Profit Online School
Because it is not a diploma mill, UMGC is offering legit programs. More importantly, the programs that the school is offering are respected by employers.
It goes without saying that the students who will graduate from UMGC will not have a hard time getting a job. The programs that they have completed are real programs.
There is another thing about UMGC that makes it a reputable school in the eyes of both students and employees. It's the fact that it is not a for-profit school. So in other words, UMGC is a non-profit school.
Making money is the number one goal of for-profit schools. That's because they need lots of cash for costly marketing and advertising, both of which are important for them to stay in operation.
Needless to say, very little to no money goes to the facilities and services for their students. This can cause the quality of education provided to suffer.
On the other hand, the money that non-profit schools make is spent on improving themselves.
Such can come in the form of creating new classrooms, buying books for the library, increasing the salaries of the faculty members, and more. Because of this, a lot of non-profit schools are admired for their high-quality education.
UMGC is a non-profit school and a public school, which means anyone who wants to go to it may apply. The application process for an undergraduate program is different from a graduate program.
Similarly, the application process for military personnel and veterans is different. For instance, they will have to present documents that show their status and date of separation.
For UMGC students who had to stop due to relocation, there is no need to go through the admission process. That is unless it's been two years or more since they last went to it.
Related Article: Pros and Cons of DeVry University
Catering to the Military
Over 70 years ago, when UMGC was founded, one of its missions was to make getting a college degree more accessible to working adults.
This is especially true for veterans and service members who were coming home to the US from World War II. Nowadays, the school is still continuing that mission.
There are a couple of reasons why UMGC is suitable for the military community who wish to go back to school. For one, the school is offering lowered tuition fee rates to those who are serving or have served the country.
It's not just the military members themselves that can enjoy discounted tuition fees from the school. Their spouses and dependents, too, can be spared from shelling out huge sums of money just to get a college degree online.
Other than enjoying lowered tuition fees, UMGC also allows veterans and service members to earn credits from their military experience and training.
Such can help further reduce the cost of studying online. What's more, it can also help save time. Earning credits allows students to get their college degrees faster.
UMGC allows the enrolled veterans, military service members, and their families to complete their programs without the need to step foot outside their stations, bases, or homes.
However, UMGC also offers what the school refers to as hybrid classes. Put simply, they are a mix of an online school and a traditional school.
The hybrid classes of UMGC, in other words, combine the best of both worlds. Such allows its students to earn their degrees without missing out on the experience of going to the campus.
Offering the Hybrid Classes
It's no secret that one of the reasons why many people go to online schools is that they get to enjoy flexibility.
Such is true not only when it comes to the pace of completing their programs but also in terms of sitting in front of a computer to study. Well, UMGC makes online studying even more flexible with its hybrid classes.
Basically, hybrid classes are a combination of online classes and in-person classes. This means that some of the classes will take place on the internet, while the rest will happen inside a physical classroom.
Hybrid classes are ideal for students who would like to experience going to a traditional school but do not have the time or means to commute regularly.
In most cases, hybrid classes that UMGC offers take place once a week. The school knows that the majority of its students are working adults, and that is why its hybrid classes usually take place at night.
Some locations where hybrid classes are being given have weekend classes. They are perfect for students who are too tired to travel in order to attend classes on weeknights after coming home from work.
In the US, there are over 20 locations where UMGC's students may have hybrid classes. Most of them are found in Baltimore and Washington, DC areas. There are also many classrooms accessible for students who are in the military, thus preventing them from commuting unnecessarily.
Some examples of military locations where UMGC is offering its hybrid classes include:
Aberdeen Proving Ground in Maryland
Eglin Air Force Base in Florida
Fort Belvoir in Virginia
Fort Bliss in Texas
Fort Drum in New York
Fort Gordon in Georgia
Joint Base Lewis-McChord in Washington
Langley Air Force Base in Virginia
Naval Station Mayport in Florida
US Coast Guard Base in Hawaii
By the way, some of the courses that UMGC offers to overseas its students can be completed through in-person classes completely. This means that, in some instances, it is operating just like a traditional school.
High Employee Satisfaction Rate
Earlier, we talked about the fact that UMGC is a non-profit school. It's important to mention this once more because it is time that we put the spotlight on the employees of the online school.
For-profit schools are operating as businesses. College programs and diplomas are the products that they are selling. These schools will not hesitate to do anything and everything just to make sure that they will keep on making money.
Such is perfectly understandable because, after all, money is what keeps businesses in operation.
If it seems like their employees are the ones that are keeping them from getting rich, most for-profit schools are likely to cut the salaries of their teaching staff and other personnel.
They may get rid of some of their benefits, too. With low salaries and reduced benefits, it's not unlikely for the satisfaction rate of the employees to be low.
Even though the majority of online schools are the for-profit type, UMGC is not one of them. As a matter of fact, just like what was mentioned earlier, it is a public school that is operating on the internet.
This is why the problems faced by employees working for for-profit schools are less likely to be encountered by the employees of UMGC. For instance, when UMGC had a name change back in the middle of 2019, the contracts of all its employees had to end. However, the school gave all of them the option to simply reapply.
Additionally, UMGC told everyone that they could apply for a different position if they wanted. Such was possible because the school's expansion opened new teaching slots.
The school's website also says that its regular employees come with an assortment of benefits. They range from medical, dental, prescription, life insurance, to accidental death and dismemberment insurance.
Because of these many benefits, it's not unlikely for UMGC's employees to have high satisfaction rates.
Conclusion
These are some of the most important matters that you need to know about UMGC. Based on the pieces of information given above, there is no reason to doubt that the school is a good and legitimate one.
Going to UMGC comes with benefits. This is especially true for working adults as well as people who are in the military or were a part of it.
No matter the case, UMGC makes getting a college diploma less complicated and stressful for those who cannot go to a traditional school like everyone else.
While there are perks to enjoy going to UMGC, there are also some downsides.
For instance, the students may not be able to improve their social and communication skills, unlike students at traditional schools. Because of this, they may fail to make a good impression during job interviews.
In case they get hired, they may have a difficult time interacting with their co-workers as well as participating as a team member.
However, it should not be an issue for those who are already employed and only want to earn their degrees for a job promotion or to seek greener pastures.
The same is true for those who are undergoing UMGC's hybrid classes in which online classes are paired with in-person classes that usually happen once a week.

Disclaimer: The views and opinions expressed in this article are those of the authors and do not necessarily represent those of the College Reality Check.