Is Western Governors University Respected by Employers?
When working on this article, I reached out to my former colleague via LinkedIn and asked him why he chose Western Governors University to complete his bachelor's degree in Information Technology.
I was wondering if getting a degree from WGU is worth it and how do employers evaluate it. You can read my colleague's response at the end of the article, but here's the summary.
If the employer does not have a bias against an online degree, they will accept a diploma from Western Governors University. It is regionally accredited by a recognized accrediting body. The school also appears in various legit college ranking sites and receives donations from well-known foundations.
Look no further if you are looking to earn an online degree from WGU.
Below, we will answer some of the most pressing questions students have about the online institution, especially those that have something to do with things to expect after earning a degree from it.
Is Western Governors University an Accredited School?
Western Governors University is accredited. The online school's accreditation is granted by the Northwest Commission on Colleges and Universities (NWCCU). The said agency is one of the nation's six regional accrediting organizations. As a result of this, WGU is a regionally accredited institution.
There are many perks that come with going to a regionally accredited school like WGU.
For instance, it makes transferring credits from one institution with regional accreditation to another easier. It also enables students to qualify for financial aid. Going to a regionally accredited institution, especially one that operates online, makes it trouble-free for the graduates to get hired, too.
Due to these benefits, regional accreditation is considered more prestigious than national accreditation as it demonstrates that the school with such kind of accreditation has a better academic reputation.
Besides having regional accreditation, WGU has numerous programmatic accreditations, too. This means that the various degree programs it offers meet or surpass specific standards.
As an example, all business-related programs at WGU are accredited by the Accreditation Council for Business Schools and Programs (ACBSP).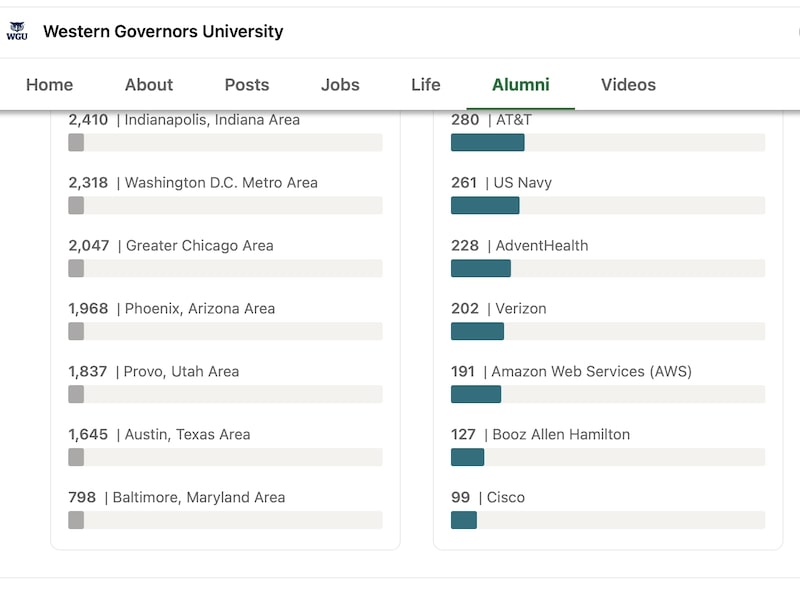 Is Western Governors University a Diploma Mill?
Western Governors University is not a diploma mill. Proof to this is that it's accredited by a regionally accrediting agency recognized by both the US Department of Education (USDE) and the Council on Higher Education Accreditation (CHEA). WGU also appears on various legit college ranking sites.
Over 2,600 diploma mills are in existence. Around 1,000 of them are based in the US.
Making the mistake of attending a diploma mill is a complete no-no. It may allow you to get your hands on a degree in no time and with as little effort as possible alright. However, the degree will not be respected by employers.
Because it's regionally accredited by a recognized accrediting organization, Western Governors University is far from being a diploma mill. As a matter of fact, in 2000, WGU received a $1 million grant from the Bill & Melinda Gates Foundation. The foundation also joined the WGU National Advisory Board (NAB).
In 2010, WGU Indiana received $4.5 million from the said foundation.
With the large sums of money coming from the Bill & Melinda Gates Foundation, it can't be that WGU is a diploma mill.
If you want to make sure that the online school you are about to apply to isn't a diploma mill, take a look at this helpful article discussing this very topic.
How Much Does It Cost to Attend Western Governors University?
At Western Governors University, the yearly tuition for a bachelor's degree costs $7,290. On the other hand, the yearly tuition for a master's degree costs $7,570. WGU's tuition is paid per term instead of by credit. This means that students pay the same per term regardless of the number of courses.
The steep cost of college is one of the reasons why many high school graduates choose to work rather than earn a degree.
Nowadays, the average cost of yearly tuition for a bachelor's degree at US colleges and universities amounts to $12,705. For a master's degree, the average cost of tuition per year is $23,138.
Clearly, the tuition cost at WGU, whether for a bachelor's or master's degree, is significantly lower. And the nicest thing about it is that the online school has flat-rate tuition. This means that you will pay the same amount no matter how many courses you complete each term.
To keep steep college debt at bay, Western Governors University helps its students reduce or eliminate the need to take out a loan through its Responsible Borrowing Initiative and financial aid packages and military benefits.
What Kind of Students Attend Western Governors University?
The average age of Western Governors University students is 37. Almost a third of its attendees work full-time. In contrast, around 40% of WGU admits are first-generation college students. Almost 15,000 students are active-duty personnel or veterans, and 900 are military spouses or dependents.
Online colleges and universities tend to attract non-traditional students or students that don't fit the mold due to various factors. Some of them include flexible schedules and lower sticker prices.
Most students enrolled at WGU are far from being traditional ones. For instance, as mentioned earlier, 37 is the average age of the school's attendees. On the other hand, at four-year and two-year institutions in the US, students are anywhere from 18 to 24 years old. Needless to say, students attending WGU are older and working, too.
In 2020, Western Governors University was named the best online school for service members, veterans, and families by Military Friendly, a company that surveys, investigates, and identifies organizations committed to serving the military and veteran community.
WGU has been receiving a Military Friendly Schools designation for 10 years now.
With nearly 15,000 active-duty and veteran students and 900 military spouses and dependents attending the online school, there is no denying that it's a military-friendly institution.
Here's a table of the age diversity of WGU students:
| AGE GROUP | PERCENT OF STUDENTS |
| --- | --- |
| 18 to 19 | 0.10% |
| 20 to 21 | 1.20% |
| 22 to 24 | 5.80% |
| 25 to 29 | 18.30% |
| 30 to 34 | 20.40% |
| 35 and older | 54.20% |
| TOTAL | 100% |
Which Employers Accept Degrees From Western Governors University?
Western Governors University has partnered and is creating partnerships with organizations such as corporations, associations, healthcare facilities, learning institutions to give their employees as well as WGU graduates new opportunities. Many employers are happy with the performance of WGU graduates.
Some students hesitate to study online for fear that the resulting degrees will not be respected by employers.
Employers will respect online degrees if they are earned from accredited online schools, and Western Governors University is one of them. On the other hand, no employer will even consider checking out the resume of any applicant with a degree obtained by paying a diploma mill.
According to a survey involving 300 participants, all of which are employers of WGU graduates:
98%: Employers who said WGU graduates have met or exceeded their expectations.
96%: Employers who said they would hire more WGU graduates.
95%: Employers who said the WGU graduates they hired were well-prepared for the job.
According to Brad Smith, the President and Chief Legal Officer, Microsoft, which is one of the many companies that hire applicants who graduated from Western Governors University:
"WGU gives students the ability to really assemble the complete package, from the subject matter to the specific skills to the certification that gives employers confidence when they're making a hiring decision."
Ben Espinosa, a sales representative for a textile manufacturer, took a business management program at WGU. After earning his degree, the company he was working for promoted him to a sales executive position and paid him handsomely, too.
Eric Mutch, on the other hand, was a senior operations manager at a tech company. He earned an IT management program and, after updating his LinkedIn profile, was approached by a Silicon Valley startup.
How Much Do Western Governors University Graduates Make?
The average salary of Western Governors University graduates amounts to $73,000 a year. Some make more money annually, while others make less money annually. The amount of salary WGU graduates receive per year depends on factors like their degrees, job titles and workplace performance.
Earlier, we mentioned that many employers are happy with the Western Governors University graduates they hired. This is a testament that many students who graduate from WGU get hired and are good performers.
Besides their job market value after graduating, many students planning to apply to online schools also worry about how much money they can make in their respective career paths.
Well, people with degrees earned from WGU tend to have higher salaries than what's considered the national average for college graduates in the US: $53,889.
The following are some of the highest-paid Western Governors University graduates based on job positions:
| POSITION | ANNUAL SALARY RANGE |
| --- | --- |
| Information technology (IT) director | $57,000 to $162,000 |
| Information technology (IT) manager | $51,000 to $119,000 |
| Human resources (HR) generalist | $39,000 to $70,000 |
| Human resources (HR) manager | $50,000 to $89,000 |
| Network engineer | $53,000 to $101,000 |
| Operations manager | $51,000 to $99,000 |
| Systems administrator | $46,000 to $90,000 |
Do Your Own Research
If you search anything on the Internet, you will find a plethora of opinions ranging from positive to highly negative. Instead of relying on people who posted their opinions on the Internet, reach out to real people who had relevant experience and successfully leveraged their degrees.
Here's how you can do it:
Go to LinkedIn
Find WGU
Click on the Alumni tab
Select start year, e.g., 2018
Now, you can choose from one of the two options: "Where they live" or "Where they work."
For example, if I want to know if hospitals hire Western Governors University graduates, I would click on HCA Healthcare or Kaiser Permanente.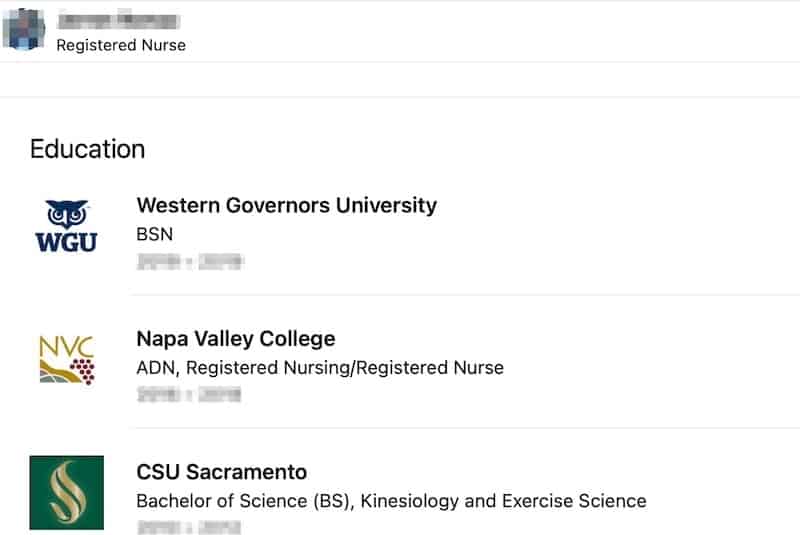 For instance, I found a guy who had his BSN from WGU. Now, it's not time to be shy. Try to reach out and ask whether the WGU diploma helped him to get the job.
Just Before You Apply to Western Governors University
Getting a degree from Western Governors University is cheaper than getting a degree from a traditional college or university. In some instances, particularly if you have plenty of time to sit in front of your laptop, you can complete your program at a much faster rate (e.g., a bachelor's degree in less than four years).
As mentioned above, I reached out to my former colleague and asked him the following:
"By the way, I wanted to ask you about your experience with WGU, if you don't mind. What made you choose WGU for your Information Systems degree?"
His response was:
There are a few reasons I went with WGU.
The tuition is per semester regardless of how many classes you complete, and you can progress at your own pace. So, if you can finish a course in a week, there is no penalty.
The classes were challenging but not too difficult, and the staff was helpful anytime I needed it.
The exams can be scheduled any time I wanted – really helped with my work and kids schedule.

Disclaimer: The views and opinions expressed in this article are those of the authors and do not necessarily represent those of the College Reality Check.