Is Living On-Campus Worth It?
According to the latest data, more than 85% of those who go to college are commuter students — students who don't live in any college- or university-owned housing and thus go to and fro their classes by taking public transportation or driving cars, riding bikes or even walking.
You are thinking about not being a commuter student. However, you may be wondering, too, if living on-campus can contribute to the entire university experience or is just a complete waste of money.
Living on-campus is ideal for students who want to immerse themselves into the campus culture so much better and have easy access to school activities, organizations and parties. But it may not be the best option for those who are on a tight budget or value their privacy or being around their loved ones always.
On the fence as to whether or not you should grab the opportunity to live on-campus? Read on!
Below, you will come across the various pros and cons of living on the school grounds. Knowing both positives and negatives of residing in a college dorm you have to share with a roommate can help you make a smart choice, unless you are required to live on-campus as a freshman student, which is the case at many four-year institutions.
Pros of Living On-Campus
Make friends faster and easier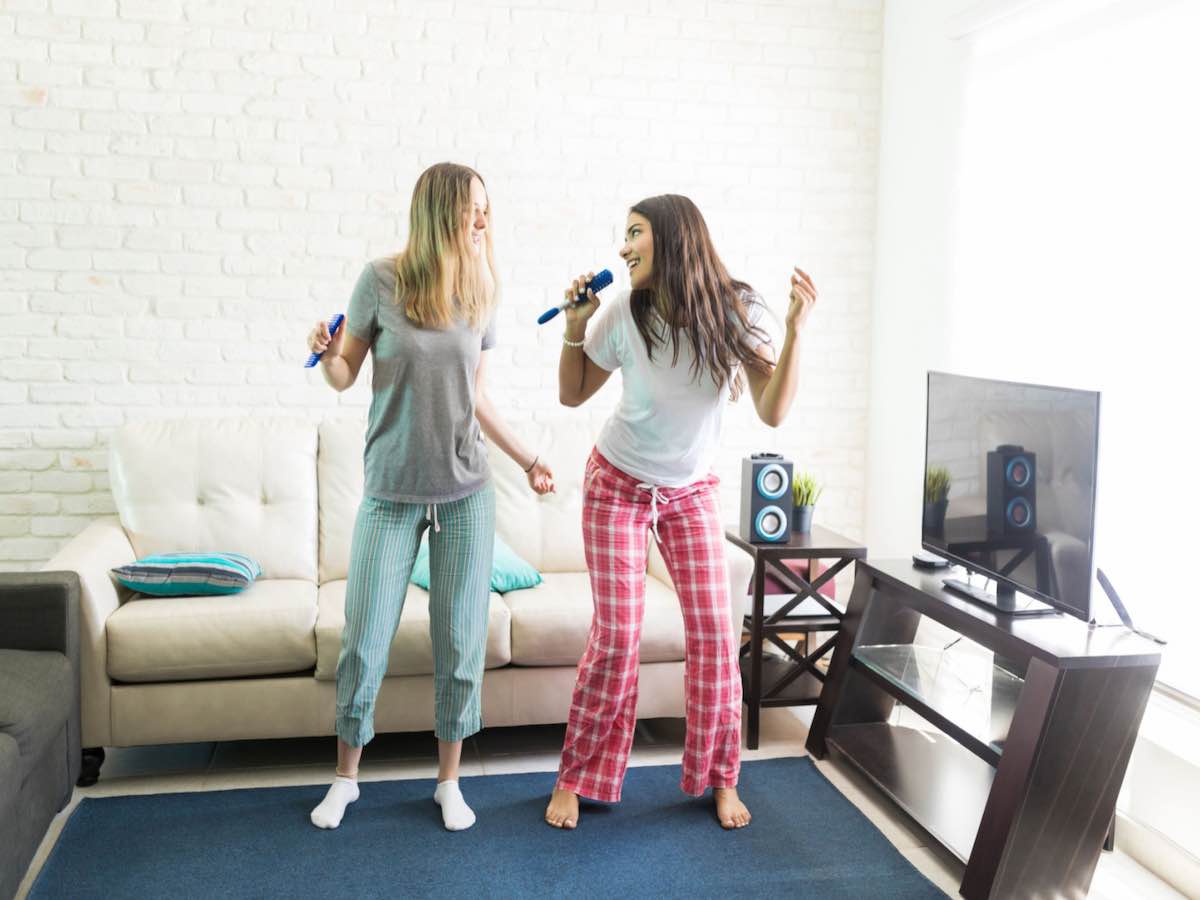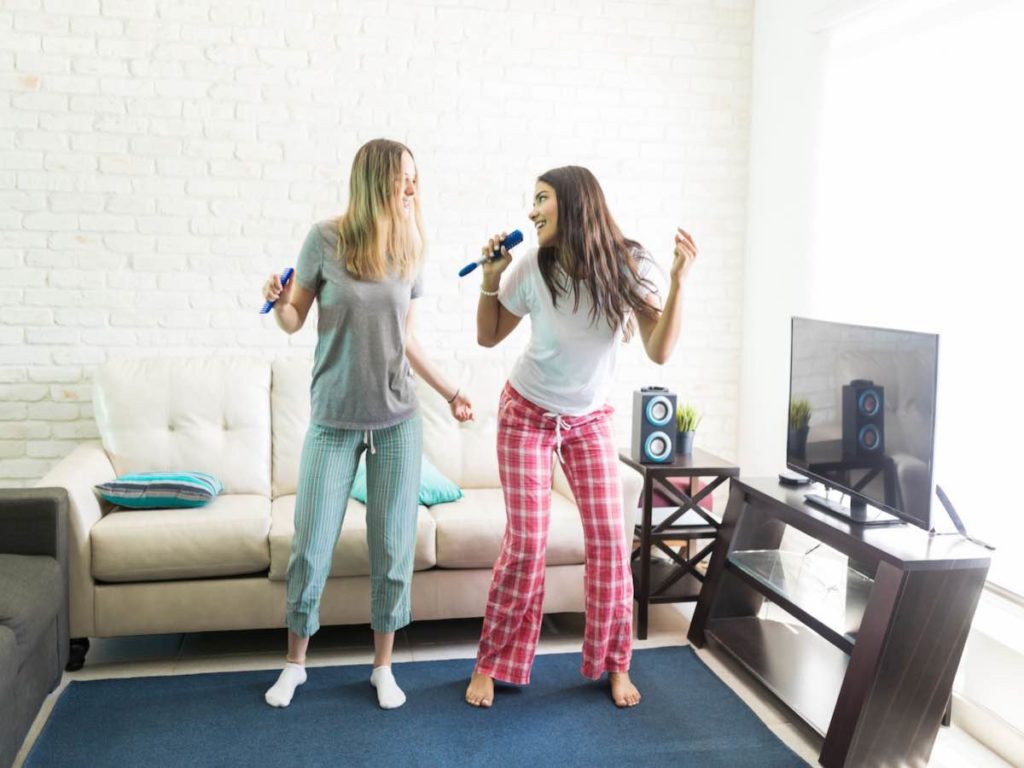 College friendships can help improve your social life, boost your self-confidence and self-esteem and even make your pursuit of a degree more effective and well-rounded. While you can meet a lot of people living off-campus, there are more opportunities for you to make friends with more of them if you live on-campus.
This is most especially true if the institution you are attending is massive and heavily populated.
What's really nice about living on-campus is that getting to know others who also reside on the school grounds doesn't have to begin and end when classes start, which allows you to build deeper and more meaningful relationships with them.
Better involvement with clubs or organizations
There are many perks that come with joining clubs or organizations in college.
One of the most noteworthy ones is that it helps you build your professional network without having to wait for you to become a professional. Participating in them allows you to meet individuals who could introduce you to your future employer or might even become your co-founders of your very own money-making endeavor.
By living on-campus, you can attend club or organization meetings trouble-free, which are usually held after class hours or during the weekends, thus allowing you to become an active and important participant.
Less likely to be late for classes
Traffic congestion is more common in highly developed and densely populated cities. And that is why getting to class on time can be a problem if you are attending a college in an urban setting and living off-campus.
If you live on-campus, you can wake up literally 15 minutes before class and still get there on time!
But keep in mind that long commutes and traffic jams are not the only reasons why college students show up late to their classes. This means that on-campus living is not the ultimate solution to tardiness.
Easier access to on- and off-campus parties
Got nothing but party schools on your college list? Then chances are having fun is just as or more important to you as obtaining a college degree.
Since students who go for party schools tend to party at least twice a week, on-campus living is the way to go.
By living on the school grounds, you can get to and fro various party venues such as dorms and frat houses or bars and clubs within the campus vicinity. Learn more about the drinking problem in dorms here.
Opportunity to become an RA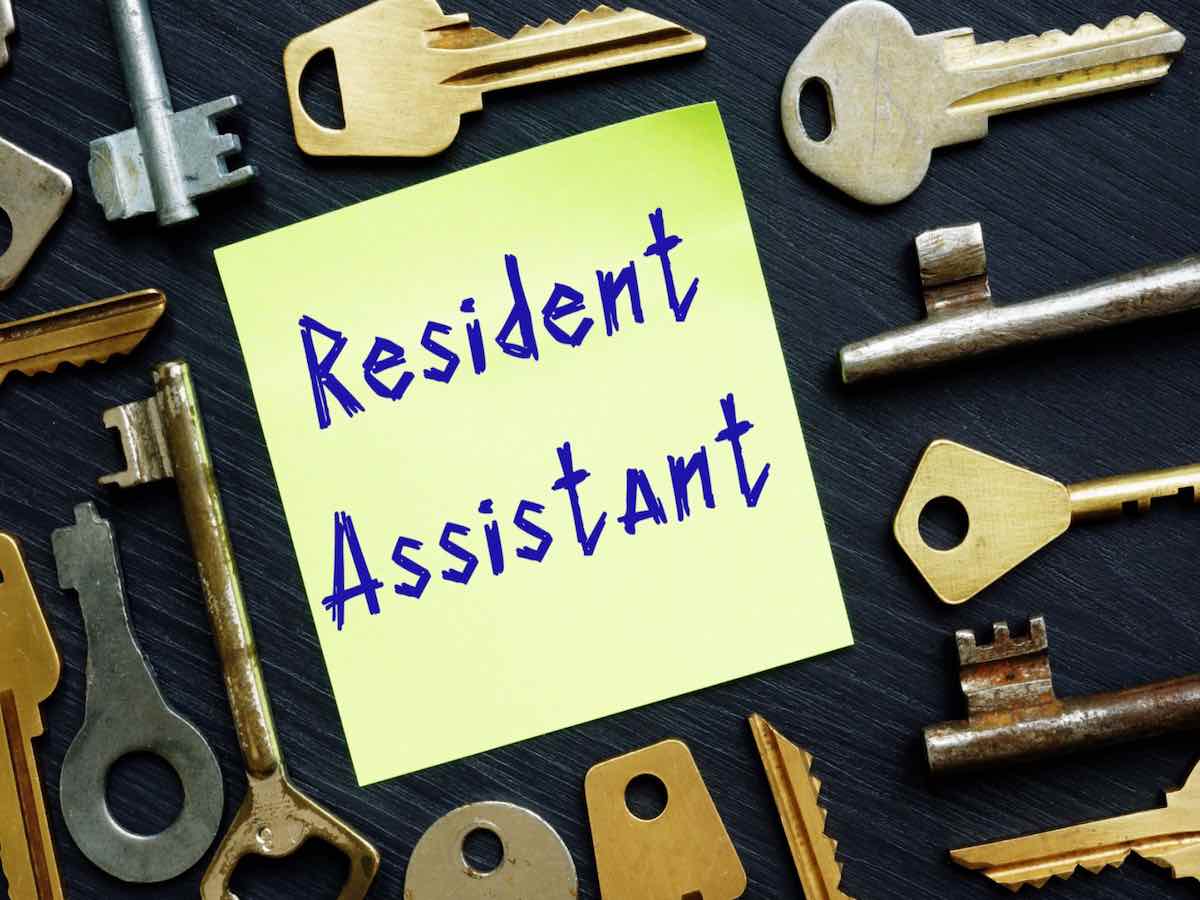 Doing rounds several times, checking emergency equipment, engaging with the residents — these are just some of the most important tasks of a resident assistant (RA).
And in order to be able to carry out these things and more, an RA should opt for on-campus living, which is available for them at a discounted rate or absolutely free of charge, depending on the school.
However, just because you want to hold an RA position doesn't mean right away that you are eligible for it — colleges require aspirants to maintain a particular cumulative GPA or have earned a minimum number of credits. They must also participate in the mandatory RA seminar and training.
Getting a job on or near the campus
The Georgetown University Center on Education and the Workforce (CEW) says that 70% of all college students are employed. Meanwhile, based on the latest data provided by the US Department of Education (USDE), over 40% of full-time college students are employed, while more than 80% of part-time ones are working.
Planning on applying for a part-time or full-time job or the Federal Work-Study (FWS) program? Then choosing to live on-campus may be one of the smartest steps that you can take.
Doing so allows you to get from your dorm to your class and from your class to your work easily.
Independence
It's during the college years when young individuals mature and learn independence significantly, especially for those who reside on-campus, because of having to live on their own and make most of their everyday decisions.
College teaches you not only various knowledge and skills associated with your major but also lessons that aren't learned in the confines of the classroom, from managing time, money and stress to critical thinking, problem-solving and decision making, all of which you can obtain and polish so much better living on-campus.
Developing personal responsibility
Taking responsibility is an important trait of successful college students. Being personally responsible means you are accepting accountability for your words, actions and academic performance, which reflects the level of commitment you have to completing your chosen program and earning the degree resulting from it.
As a college student, you should commit and work hard in order to obtain your educational goals. But you should also abide by the rules, regulations and policies of the school you are attending.
Nothing can teach personal responsibility better than being away from your family who can always come to the rescue.
Higher financial aid — maybe
First things first: living on- or off-campus does not affect a student's eligibility for financial aid.
However, where you choose to live as you work on your degree can impact your financial aid award. Students who choose to live on-campus, generally speaking, get more financial aid than those who prefer or have to live elsewhere. That's because how much money they get depends on how their schools compute the cost of attendance (COA).
And because room and board can cause the COA to soar, a student living on-campus tends to get a better financial aid package. Still, at some institutions, the COA is the same for students who live on- and off-campus — such is precisely the case for junior and senior students attending Yale University.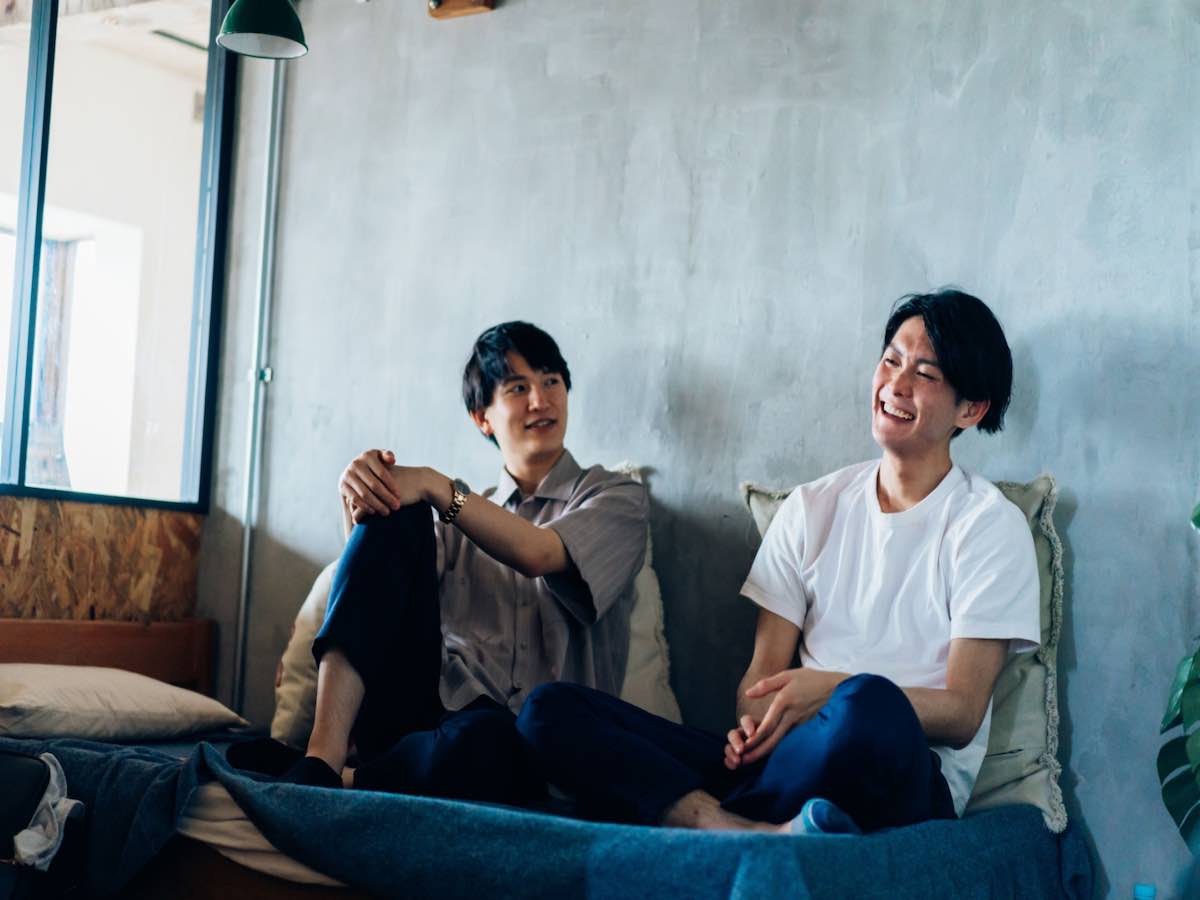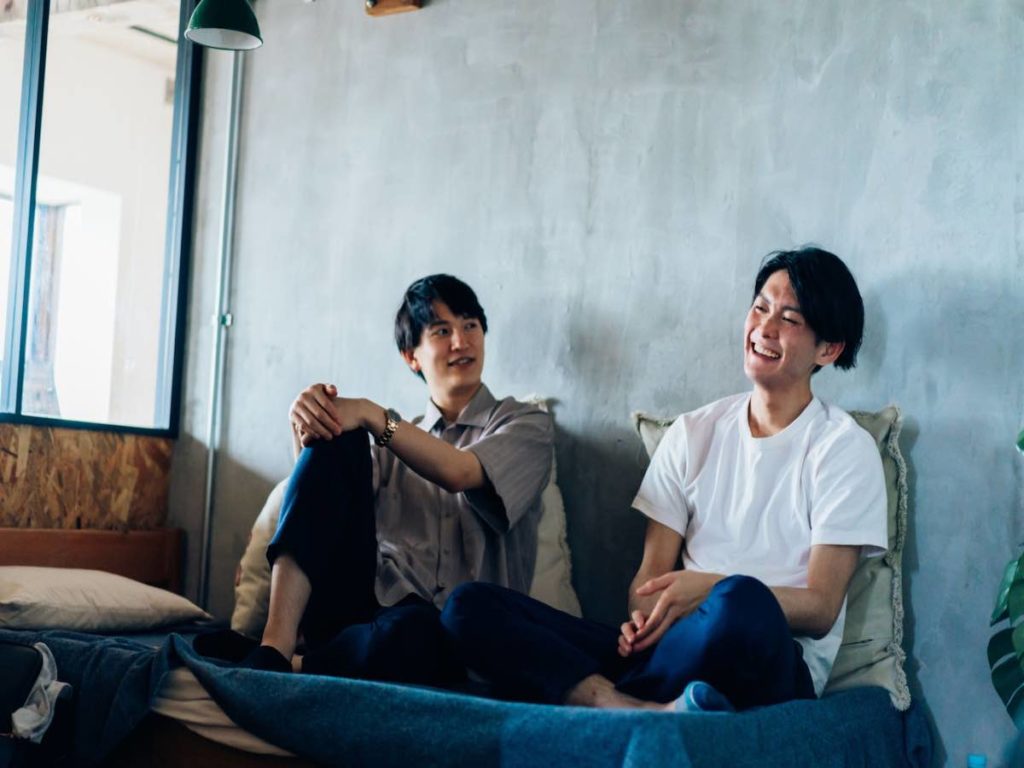 Increased exposure to diverse students
The vast majority of international students live on-campus — in fact, some colleges and universities require them to do so during their first year. Most out-of-state students prefer on-campus living, too, because it guarantees housing until such time that their college diplomas are handed to them.
Because of this, living on-campus allows you to interact with a diverse set of people during and after classes.
You can make friends with students with different cultural backgrounds, religious beliefs and skin colors, too, in the process, which comes with many benefits, including higher social competence levels.
Easier access to on-campus resources
A study called The Impact of Facilities on the Recruitment and Retention of Students revealed that more than 73% of students say that facilities related to their major are very or extremely important in the college selection task.
Most especially if an institution is at the top of your college list because of the available services and provisions, living on-campus can allow you to maximize their availability — nothing can be more convenient than swimming some laps at 9 PM to burn some calories or heading to the library before your class for a last-minute preparation for a quiz.
Less house rules, more freedom
Teenage students need rules in order to guide their behavior and decisions. However, they also need to experience independence. Especially if there are too many rules that are forcefully implemented at home, it's not unlikely for teens to feel that they are being harassed rather than being supported and cared for.
On-campus living keeps you from hearing the line "while you're under my roof, you will follow my rules!"
However, it's important to keep in mind that there are also on-campus housing and dorm rules to abide by as well as rules that you and your roommate have agreed upon to follow.
Reduced risk for stress and depression
Earlier, we mentioned the fact that on-campus living can help students connect so much better with peers and school clubs or organizations. This may help in reducing stress and depression common among degree-seeking students.
According to a 2021 article published by the National Institutes of Health (NIH), which is a US government agency for biomedical and public health research, about 88% of college students experience moderate to severe stress, while approximately 36% of them have moderate to severe depression.
Of course, on-campus living can only help combat stress and depression if you get along with your roommate and you don't have to constantly think about the cost of living in a dorm as well as your loved ones back home.
Cons of Living On-Campus
Limited privacy
While there are numerous perks that come with living on the school grounds, some of which you can appreciate as early as on day one, there are also some downsides. One of those that you will notice as soon as you step foot in your dorm to commence your college life is that there's very little privacy.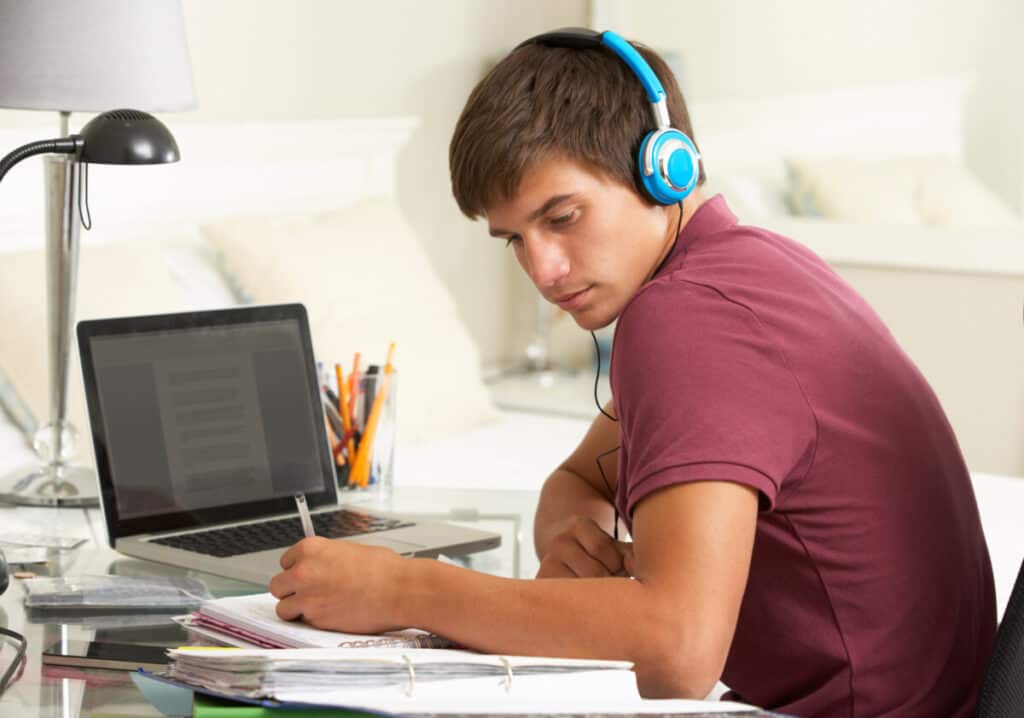 The smaller the room and the more people you share it with, the more you can bid your privacy goodbye.
Working together with your roommate in setting ground rules and establishing boundaries can help determine one another's needs and expectations, thus making privacy-related issues to a minimum.
Communal bathrooms
For many freshmen students, stressful classes, homesickness and failure to fit in are not the only major concerns.
Especially for those who live on-campus because they are attending out-of-state schools or it's mandatory, there's also the dreaded communal bathroom. There's no denying that using communal bathrooms makes a lot of people anxious — as a matter of fact, around 60% of Americans say that they will not use them if there's not enough privacy.
But keep in mind that using a communal bathroom is just a small part of your everyday college life. And avoiding stepping foot in it during rush hours, usually from 7 AM to 9 PM, can make a world of difference.
Moving in and out constantly
At many colleges and universities, students live in different dorms at the beginning of every term. This means that, if you happen to attend one of them, you will have to subject yourself to stress and backache twice a year — or a total of four times if students are required to live on-campus for the first two years of college.
Transitioning from on-campus to off-campus living can also be a problem if you have a job, which should not be a big deal if you can find an apartment that's near both your school and work.
More expensive than living at home
Whether you are living at your parents' home completely free of charge or with minimal help with the household bills, the fact remains that it's generally cheaper than on-campus living.
But the good thing is that on-campus living is usually cheaper than off-campus housing options, including most especially those that have nothing to do with the colleges or universities they are attending such as apartments or private homes and even rooms in private homes — hidden costs come aplenty, such as deposits and summertime rents!
On-campus living, on the other hand, includes everything in the costs, from rent to food.
Earlier, we mentioned the fact that you could wake up minutes before your first class of the day and still get there on time if you lived on-campus. One of the things that make that possible is that there are no commutes involved, which, unfortunately, is generally cheaper than paying for on-campus accommodation.
But it's not just fare or gas money you should consider but also time, which is something you cannot gain back. You only have 24 hours a day for the next four years of college, and on-campus living can help you budget your time wiser.
Distractions when studying
There are many things that can get in the way of your studies when living on-campus.
For one, your roommate's loud music or enticing invitation to go to a party can keep you from preparing for tomorrow's quiz or doing a project due in a couple of days. And since there are no parents breathing down your neck in order to make sure that you get good grades, you may end up grabbing a concert ticket rather than reaching for a book.
While enjoying the many perks (as well as dealing with the few downsides) that come with living on the school grounds, it's a must that you always keep your eyes on the prize.
Related Article: Are College Dorms Noisy [From Student's Point of View]
Being miles away from loved ones
Homesickness is common among first-time, first-year students attending out-of-state schools or distant in-state ones. As a matter of fact, based on recent data, up to 70% of all freshmen students suffer from severe homesickness.
Family members, childhood friends, nice neighbors, familiar hangouts, homegrown establishments — there are lots and lots of things that college students living on-campus may miss. The problem with this is that some studies associate homesickness with getting bad grades and even dropping out.
Potentially ending up with a bad roommate
Before anything else, there's something that you have no choice but to accept even before your plan to live on-campus comes to fruition: you might wind up with a roommate from the depths of hell.
Having a bad roommate is very common.
So much so that, according to a study conducted by the Department of Public Policy and Administration of Boise State University, about one in every four college students living on-campus suffer from conflicts with their roommate — and that one degree-seeking individual could be you anytime soon!
This is when the importance of asking a potential roommate to take a college roommate compatibility test with you comes in. Alas, at some colleges and universities, roommates are assigned randomly.
Download our roommate compatibility checklist here.
Increased chances of getting sick
Sharing common spaces with other residents and sharing various things with your roommate — it's no wonder why everyone living on-campus can easily catch the common cold, flu, gastrointestinal infections and just about any other transmissible disease that you can think of.
Do keep in mind that it's not uncommon for college students to be stressed and lacking in sleep.
This can easily result in a lowered immune system and make you even more susceptible to getting sick, which can cause you to miss classes and exams as well as assignment and project deadlines.
Just Before You Decide Whether or Not to Live On-Campus
Living on-campus allows you to have the full university experience. It also offers lots of perks, many of which let you get adjusted to being a college student so much better. However, it's not the ultimate accommodation option either since there are some downsides that come with it, too.
To live or not to live on-campus — this is a decision just as important as choosing a college or degree program. Weigh the pros and cons and take your time before you make up your mind.
Read Next: What to Bring to a College Dorm: Full List

Disclaimer: The views and opinions expressed in this article are those of the authors and do not necessarily represent those of the College Reality Check.