How to Get Into McMaster University From the US
Almost a third of all attendees at institutions of higher education in Ontario are international students. There are numerous reasons why 388,782 college students from overseas are currently attending schools in the said Canadian province, and one of them is the fact that Ontario provides degree-seekers with a multicultural environment.
An Ontario academic institution with a lot of international students is McMaster University. Also referred to as McMaster or Mac, it's one of the most prestigious schools not only in Ontario as well as Canada but also all over the world.
In order to apply to McMaster University, high school students from the US should create an OUAC 105 account. They should submit their applications and the required documentation on or before the deadline. For their applications to be considered, their average high school grade must be at least 80%.
Read on if you wish to become an international student and McMaster is one of the entries on your college list.
In this post, we will discuss some of the important matters you need to know as an American high schooler about attending Mac as well as the steps to take and things to submit when applying to it.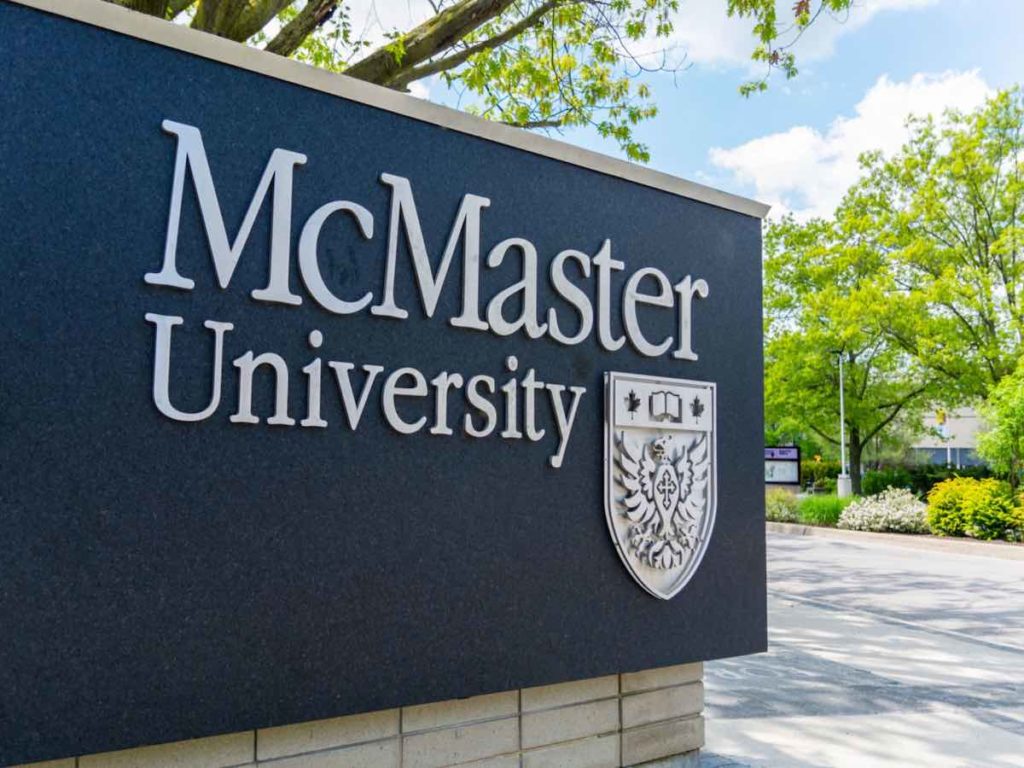 What is McMaster University Best Known For?
McMaster University is primarily known for its medical school. It's also revered for its engineering and business programs. In all of Canada, McMaster is popular as a research institution. As a matter of fact, it's #9 in Canada's Top 50 Research Universities 2021 by Toronto-based Research Infosource Inc.
One of the things Mac is known for is that it's one of the most international institutions on the planet.
According to the public research university itself, in the academic year 2020 to 2021, 15.75% of its undergraduate students come from outside of Canada. Meanwhile, 24.5% of its graduate students are international.
As an international student at McMaster University, you have the International Student Services, which is a division of the school's Student Success Centre, to count on. Simply put, it provides services and programs to international attendees, including exchange and visiting students.
Downloading and installing the proprietary iCent app is the first step to take in order for international students to have access to the International Student Services' virtual drop-in support and one-on-one appointments.
There are some colleges and universities in Canada where French is used as the primary language of instruction. Mac is just one of the many that use English as the language of instruction across its various academic divisions. Some of them are engineering, health sciences, social sciences and humanities.
Some of the most popular and highly ranked majors at McMaster include:
Business
Civil engineering
Clinical medicine
Computer science
Electrical engineering
Endocrinology
Environmental health
Gastroenterology
Hepatology
Immunology
Infectious diseases
Mathematics
Metallurgical engineering
Neuroscience
Occupational health
Public health
Social sciences
Statistics
Transportation science
Is McMaster a Top University?
Based on both global and local rankings by various college ranking sites, there is no denying that McMaster University is a top institution of higher education. For instance, it's #6 in Canada and #140 on the planet in the QS World University Rankings 2022. Meanwhile, it's #133 in Best Global Universities by US News.
For many students who want to fill their college list with nothing but some of the best learning institutions, checking out college ranking sites helps make the task so much easier.
Taking a look at various college rankings will let you know that McMaster is a highly ranked school.
As mentioned earlier, US News ranks it #133 in Best Global Universities. The popular and one of the most trusted college ranking sites also ranks it #4 in Best Global Universities in Canada. Many of the degree programs being offered by McMaster University are highly ranked, too, by US News.
One of the things that make Mac a head-turner for not only among various college ranking sites but also among students in Canada as well as elsewhere on the planet is the fact that the school is research-intensive.
McMaster is home to more than 70 research institutes and facilities such as:
Brockhouse Institute for Materials Research (BMIR)
Canadian Centre for Electron Microscopy (CCEM)
Centre for Research in Empirical Social Sciences (CRESS)
Institute on Ethics and Policy for Innovation (IEPI)
Lab for Interdisciplinary Research on Archaeological Ceramics (LIRAC)
McMaster Institute for Energy Studies (MIES)
McMaster Institute for Research on Aging (MIRA)
McMaster Paleoethnobotany Research Facility (MPERF)
McMaster Stem Cell and Cancer Research Institute (SCC-RI)
Micro- and Nano-System Laboratory (MNSL)
Is McMaster Hard to Get Into?
One of the most selective schools in Canada is McMaster University, accepting only around half of all applicants. While the latest online data says that its acceptance rate as of this writing is 44%, it's important to note that the figure can vary from year to year. Some McMaster programs are more selective.
When checking out various listings of the hardest Canadian colleges and universities to get into, it's almost always for certain that you will come across the name of Mac.
As a matter of fact, chances are that you will find its name near the top.
Just to have a much better idea of how selective McMaster is compared to other elite schools in the Great White North, here's one ranking according to acceptance rate, from lowest to highest:
University of Calgary
Carleton University
Queen's University
Laval University
University of Western Ontario
Simon Fraser University
Dalhousie University
It's true that McMaster is not the most selective institution of higher education in Canada
Still, it's not that easy to gain admission to it — your application will have to be one of the best in order for its admissions officers to pick you to become one of the many undergraduate international students attending it, which constitutes around 15.75% of its total student population.
It's not just McMaster itself that can be a challenge to get into but also some of its most competitive programs. Its health sciences program, for instance, is said to have an acceptance rate of around 5% only.
What GPA Do You Need to Get Into McMaster?
According to the Common International Admission Requirements page on McMaster University's website, high school students from the US must have a minimum average grade of 80%, which is equivalent to a 2.7 GPA. Some programs require a grade that's well above 80% for consideration.
For a selective institution such as Mac, a minimum GPA of 2.7 is definitely low.
However, it's important to note that having a high school GPA equivalent to it does not guarantee admission — a 2.7 GPA will only make your application worthy of being evaluated by the admissions officers.
If they are unhappy with the rest of the things on your application, chances are that they will send you the dreaded rejection letter instead of the much-anticipated acceptance letter. Just like most US colleges and universities, McMaster has a holistic admissions policy, which is why it's not just an applicant's high school grade that's considered.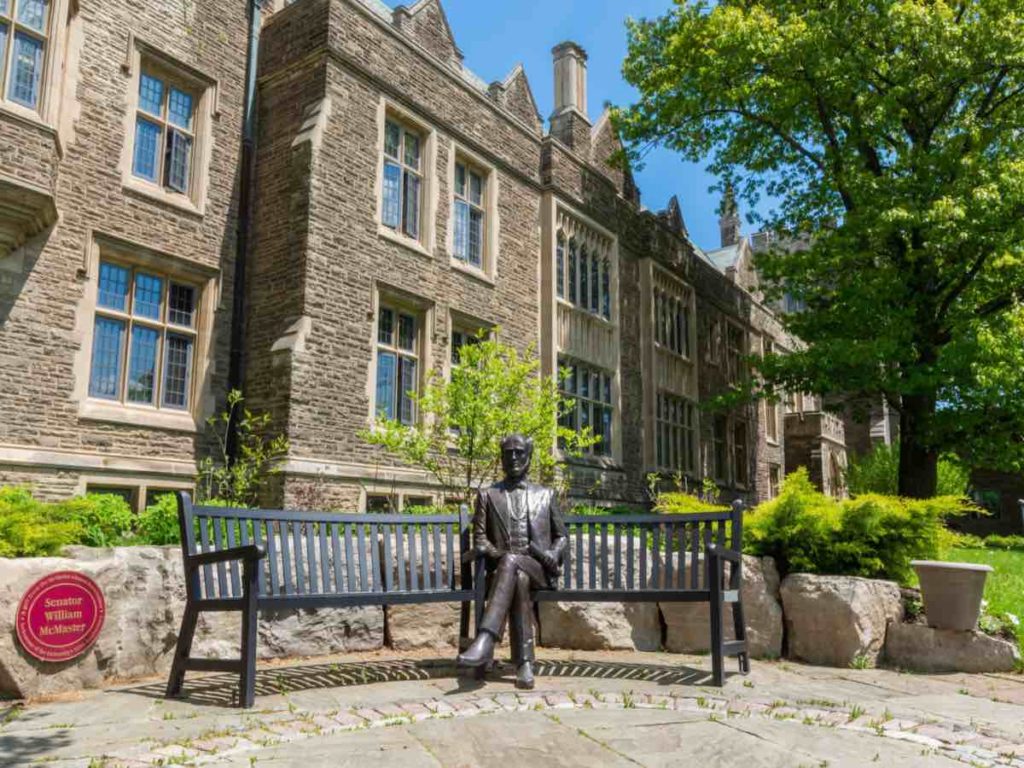 But if you want to increase your chances of getting accepted, aim for a much higher 2.7 GPA.
This is most especially true if the McMaster University degree program you are interested in enrolling in is a competitive one — the school itself says that many of its programs require an average high school grade that's well above 80%.
Below are some other general requirements for admission at Mac:
A total of 5 senior high school academic subjects
Senior high school English or English Literature
Mathematics, including pre-calculus and calculus (4 years)
Biology (2 years)
Chemistry (2 years)
Physics (2 years)
Some AP exam grades may be used in exchange for some of the required subjects above. For instance, an AP exam with a grade of 4 or 5 in a subject that's not offered at your high school may take the place of one that McMaster requires.
Is McMaster Expensive?
McMaster University itself takes pride in the fact that its tuition costs for international students are generally 20% to 30% lower than the tuition costs at US colleges and universities. As of this writing, the estimated cost of attendance (COA) at McMaster for international students amounts to Can$43,000.
In order to quickly have an idea of just how much it will cost an international student like you to attend Mac for one year, head to the prestigious school's website to access its online cost calculator.
The said tool considers everything from the program, residence, meal plan to personal expenses.
As mentioned earlier, tuition costs at McMaster for students from outside of Canada are lower than what highly ranked institutions of higher education in the US typically charge. And if a budget is still an issue despite this fact, you will be more than happy to learn that the institution offers over Can$2 million in scholarships and bursaries every year.
Everyone knows what scholarships are — they are money awarded based on the academic and extracurricular achievements of students. Some are automatically awarded, while others require students to apply.
On the other hand, bursaries are funding McMaster provides based on financial need alone. In many instances, the information you provide on your Ontario Student Assistance Program (OSAP) application is enough to determine whether or not you are eligible for a bursary.
Bursary application deadlines can vary, depending on the academic year and term. Just to give you an example, take a quick look at the following schedule for the academic year 2021 to 2022:
| | |
| --- | --- |
| TERM | DEADLINE |
| Fall 2021 | 16-Sep-21 |
| Winter 2022 | 18-Jan-22 |
| Spring/Summer 2022 | 9-May-22 |
Wondering whether or not McMaster University awards scholarships to international students, too? High schoolers from outside of Canada will be more than happy to learn that the prominent school has scholarships for international attendees. As a matter of fact, many international students are automatically considered for scholarships.
Some examples of Mac scholarships available for international students include:
| | |
| --- | --- |
| SCHOLARSHIP | AMOUNT |
| Athletic Financial Awards | Can$4,500 |
| Peter George International Entrance Scholarship | Can$3,000 |
| Provost Entrance Scholarship | Can$7,500 |
| The Woo Family International Entrance Scholarship | Can$3,000 |
How Do International Students Apply to McMaster?
High school students from outside of Canada and who like to apply to McMaster University should create an Ontario Universities' Application Centre (OUAC) account. Hopefuls should use the OUAC 105 application, which is intended for international students or those who are attending high schools outside of Ontario.
In the US, the vast majority of college-bound high schoolers use the Common App or Coalition App — these centralized undergraduate college admission applications have over 900 and over 140 member schools, respectively.
Students who wish to attend an Ontario institution, on the other hand, use the OUAC.
There are a few different types of OUAC applications. As a high schooler in the US who is interested in attending Mac, you should create an OUAC 105 account, which, as mentioned above, is meant for international students and those who are attending high schools in other Canadian provinces.
Creating an OUAC 105 account is quite simple. You will have to provide your name, birthday and email address. You will also be asked to pick a username and password.
By the way, applying to McMaster through the OUAC as an international student costs Can$150.
After successfully creating an OUAC 105 account, you will be given an OUAC Reference Number, which is something that you will use each time you wish or need to communicate with either the OUAC or McMaster University itself. Save your OUAC Reference Number in order to enjoy a smooth-sailing application process.
Other important details about applying to Mac will be sent to your email so make sure that emails coming from the OUAC and the elite university will not end up in the spam folder.
When is the Application Deadline for McMaster University?
Although domestic and international freshmen students applying to various Ontario colleges and universities use the OUAC, the deadlines for submission of completed applications vary. It all depends on the institution or program. At McMaster, the deadline for application for most international students is April 1.
There are simply a lot of things to keep in mind when applying to colleges and universities. This is even more so when applying to institutions of higher education, especially prestigious ones, outside of the country.
If you are interested in attending McMaster, researching application deadlines is of utmost importance.
While it's true that April 1 is the deadline for applications for students coming from outside of Canada and even Ontario, Mac has different application deadlines for some of its programs. In order to get a much better idea of how varied application deadlines are at McMaster, check out the following dates for the academic year 2022 to 2023:
| | |
| --- | --- |
| PROGRAM | APPLICATION DEADLINE |
| Arts and science | 13-Jan |
| Computer science (level I) | 13-Jan |
| Engineering (level I) | 13-Jan |
| Health sciences (level I) | 13-Jan |
| Biology (above level I) | 1-Feb |
| Health sciences (above level I) | 1-Feb |
| Midwifery | 1-Feb |
| Nursing | 1-Feb |
| Pharmacology (above level I) | 1-Feb |
| Physician assistant | 1-Feb |
| Social work | 1-Feb |
| Actuarial and financial mathematics | 1-Apr |
| Computer science (above level I) | 1-Apr |
| Engineering (above level I) | 1-Apr |
| Justice, political philosophy and law | 1-Apr |
When applying to McMaster University, it's important for domestic and international students alike to note that the deadline for the submission of applications is also the same deadline for the submission of each and every required documentation necessary for application evaluation. If you fail to beat it, the admissions officers will not look at your application.
Does the McMaster University Give Credit for AP Exams?
McMaster University gives college credits for AP exams taken by international students from the US. However, their scores must be 4 or higher in order for their AP exams to be considered. Certain McMaster programs require an AP exam score of 5. Some also accept scores from specific courses only.
International students applying to certain programs at McMaster, particularly those with specific mathematics or science requirements, must have taken the required AP courses in high school.
Similarly, certain AP exam grades may be used to meet some of Mac's required subjects.
Like many colleges and universities in Ontario and the rest of Canada, McMaster University gives college credits for AP courses. However, international students who wish to earn credits in order to save both time and money must have earned a grade of 4 or higher in their AP exams.
It's also important for them to bear in mind that only certain AP exams and grades, too, will be taken into account when applying to specific programs the prestigious public research university offers.
For instance, if you are applying to a business program at McMaster's Degroote School of Business, you can receive college credit only if your AP exam is 5 and it's from a higher level course. Unfortunately, you cannot earn credit from an AP exam whose course is related to math or business, even if it's a higher level course and/or your score is a 5.
Just Before You Apply to McMaster University
McMaster University may be more than a thousand miles from the border of the US. It may also be one of the most elite and selective institutions of higher education not only in Ontario and Canada but also on the face of the planet. Despite these things, getting into McMaster from the US is very much possible.
This is most especially true if you meet the requirements for incoming freshmen international students.
Above, we talked about everything from Mac's admission rate to the COA. Carefully weigh the pros and cons of attending it before you decide to choose it over another Canadian institution.
Read Next: Top Cheapest Universities in Canada

Disclaimer: The views and opinions expressed in this article are those of the authors and do not necessarily represent those of the College Reality Check.