Is Morehouse a Good College?
There are only 101 historically black colleges and universities (HBCUs) remaining. One that seems to be mentioned all the time when HBCUs are being talked about is Morehouse College. And now you probably want to put it on the top of your list but wondering if it's the right school for you to attend.
Morehouse College is a good school as it's usually in the top 10 of various HBCU rankings. Despite this, the all-male liberal arts college, also often called a party school, has a 99.8% acceptance rate. It's ideal for students who wish to major in Business, Economics, Sociology, and Political Science.
Because it ranks high in various HBCU rankings and has an acceptance rate of almost 100%, many male students are enticed to apply to Morehouse, an all-male liberal arts college.
If you want to know if it's the school for you, keep on reading. We will talk about everything you need to know about this well-known HBCU, from its history, GPA and test score requirement to cost of attendance (COA). Later, we will also discuss some of the most popular people who attended Morehouse, many of which you may be familiar with.
A Brief History of Morehouse College
Morehouse started as the Augusta Institute, which was located in Augusta, Georgia, in 1867. It was founded in order to train freed slaves to become Protestant ministers and educators, too.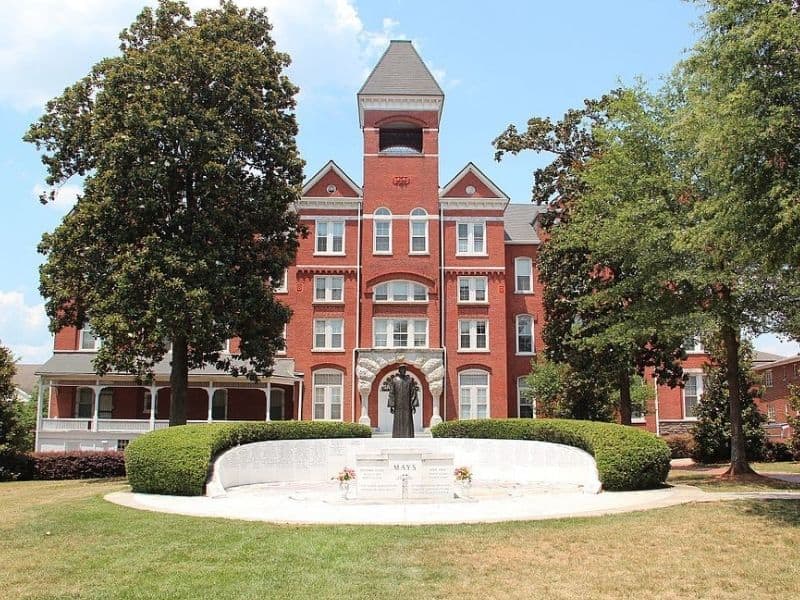 In 1979, the Augusta Institute moved to Atlanta, Georgia. It then became known as Atlanta Baptist Seminary.
Classes were held in the basement of Friendship Baptist Church until John D. Rockefeller, the founder of the Standard Oil Company, donated land near Spelman College, another HBCU. The construction of Graves Hall, which is the oldest building on the campus of Morehouse College, happened in 1889.
Atlanta Baptist Seminary was renamed Atlanta Baptist College in 1897 as it began to embrace a larger mission. In 1913, while under the leadership of John Hope, the school's very first African-American president, Atlanta Baptist College became Morehouse College. It was in honor of Dr. Henry Lyman Morehouse, who donated money to the school.
Here are some fast facts about Morehouse before we talk about various admissions-related matters…
Location: Atlanta, Georgia
Campus type: Urban
Size: 66 acres
Population: 2,238
Education system: Liberal
School type: Private, historically black all-male liberal arts college
Reputation: Party school
Motto: Et Facta Est Lux (And there was light)
Number of majors: 32
Best majors: Business, Biology, Political Science, English, Sociology, Psychology, Economics
Selectivity: Moderately selective
Average class size: 30 students (smaller class size in many upper-level courses)
Student-to-faculty ratio: 13:1
Retention rate: 75%
Graduation rate: 52.1%
Colors: Columbia Maroon and white
Athletic affiliation: NCAA Division II
Mascot: Maroon tiger (King)
Sports: Basketball, volleyball, baseball, football, tennis, golf, polo, cross country, track and field.
Is Morehouse College Ivy League?
Morehouse College is not one of the eight original Ivy League schools. However, it is considered as one of the Black Ivy Leagues, which, as the name suggests, consist of some of the most elite HBCUs. The Black Ivy Leagues change from list to list, but Morehouse is included in the majority of them.
While there is no official list of Black Ivy League schools, it's for certain that only a handful of historically black colleges are included on the list. Also, it's for sure that Morehouse is mentioned in various listings.
It doesn't really come as a surprise since Morehouse College is only one of the very few HBCUs offering medical programs. Morehouse School of Medicine, located in Atlanta, Georgia, too, offers programs such as Doctor of Medicine (DM), Master of Public Health (MPH). However, in 1981, it became independent from Morehouse.
Unlike the original Ivy Leagues, Morehouse has a very high acceptance rate — the majority of Ivy League schools, on the other hand, have single-digit acceptance rates.
What's more, the tuition and fees at the Black Ivy League are not that steep as those of the original Ivy League schools. However, they are not the cheapest tuition and fees among HBCUs either. Keep on reading to know more about the cost of attending Morehouse College as we will talk about money in a few.
Related Article: Why Do Anesthesiologists Make So Much?
What is the Acceptance Rate at Morehouse College?
The acceptance rate at Morehouse College is 99.8%. By accepting almost all applicants, Morehouse is one of the more than 30 HBCUs, private and public alike, with very high acceptance rates. However, to be accepted into Morehouse College, applicants should meet various general admissions requirements.
Most students immediately check out the acceptance rates of schools before they try to apply to them. This is especially true for those who are not that confident with the strength of their application.
With an acceptance rate of almost 100%, it's unlikely for you to receive a rejection letter from Morehouse College.
However, you should meet the school's required GPA and test scores, which are not that high compared to more selective HBCUs, as evidenced by their very low acceptance rates, such as Albany State University, Lincoln University and Rust College.
According to Morehouse itself, they have a very high acceptance rate because they want to empower as many black males as possible, although any male of any other racial or ethnic background may apply, too.
To gain admission into Morehouse College, you need to submit the following:
Application
Application fee
Official high school transcript
High school evaluation form
Official SAT or ACT score
Teacher recommendation form
Admission essay (an additional personal statement is recommended)
What GPA Do You Need to Get Into Morehouse College?
To gain admission into Morehouse College, applicants need to have a 3.2 GPA. This means that the historically black school accepts average and slightly below-average high school students. Applicants with GPAs below 3.2 should compensate with their SAT, ACT, or Advanced Placement (AP) test scores.
One of the reasons why Morehouse has a very high acceptance rate is that it doesn't require applicants to have stellar GPAs. As a matter of fact, the school accepts high school graduates with a lot of B's and a few A's.
Some colleges and universities accept students with GPAs lower than 3.2. Leading the list is Concordia University Ann Arbor, where the average GPA of incoming freshmen is 2.2 only. However, it doesn't mean that you should apply to a different HBCU or any other school if you have a GPA lower than what Morehouse College requires.
It's important to note that schools consider many other things than just the GPAs of applicants. By ensuring you have a strong overall application, you might still receive an acceptance letter from Morehouse's admissions office.
According to the historically black school itself, the Morehouse man has five unique qualities that make him stand apart from other males from other schools. They are acuity, integrity, agency, brotherhood, and consequential.
By being someone that the school is looking for exactly, gaining admission into it is very much likely.
Is Morehouse College Test-Optional?
Unlike most US colleges and universities, Morehouse College is not test-optional. This means that all applicants must submit their SAT or ACT scores. Also, their standardized test scores must meet the school's minimum requirement: an SAT score between 1020 and 1140 and an ACT score between 18 and 22.
Although Morehouse has a very high acceptance rate, unfortunately, it doesn't have a test-optional admissions process like other schools, many of which are highly selective.
So, in other words, you don't have a choice but to submit either your SAT or ACT score together with the rest of your application. If you took the SAT or ACT multiple times, consider submitting all your scores. It's because Morehouse College superscores test scores, which means that it will consider only your highest section scores across all test dates.
Worry not if you are unhappy with your test scores, as Morehouse doesn't require applicants to have incredibly high SAT or ACT scores. As mentioned earlier, it accepts students with 1020 to 1140 SAT scores or with 18 to 22 ACT scores. Most HBCUs require applicants to have these scores for admission and scholarship purposes, too.
How Much Does It Cost to Go to Morehouse College?
As of the academic year 2021 to 2022, the COA for Morehouse College amounts to $49,700. The tuition alone already cost $27,038. The average tuition at historically black colleges is $7,117 (in-state students) and $14,888 (out-of-state students). It means that Morehouse's tuition is higher than average.
When deciding which college or university to apply to, one very important consideration is the cost.
Spelman College, which tends to be number one in various rankings for the best HBCUs, is considered to be the costliest historically black college. Its tuition and fees amount to $28,181. The tuition and fees at Morehouse College are not far behind, making it one of the most expensive HBCUs.
Besides the tuition and fees, another thing that makes the COA for the school higher than most is room and board. You have no choice but to pay for room and board for the next few years as Morehouse requires all freshmen and transfer students to live on-campus for three years. It's only during your senior year when you can live off-campus.
Here's a breakdown of the total cost of attending Morehouse College for one academic year:
| FEES | COST |
| --- | --- |
| Tuition | $27,038 |
| Mandatory fees | $2,430 |
| Room and board | $14,272 |
| Books and supplies | $2,000 |
| Transportation | $2,060 |
| Miscellaneous | $1,500 |
| Loan fees | $400 |
| TOTAL | $49,700 |
What Famous People Went to Morehouse College?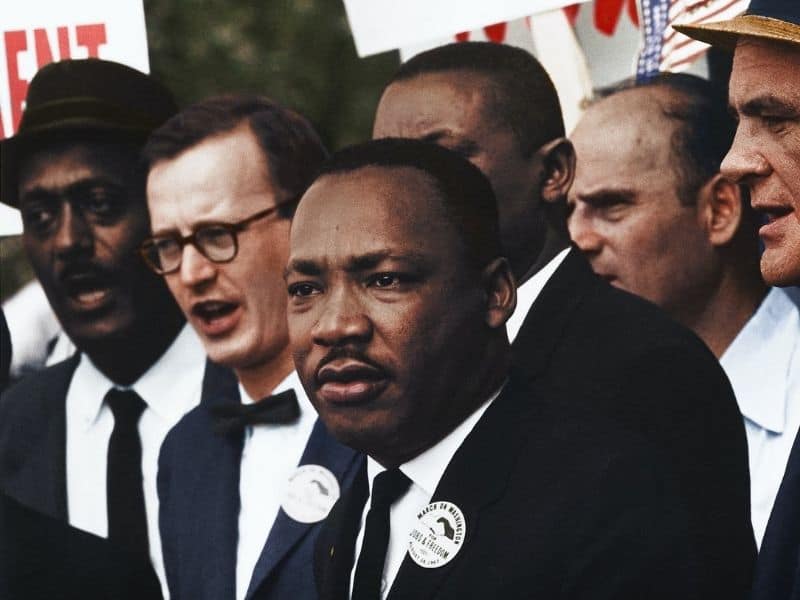 A lot of people whose names many are familiar with were once students at Morehouse College. Leading the list are Martin Luther King Jr., Edwin Moses, and Samuel L. Jackson. Some Morehouse graduates are political figures, lawyers, activists, physicians, business owners, writers, actors, and rappers.
It's nice to know that the college or university you plan to apply to has produced successful and inspiring people. This gives you the confidence that you, too, can be somebody one day.
Let's take a quick look at some of Morehouse's most notable alumni:
Martin Luther King Jr. The son of civil rights activist Martin Luther King Sr., Martin Luther King Jr. was the most prominent spokesperson and leader in the American civil rights movement from 1955 to 1968, the year of his assassination. In 1948, he graduated from Morehouse College with a bachelor's degree in Sociology.
Maynard Jackson. At the age of 35 in 1973, Maynard Jackson became the first-ever black mayor of Atlanta, Georgia. Serving three terms, he was the second longest-serving mayor of the city. In 1956, he graduated from Morehouse College, where he sang in the school's glee club.
Jeh Johnson. A lawyer and the former general counsel of the Department of the Air Force, Jeh Johnson was US Secretary of Homeland Security from 2013 to 2017. During the first few years of the Obama administration, he was the general counsel of the Department of Defense. He graduated from Morehouse College in 1979.
Julian Bond. In the early 1970s, Julian Bond helped establish the Southern Poverty Law Center in Montgomery, Alabama. He served as its president for almost a decade. He left Morehouse College in 1961 to participate in civil rights in the South, and came back in 1971 to complete his bachelor's degree in English at 31 years of age.
Dr. David Satcher. An African-American physician, Dr. David Satcher served as the 10th Assistant Secretary for Health and the 16th Surgeon General of the US. He graduated from Morehouse College in 1963 and enrolled at Case Western Reserve University, where he earned his Doctor of Medicine (MD) degree in 1970.
Dr. Henry Foster. A former dean of the School of Medicine at Meharry Medical College's School of Medicine, Dr. Henry Foster was President Bill Clinton's senior advisor on teen pregnancy reduction. He graduated from Morehouse College, where he was initiated into Kappa Alpha Psi fraternity's Pi chapter.
Joshua Packwood. In 2008, 22-year-old Joshua Packwood earned his bachelor's degree in Economics from Morehouse College. He graduated with a perfect 4.0 grade point average and became the first white valedictorian of the HBCU. He turned down a scholarship from Columbia University to attend Morehouse College.
Edwin Moses. A former track and field athlete, Edwin Moses won gold medals at the 1976 and 1984 Olympics. In 2000, he became the first chairman of the Laureus World Sports Academy, an organization of world-class athletes. He majored in Engineering and Physics at Morehouse College, where he was a track and field athlete.
Spike Lee. A director, producer, screenwriter and actor, Spike Lee received many accolades for his works, such as two Emmy Awards, two Peabody Awards, and the Cannes Grand Prix. He made his very first film as a student, Last Hustle in Brooklyn, while enrolled at Morehouse College.
Samuel L. Jackson. An actor and producer, Samuel L. Jackson has appeared in movies that have earned more than $27 billion collectively, thus making him the highest-grossing actor of all time. Before graduating from Morehouse College in 1972, he co-founded the school's Just Us Theatre.
How Does Morehouse College Compare With Other Schools?
Acceptance rate-wise, Morehouse College is better than most other HBCUs, as applicants have better chances of gaining admission into it. The school has higher retention and graduation rates than a lot of HBCUs, but it tends to have steeper tuition, fewer majors, and a smaller campus than many HBCUs.
Morehouse is a standout in the sense that it's the only all-male HBCU in the nation. And, since 2020, the historically black college has approved a policy welcoming transgender men into its campus.
Let's see how Morehouse College fares against other high-ranking HBCUs using certain criteria…
Is Morehouse Better Than Florida A&M University?
When it comes to COA, it's cheaper to go to FAMU because it's a public HBCU. This means it has cheap in-state tuition costing only $5,785. However, it's easier to gain admission into Morehouse than FAMU due to a higher acceptance rate — 99.8% vs. 35.7%.
Is Morehouse Better Than Hampton University?
Hampton has more majors than Morehouse — 52 vs. 32. Hampton's campus size (314 acres) is several times larger than that of Morehouse, and it doesn't come as a surprise why there are more students at Hampton than at Morehouse — 4,619 vs. 2,167.
Is Morehouse Better Than Tuskegee University?
The retention rates of Morehouse and Tuskegee are almost the same — 75% vs. 71%. This means that the HBCUs have practically the same student satisfaction. However, the graduation rate of Morehouse is almost 10% more than that of Tuskegee — 52.1% vs. 44.8%.
Is Morehouse Better Than Xavier University of Louisiana?
Slightly more students go to Xavier than Morehouse — 3,384 vs. 2,238 — despite the fact that Morehouse's campus size is just three acres larger than that of Xavier. It's due to this why Xavier also has a larger student-to-faculty ratio (15:1) than Morehouse (13:1).
Is Morehouse Better Than Howard University?
Morehouse and Howard have almost the same tuition. However, Howard has a larger campus (257 acres) and offers more majors (73). While Howard is test-optional, unlike Morehouse, applicants have higher chances of getting acceptance letters from Morehouse.
Is Morehouse Better Than Spelman College?
Going to Spelman costs more than going to Morehouse. It doesn't come as a surprise since Spelman is number one in many HBCU rankings. It's easier to gain admission into Morehouse due to its low acceptance rate, but Spelman has a higher graduation rate — 77.5% vs. 52.1%.
Just Before You Apply to Morehouse College
Morehouse College is one of the high-ranking HBCUs in the nation. As a matter of fact, it's number six in the 2021 Best HBCUs by US News. The all-male historically black college is also number 31 in Best Undergraduate Teaching and number 42 in Most Innovative School, also by the same college ranking site.
Don't forget the fact that it has an acceptance rate of almost 100%!
Above, we talked about practically everything you have to know about Morehouse. Before sending your application to it, make sure that you carefully weigh the pros and cons of going to it. Don't forget to check how it fares against other HBCUs to enjoy the best college experience and earn the best college degree.
Read Next: Best HBCU Colleges By Major

Disclaimer: The views and opinions expressed in this article are those of the authors and do not necessarily represent those of the College Reality Check.