Is Mount Holyoke College A Good School?
Mount Holyoke College is a private institution. It first came into being in 1837 as a female seminary, which explains why it's a women's college.
It started to accept even transgender females as well as non-binary individuals, too, in 2014.
It has an 800-acre suburban campus that is shared by 2,220 students.
They pay $58,498 in tuition and fees per year. Mount Holyoke is ranked #36 in National Liberal Arts Colleges by US News.

There are 48 majors to choose from at Mount Holyoke College, and English and computer science are some of the most popular.
It receives nearly 5,000 applications annually, and only around 52% get in, with an average GPA of 3.9.
The average 4-year graduation rate at Mount Holyoke is 82%, and its alumni members have an average starting salary of $47,000 per year.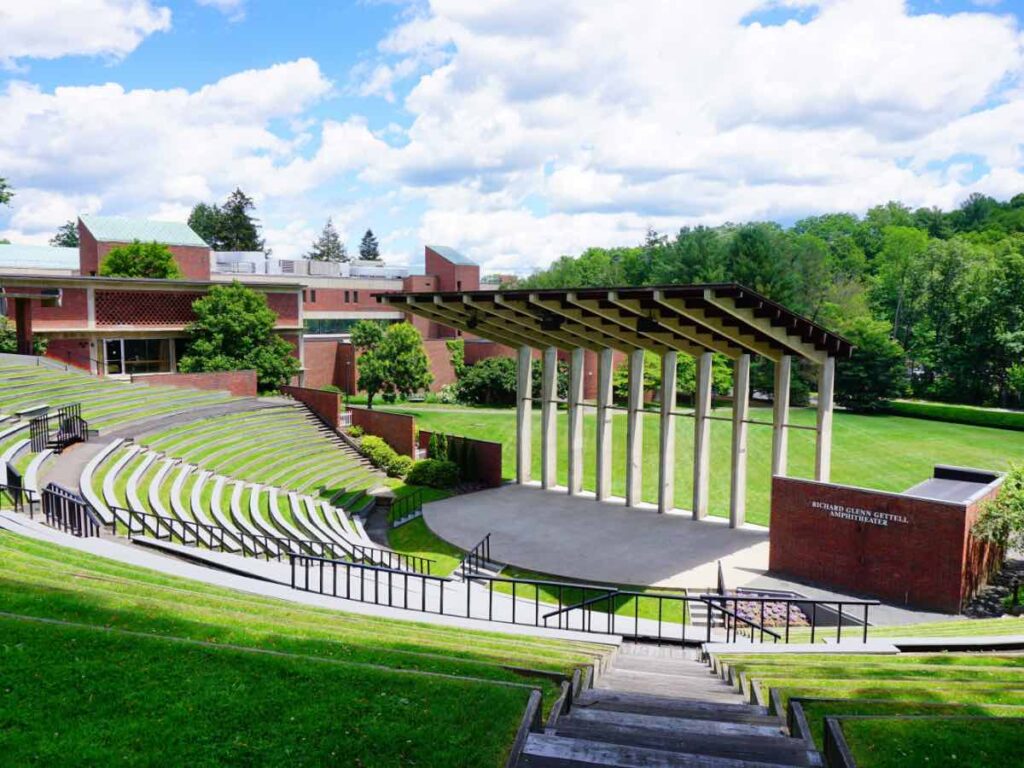 What Is Mount Holyoke College Known For
Nearly 100 years before women gained the right to vote, in 1837, Mount Holyoke College was founded by Mary Lyon, a chemist, and educator, too.
Born on February 28, 1797, she firmly believed that women must be educated very well to contribute significantly to society's greater good.
Back then, Mount Holyoke was called Mount Holyoke Female Seminary. But, in 1893, the seminary curriculum was phased out. The school, needless to say, was formally named Mount Holyoke College.
As the school's former name suggests, it was founded to provide women with traditional education that used to be available for males only.
Mary Lyon's famous words — "Go where no one else will go, do what no one else will do" — inspired the school's students back then and now.
Mount Holyoke College was one of the first schools of the Seven Sisters, a consortium of liberal arts colleges formed to create all-women counterparts of the once predominantly male Ivy League schools.
Since its founding, Mount Holyoke has become a model upon which many all-women's colleges were patterned.
Besides the Seven Sisters, the school is also a member of the Five College Consortium.
It consists of Amherst College, Hampshire College, Smith College, the University of Massachusetts Amherst, and Mount Holyoke.
Here are some quick facts about Mount Holyoke College you need to know about:
Nickname: The Lyons
Location: South Hadley, Massachusetts
Campus type: Suburban
Size: 800 acres
Population: 2,190
Education system: Liberal
School type: Private, non-profit liberal arts women's college
Reputation: Non-party school
Number of majors: 37
Best majors: Computer Science, Biological Sciences, Economics, Experimental Psychology, Political Science
Selectivity: Moderately selective
Average class size: 20 students
Student-to-faculty ratio: 9:1
Retention rate: 92%
Graduation rate: 83.8 %
Color: Blue and white
Mascot: The Pioneer
Sports: Basketball, volleyball, soccer, field hockey, tennis, squash, lacrosse, cross country, track and field, riding, rowing, and swimming and diving
Mount Holyoke Acceptance Rate
The acceptance rate at Mount Holyoke College is 38%. This makes it a moderately selective all-women's liberal arts college. Among the Seven Sisters, Mount Holyoke has the highest acceptance rate.
Still, its acceptance rate is far from the 68% national average for US colleges and universities.
Even before you send in that application, it's possible to get an idea of whether you will receive an acceptance letter or a rejection letter from a school.
And it's none other than by checking out its acceptance rate.
Simply put, the acceptance rate is the percentage of applicants who are admitted into a school. In the case of Mount Holyoke College, just a little over a third of all applicants are welcomed into the campus.
Being a moderately selective school, you have to be near or at the top of your class if you want to get accepted into it.
Here's a table comparing Mount Holyoke's acceptance rate with the acceptance rate at the Seven Sisters schools:
| SCHOOL | ACCEPTANCE RATE |
| --- | --- |
| Barnard College | 11.80% |
| Wellesley College | 21.60% |
| Vassar College (coed) | 23.70% |
| Smith College | 32.50% |
| Bryn Mawr College | 33.20% |
| Mount Holyoke College | 38.00% |
Before we proceed to the next topic, here's a tip: If you feel that you don't stand a chance of gaining admission into Mount Holyoke because of its 38% acceptance rate, consider applying as ED.
That's because it brings the acceptance rate to more than 60%. Later, we will discuss this matter, so don't stop reading now.
Now that you have an idea of Mount Holyoke's acceptance rate, it's time to answer this pertinent question…
GPA You Need to Get Into Mount Holyoke College
To gain admission into Mount Holyoke College, applicants need to have a GPA of 3.81 at least.
This means that being an above-average student is a definite must.
As a matter of fact, more than 50% of students admitted into Mount Holyoke have mostly A's and in the top 10% of their high school class.
When applying to a college or university, the admissions officers will take into account various parts of your application. Your GPA is one of the things that can have a massive impact on their decision.
If it's Mount Holyoke or nothing, you should start gearing up for the application the moment that you set foot in high school.
That's because it's not that easy to bring your GPA to 3.81 or higher if you are already in your junior or senior year and the number still isn't anywhere near what Mount Holyoke College is looking for in an applicant.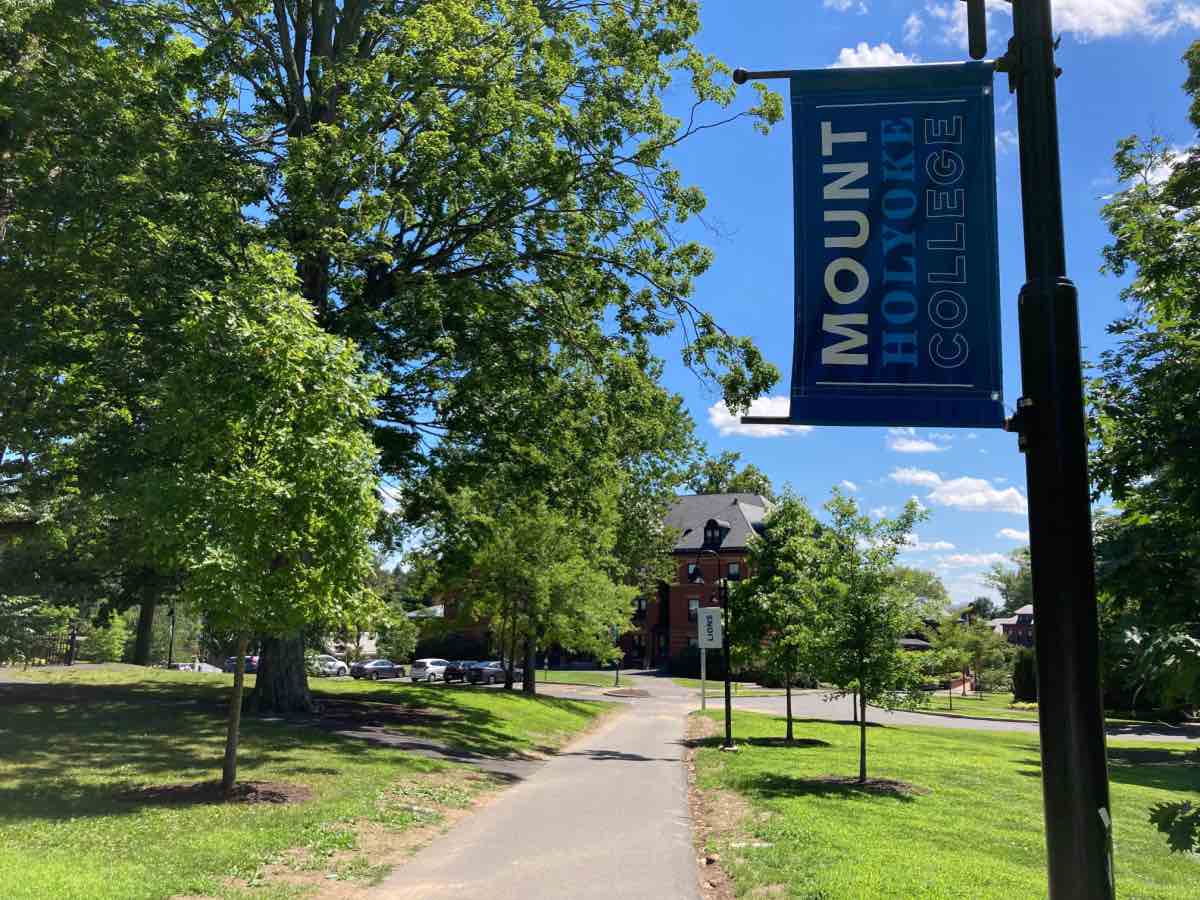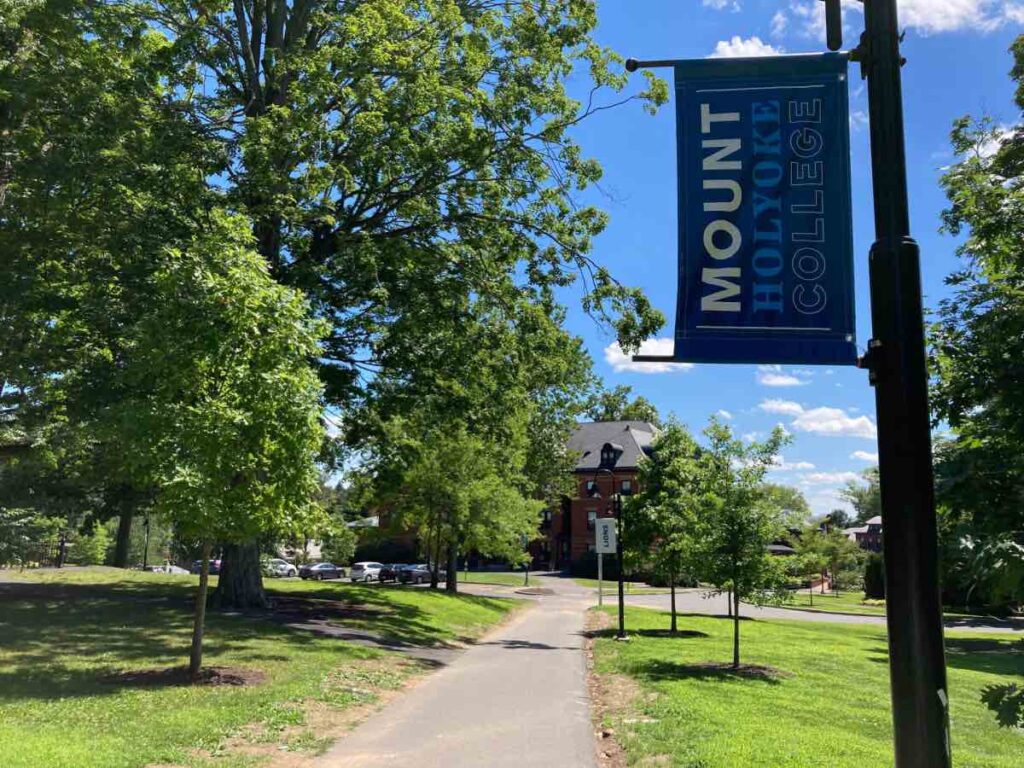 But just because your GPA is lower than 3.81 doesn't mean that you should never try applying to Mount Holyoke.
Your GPA is an important part of your application, not the only part that's taken into account by the admissions officers.
It's possible for you to receive an acceptance letter from Mount Holyoke College if you have a stellar SAT or ACT score, a remarkable admission essay, or inspiring extracurricular achievements, even with a low GPA.
Check out this table to get an idea of the GPA requirements at the Seven Sisters schools:
| SCHOOL | GPA |
| --- | --- |
| Barnard College | 4 |
| Vassar College | 4 |
| Wellesley College | 3.98 |
| Bryn Mawr College | 3.94 |
| Smith College | 3.84 |
| Mount Holyoke College | 3.81 |
After knowing what sort of GPA you should have, let's answer one more admission-related question…
Getting Into Mount Holyoke
Mount Holyoke College offers Early Decision (ED).
In fact, the school offers three different decision plans.
They are Early Decision I (ED I), Early Decision II (ED II) and Regular Decision (RD).
Both ED rounds are binding, and applicants are notified of their acceptance or rejection earlier.
Consider submitting your application to Mount Holyoke early if you are 100% certain that it's the school for you. This may help increase your chances of gaining admission into it.
The acceptance rate for students who apply to ED is a whopping 66.8%. That's several times higher than the usual acceptance rate of the school.
It doesn't come as a surprise since students who apply earlier than the rest have better chances of standing out in a small pool of applicants, especially if they have a strong application.
However, it's important to note that both ED I and ED II are binding.
So, in other words, you will have to take back your applications from other schools and go to Mount Holyoke if it sends you an acceptance letter.
Here's a table that can help save you from going past the deadline for each decision plan:
| | | |
| --- | --- | --- |
| DECISION PLAN | APPLICATION DUE | NOTIFICATION DUE |
| ED I | 15-Nov | Late December |
| ED II | 5-Jan | Late January |
| RD | 18-Jan | Late March |
* Always check the college website for the latest dates
Besides knowing when to apply to Mount Holyoke College, it's important to know what to submit when applying to the all-women's school to avoid unnecessary application-related stress and anxiety.
Make sure that you don't forget to send the following:
Common App or Coalition App
Official high school transcripts
Secondary school report
Midyear report
Counselor recommendation
Two evaluation forms from different teachers
Early Decision agreement form (for ED applicants)
Besides the above-mentioned requirements, there are optional ones, too:
Mount Holyoke writing supplement
Art supplement
English proficiency requirement (for non-native English speakers)
Interview (highly recommended)
SAT or ACT scores
Speaking of which, let's answer this pressing question about test score submission…
Is Mount Holyoke Test Optional?
When applying to Mount Holyoke College, submission of SAT or ACT scores is not required. That's because the school has a test-optional admissions process.
If they are submitted, they will be taken into account. Otherwise, the evaluation process will consider other parts of the application.
No matter if you are unhappy with your SAT or ACT score or you were unable to take the SAT or ACT for whatever reason, you will be happy to know that Mount Holyoke does not require test scores.
Students who gain admission into the school have an average SAT score of 1400 and an average ACT score of 31.
Like many colleges and universities in the US, Mount Holyoke also superscores both SAT and ACT. This means that it adds the highest section scores across all test dates. The result is then considered as the test score of an applicant.
Just because test score submission is optional doesn't mean that it's easier to get into Mount Holyoke College.
The school's admissions officers want more information from you, not less.
If you choose to keep your SAT or ACT score to yourself, they will surely attempt to get to know you better by inspecting other parts of your application closely, such as your list of extracurricular activities or recommendation letters.
If you are happy with your SAT or ACT score, it's a good idea to submit it to make your application stronger.
After all, according to data from Mount Holyoke itself, up to 57% of admitted students submitted their SAT scores, and up to 23% of admitted students submitted their ACT scores.
Speaking of admitted students, let's get to know some of the school's notable alumni by answering this…
Mount Holyoke College Notable Alumni
Like most all-women's institutions, Mount Holyoke is known for having a tight network of alumni.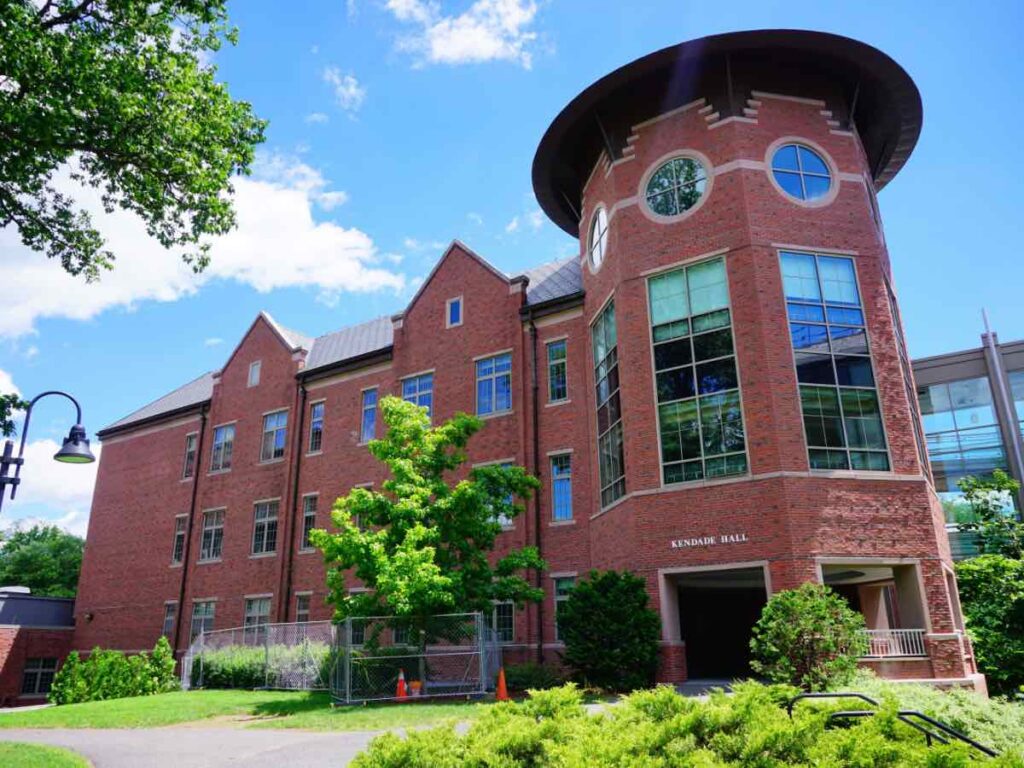 Here are some of Mount Holyoke College's most notable students and graduates:
Emily Dickinson. Regarded as one of the most important figures in American poetry, Emily Dickinson was fond of using metaphors in nature to talk about her favorite subjects such as love, death and immortality in her poems. She attended Mount Holyoke for one academic year, from 1847 to 1848.
Virginia Apgar. A physician, obstetrical anesthesiologist and medical researcher, Virginia Apgar was the inventor of the Apgar Score, which is an evaluation of the health of a newborn baby. In 1929, she graduated from Mount Holyoke College, where she studied zoology with minors in chemistry and physiology.
Nita Lowey. From 1989 to 2021, Nita Lowey served as a US Representative from New York. She was also the first woman to chair the House Appropriations Committee in 2018. The following year, she announced her retirement from politics. She earned her bachelor's degree in Liberal Studies from Mount Holyoke in 1959.
Mona Sutphen. Currently a Senior Advisor at a private equity firm in Chicago, Mona Sutphen was the White House Deputy Chief of Staff for Policy in the Obama administration from 2009 to 2011. In 1989, she completed her bachelor's degree in International Relations from Mount Holyoke College.
Esther Howland. A businesswoman and artist, Esther Howland popularized Valentine's Day greeting cards in the US. It's due to this why she is known as the "mother of the American valentine". She graduated from Mount Holyoke in 1847, just 10 years after the founding of the all-women's liberal arts college.
Priscilla Painton. Book editor and journalist Priscilla Painton was the former deputy managing editor for Time magazine. She is currently the editor-in-chief for Simon & Schuster, a US publishing company. Fluent in French, she earned her bachelor's degree in History from Mount Holyoke College in 1980.
Julia Phillips. An author and film producer, Julia Phillips was the first female to win an Academy Award for Best Picture. She received the award for The Sting. It also bagged other awards such as Best Director and Best Costume Design. Her bachelor's degree in Political Science was earned from Mount Holyoke in 1964.
Jade McCarthy. In the history of major television networks in Philadelphia, Jade McCarthy was the first female sportscaster. Right now, she is a sportscaster for Boston Sports on NBC. She used to be a host for Sports Center on ESPN. She attended Mount Holyoke College, where she graduated in 2002.
Is Mount Holyoke Prestigious?
Especially when it comes to acceptance rate, Mount Holyoke College is better than most Seven Sisters schools.
In some cases, its COA is also more affordable.
Its students may take courses at partners such as Amherst College, Smith College, Hampshire College and the University of Massachusetts.
The importance of taking your time when choosing which colleges and universities to apply to cannot be stressed enough.
It's due to this why some experts recommend thinking about college even before high school.
When creating a shortlist, remember to prioritize your needs and wants.
You can determine which schools you will fit in the best for four or more years by carefully looking into their strengths and weaknesses and weighing the pros and cons of attending them.
Needless to say, choosing the right school is a time-consuming task.
To help you get started, here's how Mount Holyoke College compares with some other liberal arts schools:
Mount Holyoke vs. Barnard College
The campus settings of Mount Holyoke and Barnard are worlds apart — one is a suburban setting, and the other is a city. While it's cheaper to go to Mount Holyoke, more students attending it are getting financial assistance — 74% vs. 44%.
Mount Holyoke has a much higher acceptance rate, too, than Barnard.
Mount Holyoke vs. Smith College
Mount Holyoke's campus size is several times bigger than that of Smith. What's more, its population is smaller, too. While both Mount Holyoke and Smith have pretty much the same acceptance rate and graduation rate, it's easier on the pocket to go to Mount Holyoke.
Mount Holyoke vs. Vassar College
Acceptance rate-wise, more students get admitted into Mount Holyoke per academic year than Vassar — 38% vs. 23.7%. Since 1969, Vassar has opened its doors to male applicants. Although it remains an all-women's school from the time it was founded, Mount Holyoke allows male students from partner schools to attend classes at it.
Mount Holyoke vs. Bryn Mawr College
Tuition at Bryn Mawr is higher. But the COA at Mount Holyoke can quickly soar because of room and board. Being a residential college, Mount Holyoke's students are required to live on-campus. However, some may be permitted to live off-campus.
Mount Holyoke vs. Wellesley College
More students get accepted to Mount Holyoke than Wellesley per academic year because of a higher acceptance rate — 38% vs. 21.6%. However, there are more majors to choose from at Wellesley, and it has higher retention and graduation rates than Mount Holyoke.
SO, Is Mount Holyoke a Good School?
Among the Seven Sisters, Mount Holyoke has the highest acceptance rate and lowest GPA requirement. Still, it's more selective compared to most other US schools.
Mount Holyoke College is known for being one of the oldest Seven Sisters schools and a member of the Five College Consortium. It is usually affiliated with Dartmouth College, one of the Ivy League colleges.
Mount Holyoke's popular majors include Computer Science, Biology, Economics, Experimental Psychology, and Political Science.
This article is a part of a series about Seven Sisters colleges.
Previous Article: What is Bryn Mawr Known For?
Next Article: What Does Wellesley Look for in a Student?

Disclaimer: The views and opinions expressed in this article are those of the authors and do not necessarily represent those of the College Reality Check.