Music Major: Good, Hard, Employable?
You see yourself as a Grammy Award-winning pop artist, a member of a rock band touring the world, or a billionaire record producer or DJ. Does this mean you should get a bachelor's in music in order to set the wheels in motion?
Music is a good major for students who would like to get into music education and performance after graduation. The salaries of music majors range anywhere from $10,028 to $241,414 per year. However, majoring in music is not really a prerequisite for those who would like to become performers.
To major in music or not — read on if you are looking for an answer to this!
Music Degree and Career Myths
Traditionally, music is one of the seven liberal arts, and it's not uncommon for liberal arts studies to be looked down upon by many. Part of the reason for such is the various myths surrounding them. In the case of music majors, it is falsely believed that they are bound for career instability and financial struggle.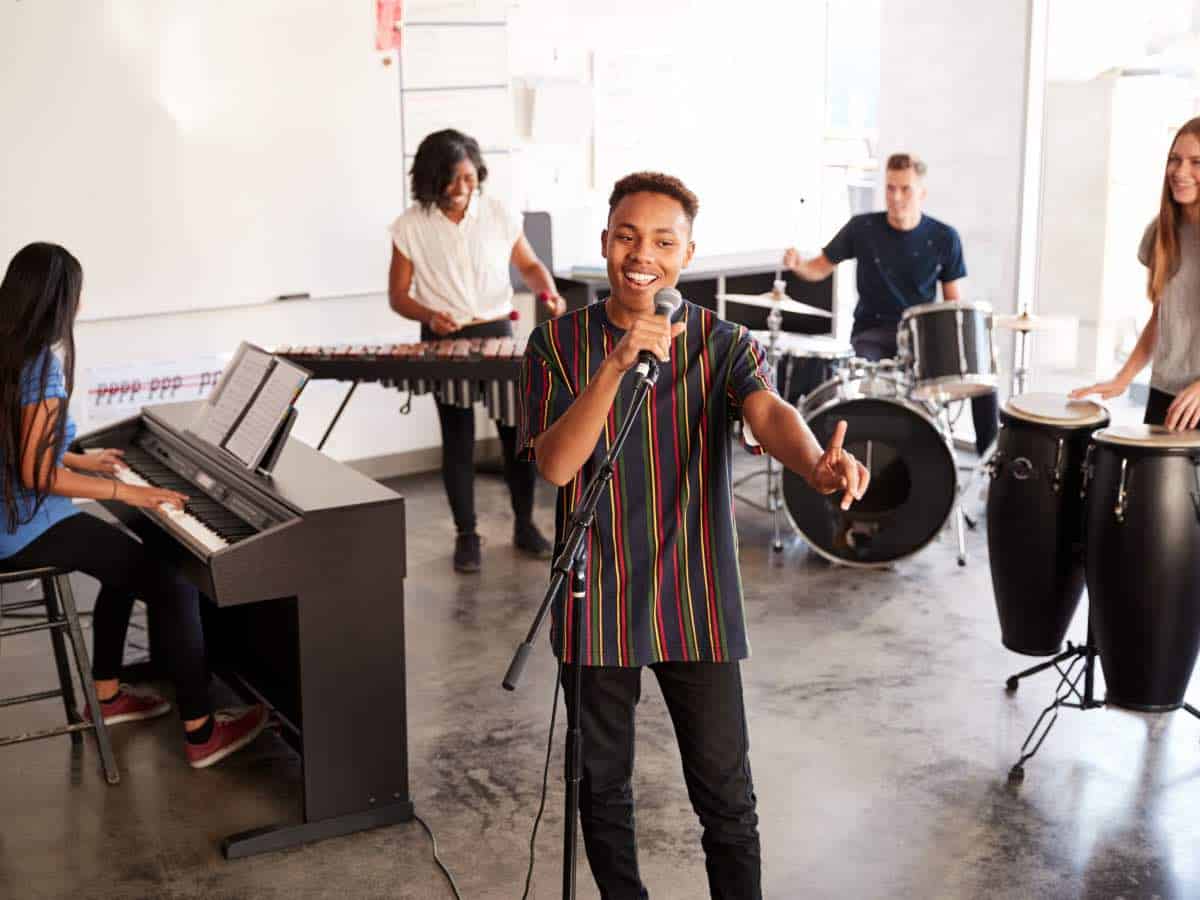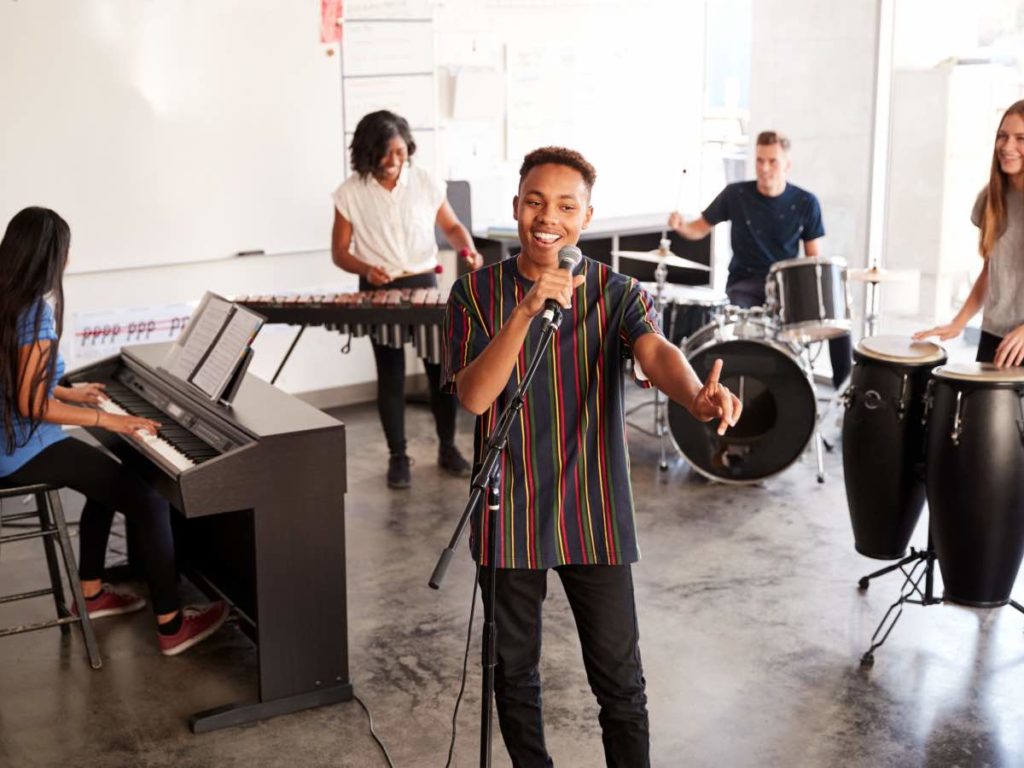 It's not uncommon for many degree-seeking students who are considering majoring in music to doubt their own plans. Am I deluding myself by thinking I'm going to have a successful music career?
Winding up jobless is the fear of many who are seriously considering earning a music degree.
According to a study by a music professor at Indiana University whose aim was to figure out how many bachelor's in music holders are actively working in their profession, it appears like being unemployed should be the least of the worries of graduates. That's because it turns out that the majority have jobs and are being paid well.
In the said study, 1,434 music graduates from more than 150 institutions (liberal arts colleges, public and private universities, and music schools) were surveyed.
Music education and music performance — these are the degrees that the surveyed individuals hold.
Simply put, music education graduates are mainly trained to teach music in the public school system. However, some of them may also end up teaching at private schools and conducting youth ensembles. On the other hand, music performance graduates are specifically trained to become pros at playing musical instruments or specialize in certain genres.
The study revealed that more than 75% of music education graduates found work in a related field within four months after graduation. And one in every two said that they were in the teaching sector.
Most of them make an average of $20,000 to $60,000 per year. A small percentage makes over $60,000 annually.
Meanwhile, more than 50% of all surveyed music performance graduates landed jobs directly related to the degree they hold within four months after graduation.
However, their annual salaries tend to vary widely — while some had a $20,000 starting annual salary, others made more than $60,000 during their first year of employment.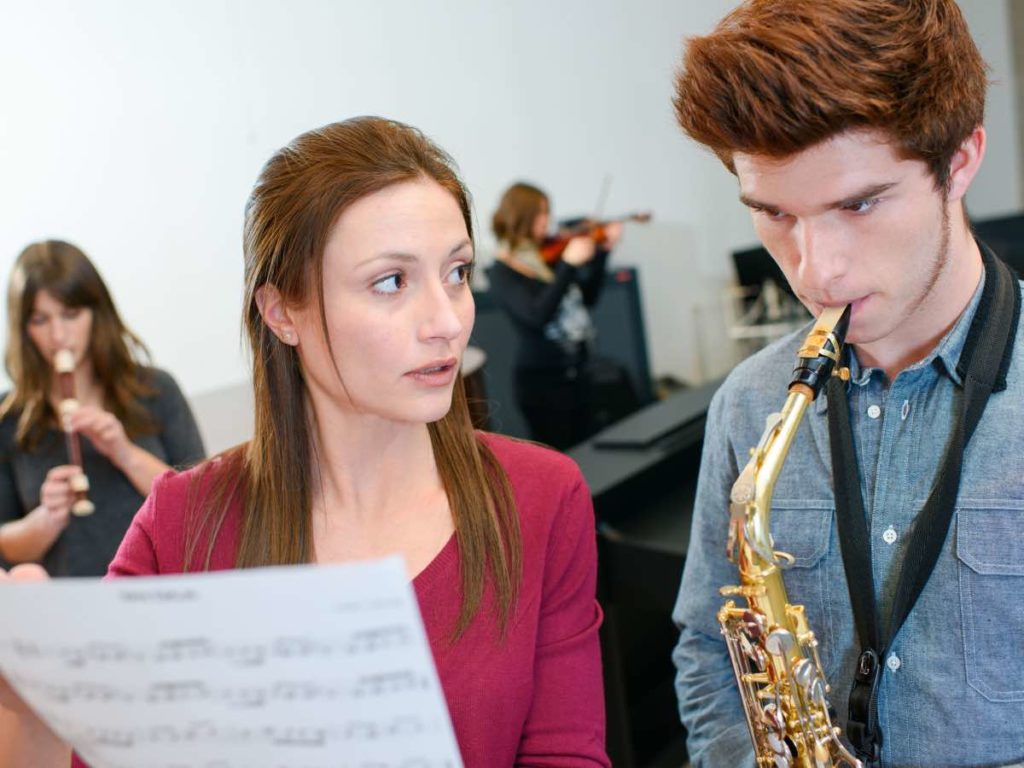 Is Music Hard in College?
Although it may sound like it's an easy major, the fact is music can be hard. That's because it's competitive and demanding, and requires students to devote plenty of time, dedication and commitment to it. However, for those who love music and are planning on working in music-related fields, it can be rewarding.
Do not make the mistake of assuming that majoring in music is easy because it's just about, well, music.
Believe it or not, there is a huge possibility that you will fail to successfully complete a music program if you are someone who isn't genuinely passionate about music.
As a music student, you can choose from an assortment of concentrations, which are a structured plan of elective courses that enable degree-seeking students to focus on something.
Choosing a concentration of your liking makes it possible to have a specialization while remaining a well-rounded college student and future musician.
Here are some of the concentrations many undergraduate music students go for:
Composition
Simply put, this concentration prepares music students for careers in music theory and composition, thus allowing them to one day become music composers, arrangers, editors and copyists. It also equips them with skills necessary for teaching music theory and composition at music studios, community colleges and other learning institutions.
Film Scoring
Not a lot of music schools and colleges and universities with music programs offer film scoring because it's a relatively new concentration. Basically, what undergraduate students in music learn in this concentration is the composition of music for visual media purposes, from TV shows, movies to video games.
Jazz and African-American Music Studies
Music students who consider concentrating on jazz and African-American music studies can expect to have a lot on their plate. That's because the courses cover everything from jazz performance, jazz music theory, jazz music history, jazz composition/arranging, to jazz ensemble playing and improvisation.
Music Business
As the concentration's name suggests, music business focuses on preparing music majors for the professional aspects of the arts and entertainment industries. Typically, colleges and universities offering this particular concentration require students to choose from a handful of minors, including business administration, management and marketing.
Music Production
Degree-seeking students who would like to share their musical compositions or those of other talented individuals may choose to concentrate on music production. What it does is offer them the technical know-how on combining creativity with technology in order to blend and create sound for consumption purposes.
A degree in music opens doors to a wide variety of career options. In order to have a more defined career path, you may choose a minor that supplements your major, thereby allowing you to obtain added skills that can give you a more clear-cut focus. Some of the most common minors taken by music majors include:
Audio production
Business
Communication
Computer Science
Entrepreneurship
History
Information technology
Languages
Marketing
Philosophy
Political science
Psychology
Before you decide on a minor or two, it's generally a good practice to take into account what particular music career you would like to have after graduation.
Music Degree Careers and Salaries
A degree in music can pave the way for many different career options in the world of music. They range anywhere from performing, music directing, DJing to acting. Some music students take on teaching jobs. With the right concentration and major, a more well-defined career path can be set by music majors.
Earlier, we established the fact that music majors actually wind up employed and earning money.
Getting your hands on a bachelor's in music allows you to take on numerous kinds of jobs, the substantial majority of which are in music education and performance. The following are just a few examples:
Sound engineer
Median annual salary: $49,050
Job outlook in 10 years: 21%
Despite the job title, sound engineers are not actual engineers. Also referred to as audio engineers and sound mixers, sound engineers are the ones who record, mix and master in the music industry. Others build and design audio equipment. Then there are also sound engineers who specialize in coming up with new types of audio coding formats.
High school music teacher
Median annual salary: $61,820
Job outlook in 10 years: 8%
Besides instructing students on various concepts and methodologies in music theory, high school music teachers also lead all kinds of musical activities such as singing, playing musical instruments, and listening to and interpreting or analyzing musical works. Public high school teachers typically require a state-issued certification or license.
Private music tutor
Median annual salary: $41,780
Job outlook in 10 years: 4%
Also sometimes referred to as private music instructors, private music tutors, who usually specialize in a particular musical instrument or a class of musical instruments, work one-on-one with their students. Their primary role is to help their students develop their instrument-playing abilities, acquire advanced skills and improve performance confidence.
Music DJ
Median annual salary: $45,810
Job outlook in 10 years: 15%
If truth be told, music DJs are not required to have any degree — associate or bachelor's alike. However, unless they are planning to become self-employed music DJs, students majoring in music can enjoy better marketability. Still, to reap success, music DJs should have the necessary talent and knowledge and understanding of the equipment.
Music Director
Median annual salary: $49,130
Job outlook in 10 years: 6%
Having good team-playing skills is a must for music directors. That's because they have to work closely with the rest of the musical team. Simply put, music directors are the ones who oversee each and every musical aspect of a production. Their tasks include casting performers, hiring instrumentalists, and conducting the orchestra.
Musician
Median annual salary: $44,359
Job outlook in 10 years: 11%
Besides playing solo, musicians can also play in bands or orchestras. Those who are a part of a group may play at birthday parties, prom nights, weddings and corporate events. To make themselves more marketable, many musicians develop proficiency in numerous musical instruments or musical styles. Some perform vocals, too.
Musical actors
Median annual salary: $58,280
Job outlook in 10 years: 32%
What musical actors do is entertain the audience by singing and acting at the same time. They can appear on screen or on stage, working under the direction of the creative team. Some of the highest-paid musical actors in the country are Broadway actors — the middle 50% of them earn anywhere from $127,369 to $320,944.
Music agent
Median annual salary: $62,940
Job outlook in 10 years: 6%
In a nutshell, music agents work with musical artists to schedule performances, in-person appearances and tours. They are also responsible for negotiating fees and contracts for such activities. Music agents, in order to attain success, must be extremely good at organizing and negotiating as well as have a very good understanding of the music industry.
Studio manager
Median annual salary: $44,457
Job outlook in 10 years: 10%
The duties and responsibilities of studio managers can be wide and varied. They range anywhere from coordinating with musical artists, hiring recording engineers to deciding which studio equipment to install. As the job title suggests, music majors can prosper better as studio managers if they also have good communication and managerial skills.
Social media planner
Median annual salary: $62,800
Job outlook in 10 years: 11%
Individuals with a music degree who also exhibit internet and social media savviness may consider working as social media planners, who come up with various strategies and programs to keep their clients trending on social media. Although it's true that many social media planners are employed by advertising agencies, some are self-employed.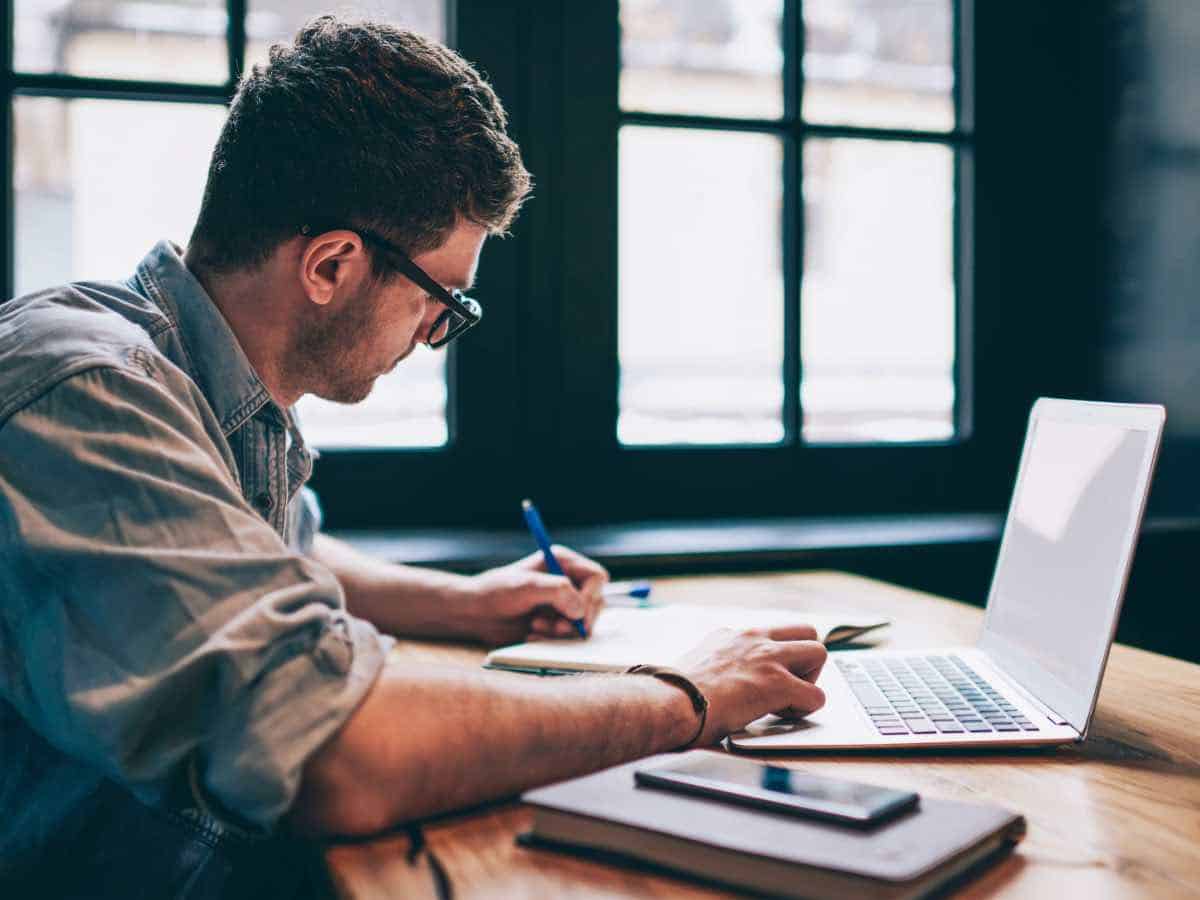 Writer
Median annual salary: $69,510
Job outlook in 10 years: 9%
Naturally, music majors who end up as writers are in their best element developing various music-related written content for all kinds of media. The works of writers may end up in music publications featuring music artists or reviewing records. It's not unlikely for others to have their compositions published digitally, on websites, blogs and social media.
Famous People Majored in Music
Ironically, the vast majority of people in the music industry do not have a bachelor's in music — many of those who went to college earned degrees in other disciplines. Some music majors are working behind the scenes, thus keeping them from being as well-known as the celebrities they work for or with.
Just because you want to be a popular singer or musician doesn't mean right away you should get your hands on a degree in music. By pairing your musical talent with the right packaging, you could make it big degreeless.
Proof of this is the fact that many famous people in the music industry do not have a degree in music.
Some of those who went to college to study music, such as Lady Gaga and John Mayer, dropped out in order to enter the entertainment industry. But then there's also a handful of those who were able to complete their respective music programs and obtain either a bachelor's or master's — or both!
Two music degree holders whose names are likely to be familiar to you include:
Brad Paisley
Selling more than 11 million albums and having won multiple awards, including two American Music Awards, three Grammy Awards and 14 Academy of Country Music Awards, Paisley has a bachelor's in music business. He earned his undergraduate degree in 1995 from Belmont University, which is ranked #162 in National Universities by US News.
Jon Secada
Considered one of the best Latin music artists, Secada sold 15 million albums and won a couple of Grammy Awards. He attended the University of Miami, which is ranked #55 in National Universities by US News. After completing his bachelor's in music, Secada went on to get his hands on a master's in jazz vocal performance.
Best Schools for Music Majors
Degree-seeking students who wish to major in music can attend colleges or universities with a music department or music schools themselves. Especially if the goal includes improving one's musical ability and reaching full potential, it's a good idea to attend an institution with a top-notch music program.
Want nothing but to have the best possible career as a musician or a professional in a related field? Then it's generally a good idea to enroll in a good music program.
The good news is that there are many learning institutions offering them that you can add to your college list.
Below, you will come across the best music schools or institutions with the best music programs in the land, according to Niche, a popular college ranking site. You will also come across a few important details in order to help a future music major like you build a more balanced and realistic college list:
| | | | |
| --- | --- | --- | --- |
| INSTITUTION | LOCATION | NET PRICE | ACCEPTANCE RATE |
| Curtis Institute of Music | Philadelphia, Pennsylvania | $12,835 | 2% |
| Berklee College of Music | Boston, Massachusetts | $42,953 | 52% |
| University of Southern California | Los Angeles, California | $39,759 | 11% |
| Northwestern University | Evanston, Illinois | $28,344 | 9% |
| Vanderbilt University | Nashville, Tennessee | $25,804 | 12% |
| Juilliard School | New York City, New York | $41,022 | 8% |
| Rice University | Houston, Texas | $19,215 | 11% |
| San Francisco Conservatory of Music | San Francisco, California | $41,918 | 46% |
| Cleveland Institute of Music | Cleveland, Ohio | $36,903 | 34% |
| New England Conservatory of Music | Boston, Massachusetts | $50,651 | 36% |
| Johns Hopkins University | Baltimore, Maryland | $25,241 | 11% |
| Carnegie Mellon University | Pittsburgh, Pennsylvania | $36,983 | 17% |
| Manhattan School of Music | New York City, New York | $44,217 | 36% |
| New York University | New York City, New York | $45,417 | 21% |
| University of Michigan – Ann Arbor | Ann Arbor, Michigan | $17,832 | 26% |
| University of Miami | Coral Gables, Florida | $31,726 | 33% |
| University of Rochester | Rochester, New York | $36,254 | 35% |
| California Institute of the Arts | Valencia, California | $59,367 | 25% |
| Musicians Institute | Hollywood, California | $37,768 | 68% |
| Oberlin College | Oberlin, Ohio | $42,745 | 36% |
| Los Angeles College of Music | Pasadena, California | $37,825 | 71% |
| Lawrence University | Appleton, Wisconsin | $26,594 | 69% |
| Boston University | Boston, Massachusetts | $29,154 | 20% |
| Wesleyan University | Middletown, Connecticut | $22,845 | 21% |
| Belmont University | Nashville, Tennessee | $34,368 | 83% |
Best Online Schools for Music Majors
Besides a degree in music earned in a customary way, you may also get your hands on it online as a non-traditional student. But before you apply to an online school with a music program, there is one very important step to take. And it's none other than to make sure that the institution is not a diploma mill.
The objective is to earn an online bachelors in music that's worth something so that you can use it to land your dream job in a related field. Luckily, many legit schools operating online offer legit music degrees.
Here are the top fully-accredited online schools you may want to shortlist:
Washington State University
Location: Pullman, Washington
Cost: $541.50 (in-state) and $603.60 (out-of-state) per credit hour
Accreditor: the Northwest Commission on Colleges and Universities (NWCCU)
Acceptance rate: 80%
Graduation rate: 66%
Population: 31,159
Average starting salary: $42,400 per year
College ranking: #2 in Best Public Colleges in Washington (College Simply)
SUNY Empire State College
Location: Saratoga Springs, New York
Cost: $295.00 (in-state) and $353.00 (out-of-state) per credit hour
Accreditor: Middle States Commission on Higher Education (MSCHE)
Acceptance rate: 59%
Graduation rate: 21%
Population: 10,724
Average starting salary: $40,100 per year
College ranking: #6 in Best Online Colleges in New York (Best Colleges)
University of Toledo
Location: Toledo, Ohio
Cost: $398 (in-state) and $788 (out-of-state) per credit hour
Accreditor: Higher Learning Commission (HLC)
Acceptance rate: 100%
Graduation rate: 42%
Population: 18,319
Average starting salary: $37,200 per year
College ranking: #11 in Popular Colleges With High Acceptance Rates (Niche)
Liberty University
Location: Lynchburg, Virginia
Cost: $390 per credit hour
Accreditor: Southern Association of Colleges and Schools Commission on Colleges (SACSCOC)
Acceptance rate: 100%
Graduation rate: 49%
Population: 93,349
Average starting salary: $33,700 per year
College ranking: #2 in Best Accredited Online Colleges and Top Online Universities (Best Colleges)
University of Maine at Augusta
Location: Augusta, Maine
Cost: $245 (in-state) and $554 (out-of-state) per credit hour
Accreditor: New England Commission of Higher Education (NECHE)
Acceptance rate: 100%
Graduation rate: 12%
Population: 4,202
Average starting salary: $24,100 per year
College ranking: #8 in Most Conservative Colleges in Maine (Niche)
Just Before You Enroll in a Music Program
Consider majoring in music if you are passionate about the discipline of study and would like to one day teach or perform.
While it may sound like it's one of the easiest majors around, successfully completing a music program is unlikely if you are not serious about becoming a music student and a professional in one of the many music-related fields one day.
Read Next: Is Chemistry Major Good?

Disclaimer: The views and opinions expressed in this article are those of the authors and do not necessarily represent those of the College Reality Check.