How to Narrow Down College Majors: Ultimate Guide
In most instances, college-level students have until the end of their sophomore year to decide on a major. Two years is plenty of time, but keep in mind that there are roughly 2,000 majors US colleges and universities offer. Especially for undecided students, settling on one major can be easier said than done.
When narrowing down college majors, students must take their interests and passions into account. They should also consider the career path of their preference, including its employability, playability, and available opportunities. Meeting with advisors and obtaining related experience may be done, too.
Don't want to commit a major blunder when choosing a college major? Don't stop reading.
Below are the steps that you may take to narrow down college majors. By the time you are through checking out this article, you will be able to have a short and manageable list or even settle on a major!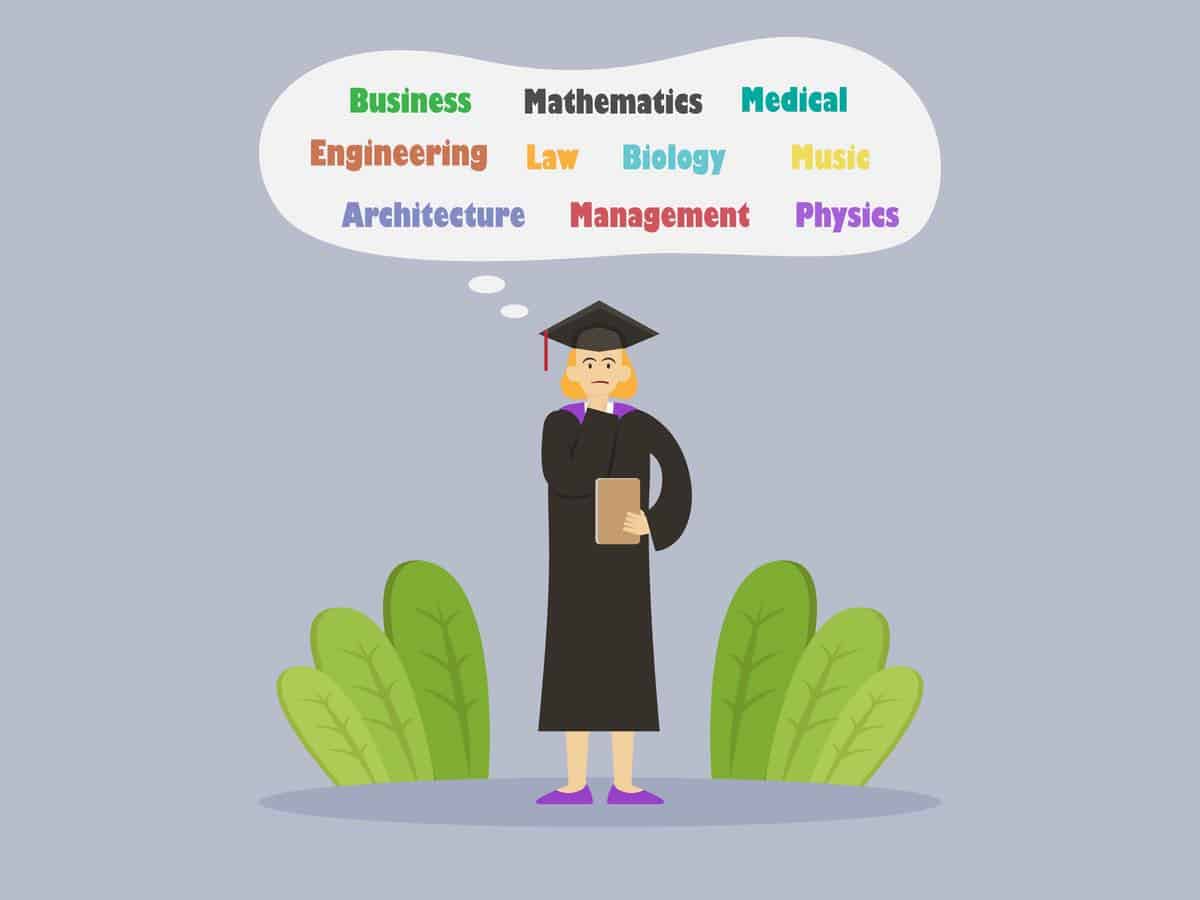 Weigh What You Want To Do In Future
There is really no need to search far and wide just to be able to decide on a college major that will suit you the most. Sometimes, all you have to do is look inside you and check out the things you find interesting and are passionate about, and the right major to declare will make itself known.
If you like something, learning more about it for the next four years of your life should be a breeze. And why not do what you love the most after college and get paid for it, too?
However, interests come and go — what's interesting for you today may no longer be exciting tomorrow.
It's a good thing that you can also count on your life passion when figuring out which major to go for. Unlike interests, it's not unlikely for a passion of yours to go away anytime soon. That's because it's not just something that you like — it's something that involves your talents, skills, strengths and values, too.
A way to speed up the process of narrowing down college majors is by checking out something that has helped you gain admission into the college of your dreams: your list of extracurricular activities.
Especially if you have partaken in extracurriculars throughout high school that have allowed you to identify your hobbies, learn more about your interests and follow your life passions, then having a difficult time determining which college majors will fit you to a T should be the least of your worries.
And this leads us to this question many college students would love to ask…
How do you find a major you are passionate about?
Taking career-counseling tests and interviews can help college-level students determine majors related to their passions in life. Joining professional groups, doing volunteer work or having a part-time job can be helpful. Taking a gap year, in many instances, can be beneficial for undecided students.
Passion is something that many colleges and universities, especially competitive ones, look for in applicants.
It's also something that a lot of recruiters, HR managers and employers look for in job seekers. And, more often than not, a quick look at one's college major can give them an idea of such a matter.
Considering something that you love doing or pursuing can help you not only in the college or job application process — it can also prove to be valuable as you earn your degree as it can help increase your chances of succeeding in college. After all, love can conquer all, including college-related stress, anxiety, challenges and steep costs.
And if everything fails, fret not. That's because there is someone who can lend a hand: your college advisor.
A college advisor is tasked with many things, and one of the most important of the bunch is helping students to find a major to declare and commit to. But you don't have to wait until you are in college just to seek the assistance of an advisor — your high school counselor can also help you with the task.
Know About Time-Consuming Majors
Some college majors are simply more time-consuming than the rest. They require a lot more of everything — study time, tests, hands-on training, etc.
Because of this, it's not unlikely for students, most especially those who have poor time-management skills and are not too willing to commit, to earn failing grades.
This could hurt their GPAs and financial aid. It could also keep them from graduating on time.
Want to be in and out of college in four years or less in order to stay within budget as well as get a job in no time? Then it's a must that you choose a major wisely by avoiding one that's unsuitable for someone in a time crunch.
The general consensus is that the following majors are some of the most time-consuming:
Architecture
Chemistry
Engineering
Mathematics
Nursing
Physics
Psychology
Keep in mind that a college major usually requires 30 to 36 credits — that's equivalent to 10 to 12 courses or a fourth or nearly a third of all bachelor's degree courses. Getting one bad grade in any of those courses can cause you to either pay more than usual or complete your program longer than expected.
Related Article: What Does Pre-Major Mean?
Needless to say, if going past the net price and/or timetable is considered as one of the worst things that could happen to your academic life, make sure that you steer clear of majors that will require plenty of time on your part.
And this brings us to this pressing question occupying the minds of many college-level students…
What are the least stressful college majors?
Many of the least stressful college majors are those outside STEM, healthcare and business fields. Leading the list are Liberal Arts, English, Education, Social Work, Humanities and History. However, the amount of stress associated with a major will depend on a college's program and academic rigor.
According to a survey, 60% of college students admitted that severe stress has interfered with their ability to complete their schoolwork many times. What's more, 30% said that stress has affected their academics negatively.
It goes without saying that stress is a problem many college students face.
Especially if you want your college experience to be enriching rather than devastating and you are prone to high levels of stress, it's a good idea to consider steering clear of some of the most stressful majors in order to fend off anything from having a bad GPA, dropping out of college to staying in college longer.
The good news is that there are many college majors out there whose prerequisite courses are not as nerve-racking as the rest. Some common examples include:
Anthropology
Creative Writing
Criminal Justice
Education
English
History
Humanities
Journalism
Liberal Arts
Linguistic
Music
Public Relations and Advertising
Religious Studies
Social Work
Sociology
It's true that the majors mentioned on the list above and many others are less likely to make your college life packed with stress. However, some of the easiest majors out there are associated with some of the most low-paying careers.
Would you prefer being a stressed college student or a professional stressed with trying to make ends meet?
Contemplate on the fact, too, that stress is subjective — after all, it's measured based on self-reporting. So, in other words, a major that's stressful for one college student may not be that stressful for another. This is when the importance of carefully researching the major and considering your strengths and weaknesses come in.
Related Article: 19 Most Stressful College Majors and How Much They Pay
Examine Major Employability
After earning a college degree, it's time to find a job in a field related to it. Although it's true that the major you will commit to, usually during the last two years of college, is relevant to getting employed, it's just one of the many deciding factors when it comes to readily finding employment.
To improve employment opportunities — according to an online survey, this is the reason for going to college given by as much as 91% of the respondents.
Willing to spend the next four years of your life studying just to get a job?
When deciding which major on your long list you should declare and commit to, make sure that you put employability into consideration. Simply put, it's all about choosing a major that will equip you with hard skills and, when paired with soft skills, help you get a job as well as move seamlessly between jobs.
Earlier, we learned that majors in STEM, healthcare and business fields are some of the most stressful of all. But it's not just while in college that these majors can put a lot of strain and pressure on a student's mind but also after graduation — the majority of these majors are associated with the most demanding and difficult careers.
Sadly for those who wish to avoid too much stress, these majors tend to be the most employable.
So, if you don't mind having a stressful college due to challenging courses, then consider putting any of the following most employable majors at the top of the list:
Accounting
Biochemistry
Business Administration
Computer Science
Engineering
Mathematics
Medicine
Pharmacology
Physics
Psychology
Statistics
This doesn't mean, however, that you should subject yourself to a lot of stress throughout college just to lower your chances of being unemployed after graduation. That's because it's not just difficult majors that are highly employable but also popular ones — these majors are some of the most sought-after for a reason!
A major is popular if many college students are taking them and if many institutions for higher education are awarding bachelor's degrees resulting from them.
There are a few reasons why popular majors are, well, popular among college students:
Cheaper
Requires less time
Easier to pass
Pairable with many useful minors
Broader in scope
Sought by many employers
Whether undecided as to which shortlisted major you should declare or completely clueless as to where and how to begin the major selection process, there is a benefit that comes with choosing a popular college major. If many are going for a particular major, then it must be worth the time and effort.
Let's check out a few popular majors among undecided college students:
Biology
Business
Chemistry
Communications
Computer Science
Economics
Education
English
Health Science
History
Language
Liberal Studies
Mathematics
Philosophy
Psychology
Public Policy
And this takes us to this question many college students feel too shy to ask…
What are the least popular college majors?
Some college majors tend to receive much less attention and applicants than the rest. They include Legal Professions and Studies, Communications Technologies, and Transportation and Materials Moving. The least popular majors, according to data, tend to differ between male and female college students.
In many instances in life, going with the flow is the much safer route. This includes college.
When narrowing down college majors, more often than not, you can make the process less complicated and the outcome less questionable by declaring what many other college-level students are declaring.
If one of the majors you are considering is what a lot of students are going for, then you can call it a day and consider the mission accomplished, most especially if you are already sick and tired of doing eeny, meeny, miny, moe only to toss and turn in bed later on that night wondering if you made the right choice.
According to the National Center for Education Statistics (NCES), the following are some of the not-so-popular college majors among male college students:
Area, Ethnic, Cultural, Gender and Group Studies
Communication Technologies
Construction Trades
Family and Consumer Sciences
Legal Professions and Studies
Library Sciences
Mechanic and Repair Technologies
Military Technologies
Precision Production
Transportation and Material Moving
On the other hand, here are the least popular college majors among female college students, still based on NCES data:
Communication Technologies
Construction Trades
Engineering
Legal Professions and Studies
Library Science
Mechanic and Repair Technologies
Military Technologies
Precision Production
Theology and Religious Vocations
Transportation and Material Moving
Research How Much the Major Pays
When building a college list, it's not uncommon for many graduating high school students to consider the sticker price. This is especially true for those from low-income backgrounds. When choosing a major, the same thing can be done — considering the earning potential.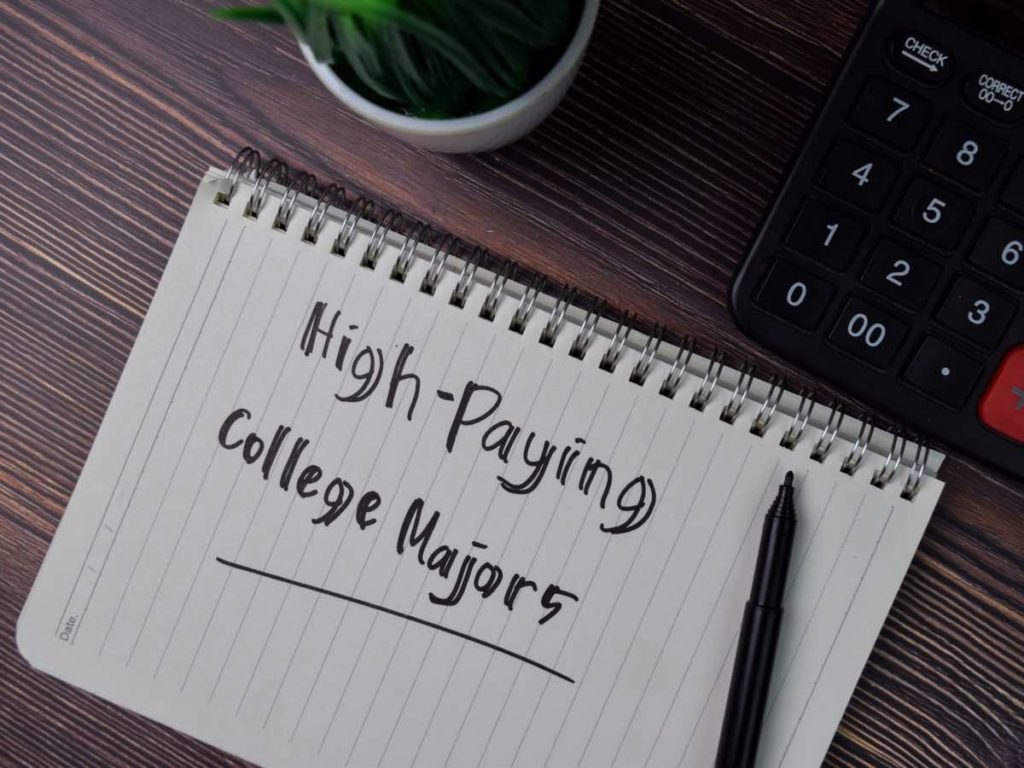 According to the Education Data Initiative, the average cost of a bachelor's degree these days is $101,584.
However, the said amount only includes expenses that are directly related to college. If you consider things such as student loan interest and lost income, a bachelor's degree can easily cost more than $400,000!
In many instances, it's not enough that you go with a major that aligns with your talents, interests and passions. Despite what many college students say, it's also a must that you pick a major based on what type of salary you want to get monthly after graduation and when you are already a part of the workforce.
The good news is that college majors that pay a lot come aplenty, and it's very much likely that one or two or more of them will allow you to maximize your likes and strengths while letting you get a hefty paycheck, too.
This doesn't mean, however, that you should totally forget about your dreams and ambitions and solely focus on payability when it comes to narrowing down college majors. It's important to consider different factors in order to make a well-balanced choice — there is absolutely no point in making lots of cash if you don't love what you do.
And this leads us to this question some college-bound kids don't have the guts to ask…
What majors make the most money?
A vast majority of college majors that make the most money are part of the STEM field. They include everything from engineering, mathematics to computer science. Besides being considered the highest-paying, these STEM college majors are also known to be some of the most difficult and stressful.
Earlier, we mentioned some of the least stressful college majors out there.
Willing to declare a major known for being demanding and nerve-racking simply because you are a big risk taker, someone who is not afraid of the challenge or like a big payoff?
Then you will be more than happy to know that after earning your bachelor's degree, you could be getting some of the highest paychecks on a monthly basis. Many college majors are difficult because they help prepare students for demanding careers, which, quite frankly, are some of the top-paying ones.
Below is a table demonstrating some of the highest paying majors and the early and mid-career pay for each one:
| | | |
| --- | --- | --- |
| COLLEGE MAJOR | EARLY CAREER PAY | MID-CAREER PAY |
| Electrical Engineering and Computer Science | $108,500 | $159,300 |
| Physician Assistant Studies | $95,900 | $118,500 |
| Petroleum Engineering | $93,200 | $187,300 |
| Operations Research and Industrial Engineering | $84,800 | $170,400 |
| Operations Research | $83,500 | $147,400 |
| Nuclear Engineering Technology | $83,500 | $106,000 |
| Metallurgical Engineering | $81,800 | $122,200 |
| Computer Science and Business | $81,100 | $94,600 |
| Electronic Systems Technology | $81,000 | $91,200 |
| Welding Engineering | $81,000 | $126,600 |
| Marine Engineering | $79,900 | $131,300 |
| Computer Science and Engineering | $79,400 | $131,300 |
| Computer Engineering | $79,000 | $131,000 |
| Computer Systems Engineering | $79,000 | $133,200 |
| Mining Engineering | $78,800 | $118,300 |
| Electrical and Computer Engineering | $78,100 | $131,600 |
| Systems Engineering | $77,700 | $139,200 |
| Aeronautics and Astronautics | $77,600 | $139,600 |
| Paper Science | $77,000 | $115,200 |
| Chemical Engineering | $76,900 | $135,900 |
| Chemical and Biomolecular Engineering | $76,800 | $121,900 |
| Nuclear Engineering | $76,400 | $129,400 |
| Electrical Power Engineering | $76,100 | $142,600 |
| Electrical Engineering | $75,600 | $127,700 |
| Computational and Applied Mathematics | $75,500 | $126,000 |
| Engineering Mechanics | $75,500 | $117,400 |
| Computer Science | $75,100 | $123,400 |
| Software Engineering | $75,000 | $120,000 |
| Welding Engineering Technology | $74,700 | $95,000 |
| Aeronautical Engineering | $74,700 | $131,100 |
Pay scale by majors
Learn About Future Career Opportunities
It's not uncommon for students who are undecided about their college major to also be undecided about the career path they would like to take after graduation. This is when the sheer importance of declaring a major that's versatile enough as to allow degree holders to get employed in many different industries comes in.
College students, most of the time, have two years to figure out the major they like. For some, however, two years is still too short a time to decide on a particular college major.
If you are one of them, fret not because there is a workaround that can prove to be helpful and effective.
Instead of coming up with a list of majors, create a list of careers you like. Make sure that you group together those that have some kind of association or relation with one another. As a general rule of thumb, the more you can connect each career with one another, the easier it is to figure out the right major to declare.
Chances are that the college major you will settle with via this approach is a broad one — the kind whose field of study is so wide-ranging that it allows you to use it to apply to an assortment of jobs, each one connected to the other.
For instance, a Business Administration major can make you qualified for the following job positions:
Account Manager
Administrative Assistant
Business Adviser
Business Analyst
Business Development Manager
Data Analyst
Data Scientist
Financial Analyst
Insurance Underwriter
Management Consultant
Personal Banker
Project Manager
Sales Associate
Social Media Manager
Stockbroker
Supply Chain Manager
With so many career paths that it can pave for a college graduate, it's no wonder why Business Administration is one of the most desired popular majors out there — it's on the list of the most popular degrees we checked out earlier.
According to a study, most people will have around 12 jobs throughout their lives. As a matter of fact, more than 30% of all participants have considered a career change in the past year.
Chances are that you will change your college major at least once before graduation, and chances are that you will also change your career at least once after graduation.
And this leads us to this critical question that warrants an answer…
What are the most useful majors in college?
A useful major is something that a college graduate can use to find a job and enjoy career stability. It's also something that does not require future or additional education for career advancement. College majors associated with low unemployment rates and high incomes are considered as useful, too.
Since college doesn't come with a cheap price tag, it makes perfect sense to consider the return on investment (ROI) when deciding which major you should pick.
It's not enough for a major to pave the way for a career that you will be more than happy to get stuck with for the rest of your life — it should also be able to help you get employed in the industry you like and also get a monthly paycheck that your pocket desires.
The following are useful college majors that are not only in demand but also high paying:
Aerospace Engineering
Applied Mathematics
Architectural Engineering
Business Administration
Chemical Engineering
Civil Engineering
Computer Engineering
Computer Science
Economics
Electrical Engineering
Finance
Management Information Systems
Materials Science
Mechanical Engineering
Nursing
Pharmaceutical Sciences
Physics
Political Science
Software Engineering
Statistics
Transportation Sciences and Technologies
Final Thoughts on Selecting a College Major
Still bugged by the question "How do I decide what to major in?"
Fret not — you got two years to figure it out. After all, up to 75% of students enter college undecided.
The next time you give narrowing down college majors a shot, give the tips above a go.
Read Also: Can You Have Multiple Majors and Minors in College?

Disclaimer: The views and opinions expressed in this article are those of the authors and do not necessarily represent those of the College Reality Check.