What Are The Best Non-Ivy League Schools Along The East Coast?
As you may or may not know, the east coast is home to all the Ivy League schools (Princeton, Harvard, Columbia, Yale, Dartmouth, Brown, and Cornell), but it is also home to some of the most prestigious colleges that outrank some of the Ivies.
What are some good east coast schools? The east coast is home to many states (and DC) such as New York, Connecticut, Massachusetts, Virginia, North Carolina, and Florida, with plenty of top colleges to choose from. Some of the best colleges include Duke University, MIT, Georgetown University, Vanderbilt University, Emory University, and Johns Hopkins.
Why are there so many good colleges on the east coast?
Even before the United States was an independent nation, there were universities for higher education. Those universities of higher education were, of course, located where the people were (for obvious reasons). For the most part, everyone was settled along the east coast (remember the 13 colonies?).
As the country expanded to more territories, these original institutions still remained some of the tops in the country. Well, what are these original institutions? Well, my friend, the Ivy League.
In my post about safety schools, I slightly mentioned it, but the Ivy League was formed because of their sports, not academics. And the reason these eight schools were chosen is that they were some of the oldest colleges and located close together (that was helpful for sporting events).
After them, other colleges continued to blossom on the east coast because there were still significantly more people. The colleges I mentioned before (MIT, Duke, Georgetown, Vanderbilt, Emory, and Johns Hopkins) are all at least 140 years old; Georgetown University is 230 years old!
So what are some of these top schools that are not Ivies?
I tried to compile schools from a variety of states, so not every school would be from New York and Virginia. To the left of the schools are their rankings as of 2020 (some of the colleges have the same ranking because they are tied) and then to the right of them are their locations.
#3 Massachusetts Institute of Technology (Cambridge, MA) – MIT is that place for all STEM people. Every techie friend I have fantasizes about going to MIT but never have any hope because it is that selective and extremely competitive once you get there.
MIT holds a place in my heart because it was the first-ever college I visited, and it's not as ugly as everyone says.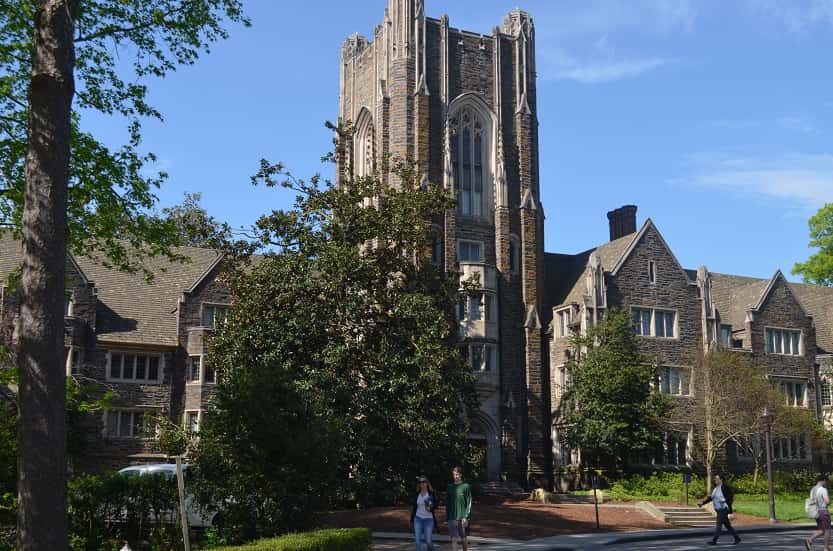 #10 Duke University (Durham, NC) – Duke is one of those schools that people commonly have mistaken for an Ivy because it basically is. It is ranked very high in areas such as business, law, and Nursing.
I absolutely fell in love with Duke when I visited and would definitely choose it over some Ivies.
#10 Johns Hopkins University (Baltimore, MD) – Ranked as the best medical school after Harvard, Johns Hopkins is literally the best non-Ivy.
Located on the campus is Johns Hopkins Medical Hospital (one of the best hospitals in the US and the best in MD), and if I'm not mistaken, students could possibly have a chance to intern there (don't sue me if I'm wrong).
#15 Vanderbilt University (Nashville, TN) – Vanderbilt, much like Duke, is commonly mistaken as an Ivy League; it is ranked as one of the best in medical, nursing, and education.
I also went on a tour of Vanderbilt (same road trip as Duke), and I think I like this college better than Duke. Our walking tour guide was hands down one of my favorite tour guides, and he fully convinced me why I should come to Vanderbilt, or Vandy as they call it. 
Schools similar to Vanderbilt include Yale University and Tulane University.
#21 Emory University (Atlanta, GA) – I had actually never heard of Emory University at all until about a few months ago. To this day,
I don't know much about Emory, but whenever I watch college acceptance videos, they all cry over Emory. Even though I can't tell you much about Emory, I'm sure it's quite prestigious because of its ranking.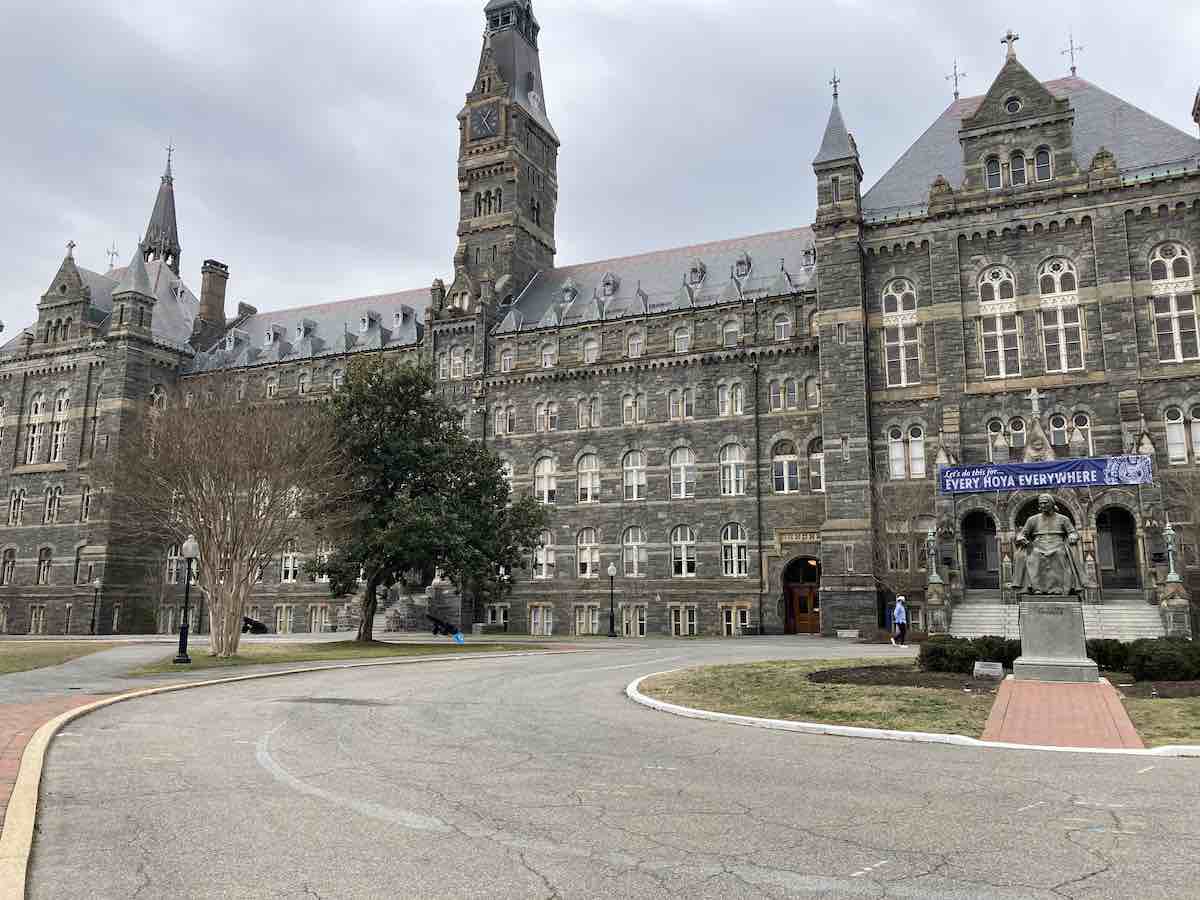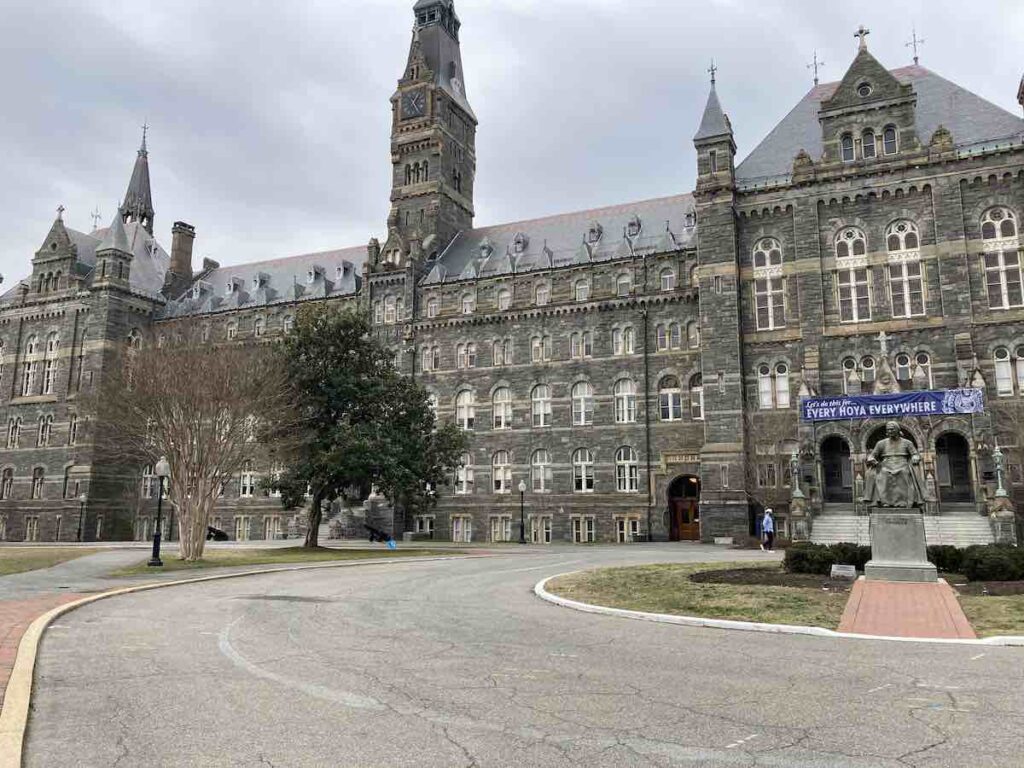 #24 Georgetown University (Washington DC) – I'm going to say it again, I would choose Georgetown over some Ivies. I adore this school, and my tour guide also convinced me that I should go to Georgetown.
Alas, my interests do not lie in politics, but if they did, this school would be my number one choice. Like Johns Hopkins, it is conveniently located at the prime spot for students.
You can see the Capital from a balcony of a dorm room (my tour guide actually interned at the Senate). 
George Washington University and American University are schools similar to Georgetown – both are located in Washington, DC, and are known for liberal arts majors. On the other hand, Notre Dame is closest in spirit, since it was also founded by Catholics.
#25 Carnegie Mellon University (Pittsburgh, PA) – Carnegie Mellon is one of those schools that I have not visited, but I am itching to do so (and I live pretty close to CM, so I really should have no excuse).
I have heard nothing but great spectacular things about this school, and my dad really likes it well (not something every school can brag about). It has a pretty good blend of STEM and the humanities.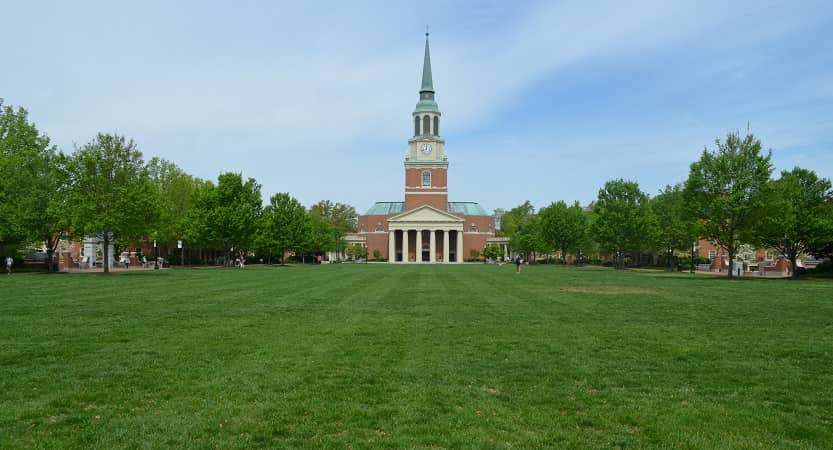 #27 Wake Forest University (Winston-Salem, NC) – When I visited Wake Forest (same road trip as Duke & Vanderbilt), I got a mix of feelings. It is ranked pretty high, and I don't doubt that it has good academics, but it felt way too elitist.
I did not get the same feeling from this school that I did from Duke or Vanderbilt. It's still a good school, but good luck getting in if you aren't rich or have connections.
#28 University of Virginia (Charlottesville, VA) – I knew that UVA existed before, but I had no idea it was ranked so highly.
From my advanced google search, UVA didn't stand out as a very strong STEM school or a strong humanities school, so that either means it's good at both or something else entirely (I have no idea what that could be).
I also live pretty close to this school, so I hope to tour it as soon as possible.
#29 Georgia Institute of Technology (Atlanta, GA) – GIT is another school my techie friends rave about. I'm sure that most people applying to MIT will apply to GIT because they both have a strong STEM program. GIT is apparently one of the top research universities in America.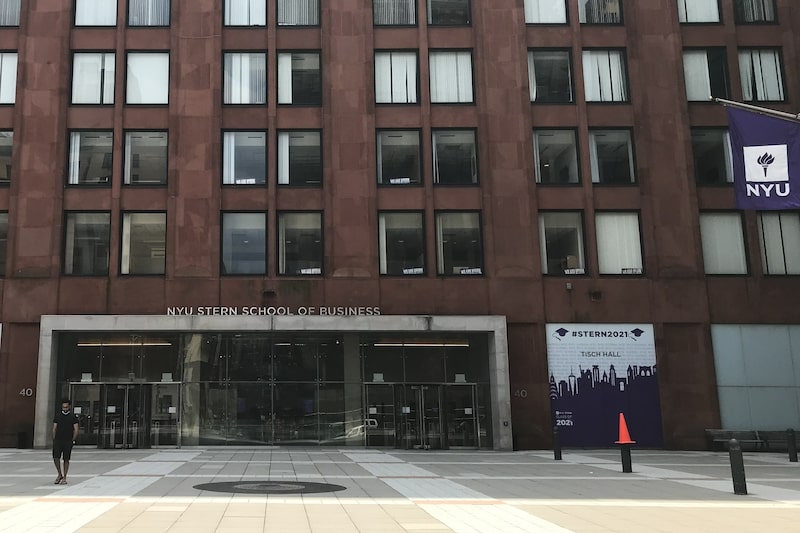 #29 New York University (New York, NY) – I agree rank #29 is very high, but I thought that NYU was of higher rank for some reason.
Anyways, this is also another school that I am dying to tour because the environment/people at NYU seem so chill, fun, and creative. Speaking of creativity, NYU has one of the strongest performing art programs in the USA.
#29 Tufts University (Medford, MA) – From what I know about Tufts, it seems to be in the Ivy League's shadows. It keeps getting compared to Harvard specifically, so I guess it's quite up there.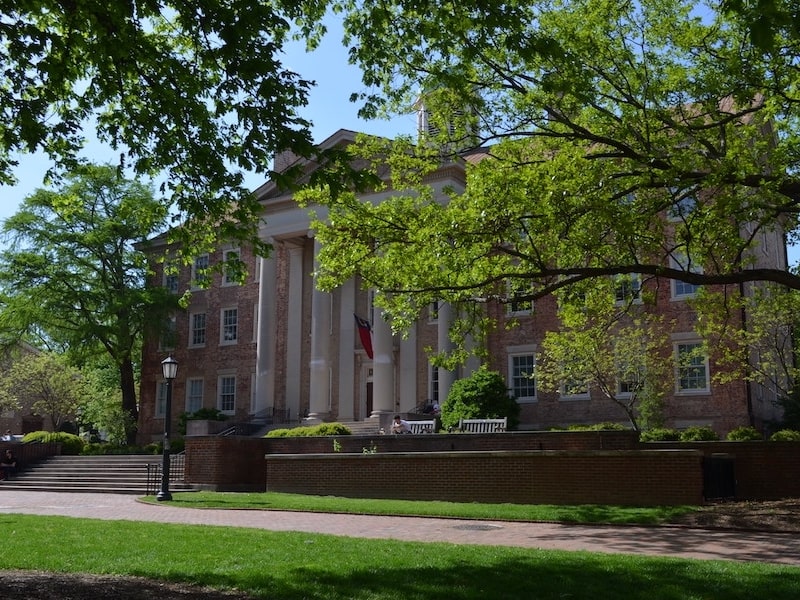 #29 University of North Carolina at Chapel Hill (Chapel Hill, NC) – I visited this university (on my Duke, Vanderbilt, and Wake Forest Trip), and if UNC was not a public school, I would apply.
I wouldn't apply because I don't live in North Carolina, meaning I have to pay so much more to attend the school than in-state students. What stands out the most is that they are ranked #1 in primary medical care.
#34 University of Florida (Gainesville, FL) – Even though I've visited Florida many times, I've never toured a college (I know, shocker). UF is the best university in Florida, and many of my friends have talked about going there.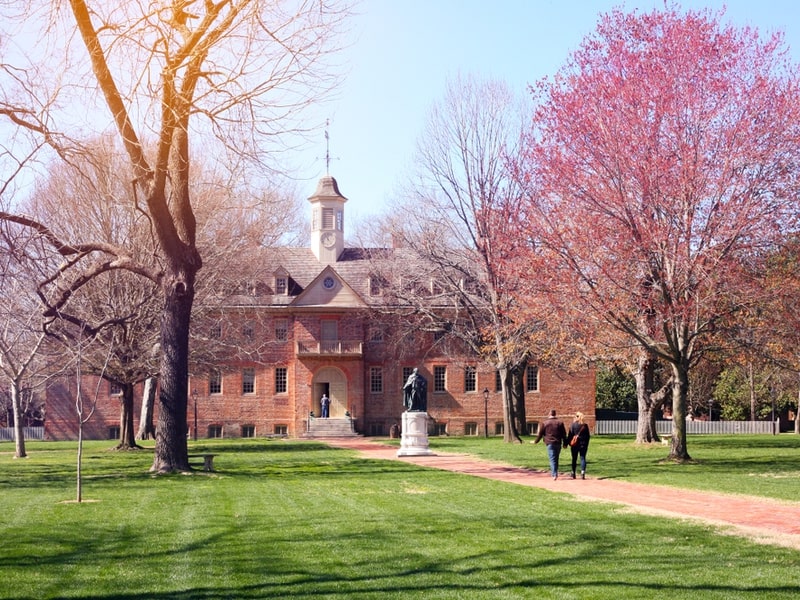 #40 College of William and Mary (Williamsburg, VA) – This college has a bit of story. My dad mentioned this as one of the schools I should consider going to because it's obviously really good and prestigious.
Naturally, I looked down on William & Mary (for literally no reason), but when I actually looked up the school and read a little bit about it, I quickly realized it was an awesome school.
Are state schools on the east coast good?
I think the east coast has a great selection of state schools, so if you live on the east coast, your state school is probably ranked relatively high.
For example, Pennsylvania has some famous state schools such as Penn State, and Maryland has one of the best state schools: UMD – College Park. Virginia is also equipped with a lot of good state schools, and I won't even start with the number of schools New York has.
If you are thinking of living on the east coast during college, you can find a top tier school in almost every state. Duke, Georgetown, Johns Hopkins, and MIT are only some of the schools you'll find along the east coast that rival the 8 Ivies.

Disclaimer: The views and opinions expressed in this article are those of the authors and do not necessarily represent those of the College Reality Check.