10 Things to Try if You Feel Unprepared for College
Below-average high school GPA, rejection letters from higher education institutions, low college grades — any of these things can easily leave you thinking that you're not smart enough for college.
A person may lack the commitment to learn a course or motivation to get high grades, but he or she isn't essentially too dumb for college. A simple change of major or even transferring to another college can help the student to find their passion and love of learning.
And while a college degree can help boost one's job market value, success in life is still possible without one.
If you believe that college is not for you, don't rush with conclusions yet. Below, you will come across a total of 10 different steps you may take if you feel like you are a fish out of water.
By the time you reach the very end of this article, you will have a much better idea of what to do without necessarily abandoning your dream of becoming a college degree holder one day.
Seek Help on the Internet
It's perfectly normal to feel too embarrassed to ask a professor, classmate or roommate a question you find too difficult to answer yourself but could probably be too easy for someone else to answer.
This is when the perk of having access to the internet comes in — by using your favorite search engine site or posting on discussion boards or online forums, you can get your hands on that elusive answer to that baffling question.
There are sites for every question related to just about every area, ranging from math, history, grammar to essay writing.
Considering how easily and quickly unanswered questions can be answered with just a few keystrokes, it's no wonder why a peer-reviewed report that appeared on the web, of course, said that college students spend significantly more time online per day than internet users in the general population.
But be warned: Not every answer you can stumble upon in cyberspace is reliable.
Besides using the internet to look for answers to some of the questions that none of your neurons can seem to answer, you can also count on it in an entirely different way, and you will find how in the following topic.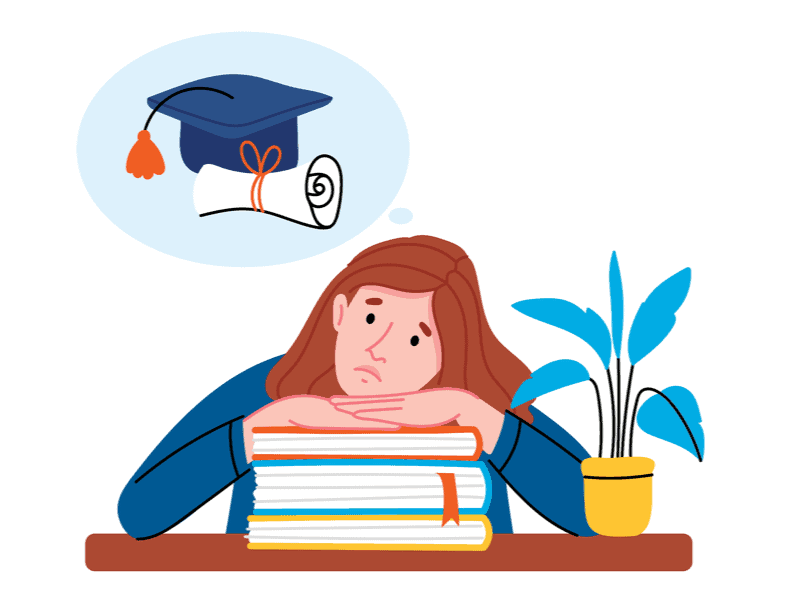 Get a Tutor
One of the wisest moves you can make when your grades are nowhere near the passing mark is seeking one-on-one assistance by allowing a tutor to spring into action.
It may not be a cost-free solution alright, but it can help free you from the notion of being the dumbest in the class.
As a matter of fact, college tutoring can help increase your chances of graduating by more than 80%. What's more, the confidence that having a tutor brings can help boost your academic performance by as much as 12%.
When it comes to hiring a tutor, you have a couple of options:
Opt for an on-campus tutor. Many college students are looking for ways to earn some cash, and tutoring students just like themselves is one of the things they do. The best places to hunt for some of the best on-campus tutors are the campus or dorm's bulletin boards and the school's online support page.
Go for an online tutor. It's perfectly normal to feel embarrassed being tutored by a schoolmate, let alone a student just like yourself. The good news is that there are also many tutors offering their services on the internet. Because it's a less awkward way to get tutored, you can focus more on studying and less on blushing.
So, the next time the thought "I feel like I can't get through college" enters your mind, don't self-pity. Instead, consider allowing a tutor, be it one from the campus or in cyberspace, to show you the way.
Grab a Study Partner
Fret not if you are not comfortable with the idea of paying someone to boss you around. That's because there is a cost-free and less nerve-racking alternative to being tutored: have a study buddy.
Based on studies, up to 23% more students passed their exams because they geared up for them with other students instead of preparing on their own.
So, in other words, if studying with someone for a couple of hours before bedtime can help you ace a test the next day, then studying with someone for a few hours a week can help you pass college.
Studying with a classmate who also believes that he or she could benefit from having a study partner works very well because of a handful of reasons:
It allows you to obtain fresh insight into the coursework.
It enables you to learn more efficient study techniques.
It allows you to stay committed to studying.
It makes studying a less stressful and nerve-racking task.
Just see to it that you opt for a study partner who is just as determined to get good grades. Otherwise, the two of you could wind up wasting precious time instead of putting it to good use, such as for passing college.
Related Article: Is Studying at 3 AM Good? Tips on Overnight Success
Adjust Course Load
To graduate from college on time, students must take 12 to 15 credits per semester (equivalent to four to five courses), which is the average course load.
But if you feel that you are unprepared for college and a full-course semester is simply too overwhelming a challenge for you to surmount, consider tweaking your course load.
Alas, most colleges and universities usually require students to have at least 12 credits per semester. But the good news is that there are always exceptions to the rule.
For instance, some schools offer various enrollment statuses such as three-quarter time, half-time and less than half-time.
Needless to say, they involve having fewer credits than 12 per semester. One example of a higher education institution that offers these various enrollment statuses is the University of Iowa.
According to the Iowa City, Iowa-based school, the different enrollment statuses are defined as follows:
Three-quarter time student status. Students are enrolled for nine to 11 credits a semester.
Half-time student status. Students are enrolled for six to eight credits a semester.
Less than half-time student status. Students are enrolled for five or fewer credits a semester.
While there are benefits to having less than 12 to 15 credits per semester, most especially to students who feel that college is simply too challenging for them, there are also some downsides to it.
For instance, you may not be eligible for certain financial aid programs. You may fail to graduate from college on time, too.
Warning: Before reducing the course load talk to your advisor first. In some cases, you need to maintain a certain number of credits to keep your scholarships and other benefits.
Skip Having a Minor
Having a minor is a must in order to earn a bachelor's degree. However, in some instances, you can get your hands on a bachelor's degree without declaring and committing to a minor.
If you can dodge a few courses, especially difficult ones, you might find it easier to survive college.
Before applying to a college or university, it's a good idea to spend some time checking out which higher education institutions do not require their students to complete a minor to graduate.
You will be more than happy to learn that many schools consider having a minor mandatory — some of them are popular and prestigious.
The following are a few examples of colleges and universities that do not require students to have a minor:
College of Charleston
Fresno Pacific University
Georgetown University
Hardin-Simmons University
Illinois College
Lindenwood University
Miami University
Paul Smith's College
Southwestern University
Stony Brook University
University of Chicago
University of Maine at Presque Isle
University of Richmond
William Paterson University
Some departments or programs do not require a minor and not the school per se. For instance, at Cornell University, students who are enrolled in its Political Analysis and Management (PAM) degree are not required by the Ivy League school to have a minor in order to graduate.
Related Article: Do College Minors Matter?
Change Majors
Did you know that up to 80% of college students in the US switch majors at least once before graduation?
So, in other words, it's not uncommon for anyone in college to change his or her major at any given time.
More often than not, it's by the end of their sophomore year when college students are required to declare a major. If you have chosen a major to beat the deadline and not because you have finally decided on one that you like, fret not — you can always change it to a different one, especially if you absolutely hate it or find it extremely challenging.
Some majors are more difficult than others. And for someone who believes that he or she is too unfit for college, it's a must to opt for ones that won't exhaust the brain too much.
The following are some of the easiest college majors to declare and complete:
Psychology
Criminal Justice
English
Education
Religious Studies
Social Work
Sociology
Communications
History
Health
Liberal Arts
Creative Writing
Anthropology
Linguistics
Music
Humanities
Architecture, chemical engineering, biomedical engineering, mechanical engineering, physics, chemistry, astronomy — these, on the other hand, are some of the hardest college majors. So, if finishing college no matter what is more important than earning a specific degree, stay away from any of these majors at all costs.
So, if the question "am I not cut out for my major?" is always leaving you with sleepless nights, consider the fact that maybe you just picked the wrong major.
Change it like the majority of college students do.
Related Article: When Is It Too Late to Change College Major?
Transfer to Another College
Many of the brightest students in high school end up attending the most competitive colleges and universities in the nation.
For people who are not that confident with their ability to shine in college, going to one of those selective schools is a terrible idea. Otherwise, they will be eaten alive by their high-performing classmates.
If you feel that you don't belong to the institution you are currently going to because everyone else is too smart, consider packing your bags and moving to a different school.
But don't just transfer to any college or university — move to one with an open admissions policy.
A school with an open admissions policy will accept any applicant, provided that he or she has a high school diploma. Someone who doesn't have a high school diploma but an equivalent, such as a General Educational Development (GED) certificate, will be accepted by the institution, too.
With no need to meet minimum GPA and SAT or ACT scores, it doesn't come as a surprise why a lot of students with below-average high school grades and standardized test scores flock to open-admissions colleges and universities.
As a result of this, it's not unlikely for you to excel even in challenging courses!
Attend an Online School
There are many reasons why students drop out of college. One of them is the unexpected academic demands. It's not unlikely for those who cannot keep up with their classes to be inclined to quit altogether.
According to the National Center for Public Policy and Higher Education (NCPPHE), a non-profit organization that promotes public policies that enhance Americans' opportunities to pursue and achieve high-quality education and training beyond high school, almost 60% of first-year college students realize that they are not ready for postsecondary studies.
Suppose your inability to understand complex topics leaves you feeling embarrassed, which can keep you from catching up with everyone else even more. In that case, you may consider becoming an online student.
Especially if you go to an online school offering asynchronous learning, you might find it easier to complete your program of choice.
This means that you can attend to your coursework at any given time and in the privacy of your own home. On the other hand, synchronous classes require you to participate in real-time with your classmates and professors.
So, if you're feeling like a failure at a university, give distance learning via the internet a try.
However, keep in mind that an online program requires as much hard work and commitment as a traditional program. The only difference is that you get to complete it without stepping foot inside a physical classroom.
Related Article: Is Online or Traditional College Harder and Why
Get a Part-Time Job
It may sound counterintuitive for students who feel that they are not cut out for college, but having a part-time job can, in fact, be extremely beneficial for them.
Getting a job can improve the confidence, sense of responsibility and time-management skills of students, all of which can help them become better college students.
Simply put, being employed provides them with a wide variety of tools necessary to keep them working hard until they earn their respective degrees.
The training and experience they can get also help increase their job market value after graduation.
Besides qualities that can facilitate breezing through college, having a part-time job allows you to earn paychecks. The cost of earning a degree has increased dramatically in the last 10 years (more than 25% at private institutions and nearly 30% at public institutions), which is why getting employed is a smart move.
However, as much as possible, avoid having a full-time job.
That's because the same studies that say having a job is good for college students also admit that working more than 15 to 20 hours a week often results in reduced college success, which can lead to dropping out.
Take a Break
Last but definitely not least, take a semester or a full year off for the meantime instead of completely turning your back on earning a college degree.
Your courses are leaving you exhausted and your grades are heading south, but maybe it's just some sort of culture shock.
After all, it's not uncommon for most freshman students to have a hard time adjusting to college. Because of this, rather than break your parents' hearts by quitting college, consider merely taking a break from college.
And when you come back, you might find it easier to flourish in a world that's so much bigger than high school.
As a matter of fact, according to the Gap Year Association (GYA), which is the official Standards Development Organization in the US for gap year education, as recognized by the US Department of Justice and the Federal Trade Commission, up to 90% of students who return to college after a year off usually obtain higher grades than their classmates.
So, whenever the thought "I feel like I don't belong in college"' pops into your mind, consider the possibility that maybe all you need is a break to give your mind and body enough time to gear up for the rigors of college.
Takeaway
Feeling that the college is not for you can make you think about dropping out or if you are yet to enroll, forget about sending applications to various colleges and universities altogether.
Turning your back on earning a college degree may feel like it's the only option. However, knowing that it could be your chosen program, major, school, or even learning approach to blame for feeling like your brain is not cut for college can keep you from second-guessing yourself.
Above, we talked about 10 of the smartest steps you may take if you feel like you're not smart enough. See which of them can change your mind so that you can continue to work on your degree and change your life forever.
Read Next: Things to Do If You are Scared to Go to College

Disclaimer: The views and opinions expressed in this article are those of the authors and do not necessarily represent those of the College Reality Check.