Nursing is a college major that paves the way for various nursing career options. Basically, it equips you with the knowledge and skills necessary not only to take care of sick patients but also to work in various healthcare settings.

The median annual salary of registered nurses in the US is $77,600.
On the other hand, the best-paid 25% of them earn an average of $97,580 per year. Indeed, majoring in nursing allows you to become one of the highest-paid professionals in the country.
But is it actually the right major for you?

Keep reading to learn more about nursing so that you can determine whether or not you should major in it.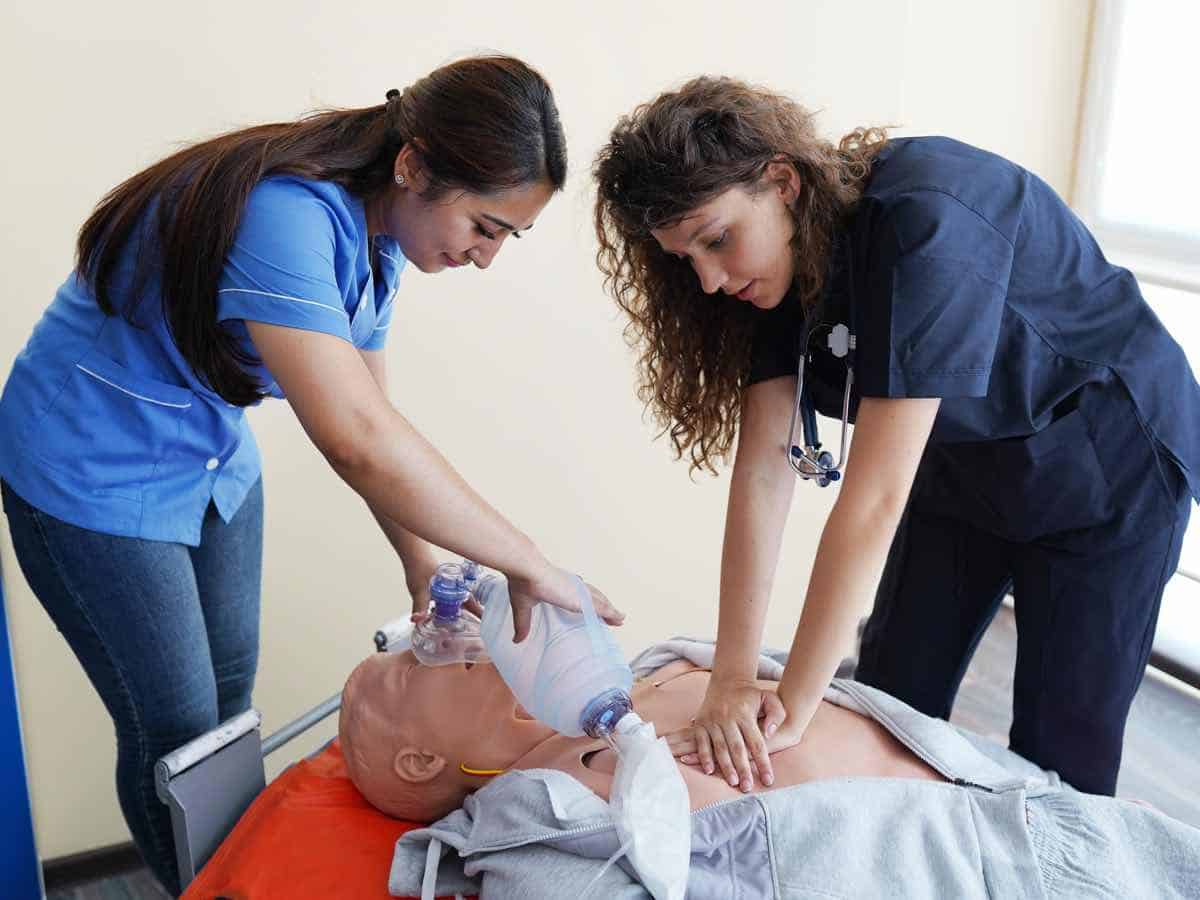 5 Myths About Degrees and Career in Nursing
Nursing can be a rewarding and satisfying career.
However, it's not unlikely for some degree-seeking students to have second thoughts about majoring in nursing even if they would love to become nurses one day.
That's because myths and misconceptions about nurses and nursing come aplenty.
Let's dispel some of those fallacies so that you can major in nursing without any doubt or hesitation:
1. Nurses work as nurses only
It's true that up to 61% of registered nurses work in hospitals, says a report by the US Bureau of Labor Statistics (BLS).
However, the fact is that nursing is a surprisingly diverse field — there are many alternative jobs for nurses, in particular those that allow them to work in non-clinical settings.
2. Nursing is exclusive to females
Only 12% of all nurses in the country are males as of this writing. But that's a great feat as there are more male nurses than ever — in 1970, for instance, only 2.7% of all US nurses were males.
3. Nurses just follow a doctor's orders
Doctors and nurses have different roles.
Today's nurses have the decision-making power to step in for patients requiring immediate attention for as long as it's within their scope of practice, which means that they don't simply take orders.
As a matter of fact, registered nurses have a legal responsibility to correct a doctor's mistake.
4. Nursing is an easy major
Just because caring for people seems easy doesn't mean that majoring in nursing should be effortless.
The majority of nursing programs are competitive and thus require high GPAs.
Majoring in nursing also means taking challenging courses such as biology, chemistry and psychology.
Plus there are many exams nursing majors have to take and pass, too, in order to demonstrate competence, including the National Council Licensure Examination (NCLEX-RN).
5. Nurses can easily land jobs
It's true that the US has been facing a shortage of nurses for almost a decade now.
Still, hiring managers at medical facilities and other industries employ only the best — the employment rate for nurses from 2020 to 2023 is projected to grow by 9%, which is almost just as fast as the growth rate for all occupations (8%).
How to Know If You Should Major in Nursing
It's not enough for degree-seeking students to want to become registered nurses one day in order to major in nursing.
They should also be willing to study a lot in college, review for the nationwide exam for the licensing of nurses after graduation, and take on a stressful and challenging job.
Up to 50% of all incoming college students are undecided as to which discipline they want to major in.
Want to have a much better idea of whether or not you should major in nursing? Read the following questions and answer each one with either a "yes" or "no" from the heart:
Are math, a handful of soft sciences and a bunch of hard sciences your favorite subjects?
Don't you mind studying for up to 16 to 17 hours per week?
Have you always been told you exhibit flexibility, adaptability and resilience?
Is helping people and making a positive impact in their lives your absolute passion?
Do you possess good communication, detail-oriented and problem-solving skills?
Can you handle working in a stressful and frantic work environment and for long hours, too?
Do you handle unpleasant and sometimes even devastating situations quite well?
If you answered "yes" to most or all of the questions above, chances are that nursing might be the right major for you.
But keep reading until the very end of this post.
After checking this out, you will be able to figure out if you should major in nursing and if nursing is the right career for you in the future.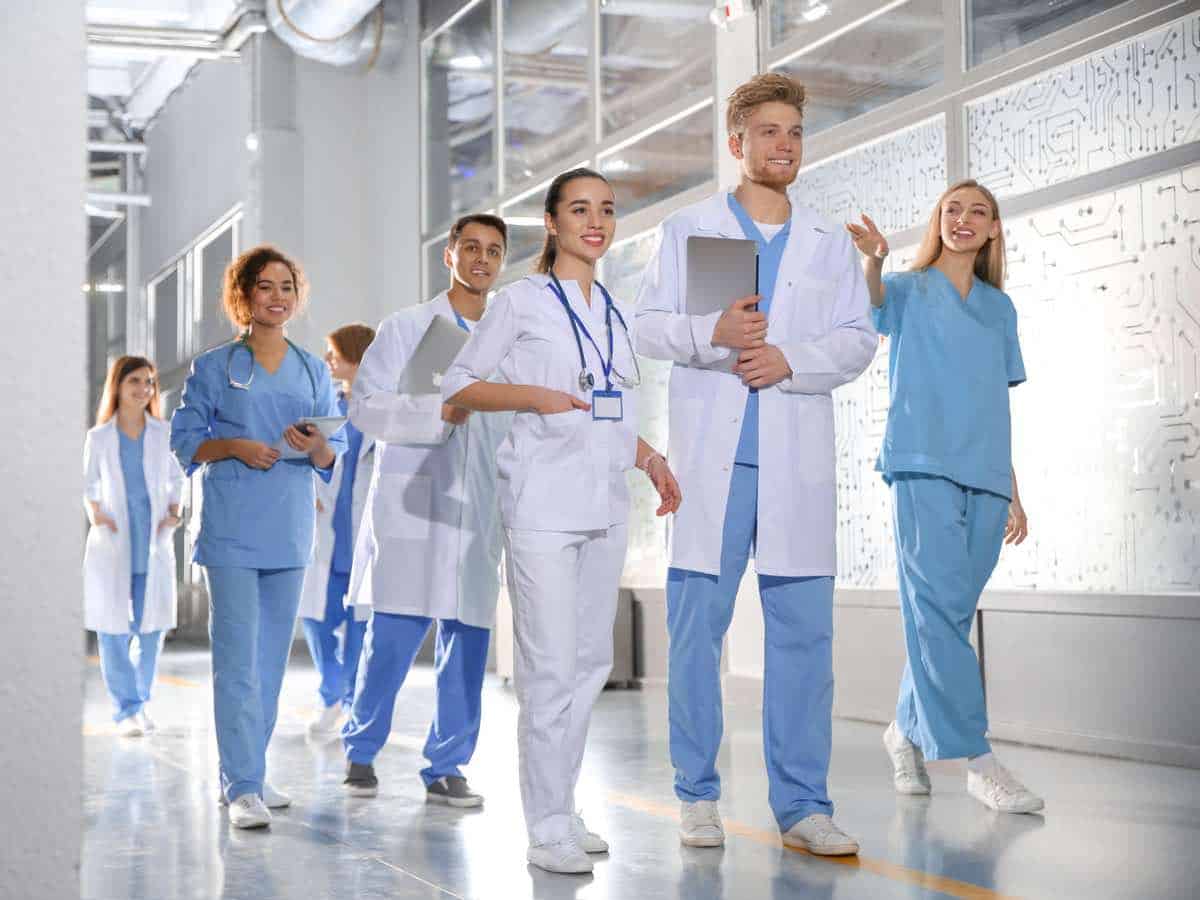 Is Nursing Hard in College?
Nursing is notorious for being a difficult major in college. As a matter of fact, any listing of the most difficult majors is likely to put nursing near the top. According to a report by the National League for Nursing (NLN), the dropout rate for all bachelor's degree programs in the US amounts to 20%.
First things first: if you want to major in nursing, make sure that you really, really want to major in it.
It's for the fact that it's not an easy major — there are simply lots of books to read, tons of information to memorize and loads of nursing concepts and practical nursing skills to master!
But although it can be extremely challenging, completing a bachelor's program in nursing is possible, especially for passionate and hardworking students.
Here's something that will give you a quick idea of just how challenging nursing as a major can be: nursing majors are some of the most sleep-deprived college students in the US.
To put that into context, here's a partial listing of The Tab's sleep survey:
| | |
| --- | --- |
| MAJOR | HOURS OF SLEEP PER NIGHT |
| Architecture | 5.28 |
| Nursing | 5.69 |
| Biochemistry | 5.69 |
| Creative writing | 5.75 |
| Ecology | 5.75 |
| Linguistics | 5.88 |
| Fashion | 5.9 |
| Chemistry | 5.92 |
| Sports science | 5.92 |
| Music | 6 |
| Anthropology | 6 |
| Computer science | 6 |
| Urban planning | 6.01 |
| Physics | 6.04 |
| Engineering | 6.05 |
| Marketing | 6.05 |
| Physical education | 6.07 |
| International relations | 6.08 |
| Animal science | 6.08 |
| Dentistry | 6.08 |
Bachelor's programs in nursing consist of general education classes, electives and core courses, which can vary from one program to the next, depending on the curriculum or college or university.
The following are some of the most important courses nursing majors usually have to take:
Anatomy and physiology
Emergency care
Family, community and population-based care
Health assessment
Microbiology
Nursing ethics
Nursing research
Nursing theory
Nutrition
Pharmacology
Psychology
Public and global health
Statistics
A fundamental component of majoring in nursing is the clinical experience. Simply put, it allows students to participate in real-world health care environments, albeit supervised by experienced nursing practitioners and educators.
Clinical rotations can take place in a wide variety of healthcare departments and facilities, ranging from emergency rooms and out-patient clinics to community hospitals, trauma centers and mental health units.
Typically, the clinical experience begins after nursing majors have completed their nursing theory coursework and labs.
What Can You Do With Degree in Nursing
Individuals with a Bachelor's of science in nursing can work as bedside nurses in medical settings. However, they can also choose to pursue non-bedside careers, which come aplenty. Some popular examples include nursing informatics specialists, health policy nurses, prison nurses, and forensics nurses.
Earlier, we dispelled the myth that nurses work in hospitals and other medical facilities only.
If you are planning on majoring in nursing but fear that you only have one career option after graduation, better think again.
The fact is that there are many majors similar to nursing waiting for you!
Here are some non-bedside careers for registered nurses that you may find unique, interesting and exciting:
1. Nursing informatics specialists
Also sometimes referred to as informatics nurses, nursing informatics specialists are registered nurses who are skilled not only in the provision of care but also in the development as well as utilization of healthcare technology.
What they do is collect and analyze data and use their findings to design and implement projects, usually about improving patient care and outcomes, too.
While entry-level nursing informatics specialist jobs are available for individuals with a bachelor's in nursing, higher-level positions may be reserved for those with a master's of science in nursing.
Average annual salary of nursing informatics specialists: $102,230.
2. Flight nurse
Registered nurses working as flight nurses are responsible for providing care, including life-saving treatments, and monitoring patients aboard any aircraft, which means that they can work in civilian and military settings.
Flight nurses are also tasked with preparing patients to be handed off to doctors at their destinations.
Besides having the knowledge, skills and work experience of registered nurses, flight nurses should also be able to work in confined spaces comfortably as well as put up very well with the physical and mental demands of the job.
Average annual salary of flight nurses: $81,093.
3. Diabetes educator
What nursing majors serving as diabetes educators do is support and educate individuals diagnosed with diabetes. They guide diabetic patients in reducing diabetes-related risks and complications and improve their overall health, too.
There are many different settings in which diabetes educators can be found. Some of them work at community health centers, public health agencies and physicians' offices.
And then there are also those who serve as telehealth practitioners, helping diabetes patients as well as their respective families remotely.
Average annual salary of diabetes educators: $80,499
4. Health policy nurse
Simply put, health policy nurses are major role players in coming up with and communicating public health-related policies, the goal of which is to improve the overall health and wellness of the members of the society.
An important part of the job of health policy nurses is advising the government, policymakers, public health organizations, public health professionals, advocacy groups and think tanks on public health and the provision and accessibility of care.
Most health policy nurses, however, have a master's of science in nursing.
Average annual salary of health policy nurses: $79,178
5. Cruise nurse
What's really great about cruise nurses is that they get to visit beautiful places while working.
But they can be extremely busy, too, since they are responsible for the care not only of travelers but also the staff members.
Their tasks range anywhere from providing first aid, monitoring people in the sick bay and administering medications.
It's important for registered nurses thinking of working as cruise nurses to be able to spend extended amounts of time away from their family and friends. Of course, having sea sickness is a complete no-no!
Average annual salary of cruise nurses: $76,283
6. Environmental health nurse
Instead of providing direct patient care, the primary role of environmental health nurses is to identify various environmental issues that can affect the health and wellness of the community.
Commonly, environmental health nurses can be found outside where they need to utilize their research, analytical thinking and problem-solving skills.
They also spend a great deal of their time in an office setting where they are busy examining data and developing programs that can help reduce environment-related health risks.
Average annual salary of environmental health nurses: $74,839
7. Nurse care manager
What nurse care managers do is determine the right care plan for patients after an assessment using a variety of data points and clinical tools. They also educate patients on the prescribed treatment plans for them.
Some employers hire nurse care managers with an associate degree in nursing. However, many prefer those with a bachelor's in nursing.
Obtaining a certification, such as the Commission for Case Manager Certification (CCMC) or ANCC Nurse Case Manager Certification, increases a registered nurse's marketability as a nurse care manager.
Average annual salary of nurse care managers: $71,077
8. Prison nurse
Also sometimes referred to as correctional nurses, prison nurses are those who work at prisons and correctional facilities in order to conduct initial health screenings and overall health assessments of incarcerated individuals.
They are also tasked with providing treatment for minor injuries and illnesses as well as performing first aid and emergency care.
It's important for prison nurses to possess good communication and empathic skills since they have to deal with people from all walks of life. They also need to be able to survive in a high-stress environment.
Average annual salary of prison nurses: $73,017
9. Forensic nurse
Simply put, forensic nurses are registered nurses who are tasked with providing care to individuals who experienced violence or victimization.
In addition, they obtain physical evidence from the bodies of victims of crimes, whether living or already dead, warranted for criminal investigations.
Pursuing certifications can make registered nurses qualify better as forensic nurses.
For instance, they may choose to obtain the sexual assault nurse examiner (SANE) certification from the International Association of Forensic Nurses (IAFN).
Average annual salary of forensic nurses: $65,047
10. Camp nurse
As the job title suggests, camp nurses work on campgrounds.
Besides treating minor injuries and illnesses, it's also a part of the role of camp nurses to verify the health status of campers upon arrival as well as before they are allowed to partake in games and other campground activities.
Needless to say, registered nurses who love the great outdoors make for some of the best camp nurses. They should also be able to multitask and work independently with very little to no support from the staff members.
Average annual salary of camp nurses: $47,560
Good Minors for Nursing Majors
According to NurseJornal, the following are some of the best minors for Nursing majors:
| Minor | Description |
| --- | --- |
| Healthcare Administration | Learn the ins and outs of healthcare management and administration. |
| Geriatrics | Study the unique healthcare needs of older adults. |
| Hospital Administration | Explore the business side of healthcare, including financial management and operations. |
| Communication | Develop strong communication skills that are valuable in any field. |
| Computer Science | Learn about technology and its applications in healthcare. |
| Leadership | Learn how to lead and manage teams effectively. |
| Psychology | Study human behavior and mental health. |
| Nutrition | Learn about nutrition and how it impacts health. |
| Sociology | Study social structures and how they impact health and healthcare. |
| Foreign Language | Develop language skills that can be useful in multilingual healthcare settings. |
Best Schools for Nursing
Many highly ranked public and state colleges and universities are good for nursing majors. There are also online schools for students who like to become registered nurses.
Most bachelor's of science programs offered by US institutions are accredited by the Commission of Collegiate Nursing Education (CCNE).
Besides CCNE, other accreditors of nursing programs in the country include the Accreditation Commission for Education in Nursing (ACEN) and the National League for Nursing Commission for Nursing Education Accreditation (NLN CNEA).
Here are some of the top schools for students who plan on majoring in nursing:
| | | |
| --- | --- | --- |
| INSTITUTION | ACCEPTANCE RATE | ESTIMATED COA |
| University of Pennsylvania | 9% | $81,110 |
| Duke University | 8% | $77,069 |
| University of Washington | 56% | $29,319 (in-state) and $56,688 (out-of-state) |
| Emory University | 19% | $72,884 |
| University of Michigan – Ann Arbor | 26% | $31,484 (in-state) and $67,802 (out-of-state) |
| University of North Carolina at Chapel Hill | 25% | $24,546 (in-state) and $51,725 (out-of-state) |
| New York University | 21% | $77,632 |
| University of Pittsburgh | 64% | $35,146 |
| Case Western Reserve University | 30% | $72,128 |
| Ohio State University | 69% | $28,664 (in-state) and $50,648 (out-of-state) |
| University of Alabama at Birmingham | 81% | $27,630 (in-state) and $39,462 (out-of-state) |
| University of California – Los Angeles | 14% | $36,787 (in-state) and $66,541 (out-of-state) |
| University of Iowa | 84% | $25,376 (in-state) and $47,339 (out-of-state) |
| University of Maryland – Baltimore | 70% | $27,118 (in-state) and $42,752 (out-of-state) |
| University of Minnesota – Twin Cities | 70% | $28,827 (in-state) and $47,125 (out-of-state) |
| University of Virginia | 23% | $35,664 (in-state) and $68,865 (out-of-state) |
| Boston College | 26% | $78,572 |
| University of Illinois – Chicago | 73% | $30,968 (in-state) and $45,318 (out-of-state) |
| University of Rochester | 35% | $77,995 |
| University of Wisconsin – Madison | 57% | $27,158 (in-state) and $55,046 (out-of-state) |
Best Schools for Nursing
As mentioned earlier, it's also possible to earn a bachelor's in nursing online.
Top Online Universities for Nursing
But before you enroll, see to it that the institution and the nursing program it offers are both legit and accredited.
It's also important to check whether the program is 100% online or a mixture of online and in-person classes (hybrid), although chances are that you will have to attend actual clinical rotations in order to be able to complete the program.
Here are some legit online schools where you can earn an online bachelor's degree in nursing:
University of Arkansas at Little Rock
Location: Little Rock, Arkansas
Cost: $280.00 (in-state and out-of-state) per credit hour
Acceptance rate: 56%
Accreditor: Higher Learning Commission (HLC)
Southeastern Louisiana University
Location: Hammond, Louisiana
Cost: $375.00 (in-state and out-of-state) per credit hour
Acceptance rate: 97%
Accreditor: Southern Association of Colleges and Schools Commission on Colleges (SACSCOC)
Lewis University
Location: Romeoville, Illinois
Cost: $610.00 per credit hour
Acceptance rate: 66%
Accreditor: Higher Learning Commission (HLC)
University of North Florida
Location: Jacksonville, Florida
Cost: $212.98 (in-state) and $693.11 (out-of-state) per credit hour
Acceptance rate: 80%
Accreditor: Southern Association of Colleges and Schools Commission on Colleges (SACSCOC)
AdventHealth University
Location: Orlando, Florida
Cost: $540.00 per credit hour
Acceptance rate: 51%
Accreditor: Southern Association of Colleges and Schools Commission on Colleges (SACSCOC)
Just Before You Major in Nursing
Majoring in nursing is not the easiest. But in exchange for all your hard work in college and the NCLEX-RN, too, is a high-paying and highly rewarding career.
Also, earning a bachelor's in nursing doesn't mean taking on a bedside job after graduation — there are numerous non-bedside career options available as well.
Read Next: All About Radiology Major

Disclaimer: The views and opinions expressed in this article are those of the authors and do not necessarily represent those of the College Reality Check.