Is Ohio State University a Good School?
There are many things Ohio is known for. For one, it's the birthplace of the Wright Brothers and NASA astronauts Neil Armstrong and John Glenn. Then it's also where the iconic Rock and Roll Hall of Fame is located. The Buckeye State is also home to Ohio State University (OSU), but does this mean it's a good school worthy of attention, too?
Ohio State University is a good school in terms of rankings and the fact that it's the flagship of both the state of Ohio and the University System of Ohio. OSU is also ideal for degree-seeking students who like to make parties, sports, and Greek life integral components of their college experience.
Here's an OSU fact that will surely put a smile on your face: the school was once chosen by CBS MoneyWatch as one of the 25 state universities with the happiest first-year students.
And before we talk about Ohio State University more, check out these fact stats:
Location: Columbus, Ohio
Founding date: 1870
Motto: Disciplina in civitatem (education for citizenship)
Campus size: 1,600 acres
Campus type: Urban
School type: Conservative public land-grant research university
Reputation: Party school
Selectivity level: Moderately selective
Number of majors: Over 200
Popular majors: Business, Communications, Engineering, Finance, Psychology, Social Sciences
Student body: 61,369 (as per Common Data Set 2020 to 2021)
Students per class: 20 to 29 in most classes
Student-to-faculty ratio: 19:1
Retention rate: 94%
Graduation rate: 83%
Athletic affiliation: NCAA Division I
Color: Scarlet and gray
Mascot: Brutus Buckeye
Number of varsity teams: 33
Sports: Basketball, baseball, cross country, fencing, field hockey, football, golf, gymnastics, ice hockey, lacrosse, rowing, soccer, softball, swimming and diving, tennis, track and field, volleyball, wrestling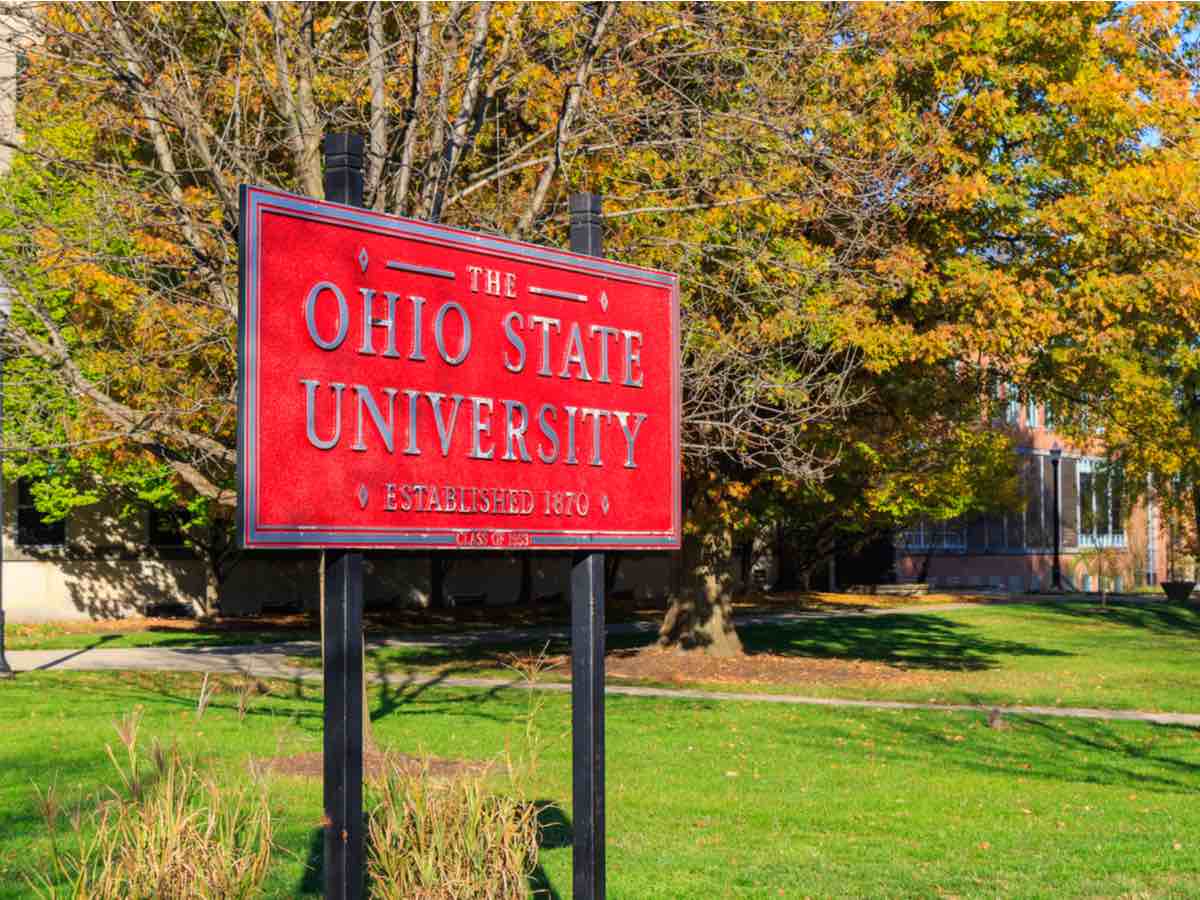 Ohio State University Rankings
Ohio State University, based on college rankings alone, is one of the best schools in the country and the top in the Buckeye State. For instance, it's #17 in Top Public Schools and #49 in National Universities by US News. OSU, on the other hand, is #1 in Top Public Universities in Ohio by Niche.
It's not uncommon for flagship schools of university systems and states to rank highly.
True enough, Ohio State University is one of the most highly ranked institutions in the US and Ohio. But it doesn't necessarily mean that it's the perfect fit for you. It's just that when compared with similar schools, OSU, in the eyes of various college ranking sites, is one of the best.
Checking out rankings of national universities will reveal the fact that Ohio State University is one of the top-notchers. It also dominates the scene locally and regionally. Just take a look at the following OSU rankings:
#1 in Best Big Colleges in Ohio (Niche)
#1 in Best Colleges and Universities in Ohio (College Consensus)
#1 in Best Public Colleges in Ohio (College Simply)
#1 in Top 10 Colleges in Ohio (Best Colleges)
#1 in Top Universities in Ohio (UniRank)
#6 in Best Colleges in Ohio (College Factual)
#12 in the Midwest (Forbes)
What is Ohio State University Known For?
Ohio State University is known for being a Public Ivy and a high-ranking flagship school of a state and a university system. It's also renowned for its cancer hospital and research center, the James Cancer Hospital, and Solove Research Institute. OSU's 1,600-acre campus houses over 10 museums and galleries.
Students who want to complete an academic program on a large campus with an urban setting are the ones that Ohio State University tends to attract the most.
As a party school, naturally, many of its admitted students know how to have some fun and excitement. But this does not mean that its admits are not serious about earning a degree. As a matter of fact, OSU has a graduation rate of 83%, which is so much higher than the average graduation rate at public colleges and universities in the US: 63%.
Some of the most popular majors at OSU include:
Accounting
Agricultural Sciences
Biology
Communications
Criminal Justice
Economics
Engineering
Finance
Marketing
Medical Assistant
Nursing
Political Science
Psychology
Social Sciences
OSU is a good school for student athletes or those who are into sports. This is evidenced by the fact that it has more than 30 varsity teams. To date, Ohio State University has eight claimed national titles and 41 conference titles.
Basketball, baseball, football, track and field — OSU is best known for these varsity sports.
In Columbus where the Ohio State University campus is located, there are parks, museums, galleries, aquariums, and memorials to visit. There are also various designer retail stores, restaurants, breweries, clubs, and sports and recreation centers available for OSU students who wish to unwind.
And speaking of sports and recreation, there are professional and collegiate games all year long in Columbus.
Is Ohio State University a Party School?
Playboy named Ohio State University as one of the top ten party schools in the US back in 2012. In the same year, the magazine named OSU the top school for sporting life. These days, it's known as one of the biggest party schools in Ohio. In fact, Niche ranks OSU #3 in Top Party Schools in Ohio.
According to a student poll, at Ohio State University, the majority of attendees agree that there are plenty of party options, especially from Wednesday to Saturday.
Earlier, it was mentioned that OSU is only #3 in Top Party Schools in Ohio by Niche.
But the good news for aspirants who want to earn a degree and enjoy a healthy social life at the same time is that Niche ranks the school #1 in Colleges With the Best Student Life in Ohio. What's more, the college ranking site ranks it #1 in Best College Athletics in Ohio, #3 in Most Diverse College in Ohio, and #4 in Best Greek Life Colleges in Ohio.
There are more than 1,400 student clubs and organizations at OSU. According to the school itself, over 50% of its studentry are involved in one or more of them.
Schools Similar to Ohio State University
Ohio State University is often compared with various public institutions located in Ohio. Some of them include Miami University, Cleveland State University and Kent State University. Many of those who apply to OSU also consider applying to the likes of Virginia Tech and the University of Michigan.
If an OSU experience is what you want after high school, you will be more than happy to know that there are so many schools similar to Ohio State University you may add to your college list.
The majority of them are, it goes without saying, highly ranked public institutions, too. Some are located in Ohio, while others are situated elsewhere. There are also a few private institutions often compared with OSU that you might want to consider when shortlisting colleges and universities.
Without any more ado, let's check out some schools similar to Ohio State University:
Cleveland State University. The acceptance rate at Cleveland State University is 94%. First-year admits have an average GPA of 3.39, an SAT score range of 980 to 1210, and an ACT score range of 19 to 25.
George Washington University. In Washington, DC, George Washington University is the largest institution for higher education. Founded in 1821, it offers more than 75 majors.
Kent State University. One of the schools known to provide good value for international students is Kent State University. Almost 10% of its studentry (26,597 as of this writing) are international students.
Kenyon College. Because it's also known as the Writer's College, it isn't surprising why some of the most popular majors at Kenyon, which is a highly ranked liberal arts school, are English Language and Literature.
Miami University. Known as a Public Ivy, Miami University was founded in 1809. This makes it the second-oldest university in the state of Ohio and the tenth-oldest public university in the US.
Pennsylvania State University. One of the most well-known research universities in the US is Pennsylvania State University. In fact, for the fiscal year 2020 to 2021, its research costs reached $993.1 million.
Purdue University. In 1895, ten top public universities in the US united to form standards for intercollegiate athletics. One of them is Purdue University, which is a public school in West Lafayette, Indiana.
University at Buffalo. The flagship of the State University of New York (SUNY) System, University at Buffalo is ranked #3 in Top Public Universities in New York by Niche and #38 in Top Public Schools by US News.
University of Michigan. Considered a Public Ivy, the University of Michigan has an acceptance rate of 23%. It has a large campus, diverse student body and top party school reputation.
Virginia Tech. A former military technical institute, Virginia Tech encourages its students to reinvent the future. Some of the public school's top majors include Mechanical Engineering and Civil Engineering.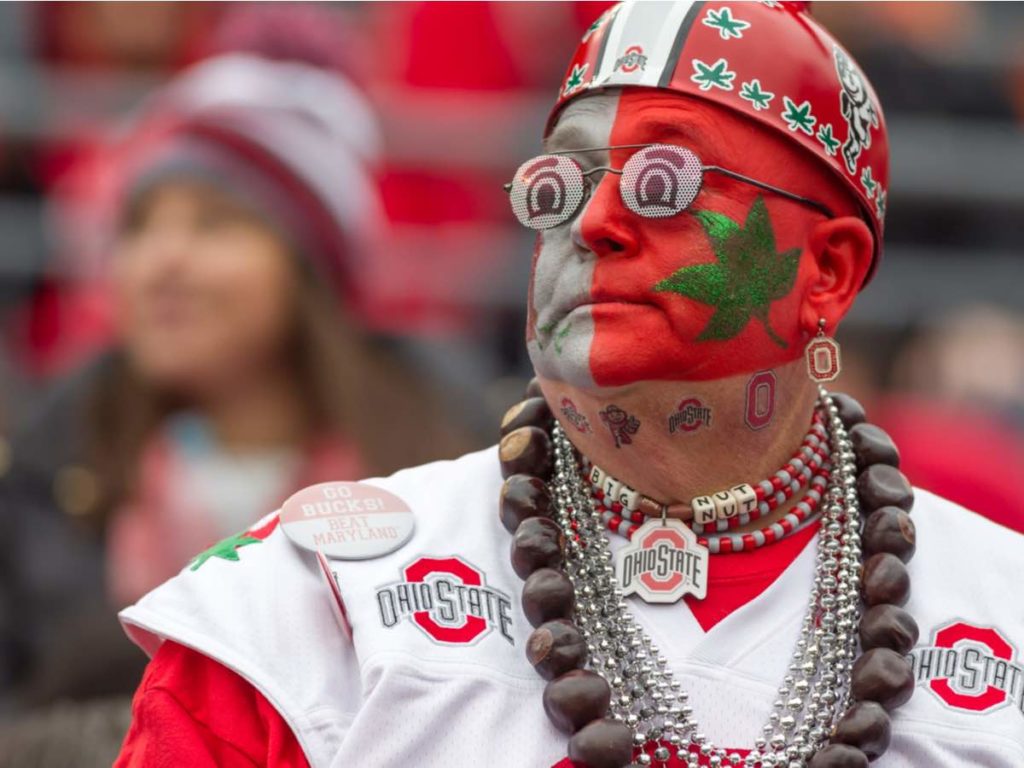 Acceptance Rate at Ohio State University
A little more than half of all applicants at Ohio State University receive an offer to attend as first-year students. With an acceptance rate of 54%, the school has a moderate selectivity level. In the state of Ohio, OSU is in the top 20 colleges and universities with the lowest acceptance rates.
Provided that you have a strong overall application, your chances of getting into Ohio State University are high.
Most first-time, first-year students that end up attending OSU have SAT scores ranging from 1230 to 1390. Meanwhile, admits who took the ACT have composite scores of anywhere from 26 to 32.
In terms of GPA, like many colleges and universities, Ohio State University does not have any published minimum requirement. But it's important to note that the high school GPA is one of the most important academic admissions factors at the school. The same is true for class rank, if applicable.
Speaking of which, here's a table showing the percentage of students accepted into OSA according to class rank:
| | |
| --- | --- |
| CLASS RANK | PERCENTAGE |
| Top 10% of high school graduating class | 55% |
| Top 25% of high school graduating class | 90% |
| Top 50% of high school graduating class | 99% |
| Bottom 50% of high school graduating class | 1% |
| Bottom 25% of high school graduating class | 0% |
Fret not if your high school does not have a ranking system. That's because Ohio State University's admissions officers will simply scrap class rank from the list of admissions factors while evaluating your application. In fact, only 39% of admitted first-year students submitted their high school class rank.
Just to give you a much better idea of OSU's selectivity level, check out this table of some of Ohio's colleges and universities arranged according to acceptance rate:
| | | |
| --- | --- | --- |
| NAME | LOCATION | ACCEPTANCE RATE |
| Kettering College of Medical Arts | Kettering | 22% |
| Art Academy of Cincinnati | Cincinnati | 27% |
| Case Western Reserve University | Cleveland | 27% |
| Denison University | Granville | 29% |
| Kenyon College | Gambier | 34% |
| Oberlin College | Oberlin | 36% |
| Cleveland Institute of Music | Cleveland | 37% |
| Wilberforce University | Wilberforce | 39% |
| Good Samaritan College of Nursing | Cincinnati | 41% |
| Defiance College | Defiance | 50% |
| Aultman College | Canton | 51% |
| The Christ College | Cincinnati | 52% |
| Virginia Marti College | Lakewood | 52% |
| God's Bible School and College | Cincinnati | 53% |
| Hondros College | Westerville | 53% |
| Ohio State University | Columbus | 54% |
| Bluffton University | Bluffton | 55% |
| College of Wooster | Wooster | 55% |
| Central State University | Wilberforce | 57% |
| Lake Erie College | Painesville | 57% |
Early Admissions at Ohio State
Ohio State University does not offer Early Decision to applicants who are 100% sure that they will attend the school if accepted. However, it has Early Action, which is non-binding. Applying Early Action comes with benefits such as early decision notification and consideration for competitive aid.
Everyone knows that the college application season is one of the busiest and most exhausting parts of being a high school student. And this is why many get it over and done with by applying earlier than everybody else.
Applying Early Decision is the perfect admission plan for one's top-choice school.
Unfortunately, if Ohio State University is at the top of your college list, applying Early Decision is not an option. That's because the school does not offer such an admission plan. But the good news is that you may apply Early Action, which is just like Early Decision. However, it's non-binding and may not come with a higher acceptance rate than usual.
Here are some of the most important dates OSU aspirants need to remember:
| | | |
| --- | --- | --- |
| ADMISSION PLAN | DEADLINE | DECISION NOTIFICATION |
| Early Action | 1-Nov | 31-Jan |
| Regular Decision | 1-Feb | 31-Mar |
According to Ohio State University's admissions office itself, applicants who wish to be considered for most university merit scholarships and higher awards should consider applying Early Action.
The same is strongly recommended, though not required, for those who are interested in majors in the College of Engineering, the Morrill Scholarship Program, and Honors and Scholars Programs. Needless to say, beating the November 1 application deadline increases your chances of getting your expected reply from OSU.
While there are perks to applying Early Action, there are also a few downsides.
For instance, you will have to complete your application and gather all the required materials ahead of everybody else. In addition, you will not be able to count on your later test score and senior grades to boost your application.
How Much Does It Cost to Attend Ohio State University?
Based on the academic year 2021 to 2022 rate, the sticker price of Ohio State University is $27,912 for in-state students. The amount climbs to $48,889 for non-Ohio residents. At OSU, up to 45% of first-year students receive need-based financial aid, with each awardee getting about $12,789 a year.
As of this writing, the average cost of tuition and fees at public colleges and universities in Ohio amount to $6,791 for in-state students and $20,177 for out-of-state students.
Related Article: 425 Colleges Charging In-State Tuition for Out-of-State Applicants
Going to Ohio State University for one year is more expensive than attending most other public institutions in the Buckeye State, based on tuition and fees alone. In fact, the tuition and fees for non-Ohio residents are nearly thrice more expensive than those for Ohio residents — $32,061 vs. $11,084.
Here's a breakdown of the sticker price of OSU, according to the academic year 2021 to 2022 rate:
| | | |
| --- | --- | --- |
| EXPENSES | IN-STATE COSTS | OUT-OF-STATE COSTS |
| Tuition and fees | $11,084 | $32,061 |
| Books and supplies | $1,082 | $1,082 |
| Room and board | $12,748 | $12,748 |
| Miscellaneous | $2,998 | $2,998 |
| TOTAL | $27,912 | $48,889 |
How Much Do Ohio State University Graduates Make?
The initial annual salary of Ohio State University graduates six years after attending the school for the first time amounts to $39,300. It climbs to $50,600, which is 48% higher than the national median for employed individuals across various professions, ten years after initial enrollment at OSU.
When building a college list, many graduating high school students and their parents consider the return of investment (ROI). In some instances, it's something they take into account to determine if a degree is worth it.
As the cost of higher education has increased by over 25% in the last ten years, obtaining a good ROI from college warrants plenty of thought and planning. And one integral part of figuring out ROI is having an approximation of one's lifetime earnings, which can be affected by a handful of things, including the major.
Below is a table showing the average initial yearly salaries of OSU graduates by major:
| | |
| --- | --- |
| MAJOR | YEARLY EARNINGS |
| Industrial Engineering | $70,700 |
| Mechanical Engineering | $70,600 |
| Electrical Engineering | $69,700 |
| Communications Engineering | $69,700 |
| Computer Engineering | $69,000 |
| Chemical Engineering | $66,700 |
| Computer and Information Sciences | $63,700 |
| Registered Nursing | $60,300 |
| Nursing Administration | $60,300 |
| Agriculture | $59,600 |
| Civil Engineering | $58,800 |
| Finance | $57,600 |
| Biomedical Engineering | $56,600 |
| Agricultural Engineering | $56,200 |
| Accounting | $55,000 |
| Business Administration | $54,100 |
| Food Science and Technology | $49,100 |
| Marketing | $47,000 |
| Commerce | $44,700 |
| Chemistry | $42,500 |
| Design and Applied Arts | $40,500 |
| Mathematics | $40,400 |
| Architecture | $39,500 |
| Economics | $39,400 |
| Public Administration | $35,800 |
| Political Science and Government | $34,100 |
| Criminology | $34,000 |
| Sociology | $33,700 |
| Journalism | $33,400 |
| Public Health | $32,700 |
| Social Work | $31,000 |
| Biology | $29,700 |
| Psychology | $29,100 |
| History | $27,700 |
Just Before You Apply to Ohio State University
There are many things that make Ohio State University a standout. Besides being the flagship school of an entire state and a public university system, it's also considered a Public Ivy and a party school.
Due to this, there is no denying that OSU would make for a fantastic addition to the college list of anyone who wants to earn a respectable degree and enjoy a decent social life, too.
But before you apply to it, check that the many pros of being an OSU student outshine the few cons, such as a steep sticker price for out-of-state students.
Read Also: Most and Least Racially Diverse US Colleges and Universities

Disclaimer: The views and opinions expressed in this article are those of the authors and do not necessarily represent those of the College Reality Check.