15 Tips to Pay for College for Low-Income Families
The Executive Office of the President (EOP) says that 50% of people from high-income families have a bachelor's degree by age 25. On the other hand, just 10% of people from low-income families do. Whether you wish to be a part of the 10% or simply want to defy the odds, you can try many ways to be able to pay for a college degree.
Students from low-income backgrounds can pay for college by filling out the FAFSA and applying for grants and scholarships. Getting a job and taking out loans are other strategies. Making smart choices in high school and during the college application process can help make a degree more affordable.
Being from a low-income family should not lower your chances of becoming a degree holder one day.
If skipping college is not an option but the cost is not easy on the pocket, read on. Below, you will come across 15 foolproof tips and tricks on how students from low-income families can pay for college. By the time you get to the very end of this article, you will be able to make a clear-cut plan on paying for college without breaking the bank.
Get Good High School Grades
Believe it or not, the journey to a college degree affordable for low-income students starts in high school.
Everyone knows that an impressive high school GPA can make an applicant irresistible to many colleges and universities, including especially competitive ones that like to pack their campuses with only the brightest students.
However, not a lot of high schoolers and their parents know that high school GPAs are also the key to getting competitive aid.
As a matter of fact, some private institutions use different tiers of high school GPAs as the basis for financial aid awards. It goes without saying that the higher the GPA, the higher the award.
Needless to say, if you are from a low-income background, having a high school GPA that's far from low can make it so much easier for your family to pay for your college. And it's not just at any college you could be attending at a discounted rate with a phenomenal GPA — you could be going to a selective one employers absolutely love!
By the way, good grades are also the best way to qualify for non-need based merit aid.
Take College Courses in High School
Besides getting high grades in your high school courses, it's also a great idea to earn high grades in various AP classes. These classes are available for high schoolers at no cost, although an exam costs $96.
But don't worry — for low-income high school students, the exam fee is reduced or totally paid for through state and federal funds.
In some instances, the College Board, which is the one that administers AP exams other than the SAT, also provides assistance to those who cannot afford to pay for an AP exam.
What's so great about taking an AP exam and getting a good score, too, is that your $96 exam fee could earn you a three-credit college course that's worth anywhere from $1,335 at a public institution to $3,243 at a private school. However, different colleges and universities have different AP credit policies, so it pays to check.
Keep in mind, too, that some four-year institutions do not give credit for any AP work no matter how high the score. They include some of the most prestigious schools in the US, such as:
Amherst College
Brown University
California Institute of Technology
Dartmouth University
Williams College
Related Article: Can You Get Into A Good School Without APs?
Attend an In-State School
This tip is a complete no-brainer: going to an in-state college or university lets you enjoy tuition that's two to three (or more!) times lower than tuition at an out-of-state institution.
As of this writing, the average cost of a bachelor's degree at an in-state school is $101,948. Meanwhile, that's $172,644 for out-of-state students — you can save $70,696 simply by going to a public institution in your state. You can save up to a whopping $110,920 if you skip a private college or university, where a bachelor's degree costs around $212,868.
Not happy with your in-state school options as well as the programs they offer? Check out the next tip!
Explore Regional Exchange Programs
Just in case the academic program of your liking isn't being offered by any in-state colleges and universities, you can apply for it at an out-of-state institution and still enjoy in-state or discounted tuition.
However, the school must be within the same region. And the state and school should also be a participant in what's referred to as a regional exchange program. Simply put, it's an agreement between institutions in different states but within the same region in order to keep residents from paying exorbitant out-of-state costs.
Below are the four exchange programs in the US and the states participating in each one:
Academic Common Market. Alabama, Arkansas, Delaware, Florida (graduate schools only), Georgia, Kentucky, Louisiana, Maryland, Mississippi, Oklahoma, South Carolina, Tennessee, Texas (graduate schools only), Virginia and West Virginia.
Midwest Student Exchange Programs. Illinois, Indiana, Kansas, Michigan, Minnesota, Missouri, Nebraska, North Dakota and Wisconsin.
New England Regional Student Program. Connecticut, Maine, Massachusetts, New Hampshire, Rhode Island and Vermont.
Western Undergraduate Exchange. Alaska, Arizona, California, Colorado, Guam, Hawaii, Idaho, Montana, Nevada, New Mexico, North Dakota, Oregon, South Dakota, the Commonwealth of the Northern Mariana Islands, Utah, Washington and Wyoming.
But before you take this route, it's important to note that there are many stipulations to keep in mind, and the stipulations can vary from one exchange program to the next.
For instance, some schools may limit the number of programs and/or the participants, or students may lose the discount if they change majors.
Check here to learn about 425 colleges that participate in exchange programs and pay in-state tuition for out-of-state colleges.
Start at a Community College
It's not uncommon for a lot of students who are determined to earn a degree on a tight budget to spend the first two years of their college life at community colleges.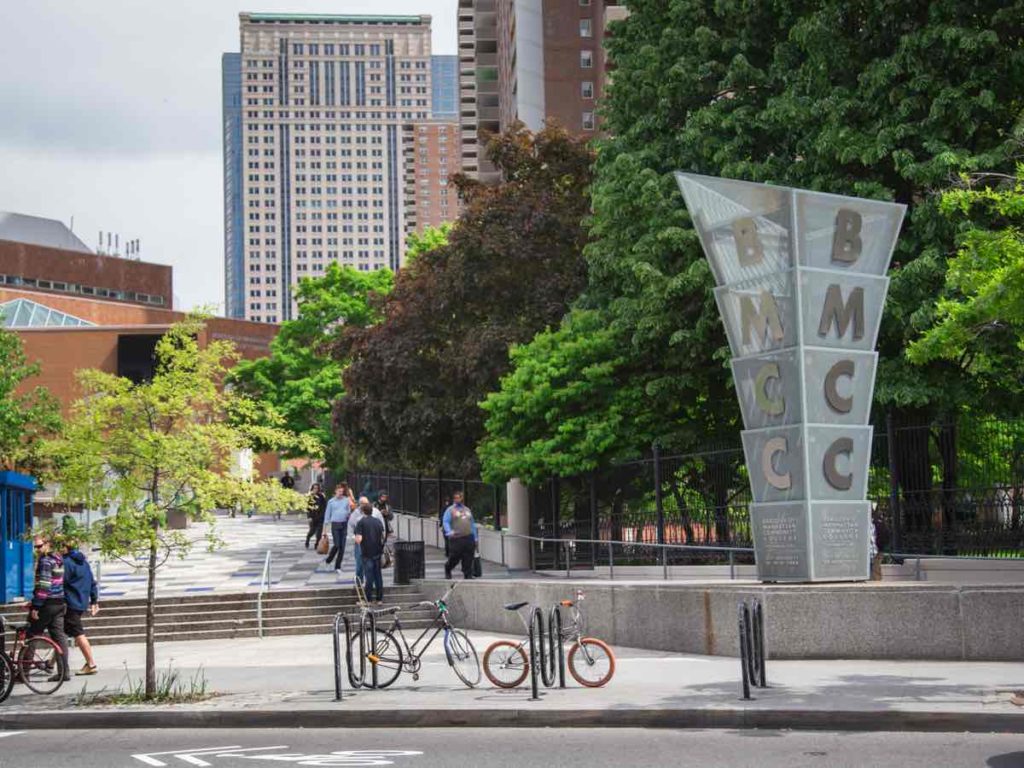 According to a report by the Education Data Initiative, the average cost of earning an associate degree at a community college is $7,460. Meanwhile, the average cost of attending a four-year public institution for two years ranges from $50,974 (in-state students) to $86,322 (out-of-state students).
Doing the math, the savings of taking all your general education courses at a community college will allow you to save as much as $43,514 to $78,862!
However, before you attempt to attend a community college and transfer to a four-year school after two years, do your homework very well.
Check that the four-year institution you are planning to go to eventually will accept all or most credits you will earn from the community college you are thinking of applying to.
Consider Private Colleges, Too
Just because you are from a low-income family doesn't mean right away that private colleges and universities are off-limits. That's because although it's true that the tuition and fees at private schools are higher than those at public schools, they tend to offer higher financial aid packages.
During the college list-building process, don't look at the sticker price when deciding whether or not a private institution should be included — check the net price instead.
This is when the importance of using a net price calculator comes in.
Perhaps you have heard from someone that private colleges and universities do not accept marginal applicants with demonstrated financial need. Well, it's a fact that some of them do that. However, there are also need-blind institutions that, for as long as your academic profile can impress, will accept you regardless of your ability to pay.
So, before you include a private school on your college list, pay its website a visit and check if it has a need-blind admissions policy — if it does, don't be afraid to apply to it. In the US, there are 70 need-blind schools where underprivileged but bright students can attend at almost no cost.
Related Article: Are Private Colleges Harder Than Public?
Fill Out the FAFSA
When October 1 strikes, immediately head to the website of the Federal Student Aid — that's the day when the FAFSA form becomes available for those who wish to apply for federal aid, such as the Pell Grant, to fill out.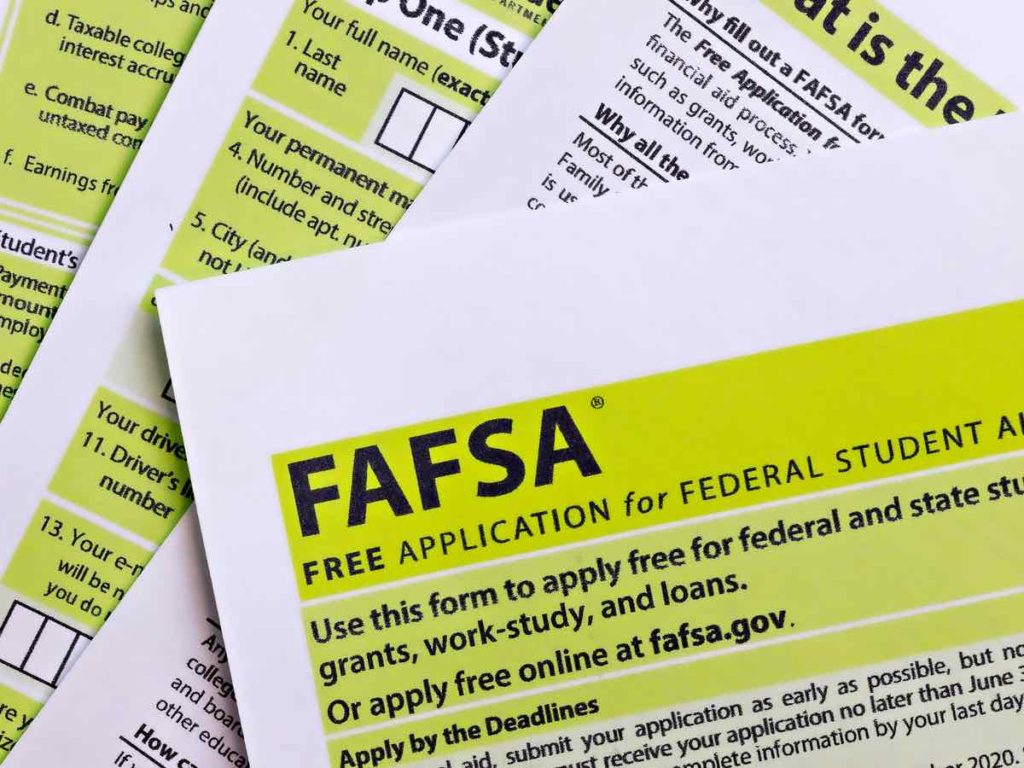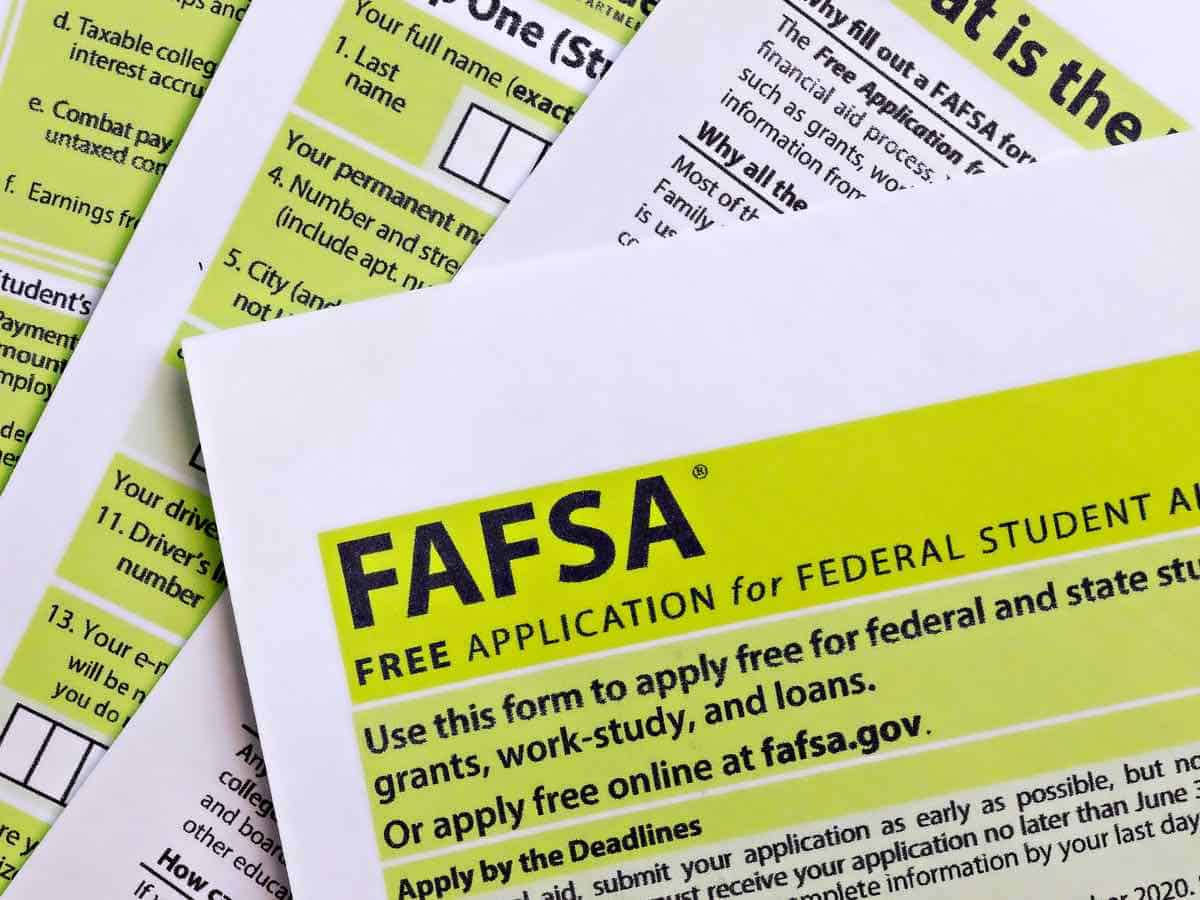 And see to it that you complete and submit it ASAP as some types of aid are awarded on a first-come, first-served basis!
But the FAFSA is not just for federal aid applications. Some colleges and universities in the US use the FAFSA, too, in order to determine a student's eligibility for institutional aid.
Don't wait until a school on your college list admits you before you file the FAFSA.
You can fill out the FAFSA even before any institution for higher education sends you an acceptance letter. As a matter of fact, you can start filling it out during your senior year of high school, during the college application process.
Related Article: Grants for College Besides the FAFSA
Negotiate Financial Aid Award
Not happy with your financial aid award? It's not the end of the world. That's because, believe it or not, you can ask for more money. This is especially true if the financial circumstances of your family have changed in the past year — the FAFSA is based on your family's income from the year before.
Other common reasons for writing a financial aid appeal letter include:
You have committed an error when filling out the FAFSA, which has affected your award.
You received a better offer from another school and you wish for the institution to match it.
But before you start to write the letter, consider getting in touch with the college or university's financial aid office. Ask about things such as its aid awards appeal process, the person to contact and the requirements.
Search for Scholarships
Financial aid can come not only from the federal government. It can also come from the state, private organizations and even four-year institutions themselves. Looking for them can be as simple as making an inquiry at the college's financial aid office, asking around in the community or logging on the web.
The nicest thing about scholarships is that you can apply to as many as you like for more awards!
There are also a handful of non-profit organizations out there that help make it so much easier for low-income students to find not only scholarships but also match schools.
One example is QuestBridge.
Based in California, its goal is to provide talented students from low-income backgrounds with programs that allow them to search for educational and life opportunities.
Another is the Posse Foundation, which provides scholarships to public high school students and matches them with partner colleges and universities.
Join an ROTC Program
More than 7,500 colleges and universities in the US offer the Reserve Officers' Training Corps (ROTC) program, which not only pays for college but also guarantees a post-college career — participants (or cadets) commit to serve in the military for at least eight years. At some institutions, an ROTC scholarship can be worth up to more than $100,000.
But you don't have to wait until you are in college before you can take advantage of an ROTC program.
Earlier, we talked about a couple of steps on how high school students from low-income families can pay for college — getting good grades and taking college courses.
Well, high school students may apply for the Junior Reserve Officers' Training Corp (JROTC) program, too. It's just like the ROTC program, except that cadets are not required to complete military service. The completion of a JROTC program is favored by many colleges and universities, allowing high schoolers to earn credits and scholarships, too.
Get a Work-Study Job
Refrain from assuming that a work-study job is any job that you can take on while studying. It is provided by the Federal Work-Study program, which is why the first step to take to get a work-study job is filling out the FAFSA.
You are qualified for it if you see "work-study" on your financial aid award.
However, it doesn't mean right away that you will enjoy the award automatically — you will have to find an eligible work-study job on- or off-campus as well as work enough hours (anywhere between 10 to 20 hours per week) in order to be able to get your hands on all the aid you qualify for.
What's really nice about a work-study job is that your earnings do not automatically go straight toward your tuition. Instead, you will receive a check just like you would with a job outside the work-study program, which you can use to pay off a part of your tuition or spend on something else.
Get a Part-Time Job
It's true that holding a work-study job is a great way to make earning a college degree easier on the bank.
Alas, not all students qualify for it — since it's a need-based program, your family income and other information, which you will have to provide when filling out the FAFSA, will determine whether or not you are eligible.
What's more, not all US colleges and universities participate in the program.
But that's okay if you fail to qualify because you can always get a part-time job outside the campus.
According to data by the National Center for Education Statistics (NCES), 43% of full-time undergraduate students are employed. Meanwhile, 81% of undergraduate students enrolled part-time have jobs.
The following are some of the best part-time jobs for college students as well as how much each job pays:
| | |
| --- | --- |
| JOB TITLE | AVERAGE HOURLY PAY |
| IT Support | $21.83 |
| Fitness Trainer | $20.38 |
| Tutor | $19.72 |
| Nursing Assistant | $15.79 |
| Telemarketer | $15.18 |
| Babysitter | $14.29 |
| Tour Guide | $14.09 |
| Animal Caretaker | $13.67 |
| Library Assistant | $13.18 |
| Line Cook | $12.95 |
| Valet Parking Attendant | $12.38 |
| Retail Sales Associate | $11.83 |
| Grocery Store Bagger | $11.66 |
| Barista | $11.57 |
| Bartender | $11.34 |
| Cashier | $11.29 |
| Restaurant Server | $11.14 |
Part-time jobs for students
Set Up a Business
Did you know that big-time CEOs such as Seth Berkowitz (of Insomnia Cookies), Michael Dell (of Dell Computers) and Mark Zuckerberg (of Facebook) all started their business while in college dorms or on campus?
Needless to say, it's very much possible to establish your own money-making venture while still in college, although it's of utmost importance that you will be able to balance your schoolwork and enterprise — the goal is to get grades good enough to graduate from college and at the same time make money to pay for college.
Below are just a few examples of businesses perfect for college students with entrepreneurial dreams:
Jewelry making
Website designing
Resume writing service
Translation service
Delivery service
Personal shopping
Matchmaking service
Fitness training
Health coaching
Cleaning service
Used item selling
Textbook exchange service
Transcription service
Bookkeeping service
Editing and proofreading service
Event organizer
Cut Down on College-Related Costs
According to the College Board, college expenses can be divided into five main categories: tuition and fees, room and board, books and supplies, personal expenses, and transportation.
You can slash tuition and fees with the help of grants and scholarships, which is why you should apply for them.
On the other hand, the rest of the college costs can be lowered to suit the budget of a student from a low-income background by taking smart steps as well as making little sacrifices and compromises. The savings from tightening the purse strings here and there can add up, making paying for college a whole lot easier.
Here are some suggestions on how a college student can economize:
Live at home. Of course, this is possible only if you attend an in-state institution near you or the school does not require students to live on-campus.
Use college facilities. Using the campus gym to stay in shape or heading to the school library to go online can help you keep subscription fees to a minimum.
Purchase used books. Instead of buying new books, opt for used ones. The following semester, sell them and use the money to buy the required course books — secondhand, of course!
Sell your car. Gas, parking fees, maintenance, repairs, registration, insurance — there are lots and lots of things that make owning a car expensive.
Use student discounts. When commuting, eating out or shopping for essentials such as groceries, clothes and school supplies, don't forget to use your student ID to get discounts.
Attend free events. In many instances, having some fun and excitement need not cost a thing, thanks to free campus events and student activities.
Take Out Student Loans
Especially if the goal is to graduate from college debt-free, taking out loans should be considered a last resort.
You have a couple of options if you feel that you have to take this route: take out federal student loans and borrow private educational loans. Each one comes with its own set of pros and cons. However, there is something that they share in common, and it's none other than the fact that you will have to repay student loans after graduation.
If borrowing cash cannot be avoided, consider taking out federal student loans before their private counterparts. That's because federal loans offer perks and protection that private ones don't. And remember to opt for payments that do not go beyond 10% of the projected after-tax monthly salary your first year out of college.
Meanwhile, when borrowing private loans, look for an offer with the lowest possible interest rate and the most substantial borrower protections in order to keep the stress of repaying student loans after graduation to a minimum.
Going to college can increase not only your employment opportunities but also your earning potential. It's because of this why statistics show that having a college degree can increase a person's chances by more than 50% of moving from the bottom 20% in family income to the middle 20% in family income.
Unfortunately, for many students from low-income families, the cost of college can be too steep.
But the good news is that there are so many different steps that you can take in order to be able to pay for college despite being from a low-income background. Above, we discussed various workarounds — all that's left for you to do is give the ones you feel could help bring down the cost of college the most a try.
Read Also: How Much Debt is Too Much for College?

Disclaimer: The views and opinions expressed in this article are those of the authors and do not necessarily represent those of the College Reality Check.