Is It Worth Paying 200k for Harvard?
We all know that Harvard University is a phenomenal school. However, the cost of a degree from the Ivy League is an astronomical $200,000 — that's just the tuition and fees, which means that the sticker price is even higher when various college-related costs are factored in, such as books and supplies and room and board.
Paying 200k for Harvard is worth it for those whose families can afford the sticker price at a top-tier school. Meanwhile, those who are from low-income backgrounds may have to decide whether or not it's worth it to graduate from a prestigious school with an average debt of $143,000.
Got everything it takes to gain admission into Harvard University except the money? Read on!
How Much More Expensive is Harvard's Cost of Attendance?
Based on the academic year 2021 to 2022, the estimated cost of attendance (COA) at Harvard University is from $78,028 to $82,178. That's 46.8% to 66.9% higher than the COA at a public school, depending on residency. Meanwhile, Harvard's COA is 30.9% to 34.4% higher than the COA at a private school.
The financial aid office of Harvard University provides the following breakdown of the estimated cost of going to the Ivy League for one year for undergraduate students:
| | |
| --- | --- |
| EXPENSES | COST |
| Tuition | $51,143 |
| Fees | $4,444 |
| Room and board | $18,941 |
| Books and supplies | $1,000 |
| Personal | $2,500 |
| Travel | $0 to $4,150 |
| TOTAL | $78,028 to $82,178 |
On the other hand, Education Data Initiative at EducationData.org provides the following average COA at four-year public and private colleges and universities for undergraduate students, as of the 2021 update:
| | |
| --- | --- |
| INSTITUTION | AVERAGE COA |
| In-state public | $25,864 |
| Out-of-state public | $43,721 |
| Private, non-profit | $53,949 |
It's plain to see that Harvard University's COA is significantly higher than the average across the board.
Just to give you a much better idea of how much more money you will have to shell out earning a degree from Harvard than going to a public college or university or another private school in the country, check out the following conclusions that we can derive from all the figures provided above:
The COA at Harvard is 66.9% to 68.6% higher than the COA at an in-state public school.
The COA at Harvard is 44.0% to 46.8% higher than the COA at an out-of-state public school.
The COA at Harvard is 30.9% to 34.4% higher than the COA at a private, non-profit school.
However, please keep in mind that the COA, which is also sometimes referred to as the sticker price, is different from the net price — the COA minus scholarships and grants one is eligible for.
The Cambridge, Massachusetts-based Ivy League itself says that around 70% of its undergraduate students get some form of financial aid. It adds that around 55% of its undergraduate students receive need-based scholarship aid, with each awardee getting an average of $53,000.
Students from families earning $65,000 to $150,000 a year typically contribute anywhere from 0% to 10% of their income towards the cost of going to Harvard each year, which helps bring down the COA considerably.
Related Article: Easiest and Hardest Ivy League Colleges to Get Into
Can You Get Into Harvard With Money Alone?
Like many other institutions for higher education, Harvard University has a need-blind admission policy. This means that the Ivy League has no official policy of not considering the financial resources of applicants when evaluating them. Applying for financial aid does not impact admissions decisions.
Harvard University has a single acceptance rate of 5% only, which is one of the lowest acceptance rates not only among the Ivy League schools but also among colleges and universities in the US.
Because Harvard is prestigious and wealthy, many assume that one has to be rich to get accepted into it. However, that's far from being the case given that the school is need-blind.
So, in other words, it doesn't matter whether your family can write a $200k-check while staying entirely cool, calm and collected or you have to apply for financial aid just to be able to go to college — Harvard University will accept you if your application is proof that you would make for a fantastic addition to its student body.
This is made possible by the fact that Harvard is a need-blind school.
As a matter of fact, it's one of the very few US colleges and universities with a need-blind admissions policy that applies to international students, too. Besides Harvard, Yale University, Princeton University, Amherst College and MIT are need-blind for students from abroad.
And speaking of potentially getting an acceptance letter even if applying for financial aid, it's important to note that Harvard offers only need-based financial aid.
Harvard University itself says that it's because of this why it is able to support undergraduate students who will benefit from it the most. The prestigious school adds that it meets 100% of its students' demonstrated financial need. Simply put, your demonstrated financial need is the COA minus your expected family contribution.
The following are some cost-related figures from Harvard's website:
$12k – The average parent contribution.
20% – The percentage of families of students attending Harvard that pay nothing.
55% – The percentage of undergraduate students that receive Harvard scholarship aid.
100% – The percentage of students that can graduate free of debt.
Despite the COA, many students from low-income backgrounds still dream of attending Harvard University because of its return of investment (ROI).
As a matter of fact, according to the latest ranking Colleges With the Best Return on Investment by Credible, Harvard is #16 out of 25 schools, with a 20-year ROI of $839,000.
And this takes us to this pressing question many Harvard aspirants feel too embarrassed to ask…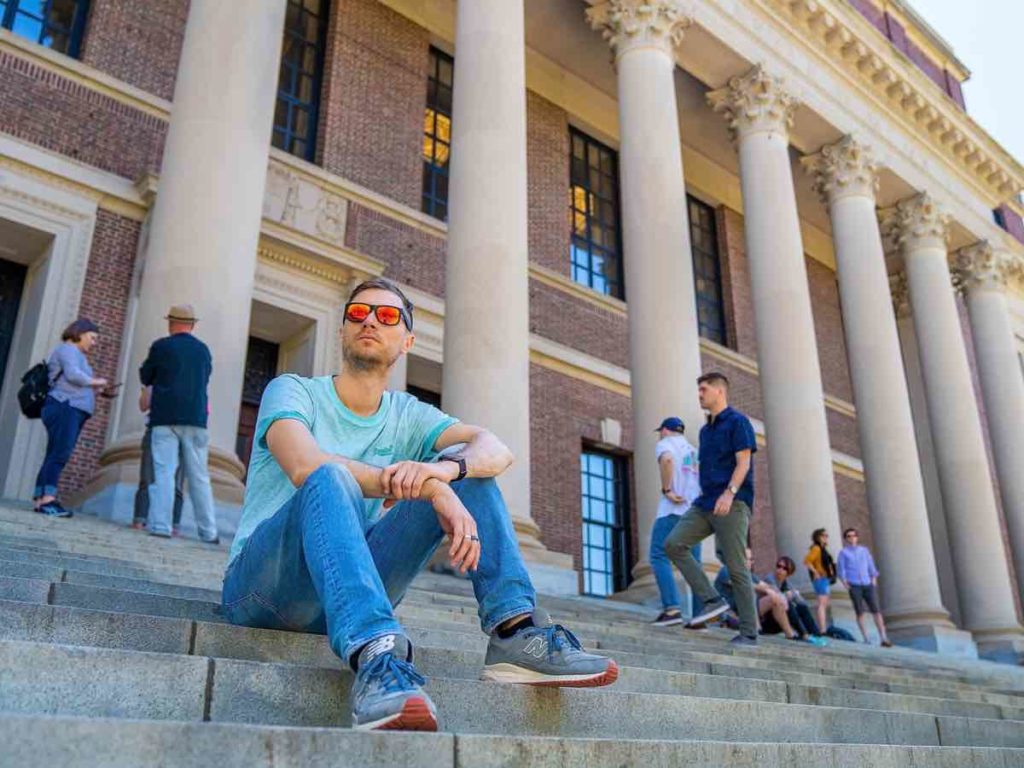 What is the Average Annual Salaries of Harvard Graduates?
Ten years from initial attendance at the Ivy League, employed Harvard University graduates earn an average salary of $136,700 per year. The said amount is almost 300% higher than what's considered the national median salary: $34,300. The initial annual salary of Harvard graduates averages $96,800.
Because of the presence of the name of a prestigious school on their resume, it's no wonder why up to 94% of Harvard University graduates get employed within three months after completing their undergraduate studies.
A strong network of alumni members is also a factor for the high employment rate. As a matter of fact, Harvard is #3 in the 50 Most Supportive Alumni Networks (Top Consensus Ranked Colleges for Advancement) by College Consensus. The #1 and #2 spots go to Princeton University and Stanford University, respectively, both of which are prestigious.
Harvard University graduates' initial salaries can vary due to a handful of factors.
One determining factor is the major, which Harvard students don't have to declare until the fall of their sophomore year. Let's take a look at the yearly salaries (six years from initial enrollment) of graduates by major:
| | |
| --- | --- |
| MAJOR | ANNUAL EARNINGS |
| Computer Science | $128,900 |
| Statistics | $126,100 |
| Applied Mathematics | $80,500 |
| Economics | $78,800 |
| Sociology | $53,800 |
| Social Sciences | $52,000 |
| Political Science and Government | $51,800 |
| Cellular Biology and Anatomical Sciences | $48,200 |
| History | $48,000 |
| Research and Experimental Psychology | $47,000 |
| Neurobiology and Neurosciences | $45,100 |
| English Language and Literature | $37,300 |
According to a Washington Post article, among all those who attended Ivy League schools, Harvard University graduates have both the highest median earnings and most earning potential.
Related Article: 19 Most Stressful College Majors and How Much They Pay
Just Before You Apply to Harvard
There are many reasons to apply to Harvard University. However, the COA is something that is causing a lot of graduating high school students, including especially those from low-income backgrounds, to think twice.
Did the math and learned you could graduate from Harvard without being up to your neck in student debt? Then feel free to apply to the Ivy League and wait for an offer to enroll to come your way. Otherwise, you will be happy to learn that various prestigious schools with lower COA would make for fantastic additions to your college list.
Related Questions
Does Harvard University offer full-ride scholarships?
Harvard University offers full-ride scholarships. As a matter of fact, in 2021, a 17-year old high school student from Coachella Valley who is the daughter of Mexican immigrants got accepted into the Ivy League with a full-ride scholarship, which only 0.3% of undergraduate students get.
Related Article: Getting a Full-Ride Scholarship to Harvard, Princeton, or Yale
Are there merit-based scholarships available at Harvard University?
Like other Ivy League schools, Harvard University does not offer merit-based scholarships. Similarly, it does not offer talent or athletic scholarships. Harvard offers need-based scholarships, and the school is known to offer some of the strongest and most competitive ones.

Disclaimer: The views and opinions expressed in this article are those of the authors and do not necessarily represent those of the College Reality Check.