Are PhDs Worth It Anymore? Should You Do It?
A bachelor's degree can make you earn more money than someone whose highest educational attainment is a high school diploma or an associate degree.
On the other hand, a master's degree can make you make even more. And if that's not enough, you can consider getting a PhD, although it's something that you will have to work hard for.
PhDs are worth it for individuals willing to devote resources to the attainment of the degree that can make them experts in specific fields and open doors to more career opportunities and higher salary potential. This is especially true for those who want to pursue a career in academia or research.
Continue reading if you are thinking about enrolling in a Ph.D. program.
Below, I will try to answer as many pressing questions as you probably have in your mind about getting a PhD, thus allowing you to determine whether you should give it a go or go get employed instead.
Why Should You Do a PhD?
Getting a PhD allows one to enjoy broader career opportunities where having the highest academic degree is an advantage. Naturally, a PhD paves the way to greater earning potential. Typically, individuals who do a PhD wish to reach their full capabilities, become experts in their chosen fields and make a difference.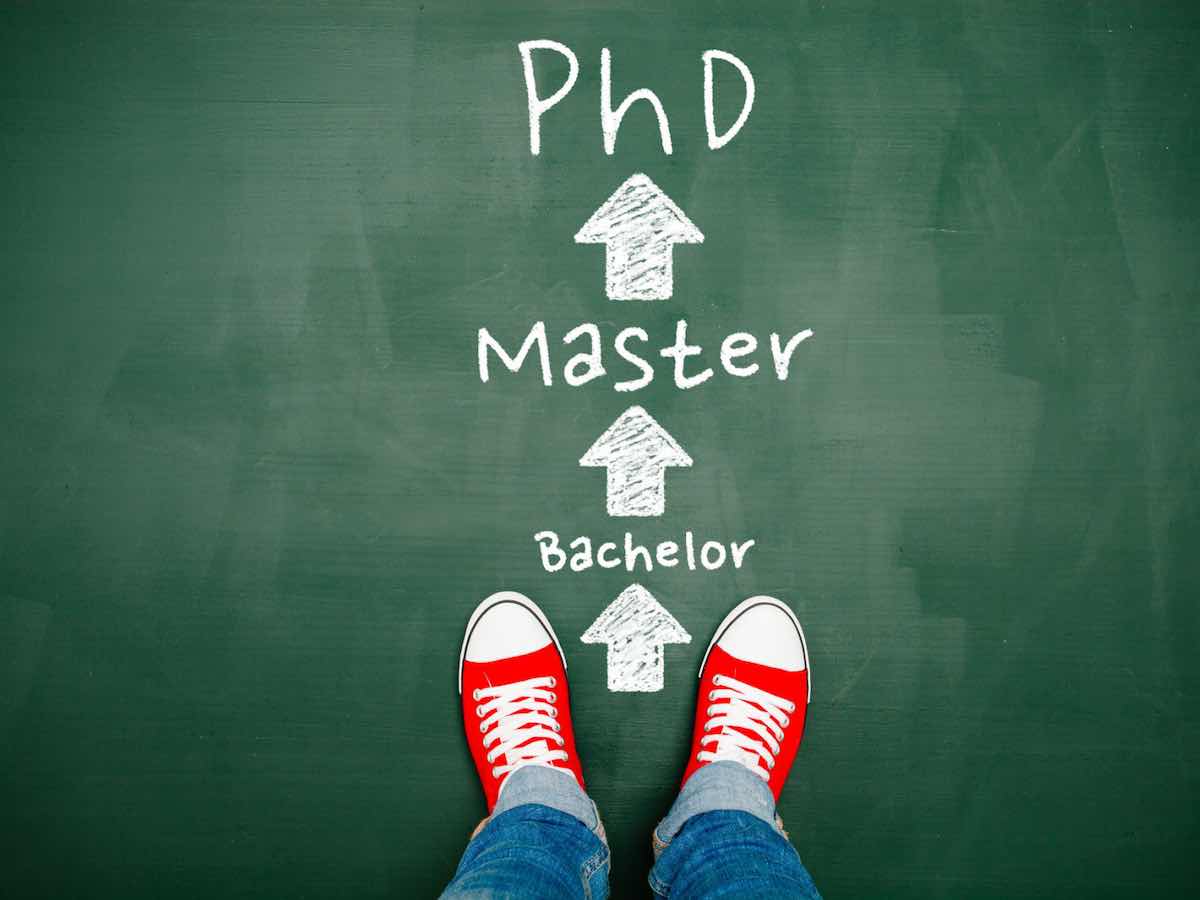 Let's get one thing clear: a PhD is an academic degree that takes a lot of time and money to get.
Individuals who are PhD holders, because of this, are quite rare. As a matter of fact, in the US, only around 1.2% of the entire population has a PhD — and this is why they are considered valuable.
While it's true that completing a PhD program requires a lot of money and hard work as well as can cause stress, anxiety and many sleepless nights, it's not uncommon for some students to still dedicate much of their resources to earning a PhD. It's because the returns in terms of career opportunities, earnings and prestige are all worth the commitment.
What are Reasons Not to Do a PhD?
Expensive, time-consuming, requires lots of work, can cause psychological distress — these are some of the disadvantages of getting a PhD. Individuals who are not financially stable, don't like working for several hours a week and are not fully invested in a discipline should think twice before working on a PhD.
Although there are lots of reasons for you to get your hands on a PhD, there are also some that may keep you from considering applying to a PhD program.
Leading the list is the exorbitant cost — in a few, I will talk about just how expensive a PhD is, so don't stop reading now. And then there's also the fact that it can take twice as long to earn a PhD than a bachelor's degree. Typically, a PhD program can take anywhere from 4 to 5 years to complete. But for many, it can take up to 8 long years!
How long it will take for you to earn a PhD all depends on the program's curriculum rigor and requirements.
When deciding whether or not you should push through with your plan on getting a PhD, carefully weigh the pros and cons. Dropping out somewhere in the middle of your studies can result in the wastage of both time and money.
How Many Hours Do PhD Students Study?
The vast majority of Ph.D. students spend anywhere from 35 to 40 hours per week studying and completing coursework tasks. In many instances, around 20 hours per week go to lab time or assistantship. As a result of this, enrolling in a Ph.D. program is said to be similar to having a full-time 9-to-5 job.
Undergraduate students are typically encouraged to devote 15 to 20 hours of their time per week studying in order to get good grades — for a final exam, 20 to 30 hours per week is recommended.
Since a PhD is harder, students should study twice as long (or longer) as when they were undergraduates.
During some of the busiest periods in a PhD program, such as when one is writing a dissertation, working substantially longer hours may be warranted. While a timely completion of the coursework and other tasks is obligated, however, students are free to manage their time in a way that goes with their preferences and lifestyles.
Part-time PhD students, by the way, usually work around 17.5 hours per week.
Can Students Work While Earning Their PhDs?
Although challenging, it's possible for students to work while enrolled in a PhD program. Many working PhD students teach undergraduates at their respective universities. Some are full-time PhD students with part-time work, while others are part-time PhD students with full-time work.
First things first: earning a PhD can be hard and working on a PhD while employed can be harder. But it's completely doable, particularly with excellent planning and time management.
As mentioned, teaching at a university is one of the most common jobs among working PhD students. But there are many other jobs available for them on and outside of the campus. Some of them are part-time jobs, while others are full-time jobs. Some have contractual work, while others take on more permanent workforce roles.
You can be a full-time employee and a part-time PhD student for better juggling of roles. But just make sure that you will be able to complete your studies within a certain period if such is a requirement at your university.
Do PhD Students Have a Social Life?
PhD students, despite all the rigorous academic and research activities they do, can have a social life. They can socialize with the members of their research group and meet new people during departmental parties and public engagement events. PhD students also have the freedom to manage their own schedule.
Everyone knows that a PhD is the highest level of degree that students can obtain. And it's also no secret that earning a PhD is associated with a lot of time, stress and anxiety.
It's a good thing that it's still very much possible for you to have a social life while working on a PhD.
One of the reasons for such is that PhD students are usually allowed to follow their own schedule for as long as they get the work done. Paired with great time-management skills, you can have room to go out with friends and make new ones. Besides, there are plenty of activities PhD students attend where they can mingle with others.
However, there's no denying that enjoying a social life can be challenging for PhD students who have to work, too. And, in some instances, one of the two tasks may fail to get ample focus and attention.
Do I Need a Bachelor's and a Master's to Get a PhD?
Many PhD programs require a master's degree. However, there are some where a previously earned master's degree is not a prerequisite. So, in other words, one may apply straight from a bachelor's program. In some cases, however, completing a master's program even if not a requirement can come with benefits.
Saving both time and money — arguably, this is the biggest benefit to have for completing a PhD without a master's. And then there's also the fact that you can flex your degree and earn money ASAP.
While there are perks that come with earning a PhD without a master's, there are some downsides, too.
In some industries, for instance, candidates with both a master's and a PhD may enjoy an advantage in both employability and salary potential, too. In addition, a prior master's degree can help you decide much better on the path of your PhD studies and research for a more satisfying and fulfilling outcome.
But keep in mind that while a university may admit applicants to a PhD program without a master's degree, it may require top-notch and impressive performance in an undergraduate program in exchange for an acceptance letter.
What are Integrated PhDs?
An integrated PhD is a combination of the taught study of a master's program and the research element of a PhD program. It can take anywhere from 4 to 5 years to complete, depending on the program. At some universities, an integrated PhD degree is commonly referred to as an integrated master's degree.
Earlier, we talked about the fact that you can work on a PhD without a prior master's degree.
If the PhD requires a master's degree or you want to earn one before applying to a PhD program, you may consider what's referred to as an integrated PhD. As the name suggests, it's a PhD with a master's degree integrated into it.
Typically, a traditional PhD takes anywhere from 4 to 6 years to complete. On the other hand, an integrated PhD can take 4 to 5 years to complete — the first 1 to 2 years are for studying the master's course and the remaining ones are for the completion of the PhD course.
But since an integrated PhD is relatively new, not too many universities offer it.
What are the Easiest PhDs to Get?
Although all PhDs require a lot of time and hard work, some are easier to obtain than the rest because of either lighter coursework and other program requirements or a shorter completion time or both. Many of the easiest PhDs to earn are available online, but only for students with the appropriate learning style.
Naturally, some of the easiest PhDs are those without dissertations, which can take 1 to 2 years to write, not to mention that most PhD students spend a couple of years conducting research and reviewing literature.
The following are some examples of Ph.D. programs minus any dissertation:
Accounting
Adult and career education
Business administration
Criminal justice
Educational administration
Finance
Grief counseling
Human resources
Information technology
Nursing practice
Public administration
Psychology
Social work
But keep in mind that different universities may have different PhD completion requirements.
Of all the easiest PhD programs, the general consensus is that most can be found online. But if you are like some students who find online learning more difficult than traditional learning, earning one can still be hard.
What are the Hardest PhDs to Get?
Some PhD programs are longer to complete and involve a lot of complex coursework and other completion requirements, thus making them some of the hardest to earn. Just like among various bachelor's degrees, some of the most challenging PhDs to earn include those in the STEM- and healthcare-related fields.
In most instances and for most students, a PhD is harder to earn than a master's degree. And, needless to say, it's so much harder to obtain than a bachelor's degree.
But some PhDs are simply more challenging to get than other PhDs.
Just like what's mentioned earlier, STEM PhD programs are some of the hardest. Many agree that the likes of pure mathematics, theoretical physics, aerospace engineering, chemical engineering and computer science can prove to be so taxing. The same is true for healthcare PhD programs such as pharmacy, nursing and optometry.
Are PhDs Expensive?
The cost of enrolling in a PhD program amounts to $28,000 to $40,000 per year. So, in other words, a full PhD can cost anywhere from $112,000 to $200,000 or up to $320,000 (8 years). Tuition and living expenses are the primary costs of a PhD. There are ways PhD students can get funding for their studies.
Other than time, a PhD can also take up lots of money. Certain factors can impact just how much you will have to spend to get your hands on a PhD, and some of them include the university, program and length of completion.
But did you know that many PhD students don't have to pay full price?
Because of the steep cost, it's not uncommon for those who are enrolled in PhD programs to fund their studies through things such as studentships, research council grants, postgraduate loans and employer funding. As a matter of fact, some of them do not pay for their PhD programs — they are, instead, paid to take them.
And just like what we talked about earlier, it's very much possible for you to be a PhD student and an employee, whether part-time or full-time, at the same time in order to earn money and fund your postgraduate studies.
Is a PhD Worth It Financially?
Without careful planning, completing a PhD program can hurt one's finances. And if the return on investment (ROI) isn't that substantial, it can be a waste of resources, too. For many, however, earning a PhD to secure their dream jobs or follow their true callings makes all the financial and time investments worth it.
After discussing just how much a PhD costs, it's time to talk about if investing in it financially is a good idea.
It's no secret that, generally speaking, the higher the educational attainment, the higher the earnings. True enough, the median weekly earning of a PhD holder is $1,909.
Doing the math, that's equivalent to about $99,268 per year. On the other hand, the median weekly earning of a master's degree holder is $1,574 or $81,848 per year — that's a difference of $17,420 per year. Please keep in mind that it's not uncommon for some master's degree holders to make more than PhD holders.
The difference, however, becomes substantial when the average salary of bachelor's degree holders is taken into account: $1,334 per week or $69,368 per year, which is $29,882 lower than the annual salary of those with PhDs.
Let's take a look at the estimated annual median earnings of some PhD holders in some disciplines:
Engineering: $107,000
Mathematics: $104,000
Healthcare: $98,000
Business: $94,000
Social science: $90,000
Physical science: $89,000
Public policy: $84,000
Agriculture: $83,000
Social work: $78,000
Architecture: $73,000
Communications: $72,000
Are PhDs in Demand?
PhDs are especially in demand in areas where highly specialized and very high-level research skills are important. Some of the most sought-after PhDs are those in STEM- and healthcare-related fields such as information systems, environmental engineering, chemistry, nursing and physical therapy.
As a general rule of thumb, some of the hardest PhDs to earn tend to be the most in-demand, too.
Simply put, PhDs in disciplines required for a better understanding of currently existing knowledge and challenges, development of modern-day technologies and discovery of new life-changing stuff are highly employable.
And this is why industries such as scientific research and development, manufacturing, health and social work are on the lookout all the time for promising PhD holders. Areas where PhDs are also commonly required include the education sector as well as various segments of the business industry.
Numerous transferable skills learned and developed by students, many of which are appreciated by employers across various industries, also help those with PhDs have increased job market value.
Just Before You Get a PhD
Does getting a PhD still sound great after everything you have read above? Then the smartest step for you to take next is to find the right PhD program for you and apply to it.
But keep in mind that while there are many perks that come with being a PhD holder, there are some sacrifices you will have to make before you get your hands on the prestigious academic degree. But by working hard and staying committed, it won't take long before you are one of the country's highest-paid and most satisfied professionals!

Disclaimer: The views and opinions expressed in this article are those of the authors and do not necessarily represent those of the College Reality Check.