Are Private Colleges Harder Than Public?
Bachelor's degrees are sometimes referred to as four-year degrees. In reality, however, most students take six years to complete their undergraduate programs. And it's because of this why some graduating high school teens build a college list according to whichever institutions can help them get it done and over with the quickest.
Due to this, you might be wondering if private colleges are harder than public colleges or vice versa.
In terms of admission, generally speaking, it's easier to get into public colleges than their private counterparts. Graduation-wise, more students at private institutions tend to graduate on time. When it comes to cost, while public colleges are cheaper, private ones offer more robust financial aid.
There are many different challenges that come with earning a college degree, which is why not everyone who steps foot on a college campus ends up brandishing a diploma after some time.
In this article, we will talk about some of the biggest ones: getting admitted, paying the cost of attendance, and graduating in a timely manner (four to six years).
But we will not just discuss them — we will find out if it's easier to go to a private college or one that's public, thus allowing you to graduate and find a job with the least trouble.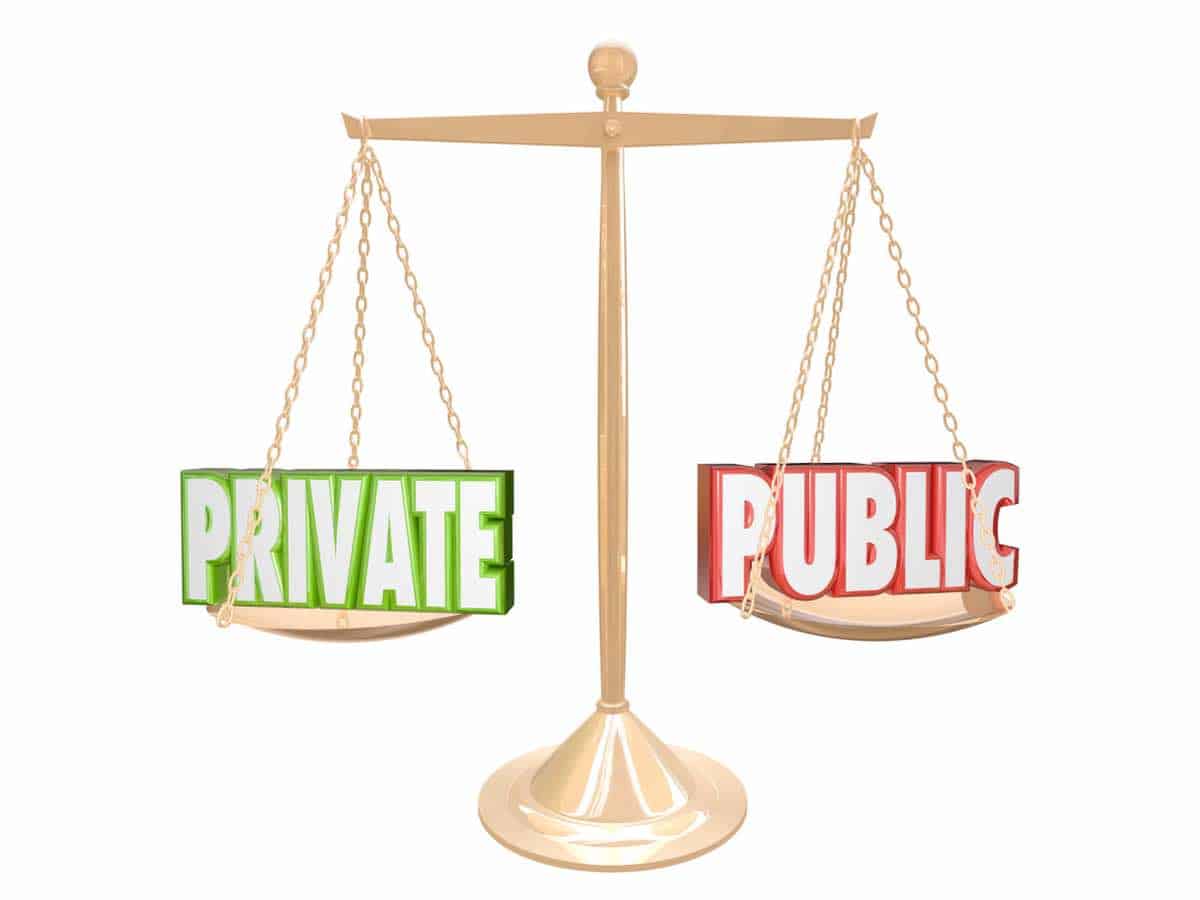 Are Private Colleges Harder to Get Into Than Public Colleges?
In general, private colleges are harder to gain admission into than public institutions. That's because many of them have low acceptance rates, especially competitive ones. However, there are public colleges with low acceptance rates, too. Similarly, there are private ones with 100% acceptance rates.
According to data from the National Association for College Admission Counseling (NACAC), the average acceptance rate for first-time, first-year students for public colleges in the US is 69%.
Meanwhile, the acceptance rate averages at 64% for private American colleges.
Public colleges tend to have higher acceptance rates than most private institutions because they are usually bigger and thus have more slots available to fill.
In addition, public schools know for a fact that many students who receive acceptance letters do end up enrolling for economic reasons, which is why they accept as many applicants as they possibly can.
They do so in order to keep the yield rate high. Simply put, the yield rate is the percentage of students who enroll after receiving an offer to enroll.
Related Article: Which State Has Best Colleges
Everyone knows that many private colleges, on the other hand, have low acceptance rates. This is especially true for the Ivy Leagues and other elite ones. The more competitive the institution, the more selective it is.
This doesn't mean, however, that all private institutions make it hard for many college-bound kids to get acceptance letters. Many private colleges have surprisingly high acceptance rates. As a matter of fact, some of them have 100% acceptance rates, which means that all applicants get accepted!
Some examples of private schools with 100% acceptance rates are:
| | |
| --- | --- |
| NAME | LOCATION |
| Amridge University | Montgomery, Alabama |
| Coleman University | San Diego, California |
| Talmudic College of Florida | Miami Beach, Florida |
| Beulah Heights University | Atlanta, Georgia |
| Morrison Institute of Technology | Morrison, Illinois |
| Briar Cliff University | Sioux City, Iowa |
| Lindsey Wilson College | Columbia, Kentucky |
| Cambridge College | Boston, Massachusetts |
| Baker College of Muskegon | Muskegon, Michigan |
| Columbia College | Columbia, Missouri |
| New England College | Henniker, New Hampshire |
| Boricua College | New York City, New York |
| Dowling College | Oakdale, New York |
| Cincinnati Christian University | Cincinnati, Ohio |
| University of Western States | Portland, Oregon |
| Pennsylvania Institute of Technology | Media, Pennsylvania |
| Clinton Junior College | Rock Hill, South Carolina |
| Lane College | Jackson, Tennessee |
| Arlington Baptist College | Arlington, Texas |
| Heritage University | Toppenish, Washington |
While there are private colleges with high acceptance rates, there are also public ones with low acceptance rates.
Some of those who admit the least number of applicants include the United States Naval Academy, University of Michigan, University of California – Irvine, Coppin State University, and Savannah State University.
Are Public Colleges Cheaper Than Private Colleges?
Attending a public college is, without any doubt, cheaper than going to a private college. While both public and private institutions offer financial aid, the awards private schools give are so much higher because of larger endowments. Public schools, meanwhile, have small endowments or none at all.
The sticker price — it's something that many graduating high schoolers check out when building a college list. This is especially true for those from low-income families.
Simply put, the sticker price includes all college-related costs, from tuition to miscellaneous expenses.
However, you should not look at the sticker price, also known as the cost of attendance (COA), only. You should consider the net price, too, which is the actual cost you and your family need to pay a year for you to be able to attend college.
So, in other words, the net price is the sticker price minus any aid for which you may be eligible.
It's true that the sticker price of a private college is generally higher than that of a public school. However, the scholarship or grant it awards tends to be higher, too.
Many steer clear of applying to, say, Harvard University not only because it's so selective but also due to the fact that it's an expensive school. As a matter of fact, as of this writing, the sticker price for Harvard is $73,800. But keep in mind that $53,000 is the average need-based scholarship the Ivy League awards.
Doing the math: attending Harvard University for a year can cost as low as $20,800!
On the other hand, the sticker price for the University of Vermont, which is a public school, for out-of-state students amounts to $60,108. The average need-based scholarship it awards is $20,402, thus making the net price $39,706 — that's higher than the net price for Harvard after deductions.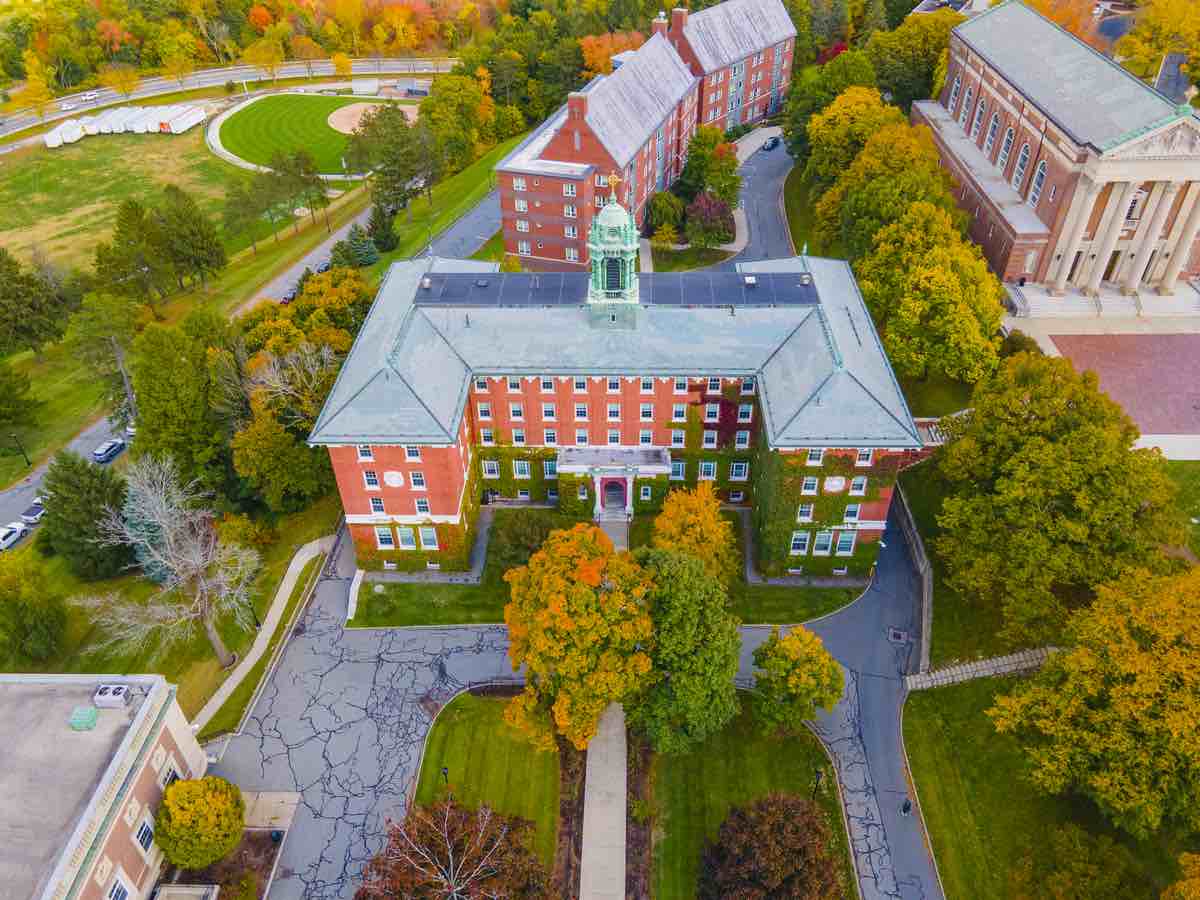 Are Graduation Rates Higher at Private Colleges Than Public Colleges?
Less than half of all undergraduate students at public colleges earn a degree after four years. The average graduation rate for these institutions is 33%. Meanwhile, the average four-year graduation rate for private colleges is 53%. Many different factors can impact a school's graduation rate.
As a general rule of thumb, the higher the college's graduation rate, the more likely it is for its students to graduate in a timely manner and enjoy the perks of being degree holders.
Because of the fact that more private colleges are more selective than public ones, it isn't surprising why many of their students graduate every year.
Having low acceptance rates means that the majority of their admits have stronger applications and are thus more committed to and more likely to succeed in college.
Meanwhile, the same cannot be said for many public institutions that tend to accept a lot of students. And then there's also the fact that, due to financial constraints, many students at public schools are unable to graduate. This is especially true since, as mentioned earlier, public colleges tend to offer smaller financial aid than private ones.
Keep in mind, too, that not all public colleges have the ability to provide students with the academic support and facilities they need, which is why many drop out to quit school altogether or transfer.
In some instances, whether or not you will graduate on time solely depends on you, the college student.
According to the University of Iowa's College of Business of Administration, these various factors can have an impact on a student's ability to graduate from college:
High school GPA
SAT or ACT scores
First-generation
Time-management skills
Ability to pay
Just Before You Apply to a Private or Public College
Because going to college doesn't come easy and free of charge, it's a must to choose one with the perfect fit. Choosing a school that's the easiest to get into as well as the quickest to get out of is great for someone who is in crunch time and can't wait to graduate and reap the perks of being a college degree holder.
Above, we established the fact that private colleges and public colleges are equally hard but in different ways.
Even if you are in a rush to get your hands on a college diploma, take your time when building a college list. Carefully weigh the pros and cons of attending a private college and a public one to keep setbacks to a minimum.
Related Questions
Do more people attend private or public colleges?
More people attend public colleges than private ones. According to data from EducationData.com, as of this writing, 79% of all undergraduate students in the US go to public institutions. Needless to say, only 21% of all undergraduate students in the country attend private colleges.
How long does it take before college graduates land a job?
It usually takes average college graduates three to six months to secure employment after earning their degrees. Based on Disabilities, Opportunities, Internetworking and Technology (DO-IT) data, previous work experience is beneficial for job-seeking college graduates.
Related Article: Choosing Between Two Colleges? Consider These 6 Factors

Disclaimer: The views and opinions expressed in this article are those of the authors and do not necessarily represent those of the College Reality Check.