Is Ryerson University a Good School for US Students?
Ontario is home to some of the top colleges and universities in Canada. And one of those is Ryerson University, a public research institution that has a very prominent business school. Does this mean Ryerson is a good school for someone like you who plans on becoming an international student after high school?
Up to 93% of undergraduate programs at Ryerson University have a formal experiential component in their curriculum. The school, which is located in Toronto, also offers research and co-op programs. Ryerson is especially known for its business programs offered at its Ted Rogers School of Management.
Read on if you're on the fence as to whether or not Ryerson University is right for you.
By the time you get to the end of this post, you will have a much better idea if you should push through with your plan to send an application to Ryerson, which, by the way, recently changed its name.
Is Ryerson University and Toronto Metropolitan University the Same?
These days, Ryerson University is also known as Toronto Metropolitan University (TMU). It was late in April 2022 when the board of governors of the institution unanimously agreed to change its name. The move was to address issues about settler colonial violence concerning indigenous people.
Ryerson University was named after Egerton Ryerson, who is widely considered the most influential person behind the creation of the Canadian public school system.
Alas, he was also instrumental in the designing of a residential school system that led to cultural genocide.
Indigenous students, staff and faculty members have been voicing their concerns about Ryerson University's association with and commemoration of Egerton Ryerson for years. Eventually, the school's board of governors decided on a name change as a sign of willingness to listen and address concerns about settler colonialism.
What is Ryerson Known For?
Ryerson University is known for innovation, having numerous research centers and institutes. The school is particularly known for its engineering and nursing programs. It is also admired for its business programs. As a matter of fact, its Ted Rogers MBA program is ranked #3 in Canada by Bloomberg Businessweek.
One of the biggest and leading business schools in Canada is the Ted Rogers School of Management.
It's located in the heart of downtown Toronto, right on the campus of Ryerson University. As of this writing, the Ted Rogers School of Management is home to more than 12,000 students and over 200 faculty members.
Here are some of the undergraduate programs at Ryerson's business school:
Accounting and Finance
Business Technology Management
Economics and Management Science
Entrepreneurship
Global Management Studies
Health Information Management
Health Services Management
Hospitality and Tourism Management
HR Management
Law and Business
Marketing Management
Real Estate Management
Retain Management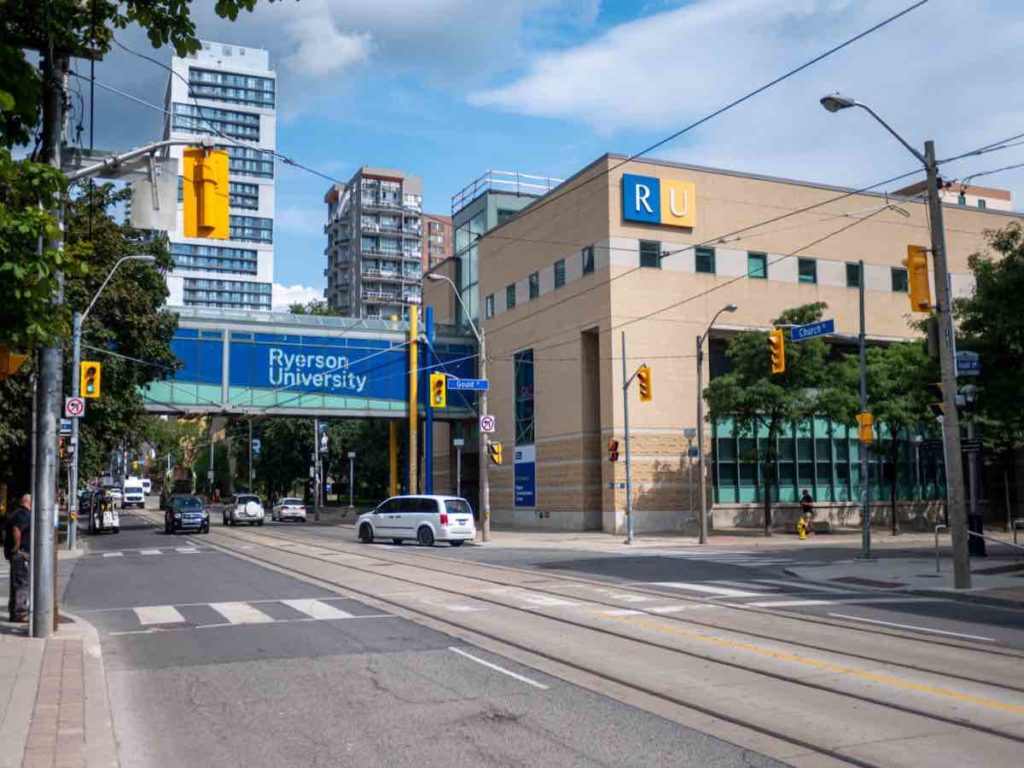 Ryerson University Rankings
In 2022, Ryerson University was #801 to #1,000 in the World University Rankings by the Times Higher Education. The public research university was #601 to #800 the previous year. US News, meanwhile, ranks Ryerson #933 in Best Global Universities 2022 and #25 in Best Global Universities in Canada 2022.
Many college ranking sites mention Ryerson University in various categories of theirs. In some of them, the institution is referred to as Toronto Metropolitan University.
In any case, its rankings are not as high as some Canadian schools popular among international students.
However, it doesn't mean that Ryerson is a bad school. If you are considering adding it to your college list, add it because it meets some of the requirements of a future international student like you look for in a school.
The following are some of Ryerson's programs ranked by US News:
#174 in Electrical and Electronic Engineering
#280 in Engineering
#387 in Social Sciences and Public Health
#394 in Psychiatry/Psychology
#472 in Computer Science
#699 in Materials Science
#982 in Clinical Medicine
Is Ryerson a Party School?
Students attending Ryerson University know how to party. However, it's just that they don't party as hard as students at the top party schools in Canada. As a matter of fact, back in 2016, the institution was mentioned as one of those that almost made the cut in a listing of the 10 best party universities in Ontario.
Many of Ryerson University's attendees value their social lives. So much so that there's an Instagram account dedicated to the school's party life — it's associated with the IG account Canadian Party Life.
It helps that Ryerson is located in Toronto, which is the capital city of the province of Ontario.
Around 42% of all party city locations in all of Canada can be found in Ontario. That's equivalent to 239 locations out of the 566 locations in the Great White North surveyed by ScrapeHero.
Acceptance Rate at Ryerson University
Ryerson University is one of the least selective institutions of higher education in Ontario as well as all of Canada, with an acceptance rate of approximately 80%. However some of its degree programs and faculties are more selective, even accepting fewer international students than domestic ones.
Planning on attending the Ted Rogers School of Management at Ryerson, which, as mentioned earlier, is one of the biggest and most prestigious business schools in Canada?
Then make sure that your application is ready for its acceptance rate of about 4% for students from overseas.
Another competitive and, needless to say, selective program at Ryerson is nursing. As a matter of fact, based on data provided by the school itself, over 2,500 students applied for the available 206 spots. So, even if Ryerson has a high acceptance rate of about 80%, having an impressive application is still a must.
What GPA Do You Need to Get Into Ryerson?
Based on available data, incoming first-time, first-year students must have an average high school grade of 70% in the required senior (and sometimes junior courses, too) in order for their applications to be considered by Ryerson University. That's equivalent to a B- grade.
Meeting the minimum average grade, however, does not necessarily mean guaranteed admission to Ryerson.
Besides the average high school grade, the Canadian public research institution also considers SAT or ACT scores if they are submitted. While there are no published minimum standardized test scores to meet, Ryerson's admissions officers prefer a score that can strengthen one's overall application.
The school also considers AP exam results. As a matter of fact, those with scores of 4 or higher are considered for transfer credits, although it's done on a per individual and program basis.
Unfortunately, the engineering programs do not accept AP exam transfer credits for core and professional courses.
Applying Early to Ryerson University
Ryerson University does not offer early decision. Similarly, it does not offer any other early admission plan such as early action and priority application. For the fall semester, the deadline for application is June 21. For the winter and spring semesters, the deadlines for application are January 4 and March 29, respectively.
If your top-choice degree program is one of the most competitive offerings at Ryerson, it's a good idea to submit your application earlier than the rest in order to be able to take advantage of the equal consideration date.
Simply put, it allows you to have your application to be considered on an equal basis with the rest.
After the deadline for the equal consideration date, admissions decisions will be carried out on a first-come, first-served basis, thus increasing your chances of getting an acceptance letter. Still, it's a must for your application to be competitive enough for the program of your choice.
Equal consideration dates can be several months earlier than regular application deadlines. For instance, as of this writing, it's February 1 for the fall semester and November 1 for the winter semester.
Ryerson Cost of Attendance
Based on the academic year 2022 to 2023 rate, tuition at Ryerson University for international students can range from Can$31,749 to Can$38,472. The cost depends on the program and/or faculty. Tuition for international students is higher than that for domestic students, even out-of-province ones.
Tuition for international students attending Ryerson can be higher by anywhere from 69% to 78% than the tuition for Ontario residents and out-of-province enrollees.
Here's a table demonstrating the range of tuition costs for international undergraduate students per faculty, using the academic year 2022 to 2023 rate:
| | |
| --- | --- |
| FACULTY | TUITION COST RANGE |
| Arts | Can$31,814 to Can$31,864 |
| Community Services | Can $31,749 to Can$33,068 |
| Engineering and Architectural Science | Can $36,487 to Can$38,472 |
| Science | Can $31,811 to Can$31,871 |
| Ted Rogers School of Management | Can $36,453 to Can$36,710 |
| The Creative School | Can $31,841 to Can$32,453 |
It's a good thing that there are numerous scholarship awards for eligible international students that can help bring down the cost of attendance at Ryerson. Some of them are:
Geoff Boyes International Entrance Award
Geoff Boyes International Student Leadership Award
International Student Merit Scholarships
President's Entrance Scholarships
Salad King Awards
Scotiabank International Scholarships
The Western Union Award for International Students
Just Before You Apply to Ryerson University
It may not have some of the highest rankings among Canadian schools, but Ryerson University is still a good school for many international students, especially those who are interested in earning a competitive business degree. It has various highly ranked undergraduate programs, too, from nursing, engineering to computer science.
Liked everything that you have read about Ryerson? Then there's nothing left to do but create your Ontario Universities' Application Centre (OUAC) 105 account to get the application process started.
Related Questions
Does Ryerson University have online programs?
Ryerson University offers a variety of online certificates, online courses and online part-time degrees through its very own the Chang School of Continuing Education. There are more than 400 programs to choose from, each one can be completed 100% by means of the internet.
Is there any Greek life at Ryerson University?
To date, there is only one fraternity at Ryerson University, and it's Alpha Epsilon Pi (AEPi). However, the public research university in Canada is distancing itself from fraternities after an 18-year-old student, Thomas Dasovich, died in a beer drinking contest held by unofficial fraternities at Ryerson.

Disclaimer: The views and opinions expressed in this article are those of the authors and do not necessarily represent those of the College Reality Check.