Do You Need SAT to Transfer From Community College?
You just earned or are about to complete your associate degree at a community college. And now, you are thinking about getting your hands on a bachelor's degree to have access to more employment opportunities and increased earning potential. Does this mean that you will have to take the SAT if you haven't taken it yet?
The admissions process for transfer students is similar to the regular college admissions process. This is why many four-year institutions require SAT/ACT scores. However, most state schools accept students from feeder community colleges based on GPA rather than test scores.
For example, one can easily transfer from Maryland community college to any state university, such as UMBC or UMD, as long as the student's GPA is above the required minimum.
But, it's possible because state community colleges have agreements with state universities. You have to check on your target collefe
Read on to know whether or not you will have to submit your SAT score when transferring from a community college. We will also discuss a few other important matters, such as the steps you will have to take.
But before that, let's answer this question many high school students probably have in their minds…
Do Community Colleges Require SAT Scores?
Most community colleges do not require SAT scores because they have open admissions. This means that the only criteria for admission is that the applicants have a high school diploma or an equivalent, like a GED certificate. Some community colleges and special programs, too, require SAT scores.
You may have read from somewhere or heard from someone that taking the SAT is no longer necessary for those who would like to apply to community colleges.
However, this is just a myth. As mentioned earlier, some community colleges require applicants to submit their SAT scores. It's true that community colleges are some of the least selective schools on the planet. Despite this, some of them may require you to include your SAT score in your application.
In some instances, it's not the school per se that needs the SAT but certain programs.
Some programs offered by community colleges are selective and with limited enrollment, too. And one of the things that the admissions officers do is take a look at the applicants' SAT scores to figure out which of them deserve admission and which of them are better off taking another available program or going to a different school.
Most selective programs requiring the submission of SAT scores are in fields such as:
Engineering
Computer technology
Law enforcement
Nursing
Allied health
Besides admission into special programs, exemption from taking placement tests is another perk that comes with submitting SAT scores. This is most true if your Reading, Writing and Math section scores are high enough to prove that there is no more need for you to take placement tests for these subjects.
The bottom line?
Refrain from assuming that you don't have to take the SAT because you are applying to a community college anyway. Different community colleges have different admission requirements. Some of them might require the applicants to provide their SAT scores.
And this leads us to this critical question some community college students are too shy to ask…
Should I Submit My SAT Score When Transferring?
Before submitting SAT scores, applicants from community colleges should verify if it's necessary. One way to determine if SAT scores are needed is by visiting the institution's website for transfer applicants. Getting in touch with the school's admissions office via email or phone may be done, too.
Today, a little more than 70% of colleges and universities in the US have a test-optional admissions process. This means that applicants, including transferees, may or may not submit their SAT scores.
If the four-year school you are planning to transfer to is test-optional, which is usually declared on its website, chances are that there is no need to provide your SAT scores.
Besides, the fact that you are already attending or have attended a community college is a clear testament that you are, in fact, college-ready.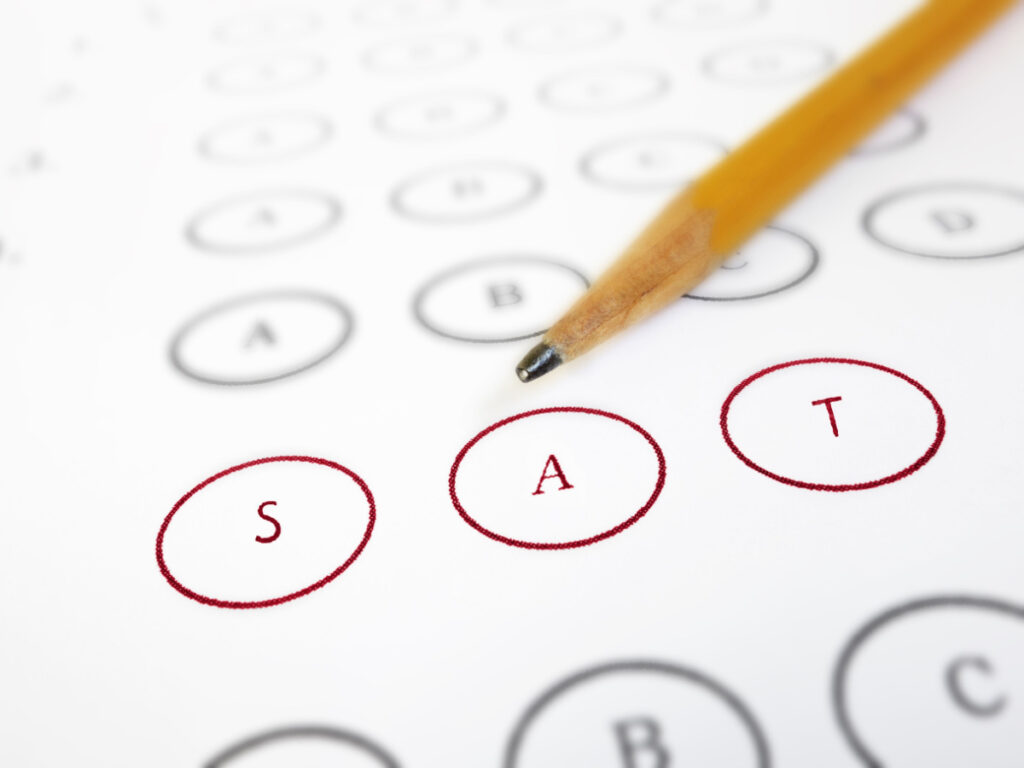 Still, it's a must that you confirm with the school its admission requirements, especially for someone like you who is about to transfer from a community college.
Failure to submit all the requirements will cause the college to tell you that your application is complete. And while waiting for you to submit whatever it is that you failed to submit, such as your SAT score, the admissions officers will place your application at the bottom of the stack, thus delaying the review process.
This can be a serious problem if there are limited seats available!
Needless to say, it's a must to check the complete list of everything that you will have to submit to the school where you would like to earn your bachelor's degree. The sooner that you do this, the better. This will let you beat the application deadline and fend off unnecessary delays in the admissions process.
And this brings us to this question about transferring from a community college that needs an answer…
How Do I Transfer From a Community College?
A guaranteed transfer program helps simplify the process of transfer from a community college to a four-year institution. Other steps that need to be taken are more or less the same as the steps for the regular admission process. They include submitting applications and applying for financial aid.
Knowing what you will need to do and what you will have to submit allows for a smooth-sailing transfer from a community college to another school, allowing you to begin earning a bachelor's degree as soon as possible.
Here are some of the things you should remember when transferring:
Check for guaranteed transfer program. Some community colleges have partnered with four-year institutions, accepting transfer students after two years. This makes transferring from community colleges easier. However, you will have to maintain a certain GPA and meet other requirements.
Fill out the form. Most colleges and universities allow transferees to complete and submit an online application form. This does not require consulting all sorts of documents. Most of the time, you will be asked which school you attended and what program you finished to determine which documents you will have to provide.
Submit documents. Many of the documents submitted for the regular admissions process must be submitted, too, by transferees. But since different schools have different admission policies, check with the school's admissions officers. For instance, find out if you will have to submit your SAT score.
Apply for financial aid. One of the reasons why some students apply to community college is that they cannot afford the cost of attending a four-year institution. When transferring from a community college, consider applying at the start of the academic year. Otherwise, you may have to repay money to your initial school.
Inquire about credits. Many accredited four-year institutions accept transfer credit. However, a study revealed that up to 15% of community college students who transfer lose nearly all of their credits. By the way, you may also ask the school if it accepts work or life credit if you already have a job or a licensed professional.
Just Before You Transfer to a Four-Year School
Some four-year learning institutions require applicants from community colleges to submit their SAT scores. But then there are also those that do not require the submission of test scores.
Before you apply to a college or university after or while earning your associate degree, it's a must that you determine early on which school you would like to attend. This will give you plenty of time to plan your transfer and know the right steps to take and proper documents to submit, too.
Generally speaking, it's a good idea to transfer from a community college after completing your associate degree.
Related Questions
Does transferring to a different college look bad?
Transferring to a different college, such as from a community college to a four-year learning institution, doesn't look bad at all. This is most true if the goal is to transfer to a better school or earn a better degree. What looks bad, however, is transferring multiple times to different schools.
Is it a waste of time to go to a community college first?
Going to a community college before going to a four-year learning institution is not a waste of time. It's beneficial for people on a tight budget, already working, and who aren't sure yet on what they want to study. The first two years of college, anyway, is mostly general knowledge.
Read Also: How to Tell Your Parents You Want to Transfer Colleges

Disclaimer: The views and opinions expressed in this article are those of the authors and do not necessarily represent those of the College Reality Check.