How to Get a Full Scholarship to NYU
In the Financial Aid Not So Great ranking by the Princeton Review, NYU is number 10 out of the 20 colleges and universities included. This is terrible news for someone who likes to attend an elite private research university.
But, according to NYU itself, the school is committed to providing financial aid packages that take into account financial need.
To get a scholarship to NYU, one should have high GPA and test scores, meaningful extracurriculars, and convincing personal essays. Taking advanced classes, demonstrating financial need, applying to programs with high funding, enrolling full-time, and taking at least 12 credits are recommended, too.
Approximately 46% of freshmen students at NYU were awarded scholarships. Around 20% were given grants.
If you want to become one of these students because you cannot afford to pay the full sticker price at NYU and attending another college or university is not an option, read on.
We will discuss just everything you need to get your hands on a scholarship. Many say that NYU is notorious for giving crappy financial aid packages.
Still, there are aids that the New York City-based school awards. By the end of this article, you will have an idea of increasing your chances of being the lucky awardee.
Scholarships and Grants Available
Before we talk about how to get a full scholarship to NYU, let's get to know the different financial aid packages NYU students may receive. Knowing what your options are can make your NYU experience less stressful and nerve-racking and save the bank from winding up in shambles.
Available financial aid packages at NYU can be divided into four categories:
NYU scholarships
Federal grant programs
State scholarship and grant programs
Scholarships and grants from other organizations
Each category can be divided into subcategories. Because there are more scholarships and grants to choose from than it may seem, you have higher chance of receiving something you are eligible for.
Let's briefly talk about each one of them…
New York University scholarships
Merit-based scholarships awarded by NYU are very few. However, everyone who gets admitted into the school is automatically considered for one.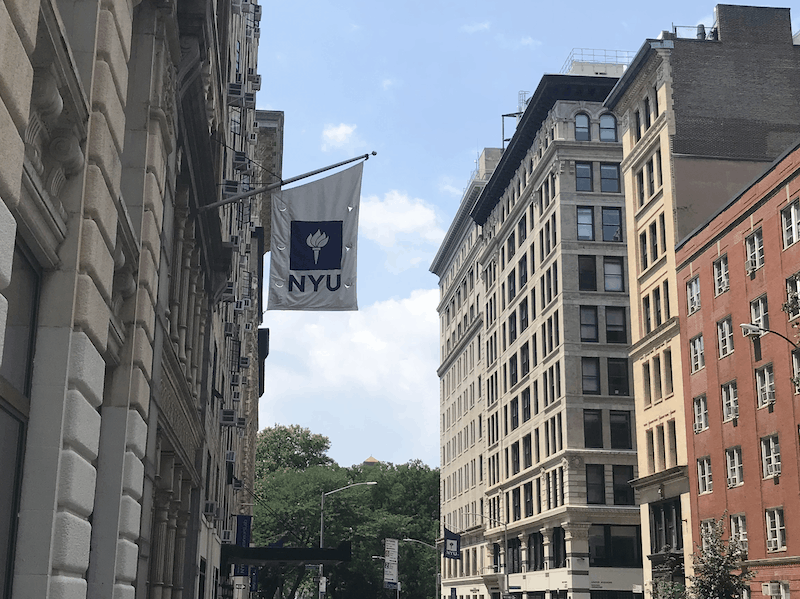 So, in other words, if you receive an acceptance letter from NYU and enroll at it, too, you don't have to apply for a merit-based scholarship as your name is automatically placed on the list.
Undergraduate scholarships and grants NYU offers come aplenty. There are financial aid packages available for both incoming students and current students, such as:
Lenape scholarships
Yellow ribbon scholarships
Global pathways scholarships
Presidential honors scholars program
Then there are also September 11 scholarships, which are in honor of police, fire and emergency workers who were killed in the September 11, 2001 attacks at the World Trade Center. These financial aid packages are exclusive to their children, covering their tuition, registration fee, and room and board.
Federal grant programs
NYU students may apply for an assortment of federal grant programs.
Unlike merit-based scholarships the school offers, students need to apply to these financial aid packages and meet various eligibility requirements. To apply, the majority of federal grant programs require the students to complete the Free Application for Federal Student Aid (FAFSA) form.
The different federal grant programs you may apply to as an NYU student are:
Federal Pell grant
Teacher Education Assistance for College and Higher Education (TEACH) grant
Federal Supplemental Education Opportunity Grants (FSEOG)
Veteran's benefits
State scholarship and grant programs
New York State residents can take advantage of cheaper in-state tuition costs at NYU.
However, that's not the only thing that can make it easier for their pockets to earn a degree from a well-known school.
If you live in New York, you may be eligible for an assortment of state scholarship and grant programs. Each has its own set of requirements.
For instance, besides being a New York State resident, you also need to demonstrate financial need. Sometimes, maintaining a certain GPA or being enrolled in a certain program is a requirement.
Some examples of state scholarship and grant programs available include:
New York State Tuition Assistance Program (TAP)
Aid for Part-Time Study (APTS)
Related Article: Top 10 Colleges Like NYU
Scholarships and grants from other organizations
Some of the financial aid packages NYU students may apply for do not come from the school or government. There are also those from outside organizations or agencies. Some of them are unions, employers, professional organizations, and community and special interest groups.
If you wish to check out what your options are, there's no need to search far and wide. That's because NYU recommends a variety of scholarship search services online. Some of them are:
Then there are also national scholarship competitions. As the name suggests, you have to participate in contests to win an award. But to enter, you need to have an endorsement from NYU.
Steps to Get a Scholarship
After knowing the different financial aid packages that you may apply to (except for a merit-based scholarship as you are automatically considered for it upon entering NYU), it's time to get yourself acquainted with the most crucial part of winning a scholarship: the different steps to take to grab one.
In many instances, the time to start aiming for a scholarship to NYU begins in high school, such as taking AP or IB classes. But it's not enough that you take any AP or IB class — you should opt for challenging ones!
Partaking in meaningful extracurriculars and leadership roles in high school can give you the edge at times.
But the quest to win financial aid packages does not begin in high school and end when you get your high school diploma. Usually, you have to work hard to keep any scholarships you win at NYU or any college or university intact.
For instance, you need to maintain a high GPA, take a minimum number of credits or stay within a particular program.
So, in other words, you may have to exert effort until the time you complete your degree. Otherwise, the school (or the scholarship-granting organization or agency) may rescind your scholarship.
Attending NYU doesn't come cheap. As a matter of fact, in CollegeCalc's Most Expensive Colleges in New York by In-State Tuition ranking, NYU is number 19.
But thanks to the availability of various financial aid packages, many of which we talked about above, you can be a proud NYU student without filing for bankruptcy before or after graduation.
Without any more ado, here are the steps on how to get a scholarship from NYU:
Study, study, study
The majority of applicants who get admitted into NYU have GPAs of 3.69 or higher.
This means that they have mostly A's and B's in high school. Having a high GPA is a must not only for getting accepted into NYU but also for being eligible for a merit-based scholarship — and you also need to maintain a certain GPA in college.
At NYU, there are various merit-based scholarships available.
Different ones have different minimum GPA requirements.
For instance, recipients of the AnBryce Scholarships should keep their GPAs from falling below 3.5. What's more, they have to remain active in all sorts of program activities. On the other hand, awardees of the Icahn Scholarship for Single Parents should maintain a minimum GPA of 3.0.
So, if your goal is to attend NYU one day and win a financial aid package, too, make sure that you do your best to maintain a high GPA for admission into the school and eligibility for merit-based scholarships.
Take Advanced Classes
Does your high school offer advanced placement (AP) or international baccalaureate (IB) programs?
Then it's a good idea to take one or more classes. As a matter of fact, you can take as many AP or IB classes as you like, although you have to make sure that your high school classes and SAT or ACT, too, won't be compromised.
Taking advanced classes in high school is a great way to increase your chances of getting accepted into a highly selective school, such as NYU, and winning a scholarship, too.
But don't just take any AP or IB classes — go for those that are challenging.
Admissions officers and scholarship judges, at any given time, would prefer a student who got a B in a difficult advanced class than a student who got an A in an easy advanced class. Successfully passing a challenging AP or IB class can considerably boost your high school record's wow factor.
Besides for increased chances of getting accepted into NYU and winning a scholarship, taking advanced classes also allows you to earn college credits, provided that you get a good score on the exam at the end of the semester.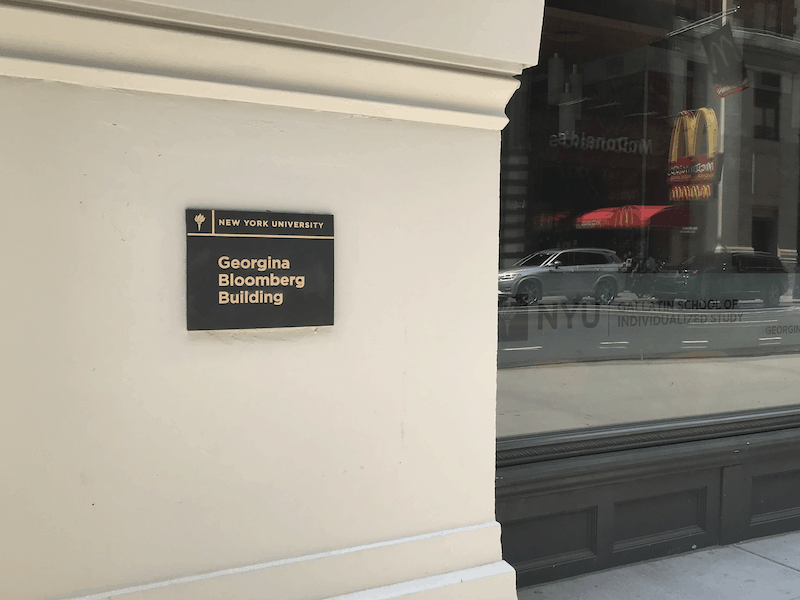 Choose extracurriculars well
Extracurricular activities help high school students reinforce the lessons they learn within the four walls of the classroom. They also help them develop their talents and skills, as well as allow them to make friends and build connections.
When it comes to getting your hands on a scholarship in college, extracurriculars matter.
The list of extracurricular activities you had in high school is one of the things that colleges and universities and scholarship-granting bodies check out. They look for students whose extracurriculars help nurture leadership roles, such as student government and youth leadership conferences.
Different scholarships look for different extracurriculars. For instance, some look for candidates who are good in sports such as basketball and chess. Others look for students who followed creative pursuits in high school.
Ace the SAT or ACT
The importance of having a high GPA in high school to get a scholarship to NYU was mentioned earlier. Besides doing well in your high school classes, it's also a must that you do well on your SAT or ACT. That's because most financial aid packages require students to meet minimum test scores.
It's no secret that most colleges and universities consider SAT or ACT scores in the admissions process. Even test-optional schools take them into account if applicants choose to submit them — many even superscore test scores.
A high SAT or ACT score is vital not only for admission purposes but for winning scholarships, too.
Generally speaking, the higher the test score, the higher the chances of being a financial aid package awarded.
For instance, a 1200 SAT score or a 25 ACT score allows you to be eligible for low-level scholarships. On the other hand, a higher SAT or ACT score allows you to be eligible for prestigious scholarships.
Apply, apply, apply
As mentioned earlier, you don't have to apply for a merit-based scholarship when you get accepted into NYU. You are automatically considered for a scholarship upon entry.
The same is not true for other scholarships available at NYU. To be considered, you have to apply to them.
When it comes to applying to financial aid packages, you should apply to as many as you can and as early as you can, too. Your chances of winning a scholarship (or two or more) get higher the more scholarships you apply to. Of course, it's important that you apply to scholarships for which you are eligible.
Create a CSS profile
The College Scholarship Service (CSS) profile is an application for financial aid required by approximately 200 colleges and universities, and that includes NYU.
According to NYU's admissions officers themselves, having a CSS profile is required for freshmen students to be considered for scholarships. Are your parents divorced, separated, or have never been married?
Then both of them must create their own CSS profiles if they wish to apply for one or more of the scholarships available at NYU.
Worry not if a non-custodial parent isn't available. That's because you may simply submit a waiver request.
Fill out the FAFSA
If there's a form of a financial aid package from the government you like to get your hands on, it's important that you fill out the Free Application for Federal Student Aid (FAFSA) form.
This is the most critical step you need to take if you want financial aid because the sticker price of NYU is too steep for your pocket.
The good news is that the FAFSA is cost-free — there's no need to pay anyone to prepare it for you.
It's not just financial aid packages from the government that require the submission of the FAFSA form. In some instances, you also need to fill out and submit the form when asking for aid from the school.
For instance, the September 11 scholarships available at NYU we talked about earlier require applicants to submit the FAFSA form together with other required financial aid applications.
Some colleges and universities and scholarship-granting organizations or agencies require the FAFSA as they use the information on the form to screen applicants.
Submit on time
It's not enough that you create a CSS profile, fill out the FAFSA form and gather other documents when applying for a scholarship. It's also a must that you submit them on or before the deadline!
Failure to submit the requirements on time means missed opportunities to attend NYU at a fraction of the cost.
The deadline for financial aid applications at NYU (and at most other colleges and universities, too) tends to vary from academic year to academic year.
For instance, for 2021 to 2022 applicants, the deadline is February 20, 2022. That's for those who apply regular decision (RD), which means that deadlines can also vary based on the decision plan.
Write a phenomenal SOP
Statement of purpose — it's what SOP stands for. Also sometimes called a letter of motivation, the SOP is one of the most important parts of your scholarship application.
You can no longer change your high school records during the process of applying for financial aid packages.
However, you can still change your fate by writing a stellar SOP that NYU or outside organizations or agencies offering scholarships will love. As a matter of fact, a well-written SOP may even turn your application from ordinary to extraordinary!
Remember these things for a winning SOP:
Check that you answer the question
Be concise
Make the opening paragraph interesting
Make the closing paragraph strong
Maintain a confident and positive tone
Check for typos and grammatical errors
And before you write your SOP, there's one very important step you need to take: know your audience. This is when the importance of researching the scholarship and its provider comes in.
Convince your audience
Speaking of which, you should let your audience know — NYU or the providers of the scholarship — why you want the scholarship. You should also tell them the reasons why you are what they are looking for exactly.
Choose a program very well
If earning a degree from NYU is more important than the degree itself, then you may consider opting for a degree program that gets more funds, which are divided among the students, than others. As a general rule, the more funding a program gets, the more scholarships it can give away.
For instance, the Gallatin School of Individualized Study hands out more scholarships than other NYU programs simply because it receives heftier amounts of donations from friends of the school.
Going this route, however, means choosing your pocket over your heart.
Just Before You Apply for a Scholarship at NYU
NYU may be expensive alright.
However, it doesn't mean that you should turn your back on your dream of earning a degree from a prestigious school in NYC just because you are from a low-income background.
Thanks to scholarships, high-quality education from a costly school like NYU is more accessible to all.
Around 46% of freshmen students at NYU get financial assistance in the form of scholarships and financial aid packages. If you want to be a part of the statistics, fill out the necessary scholarship application forms and gather any required supporting documents, and submit all of them on or before the deadline.
Read Next: Is NYU Worth The Money? Read Before Applying

Disclaimer: The views and opinions expressed in this article are those of the authors and do not necessarily represent those of the College Reality Check.