Should You Stay in College or Drop Out
According to the book "The College Dropout Scandal" by David Kirp, a professor at the Goldman School of Public Policy at the University of California, Berkeley, up to 40% of students drop out of college.
Staying in college allows one to get a degree, which is vital for better job opportunities, increased earning potential, improved self-esteem and self-confidence, and a more fulfilling career. However, in some instances and for some people, dropping out of college instead of staying in it is better.
The college takes two or four years to complete. Other than taking a while, completing it also takes money.
Time and budgetary constraints are not the only reasons why a student might consider leaving college. There are so many others, some of which can easily outweigh the perks of earning a degree.
But then there are also several reasons why a student might consider staying in college despite the challenges higher education comes with.
Are you torn between staying and leaving college?
Read on.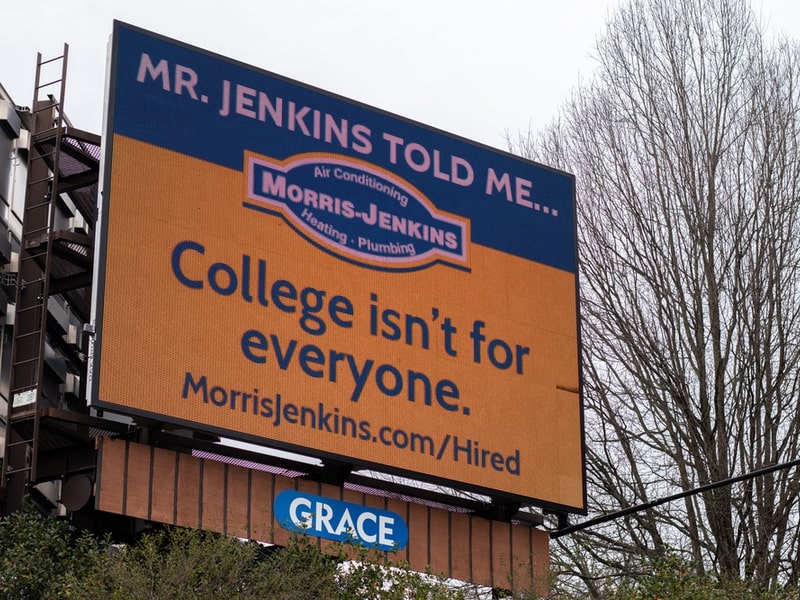 What Happens If You Drop Out of College
When considering the decision to drop out of college, it's essential to understand the potential consequences and weigh the pros and cons. Here's what might happen if you choose to leave college.
One of the potential advantages of dropping out is the opportunity to start earning money instead of accumulating debt. Higher education can be costly, and the average college graduate finishes their studies with significant student loan debt.
By leaving college, you could start working and earning sooner. On the other hand, there is nothing worse than spending time and money on college and not getting a degree. In such as case, your time in college becomes a waste of money.
It is crucial to recognize that dropping out of college may negatively impact your career prospects.
Adults without a college degree tend to earn around $30,000 less per year than college graduates, and the unemployment rate for high school graduates who dropped out of college was 18.6%.
If you withdraw from a college course without penalties, your GPA and transcript will not reflect a negative impact, but dropping out entirely may leave a gap in your education history that some employers might view unfavorably.
And finally, health issues and personal circumstances could also prompt students to drop out. Mental health breaks or dealing with caregiver roles can make it challenging to concentrate on college commitments.
Dropping out in such cases may provide the necessary relief and time to focus on personal matters.
What are the Reasons for Dropping Out of College?
There are various reasons why students leave college. Leading the list is financial issues, especially among those who are from low-income families. Other common reasons stated by students for dropping out of college include stress, picking the wrong school or major, and conflict with commitments.
Students go to college to reap the many perks that come with it.
Some of the benefits, such as improving one's social and problem-solving skills and building a network, can be enjoyed while attending an institution for higher education.
On the other hand, some of the advantages can be enjoyed only after graduation, such as a college diploma and degree that most potential employers look for.
But no one said that attending college would be easy. There are all kinds of problems students may encounter. They can come across them not only inside the classroom but also outside the campus.
In many instances, the different problems that may come into being can cause students to turn their backs on college.
Stress is a normal part of the college experience. As a matter of fact, according to the American Institute of Stress (AIS), up to 80% of students attending US colleges and universities report feeling stressed sometimes or often.
However, too much stress coupled with the existence of all kinds of internal and external conflicts can make a student give up easily and decide to leave college altogether.
Let's check out some of the most common reasons why some students consider leaving college:
Financial problems
Based on data, as much as 35% of college students drop out as a result of financial pressure.
While some colleges and universities offer free tuition and fees, the rest of the cost of attending a two-year or four-year institution isn't covered. This means that you will have to shell out money no matter where you enroll in.
The average cost of tuition and fees for the academic year 2021 to 2022 at US News ranked colleges are:
Private: $38,185
Public (out-of-state): $22,698
Public (in-state): $10,338
You can expect to pay more than the figures stated above. That's because there are many more expenses associated with going to college than just the tuition and fees.
In the US, earning a bachelor's degree can cost anywhere from $102,460 to $215,796. It will all depend on which institution offers it.
The only way to make earning a degree completely cost-free is by getting your hands on a full-ride scholarship.
As the name suggests, a full-ride scholarship is a financial award that takes care of each and every expense that has something to do with college.
They include tuition, miscellaneous fees, textbooks, room and board, and even living costs. So, in other words, a full-ride scholarship's goal is to make the cost of college as close to $0 as possible.
Your chances of winning a full-ride scholarship, unfortunately, are very rare. As a matter of fact, less than 1% of incoming first-year college students per academic year get it!
College unreadiness
Most US colleges and universities these days have a test-optional admissions policy. This means that applicants are not required to submit their SAT or ACT scores, which can be used to determine the college readiness of students.
Whether test-optional or not, sadly, most schools unknowingly admit students who are unprepared for college.
If you go to college without being ready for it, getting low or failing grades in your classes is very much likely. If truth be told, higher education is not so much harder than secondary education.
However, college requires a different mindset and skill level. Failure to level up while attending a college or university can lead to disastrous results.
High school graduates are expected to go straight to college. Unfortunately, heading to college right after high school is not for everyone. Some could benefit from taking a gap year, especially those who have yet to figure out which institution or program is perfect for them — starting college after 20 is always a possibility.
Just because you have been handed your high school diploma doesn't mean right away that college is the next stop. If you know in your heart that you are not ready for college, it's a good idea to skip higher education in the meantime.
Related Article: 10 Things to Try if You Feel Unprepared for College
Discouraging environment
Failure to have the feeling that a student fits perfectly in the college or university can leave him or her feeling bored, stressed or deceived — it all depends on one's expectations before attending college.
If you are not happy with your on-campus experience, it's not unlikely for you to seek happiness elsewhere.
You may choose to quit college to obtain fulfillment and satisfaction doing some other things, such as getting a job in an industry you are interested in, hopping from one city that you love to another, or spending the entire day playing video games with your friends. (Okay, the last one is a terrible reason to quit college!)
No matter the case, if something is giving you more happiness and self-actualization than college, there's a huge possibility that you will pick it over earning a degree if you are not pleased with your college experience.
This is when the importance of picking the right college or university comes in. It's during your sophomore or the start of your junior year of high school when you should start the college search.
By having plenty of time for research, making the mistake of enrolling in an institution where you won't fit in should be the least of your worries.
According to Cornell University, here are some ways to research colleges and universities:
Know yourself.
Visit the campus.
Check out the website.
Take college rankings with a grain of salt.
Get in touch with current students.
Participate in events.
Related Article: Is It Possible to Start Over in College?
Wrong major
Besides picking the wrong school, there is another thing that some college students pick wrongly, which could make them feel that it's much better for them to leave college than stay in it: a major.
A small fraction of colleges and universities require students to choose a major before enrolling in them.
Some examples whose names many are familiar with include Cornell University, Northwestern University and Boston College. At some institutions, on the other hand, students have until the end of their sophomore year of college to pick one.
This is why, when completing the Common App, the part where you are asked to choose your primary major should not leave you stressed and anxious and delay the college application process.
That's because you can always change your major at any given time until the moment your college tells you to declare a major.
Like attending a school you don't fit in, completing a major that doesn't suit you can be bad.
Working on the wrong major may leave you feeling like going to college is not right for you, which is why you might decide to drop out of it and pursue other things you find more worthwhile.
Take your time when figuring out which major you should opt for. It's for this reason why the majority of colleges and universities give their students up to two years to make up their minds. And while choosing a major, make sure that you avoid picking one based on one or many of these reasons:
It sounds awesome.
It is selected by your friends.
It is preferred by your parents.
It can help you make tons of cash.
It is popular in TV shows and movies.
It seems like it suits you.
It is the most popular at your chosen school.
Related Article: When Is It Too Late to Change College Major?
Outside commitments
Are you a non-traditional student because you are raising kids or have a part-time or full-time job?
Then it's not unlikely that you may feel like giving up on college if you are attending a traditional institution.
Some college students can devote 100% of their time and energy to their studies until they get their hands on their diplomas. Unfortunately for others, they have to divide their resources between school and the things that make them fall under the non-traditional student category.
If their commitments outside the campus are just as important as their on-campus commitments, it's not unlikely for one of their priorities to be compromised, and that priority could be college.
These days, up to 73% of higher education students in the US are non-traditional students.
It's a good thing that more and more colleges and universities make earning a degree accessible even to non-traditional students who cannot go to physical classrooms as traditional students on a regular basis. They do so by holding night classes and offering online degrees. Online programs can be completed via hybrid classes or purely via the web.
Needless to say, if you wish to earn a degree while keeping your job or making sure that your kids will grow up happy and healthy, consider attending a school with programs perfect for a non-traditional student like you.
Some of the best colleges and universities with the best online degree programs include:
Northeastern University
California State University – Los Angeles
University of Florida
University of Central Florida
LeTourneau University
Colorado State University – Fort Collins
Trine University
Pros and Cons of Staying in College
The benefits of staying in college have something to do with being a degree holder. Some of them include access to better jobs and higher salaries. Dropping out of college has some pros, too. Some of them are avoiding further financial problems and being able to focus on other tasks or commitments.
Prior to earning your degree, you will have to stay in college until you graduate. Alas, college doesn't come without problems along the way, some of which can be so severe that they can make you think about dropping out.
But before you decide between staying and leaving, keep reading.
Below, you will come across some of the pros and cons of not only deciding to remain in college but also choosing to drop out of it. Make sure that you weigh them against one another before making a decision.
Pro of staying: Earn knowledge, skills and a degree
College is so much bigger than high school. On the other hand, the career world is so much bigger than college. It's exactly due to this why college exists.
It is there to prepare you for that massive realm populated by employees. It gears you up for it by giving you the knowledge base and skill set you will need to thrive and survive as an adult.
Con of staying: Compromised commitments
Especially if you are juggling college with other duties and responsibilities, such as working or looking after the kids, it's not unlikely for some of your obligations to be compromised.
However, by opting for non-traditional programs and managing your time wisely, it's possible for you to shine in all your commitments.
Pro of staying: Better employment opportunities
Employers believe that college degree holders are more job-ready than those without college degrees. Refrain from assuming that the perks of having a college degree end with having access to better jobs.
People with bachelor's degrees earn more per week than people with a high school diploma only and no college — $1,281 vs. $749.
Con of staying: Buried in college debt
But before you are able to get your hands on the handsome amount of money that college graduates tend to make, you will have to shell out cash for your college.
Unless you are a very bright student awarded with a full-ride scholarship by the institution you are attending, it's for certain that your degree won't come free of charge.
However, keep in mind that college debt in some ways is different from other types of debt. With college, you investing in yourself and potentially increasing your lifetime earnings. This is different from, say, a new car loan which in most cases does not help you make money down the road.
I suggest you talk to your advisor. It is possible that your college can offer some scholarships.
Pro of staying: Earning a college degree in no time
Powering through college despite the challenges allows you to get higher education done and over with as quickly as you can.
So, in other words, not dropping out, which can set you back a few semesters or years, lets you earn your degree in the shortest amount of time possible, thus allowing you to enjoy the fruits of your labor sooner.
Con of staying: Not yet ready for college
No matter how hard you try to attain higher education success, you might still fail if you are not college-ready.
The good news is that there is nothing wrong with taking a break from college — up to 40% of college students consider having a gap year. You can choose to start all over in college if you are unhappy with your first attempt at earning a degree.
So, will staying in college gives you the most benefits?
Or will it do you more harm than good?
Always keep in mind that opting for what's best for you will come with rewards and, unfortunately, some prices to pay, too.
Alternatives to Dropping out of College
Before making a decision to drop out of college, it's important to consider some alternatives that may suit your needs better. These options could provide you with a more flexible education pathway while still working towards your goals.
Transferring to a Different College
If you're finding your current college experience unsatisfying or the curriculum isn't aligning with your interests, transferring to another institution might be a better fit for you.
Do some research on colleges offering programs in your desired field, and evaluate their admission requirements, tuition fees, and campus environment.
You could end up in a new institution more suited to your needs, without giving up on your education entirely. This could also help you avoid the effects of being a college dropout on your professional opportunities and personal growth.
Part-Time College Options
Another option to consider is switching to part-time studies. This allows you to balance your schoolwork with other commitments, such as a job, internship, or family life.
Completing your diploma on a part-time basis may take longer than a full-time load, but it can give you the flexibility you need and potentially reduce the stress associated with a heavy course load.
Scholarships and Financial Aid
If the financial burden associated with college education is worrying you, explore scholarships and financial aid options available to students.
There are various resources for scholarship opportunities – from private businesses to government organizations, catering to different fields of study and levels of academic achievement.
Securing financial assistance can help ease the burden of student loans and make your academic journey more feasible.
Online and Distance Learning
I am a big advocate of online degrees since I have one myself.
Online and distance learning programs are becoming increasingly popular and accessible, offering a more flexible and often more affordable alternative to traditional, in-person classes.
These types of courses can provide you with the opportunity to complete your diploma on your own time and at a lower cost, while also being able to work or manage other aspects of your life.
Recap: Should You Drop Out of College
No one said that college would be a picnic.
Before making the decision to drop out of college, it's important to weigh the pros and cons. Understanding the potential benefits and drawbacks will help you make an informed decision that is right for your unique situation.
Pros:
You can start earning money instead of accumulating debt. By working full-time, you can potentially increase your income and work towards financial stability.
It may allow you to chase your passions and explore alternative career paths that do not require a college degree.
Reducing stress and avoiding burnout is possible by moving to part-time status or taking a temporary break from school.
Cons:
Dropping out could potentially limit your future job prospects and earning potential, as many higher-paying jobs require a college degree.
You might miss out on valuable networking opportunities, resources, and support that college provides.
When considering whether or not to drop out, reflect on your own reasons and motivations. Be honest with yourself about your goals, passions, and abilities.
It's also essential to keep in mind that each person's situation is unique, and what works for one person might not work for you.
There is no one-size-fits-all answer to this question, so take the time to evaluate your personal circumstances carefully.

Disclaimer: The views and opinions expressed in this article are those of the authors and do not necessarily represent those of the College Reality Check.